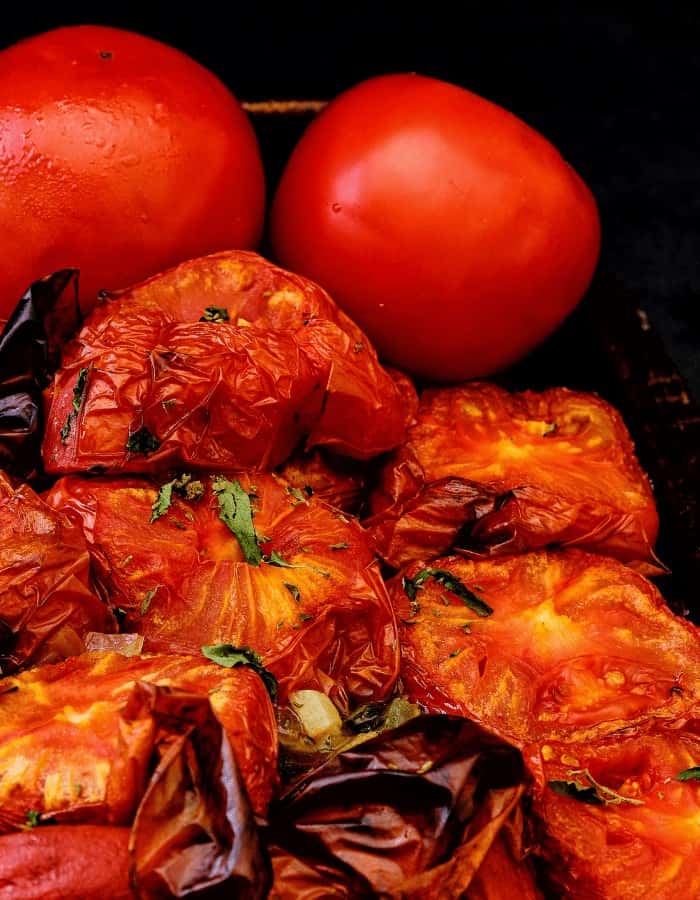 Quick & Easy Roasted Roma Tomatoes
I love roasted tomatoes! They are the foundation of so many Italian dishes. I often make roasted Roma tomatoes for a side dish to serve with several meals throughout the year. Often, we will eat them as is or slather them with fresh mozzarella cheese and top with some pasta sauce for a quick meal on the go!
The easiest method for cooking them is to roast them, which I will show you how too in this article. They are great served as a side dish or used on sandwiches, such as the Roasted Tomato Grilled Cheese or used in our Garden Fresh Tomato Soup.
I experimented with the various ways to cook Roma tomatoes, and found that roasting is my favorite way. The slow roasting draws out their natural sweet flavor, which can be amazing when they are fresh off the vine.
Roasting Roma Tomatoes on a Grill:
I like to roast them on a hot grill. I placed the Roma tomatoes directly on the grill. You can also throw them in a foil packet or wrap them individually in aluminum foil and place onto the grill.
I do these over medium heat for about 40 minutes and then let them sit for another 20 minutes to finish up.
The tomatoes should be soft and slightly caramelized on the outside. The internal temperature will be around 190 degrees, which is just about perfect for our purposes. You don't want them to get too hot or they will burst open and spill out all the juice inside of them.
Roasting Roma Tomatoes in the Oven:
If you don't want to roast them on the grill, you can also cook them in the oven. I usually do these at 450 degrees for about 20 minutes. You can cook them as long as you like, depending on how soft you want them.
These Roma tomatoes also make a great tomato sauce or soup base! I've already frozen some and plan to use the rest of these ones soon too.
Roasting Roma Tomatoes in an Air Fryer:
Simply prepare them as usual and add them to your air fryer - select "BAKE" and 400. Usually takes about 25 minutes.
Drain the tomatoes over a large bowl. The juice that comes out of them is a bonus to us!
How long do roasted tomatoes last in the fridge?
The amount of time you can keep these in your refrigerator or freezer is really up to you, but I'd say use them within a week of roasting and definitely no more than two weeks (at least not if you want them to taste good).
How do you use roasted tomatoes?
Use these tomatoes for your recipes as you would any normal tomato. I like them on sandwiches, in salads and pastas, or even just by themselves as a side dish.
They are awesome with a little fresh basil, parsley, and mayo (or Italian dressing) on grilled cheese! So yummy!
Recipes that Use Roasted Roma Tomatoes: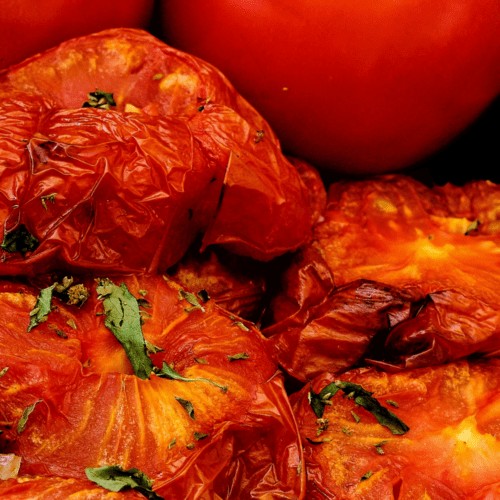 Quick & Easy Roasted Roma Tomatoes
Ingredients
2

pounds

Roma tomatoes

1

tablespoon

olive oil

2

garlic cloves crushed

½

teaspoon

Italian seasoning or herb of choice

Salt and peper to taste
Instructions
Wash, pat dry, then cut the Roma tomatoes in half, lengthwise.

Place the tomatoes into a bowl and add the olive oil, garlic, Italian seasoning, salt, and pepper. Gentle toss to coat.

In the OVEN - cook at 450 degrees F for 20 minutes.

On the GRILL - cook cook at 350 or higher for 45 minutes. Place in a pan or aluminum foil if desired.
Nutrition
Calories:
72
kcal
Carbohydrates:
9
g
Protein:
2
g
Fat:
4
g
Saturated Fat:
1
g
Polyunsaturated Fat:
1
g
Monounsaturated Fat:
3
g
Sodium:
11
mg
Potassium:
538
mg
Fiber:
3
g
Sugar:
6
g
Vitamin A:
1889
IU
Vitamin C:
31
mg
Calcium:
23
mg
Iron:
1
mg