If you love caramels, you'll never eat another kind after you try this recipe. This recipe has it all - sweet, salty, creamy, and whiskey; the four food groups as far as I'm concerned.
Whiskey Caramels
These are hands down the best caramels out there. Old Mr. Werthers may as well go ahead and quit 'cause his can't compare. These are so soft and buttery that they make that long string of caramel yumminess when you bite it in half and then they just melt in your mouth. When that little bit of salt hits your taste buds - KAPOW!!
Do they have booze in them?
You bet they do - but the alcohol is long burned off in the cooking process so you just get a tiny hint of woodsy smokiness; trust me - it's not overpowering.  Still not sold on the whiskey?  That's ok, just replace it with 2 ounces of water. My sweet giant of a friend Cheryl loves them so much she rations them out, and when they get a little past their "best by" date she melts them in her coffee!  Waste not, want not I suppose.
What's the difference in a candy thermometer and a meat thermometer?
Candy thermometers usually measure much higher temperatures than meat thermometers.  For example; this recipe calls for the sugar to be cooked to 248 degrees Fahrenheit (firm ball stage); considerably higher than the 165 required for poultry.
Candy thermometers are also designed to stand in the pot for the entire cooking time whereas meat or instant read thermometers really aren't made for that. That's a pro for using a candy thermometer.  A con is, if you are like me and have poor eyesight, reading a candy thermometer can be tricky since the print is quite tiny.  My solution on which to use is this: use both.
I watch the candy thermometer until it gets pretty close to the right temp then I use an instant read thermometer like this one Digital Read Instant Kitchen Thermometer that measures up to 572 degrees Fahrenheit to gauge those last few degrees; it even has an alarm feature to let you know when you've reached temp.  Oddly Enough, you don't really need a thermometer at all to make candy.  Keep reading to learn how!
Do I need a thermometer to make candy?
The simple answer is no.  Let's think about this.  The first candy, made from honey, dates back to the ancient Egyptians.  Sugar candy came from India in 270 AD. Fahrenheit didn't make his mercury thermometer for another 1,464 years!  The digital thermometer didn't make it on the scene until the 1950's.
You do the math - people learned how to make candy long before the thermometer was there to help them out.  My neighbor Jackie is a great cook! I can remember standing in her kitchen when I was little watching her and she would teach me all sorts of cool things.  One thing was how to make divinity without using a thermometer by using the "ball stage" method.  Using this technique you can determine sugar's temperature by the degree of firmness it reaches when dropped in cold water.
Here's a breakdown of the stages:
230-235 degrees F = thread stage.  At this stage, the cooked sugar will not form a ball at all when dropped in cold water.
235-240 degrees F = soft ball stage. Fudge is usually cooked to soft ball.
242-248 degrees F = firm ball stage. This is the target for our cream caramels.
250-265 degrees F = hard ball stage. The aforementioned divinity, marshmallows, and gummies are cooked to hard ball.
270-290 degrees F = soft crack. Butterscotch is typically cooked to soft crack.
300-310 degrees F = hard crack.  Think peanut brittle and lollipops.
There really is a science to making candy.  The ingredients have to be precise.  The temperatures have to be exact. Once you master it though, it's worth it.  If you want to learn more about the science behind candy making, check out The Exploratorium.
How do I make whiskey caramels?
The ingredients are few and the instructions easy.  Grab two heavy saucepans, one medium to large - the other can be small.  Then you'll need sugar, water, and corn syrup for the caramel part; cream, butter, vanilla, salt and WHISKEY for the cream part.  Line a 9x9" dish with parchment paper - making sure you have plenty of overhang.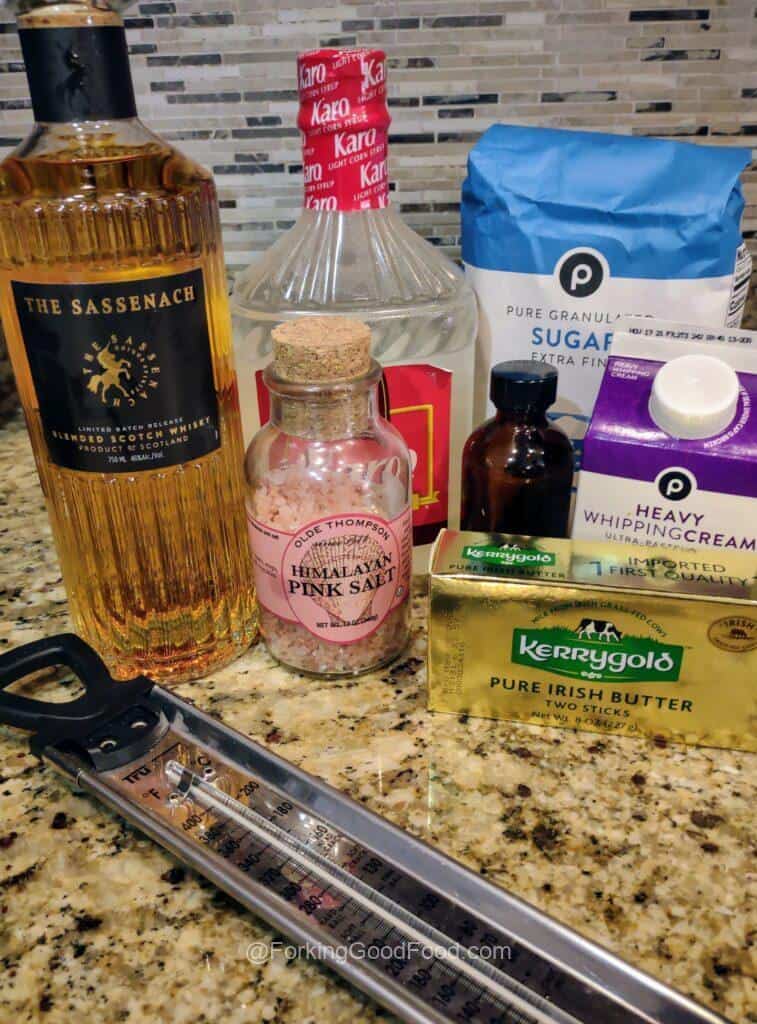 In the smaller of the two saucepans add your cream, butter, vanilla, salt, and WHISKEY and, stirring frequently, bring to just a boil. Remove from heat and set aside.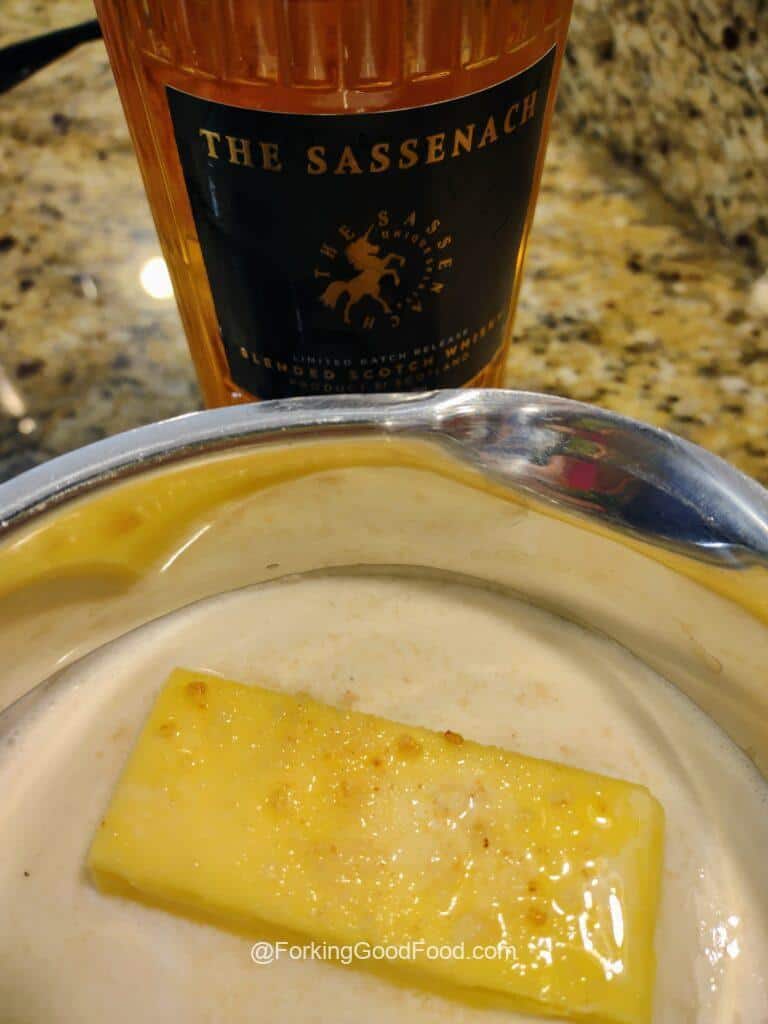 In the larger saucepan, over medium-high heat, add the water, sugar, and corn syrup.  Mix until just combined then put the spoon away. Far away so you're not tempted to stir it. Cook for about 10-12 minutes or until it's a nice golden brown.  Watch it closely those last few minutes because it can go from just under color to burnt very quickly. No. Put the spoon back. Do not stir it.
Once you've got the color you want, remove it from the heat and gently pour in your cream.  It's going to bubble up quite a bit so watch out for splattering; there is nothing worse than a sugar burn. If you use an electric stove - remove the saucepan from the eye, don't simply turn the heat off.
If you simply must stir, now is the time to do it.  Once around the pot just to combine it. I mean it, just once.  Return the pot to medium-high heat and cook until the thermometer reaches 248 degrees Fahrenheit.  If it hasn't reached temperature after 10 minutes, kick up the heat just a hair.  You're going to be tempted to stir. Don't,
Once the caramel reaches 248 degrees, remove from the heat immediately and pour into the parchment lined dish. Let cool for ten minutes, then garnish with additional salt.  I like Pink Himalayan Sea Salt but that's just a personal preference.  If the salt is a little too coarse and not already in a grinder, use a mortar and pestle to grind it up just a little; no one wants to bite into a salt rock.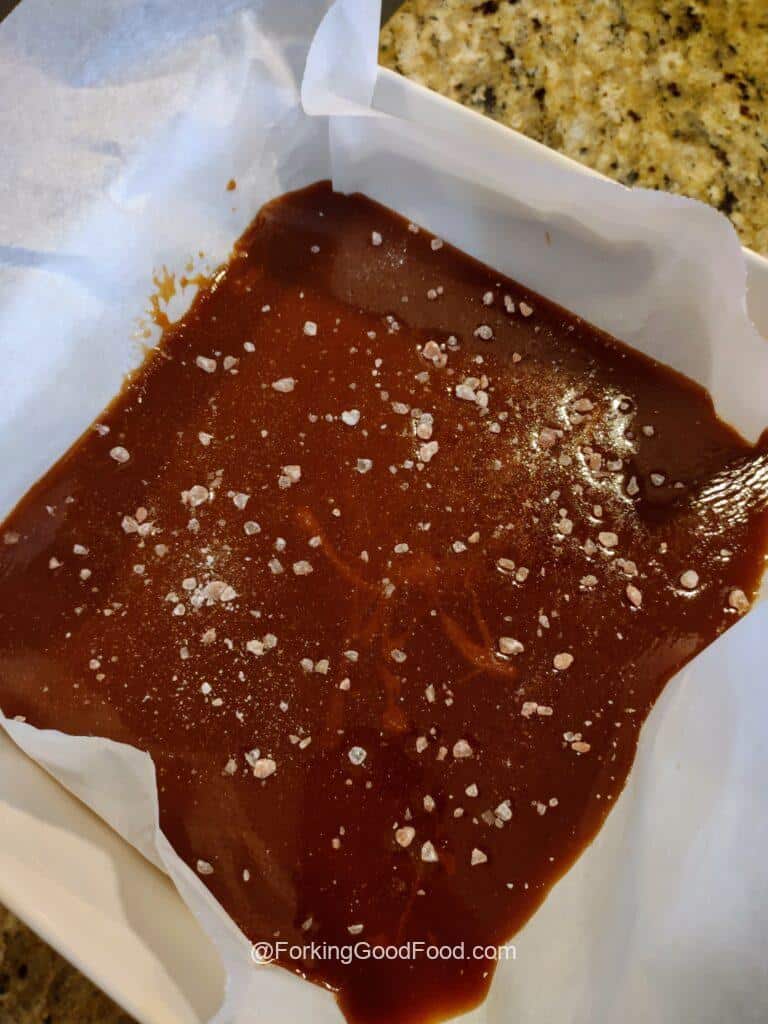 Let cool completely and then put in the refrigerator for about 10-15 minutes before cutting.  When you're cutting your caramels into little bite-size pieces of gooey heaven and it starts to get soft and stick to the knife, put it back in the fridge for a few minutes.  Once wrapped, these can be stored at room temperatures for weeks I think - never had them around long enough to find out.  Enjoy!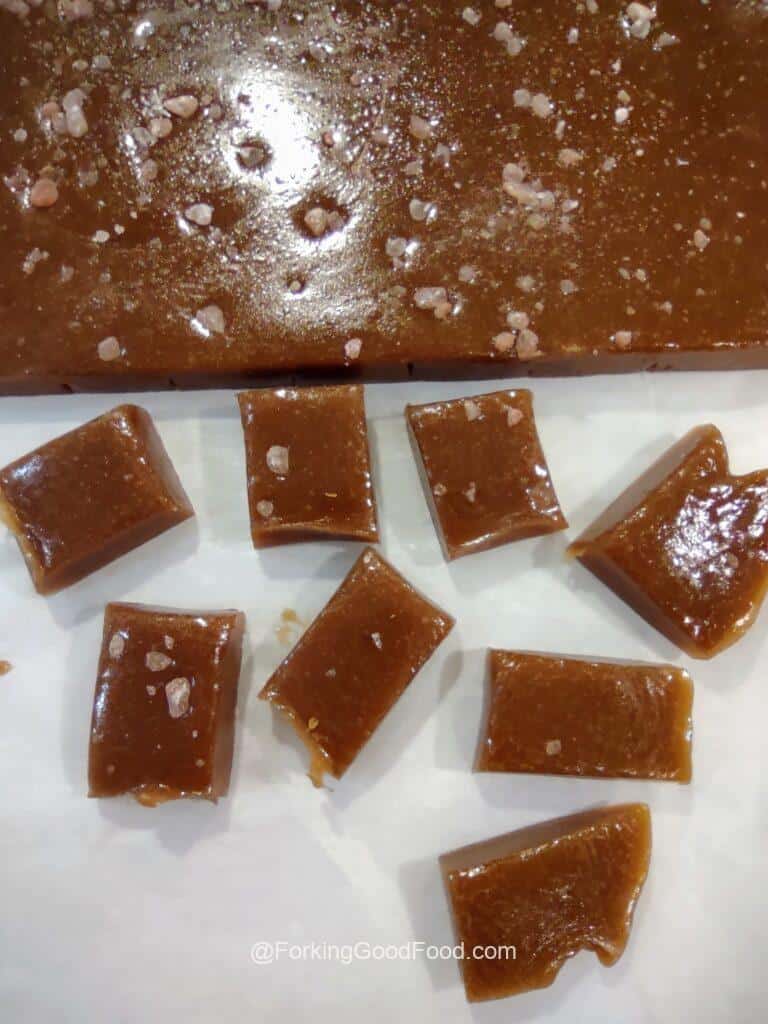 More treats to try:
Recipe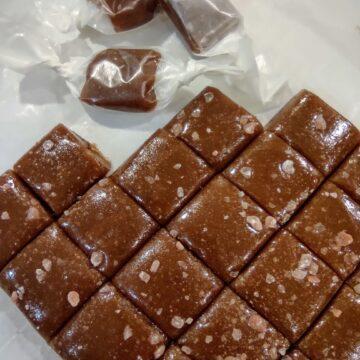 Whiskey Cream Caramels
If you love caramels, you'll never eat another kind after you try this recipe. This recipe has it all - sweet, salty, creamy, and whiskey; the four food groups as far as I'm concerned.
Equipment
Candy thermometer

Parchment Paper to line the pan

Wax paper to wrap the caramels
Ingredients
5

Tbs

butter

1

cup

heavy cream

2

oz

whiskey

1

teaspoon

vanilla

¼

teaspoon

coarse salt

1 ½

cup

sugar

¼

cup

light corn syrup

¼

cup

water

Additional salt for garnish
Instructions
Line a 9" square pan with parchment paper allowing plenty to hang over the sides

In a small saucepan, bring butter, cream, whiskey, and ¼ tp salt to a boil, stirring frequently; remove from heat and set aside

In a large, heavy saucepan mix sugar, corn syrup, and water until just blended. Heat to boiling over medium-high heat DO NOT STIR and continue boiling until the sugar mixture is a nice deep golden brown (about 10-12 minutes)

When the sugar mixture is at the color you want, remove from heat and very slowly add the cream mixture. This will bubble up A LOT

Return to heat and cook over medium-high heat for about 10-15 minutes or until a candy thermometer reaches 248℉

Pour into prepared pan and cool 10 minutes

Sprinkle additional salt on top to taste

Cool completely - put in fridge about 10 minutes before cutting

Lift caramel from the pan using the overhanging paper and, using a large knife, cut the caramel into bite size pieces. Wrap each caramel in wax paper
Notes
When cooking the caramel, if it appears that one side is getting darker than the other, do not stir; rotate your saucepan every few minutes.
For easier cutting:
Leave the caramels on the parchment paper
Lightly spray knife with cooking spray (NOT olive oil spray)
Use a hot knife and cut towards you quickly
If the caramel starts to get too soft, put back in the fridge for a few minutes
If the caramel is brittle, it was cooked too long
If the caramel is too soft, it didn't get to temp - heat it in the microwave and use as an ice cream topping
Nutrition
Calories:
81
kcal
Carbohydrates:
13
g
Protein:
1
g
Fat:
3
g
Saturated Fat:
2
g
Polyunsaturated Fat:
1
g
Monounsaturated Fat:
1
g
Cholesterol:
11
mg
Sodium:
27
mg
Potassium:
10
mg
Sugar:
12
g
Vitamin A:
121
IU
Vitamin C:
1
mg
Calcium:
9
mg
Iron:
1
mg