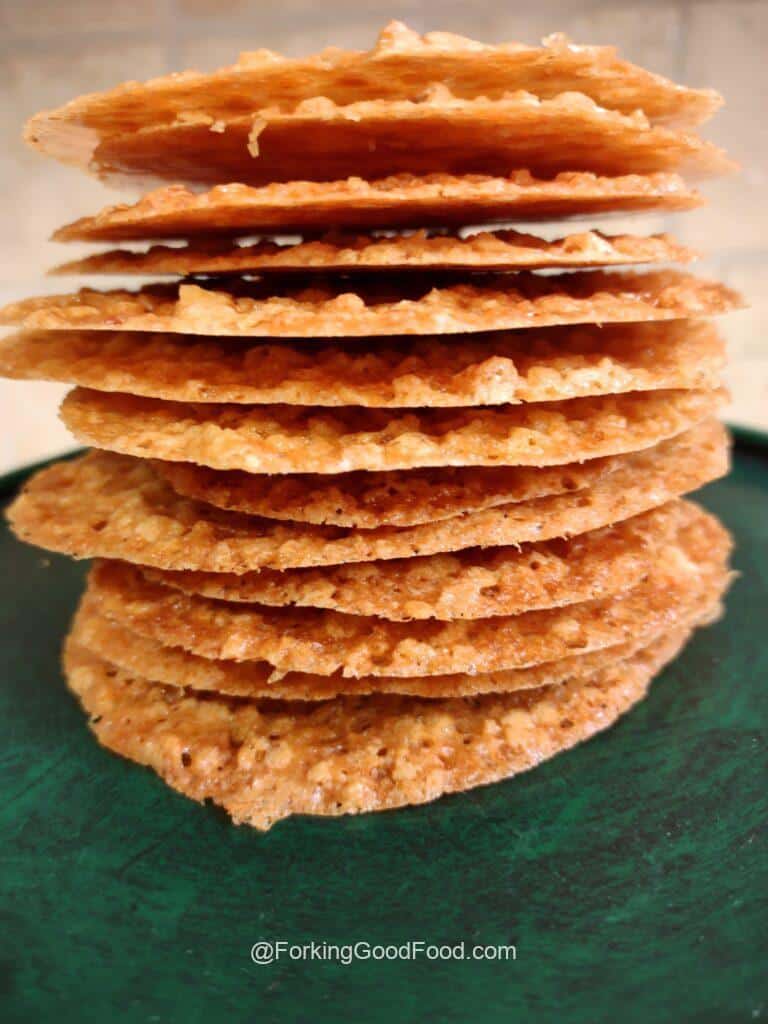 Lace Cookies
Anyone who knows me knows I was raised not only by a wonderful mother, but another set of amazing women – The Sisters of Mercy.  Well, not all of them – but quite a few.  See, my Aunt is a nun – has been for 70 years now, so her band of sisters became de facto aunts to me and I wouldn't want my life any other way.  Who would not want to surround themselves with women who's entire purpose is to provide mercy and comfort to others.  In my years with many Sisters, I've picked up a lot of recipes along the way and one of my all time favorites is Lace Cookies. These are the most delicate, exquisite, dainty, crispy cookies you will ever have.  They are paper thin and as fragile as a soap bubble.  It's amazing how something so crunchy can melt in your mouth. And before you say "but I don't like oatmeal cookies" try these…  if you close your eyes, I bet you won't tell there is oatmeal there at all.
What is a lace cookie?
I suppose a lace cookie is a simpler, but no less fabulous Florentine. A Florentine is a delicate cookie made of nuts and fruit mixed with sugar and melted together with butter and honey.  The Lace cookie refines this down to the simplest form while leaving the fragile, crispy, buttery goodness intact.  Made with just 8 very simple ingredients, needing no fancy skills or equipment, and only having a little over 50 calories a cookie who wouldn't love this recipe!  They take a little time to cook, because you can only bake a few at a time, and it takes a very gentle hand to peel them from the foil when they've cooled but you will make these again and again.  They are a HUGE hit at the holidays, but don't ask me why – I like them all the time. Oh, want to know WHY they're called lace cookies?  Because they create these tiny holes giving the cookie the appearance of fine lace.  Take a look…
What makes lace cookies so thin?
Two things really, butter and sugar.  The softer the butter, the more it spreads in the oven.  When you're making cookies that you're going to roll and cut out, you want to make sure your dough goes in the fridge before baking so the butter is nice and solid when you pop them in the oven.  With lace cookies, you're starting out with the butter already melted.  And while sugar is a solid at room temperature, it liquifies when it heats up so the only things in this recipe holding these cookies together at all are the oats and the tiny bit of flour.  Here… let me show you how thin these are going to be.
How to make lace cookies:
Grab your eight ingredients: quick cook oats, sugar, vanilla, an egg, baking powder, sugar, salt, and melted butter.  That's it.  Preheat your oven to 350F and let's get started.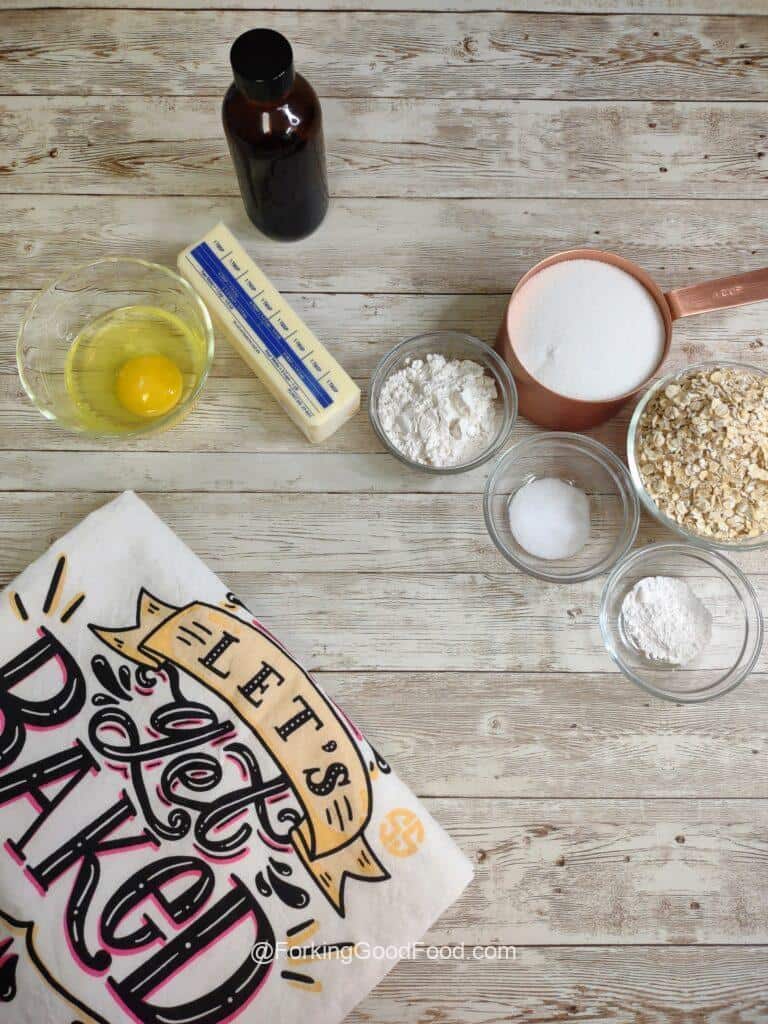 First, melt your butter in a medium bowl and slightly beat your egg.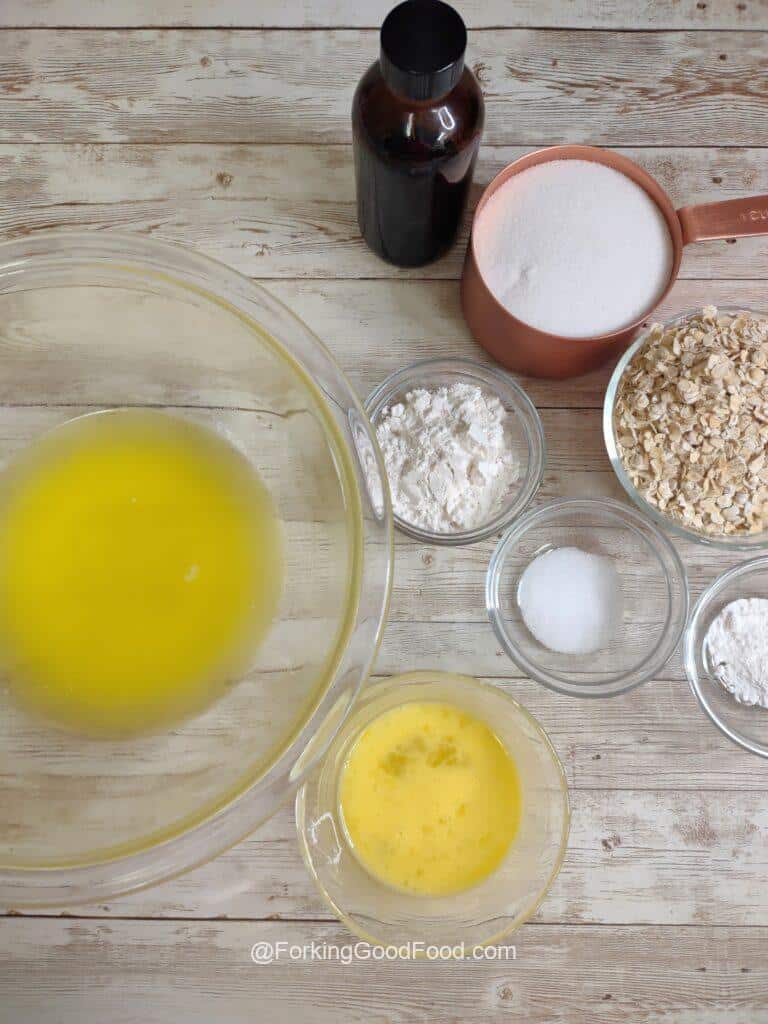 Add all of the ingredients to the melted butter and stir well until  thoroughly combined – it's going to be really thin and runny.  Line a cookie sheet or baking tray with aluminum foil and use about one teaspoon of dough for each cookie.  Do not put more than 6 on a standard size cookie sheet or, trust me, they will run together.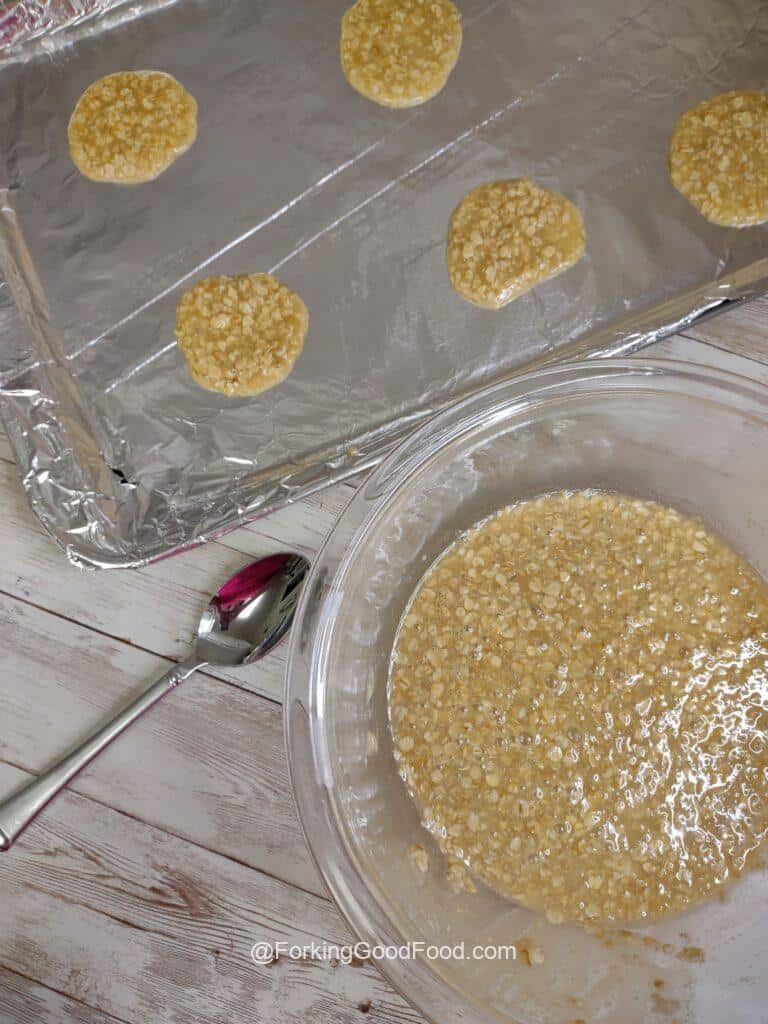 Each cookie should be about 2″ in diameter, but really no more than 21/2″.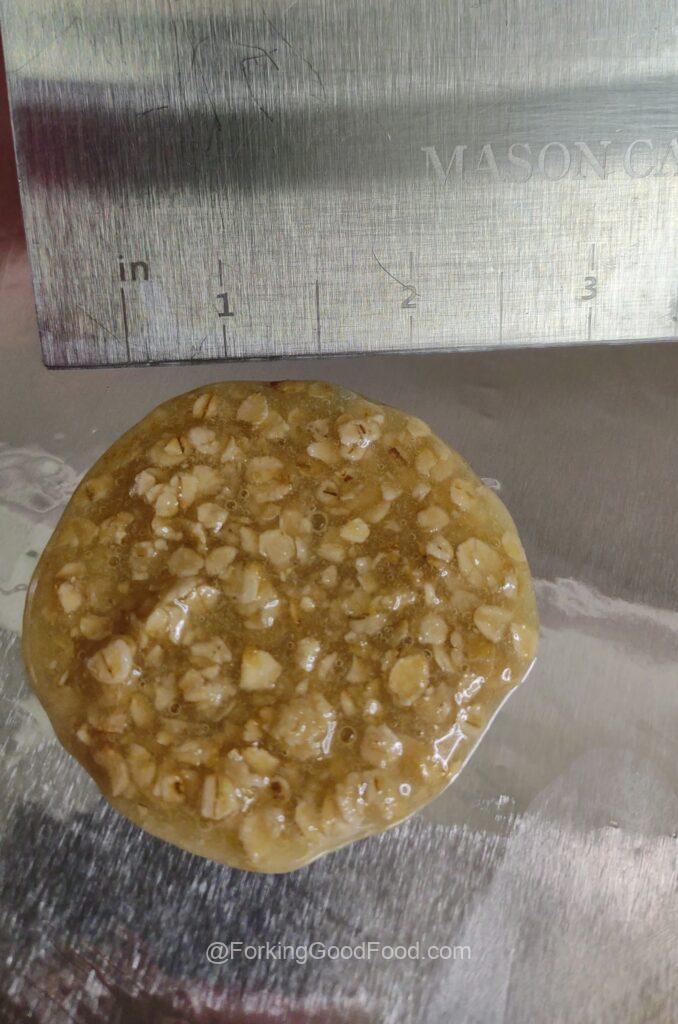 Bake for about 12 minutes.  It could be a little shorter so start checking around the 10 minute mark.  Depending on the size they could take up to 15.  With the high sugar and butter content, they will go from just slightly underdone to burnt in the blink of an eye.  Slide the foil off the baking tray and let cool completely.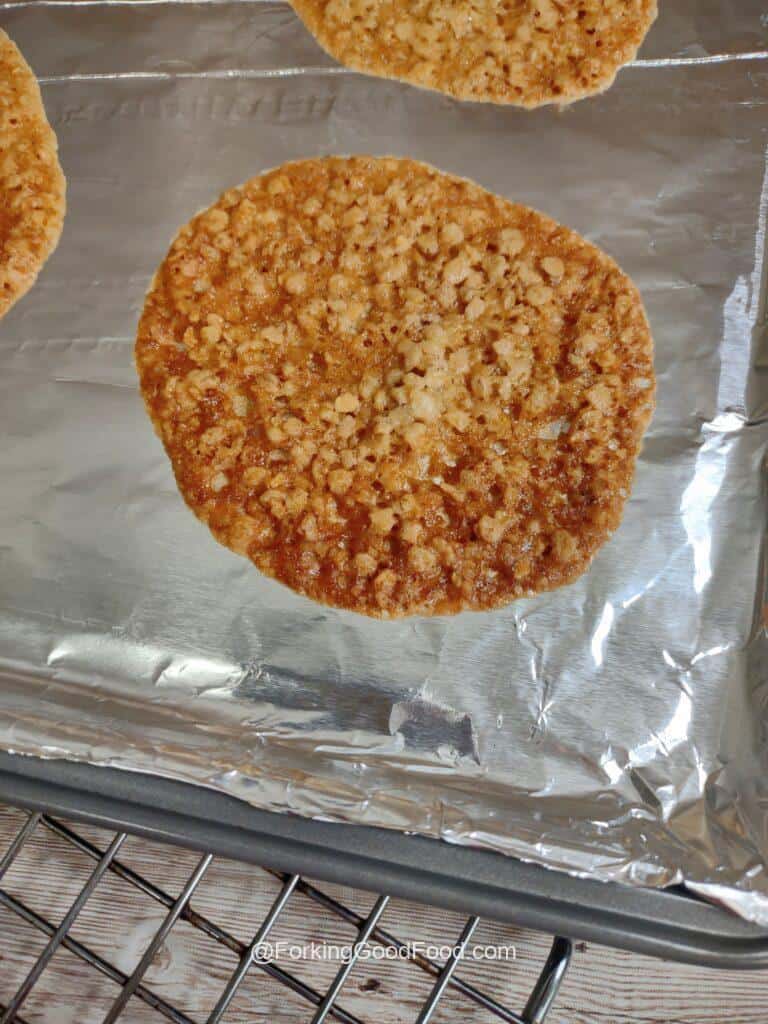 Once completely cooled VERY VERY gently peel them off the foil.  They are extremely delicate so take your time – no need to rush.  But… if you should crumble a few, sprinkle them over ice cream for a wicked treat.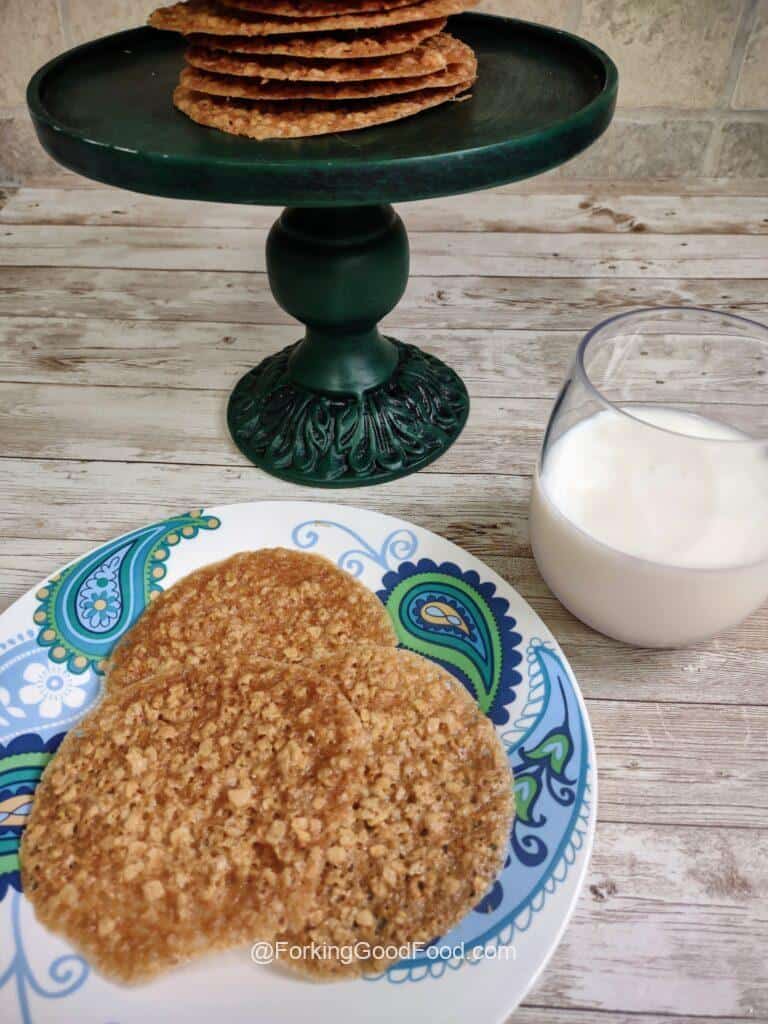 More sweet treats to try:
Recipe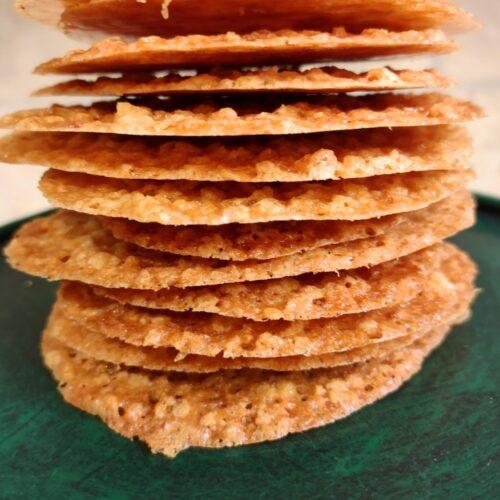 Lace Cookies
These are the thinnest, most delicate, crispiest, buttery-est cookies you'll ever have. While they have oatmeal in them, they do not taste or feel like your run of the mill oatmeal cookie.
Equipment
Baking tray (multiple will cut down on baking time)
Ingredients
1

egg

beaten

8

Tbs

butter

melted

2

teaspoon

vanilla

3

Tbs

+ 1 teaspoon AP Flour

1

cup

quick cook oats

1

cup

sugar

¼

teaspoon

salt

½

teaspoon

baking powder
Instructions
Preheat oven to 350℉

Mix all ingredients in a large bowl until well combined

Line baking trays with aluminum foil

Drop 6 teaspoon size drops of dough on each baking tray - no more than 6 because they will really spread out

Bake for 12-15 minutes or until golden brown

When baked, slide foil off of the tray and allow the cookies to cool completely then very gently peel them off the foil
Notes
Makes about 2 dozen, store in an airtight container between wax paper
Nutrition
Calories:
110
kcal
Carbohydrates:
23
g
Protein:
2
g
Fat:
1
g
Saturated Fat:
1
g
Polyunsaturated Fat:
1
g
Monounsaturated Fat:
1
g
Trans Fat:
1
g
Cholesterol:
15
mg
Sodium:
82
mg
Potassium:
46
mg
Fiber:
1
g
Sugar:
17
g
Vitamin A:
36
IU
Calcium:
27
mg
Iron:
1
mg