This Pork Belly Carbonara Pasta is a creamy classic Italian staple that is simple to make and delicious.
Pork Belly Carbonara Pasta
Carbonara is a wonderfully creamy pasta (that has no cream), usually made with some type of cured pork, that is as easy to make as it is yummy.  This classic Italian dish originated in Rome and gets its creaminess from egg yolks.  Incredibly simple and incredibly easy.
What is pork belly and why is it so popular now?
Pork belly is just that - it's the slab of meat that comes from the belly of the pig.  You can get it in slabs (that still have the rind on) or slices that look amazingly like bacon.  For this recipe I chose slices just because they are easier to cut into small pieces.  It's popularity is two fold. 1. It's really tasty. 2. It's relatively inexpensive.  Two things that are always a plus to me.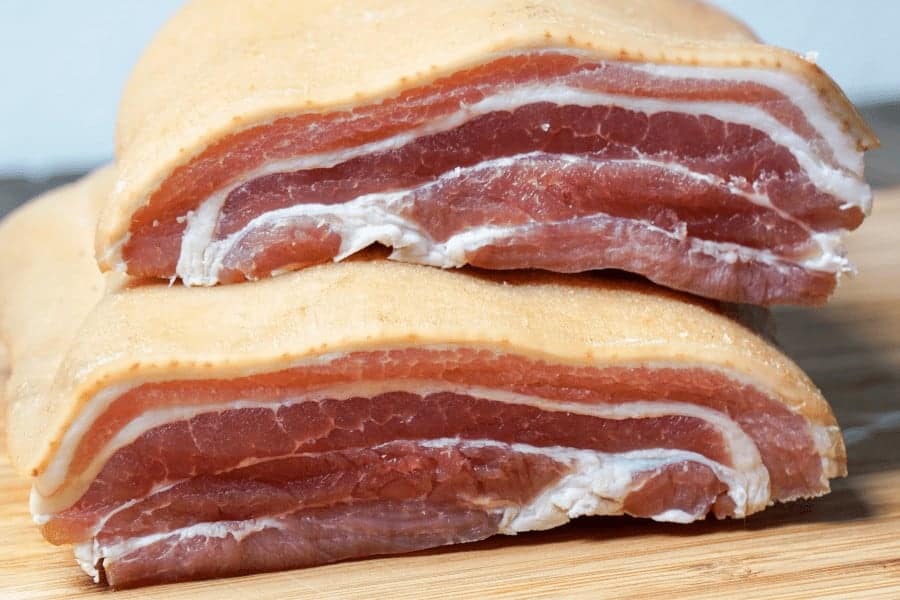 What's the difference between pork belly and bacon?
They look the same, but they're not going to taste the same.  Bacon is cured and usually smoked.  Pork belly isn't and has a much milder flavor than bacon.  Seasoning plays a big role in the success of pork belly when served as a stand alone ingredient, but in this dish it really needs no seasoning at all.  Pork belly, because of its high fat content can be difficult to slice.  I usually partially freeze mine just to give it a little firmness; it should be easy to cut after that.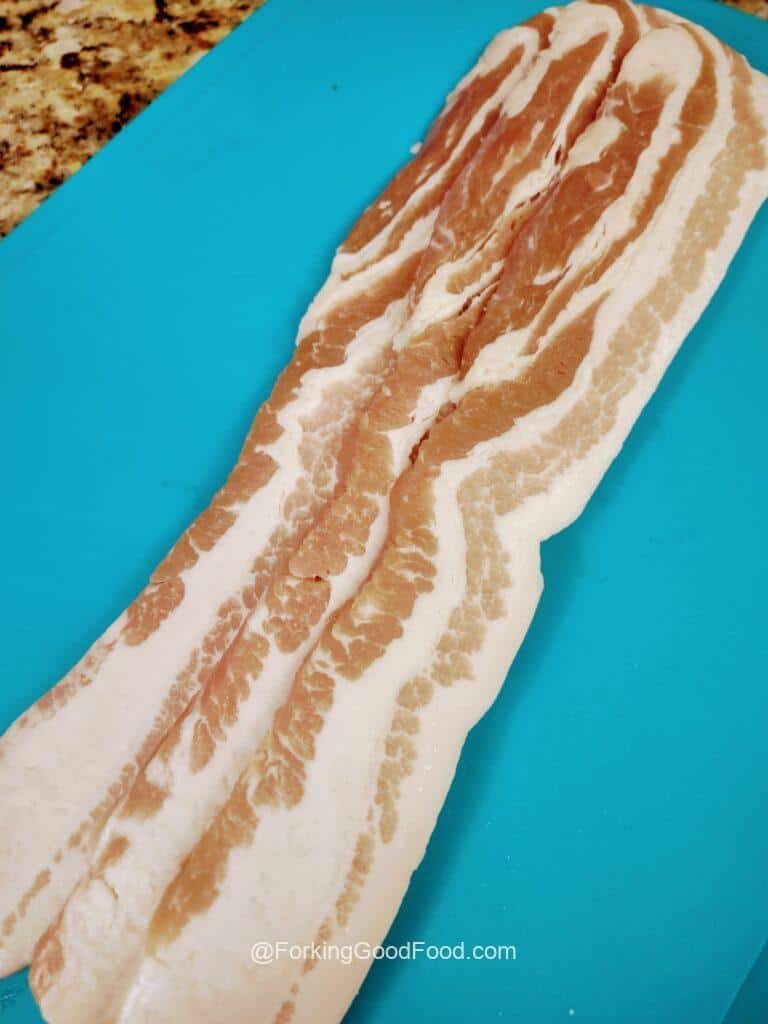 How to Make Pork Belly Carbonara Pasta
To make this delicious Carbonara you'll need a few things.  A box of dried Linguine or Spaghetti (I prefer Linguine for this recipe), 6 egg yolks, olive oil, parmesan cheese, your pork belly, salt and pepper, garlic, red pepper flakes, chives, and basil.  Don't throw those egg whites away!  Save them for egg white omelets or meringues.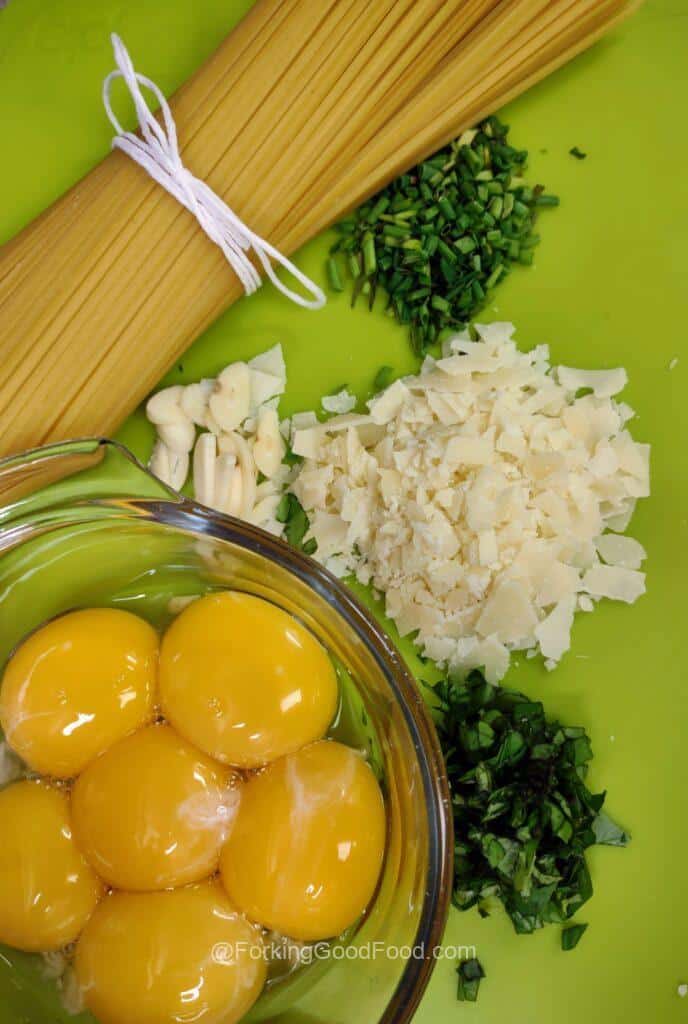 Dice your pork belly being sure to use a different cutting board, or wash the one you used for your herbs really well. Wash your hands after handling raw meat of any kind to avoid cross contamination.  No one wants Salmonella.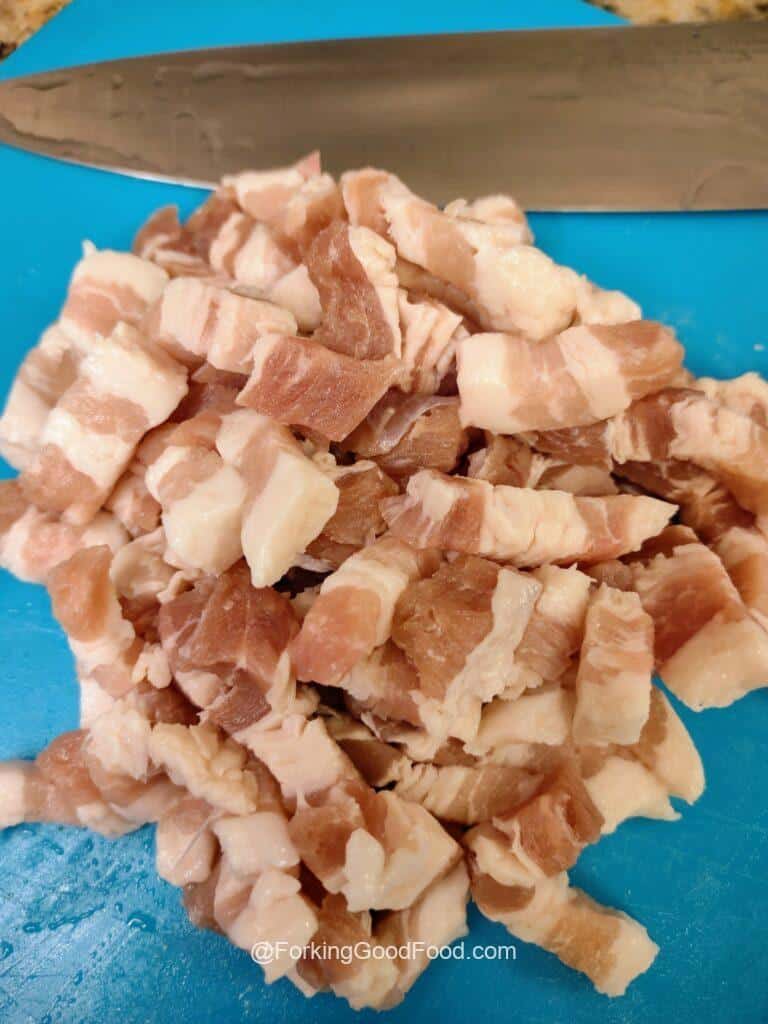 Boil the pasta according to the directions on the box and don't forget to salt your water!  Drain (saving 1 ½ cups of the pasta water) and toss in a little olive oil to keep the pasta from sticking together while you cook the pork.  Whisk your yolks, cheese, and salt and pepper together.  While continuing to whisk, slowly add in the HOT pasta water.  The heat from the water is what's going to cook your egg yolks.  You don't want the water boiling, but you do want it good and hot.  Pop it in the microwave or heat on the stove if it's just warm.
Fry off the pork belly until brown and crispy, about 5 minutes, stirring occasionally to ensure even cooking. Add in your garlic and red pepper flakes and cook for about 45 seconds to a minute, much longer and your garlic will burn. Add the pasta and toss well to coat the pasta evenly in the pork fat.  Add in the chives and basil, give it another toss and serve it up with a sprinkle of cheese and a little more basil. Mangia!
More pasta recipes to try:
Recipe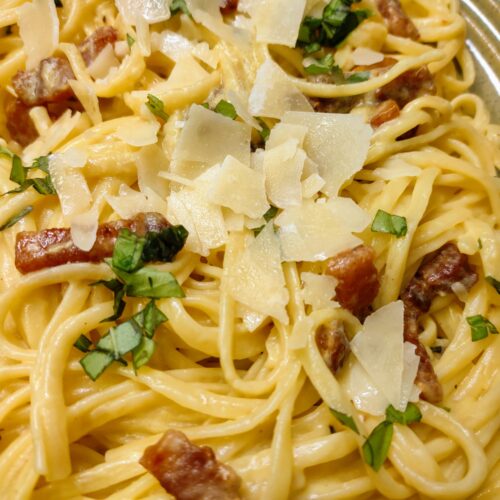 Pork Belly Carbonara
This Pork Belly Carbonara Pasta is a creamy classic Italian staple that is simple to make and delicious.
Ingredients
1

lb

Spaghetti or Linguine

¼

cup

olive oil

+ a Tbs more for pasta

6

egg yolks

large

¼

cup

finely grated parmesan cheese

plus more for garnish

Freshly ground black pepper and salt

to taste

6

oz

pork belly

finely diced

2

cloves

garlic

thinly sliced

1

teaspoon

red pepper flakes

optional

¼

cup

fresh chives

finely chopped

¼

cup

fresh basil

chopped for garnish
Instructions
In a stock pot, cook the pasta according to package directions, throwing in a palm full of salt. Drain the pasta, reserving 1 ½ cups or the water, and toss lightly with a little oil to prevent sticking.

In a medium bowl, whisk together egg yolks, parmesan, and salt and pepper. Add the hot pasta water very slowly, whisking constantly, to the egg mixture to cook. Note that the water should be hot, not boiling; if it has cooled, reheat in a microwave or on the stovetop

In the same pot you cooked the pasta in, add the oil and cook the pork belly until browned and almost crispy, about 5 minutes.

Add the garlic and red pepper flakes (if using) and cook until fragrant, about a minute

Add the pasta and toss until well blended, coated in the pork belly fat, and hot then remove from the heat

Slowly add the egg mixture then the chives, tossing vigorously to evenly incorporate the sauce throughout

Plate and garnish with additional cheese and basil
Nutrition
Calories:
439
kcal
Carbohydrates:
43
g
Protein:
13
g
Fat:
23
g
Saturated Fat:
7
g
Polyunsaturated Fat:
3
g
Monounsaturated Fat:
12
g
Cholesterol:
165
mg
Sodium:
69
mg
Potassium:
198
mg
Fiber:
2
g
Sugar:
2
g
Vitamin A:
392
IU
Vitamin C:
1
mg
Calcium:
70
mg
Iron:
1
mg