This one pot Brushetta pasta recipe is a great summer-time dish that can be whipped up in a flash.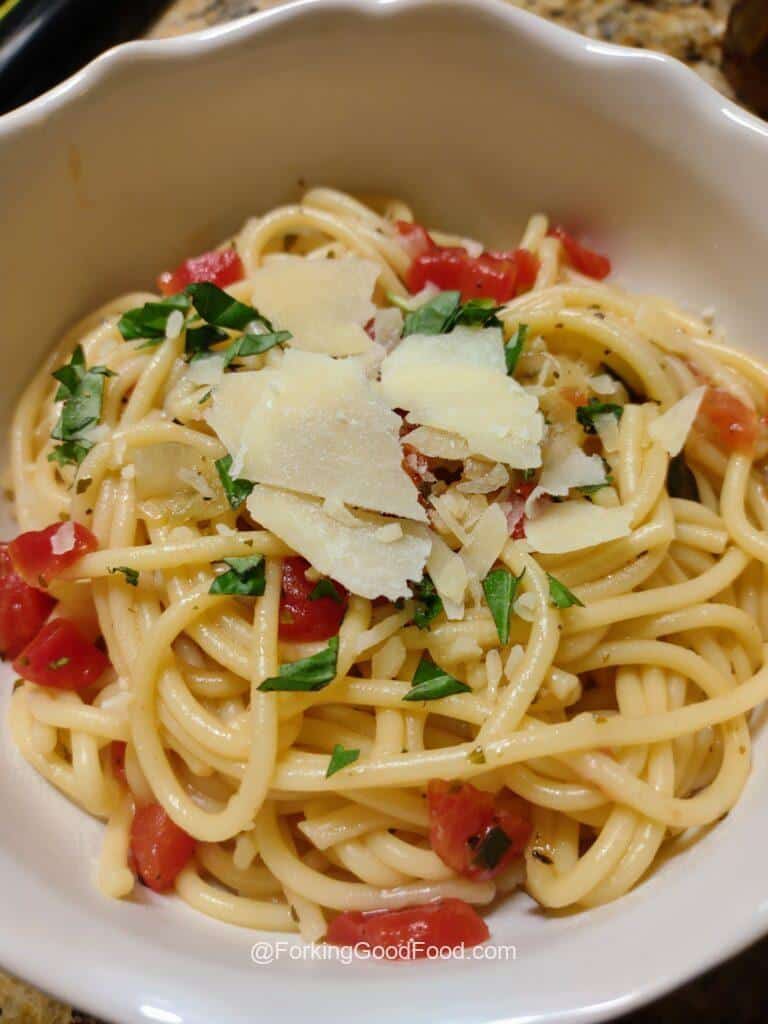 I find that pasta can be very heavy in the summer but I find this one refreshingly light but still packed with all those yummy Italian flavors we love so much.
Is pasta healthy?
That is the great debate.  It's very high in carbs and gluten which can be troublesome for restricted diets. But there are so many types of pasta that almost anyone can find one to fit it with their lifestyle. Pasta can be refined (stripped of almost all nutrients), enriched (B vitamins and iron added), or whole-grain.  Whole-grain contains all the parts of the wheat kernel and is the healthies of all the options.  You can also get gluten-free. There is a lot of information out there about the nutritional value of pasta and much of it conflicting, so you will probably need to decide for yourself.  My philosophy is this - everything in moderation.  Tweak this recipe to meet your own dietary preferences.
How easy is it to make this Bruschetta Pasta Recipe?
Let's find out! Chop your basil, slice your onions, and measure out your ingredients.  I use a mandolin for the onions because it's so quick and easy and you get uniformly sliced onions.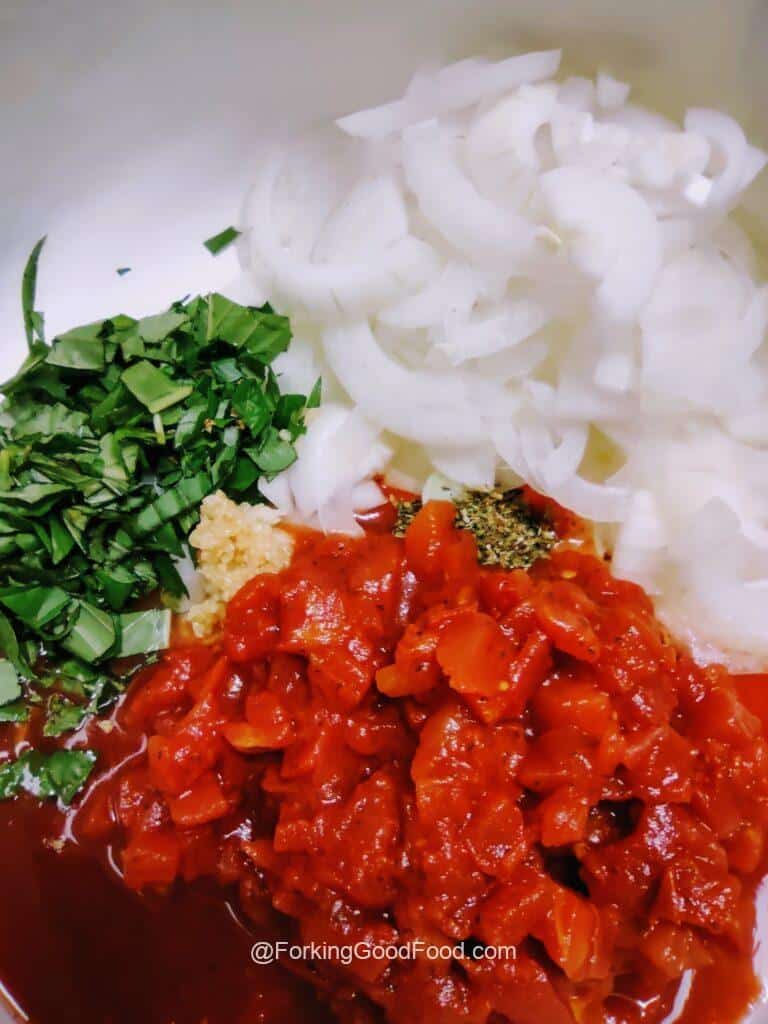 Put a little olive oil in the bottom of a stock pot and then add everything else other than the spaghetti.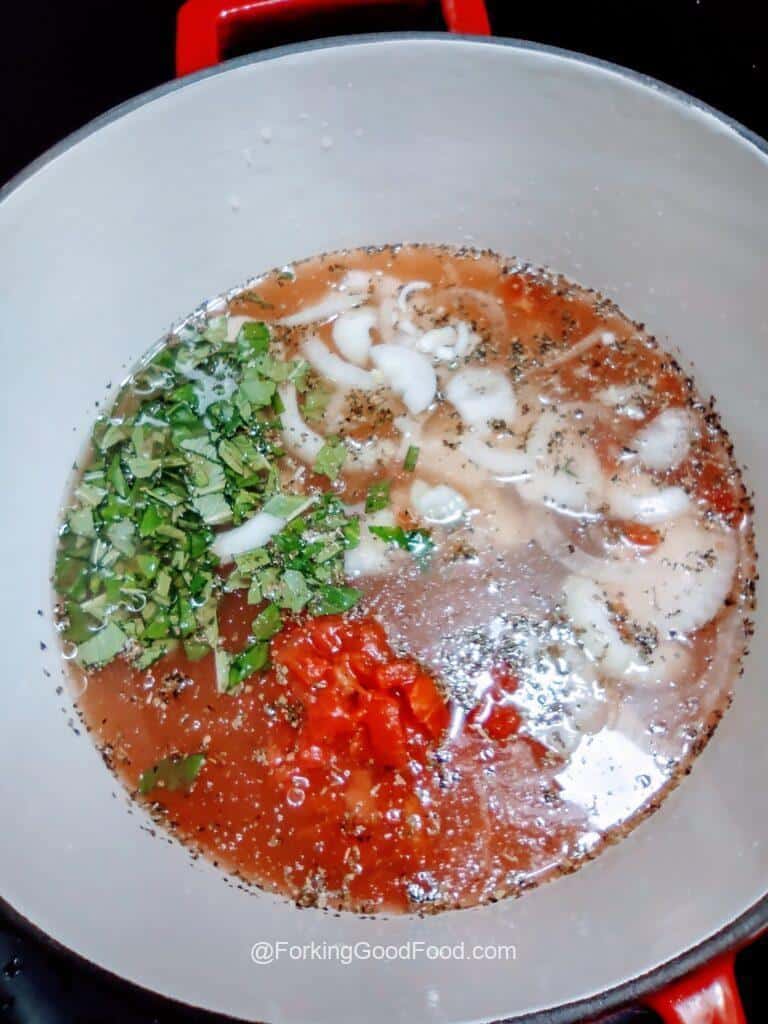 Add the spaghetti, pushing it down to submerge it as much as possible.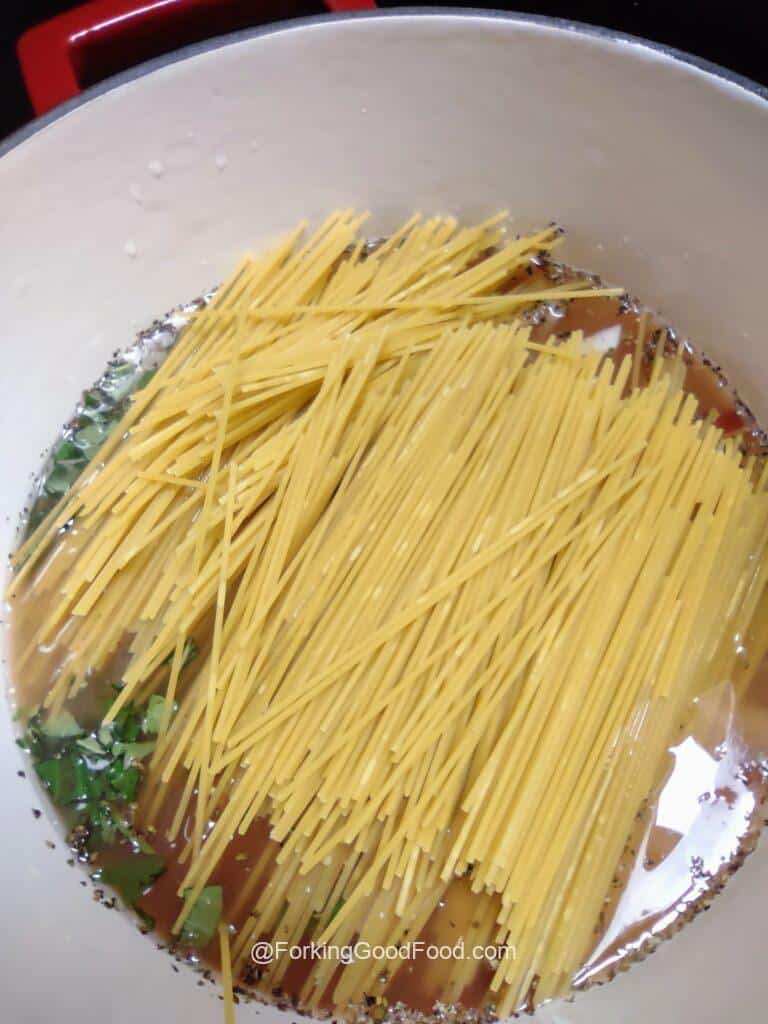 Bring to a boil, lower the heat and then cook until the pasta is al dente (still firm to the bite but not hard).  Remove from the heat and let sit for about 5 minutes to thicken.  Garnish with fresh shaved parmesan and a little drizzle of Balsamic.
Recipe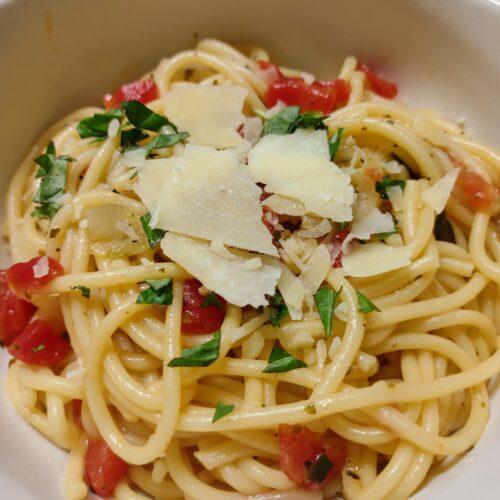 Bruschetta One Pot Pasta
This combines two of my favorite food groups: Bruschetta and Pasta. Because it's quick and easy with very little clean-up it makes a great mid-week dinner.
Equipment
Large stock pot or deep dutch oven
Ingredients
1 14

oz

can petite diced tomatoes

1

medium onion

sliced thin

1

handful

basil

fresh, chopped

3-4

cloves

garlic

minced

1

Tbs

oregano

2

Tbs

Balsamic vinegar

Red pepper flakes

to taste, optional

2

Tbs

olive oil

divided

1

lb

spaghetti

broken in half

32

oz

stock

chicken or vegetable

Shaved parmesan

optional garnish
Instructions
Pour 1 Tbs oil in the bottom of a large stock pot.

Put all other ingredients, except for the pasta, in the pot and stir well.

Add pasta, simply on top of the liquid, pressing down with a large fork to submerge as much as possible.

Over high heat, bring to a boil, then reduce heat, cover, and cook for 12 minutes or until pasta is al dente, stirring every 2 or 3 minutes.

Remove from heat and allow to thicken for about 5 minutes.

Garnish with shaved parmesan and a drizzle of Balsamic if desired.
Notes
If you don't have fresh basil, dried will be just fine, just reduce the amount to 1-2 Tbs depending on your taste.
I don't suggest using garlic powder in this recipe but it can be done. I love kitchen gadgets so I like using my garlic press, but jarred garlic is handy and just as good.
Usually you heavily salt the water when cooking pasta. I find that chicken stock provides more than enough salt for me. If I'm using low-sodium or vegetable stock I add a little salt in for flavor.
This may be the easiest dish you ever make. I keep the ingredients on hand for those nights when I really don't feel like cooking but I don't want to give up any flavor. This dish is easily made as a vegetarian option and gluten-free pasta can be substituted. Budget-friendly, it can feed a family for pennies a plate and the kids will love it. Made in only one pot, you'll have plenty of time to relax.
Spice it up! If you like things spicy - toss in those red pepper flakes! Just remember, a lot goes a long way. If you're serving it to the kids, consider cooking without the peppers and then sprinkling them on with the garnish.
Nutrition
Calories:
276
kcal
Carbohydrates:
50
g
Protein:
9
g
Fat:
5
g
Saturated Fat:
1
g
Polyunsaturated Fat:
1
g
Monounsaturated Fat:
3
g
Sodium:
529
mg
Potassium:
320
mg
Fiber:
3
g
Sugar:
6
g
Vitamin A:
380
IU
Vitamin C:
6
mg
Calcium:
47
mg
Iron:
2
mg