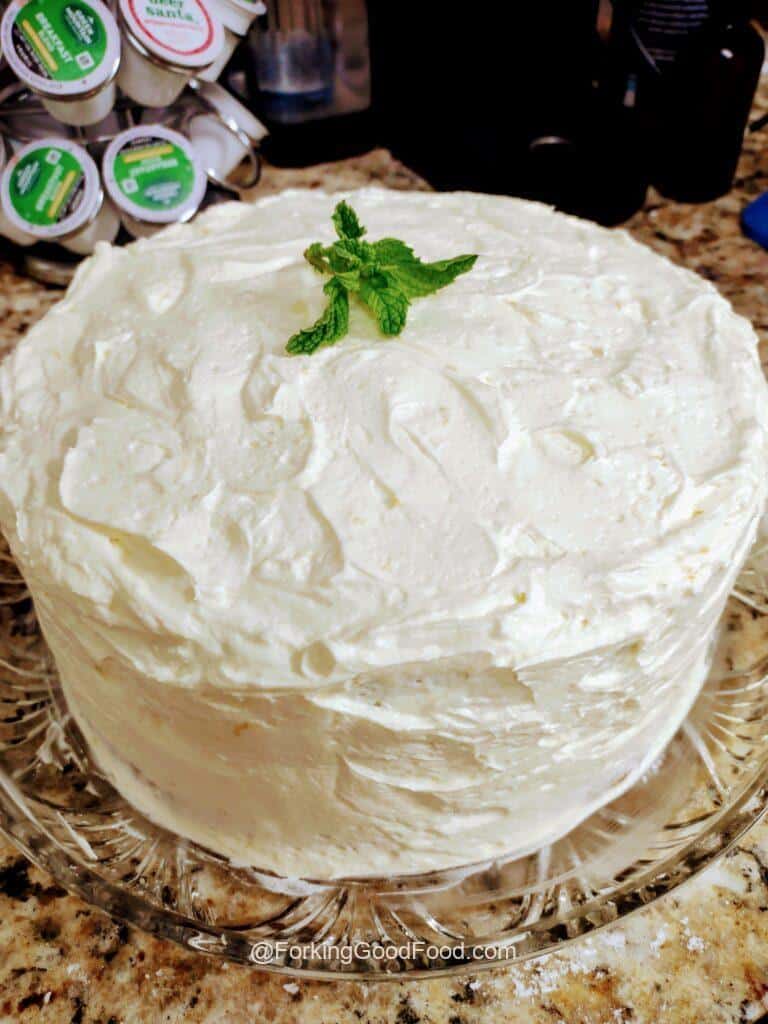 Blueberry Zucchini Cake
This is one of my favorite summertime desserts; loaded with a secret ingredient that makes it super moist. Making a cake from scratch may take a little more time, but it is so worth it, And if the thoughts of zucchini in cake is off-putting to you or someone you love - I promise you won't know it's there; and you don't have to tell them.
There is usually nothing healthy about a cake, but with this one we get to sneak in some beneficial nutrients as well! Pair this with our homemade buttercream for an amazingly sweet treat!
What are the special ingredients in the cake?
Blueberries
Blueberries are considered a "superfood" and are an excellent source of vitamin K1 (benefits bone health) and vitamin C (important for immunity and skin health) as well as being an antioxidant. Blueberries are a good source of fiber too.
Zucchini
Zucchini (Courgette or Baby Marrow) is a summer squash that is usually a dark green color, but it may have yellow stripes. If left to grow to maturity, they can reach up to 3 feet in length! They are full of folate (necessary for cell division and fights anemia), potassium (fights hypertension and is a good diuretic), and Provitamin A otherwise known as Beta-Carotene (helps maintain skin health and appearance, and may protect the skin against UV radiation from the sun. It also fights Alzheimer's and other age-related cognitive diseases.) So this is a pretty great secret ingredient!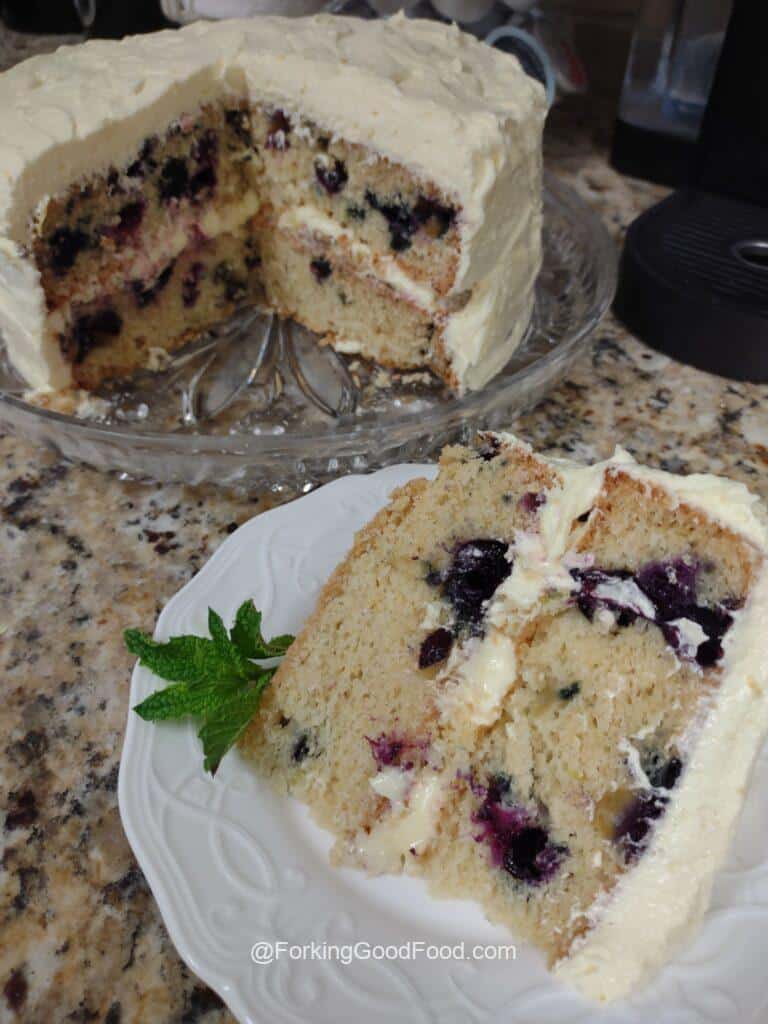 This Blueberry Zucchini Cake is the perfect way to use up those extra zucchinis from your garden. The moist and tender cake is dotted with juicy blueberries, making for a decadent treat that's sure to be a hit! With its delicious sweet-tart flavor and irresistible texture, this simple cake recipe is sure to become one of your favorites. Plus, it's easy enough for beginner bakers to make and can be enjoyed any time of year! Enjoy a slice with a cup of coffee or tea on a lazy Sunday morning—there's nothing quite like it!
Other cakes to try:
Recipe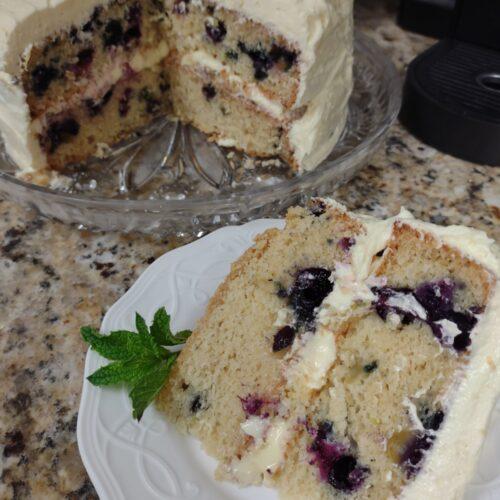 Blue Z'ini Cake with Lemon Buttercream
Deliciously moist cake loaded with juicy blueberries.
Ingredients
3

eggs

lightly beaten

1

cup

vegetable oil

3

teaspoon

vanilla extract

2 ¼

cups

sugar

2

cups

zucchini

peeled, grated, and drained and I won't tell anyone if you don't

3

cups

AP flour

1

teaspoon

salt

1

teaspoon

baking powder

¼

teaspoon

baking soda

1

pint

fresh blueberries

reserving a few for garnish
Lemon Buttercream
1

cup

salted butter

room temperature

3 ½

cups

powdered sugar

1

lemon

juiced and seeded

2

tablespoon

lemon zest

1

teaspoon

vanilla extract

⅛

teaspoon

salt

3-4

drops

yellow food color

optional
Instructions
Make the Cake
Preheat the oven to 350F and prepare 2, 8" round cake pans.

Grate a large zucchini and place in a clean dishtowel. Roll up the towel and wring until most of the liquid comes out then set aside.

In a large bowl, using a hand mixer, beat together the eggs, oil, vanilla, and sugar.

Slowly add in the flour, baking powder, and baking soda.

Gently fold in the blueberries.

Divide batter evenly between the two cake pans, lightly tapping on the counter a few times to remove any air bubbles.

Bake for 35-40 minutes or until a toothpick inserted in the center comes out clean and the top springs back to the touch.

Cool for 20 minutes in the pan, then turn out onto a wire rack and cool completely.
Make the Buttercream
While the cakes are cooling combine the butter and salt in a large bowl or stand mixer and beat well until creamy.

At slow speed, add in powdered sugar ½ cup at a time until smooth.

Add the lemon juice, zest, vanilla and food coloring (if using) and beat on medium-high for another 3-5 minutes until light and creamy.

Frost the cake any way you like - simple... fancy... it's all good.
Notes
Preparing the pans.  I choose to use the cooking spray that has added flour.  You can used the tried and true method of greasing and flouring the pan. You can also go the parchment paper route.  I've never had a problem at all with the cooking spay (unless you're using a silicone pan).  it really is a personal preference.
Some people dust the blueberries with flour before adding to keep them from sinking.  I usually don't with this recipe because it's a rather sturdy batter but it certainly won't hurt anything.  As an FYI there are about 2 cups of blueberries in a pint.  If you have a little more - fine.  If you're short a little bit (or save some for garnish) that's ok too.
For a bigger blueberry punch add a thin layer of blueberry preserves in the middle layer before you add the buttercream.
Food coloring. To use or not to use?  That is completely a personal preference.  With out it the buttercream will be an extremely light pale yellow.  It's still beautiful and if the cake is garnished with a couple of thin lemon slice curls everyone will know to expect the fresh lemony taste.  A few drops of food coloring simply boosts the color.  If you decide to use it, put in one drop at a time until it's thoroughly mixed in and decide what looks best to you. I use 2-3 drops at most.
Because of the butter, as well as the fruit and vegetable content, store this cake in the refrigerator and bring it out just 5 or 10 minutes before serving. 
Nutrition
Calories:
778
kcal
Carbohydrates:
105
g
Protein:
7
g
Fat:
39
g
Saturated Fat:
26
g
Trans Fat:
1
g
Cholesterol:
82
mg
Sodium:
836
mg
Potassium:
182
mg
Fiber:
2
g
Sugar:
75
g
Vitamin A:
576
IU
Vitamin C:
10
mg
Calcium:
101
mg
Iron:
2
mg