This amazingly beautiful tart has a light and not too sweet pastry cream in a tender shortbread type crust. The glazed fruit will draw oohs and ahs whether it's served for dessert or at brunch.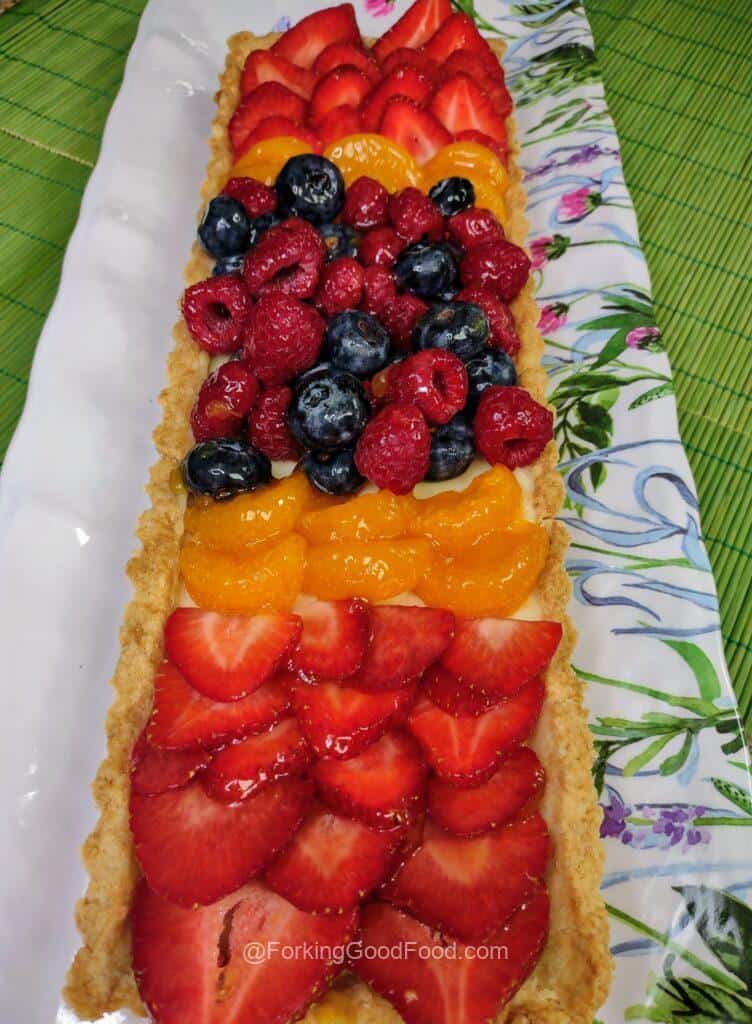 Classic French Fresh Fruit Tart
This is going to be one of those recipes that at least one person is going to say "Ooh, that's too pretty to eat!" Nonsense.  Nothing is too pretty to eat especially not a Classic French Fresh Fruit Tart.  When berries are at their peak, this is a light yet decadent way to make them the star.  The simple trick to achieve the glossy shine gives a wow factor like you wouldn't believe.
I usually don't like using a lot of fancy jargon, but this is a recipe that lends itself to learning some cool new cooking terms. Like these…
What is Nappage in baking?
Nappage is the apricot glaze that gives this dish the amazing shine.  Using warmed apricot jam, thinned with just a little water prevents the fruit from drying out and slows oxidation.  Oxidation happens when you cut into a fruit or vegetable and the insides are exposed to outside air. Oxidation causes browning or darkening  – and there's nothing pretty about yucky brown fruit!?!
What does it mean to temper eggs?
Eggs can be a bit finicky in recipes, especially in things like pastry cream or custard when you're adding a hot liquid to raw egg.  If you just dump the hot liquid in, you're going to end up with very soft scrambled eggs. Gross.  There's no coming back from that so you would have to start over.  BUT, with a little patience and gentle hand you can have extra creamy fillings.  What you want to do, is introduce the liquid very slowly to the eggs, whisking the entire time.  By keeping the eggs moving, and gradually adding the liquid, your slowly raise the temperature of the eggs without cooking them.
How do I make a Classic French Fresh Fruit Tart?
First, you need to have your crust already made and cooled completely.  Traditionally a Pâté Sucrée crust is used.  It's delicate but sturdy enough to keep it's shape when removed from the tin.  If you need a good recipe – check this out Pâte Sucrée – Sweet Pastry Crust.  Then gather your ingredients for the pastry cream: sugar, flour, cornstarch, salt, an egg, some whole milk, softened butter, and a little vanilla or almond extract.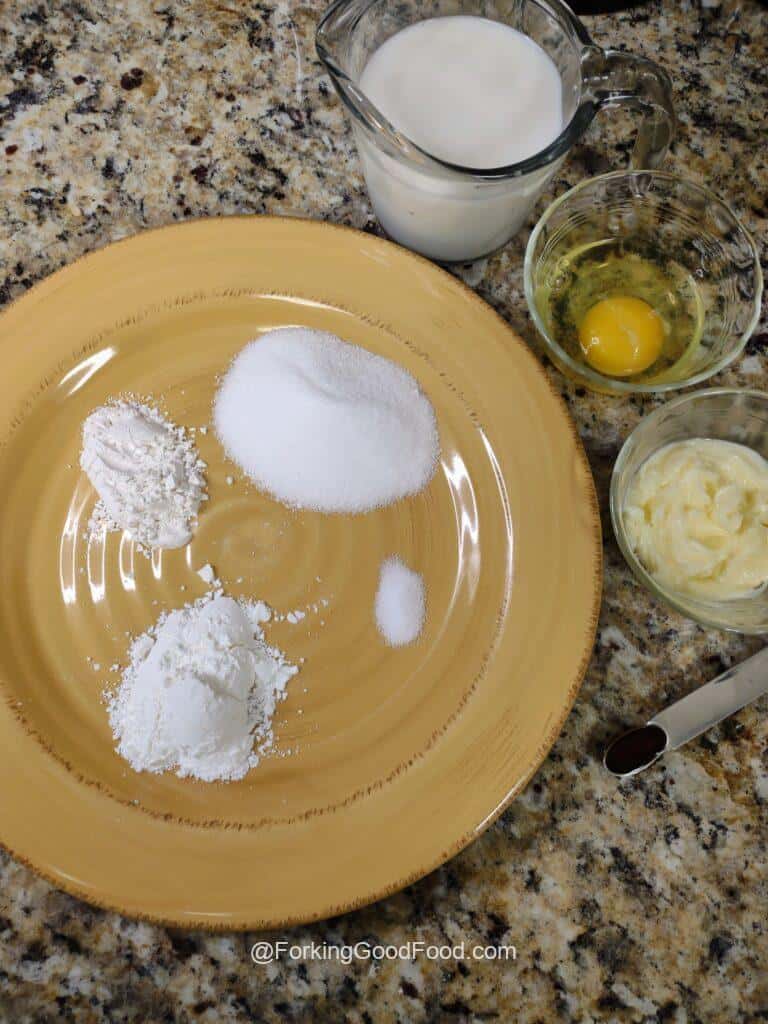 Whisk the dry ingredients together to fully combine and then mix in the egg; set aside while you heat the milk.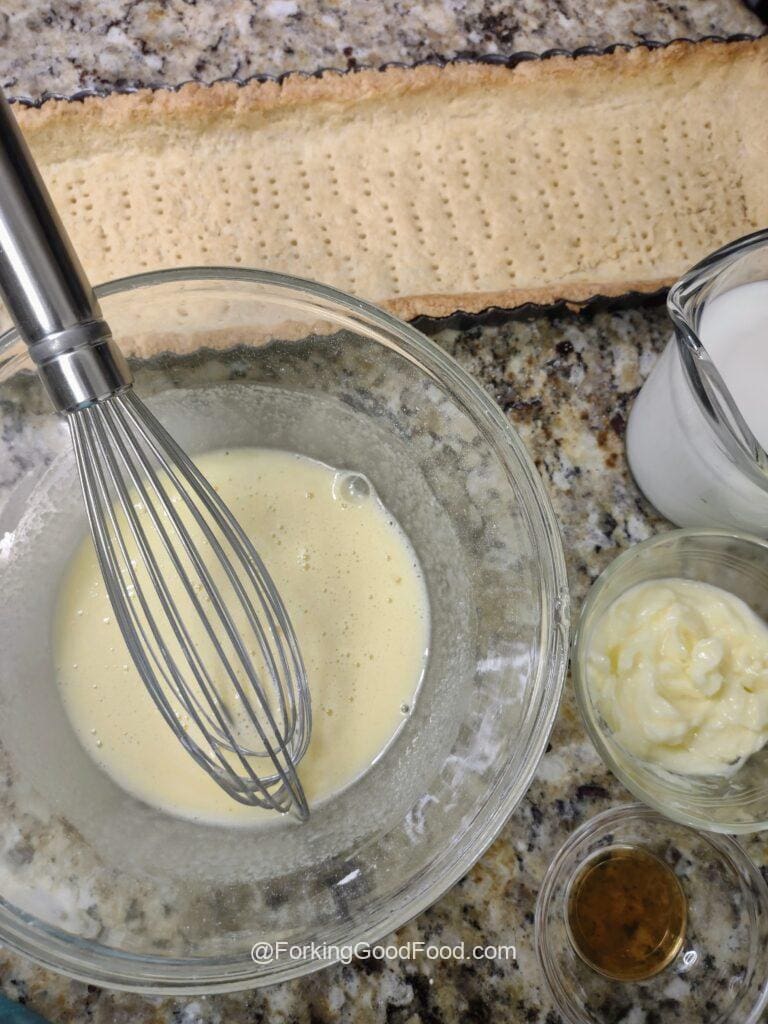 I cheat – I put my milk in a large measuring cup and heat for 2 minutes in the microwave; this will bring it to just boiling or you can heat it on the stove in the saucepan you're going to use in the next step – but I find it easier to pour from the cup.  SLOWLY add the boiling milk to the egg mixture.  I mean – just a trickle- all while whisking the eggs.  Once you have about half the milk added to the eggs, you can speed up the pouring just a little, but make sure you keep whisking.  Pour into a saucepan over medium heat and whisk like heck until just boiling.  Keep on whisking and cook for one minute.  If you have small lumps form, then whisk faster.  It will thicken very quickly and burn in the blink of an eye so don't look away for a second.  When you have a consistency of a very thick pudding, you're all set.  Remove from heat and whisk in your butter and extract.
You just made pastry cream!  WOOHOO!  Now pour your pastry cream into your cooled tart crust and cover with plastic wrap.  Make sure thee plastic wrap is actually touching the cream and there are no air pockets – otherwise a film will form and it won't be nice.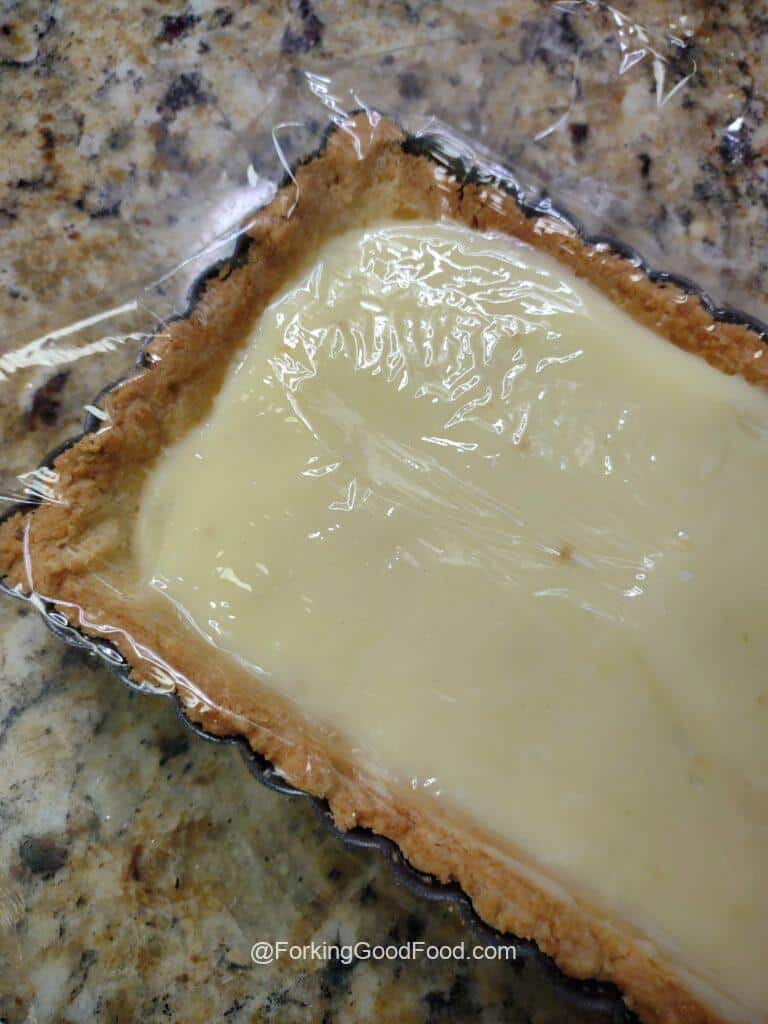 Place in the fridge and cool completely.  I usually do this overnight and arrange the fruit in the morning because we tend to have this for brunch.  Once cooled and set, gently peel the plastic wrap from the tart and gather your toppings.  You can use all sorts of fruit.  Berries, kiwi, canned mandarin oranges or peaches, or any combination thereof.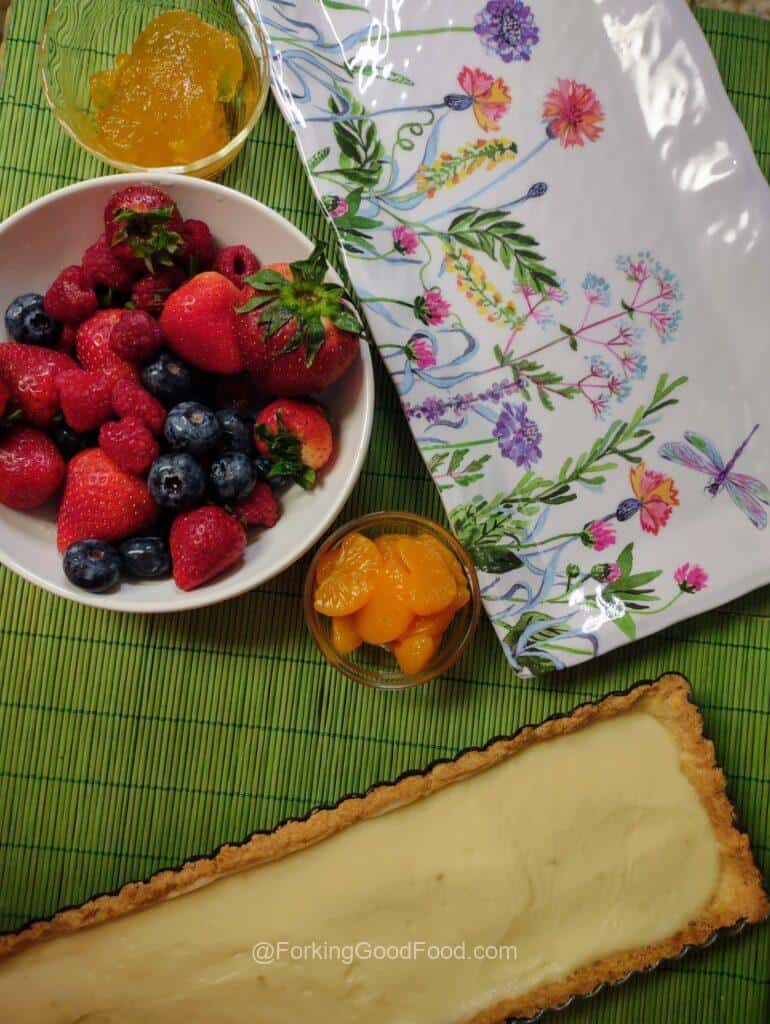 This is where you can really have fun!  OCD?  Like things in patterns or neat rows?  Go for it.  Like things all willy nilly?  You can do that too.  Let your inner artist go wild and have some fun.  Heat your apricot preserves for about 30 second in the microwave and thin out with a little water if it's too thick.  Also remove any fruit chunks that may be lurking about.  Once again, you get to be an artist… with a basting brush, gently paint the fruit with the jam and you'll see that beautiful shine.  That shine isn't going away either, it will last as long as the tart does.
How do I remove the tin sides?
Here's a easy little trick.  Take a glass or can and place the tart on top.  The tin rim should fall away.  I used a really long tart tin for this recipe so three matching juice glasses worked perfectly.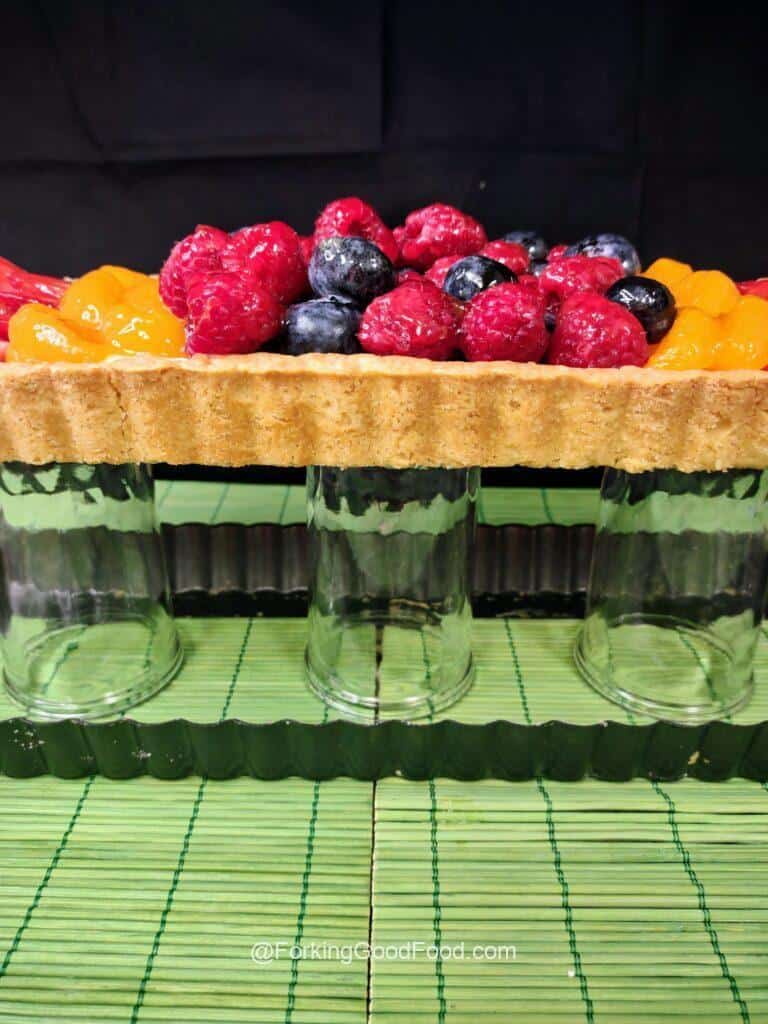 Craving something a little more rich and chocolatey?  Add 3 tablespoons of Dutch Processed Cocoa to the crust recipe and 2 tablespoons to the dry ingredients in the pastry cream.  Top the same as listed above, or just with a few sugared raspberries.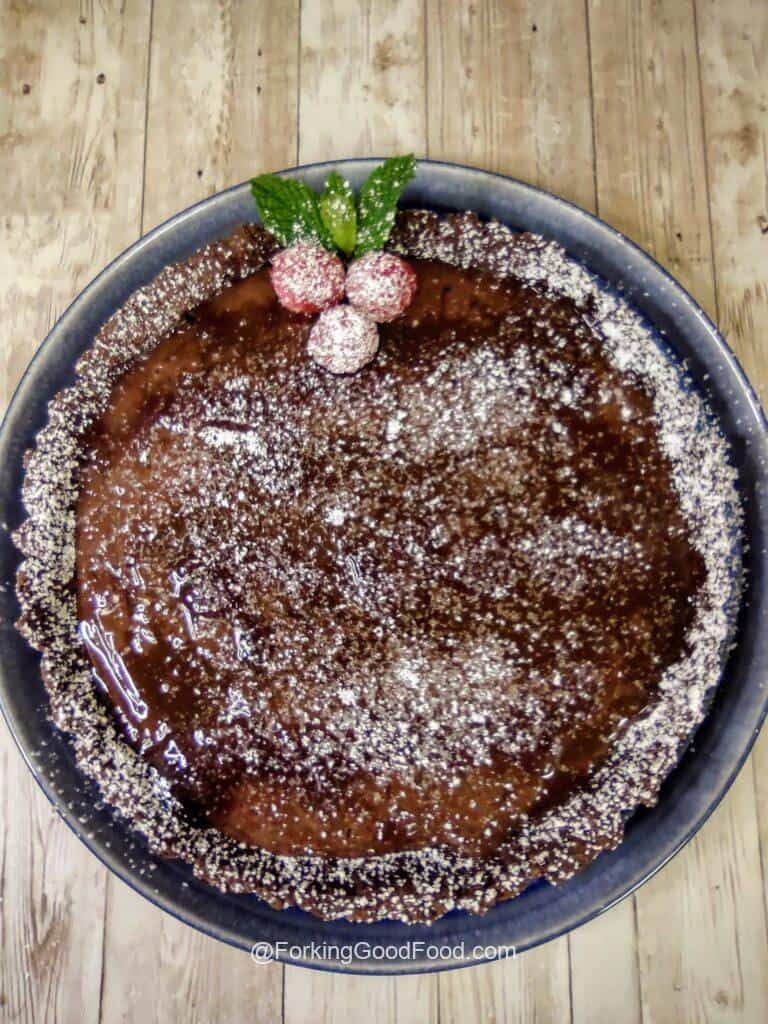 More fun sweet treats to try:
Recipe