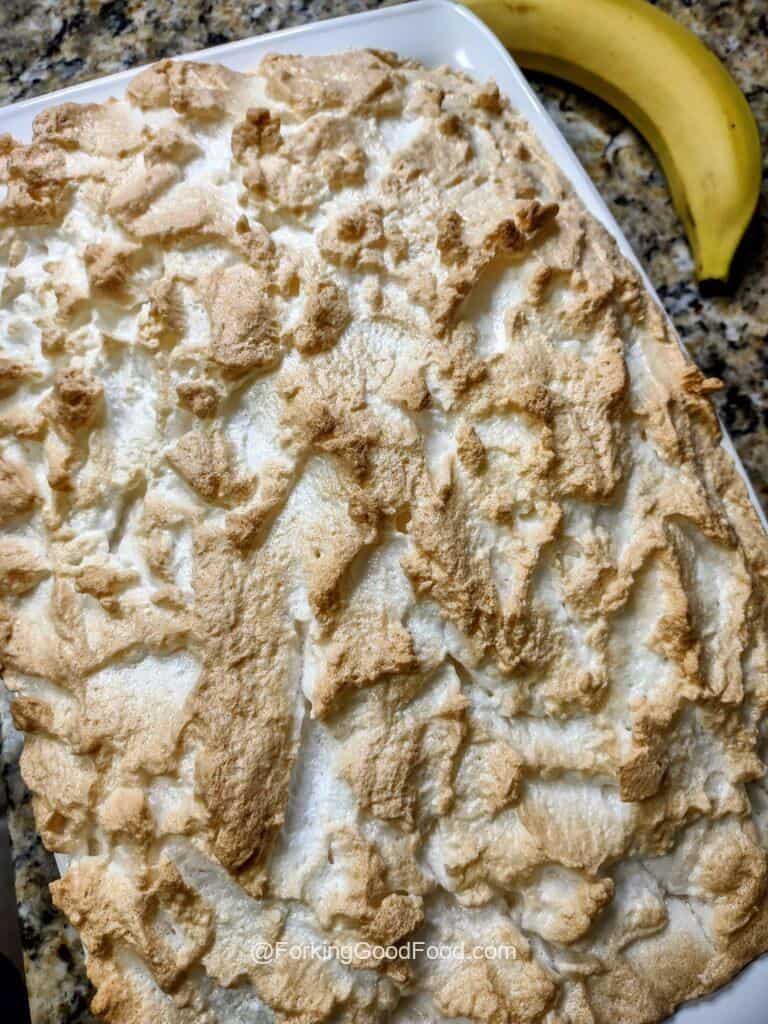 Baked Banana Pudding
Banana Pudding. Brings to mind church picnics, family reunions, Sunday dinners, and the ensuing "discussion" on who has the best recipe. I'd put this recipe up against any of them.
What is a magazine?
Once upon a time, before many of you were born, there were these things called magazines.  They were sort of like books, but floppier.  If you lived anywhere near Georgia, Alabama, or South Carolina your grandmother read this magazine like the bible.  Many of those afore mentioned "discussions" started with the words "well according to Southern Living..." This is the Southern Living recipe, or as close to it as I can remember. Decades ago this recipe was featured on the cover and my Aunt fell in love with it.  We could always count on her to bring it to any family function.  Over the decades, the cut out magazine recipe was lost.  I've tried to recreate it here.  I tried googling "Southern Living Banana Pudding Recipe on the cover" but that pulled up far more recipes than I was willing to sort through.
Do I bake a banana pudding?
To bake, or not to bake?  That is the question.  If you want a mediocre banana pudding, by all means, don't bake it.  For that matter, use instant pudding and top it with cool whip.  It will taste nice and do in a pinch, but if you really want to wow them - bake it.  Lovingly stir homemade pudding until it's thick and creamy; beat egg whites until they're fluffier than clouds, and bake that bad boy until it's golden brown.
I'm tired of reading and my mouth is watering - let's get started.
Believe it or not, this is really a very simple recipe and there's a good chance you already have everything you need.  Gather your basics out of the pantry (sugar, flour, salt, vanilla) and then the milk and eggs from the fridge.  The only thing left is the sweetened condensed milk, vanilla wafers, and the bananas.  If you are NOT like me and these are not staples in your pantry - they're probably sitting on the counter with the grocery store receipt.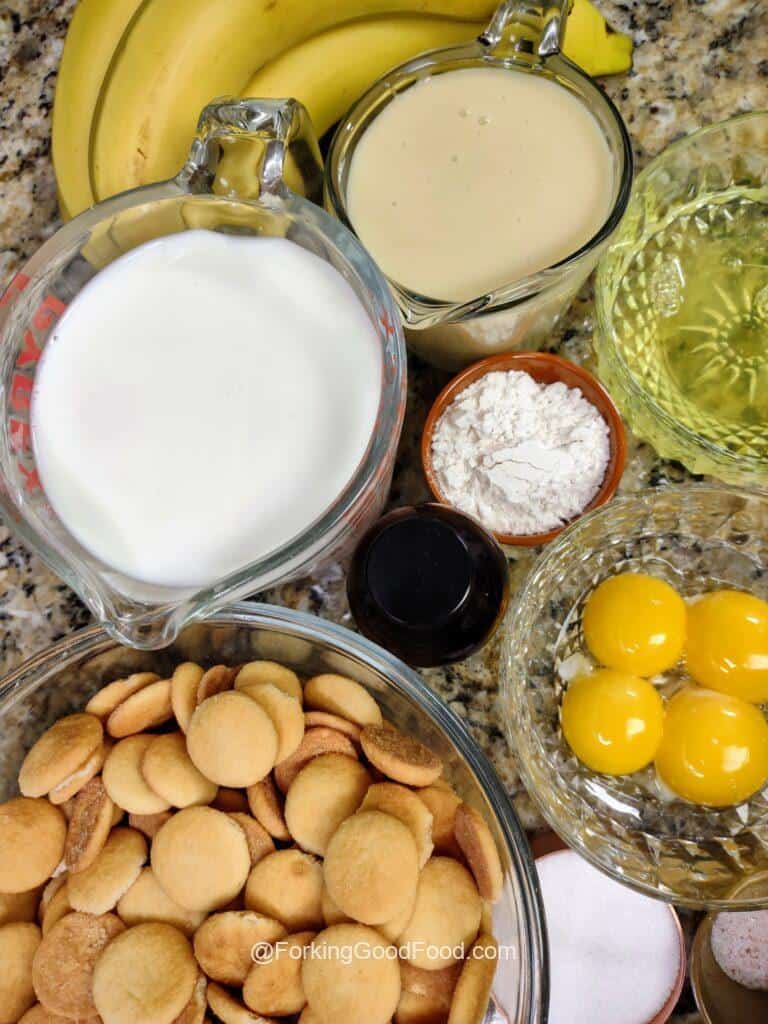 Separate your eggs.  Whisk the yolks and milks together and then pour into a heavy sauce pan with ⅔ of the sugar, the flour, and the salt.  Stirring constantly, and I mean do not stop, bring to the boil over medium heat or until the pudding is nice and thick.  Remove from heat and add in 2 teaspoon of the vanilla.
Layer the bottom of a 13x9" baking dish with vanilla wafers and sliced bananas.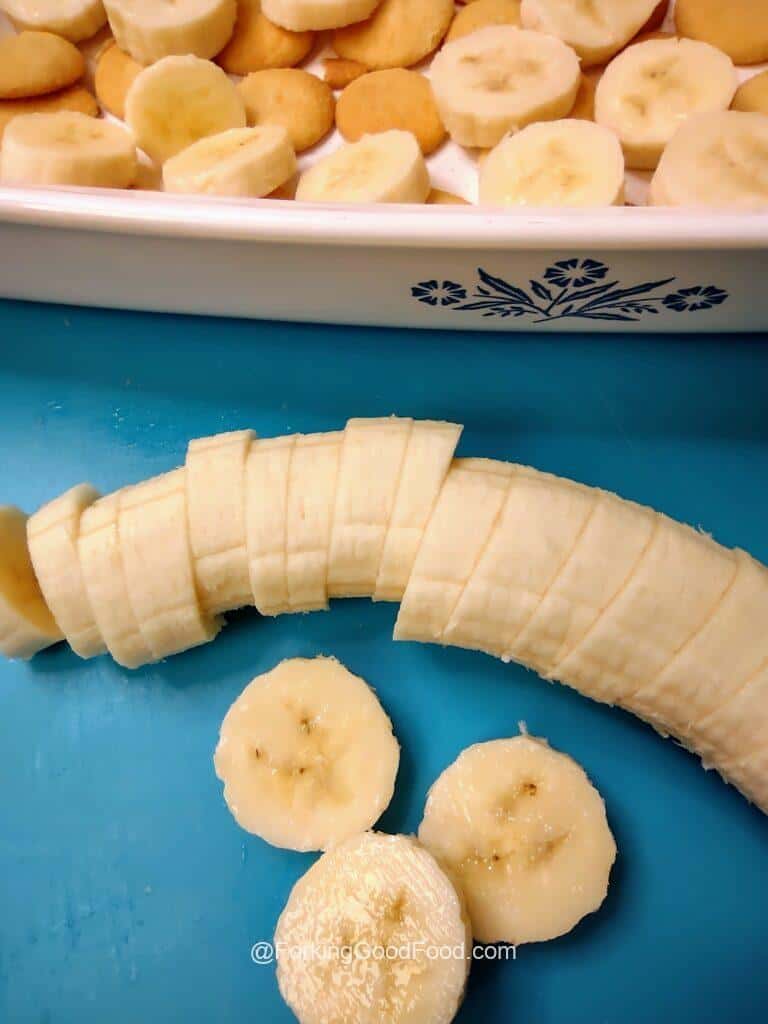 Top with ⅓ of the pudding mixture, then repeat for two more layers.
Beat the egg whites and remaining vanilla and sugar together until stiff peaks form.  Gently cover the entire pudding, making sure there are no gaps around the edges.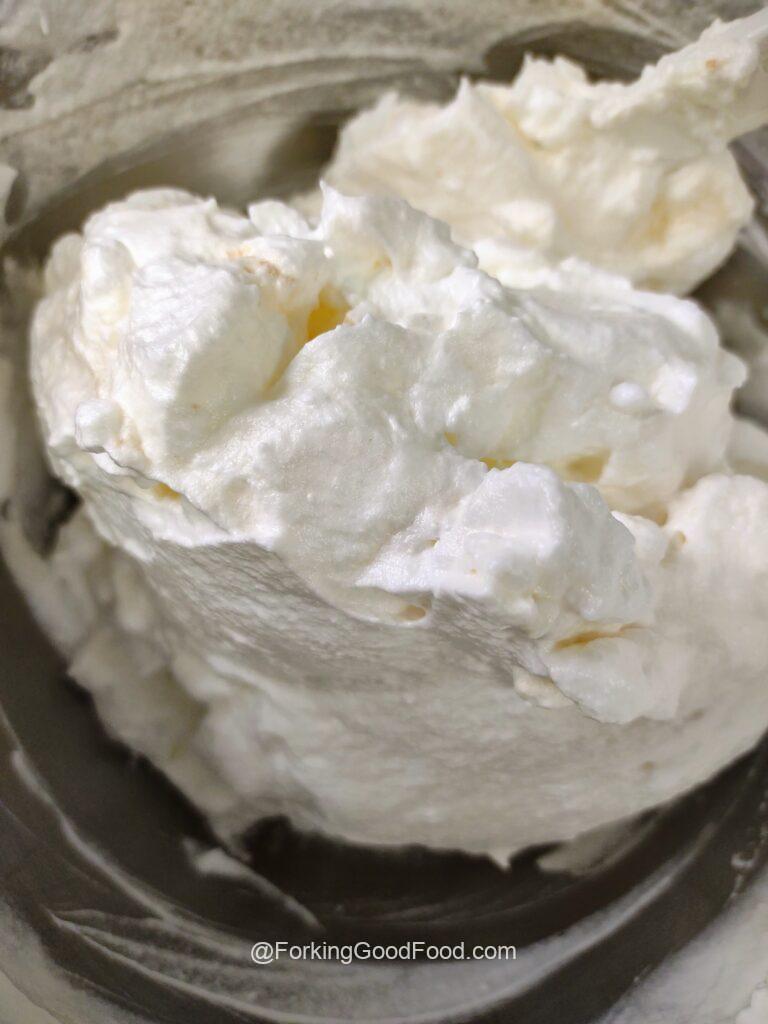 Bake at 325 for 25-30 minutes  Cool for at least 30 minutes, if you can.  It's delicious served warm or cold.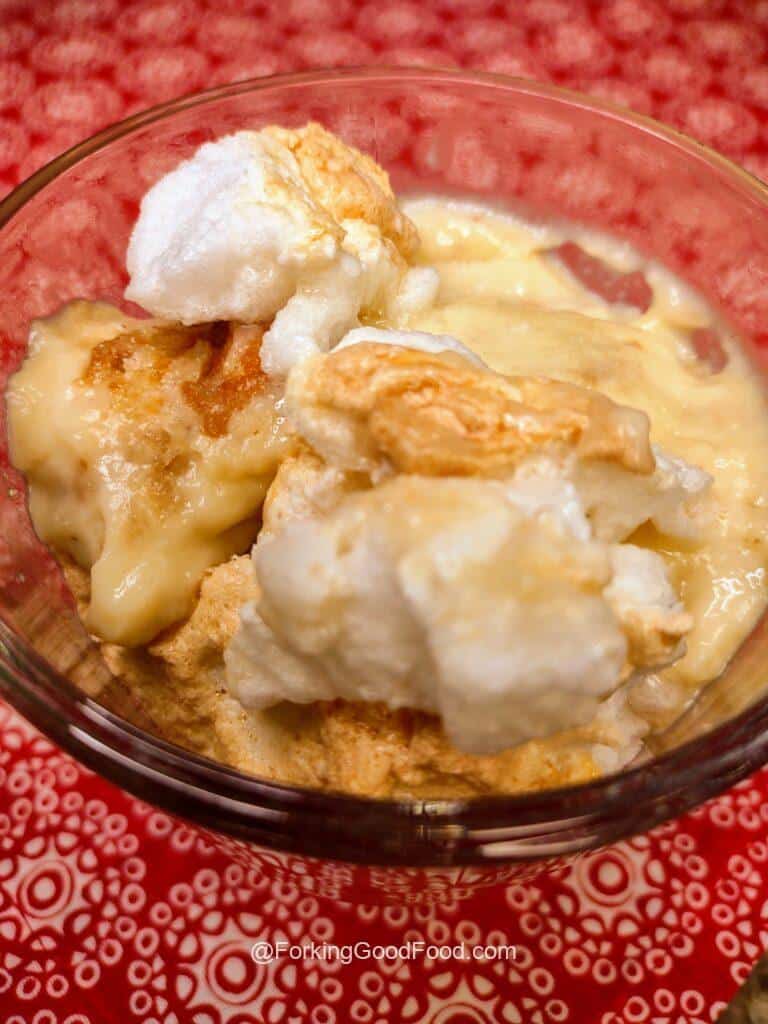 Recipe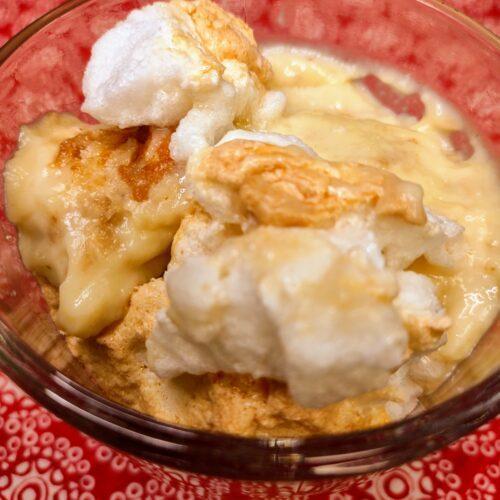 Baked Banana Pudding
This creamy sweet dessert is a Southern staple. Light and airy meringue atop lush creamy pudding, bananas, and vanilla cookies is sure to be a crowd pleaser.
Equipment
Stand mixer or large bowl with electric hand mixer

Heavy saucepan
Ingredients
1

cup

sugar

divided

¼

cup

AP Flour

1

dash

salt

1

can

sweetened condensed milk

2 ½

cups

whole milk

4

large eggs

separated

3

teaspoon

vanilla extract

divided

1

box

vanilla wafers

4-5

large bananas

not too ripe, sliced
Instructions
Preheat your oven to 325℉
Make the pudding:
In a medium bowl, whisk together the egg yolks, and both milks

In a heavy saucepan, combine ⅔ cup of the sugar, the flour, and the salt

Pour in the egg mixture and heat over medium high-heat, stirring constantly, until just boiling and thickened (about 5 minutes)

Remove from heat and stir in 2 teaspoon of the vanilla

In a 13x9" baking dish, layer the bottom with the vanilla wafers, then top with a layer of bananas

Pour ⅓ of the pudding mixture on top and spread as evenly as possible

Repeat with 2 more layers of cookies, bananas, and pudding
Make the meringue:
In a stand mixer, or large bowl with an electric hand mixer, beat the egg whites and remaining vanilla on high until foamy

Gradually add the remaining sugar and beat on high until all the sugar is dissolved and stiff peaks are formed about 3 or 4 minutes (don't overbeat of your egg whites will break down and become runny)

Gently spread the meringue over the top of the banana pudding making sure it goes all the way to the ends leaving no gaps

Bake for about 25-30 minutes or until golden brown
Notes
Let cool at least 30 minutes, can be served warm or cold
Store in the refrigerator for up to 3 days
Nutrition
Calories:
331
kcal
Carbohydrates:
59
g
Protein:
8
g
Fat:
8
g
Saturated Fat:
4
g
Polyunsaturated Fat:
1
g
Monounsaturated Fat:
2
g
Trans Fat:
1
g
Cholesterol:
85
mg
Sodium:
147
mg
Potassium:
432
mg
Fiber:
1
g
Sugar:
51
g
Vitamin A:
330
IU
Vitamin C:
5
mg
Calcium:
200
mg
Iron:
1
mg