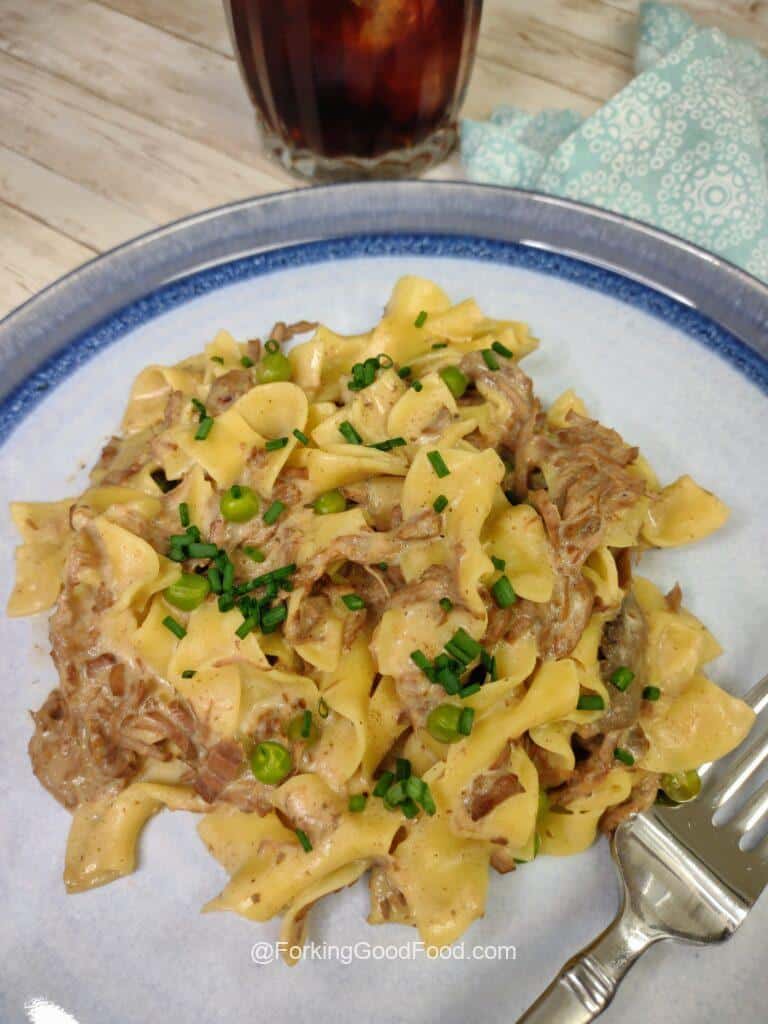 I have to say, I'm a relative newcomer when it comes to Beef Stroganoff.  By itself, I don't like sour cream and rarely have it in my fridge and most of the Stroganoff I had ever had was made from a box with ground beef.  That's no way to make anyone a fan.  But, my son loves it so I had to do something better than what I was used to.  I think I've come pretty close to the mark with this one.  The slow cooker makes it super easy, and if you use the liners clean-up is a breeze.  It's creamy, delicious, and very filling!
What is Beef Stroganoff anyway?
It's a classic Russian dish dating back to the 1800's.  There are a few basic ingredients: sautéed beef, smetana (sour cream), and noodles.  Since the 1800's there have been innumerous variations, but the basics always remain.  Smetana is closer to crème fraîche than sour cream, but all are equally delicious in this dish.  You'll find that most Stroganoff has some sort of Dijon or spicy mustard.  I don't think it really needs it so I don't use it.  As above with the sour cream, I generally don't like mustard so I don't keep any on hand and I'm not going out to buy it when it's not needed. Let's face it… My name is Candy and I have condiment issues – I don't like mayonnaise either.
Is Swedish Meatballs the same thing as Beef Stroganoff?
You'd think so.  Over the years, the recipes have become almost synonymous, but they're actually different.  People have often replaced the bites of sautéed beef with meatballs but still used the Stroganoff sauce.  True Swedish Meatballs (which are really from Turkey) have a sweeter sauce made from lingonberries that are closer in flavor to a cranberry or a raspberry.
Let's get started!
First grab your skillet, add the olive oil and heat it over medium-high heat.  While your skillet is heating, make sure your stew meat is in bite-size pieces – sometimes it's a little chunkier than desired – and chop your onion.  When the pan is good and hot, sear off your beef for a few minutes.  You don't want to cook it all the way through, just seal in all those juices!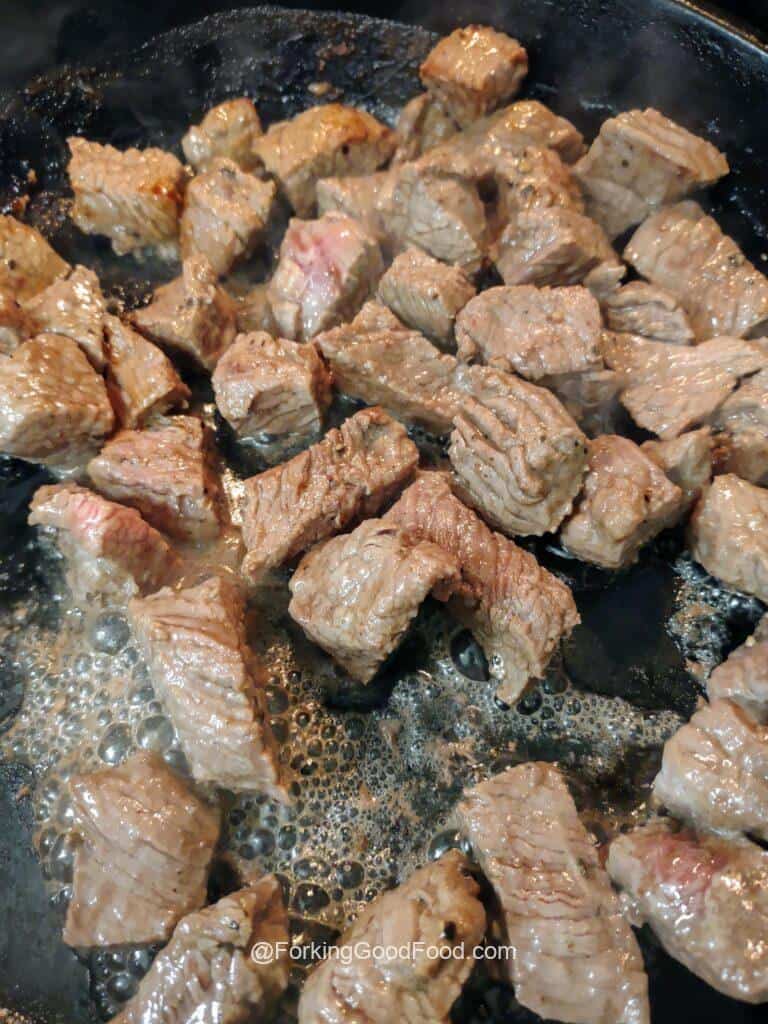 While the beef is cooking, grab your slow cooker and get it all ready.  Once the beef is done, add it to the slow cooker and then put the onions, garlic, and fresh mushrooms into the skillet to lightly brown them.  If you're using canned mushrooms you can add them as well, or add them to the slow cooker with the beef.  Use a couple of tablespoons of the beef broth to deglaze the pan and get all those yummy browned bits of beef.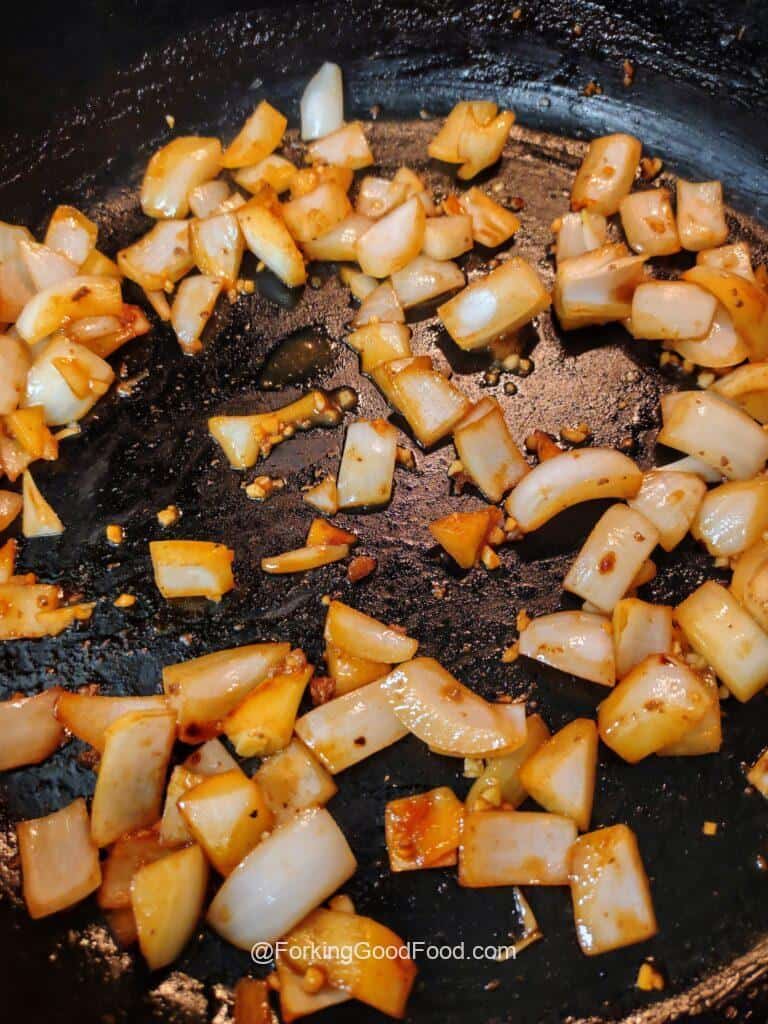 Once that's done, toss them in the slow cooker with the beef, add your Worcestershire and soy sauces, and the rest of the beef broth.  Close it up and wait. And wait some more. And a little more.  Cook for 6-8 hours on low, or if you're in a hurry 4 hours on high.  Don't lift the lid; if you do you'll need to add 30 minutes cooking time for every time you take the lid off.  If you're REALLY in a hurry – you can skip browning the beef and onions etc. and just toss them all in the pot; it'll be just fine.
When the cooking time is done, mix your cornstarch with a few tablespoons of cold beef broth or cold water and then add to the slow cooker along with the frozen peas.  Turn the heat up to high and cook for about 20 minutes.  This is just about the right amount of time to boil the water for your noodles and cook them to a perfect al dente. Add in the sour cream and cream cheese and gently stir until the cheese is completely melted and well incorporated.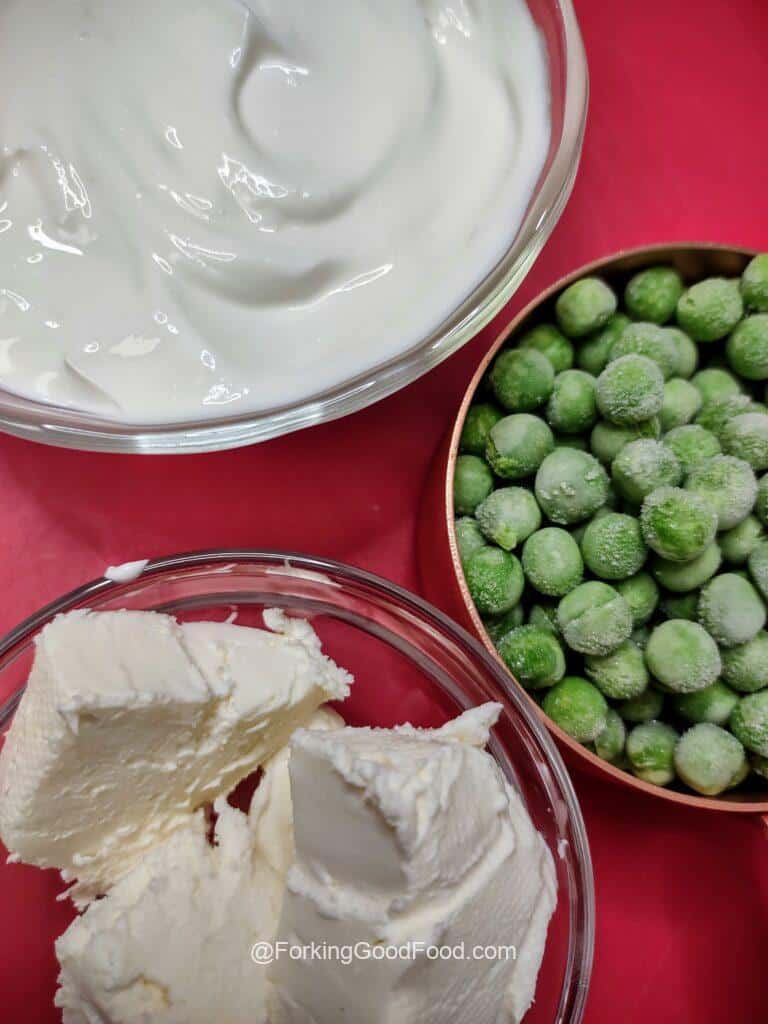 Stir in the cooked egg noodles, garnish with a few chopped chives, loosen your belt a notch, and enjoy!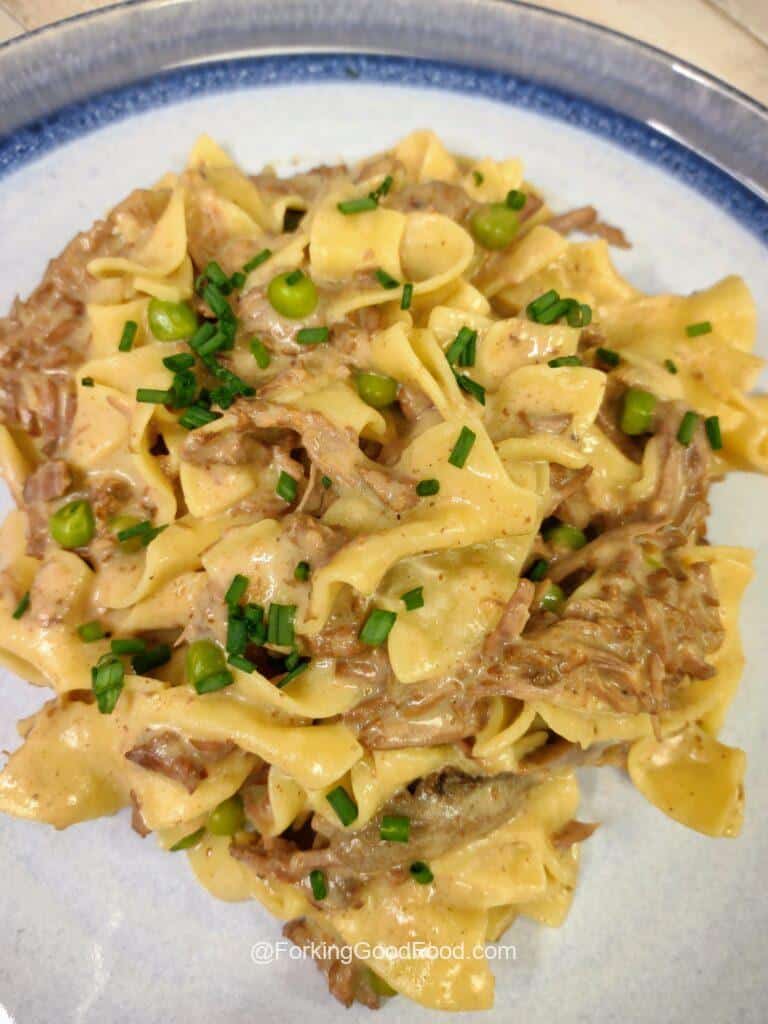 Recipe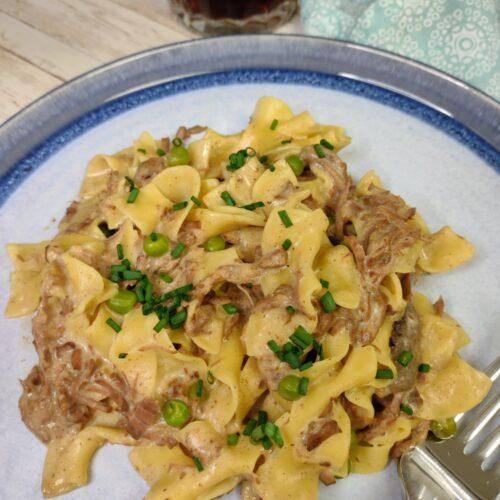 Slow Cooker Beef Stroganoff
This classic Russian dish is a creamy, hearty, stick-to-your-ribs kind of meal. The traditional sour cream sauce gives it a nice zing and the beef is fall apart tender.
Ingredients
2

teaspoon

olive oil

1 ½ to 2

pounds

beef stew meat

cut into small bite-size pieces

salt and pepper to taste

1

can mushrooms

or 8 oz fresh, sliced, optional

½

cup

diced onion

3

cloves

garlic

minced

2

cups

beef broth

divided

1

tablespoon

Worcestershire sauce

1 ½

teaspoon

soy sauce

3

Tbs

cornstarch

½

cup

frozen green peas

1

cup

sour cream

4

Tbs

cream cheese

softened, cut into small cubes

12

oz

egg noodles

cooked according to package directions

2

Tbs

chopped chives

optional garnish
Instructions
Heat the oil over medium high heat in a large pan, preferably cast iron

Cut the beef into smaller chunks if necessary and season with salt and pepper on all sides

Add the beef to the pan in a single layer. Brown for 3-4 minutes on each side

Add the meat to the slow cooker

Add the onions, garlic,and mushrooms (if using) to the pan and brown for 2 minutes, adding a tablespoon or so of the beef broth to deglaze the pan then add to slow cooker

Pour 1 ½ cups beef broth and the Worcestershire and soy sauces over the beef and stir to combine

Cover the slow cooker and cook on LOW for 6-8 hours or HIGH for 4 hours

In a measuring cup or small bowl, whisk the remaining beef broth and cornstarch. Pour the mixture into the crock pot, add the frozen peas, and stir. Cook covered on HIGH for 20 minutes or until the sauce has thickened

While the sauce thickens, cook the egg noodles according to the package directions

Uncover the crock pot and add the sour cream and cream cheese, stirring until a smooth sauce forms. Season with salt and pepper to taste if needed

Turn off the slow cooker. Pour the cooked egg noodles into the slow cooker and stir until they are fully coated in the sauce

Garnish with chopped chives if desired
Notes
Browning the meat, onions, garlic and mushrooms is not necessary, but adds a depth of flavor; if you're in a hurry you can skip these steps altogether.
Do not open the slow cooker during the cooking process. There is no need to stir. If you do happen to open to stir, add 30 minutes to the cooking time for each time you open the cooker.
Do not add the sour cream and cream cheese at the beginning as it can curdle.
Egg noodles are usually used in Stroganoff, but any wide noodle will do.
This dish freezes well up to 3 months.
Nutrition
Calories:
805
kcal
Carbohydrates:
75
g
Protein:
55
g
Fat:
31
g
Saturated Fat:
14
g
Polyunsaturated Fat:
2
g
Monounsaturated Fat:
10
g
Trans Fat:
1
g
Cholesterol:
223
mg
Sodium:
823
mg
Potassium:
1080
mg
Fiber:
4
g
Sugar:
6
g
Vitamin A:
814
IU
Vitamin C:
11
mg
Calcium:
166
mg
Iron:
6
mg