Peaches! Peaches! Peaches!
Growing up in Georgia, there is nothing quite as good as a fresh, perfectly ripened, "juice-running-down-your-arm" peach.  There is also nothing quite as bad as a hard, not ripe, sour peach.  Why risk turning this culinary delight into a cooking disaster with questionable produce?  Use canned peaches!  They're always in season, they're easy to find, and you can keep them in the pantry for as long as you need to.  I'm pretty sure some of you just gasped at the thought of using canned peaches, but trust me when I say you will love this recipe!
Are canned peaches as good fresh peaches?
The way I see it, canned peaches are better than no peaches.  When cooked properly, it's very difficult to tell them apart.  The sweetness of the added syrup helps to thicken the filling and ensures consistent quality every time you make this fabulous cobbler.  Another great benefit of canned peaches?  Winter.  Yup - a big bowl of warm peach cobbler comfort when it's freezing outside?  Sheer heaven.  For those of you still on the fence yes - of course you can use fresh peaches if you want to but you'll have to peel and slice them and then cook them longer - but you can.
Is brown butter better?
Yes. Yes it is. It's fast, easy, and it transforms butter into something magical. When butter is browned it becomes more than a background ingredient, it becomes a star.  When the nutty aroma fills my house everyone knows something extra special is coming.  It only takes a couple of minutes and I guarantee it's time well spent.
How to make Peach Cobbler using canned peaches...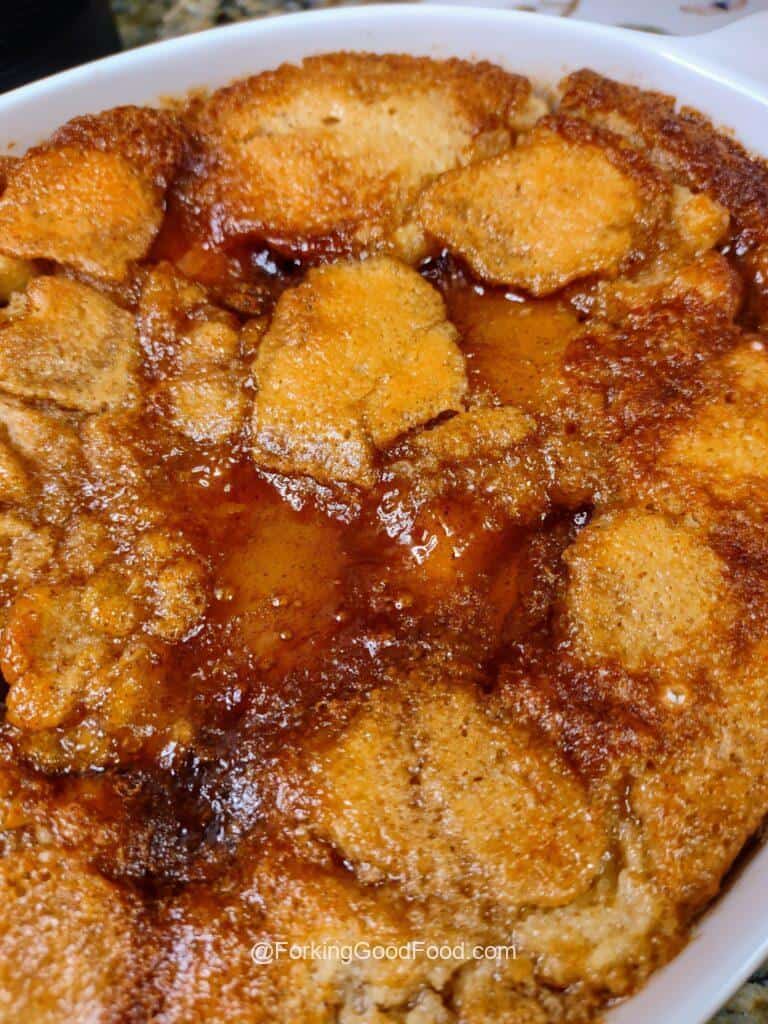 Brown a stick of butter until it's amber and has a nutty aroma.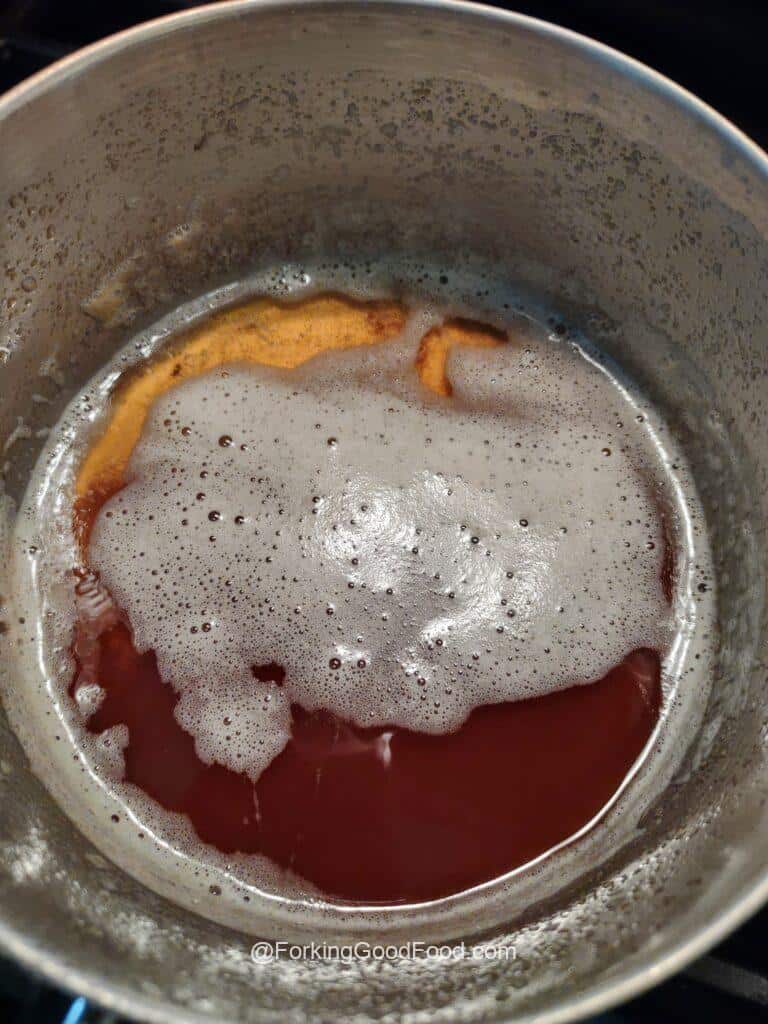 Add in some brown sugar, 28oz of your favorite brand of canned, sliced peaches in heavy syrup, a little salt, some cinnamon, and good vanilla extract and cook for about 5-10 minutes.
Make the batter with just an egg, milk, a little more vanilla, self-rising flour, sugar and salt. Prepare a 2qt casserole dish by browning another stick of butter then pouring it into the dish.  Pour the batter over the butter then layer the peach mixture on top. DO NOT STIR - the magic will happen all on its own.
Bake until bubbly and golden brown and serve warm with vanilla ice cream.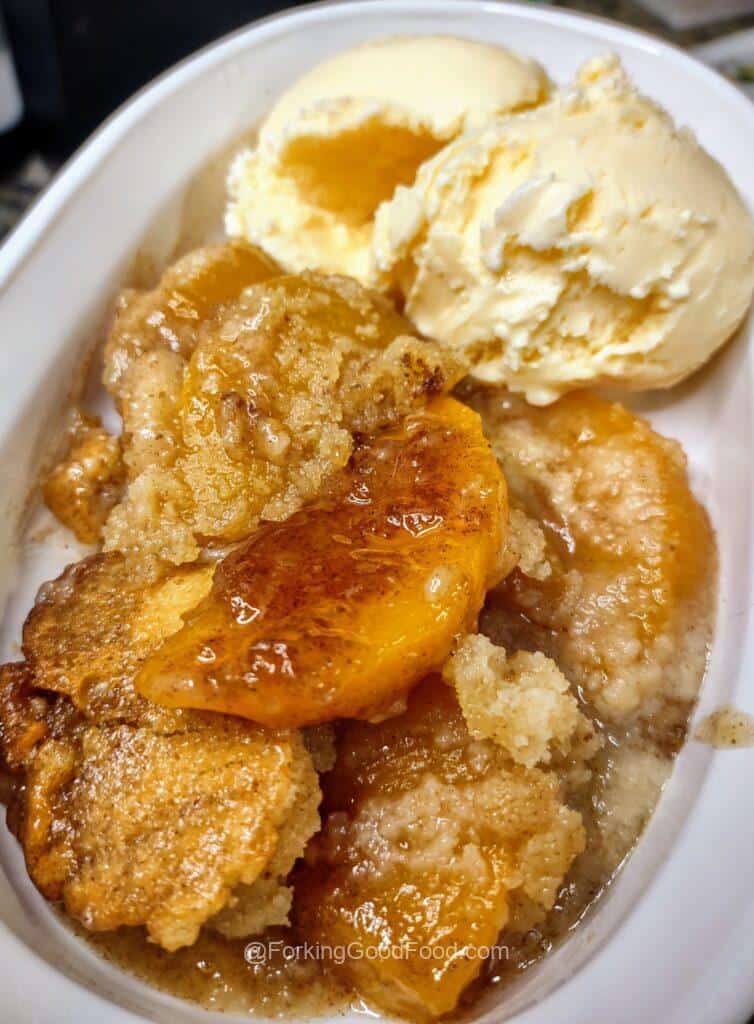 Recipe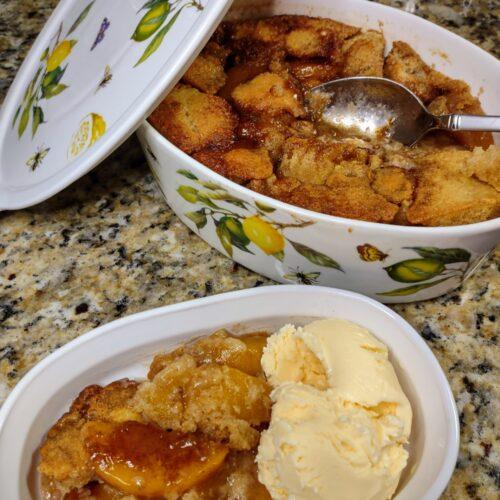 Peach Cobbler made with Canned Peaches
This classic Southern staple is a no-fail triumph that you can make year-round with canned peaches.
Ingredients
For the Filling:
28

oz

canned peaches

sliced in heavy syrup, undrained

2

teaspoon

vanilla extract

¾

cup

light brown sugar

¼

teaspoon

salt

1

Tbs

cornstarch

dissolved in a few Tbs cold water

1

stick

salted butter

1

teaspoon

cinnamon

optional
For the Batter:
¾

cup

self-rising flour

½

cup

sugar

½

cup

light brown sugar

¼

teaspoon

salt

1

egg

¾

cup

whole milk

1

teaspoon

vanilla extract
Instructions
Make the filling:
In a deep sauce pan on high heat, brown the stick of butter. Butter should bubble and be a golden brown on the bottom of the pan. Butter burns easily so watch carefully and stir occasionally to ensure even cooking.

Once the butter is completely browned, lower heat and stir in the sugar until it is completely dissolved.

Stir in the peaches with their syrup, salt, cinnamon (if using) and simmer for about 10 minutes.

Dissolve the cornstarch in the water and add to the fruit mixture. Cook for one more minute to thicken.

Remove from the heat and stir in the vanilla.
Make the Batter:
While the peaches are cooking, preheat the oven to 350℉

In a medium mixing bowl or stand mixer, whisk the egg, milk, and vanilla together until incorporated.

Slowly add the dry ingredients to the egg mixture a little bit at a time and beat on medium speed for 2 minutes once all ingredients are added. The batter will be very thin.
Prepare the dish and assemble the cobbler:
Brown the additional stick of butter as directed above and pour in to the bottom of a 2 qt casserole dish.

Pour the batter on top of the butter. Do not stir.

Spoon the peach mixture on top of the batter. Do not stir.

Bake for 30-45 minutes or until the top is golden brown and a toothpick inserted into the cake part comes out clean.
Nutrition
Calories:
493
kcal
Carbohydrates:
67
g
Protein:
4
g
Fat:
25
g
Saturated Fat:
15
g
Polyunsaturated Fat:
1
g
Monounsaturated Fat:
6
g
Trans Fat:
1
g
Cholesterol:
83
mg
Sodium:
375
mg
Potassium:
294
mg
Fiber:
2
g
Sugar:
56
g
Vitamin A:
1097
IU
Vitamin C:
7
mg
Calcium:
75
mg
Iron:
1
mg