Easy Cream Horns
Growing up these were my mom's favorites.  They were so pretty and suited her sweet tooth exactly.  They were so pretty in fact that I was intimidated to try to make them myself. Then I found frozen puff pastry sheets.  They are a staple in my freezer all the time.  I've made puff pastry once in my life - and that was enough.  I promise that frozen puff pastry is just as good as what you make yourself and will save you time, money, and frustration.  That sounds like a pretty good deal to me.  So these are easy.  The one HUGE advantage over these is the pastry is nice and crispy; the ones you buy in the store are always a little too chewy for my taste.  Don't have cream horn (or cannoli) molds?  No worries - simply get a box of sugar-style ice cream cones and wrap them in aluminum foil.  Want to try something different?  Try filling your pastry horn with creamy pimento cheese for a savory appetizer.
Are cream horns French?
Maybe. But probably not.  One theory says they originated with the Mennonites from the Austrian-Hungarian Empire and then brought to America.  There are almost identical recipes from Italy, Germany and France; so let's just say no matter where they originated this is a delicious sweet treat that everyone around the world just loves!
What makes puff pastry so flaky?
Very cold butter, lots and lots of rolling, folding and chilling, then some more rolling, folding and chilling, and then a little more rolling, folding and chilling - but all those folds create the wonderful flaky layers. Most pastry experts agree that classic French puff pastry is made by folding the dough into thirds and rolling it out again a total of six times.  There is what they call "rough puff" pastry that is very similar but a little different that could be used in this recipe instead of the traditional puff pastry.
How to Make Easy Cream Horns?
In this recipe I'm really going to focus on the making of the horn-shaped pastry itself.  I'll go into more detail about the cream filling in another recipe.  There are really only three - maybe four ingredients in making the pastry.  A box of frozen puff pastry, some softened butter, an egg wash, and a little raw sugar if you like.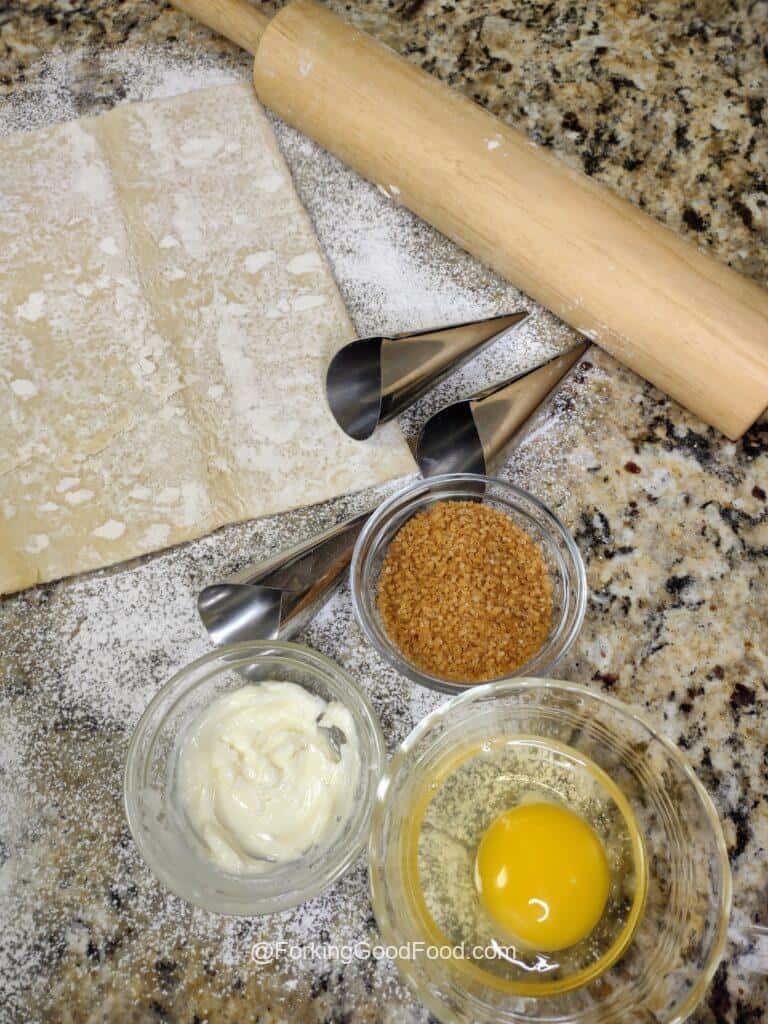 On a lightly floured surface, unfold your thawed puff pastry sheets and give them a very gentle roll to smooth out any creases.  Mark off 1" strips.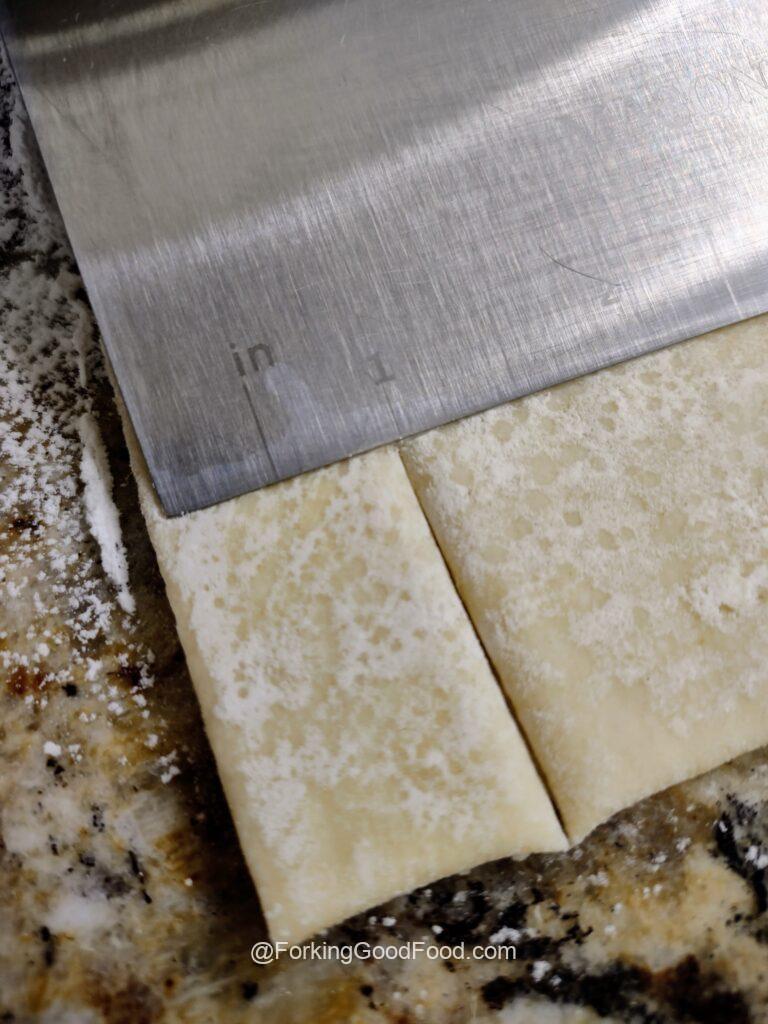 I've found the easiest way to cut strips of pastry is to use a pizza cutter or pastry wheel.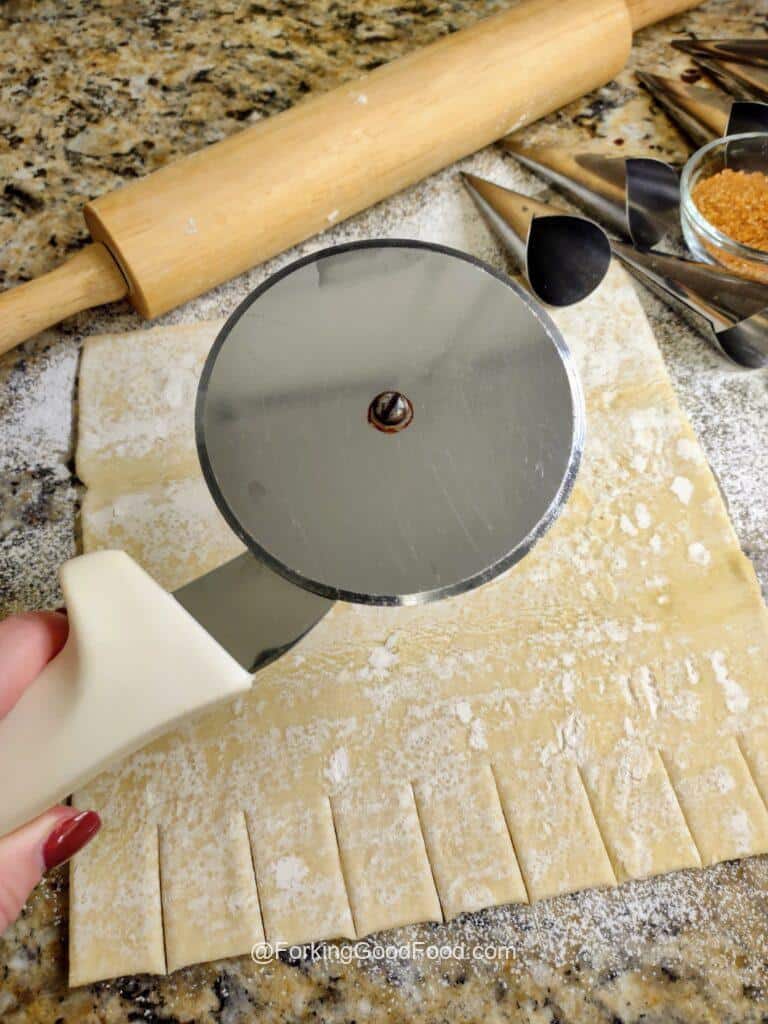 Once you have your strips cut, lightly grease your molds with the softened butter (if you have to make multiple batches like me because I only have six molds you don't have to repeat this step each time).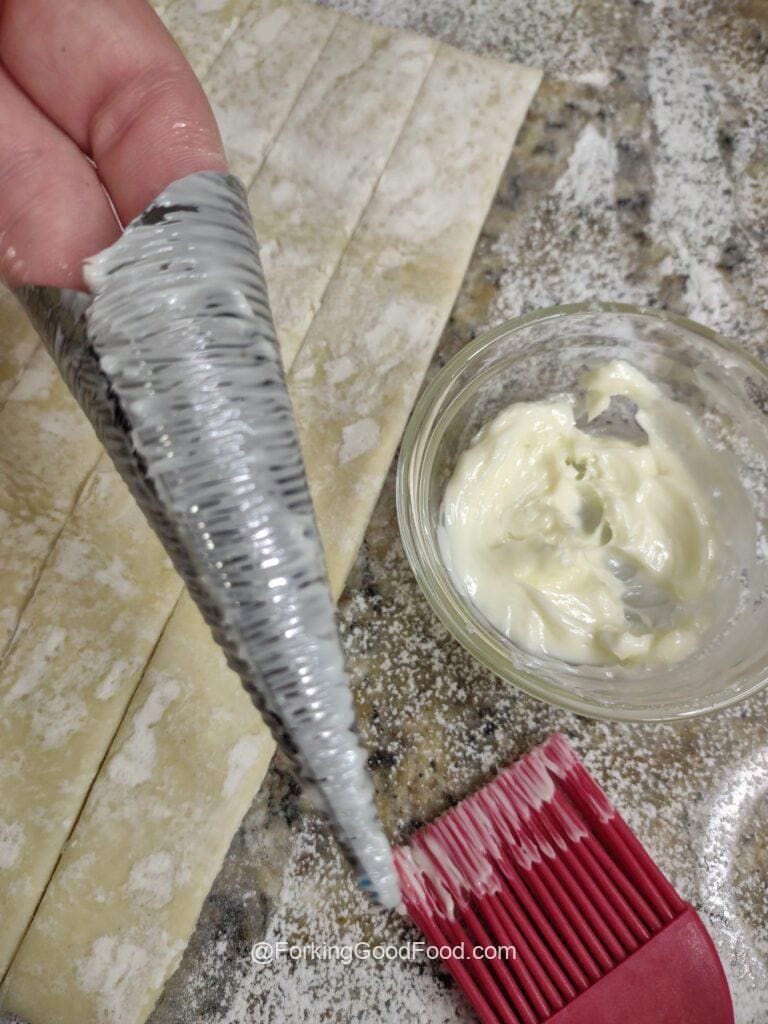 Starting at the tip end of the mold, wrap a very small piece of pastry around the end and pinch it to make a tight seal.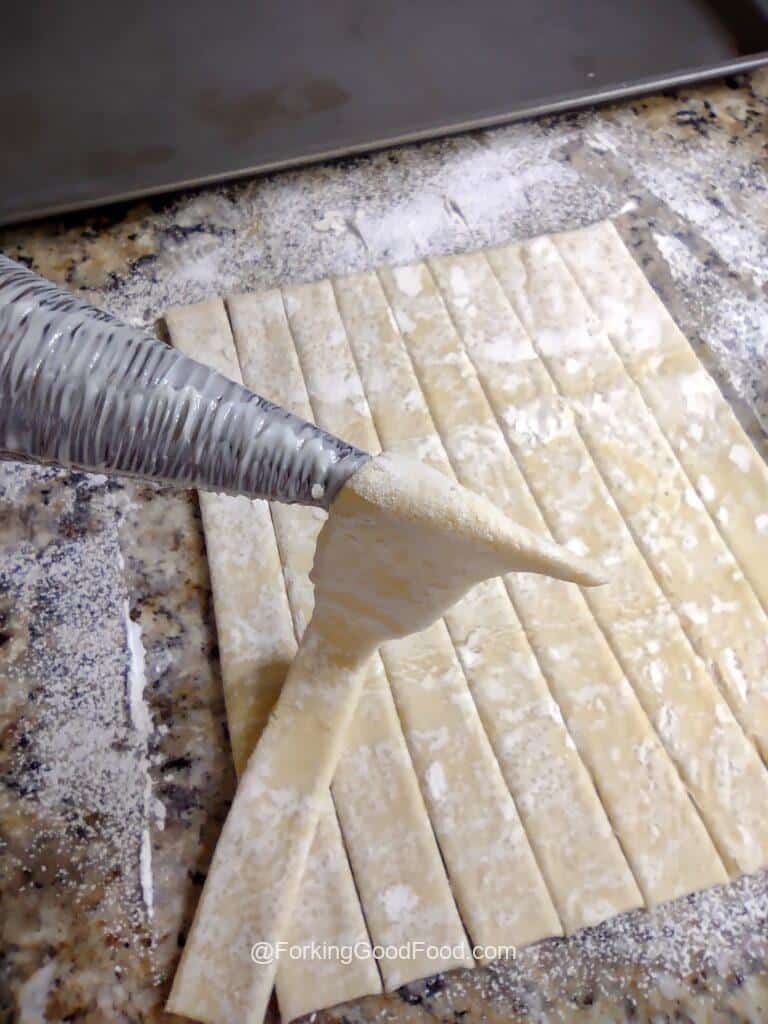 Wrap the pastry around the mold, over lapping each time.  Sometimes you have to stretch the dough just a little to get it nice and tight.  Be sure not to go over the widest edge of the mold.  Gently press the top seam to seal and place the that side face-down on your baking sheet.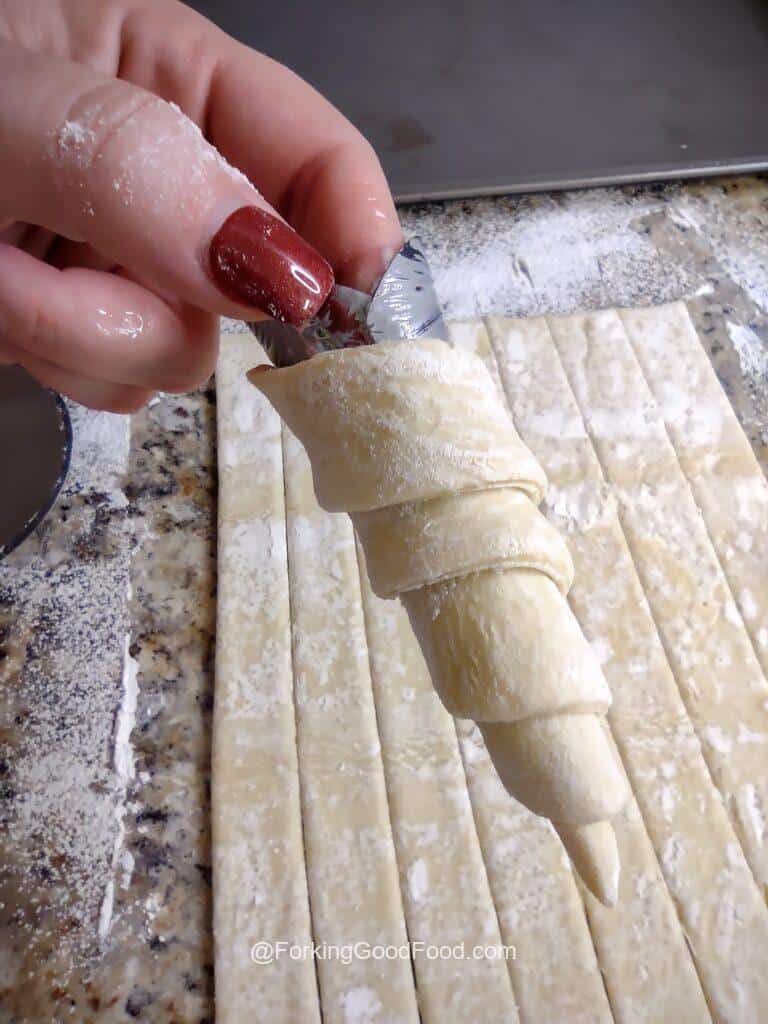 Lightly baste the pastries with the egg wash and sprinkle with raw sugar if desired.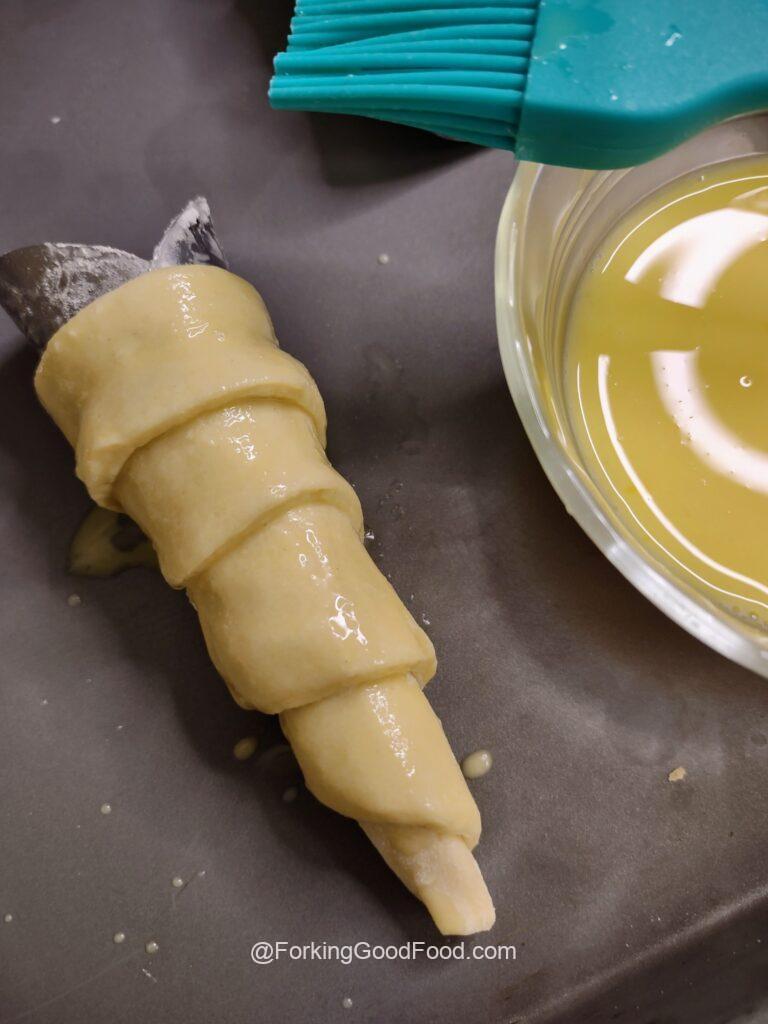 Let the pastry rest in the refrigerator for about 30 minutes while you preheat your oven to 400 degrees F.  Bake for about 15 minutes or until puffy and golden brown.  Gently slip the pastry off the mold and let cool completely on a wire rack before filling.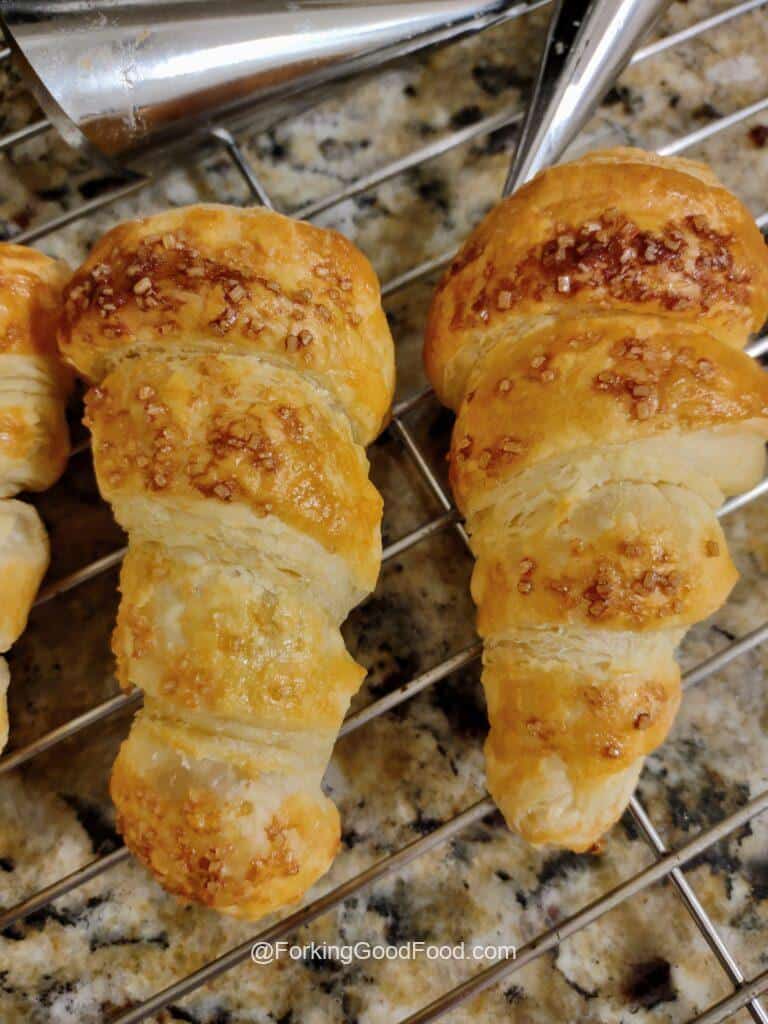 Fill with your cream (or other) filling and enjoy.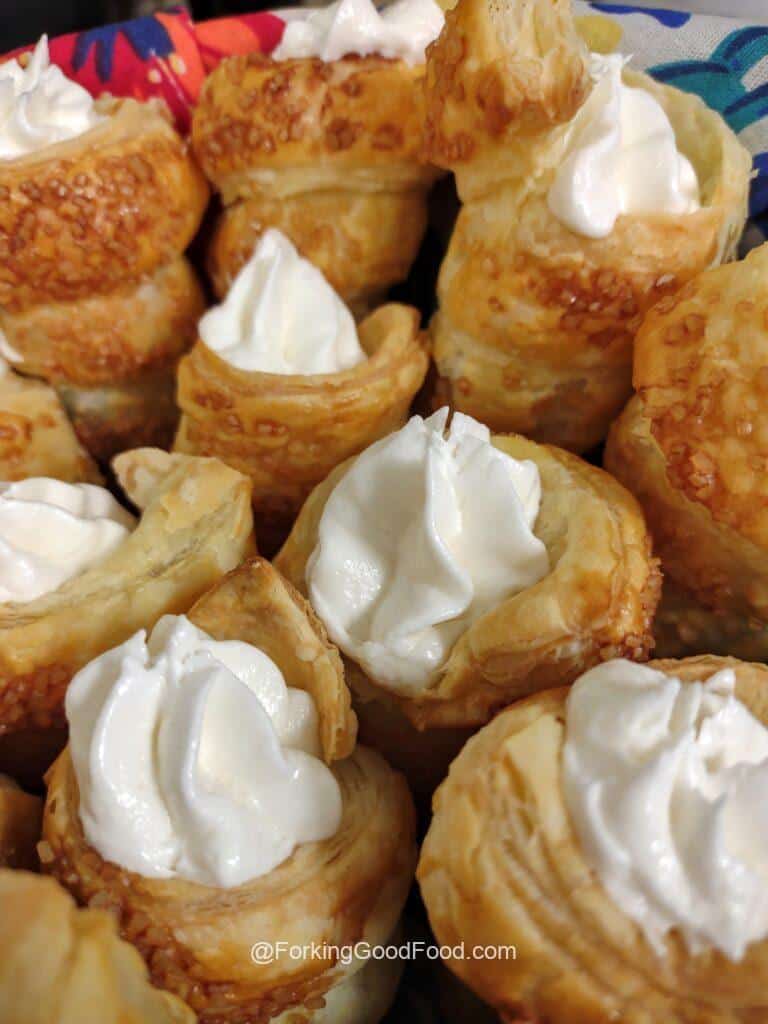 Also make sure to try our Apple Honey Ring!
Pair with Valentine Latte Ideas!
Recipe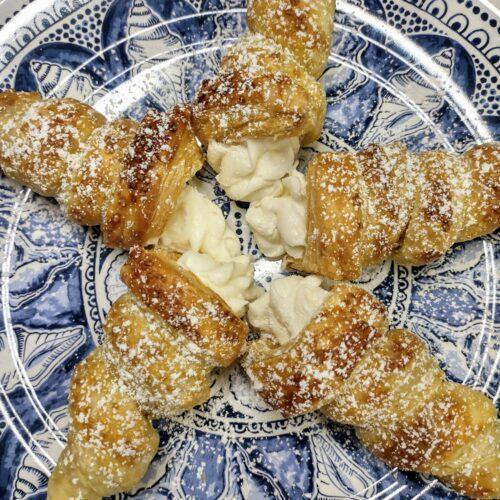 Cream Horns
These seemingly complicated cream-filled puff pastry horns are surprisingly simple to make and will be a showpiece on any table. They're light, creamy, and crunchy all in one bite.
Equipment
Cream Horn or Cannoli Molds
Ingredients
For Pastry:
1

box frozen puff pastry sheets

thawed per box instructions

1-2

Tbs

butter

softened to room temperature

2

Tbs

butter

softened for greasing molds

1

egg

beaten with 1 Tbs water
For Cream Filling:
¼

cup

butter

softened

¼

cup

vegetable shortening

1 ½

cups

powdered sugar

7

oz

jar marshmallow creme or fluff

1

teaspoon

vanilla extract

1

tablespoons

heavy cream
Instructions
Preheat oven to 400℉

On a lightly floured surface, unwrap the thawed puff pastry, and gently roll out any creases

Cut the pastry into 1" wide strips using a pizza cutter or pastry wheel

With a pastry brush, lightly paint the molds with softened butter

Take a strip of the pastry and starting at the tip of the mold, pinch one end of the strip around the tip to seal

Continue to wrap the pastry around the mold, overlapping by about ¼" each time stopping short of the wide end of the mold; place the mold on a baking tray with the top/final fold face down

Refrigerate wrapped molds for about 30 minutes

Brush the wrapped molds with a light egg wash and sprinkle with raw sugar if desired

Bake for about 15 minutes or until puffed and golden brown

Gently slip the pastry off the mold (be careful, the mold will be hot) and place on a wire rack to cool completely
Make the Filling
While the pastry is cooling, prepare your filling by creaming together the butter and shortening with an electric mixer

Add in the powdered sugar, marshmallow, and vanilla and mix on low speed until the sugar has combined

Add in heavy cream and increase the speed to high and whip for 2 minutes

Fill a piping bag (Or gallon-size ziplock bag) and use a large, star piping tip (I use a Wilton 1M) to fill the pastry
Notes
Makes 18
Serve in an airtight container at room temperature for up to 3 days
Nutrition
Calories:
184
kcal
Carbohydrates:
26
g
Protein:
2
g
Fat:
9
g
Saturated Fat:
2
g
Polyunsaturated Fat:
2
g
Monounsaturated Fat:
4
g
Trans Fat:
1
g
Cholesterol:
11
mg
Sodium:
44
mg
Potassium:
21
mg
Fiber:
1
g
Sugar:
17
g
Vitamin A:
35
IU
Vitamin C:
1
mg
Calcium:
10
mg
Iron:
1
mg