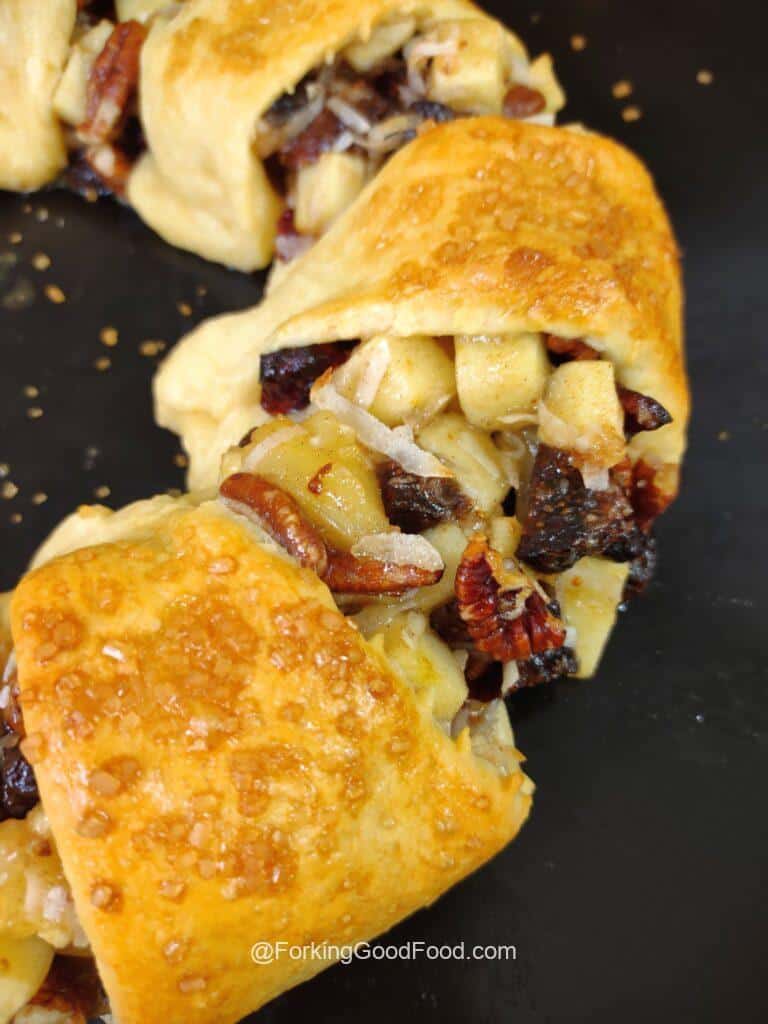 Apple Honey Ring
I was looking through my pantry one day when my diabetic aunt was visiting.  She has a real sweet tooth so I was trying to come up with something that wouldn't be too bad for her but would still satisfy her craving.  I grabbed what I could find and this Apple Honey Ring is the result.  It relies heavily on the sweetness (fructose) of the apples, fruits, and honey and the only added sugar is the raw sugar used for garnish – it could easily be omitted – so there are carbs and glucose. Check out the nutritional stats and see if this recipe fits into your diabetic lifestyle. #MakeGoodDiabeticChoices.
As I was making it another thought occurred to me – would this be acceptable for Jewish holidays that traditionally serve apples and honey?  I've made several Apple honey cakes over the years for Jewish friends, but in all honestly, I didn't know why.  So I asked my friend Candace if it would be suitable and I got a resounding yes!
What is Rosh Hashanah?
This may be a little more than I normally put in but I think it's important. According to Candace "Rosh Hashanah is the Jewish New Year and marks the beginning of both the year and the creation of the earth. It begins the 10 day period of 'Awe' ending with Yom Kippur. On Rosh Hashanah, Jews believe the book of life is opened and the world is judged. All humanity- who lives or dies in the new year is recorded, but not yet sealed. Jews attend services and hear the ancient shofar (rams horn) blown to start the period. Jews traditionally eat sweet treats made from apples and honey and wish for each other to be inscribed for a healthy sweet year. The period ends with a solemn fast on Yom Kippur where Jews abstain from eating from sunset until 3 stars are visible in the night sky. Food is collected for the poor. My Mom used to completely empty her pantry each year, keeping only what was needed to break the fast. The rams horn is again blown at the synagogue, to signify the end of Yom Kippur and with the last note- the Book of Life is closed and sealed by G-d for another year. Despite the solemn nature of the holiday, it isn't scary so much as a period of heightened spirituality as Jews seek closeness to G-d and to repair the world. Any good deeds done during the period can change initial recordings in the Book."
How do I make a Apple Honey Ring?
Grab a ¼ cup measuring cup and measure out each of the following: chopped pecans, chopped dried figs or dates, dried cranberries (Craisins), raisins, pineapple tidbits, and sweetened coconut.  You'll need two sweet crunchy apples, I prefer Honeycrisp, some pie thickener or cornstarch, honey, and a package of refrigerated crescent rolls.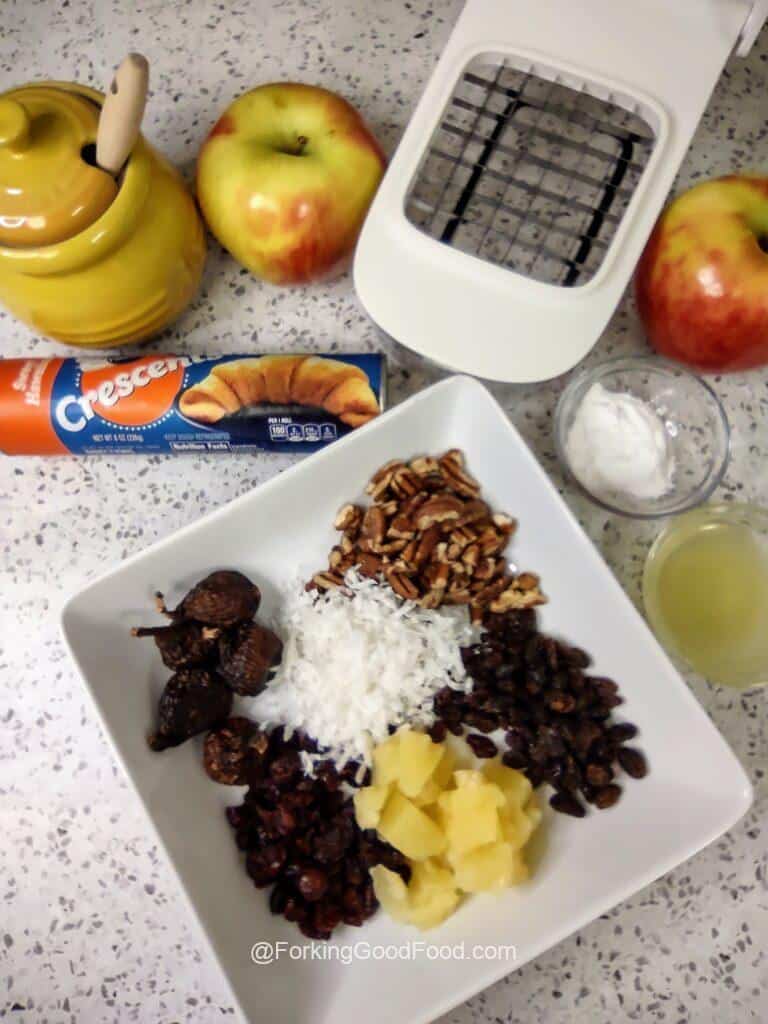 These are simply the things I chose to include because I had them on hand.  I think you could substitute or add in figs, walnuts or almonds, currants, dried blueberries and it would still be wonderful.  The coconut and pineapple adds moisture so I wouldn't take those out. The most important parts are the honey and apples and that your ingredients (minus the apples) should equal about 1 and ¼ cups total.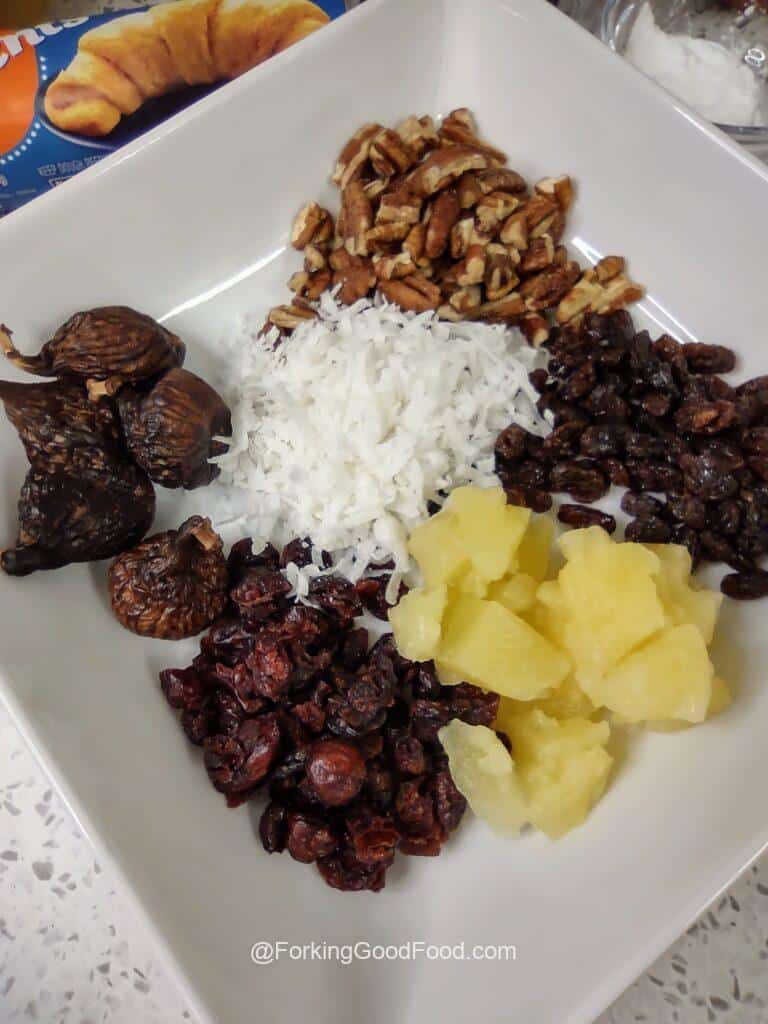 Peel, Slice and Dice your apples.  I love using this chopper to make sure my apples are uniform and cook evenly.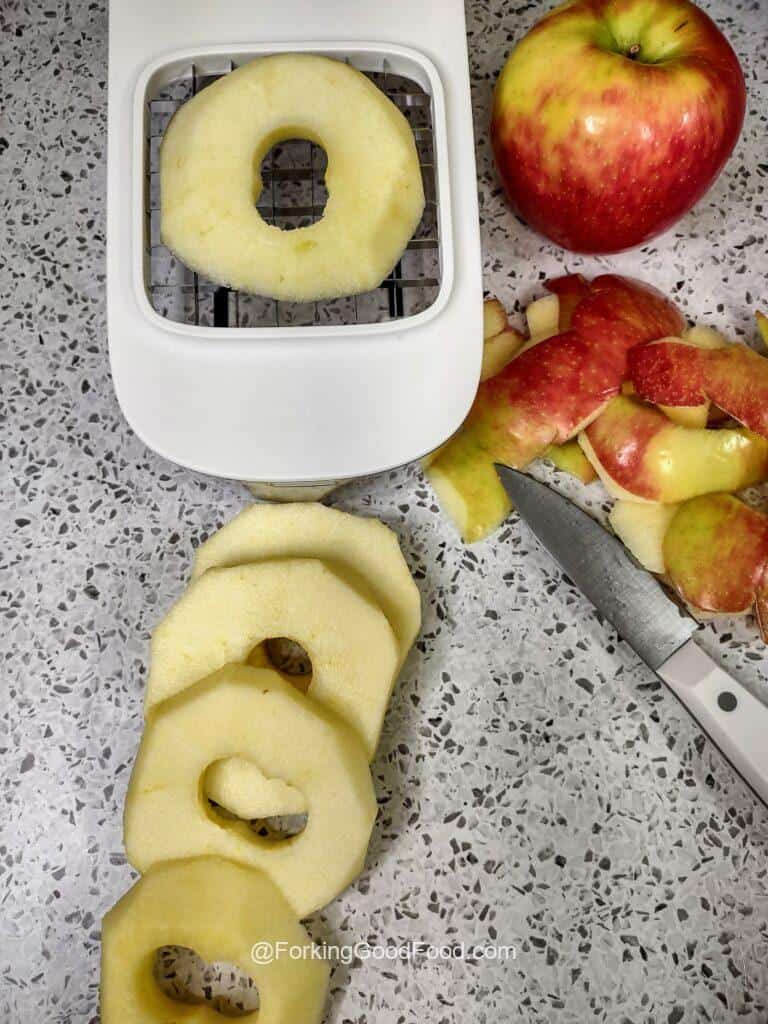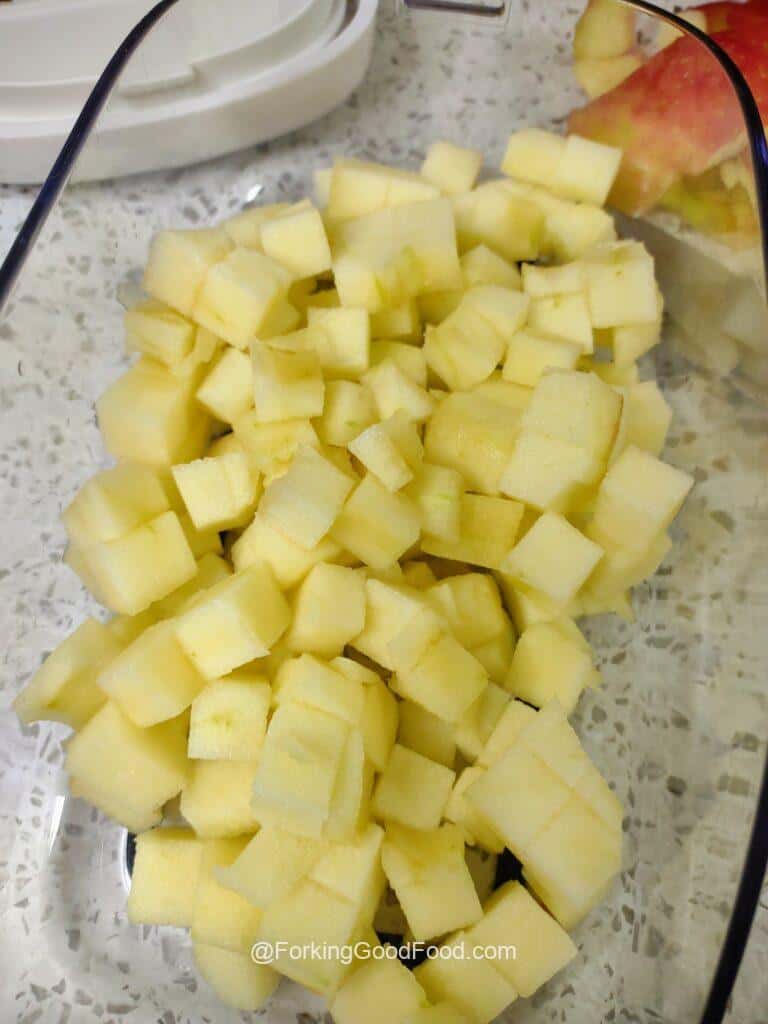 Add the apples, honey, and juice to the fruit and nut mixture.  Sprinkle the pie thickener evenly over the the top and toss to ensure even coverage and set aside.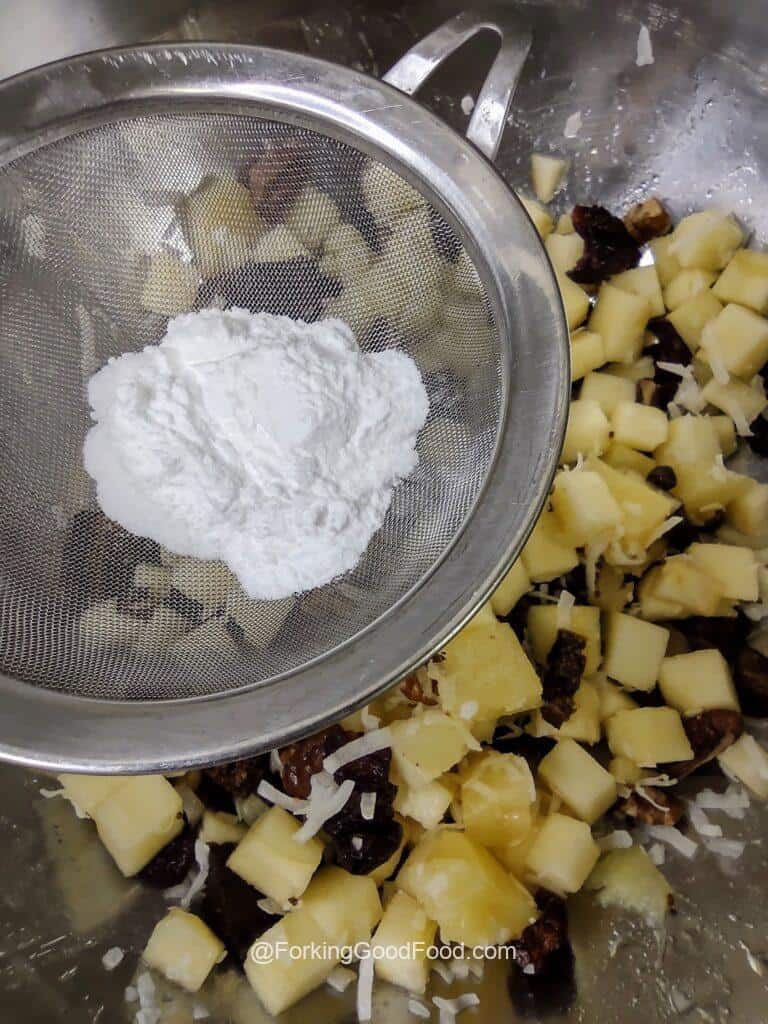 Separate your crescent roll triangles and place them on your baking tray.  They should slightly overlap and form a circle in the middle with the triangles extending in a sunburst pattern.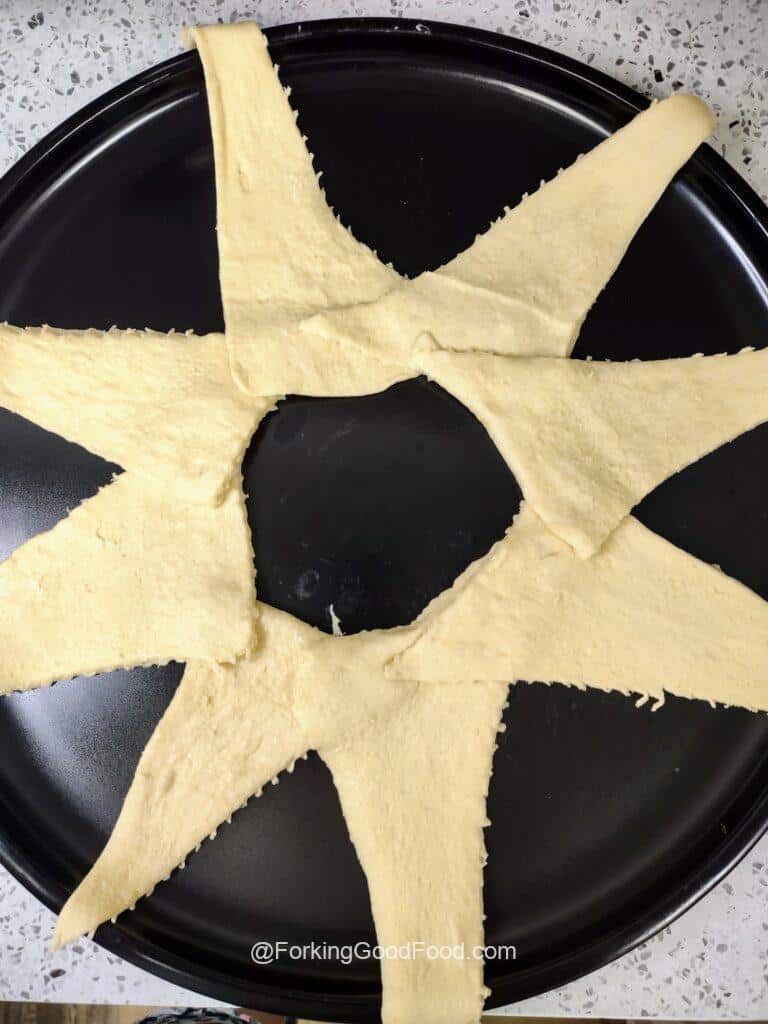 Generously scoop your filling in the inner most part of the dough without allowing any to fall on the baking tray.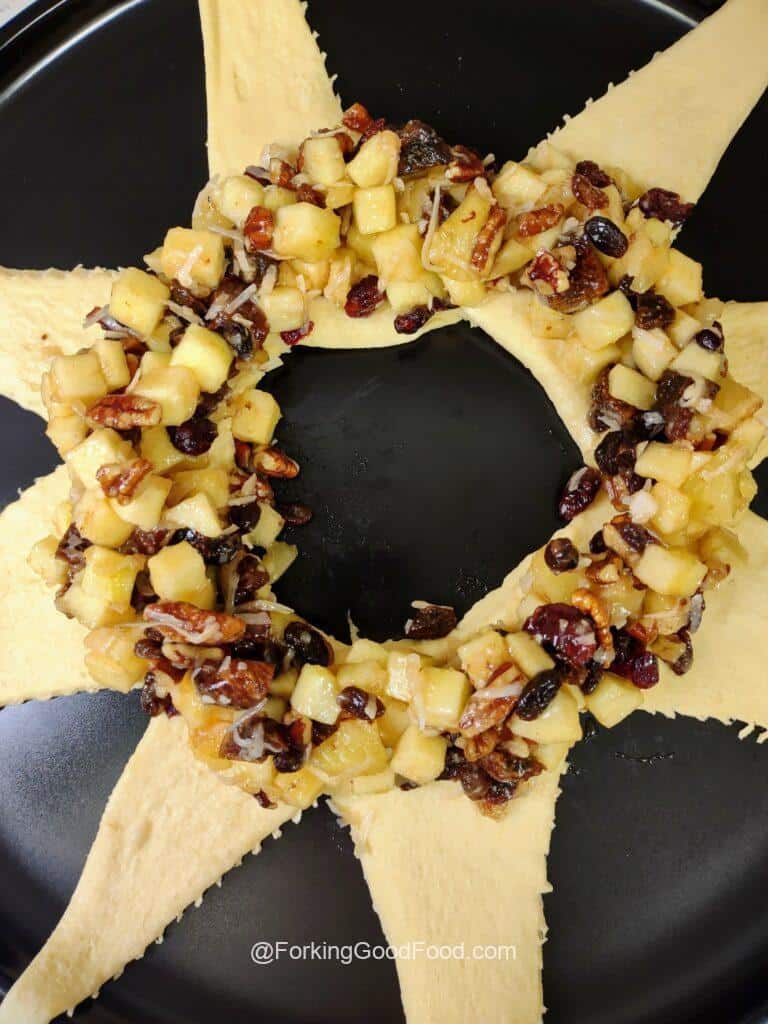 Fold the dough triangles over the filling and tuck under the center ring.  There should be gaps in the dough where the filling peeks out.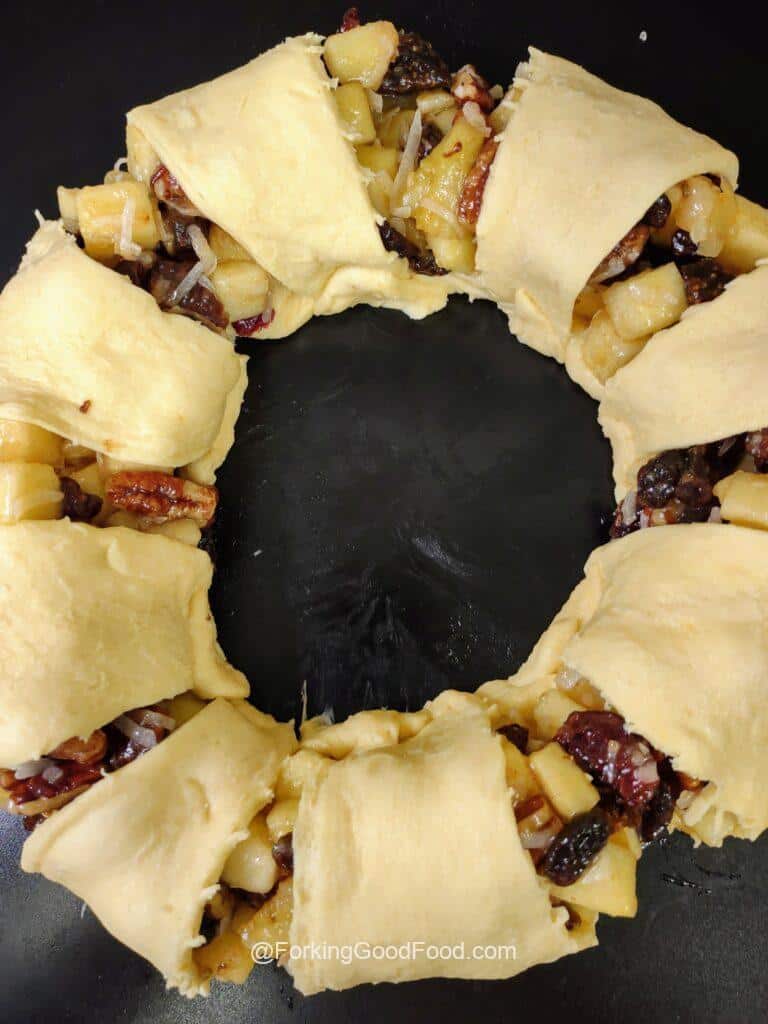 Brush all parts of the dough with the egg wash and sprinkle with raw sugar.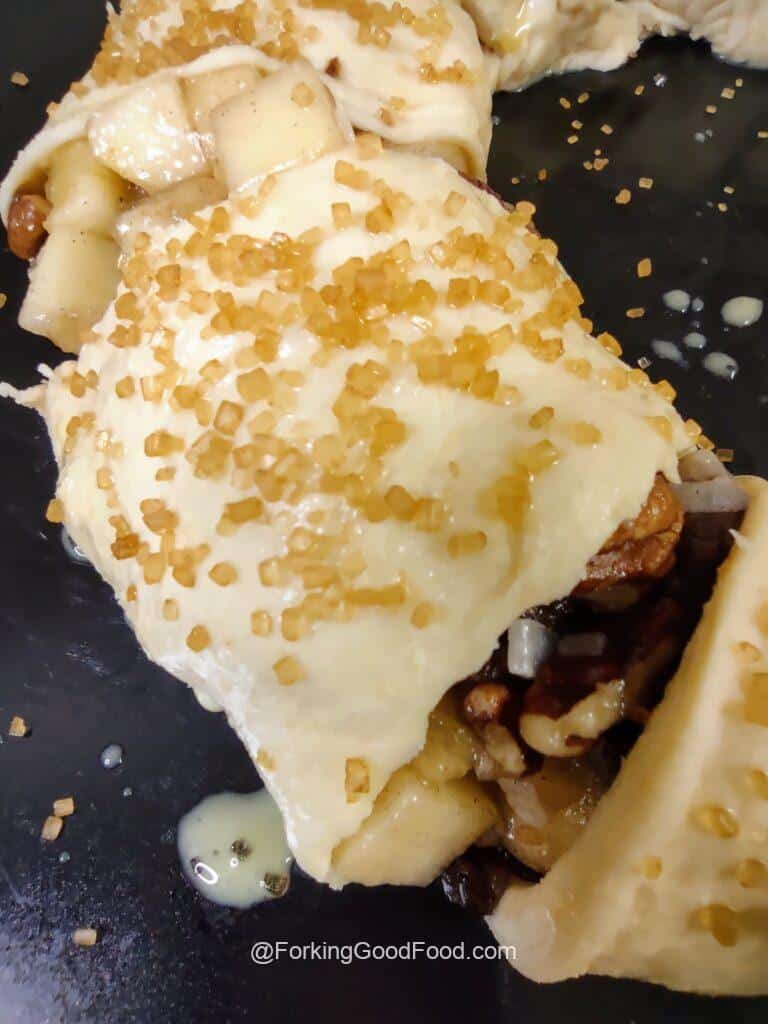 Bake until golden brown and serve warm.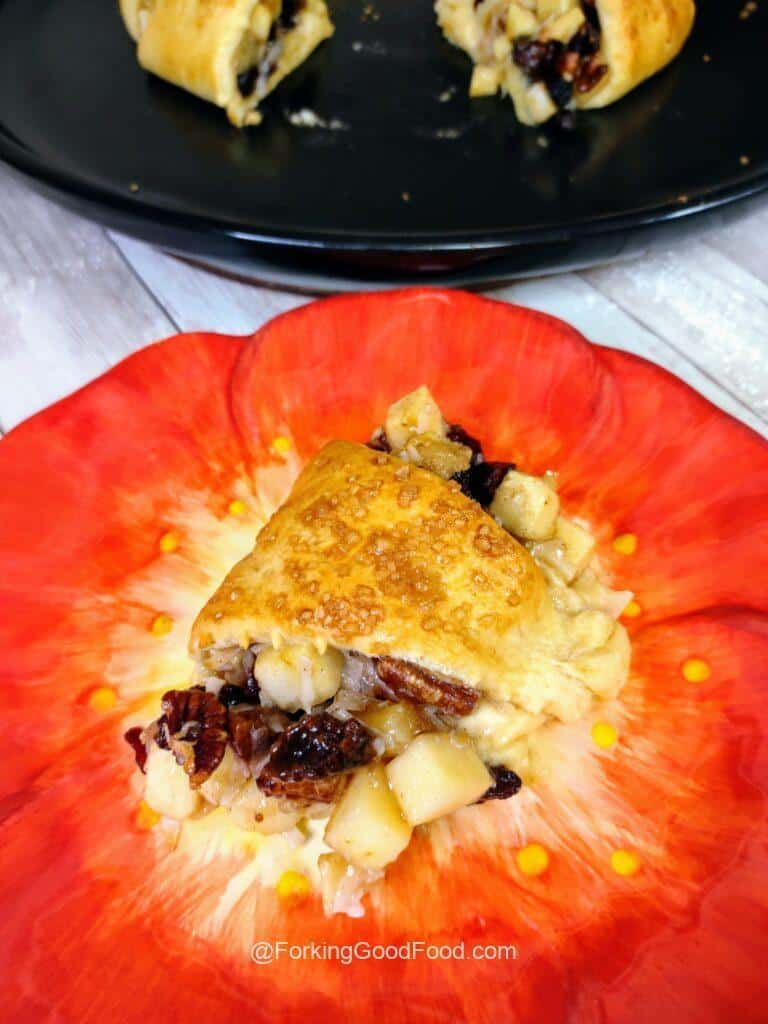 Find more breakfast treats:
Recipe
Apple Honey Ring
This easy fruit and nut-filled treat is perfect for breakfast, brunch, or dessert. Serve it at Rosh Hashanah to celebrate the Jewish New Year! Sweetened only with honey, you don't have to feel bad about going back for a second slice.
Ingredients
¼

cup

pecans

chopped

¼

cup

dried figs

chopped (or dates)

¼

cup

dried cranberries

¼

cup

raisins

¼

cup

canned pineapple tidbits

juice reserved

¼

cup

coconut

sweetened and shredded

1

Tbs

pie thickener

or cornstarch

3

Tbs

pineapple juice

2

oz

honey

2

medium apples

diced

1

package crescent rolls

sweet Hawaiian if available

1

egg

beaten with 1 teaspoon water

2

Tbs

coarse sugar
Instructions
Preheat your oven to 375℉

In a large bowl, add the first 6 ingredients

Peel, slice, and dice apples then add to the fruit and nut mixture

Add the honey and juice, mixing well

Sift the pie thickener over the mixture, combining thoroughly ensuring it is evenly distributed then set aside

On a pizza stone/pan (or large baking sheet) arrange the crescent roll triangles in a circle, overlapping slightly. The end result should have a circle in the middle and then tips resembling a sunburst

Scoop filling onto the innermost part of the dough without any falling onto the pan/tray. Fold the tips over the filling and tuck ends under the center ring. There should be gaps showing

Gently beat the egg and water together and then brush all parts of the pastry with it

Sprinkle with coarse sugar and bake for 15-20 minutes or until golden brown

Cool for at least 5 minutes before serving.
Nutrition
Calories:
124
kcal
Carbohydrates:
24
g
Protein:
1
g
Fat:
4
g
Saturated Fat:
1
g
Polyunsaturated Fat:
1
g
Monounsaturated Fat:
1
g
Trans Fat:
1
g
Cholesterol:
16
mg
Sodium:
31
mg
Potassium:
136
mg
Fiber:
2
g
Sugar:
16
g
Vitamin A:
48
IU
Vitamin C:
3
mg
Calcium:
16
mg
Iron:
1
mg