Headed to the big game? These soft and salty Homemade Soft Pretzels are sure to make a big hit. Dip them in mustard, cheese, salsa, marinara, or eat them plain; it's an easy snack you'll make over and over again.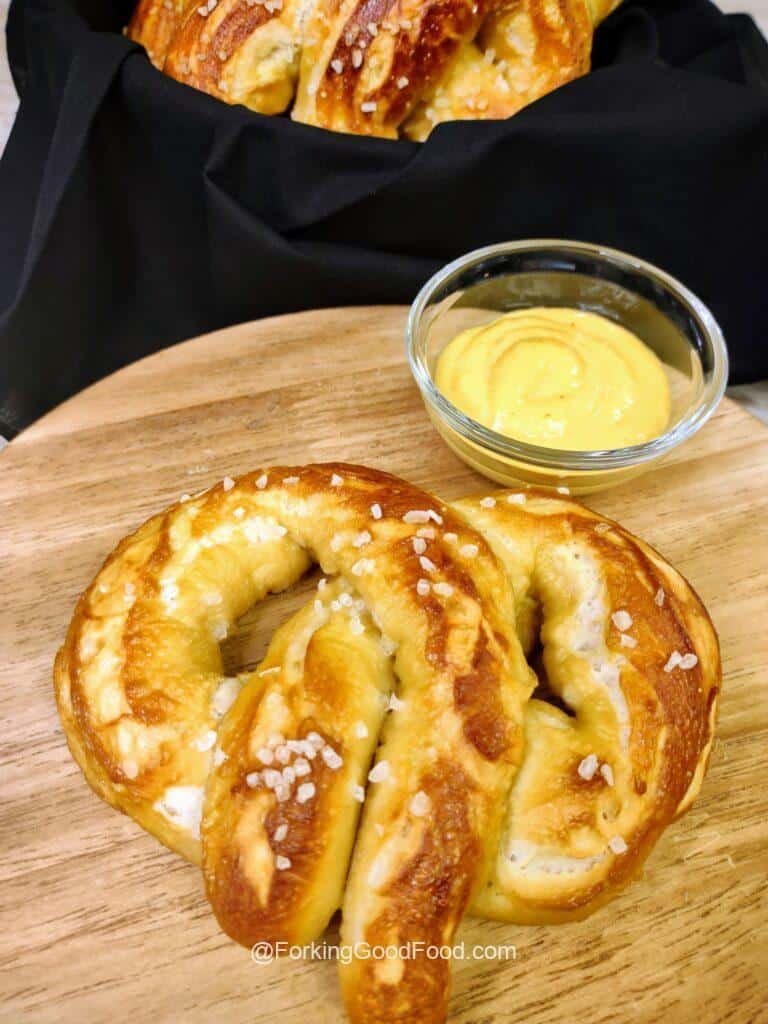 Homemade Soft Pretzels
I'm not a huge fan of the skinny crunchy pretzels; not sure why but I'm just not.  Big fat warm soft pretzels on the other hand – yes, please!  But there's never a street vendor or open ball park when you need them so now I make them at home.  During football season, there's not a host that wouldn't love to see these on their tailgate.  You can dip them in mustard or cheese, salsa or marinara, cinnamon and sugar – or eat them plain like me.  If you really want to kick it up a notch, substitute the water in the dough with your favorite amber beer and YUM!
Where did pretzels get their shape?
One theory has it that the pretzel was invented in 610 A.D. by an Italian monk to reward young children for learning their prayers. He supposedly folded strips of bread dough to resemble the crossed arms of praying children and thus the pretzel was born.  The more common belief is that German and Swiss immigrants introduced the soft pretzel to North America in the 19th century; you can't find an Oktoberfest without them.  One goes as far to say they are a descendant of Celtic harvest knots and the worship of the Celtic goddess Sirona – but this is probably KNOT true.  It's ok – you can laugh. Or groan.
How important is it to boil soft pretzels and do you have to use the baking soda?
VERY important and yes you do – if you want to make pretzels that is.  It's the trick to its glossy crust and chewy texture. The alkaline solution changes the pH level of the dough. As a result, the pretzel darkens better in the oven otherwise, you'd end up with a twisted bagel.
How hard is it to make soft pretzels?
It's not hard at all, but it's a little time consuming.  They freeze well so consider making two batches at a time, then you can have them for a quick any-time snack.  First gather your ingredients.  You'll need water, flour, active dry yeast, butter, a little sugar and salt, and a lot of baking soda.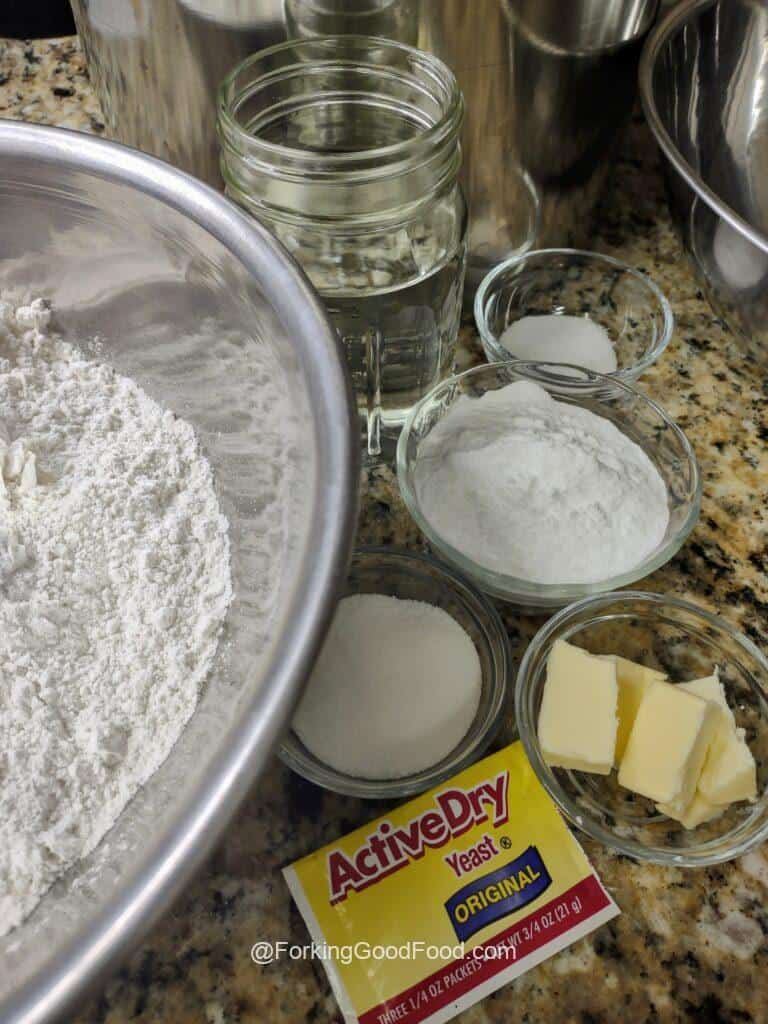 Don't worry about turning your oven on just yet. We need to make the dough and let it rise.  Start by using warm water (110 to 115 degrees).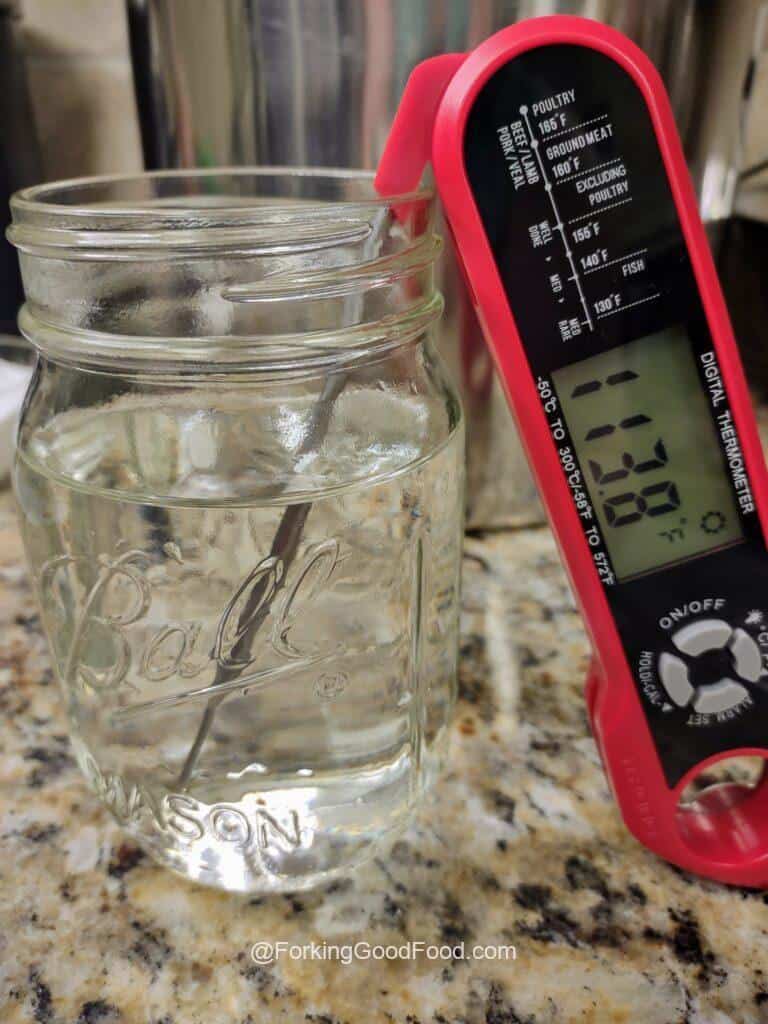 Then add in the yeast. Stir until the yeast is completely dissolved.  There is no need to let the yeast "froth" for this recipe.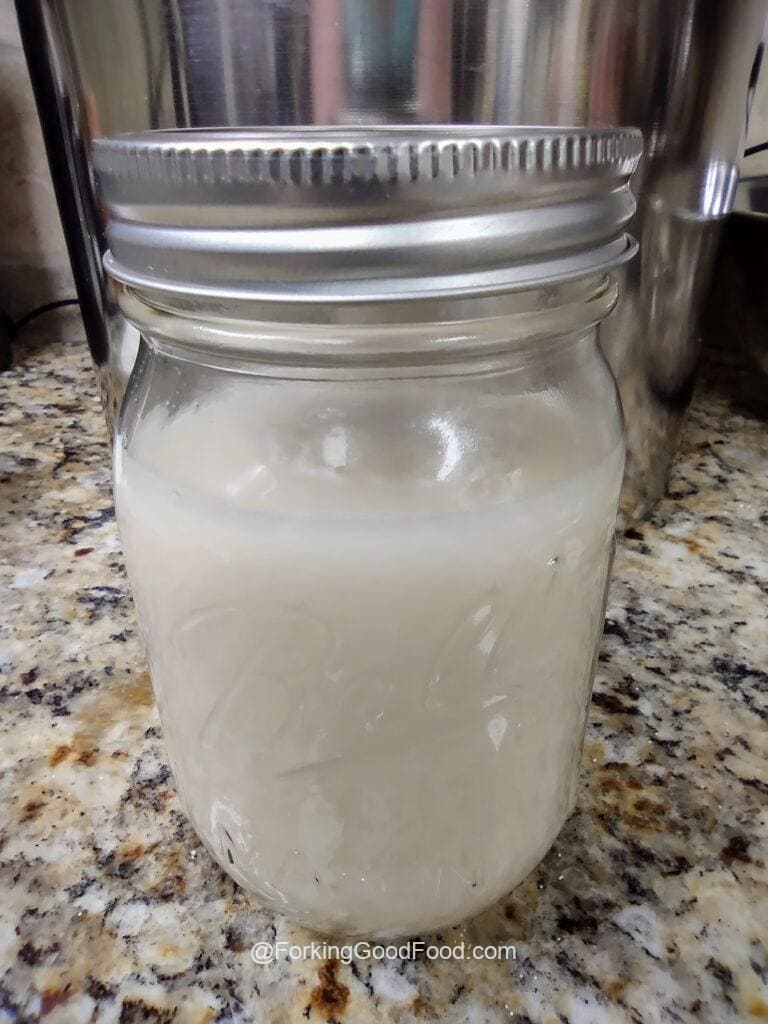 In your stand mixer, using a dough hook, combine the sugar, salt, 3 cups of the flour and mix on low to combine.  Add in the water and yeast and mix on low, adding more flour as necessary, until a soft ball forms.  Scrape the sides often to get as much of the flour as you can.
Turn the dough out on a well-floured surface (it will be quite sticky).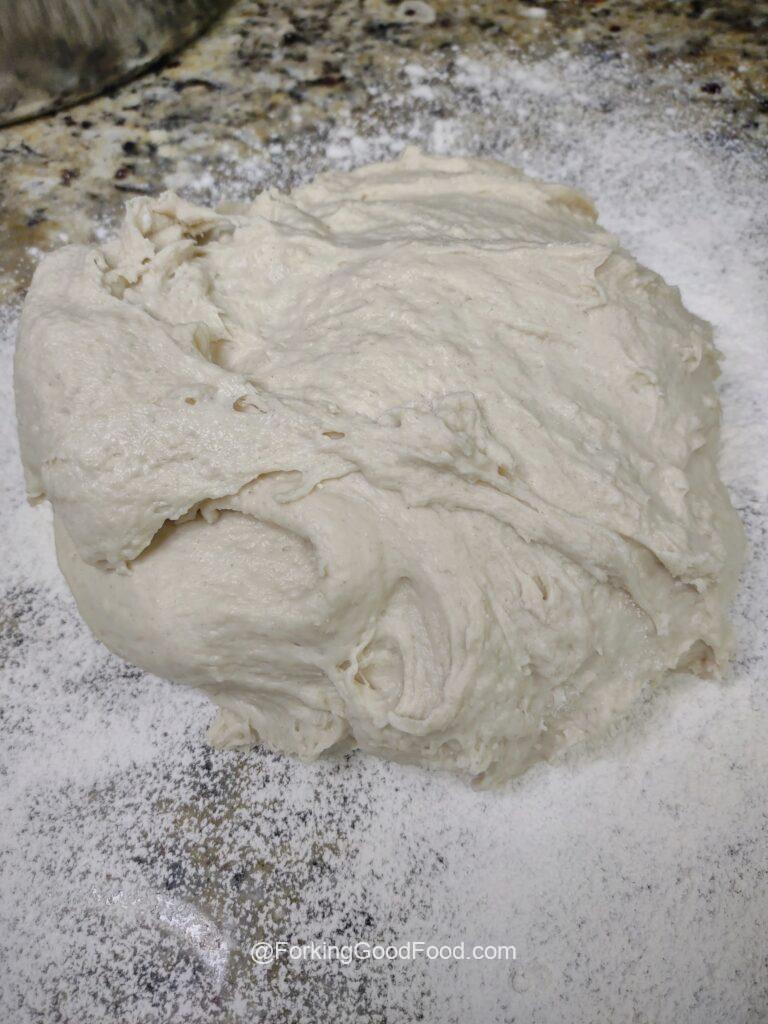 Knead for about 6 minutes.  Keep flouring your work surface as necessary to keep the dough from sticking until you end up with a smooth, elastic dough.  Place the dough in a large bowl and gently roll it in a little olive oil, turning to make sure all sides are coated.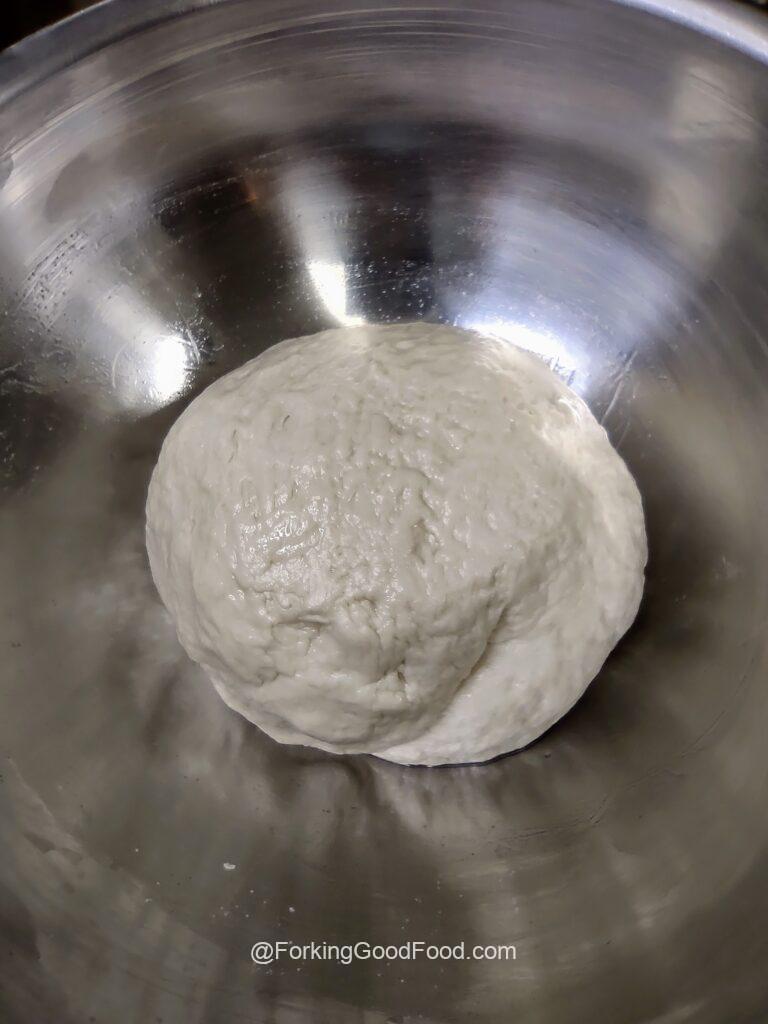 Place in a warm spot (you can always use the dryer hack – turn you dryer on for about 5 minutes to heat it up, then cover the bowl with cling film and place in the hot dryer) and let rise for about an hour or until doubled in size. Gather what you need to roll and shape your dough.  I usually cut a string to 24″ to measure my dough rope against for consistency and a bench scraper to cut my dough into 8 equal pieces.  Preheat your oven and get your water boiling while you make the pretzels.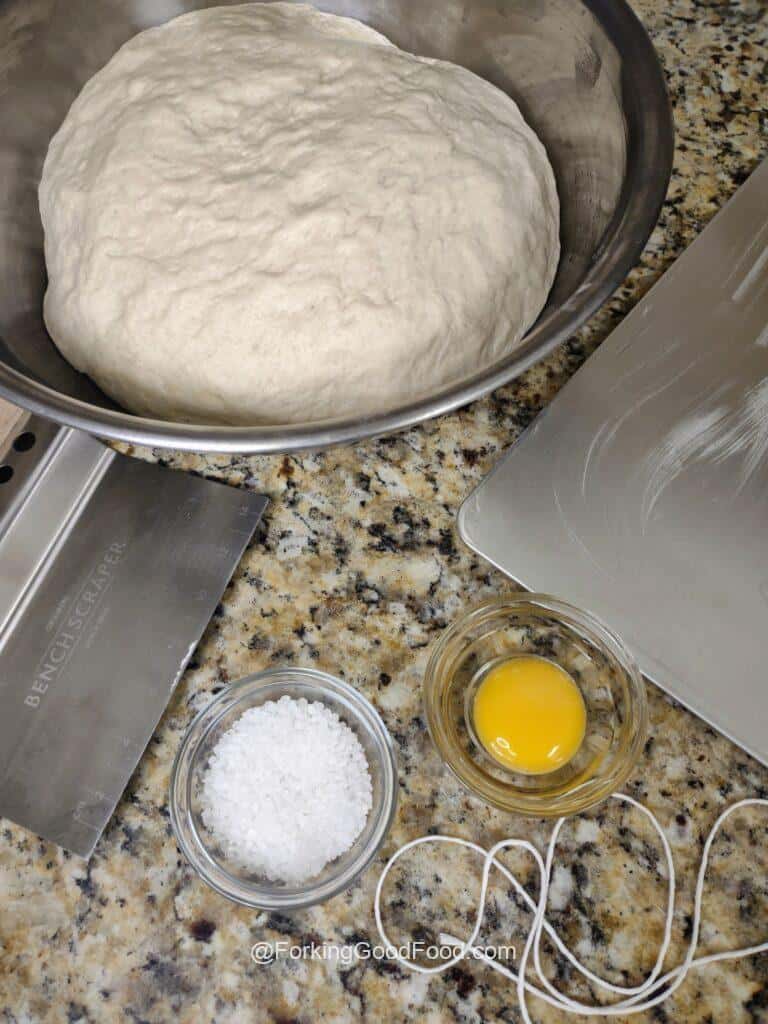 After you have cut your dough into equal pieces, roll the dough on a floured surface, or between your hands, until you have a 24″ rope.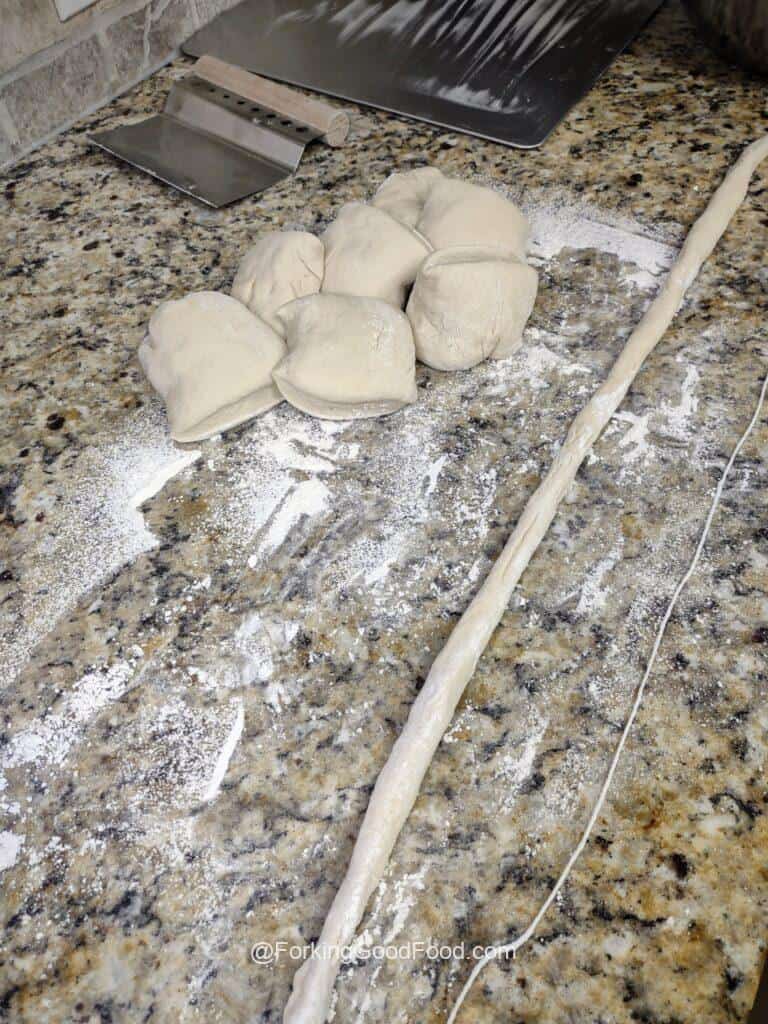 I have a hard time rolling on a surface, never have mastered that skill – so I squeeze the dough into a very rough rope and then place it in my palm and gently rub my hands together until a long, smooth, consistent rope forms.
Shape the rope into a circle, and lay over the opposite ends of the circle.  You may need to pinch the ends together a little bit to hold their shape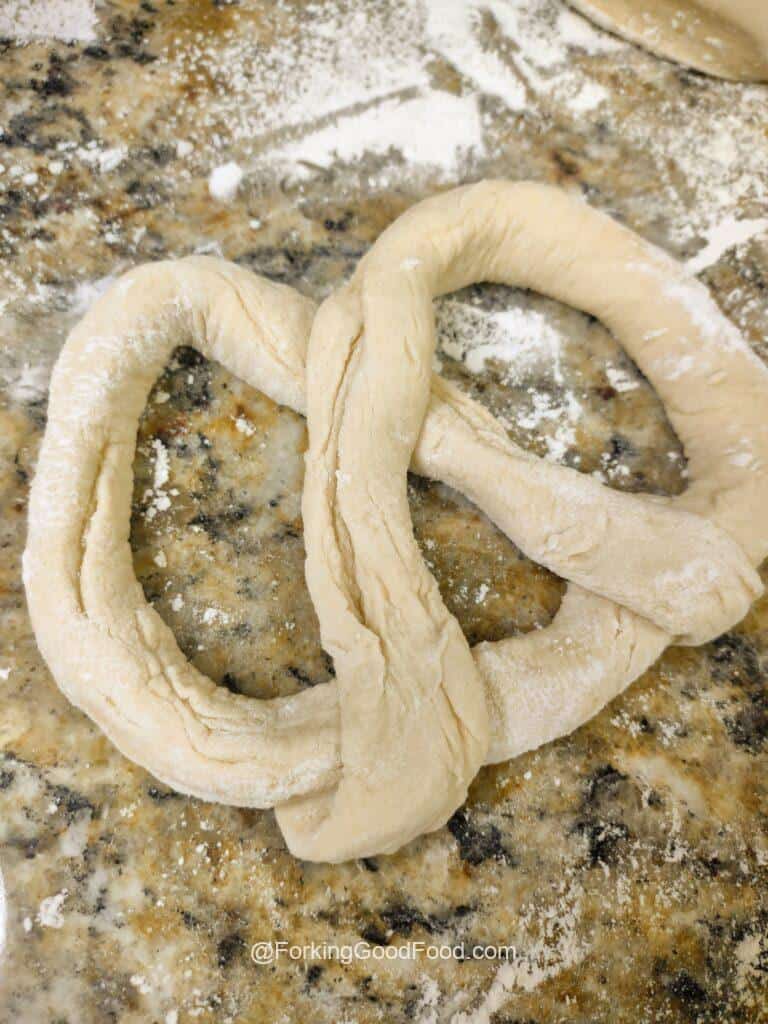 Gently slide a spatula under the pretzel, making sure to keep its form, and then gently lower into the boiling baking soda water.  Boil for about 30 seconds.  You can do two at a time, but I don't recommend trying to squeeze in a third as they tend to stick together.  Place the boiled pretzel on a paper towel to soak up any excess liquid while you boil the remaining pretzels.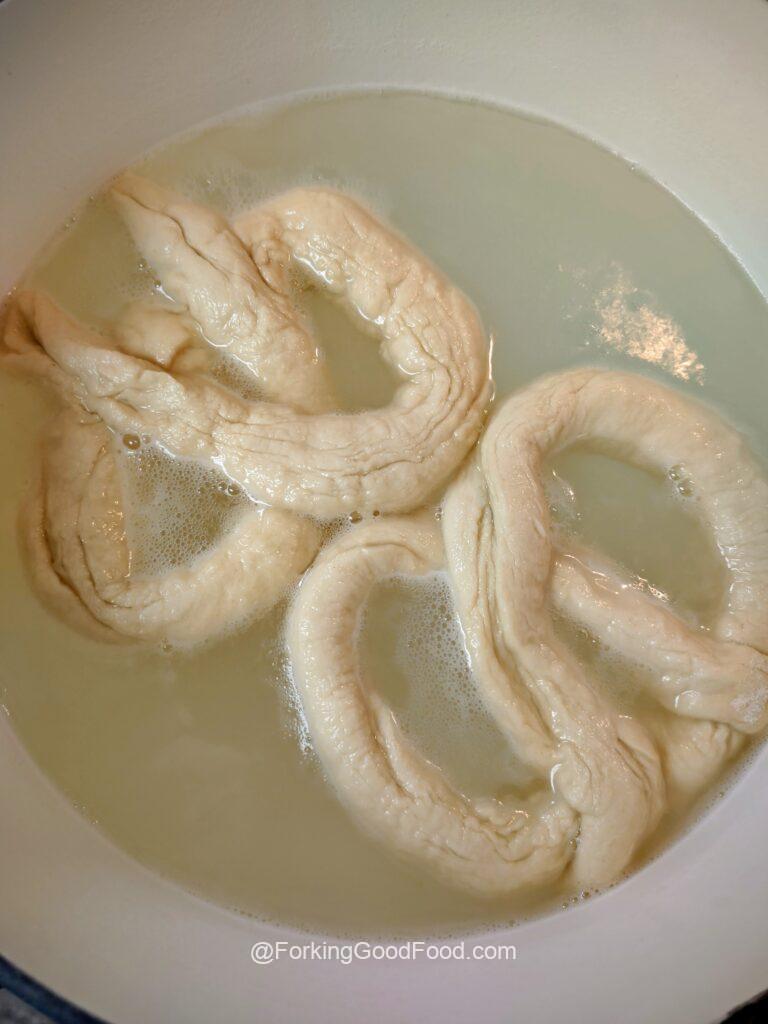 Move the pretzels to a greased baking tray, leaving at least 2″ between them.  For this recipe, I tend to use real butter – I think it adds a little flavor.  Maybe I'm wrong.  Coat the pretzels in the egg wash and generously sprinkle with coarse salt (do not use regular salt – trust me).  It's OK if it seems like you're using a lot of salt, some will fall off on it's own and if the person eating it doesn't like that much salt it's easily scraped off.  You can't really go back and salt the pretzel once it's cooked.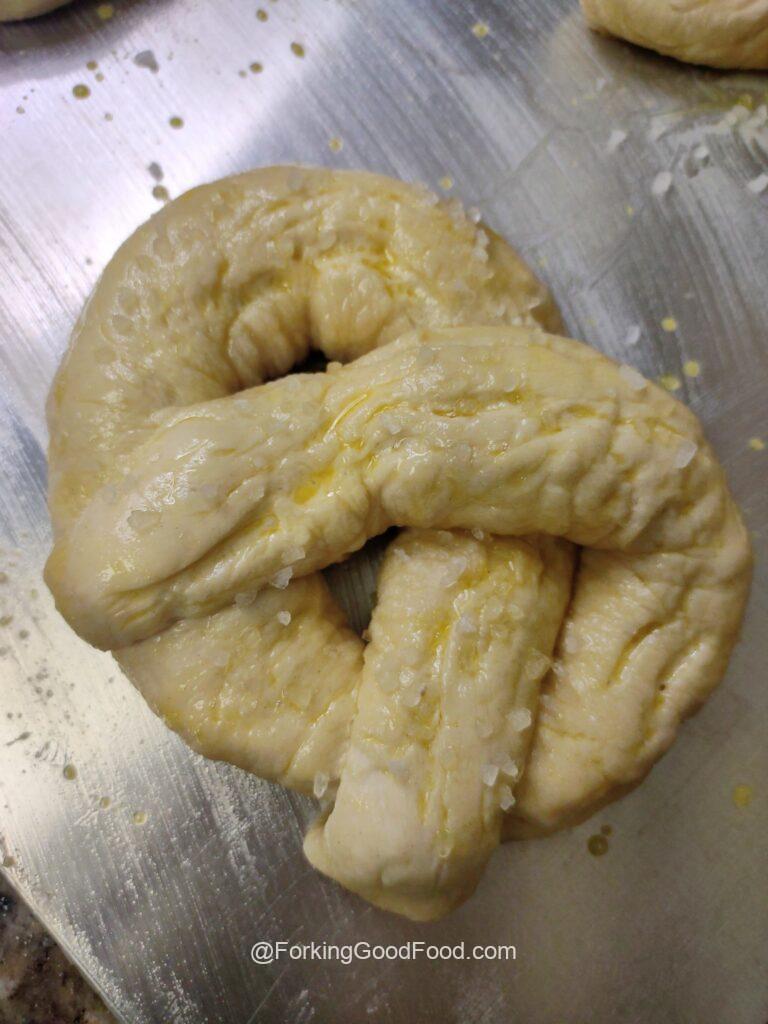 Bake for 10 to 15 minutes, or until a deep golden brown.  the Pretzel should sound slightly hollow if you tap it.  Remove to a wire rack to cool a little.  They are best served warm right out of the oven.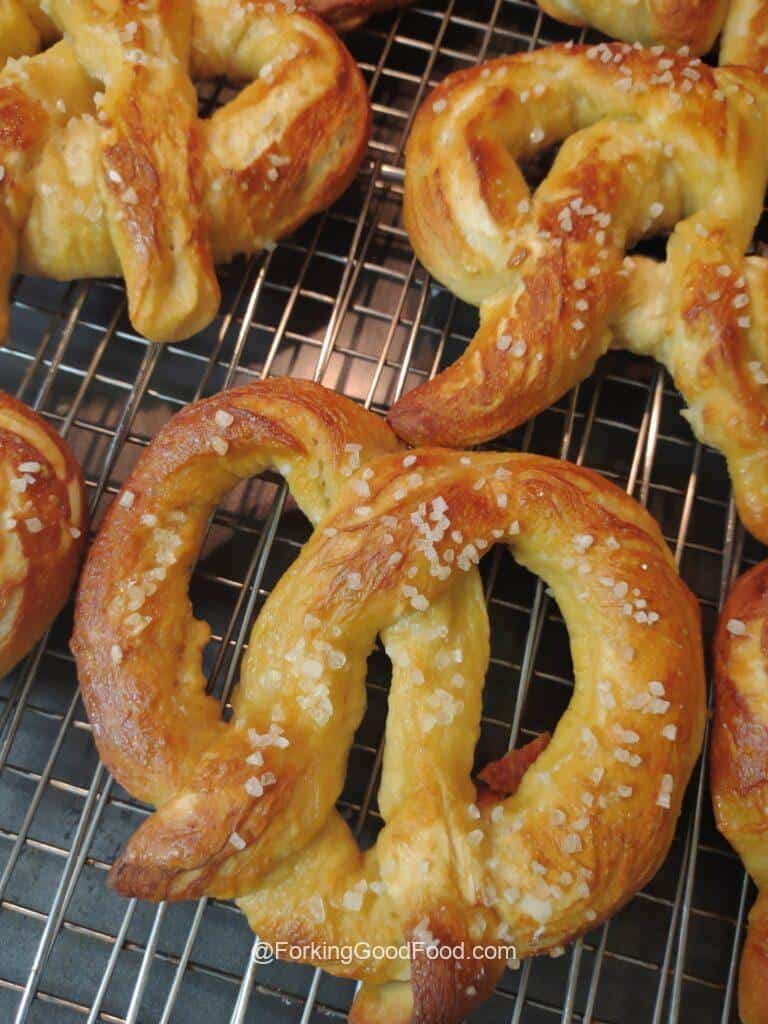 Recipe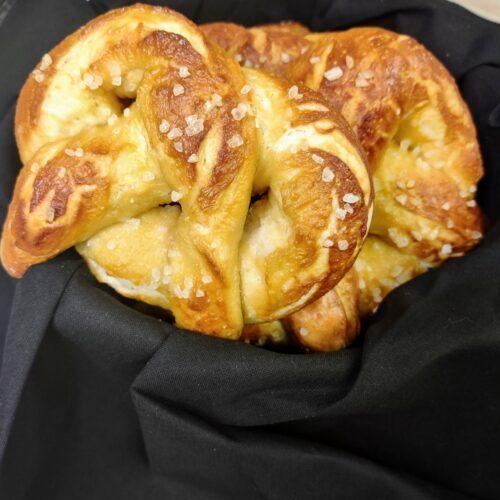 Soft Pretzels
Headed to the big game? These soft and salty pretzels are sure to make a big hit. Dip them in mustard, cheese, salsa, marinara, or eat them plain; it's an easy snack you'll make over and over again.
Equipment
Stand Mixer

Dutch oven or deep stock pot
Ingredients
12

oz

water

for dough

¼

oz

active dry yeast

1 envelope

1

Tbs

butter

melted

1

Tbs

sugar

1 ½

teaspoon

salt

4 to 4 ½

cups

AP flour

divided (3 cups + additional)

10

cups

water

for boiling

⅔

cup

baking soda
Topping:
1

egg yolk

beaten

1

Tbs

water

Coarse salt
Instructions
In a small jug or mason jar, microwave water to 110-115℉

Stir in yeast until dissolved

In a stand mixer, combine butter, sugar, salt, yeast mixture and 3 cups of the flour; beat on medium speed until smooth. Stir in enough remaining flour to form a soft dough (will be sticky)

Turn dough out onto a floured surface and knead until smooth and elastic (about 7 minutes)

Place in a greased bowl, turning once to coat the top. Cover with plastic wrap and let rise in a warm place until doubled (about 1 hour)

Preheat oven to 425℉ and in a Dutch Oven, bring 10 cups water and baking soda to a boil.

Punch dough down and turn onto a lightly floured surface. Divide and shape into 8 balls; squeeze each ball to for a rough rope, then roll between your hands until you have a 24" rope

Curve ends of rope to form a circle; twist ends once and lay over opposite side of circle, pinching ends to seal

Gently slide pretzels off a spatula, 2 at a time, into the boiling water and cook for 30 seconds. Remove with a slotted spoon and place on a paper towel to absorb excess moisture. Repeat with remaining pretzels

Place pretzels 2" apart on greased baking sheets

In a small bowl, which egg yolk and water and brush over pretzels; Sprinkle with coarse salt

Bake 10-15 minutes or until golden brown

Remove to a wire rack to cool

Serve warm
Notes
For added flavor, substitute the water for the dough with 12 oz amber beer.
  You don't have to have a stand mixer, but you will need a heavy duty electric mixer if you don't have one.
Nutrition
Calories:
418
kcal
Carbohydrates:
70
g
Protein:
11
g
Fat:
10
g
Saturated Fat:
2
g
Polyunsaturated Fat:
2
g
Monounsaturated Fat:
5
g
Cholesterol:
25
mg
Sodium:
4105
mg
Potassium:
217
mg
Fiber:
3
g
Sugar:
7
g
Vitamin A:
36
IU
Vitamin C:
1
mg
Calcium:
157
mg
Iron:
5
mg