Ditch the expensive store-bought ranch products and make them yourself using this quick and easy ranch dressing seasoning recipe. You can even make salt-free ranch dressing!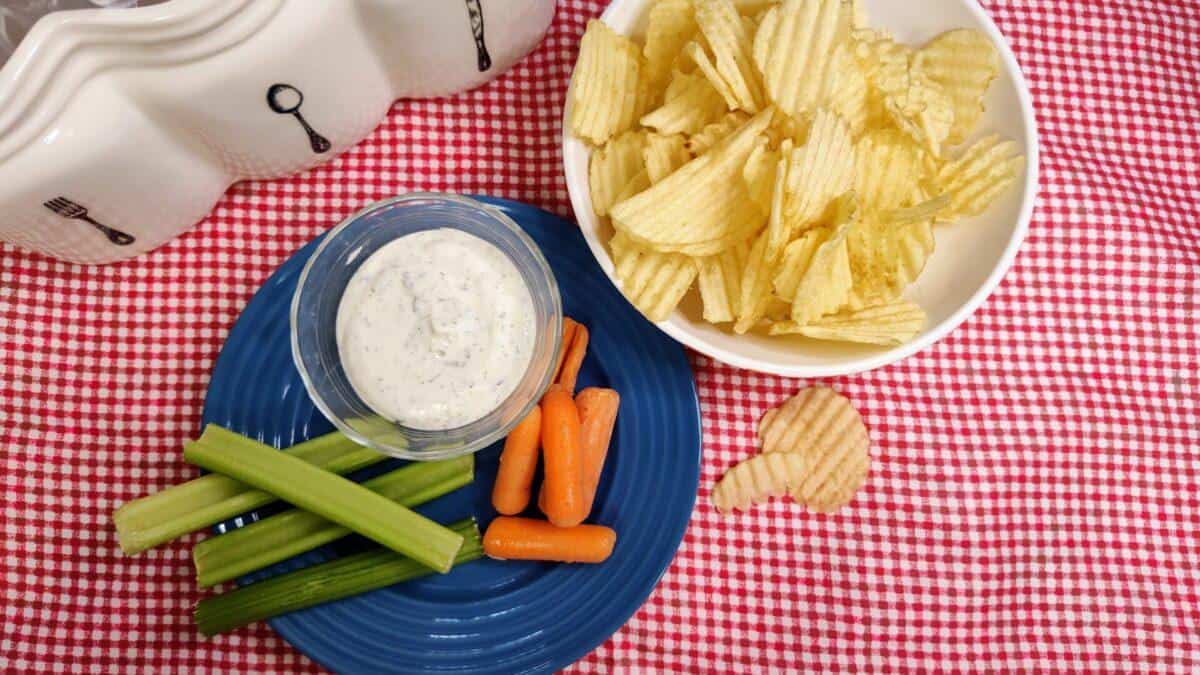 Here in the South, ranch is practically its own food group. Its cool creamy goodness is the perfect accompaniment to wings, chips, veggies, nuggets, pizza, and chips of all kinds. Bring this to the next cookout and you'll be getting a repeat invitation for sure.
The Ease of Ranch Seasoning
I don't know about you, but I've probably gone through a million of those little ranch spice packets in my life. I don't care what anyone says, ranch dip and dressing is better when it's homemade. With this quick recipe, it can be 100% homemade and for a fraction of the cost using basic ingredients!
After some research, I figured out the key to great ranch is Buttermilk powder!
I've been cooking for quite a while, but this was a new product for me and it might just be my new best friend. First I had to find it… it's with the canned milk and powdered creamers in the store in case you're wondering.
This can be reconstituted with water and the container I got makes almost 4 quarts – for under $5. Keep in mind, the powder has to be refrigerated once opened.
Let's Make Some Ranch!
Except for the buttermilk powder, you probably already have most if not all of these ingredients in your spice rack. In addition to the buttermilk powder, you'll need dried: parsley, onion, dill, and chives.  You'll also need garlic salt, salt, pepper, and onion powder. Of course, you will omit the salts if going for a lower sodium version and substitute garlic powder.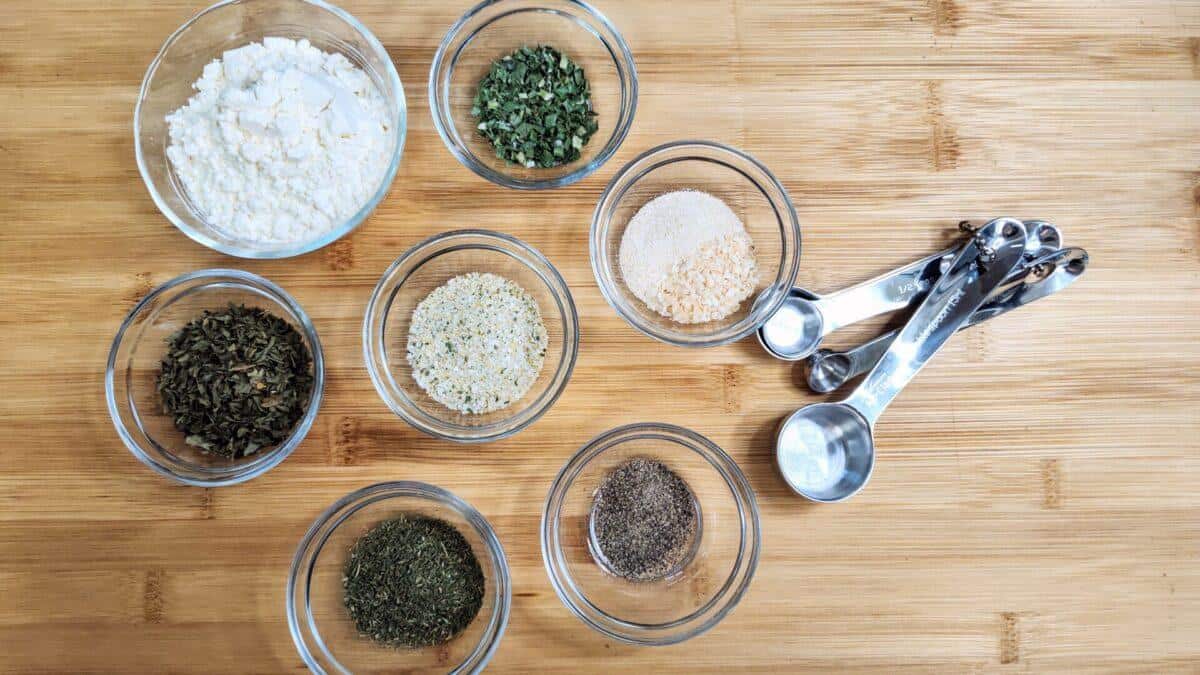 Throw it all in a bowl, give it a good whisk, and store it in the fridge for up to a month. Easy peasy!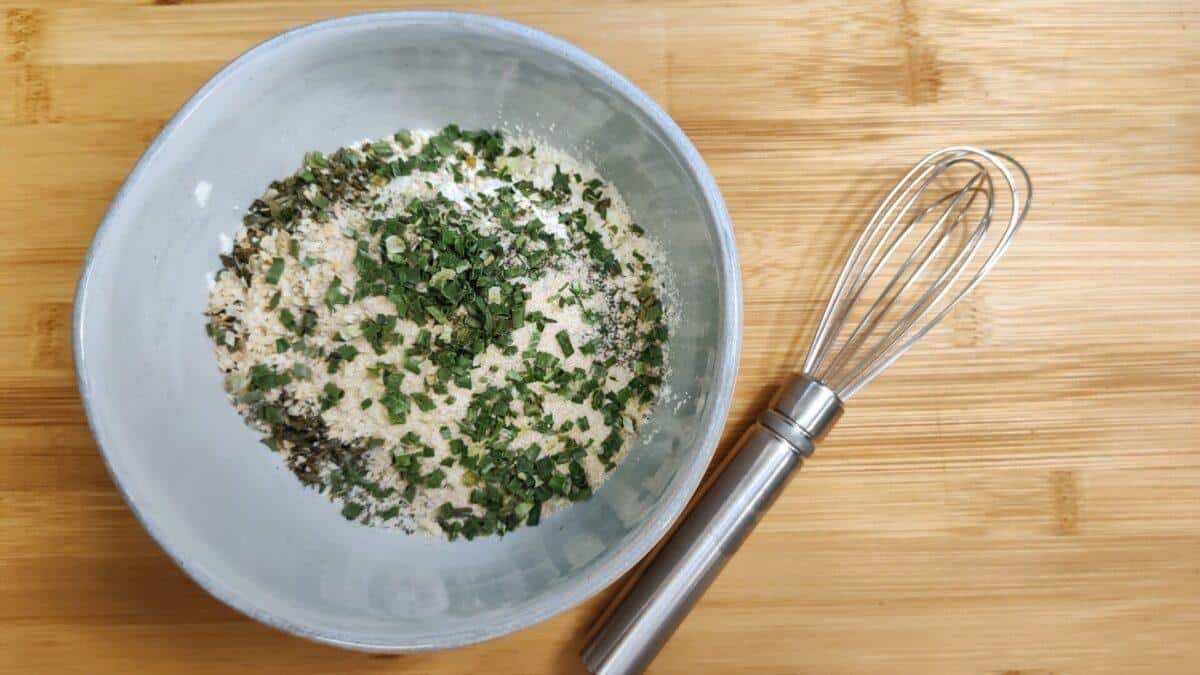 If you want to make salad dressing you'll need some mayo and milk. For the dip, you'll need sour cream. Or my favorite – just sprinkle a little on roasted corn on the cob!
Want Salt-Free Ranch Seasoning?
You can easily omit the salt from this recipe. Or you can replace it with a salt alternative. There is so much flavor in this you really don't need much salt!
What to Serve with Ranch
When serving ranch dressing, it pairs well with a variety of foods. Here are some popular options:
Fresh Vegetables: Serve a platter of crisp carrots, celery, bell peppers, cherry tomatoes, and cucumber slices. The cool, creamy ranch dressing complements the crunchy texture and adds a savory flavor.
Chicken Wings: Ranch dressing is a classic dip for chicken wings. Its tangy and herbaceous taste balances the heat and adds an extra layer of flavor to the wings.
Salads: Ranch dressing is a versatile dressing for salads. It goes well with mixed greens, chopped vegetables, and even pasta salads. It adds a creamy and tangy element to the dish.
Pizza: Some people enjoy dipping their pizza crusts or even the entire slice into ranch dressing. The creamy dressing can help balance the richness of the cheese and add a zesty flavor.
French Fries or Potato Wedges: Ranch dressing makes a great alternative to ketchup or mayonnaise when dipping fries or potato wedges. The creamy and tangy flavors complement the crispy potatoes.
Why is Homemade Better than Store Bought?
Freshness: Making ranch dressing at home allows you to use fresh ingredients. You have control over the quality and can ensure that there are no artificial additives or preservatives.
Customization: Homemade ranch dressing gives you the freedom to customize the flavors to your liking. You can adjust the herbs, spices, and tanginess to suit your taste preferences.
Healthier Option: By making ranch dressing at home, you can choose healthier ingredients such as low-fat yogurt or mayonnaise, and incorporate fresh herbs. You have control over the amount of salt and other additives.
Cost-effective: Making ranch dressing at home can be more cost-effective in the long run compared to store-bought options. You can make a large batch and store it in the refrigerator for multiple uses.
Culinary Exploration: Making your own ranch dressing can be a fun and creative culinary experience. You can experiment with different herbs, spices, and variations to develop your unique flavor profile.
You will quickly learn that making ranch dressing at home is a whole lot better than store-bought options.
Recipe
Easy Ranch Seasoning, Dip, or Dressing
Ditch the expensive store-bought ranch products and make them yourself!
Ingredients
½

cup

Buttermilk Powder

2

Tbs

dried parsley

1

Tbs

garlic salt

use garlic powder if going salt-free

2

teaspoon

onion powder

2 ½

teaspoon

dried dill weed

½

teaspoon

dehydrated onion

1

teaspoon

dried chives

½

teaspoon

salt

omit if going salt-free

¼

teaspoon

black pepper
Instructions
Whisk all ingredients together and store in the refrigerator for up to a month
Notes
For salad dressing add 1 Tbs seasoning mix with ½ cup mayonnaise and ½ cup whole milk.
For dip add 1 to 1 ½ Tbs per 8oz of sour cream
For best results on either the dressing or the dip, refrigerate for at least one hour but the longer the better.
Nutrition
Calories:
48
kcal
Carbohydrates:
7
g
Protein:
4
g
Fat:
1
g
Saturated Fat:
0.4
g
Polyunsaturated Fat:
0.1
g
Monounsaturated Fat:
0.2
g
Cholesterol:
7
mg
Sodium:
1413
mg
Potassium:
230
mg
Fiber:
1
g
Sugar:
5
g
Vitamin A:
616
IU
Vitamin C:
7
mg
Calcium:
145
mg
Iron:
1
mg