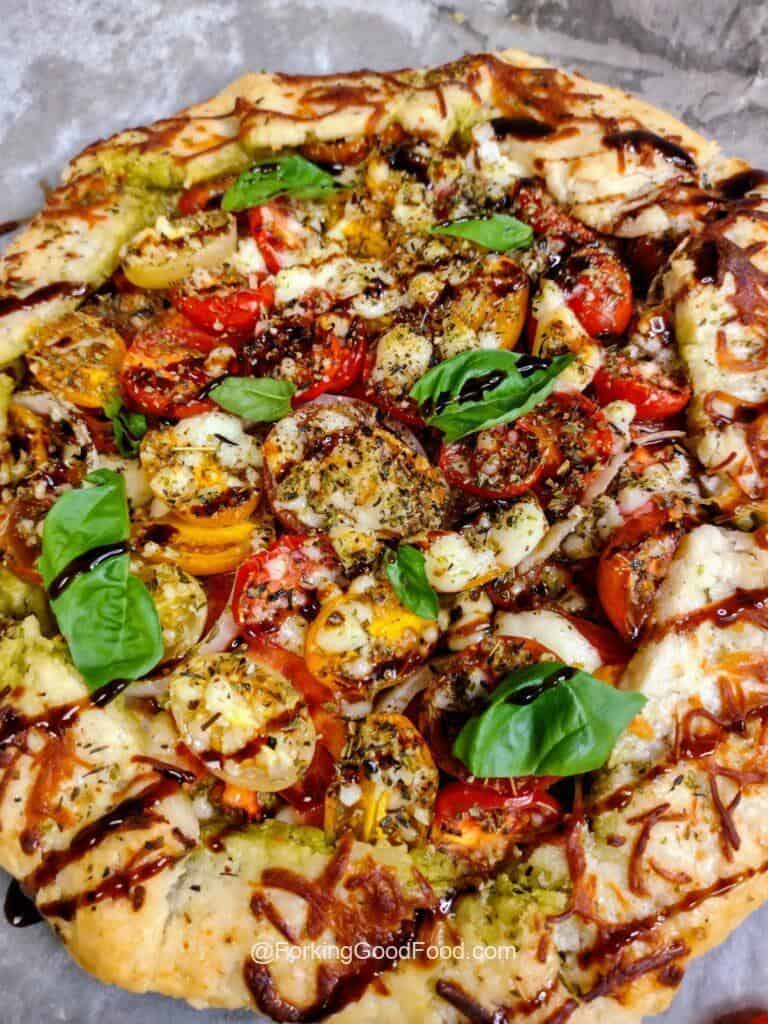 Tomato Galette
You may be thinking to yourself "I don't know what a galette is, but I sure know a pizza when I see one - and that's a pizza."  Think of this as the slightly more chic cousin of the pizza.  A galette is a French rustic freeform flat round tart or pie or cake. They can be filled with everything from fruits, to ham and cheese, to...well... tomatoes. It actually translates to "pancake" but it's not what American's would consider a pancake.  In most recipes, a simple pie crust is used, although buckwheat would be more traditional and distinguishes the galette from the crepe.
How do you reheat Tomato Galette?
I've been asked this before, but I'm not sure what the words mean. Reheating something implies there are leftovers. Leftover Galette?  Hmm? I think I get lost at the leftover part.  I've heard it happens, but I've never experienced it myself.  Reheating it is simple though - preheat your oven to about 375 then loosely cover with foil and bake for about 10-15 minutes or until the crust has regained some of its crispiness.
How do you make a Tomato Galette?
It's really rather simple.  You will need your favorite pie dough, rolled out into a 10-12" circle, some beautiful tomatoes, pesto, a bit of onion, crumbled queso fresco or feta, salt, pepper, Italian seasoning, and parmesan. Throw on a garnish of fresh basil and balsamic glaze and you may never eat plain old pizza again.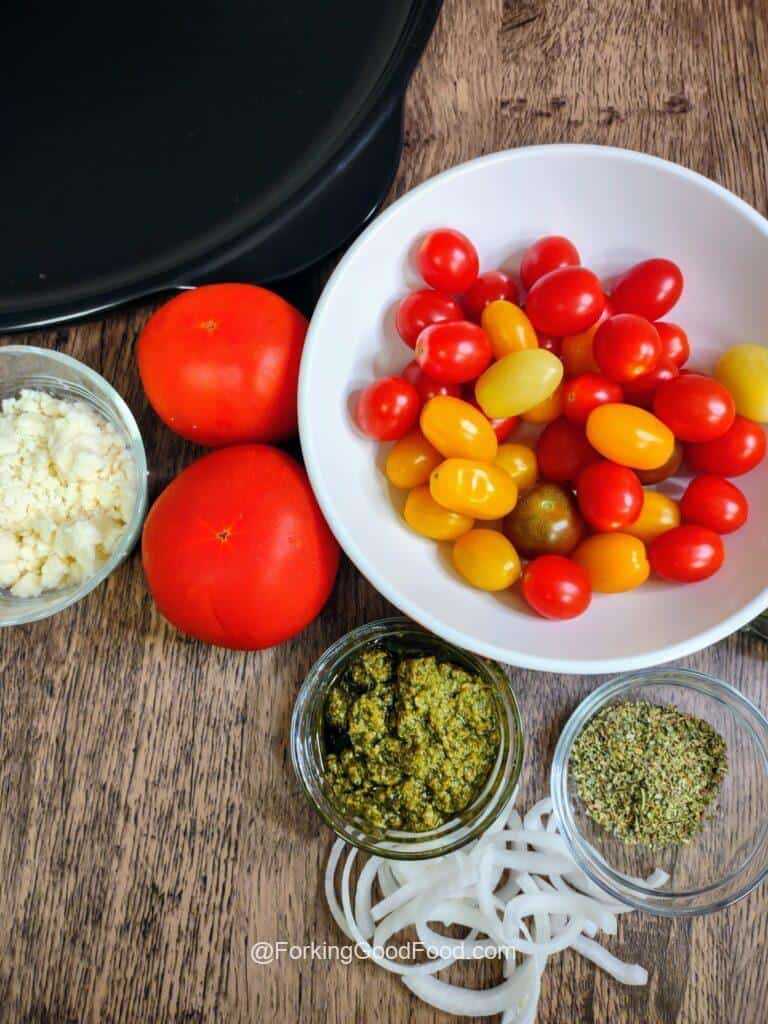 First, slice your whole tomatoes about 1/85" thick and cut your cherry tomatoes in half.  Line on a few sheets of paper towels and sprinkle with the salt.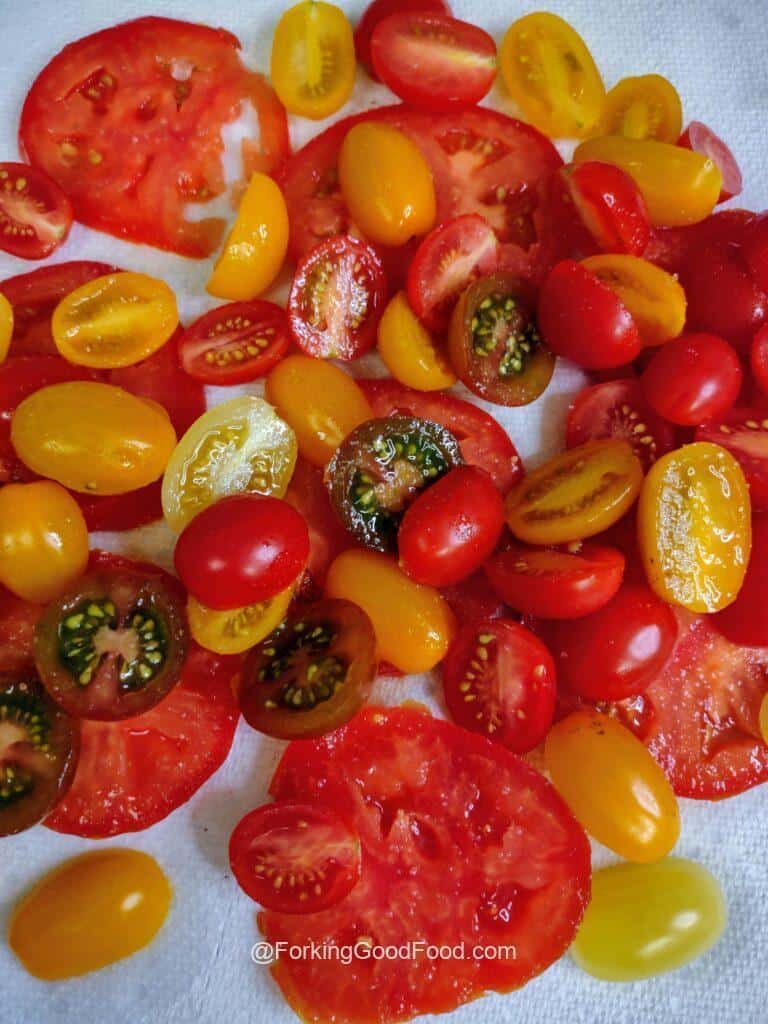 If you've read any of my other recipes where pie dough is involved, you'll know it's my least favorite thing to make.  I don't know why - but this handy dandy little pastry rolling bag is helping me up my game.  Roll out your dough to at least 10", 12 is better.  You'll see it's still a little sloppy -
but I'm getting there... I guess I'll just have to make this recipe A LOT for the practice. Oh darn.  If you're interested in a flour-free rolling experience get your own Silicone Dough Rolling Bag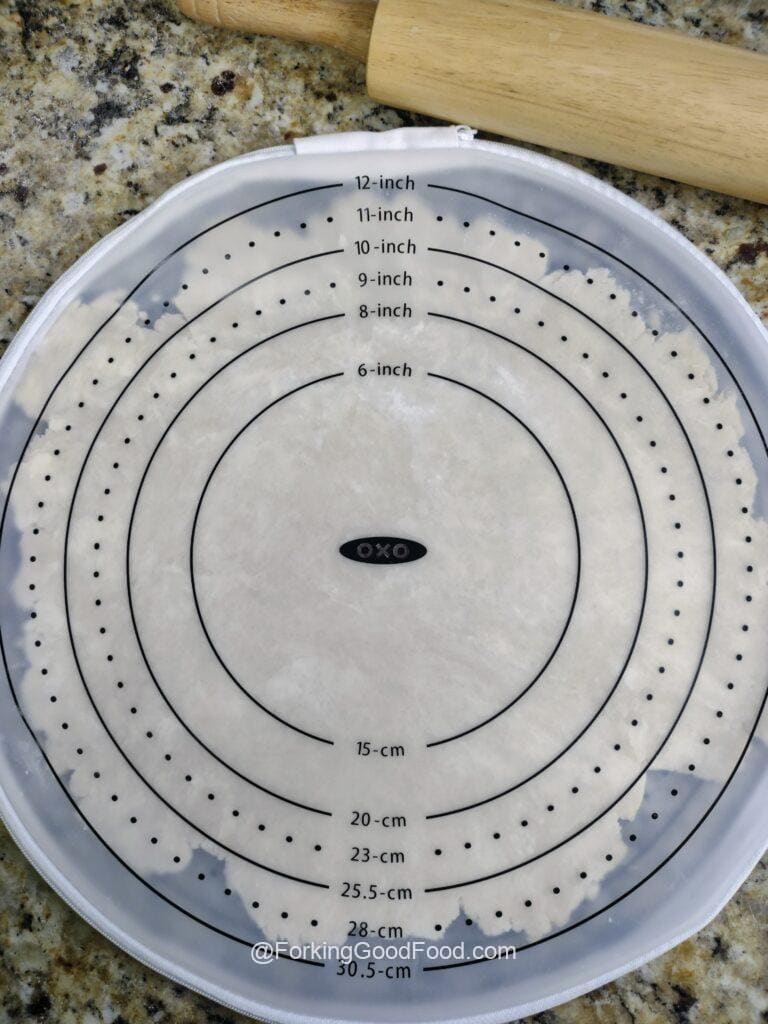 Place your dough on a sheet of parchment paper and then transfer to a pizza stone or baking tray.  Spread the pesto in the middle of the crust, stopping about 2" away from the edge.  Then layer your tomatoes, onions, cheese, cherry tomatoes and more cheese! Top off with a dusting of Italian seasoning.
Fold the edges of the dough over the tomatoes, overlapping where necessary, to form a rough circle.
Add the water to your egg to create an egg wash.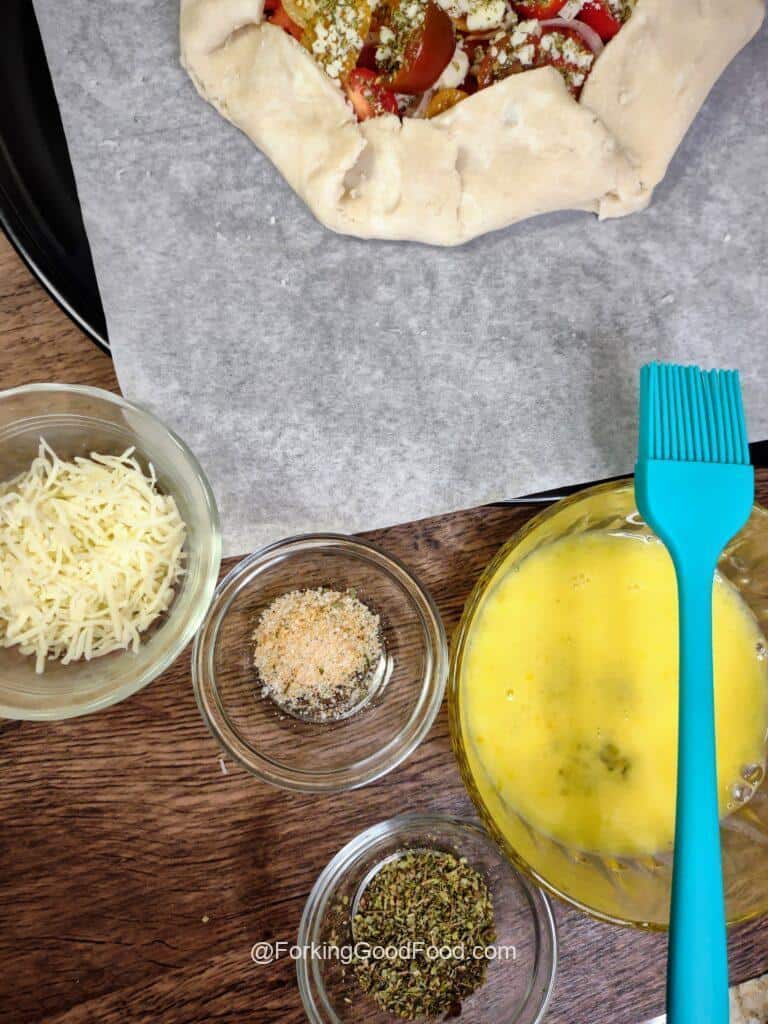 Brush the egg wash over the crust then sprinkle with the parmesan and garlic salt.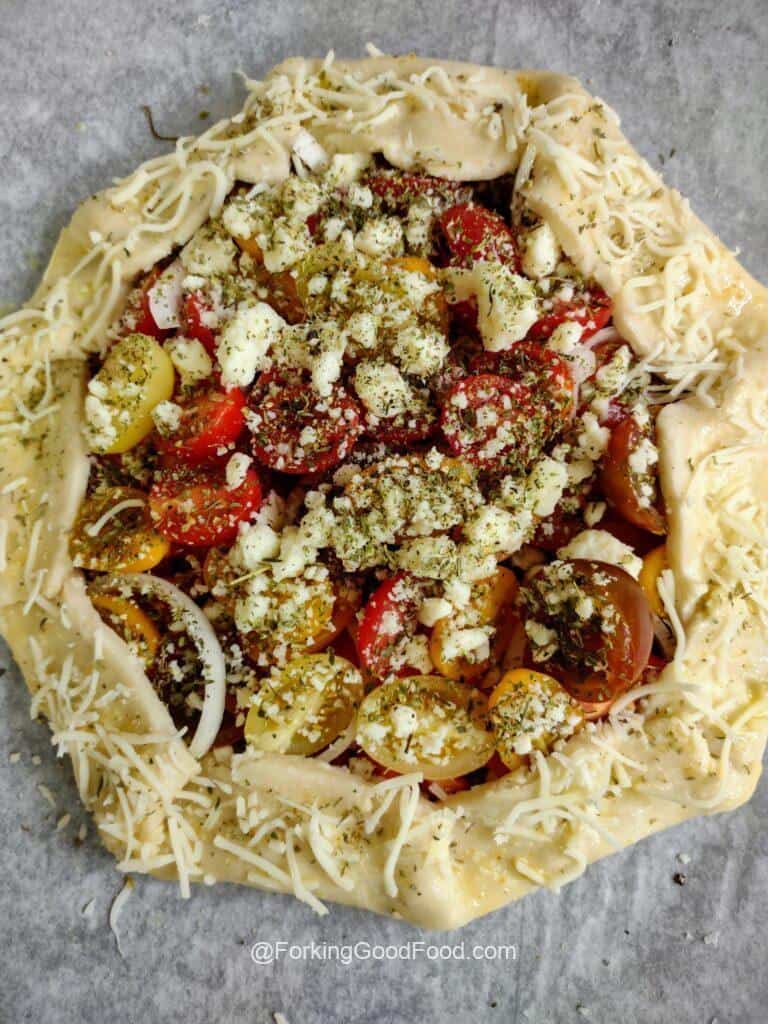 Bake for about 40-45 minutes or until the crust is golden brown.  Let cool for 10 minutes then garnish with fresh basil and Balsamic Glaze.  There are lots of brands out there that are very good, this is just the one I use.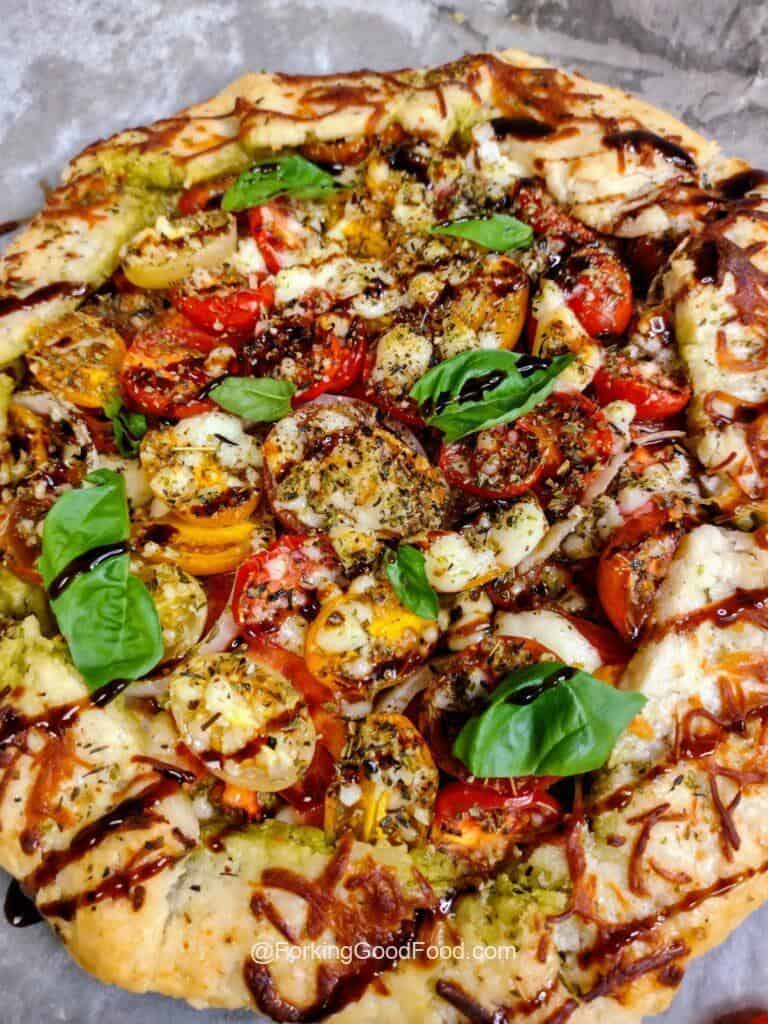 Recipe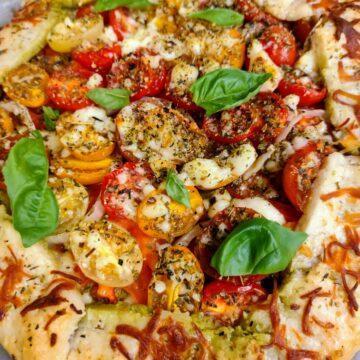 Tomato Galette
This savory rustic pie is sure to make plain old pizza thing of the past. While Galettes are traditionally made from fruit, this dish is perfect for when summer, vine-ripened tomatoes are at their peak.
Ingredients
2

tomatoes

small, preferably Roma

1

pint

rainbow/mixed color cherry tomatoes

½

small onion

thinly sliced

½

teaspoon

salt

2

Tbs

pesto

½

cup

queso fresco

crumbled (or feta)

1

teaspoon

Italian seasoning

½

teaspoon

pepper

1

egg

beaten

1

Tbs

water

1

teaspoon

garlic salt

1

Tbs

grated parmesan

¼

cup

fresh basil

chopped

2

Tbs

Balsamic glaze

1

pie crust dough
Instructions
Preheat oven to 375℉

Slice the small tomatoes in ⅛" slices and the cherry tomatoes in half. Place on 2 or 3 layers' thick paper towels and sprinkle with salt, set aside

On a flour sheet of parchment, roll your pie dough into a 10-12" circle, then transfer parchment paper with dough to a pizza stone or tray

Spread the pesto over the dough, stopping 2" from the outer edge

Place the sliced tomatoes and onions on the bottom and sprinkle ½ of the queso fresco on top

Arrange the cherry tomatoes on top and add with the remaining cheese

Sprinkle the Italian seasoning and pepper over the top

Fold the edges of the crust over the top of the tomatoes, overlapping where necessary, to form a rough circle

Mix the water and egg together and brush the folded over edges of the crust and then sprinkle with the grated parmesan and garlic salt

Bake 40-45 minutes or until crust is golden brown

Allow to cool 10 minutes

Garnish with fresh basil and a drizzle of Balsamic vinegar glaze
Nutrition
Calories:
343
kcal
Carbohydrates:
34
g
Protein:
10
g
Fat:
19
g
Saturated Fat:
7
g
Polyunsaturated Fat:
2
g
Monounsaturated Fat:
7
g
Trans Fat:
1
g
Cholesterol:
53
mg
Sodium:
1282
mg
Potassium:
516
mg
Fiber:
3
g
Sugar:
7
g
Vitamin A:
1525
IU
Vitamin C:
37
mg
Calcium:
161
mg
Iron:
3
mg