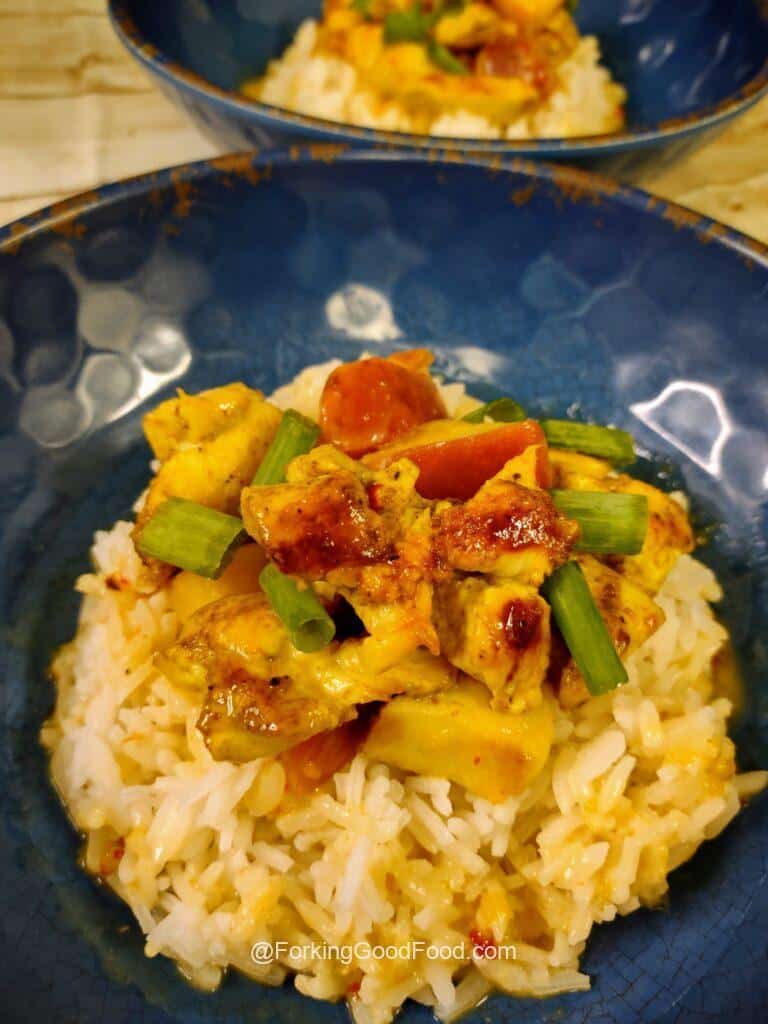 Grilled Peach Chicken Curry
This is one of my son's favorite dishes.  When peaches are in season I look for any excuse to use them, sweet or savory, and boy do they work in this dish.  I think of this as the ultimate Southern/Indian Fusion Cuisine with the kick of curry and chilies and the sweetness of sun ripened peaches.  The sauce is the star and over the years I've taken the original recipe and just about tripled it.  The rice soaks up the sauce and ensures that every single bite is as delicious as the next.
What is fusion cuisine?
Fusion cuisine takes the best ingredients and flavors from different cultures or regions and melds them into beautiful new creations.  TexMex may be the most well known but the possible combinations are almost limitless.  Fusion cuisine allows us to be adventurous in exploring and experimenting with seemingly contrasting flavors, textures, and techniques.
Why do chefs grill fruit?
Grilling fruit brings out the natural sugars and caramelizes them, giving them a much richer flavor.  Combined with savory elements such as meat, the sweet fruits elevate dishes to a different level.  Almost any fruit can be grilled so experiment with the ones you like.  I happen to prefer peaches or nectarines, plums, and pineapple.  We'll hold off on the "is pineapple a pizza topping" for now - but yes, it is.
Let's get started with some beautiful peaches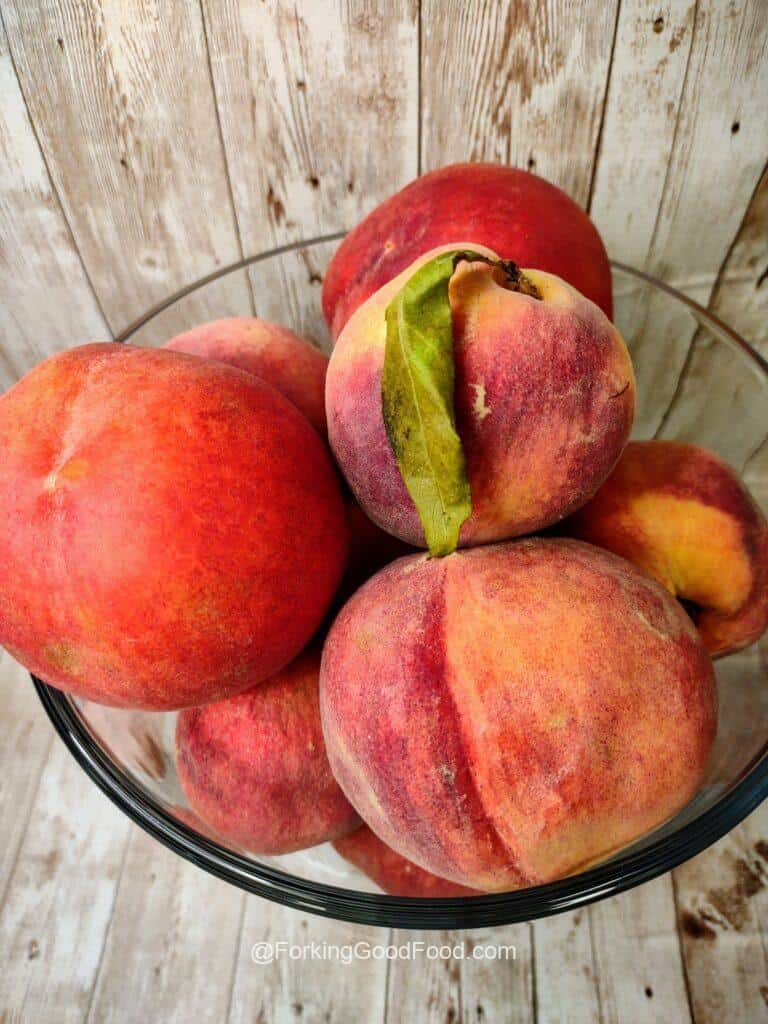 Pick peaches that are a little soft, but still have some firmness to them.  Cooking them, even a little, will soften them up a lot and you don't want mushy fruit.  Too hard though, and you wont get the sweet juiciness that peaches are famous for.
Run a sharp knife all the way around the "seam" of the peach.  Give the peach a gentle twist and it should easily come apart in two halves.  Make sure you remove the pit.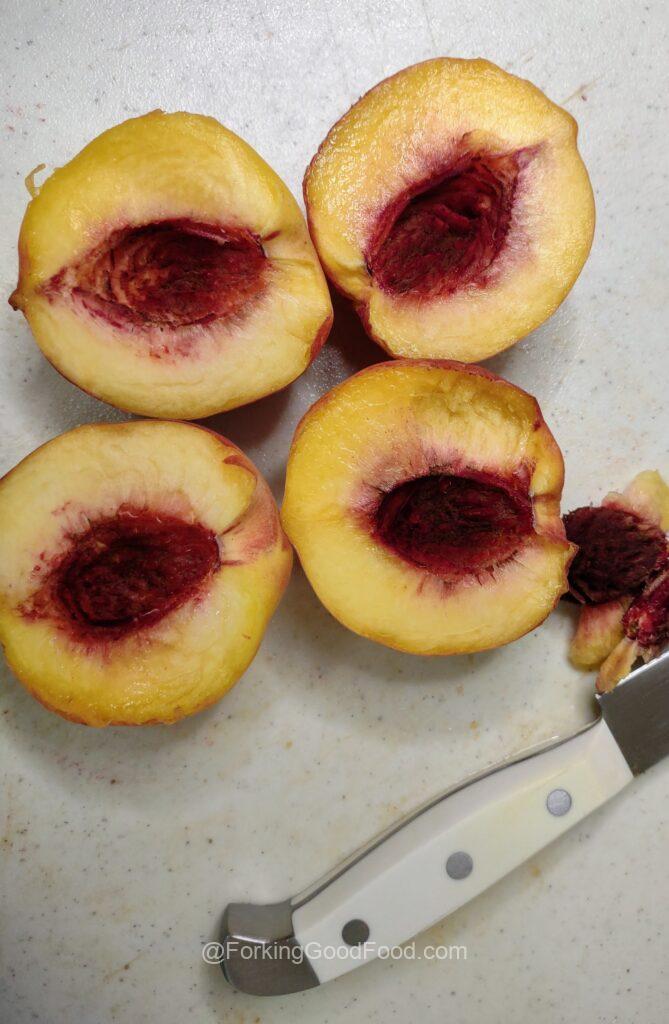 Heat up whichever type of grill you intend to use.  I like a grill press because you cook from both sides at the same time, but a grill pan or outdoor grill will work just as well.  Don't have a grill pan?  That's ok; just use a frying pan (preferably cast iron) and cook them that way.  The only thing you'll miss are the pretty deep brown sear marks.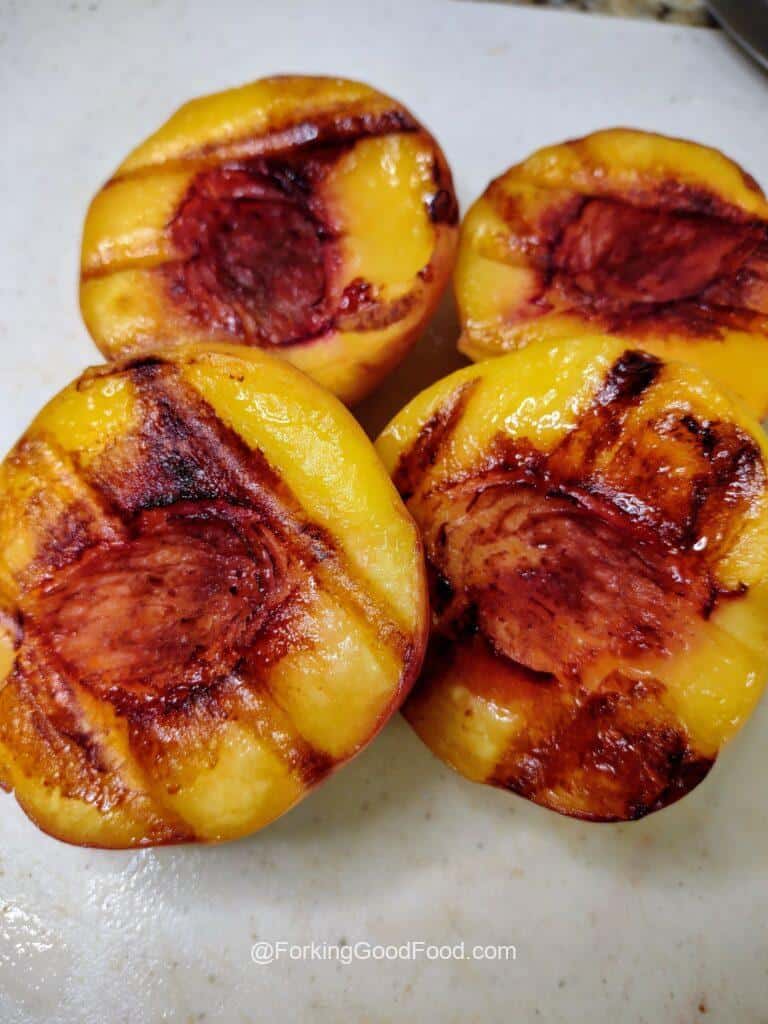 Once you have your peaches grilled, put the rice on to cook and get started on the chicken.  I usually go ahead and cut my chicken and season it while the peaches are grilling.  Heat a large non-stick skillet with a little bit of cooking spray over medium high heat.  Add the curry coated chicken when the pan is good and hot.  Cook for about 5 minutes, turning only once to get a nice golden brown color on each side.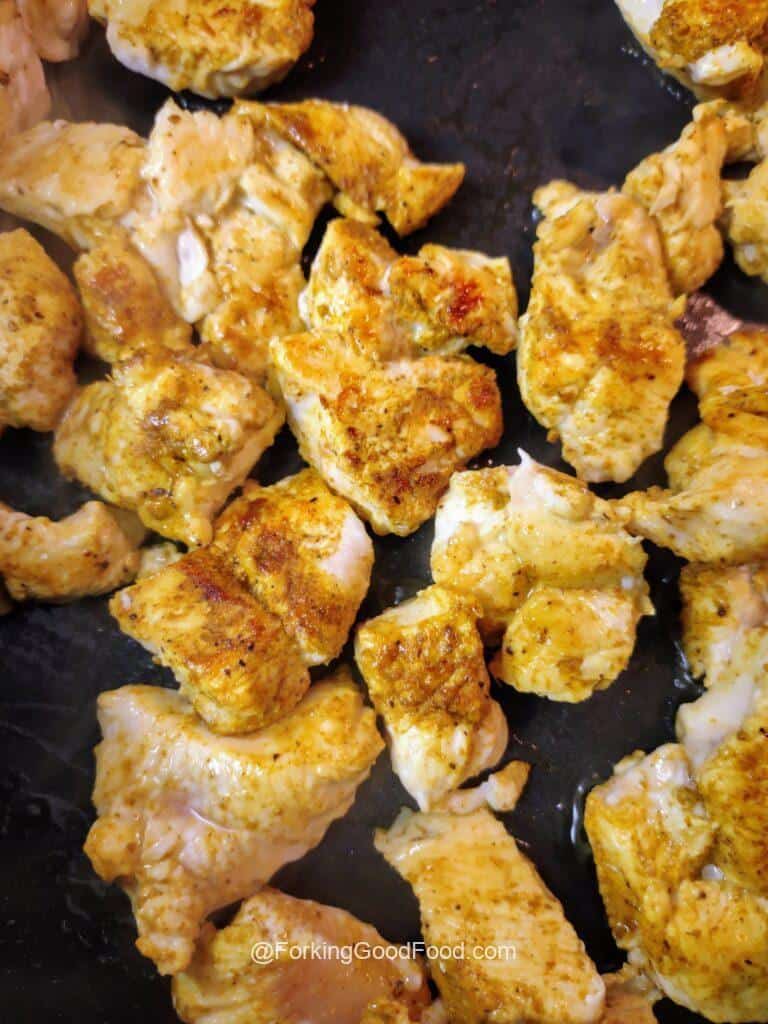 When the chicken is cooked through, remove to a clean plate and set aside while you make the sauce.  I cut my peaches and then gather my sauce ingredients while the chicken is cooking.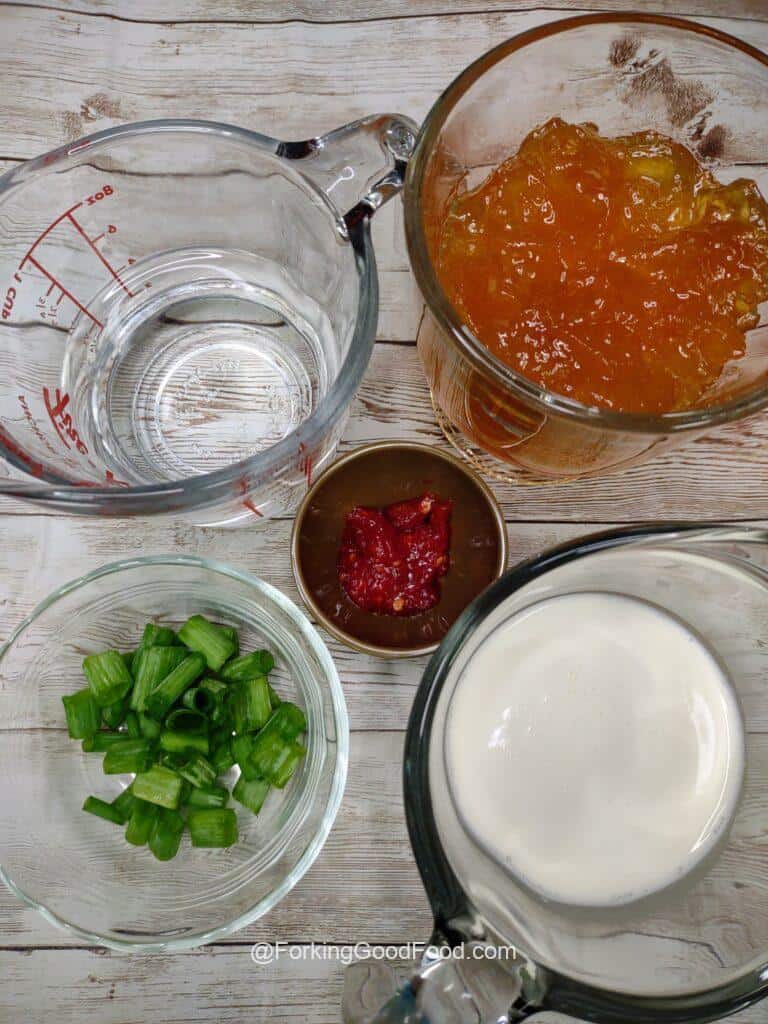 Once you remove the chicken, add the water, jam, and chili paste to the hot skillet and stir for about 30 seconds or until the jam is dissolved.  Add in the cream and allow to thicken for a minute or two.  This is a "mild" spicy - if you like things a little hotter, kick up that chili paste a notch.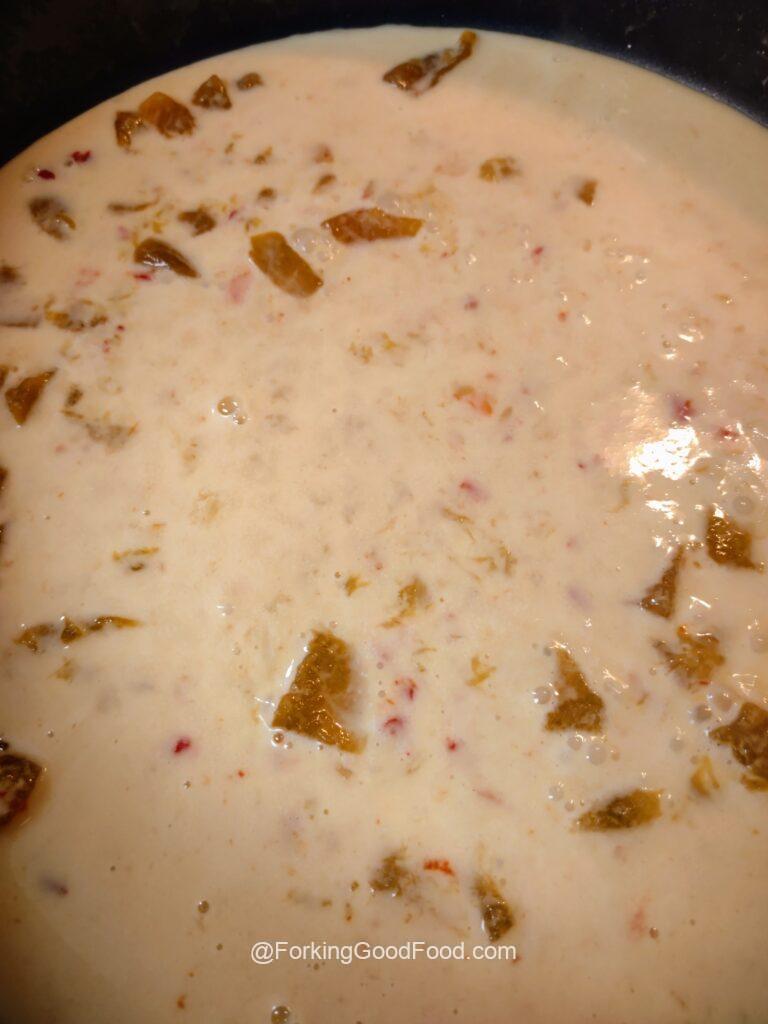 Add the chicken back to the pan and gently stir in the peaches.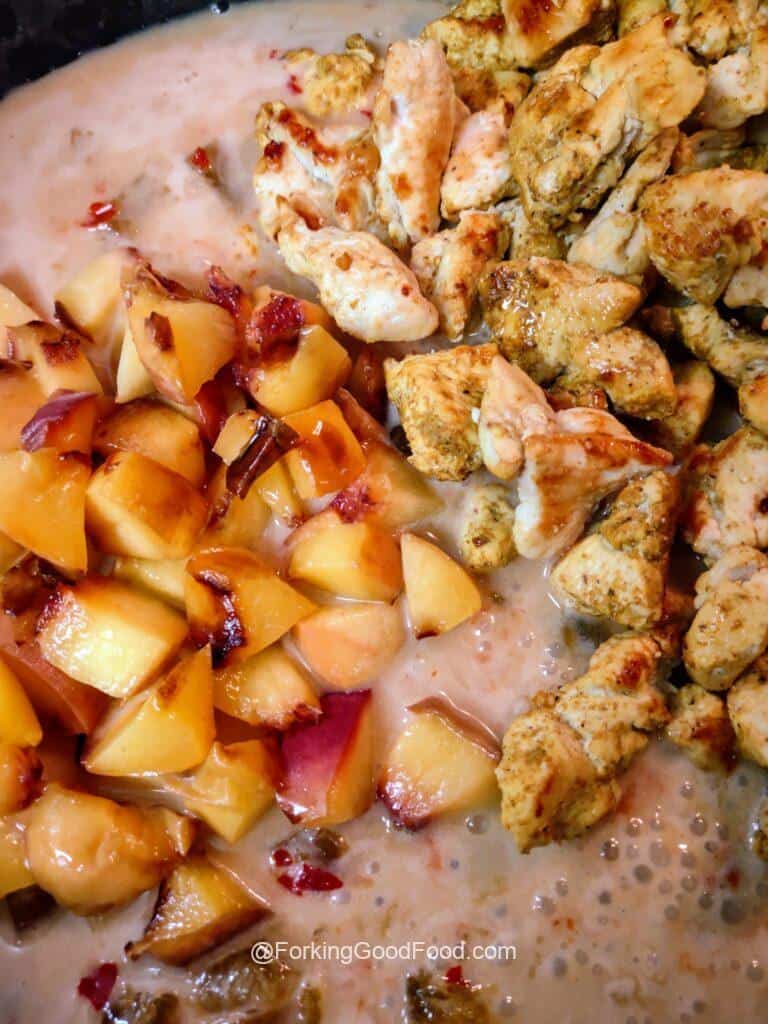 Serve over basmati or jasmine rice with sprinkle of green onion or chives.
Recipe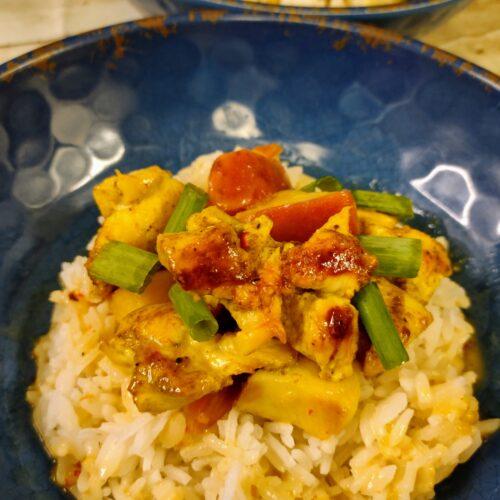 Grilled Peach Curry Chicken
This grilled peach Southern/Indian fusion dish is sweet and spicy. The rice soaks up the creamy sauce and makes every bite delightful.
Equipment
Large skillet

Grill (outdoor, indoor grill pan, or grill press)
Ingredients
1

Tbs

curry powder

1

lb.

chicken breasts

cut into bite-size pieces

Olive oil spray

Salt and pepper to taste

⅔

cup

water

¾

cup

peach jam or preserves

1

teaspoon

chili paste

½

cup

heavy cream

¼

cup

chopped green onions

2

medium peaches

just soft, grilled and cut into bite-size pieces

2

Tbs

salted butter

softened
Instructions
Run a sharp knife in a circle lengthwise around each peach. Gently twist and the two halves should separate easily. Remove the pit.

Spread the butter on the flesh side of the peaches and place on a hot grill (grill press works well). Cook without flipping or moving the peaches for about 5 minutes or until you have nice dark brown sear marks.

Remove from the grill and chop into bite size pieces, set aside

Place ½ of curry powder on a plate, place chicken on top and then sprinkle with remaining curry, mix if needed to coat evenly

Heat a large non-stick skillet over medium-high heat and spray it lightly with cooking spray

Add the chicken and sauté 3-5 minutes, tossing frequently until cooked through and all sides are golden brown

Add salt & pepper and remove to a clean plate

Add water, chili, and jam to the hot skillet and simmer for 30 seconds or until jam is melted, stirring constantly

Add cream and simmer 1-2 minutes to thicken

Return chicken and peaches to the pan and coat well

Serve over basmati or jasmine rice and sprinkle with green onion
Nutrition
Calories:
285
kcal
Carbohydrates:
26
g
Protein:
17
g
Fat:
13
g
Saturated Fat:
7
g
Polyunsaturated Fat:
1
g
Monounsaturated Fat:
4
g
Trans Fat:
1
g
Cholesterol:
86
mg
Sodium:
143
mg
Potassium:
443
mg
Fiber:
1
g
Sugar:
17
g
Vitamin A:
708
IU
Vitamin C:
8
mg
Calcium:
35
mg
Iron:
1
mg