This rich yet crunchy almond pound cake topped with a sticky, marshmallow-y frosting was Abraham Lincoln's favorite and is sure to be one of yours as a well.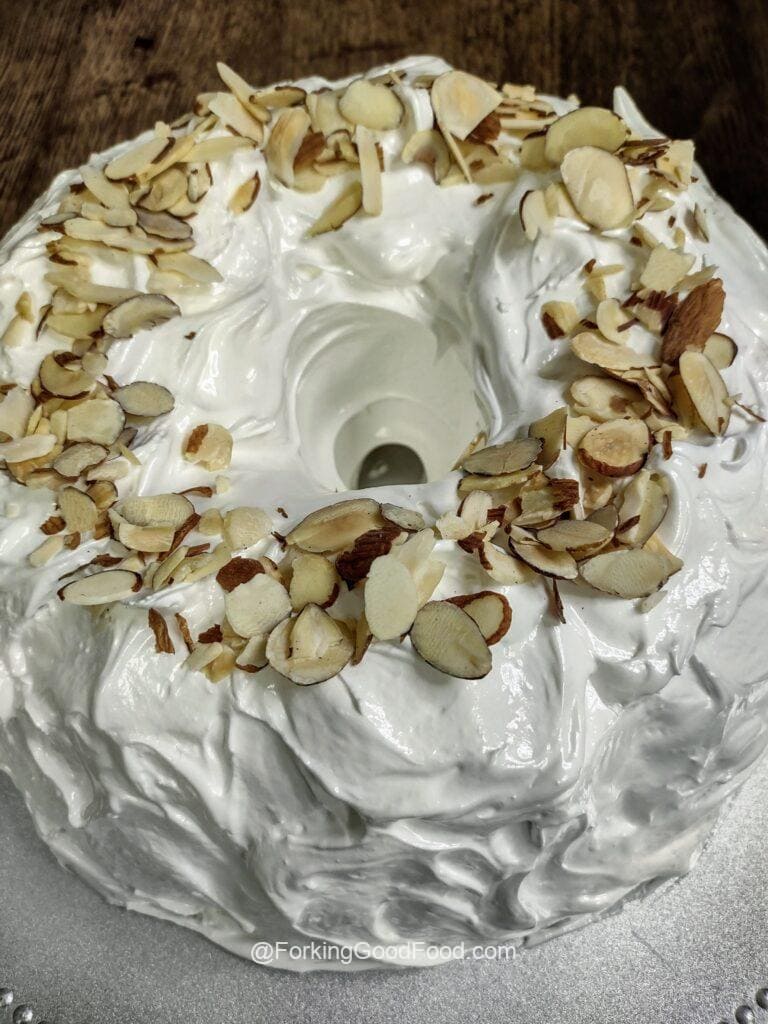 This is a rich pound cake with just a little bit of crunch from the toasted almonds.  You don't really see boiled frosting much anymore, but this is a sticky, marshmallow-y treat that reminds me very much of Divinity (a nougat/meringue-like confection made with egg whites, corn syrup, and sugar) and compliments the cake so nicely.
What is an Abraham Lincoln Cake?
It's well known that Honest Abe had a sweet tooth – he rarely ate much else according to some.  This particular cake, also known as Mary Todd Lincoln's White Cake, and what President Lincoln dubbed "the best in Kentucky"  was his favorite. Having said that, I feel sorry for his pastry chef because without the modern convenience of electricity – this would be a very difficult cake to make.  There's  lot of whipping going on; I mean a LOT.  The cake and frosting both have whipped egg whites.  In my stand mixer, it took a good 8 minutes of whipping on high speed to get the frosting to the right consistency; I can't even imagine to begin to think about doing that by hand.  Alice Johnstone was a cook and domestic whom the Lincolns employed because she "desperately needed a job" so she may have been the one making this scrumptious cake – but the President and First Lady both liked to cook. Maybe they spent a little quality time together baking to briefly escape the pressures of the Civil War and the Emancipation… I sure would like to think that.
How do I make an Abraham Lincoln Cake?
To make Abraham Lincoln's favorite cake you'll need to gather your ingredients.  You'll need eggs, toasted almonds, flour, sugar, butter, buttermilk, baking powder, vanilla and almond extracts, and a dash of salt.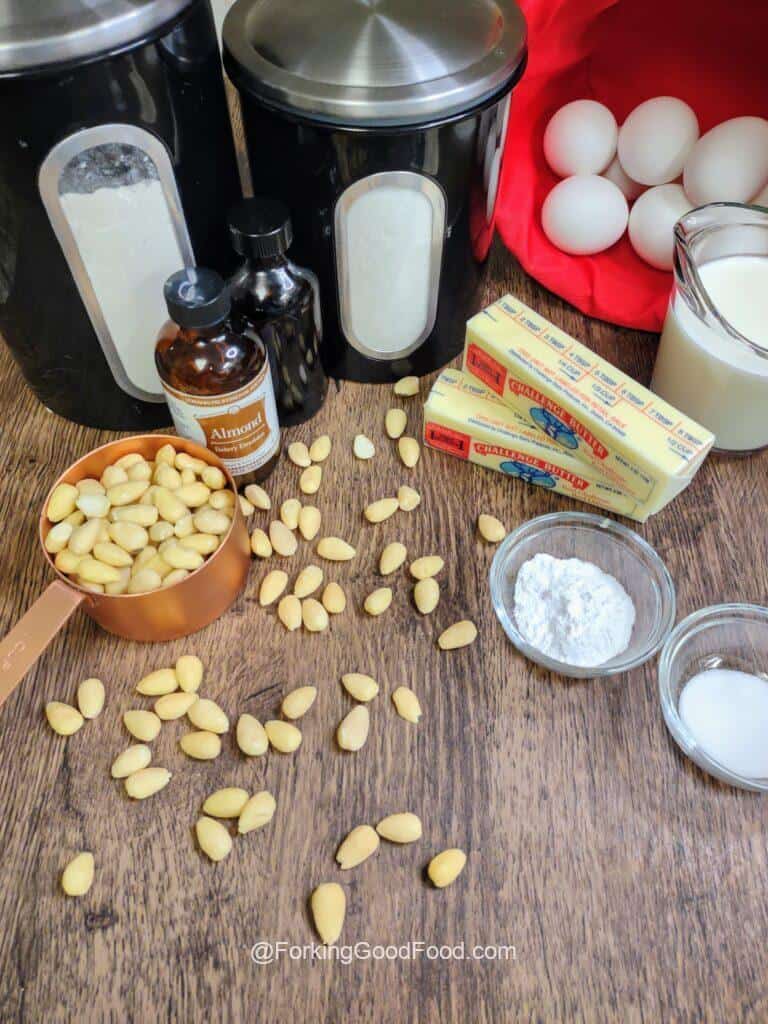 Crush the almonds and toast them until light brown and smelling amazing!  Keep a close eye on them, they go from perfect to burnt in a heartbeat.  You can bake at 350 for about 8 minutes, or even put them on a microwave safe paper plate and cook them for 30 seconds at a time until done. I like to crush mine first, then toast because I think it adds more flavor, but you can do it either way. I also leave a few larger pieces to give the cake a little bit of crunch.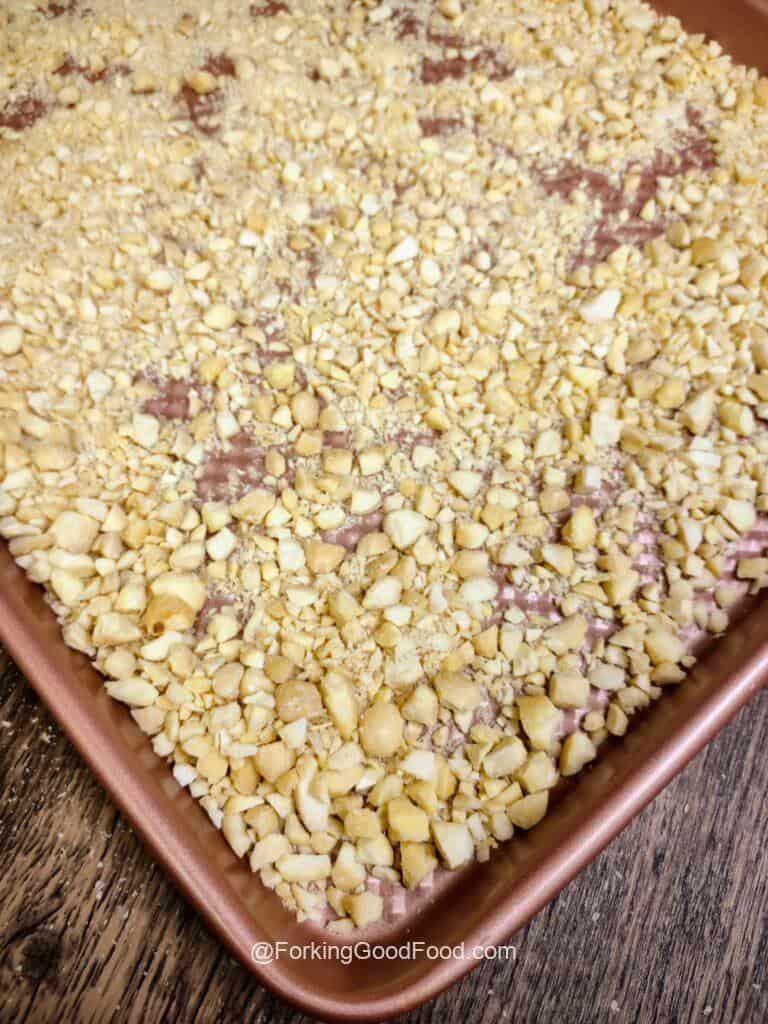 Prepare your pan and preheat your oven to 350.  There are 4 main steps to making the cake: the egg whites, the creamed butter and sugar, the dry ingredients, and the wet.  All of them are prepared separately and then combined at the end.  So first, whip your egg whites just until very soft peaks start to form.  Add in 1 cup of sugar, a few tablespoons at a time, until it's smooth and shiny.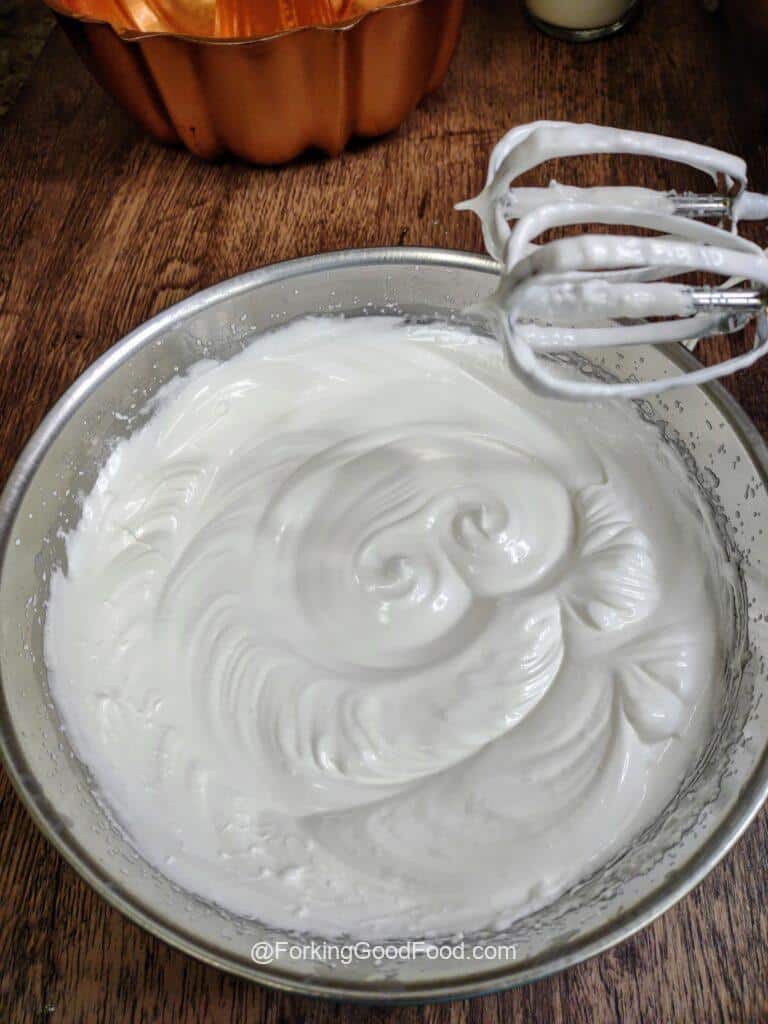 Next, cream your butter and sugar together, beating at high speed until creamy and pale yellow.  You can beat this mixture together really as long as you like – I start this in the stand mixer and keep it going while I complete the next two steps.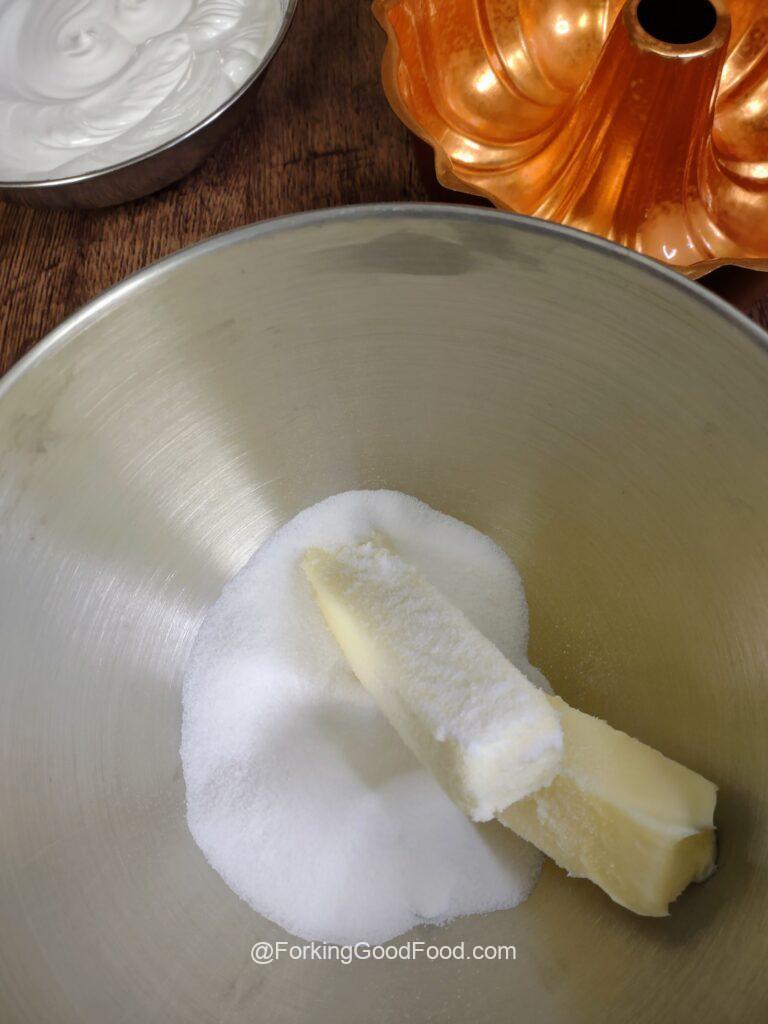 In a separate bowl, sift all of the remaining dry ingredients in a large bowl then stir in the toasted almonds.  In your measuring cup mix the extracts with the buttermilk.  Once you have all of these elements in place you're ready to put it all together.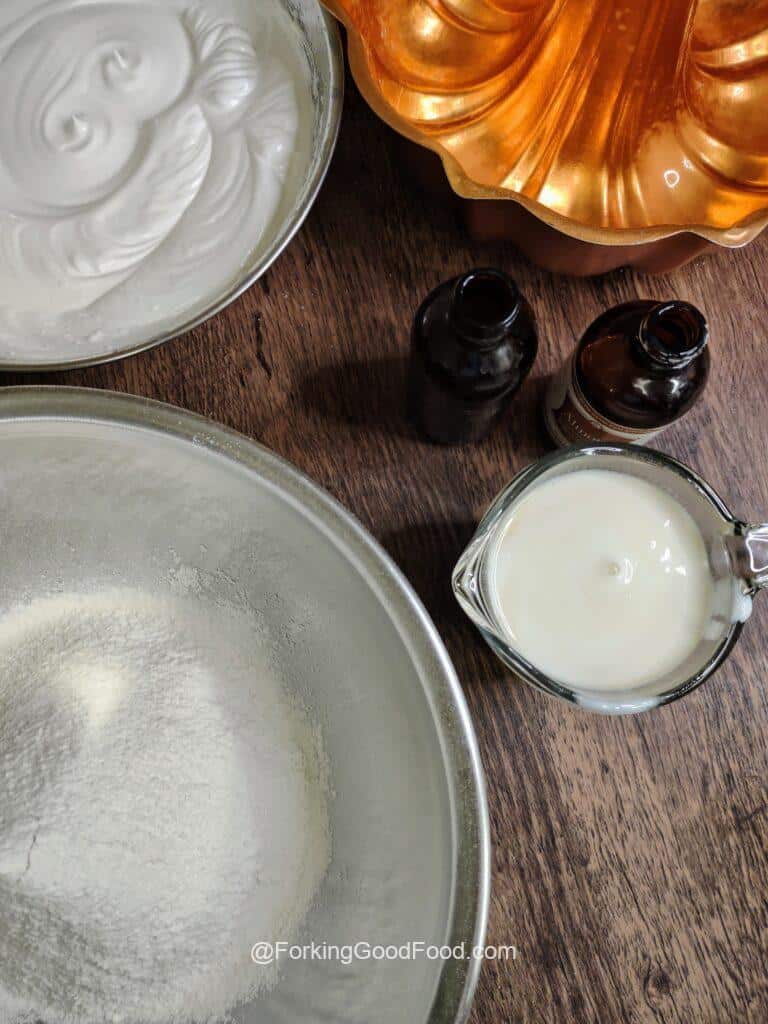 In thirds, slowly add the almond flour mixture and the buttermilk with extracts, alternating between wet and dry, until combined.  Do not overmix as this will make your cake tough.  The batter will be very thick! Your spatula/spoon/stirring device should easily stand up on its own.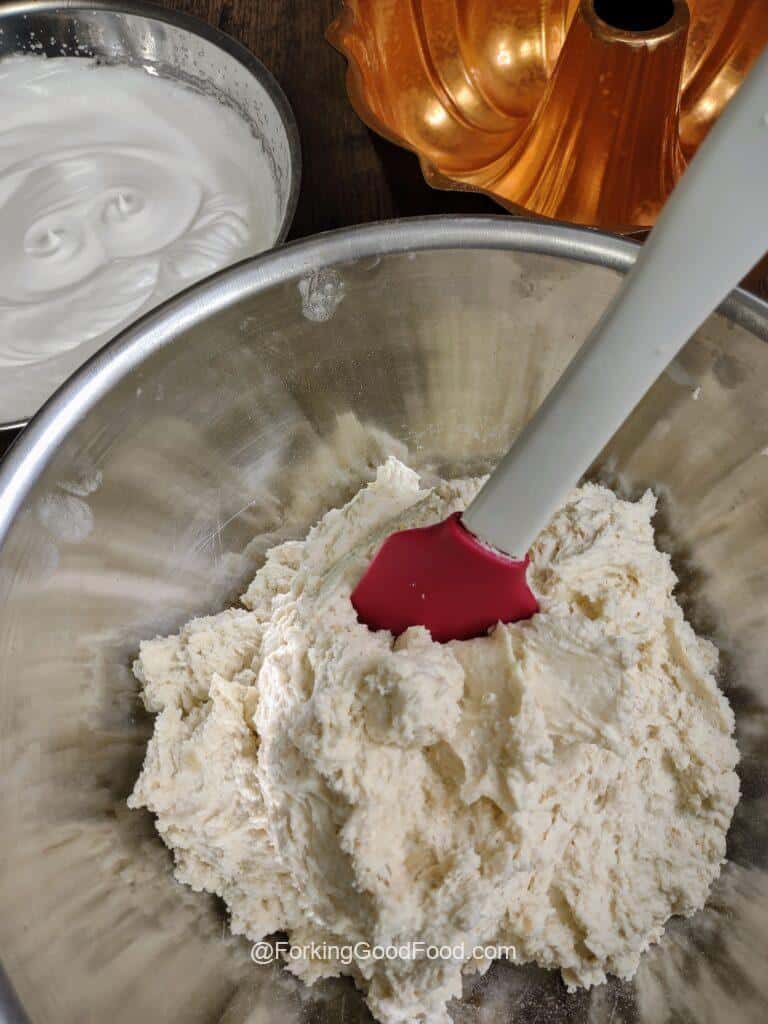 In a large bowl, slowly and gently fold the egg whites into the batter; you don't want the egg whites to deflate.
Be patient – it will eventually come together.  It will be wet and lumpy and, to me, has the feel of a heavy cottage cheese. Gently spoon into your prepared pan.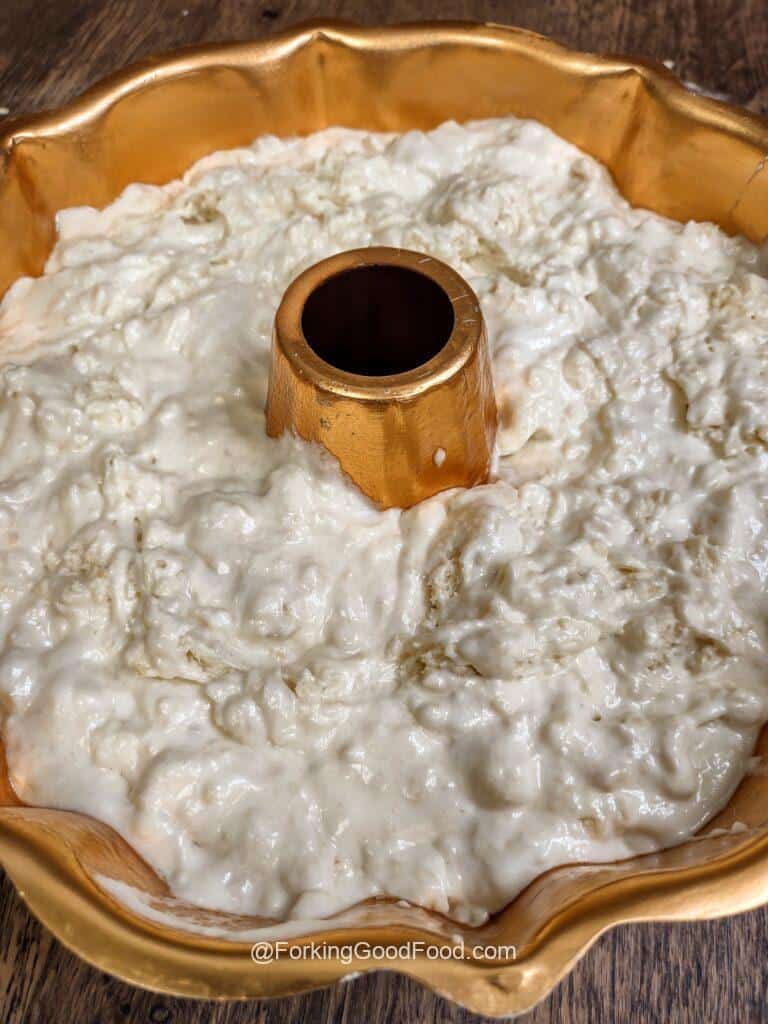 Bake for an hour to 90 minutes or until a toothpick inserted in the deepest part of the pan comes out clean.  Cool in the pan for about 10 minutes then invert to a rack to cool completely and seriously try not to eat the deliciously crispy edges.  If you do, that's perfectly within your rights as the cook to claim the spoils of war.  Just cover the missing bits with extra frosting and no one will be the wiser.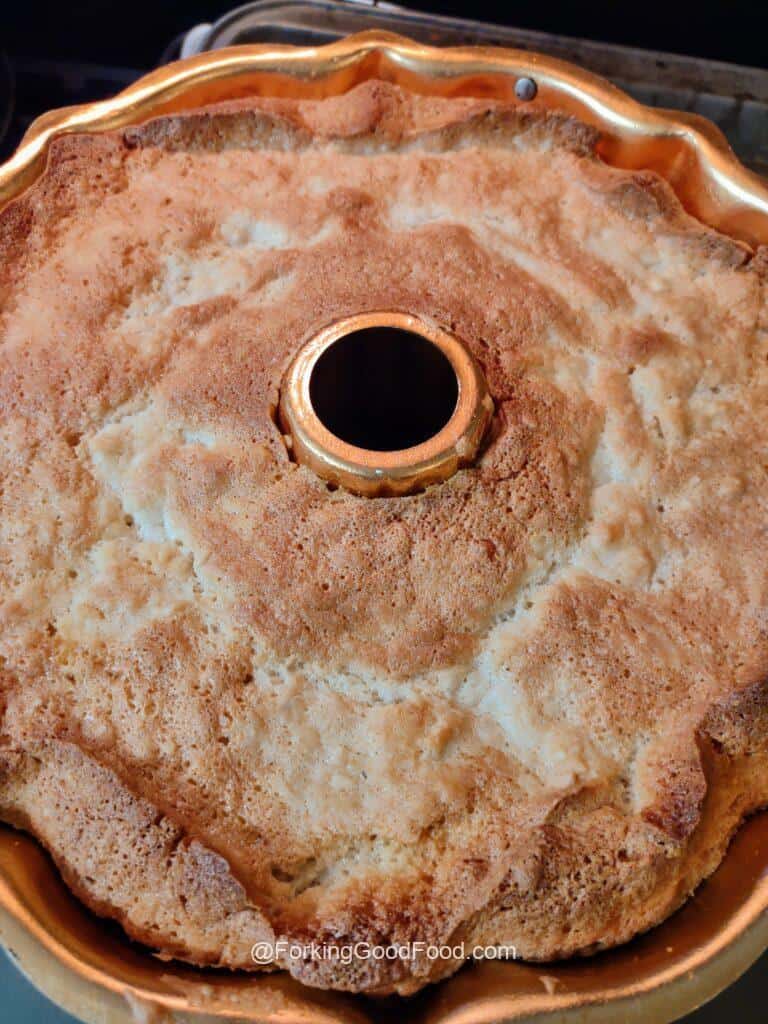 While the cake is cooling make your frosting.  You'll need more sugar, more egg whites, more vanilla, another pinch of salt, water and some Cream of Tartar.  *FUN FACT* Cream of Tartar is not creamy at all.  It's a dry, powdery, acidic byproduct of making wine.  But what does it actually DO?  It helps stabilize whipped egg whites, prevents sugar from crystallizing and acts as a leavening agent – all of that magic in ⅛ of a teaspoon. If you don't have any, no worries, you can substitute 1 teaspoon of vinegar or lemon juice for every ½ teaspoon of CoT that is called for. If you want, toast a few almond slices for garnish later.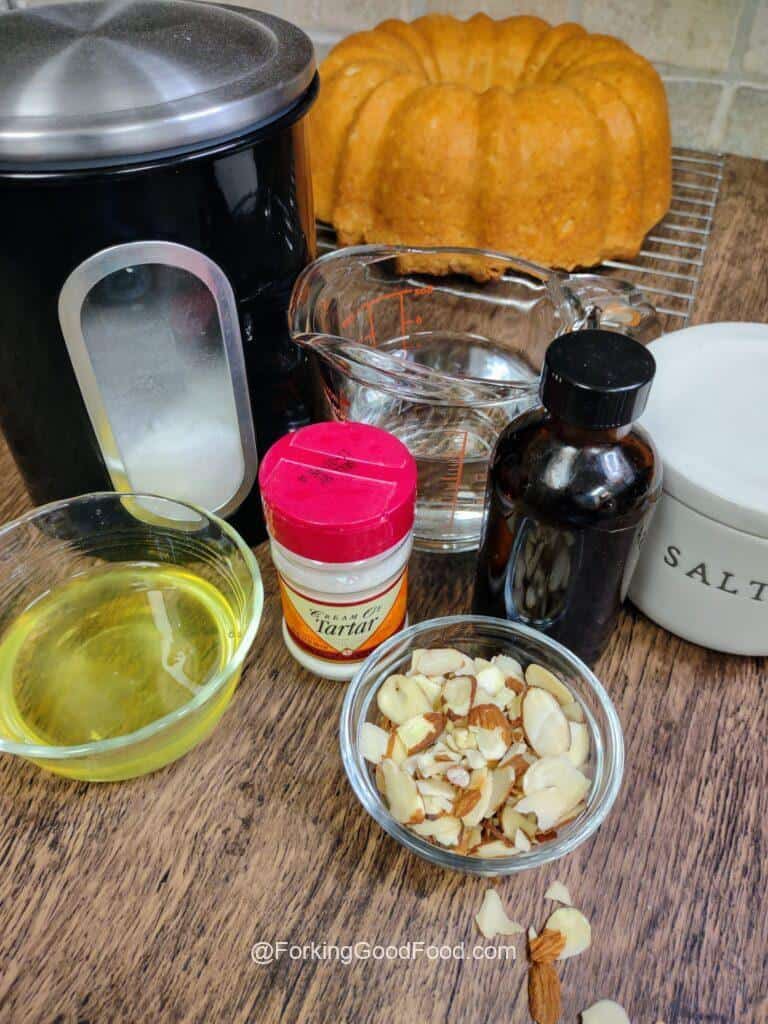 In a large stand mixer, beat your egg whites until soft peaks begin to form then set aside. In a heavy saucepan over medium high heat, bring the sugar, water, and Cream of Tartar to a boil.  Cover and cook for 3 to 5 minutes or until a candy thermometer reaches 245 degrees (slightly hotter than soft ball stage).  Should any sugar crystals start to form along the edges of the pan, dip a basting brush in some water and remove the crystals. I couldn't snap the picture at exactly 245… what can I say?  I'm slow and old!  LOL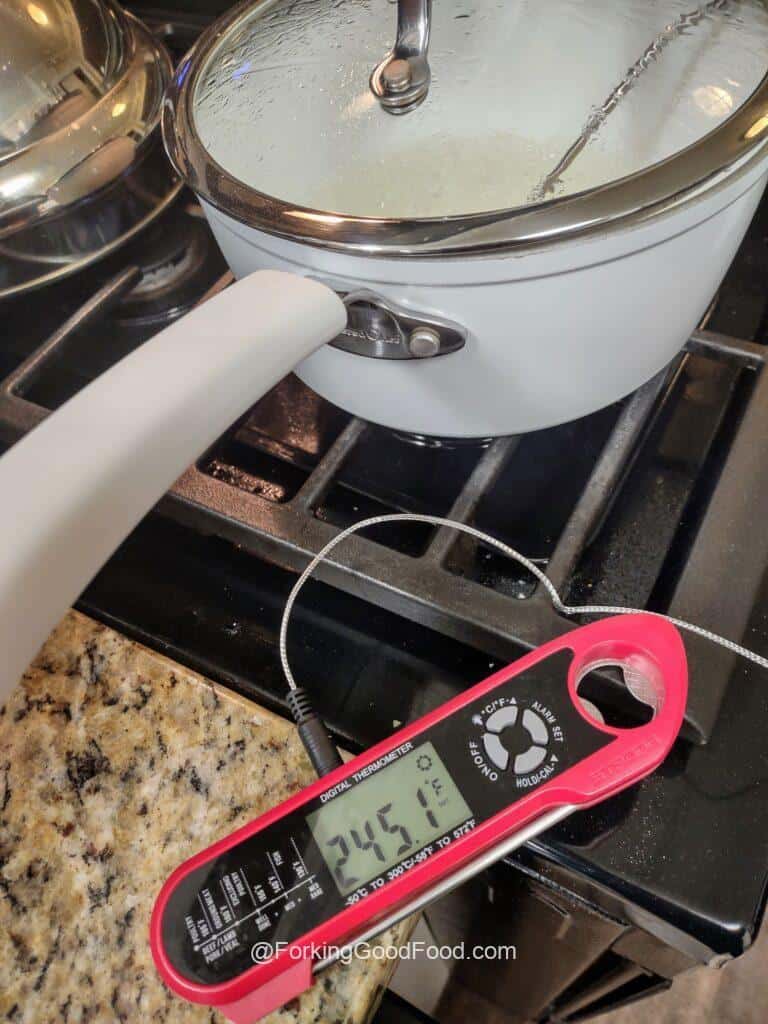 Slowly beat the hot sugar syrup into the egg whites and beat until smooth, glossy and cool.  Stir in the vanilla and there you have it – old fashioned boiled frosting.
Your frosting is done when it forms very stiff peaks and doesn't easily fall from the beater.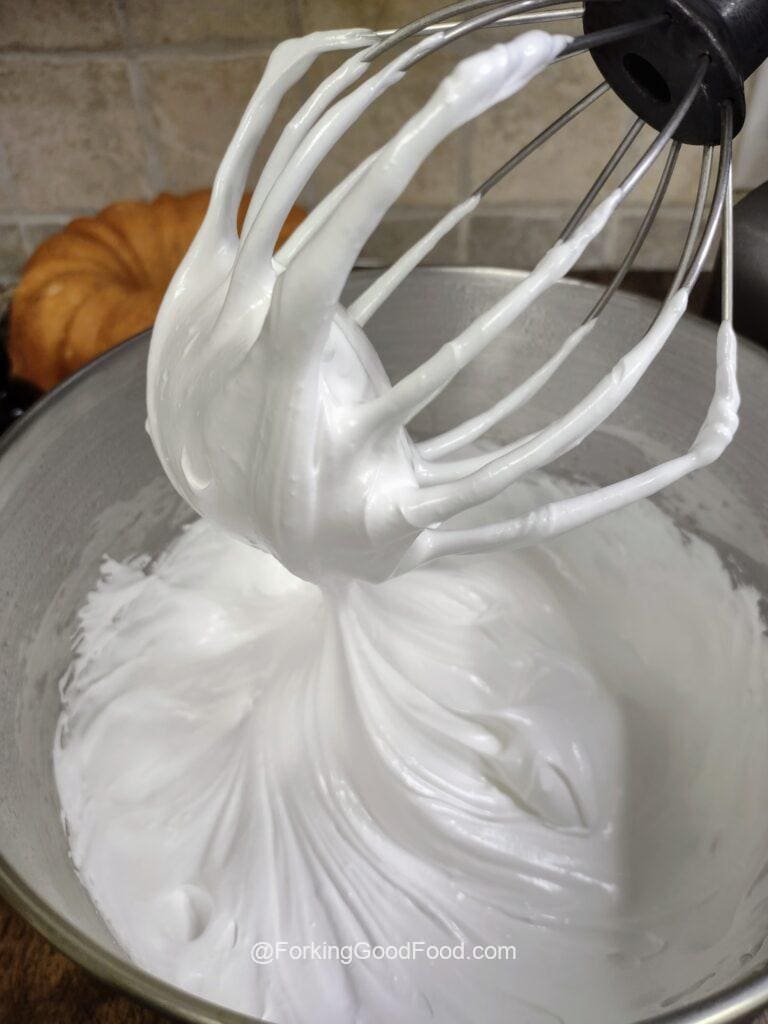 Cover the cake, not forgetting the inside.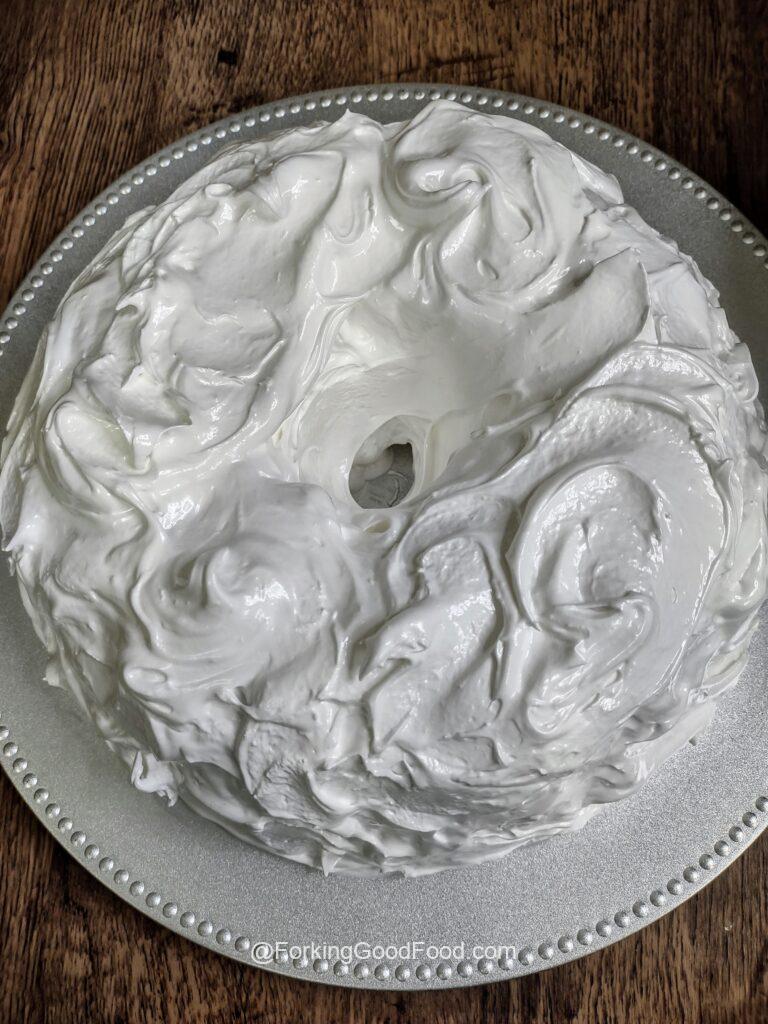 If desired, garnish with your toasted almond slices and ENJOY!  Thank you Mr. President.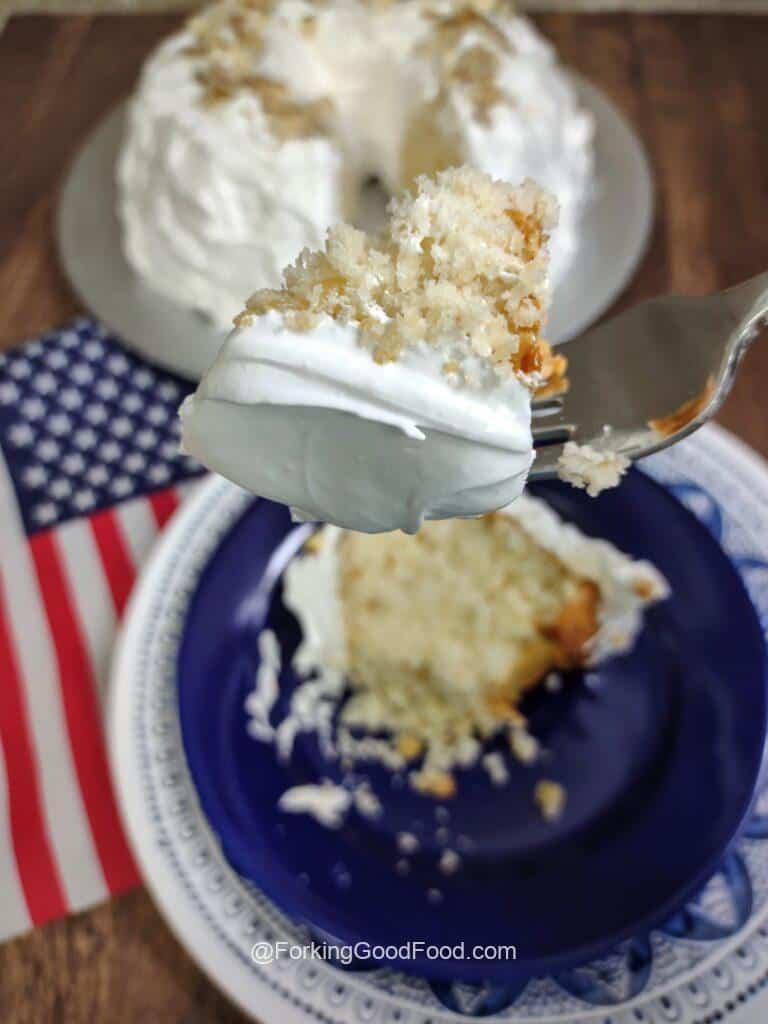 More cake recipes:
Recipe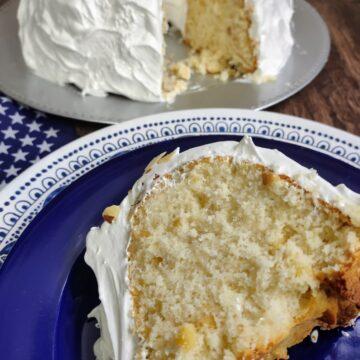 Abraham Lincoln Cake
This rich yet crunchy almond pound cake topped with a sticky, marshmallow-y frosting was Abraham Lincoln's favorite and is sure to one of yours as a well.
Equipment
10" Bundt pan

or Angel Food Pan

Stand Mixer

or hand mixer (I use both)

Candy thermometer
Ingredients
For the cake:
6

egg whites

large

2

cups

sugar

divided

1

cup

butter

softened to room temperature

3

cups

flour

1

Tbs

baking powder

1

teaspoon

salt

1 ½

teaspoon

vanilla

1

teaspoon

almond extract

1

cup

buttermilk

1 ¼

cups

blanched almonds

finely chopped and toasted
For the boiled frosting:
1 ½

cups

sugar

⅔

cup

water

⅛

teaspoon

cream of tartar

3

egg whites

large

salt

to taste

1 ½

teaspoon

vanilla

toasted

sliced almonds, optional, for garnish
Instructions
For the cake:
Preheat the oven to 350℉

Spray a 10-inch bundt pan with baking spray, or grease well

Beat the egg whites until soft peaks are just starting to form

Then add 1 cup of the sugar gradually into the egg whites while beating them, until stiff peaks form. Set aside

In a stand-mixer, cream together the butter and the remaining 1 cup sugar until light and fluffy

While the butter and sugar are creaming, in a separate bowl, sift together the flour, baking powder, and salt; then stir in the almonds

In a measuring cup, measure out your buttermilk and then stir in the vanilla and almond extracts

Add the wet and dry ingredients into the butter/sugar mixture in thirds, alternating between wet and dry. Mix until just combined

Gently fold the egg white mixture into the batter, being careful not to deflate or over mix it

Pour the batter into the prepared tube pan

Bake until a toothpick inserted into the center comes out clean, about 1 hour to an hour and a ½

Let the cake cool in the pan for ten minutes, then invert on a cooling rack
For the Frosting:
While the cake is cooling, in a heavy saucepan on the stovetop over medium-high heat, combine the sugar, water and cream of tartar

Bring the mixture to a full boil; use a wet basting brush to remove any sugar crystals from the sides - but there is no need to stir

When at the boil, cover the mixture and let it boil for about 3-5 minutes or until a candy thermometer reads 245℉

Beat the egg whites with a pinch of salt, until glossy and peaked

While egg whites are beating, very slowly pour in the hot sugar syrup mixture

Continue beating until the mixture is cool and the frosting is soft and fluffy - this may take 8 to 10 minutes

During the minute, add in the vanilla

Cover the completely cooled cake with the frosting and garnish with sliced almonds if desired
Nutrition
Calories:
581
kcal
Carbohydrates:
86
g
Protein:
9
g
Fat:
23
g
Saturated Fat:
11
g
Polyunsaturated Fat:
2
g
Monounsaturated Fat:
9
g
Trans Fat:
1
g
Cholesterol:
43
mg
Sodium:
498
mg
Potassium:
196
mg
Fiber:
2
g
Sugar:
60
g
Vitamin A:
507
IU
Calcium:
125
mg
Iron:
2
mg