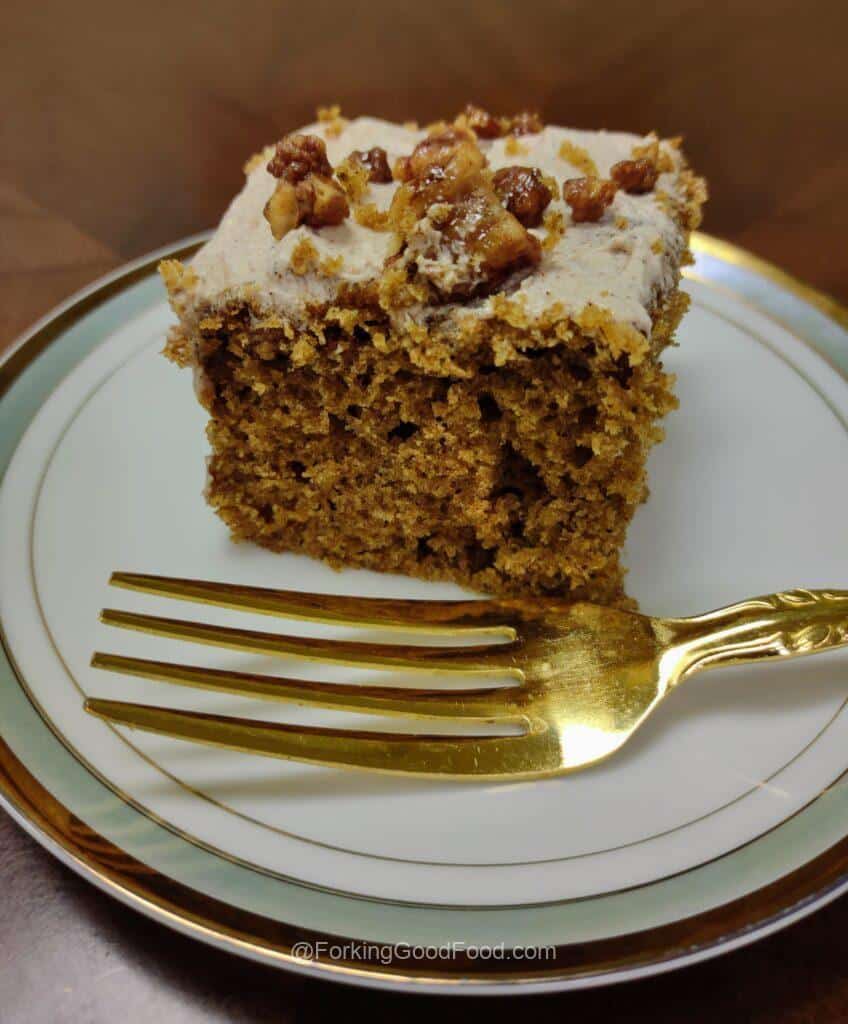 Apple Butter Spice Cake with Cinnamon Buttercream
This rich moist cake will make your home smell like the holidays year-round.  It's delicious on its own, with butter cream, whipped cream, or even ice cream.  That's a lot of cream!  The recipe calls for nuts, but if you're worried about allergies then please omit them - the cake will still be great without them.  I always find that spice cakes can be too heavy on one spice or another.  I think this one has found a nice balance, but the amounts can be adjusted to your personal preference.
What's the difference between Sorghum, Cane Syrup, Molasses, and Treacle?
Sorghum syrup is made from the green juice of the sorghum plant.  It is extracted from the crushed stalks and then heated to evaporate any water leaving only the syrup behind.
Cane syrup is made by simmering sugar cane juice in open kettles until it forms a thick, dark syrup that resembles molasses.  It tastes very similar to molasses but does not have the sulfur that is found in molasses.
Molasses, or black treacle, is a syrup resulting from the refining of sugarcane, or sugar beets, into sugar.
Treacle - is basically the same thing as molasses except for the fact that in comes in both black and golden.  Molasses is generally a term used in the US and Canada and treacle is more often used in Europe.
All of these can be used interchangeably in recipes.  They all have slightly different flavors but all are slightly thicker and more bitter than corn or maple syrup - making them especially good for baking.
What spices do I use in a spice cake?
The list is possibly endless and can be tweaked to appease any palate. Adding spices not only provides layers of flavor, but they provide many medicinal benefits. These are some of the most common spices used in cakes:
Cinnamon - helps with blood sugar regulation and can effectively lower blood pressure.
Ginger - may be one of the healthiest substances around.  It contains gingerol, which has powerful medicinal properties. This spice has a very long history of use in all sorts of traditional and alternative medicines.  Loaded with antioxidants, it can positively affect everything from preventing stress and damage to your body's DNA to fighting off chronic diseases like high blood pressure, heart disease, and lung diseases to promoting healthy aging.
Nutmeg - this is the exception to the rule.  While used in many folk-remedies, it has no proven nutritional value.  Be careful using nutmeg around your pets, it can be harmful to them. Another commonly used spice, Mace, actually comes from the nutmeg hull.
Cloves - are actually flower buds. Cloves are antioxidants, anticarcinogens; they are antimicrobial and promote healthy bones, brains, and livers.
How to make Apple Butter Spice Cake with Cinnamon Buttercream
First, gather all those spices that are going to make this cake burst with flavor!  Grab some Sorghum or cane syrup, some apple butter and apples along with some pantry items and you're ready to go.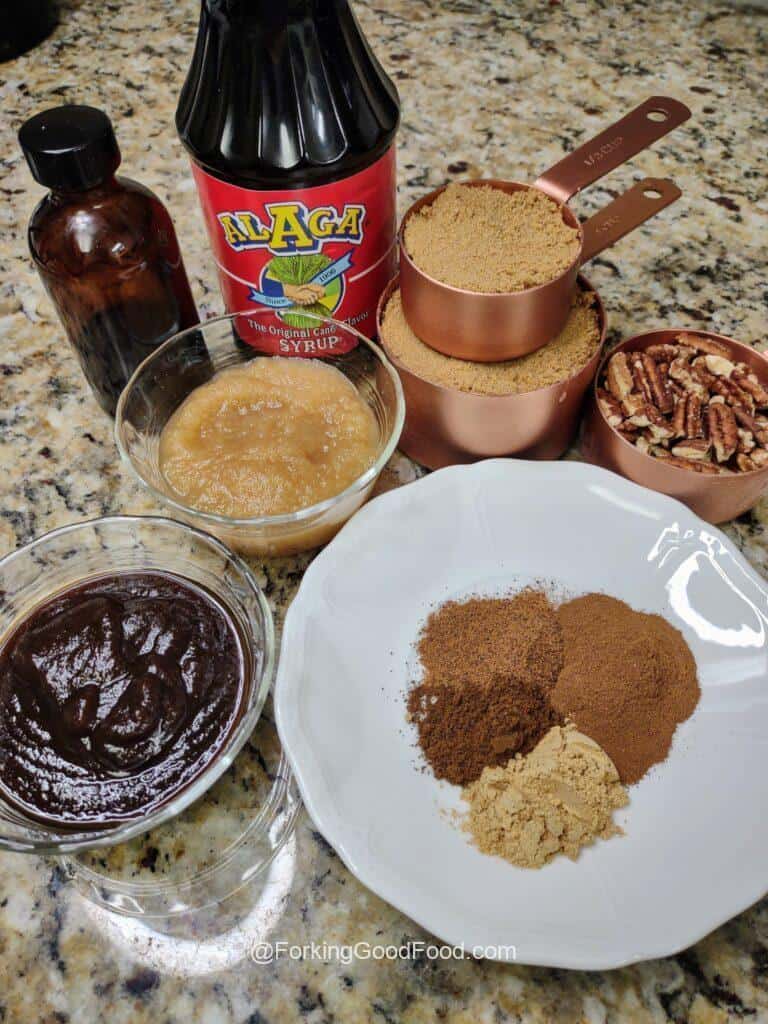 Combine all your dry ingredients in a large bow and whisk well so all the spices are evenly distributed.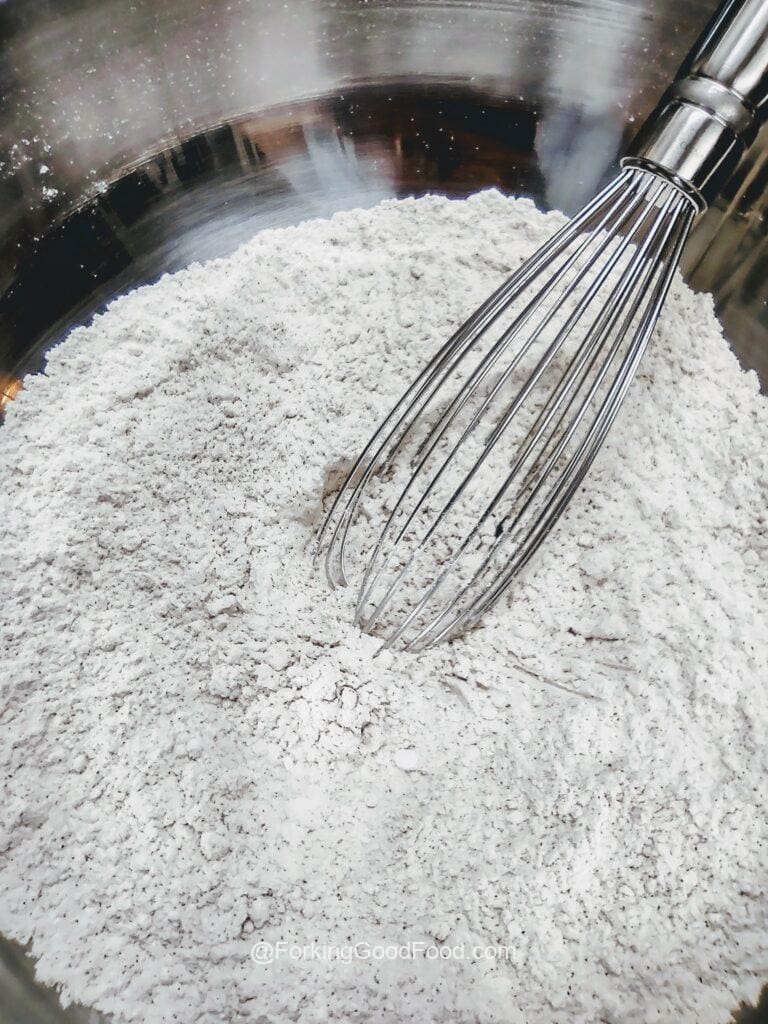 Do the same with your wet ingredients.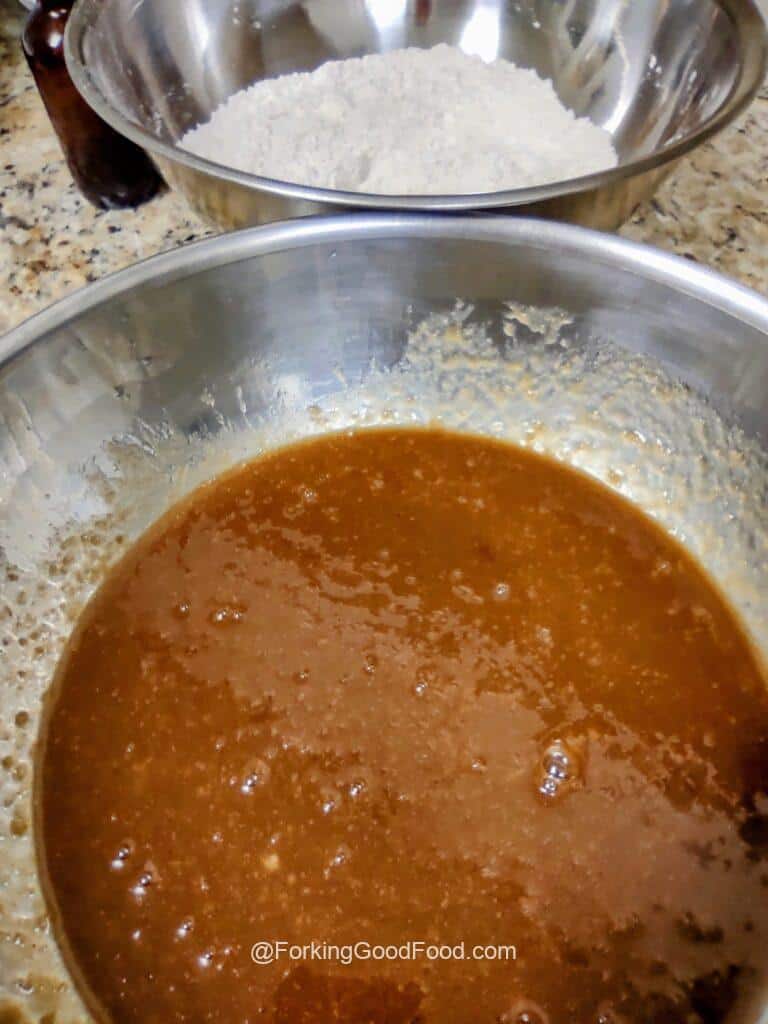 Slowly add the wet to the dry, mixing well with a wooden spoon or spatula then grate your apples.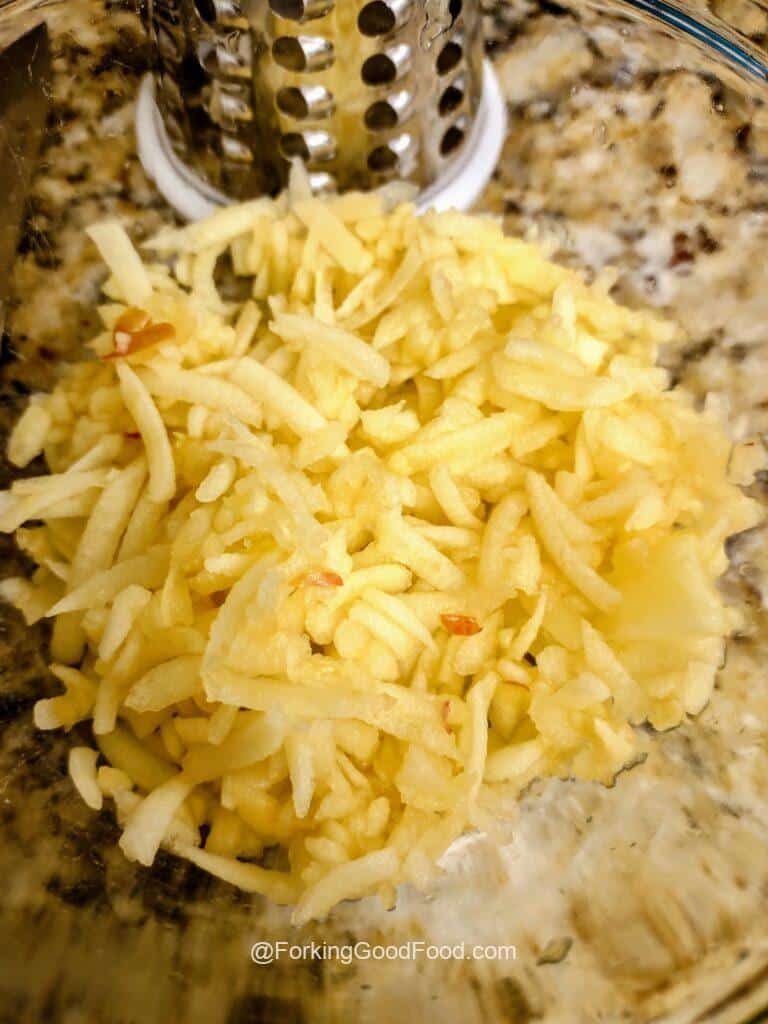 Fold in your apples and nuts (if using).  Pour into your prepared pan and bake.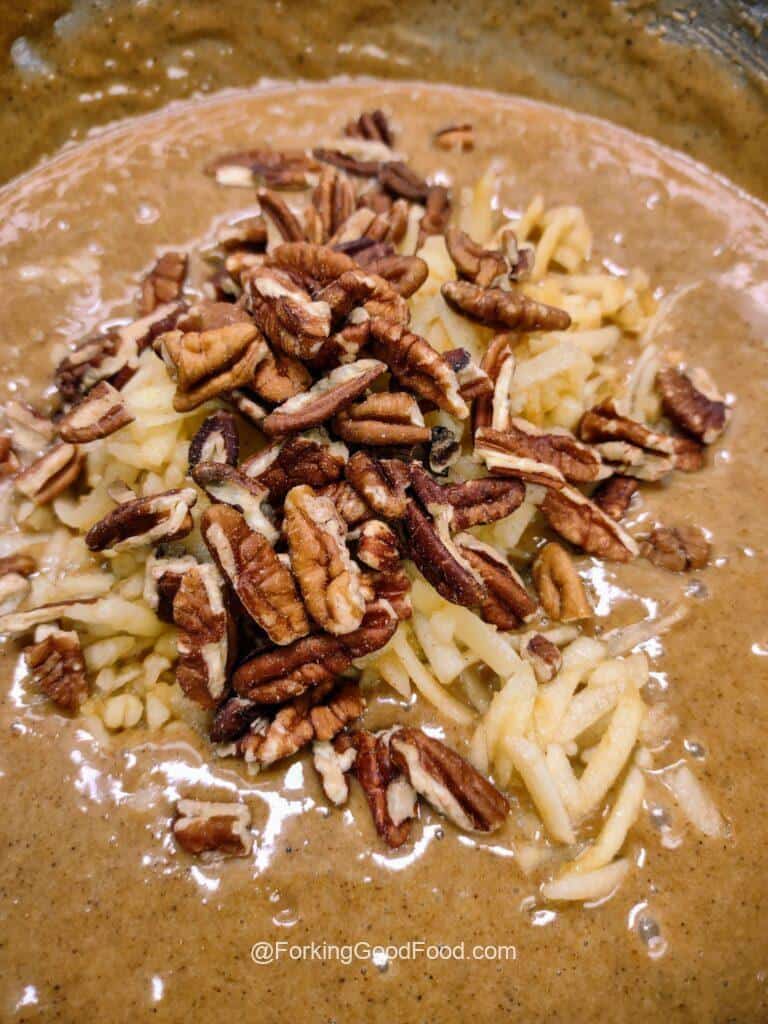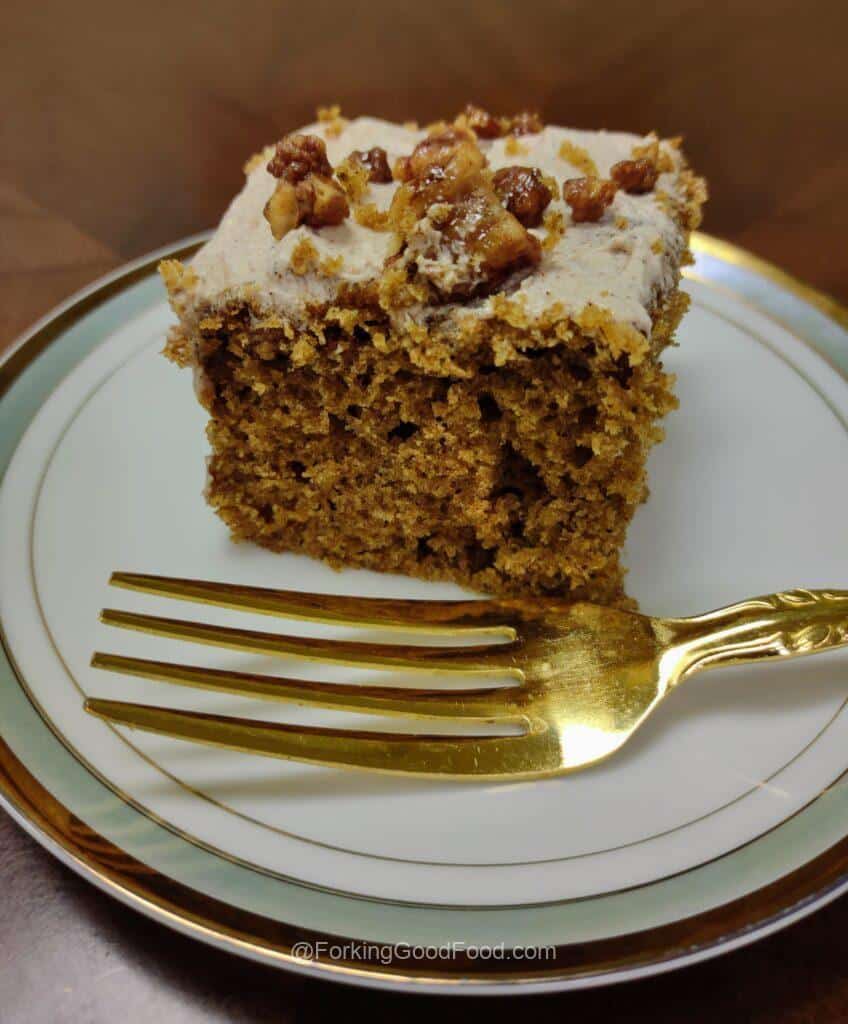 Recipe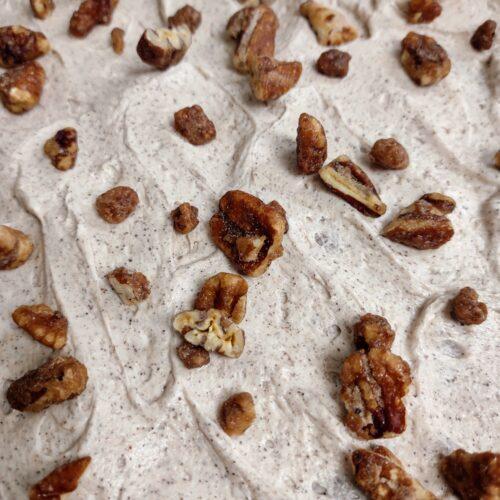 Apple Butter Spice Cake with Cinnamon Buttercream
This hearty spice cake will fill your home with the smell of the holidays. Apples make the cake incredibly moist the cake is so good, it really doesn't need the buttercream.
Ingredients
For the Cake:
2 ½

cups

AP flour

2

teaspoon

baking powder

1

teaspoon

baking soda

½

teaspoon

salt

1 ½

teaspoon

ground cinnamon

1

teaspoon

ground ginger

½

teaspoon

ground nutmeg

½

teaspoon

ground cloves

½

cup

pecans

chopped (optional)

1

cup

vegetable oil

1 ¾

cups

dark brown sugar

packed

½

cup

applesauce

½

cup

apple butter

4

large eggs

1

teaspoon

vanilla extract

1

cup

apple

grated

1

Tbs

Sorghum or cane syrup
Instructions
Make the cake:
Preheat the oven to 350° with the rack in the middle

Spray a 13x9" pan with cooking spray that has added flour (or simply butter and flour the pan, knocking out any excess four)

In a large bowl, whisk the flour, baking powder, soda, salt, and spices and set aside

In another large bowl whisk all of the wet ingredients together

Slowly add the wet ingredients to the dry, mixing well by hand using a wooden spoon or spatula

Fold in the apple and nuts (if using)

Pour into the pan and bake for 45-50 minutes or until a toothpick inserted in the middle comes out clean

While the cake cools make the buttercream
Make the buttercream
In a large bowl or stand mixer, on medium speed, beat the butter, salt, and cinnamon together until creamy

Turn the speed to low and slowly add iin ½ of the powdered sugar

Add in the milk and vanilla, beating until creamy

Beat in the remaining sugar on low until incorporated. Turn to high and beat for 3 or 4 minutes until thick and creamy.

Frost cake, garnish with candied pecans if desired, and store in the refrigerator
Notes
This recipe contains tree nuts, please omit if there is a possibility of an allergic reaction.
This is a pretty heavy, dense cake that in my opinion really doesn't need the buttercream. If you don't use the butter cream I suggest serving warm with a dollop of cinnamon whipped cream.
Because of the weight of this cake, I usually do not make it as a layer cake. You certainly can but you will want to double the buttercream recipe. If you do this, use two 9" pan and decrease your cooking time to about 30, maybe 35 minutes. Standard cupcakes should bake in about 20 minutes.
If you can't find Sorgum or cane syrup you can substitute molasses or dark treacle. This step can be omitted altogether and won't affect the richness of the cake.
The apple can be replaced with carrots or zucchini.
Nutrition
Calories:
447
kcal
Carbohydrates:
65
g
Protein:
5
g
Fat:
20
g
Saturated Fat:
12
g
Polyunsaturated Fat:
2
g
Monounsaturated Fat:
5
g
Trans Fat:
1
g
Cholesterol:
41
mg
Sodium:
474
mg
Potassium:
165
mg
Fiber:
2
g
Sugar:
46
g
Vitamin A:
74
IU
Vitamin C:
1
mg
Calcium:
108
mg
Iron:
2
mg