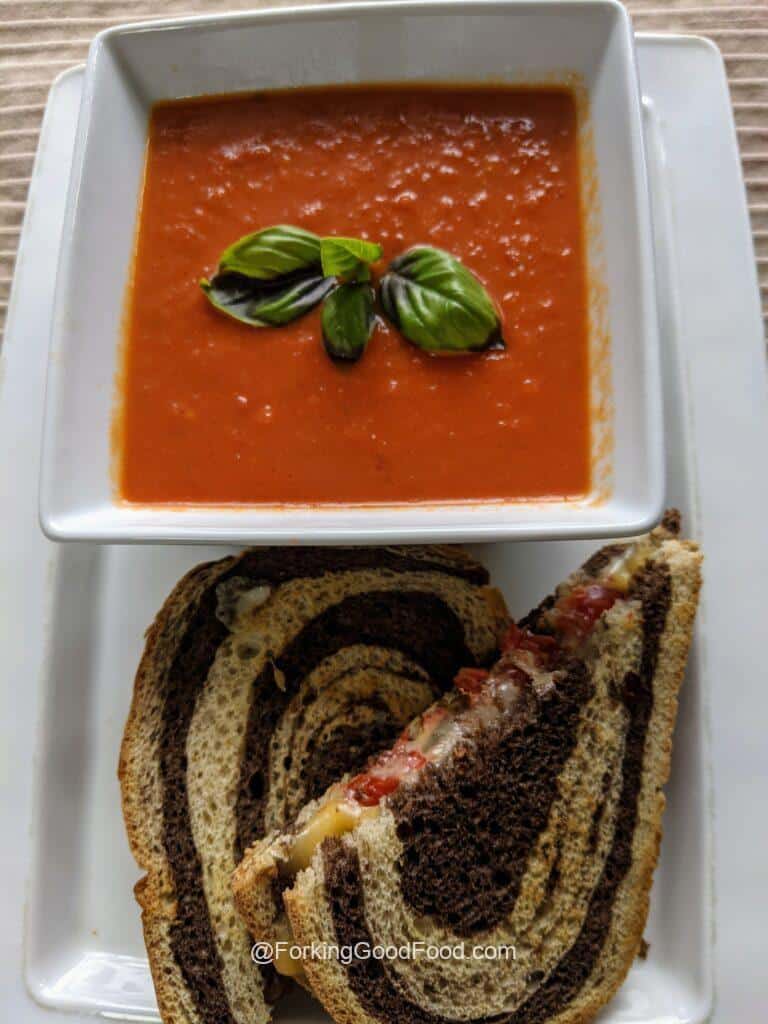 Garden Fresh Tomato Soup
If you have a ton of tomatoes this is a fantastic recipe to use some. Pair it with our Roasted Tomato and Gouda Sandwich for an awesome lunch!
Recipe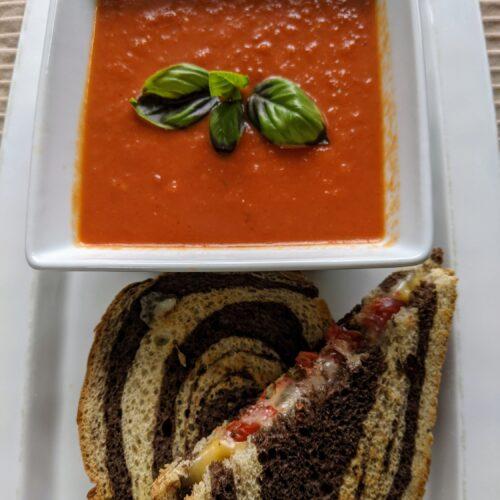 Garden Fresh Tomato Soup
Ingredients
3

cups

fresh ripe tomatoes

chopped

1

stalks celery

chopped

1

onion

chopped

3

Tablespoons

butter

Salt and pepper to taste

¼

cup

heavy cream

optional

Cayenne pepper to taste
Instructions
Wash tomatoes thoroughly. Put into saucepan with water just covering the tomatoes. Bring to a boil then reduce heat and simmer 10 minutes, stirring occasionally.

Remove tomatoes with slotted spoon to bowl of blender or food processor. Add celery and onion. Process until smooth (I used my hand blender). Heat 1 tablespoon butter in saucepan, add tomato mixture from blender and cook on medium heat for 5 minutes. Add salt and pepper. Cream may be added at this point to make soup smoother and creamier. You can also add the other two tablespoons of butter to enhance the flavor!

Serve immediately or cool and freeze in 2 cup portions for future use. This freezes very well, so save some for later IF you don't use the cream. You can also freeze without the cream and then add it when you reheat it.
Nutrition
Calories:
158
kcal
Carbohydrates:
7
g
Protein:
2
g
Fat:
14
g
Saturated Fat:
9
g
Polyunsaturated Fat:
1
g
Monounsaturated Fat:
4
g
Trans Fat:
1
g
Cholesterol:
43
mg
Sodium:
88
mg
Potassium:
321
mg
Fiber:
2
g
Sugar:
4
g
Vitamin A:
1417
IU
Vitamin C:
17
mg
Calcium:
30
mg
Iron:
1
mg
Why do my tomatoes taste metallic?
Tomatoes found in the supermarket often have a metallic or tinny taste, even when they are ripe. The reason is because of how they were grown and handled—not necessarily by choice but rather by necessity. Most large commercial growers use hydroponic methods for growing their tomatoes. Hydroponics is a system of growing plants in water rather than soil, which allows the grower to regulate factors such as water temperature, nutrients, sunlight, and air quality exactly to produce superior fruit with less fuss.
A simple step can remove that metallic taste from your tomatoes and help to enhance the flavor. Sugar! Sprinkle a little in to help remove the metallic taste!
How Can I thicken my tomato soup?
A little more cream or you can use tomato paste to thicken thin soup. You can also make a cornstarch slurry to thicken as well. Just mix a little water into cornstarch to make a paste.
How can I easily peel fresh tomatoes?
One of the easiest ways is to blanch them in boiling water for a few minutes, then rinse and cool those tomatoes quickly under cold running water. The skins will slip right off!
You can also use a knife or tomato peeler (the kind used by bartenders).
Can I freeze tomato soup?
Yes and No – if you use cream you shouldn't freeze it. If you just use broth you can!