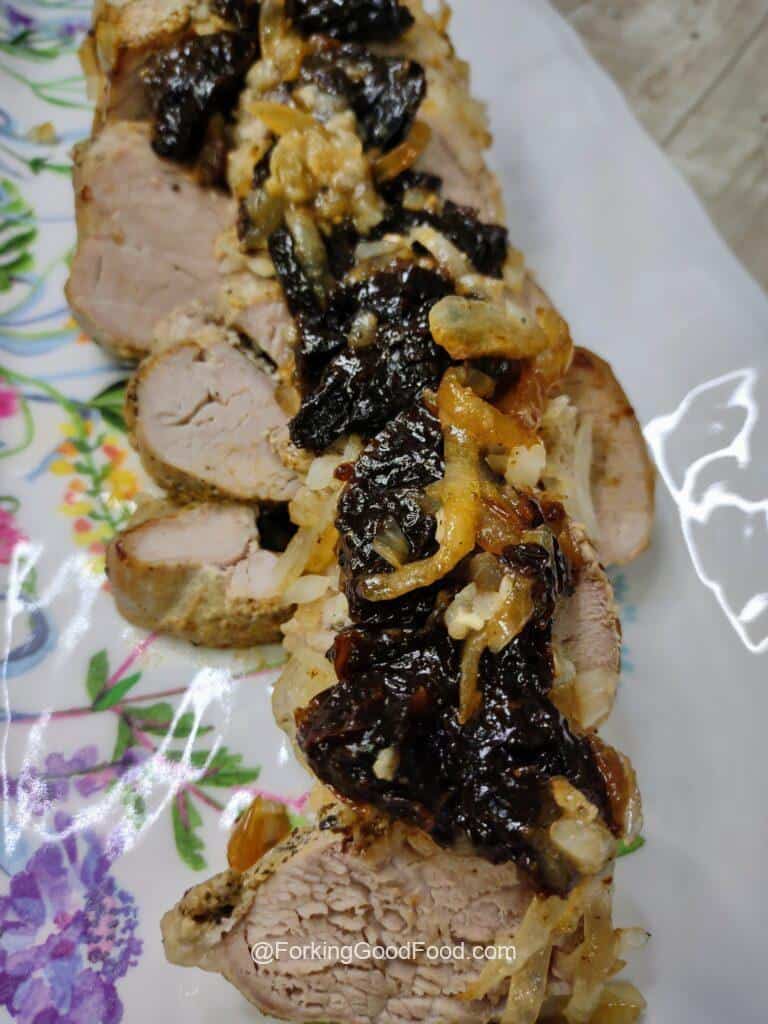 Roasted Pork Tenderloin with Prunes
I tried this recipe with a little trepidation.  You either love prunes or you hate them - or at least you think you do, but have never actually tried them.  Prunes get a bad rap, but they're really quite  delicious. Reconstituted prunes adds incredible moisture and a not-too-sweet tone to a beautiful roast pork.  I find pork to be rather bland.  The combination of the prunes, onions, sage and garlic bring the tender pork to life.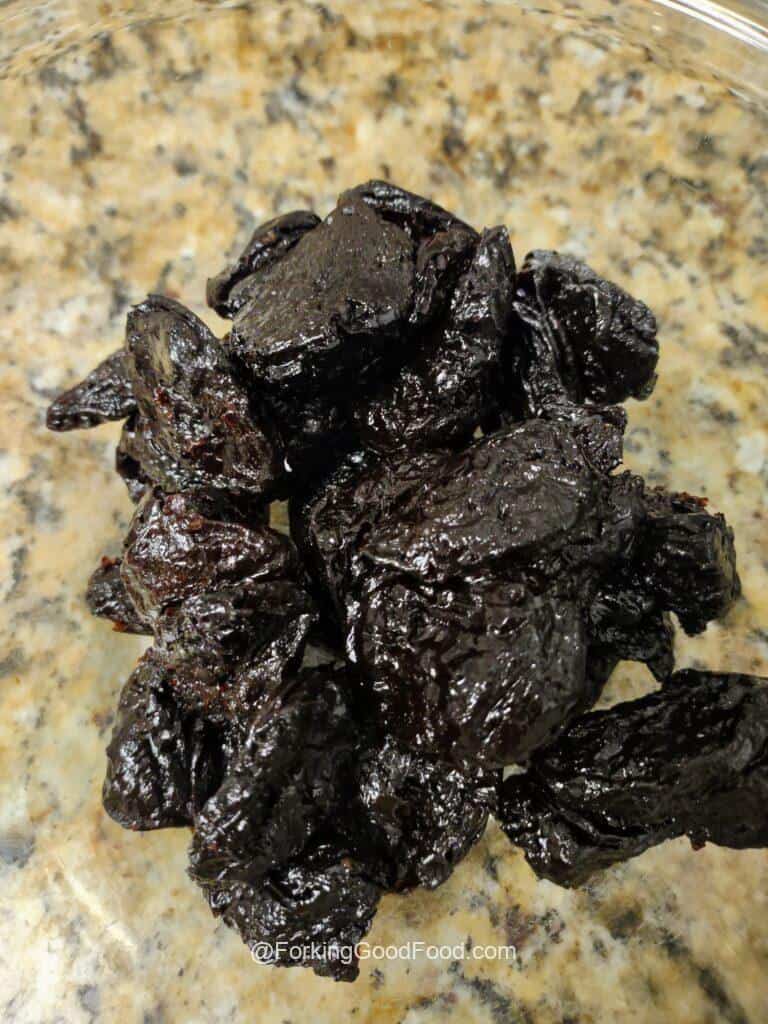 What's the difference between prunes and dried plums?
Nothing.  The short and sweet answer is that prunes are just dried plums, but not just any plums.  However while all prunes are plums, not all plums become prunes.  The plums that become prunes have blue or purple skins, are more oval in shape, and have easily removed pits. Prunes are chock full of both soluble and insoluble fiber and are a natural source of sorbitol.  A couple of prunes a day can keep you nice and regular.
If a prune is a plum, then why is it called a prune?
After returning from the Crusades, monks grafted the  Damas plums from Syria onto the local varieties. This was the birth of a new variety of plum, known as the Prune d'Ente .  It was this hybrid plum that when dried became what we know as a prune.
Making the dish.
To prepare your pork tenderloin, tie it tightly and then combine your spices.  Place a long piece of plastic wrap on your counter and then spread half of the spices in the middle, about as long as your pork.  Place the pork on top and then spread the remaining spices along the top.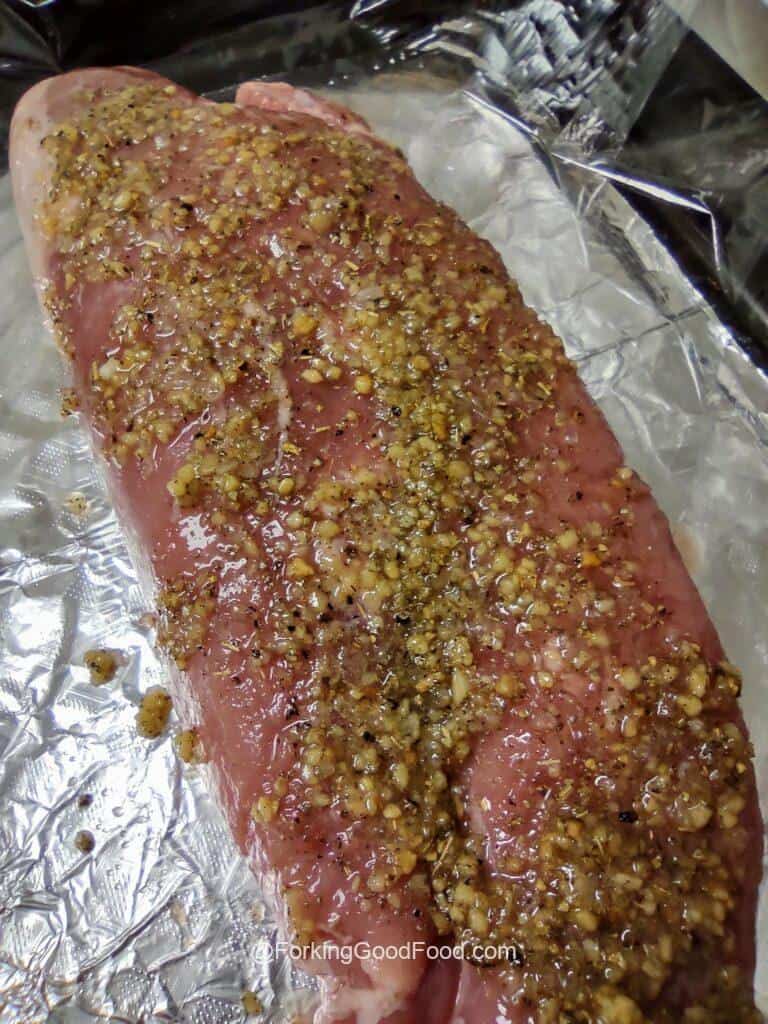 Wrap the tenderloin tightly in the plastic wrap and let rest at room temperature for about an hour.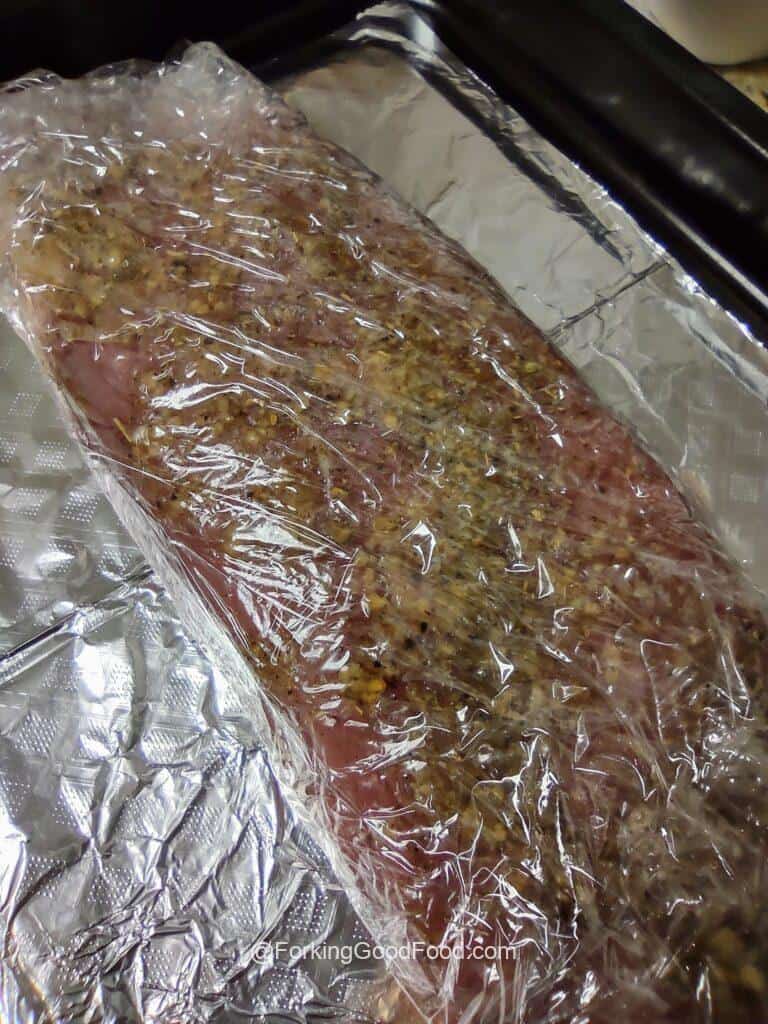 Once the pork is rested, preheat your oven to 350.  Sprinkle the pork with flour, coating evenly and then brown all sides in a hot skillet.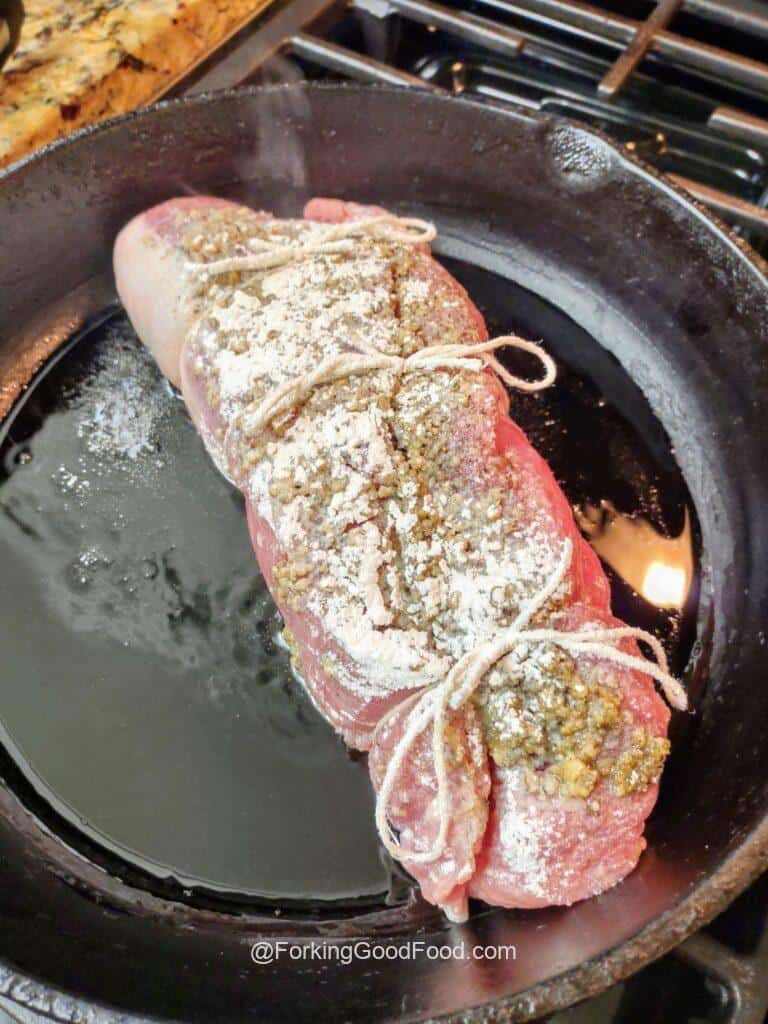 Transfer the pork to a large roasting pan.  Grate the onions over the pork, add the water to the pan, cover, and roast for an hour - basting occasionally.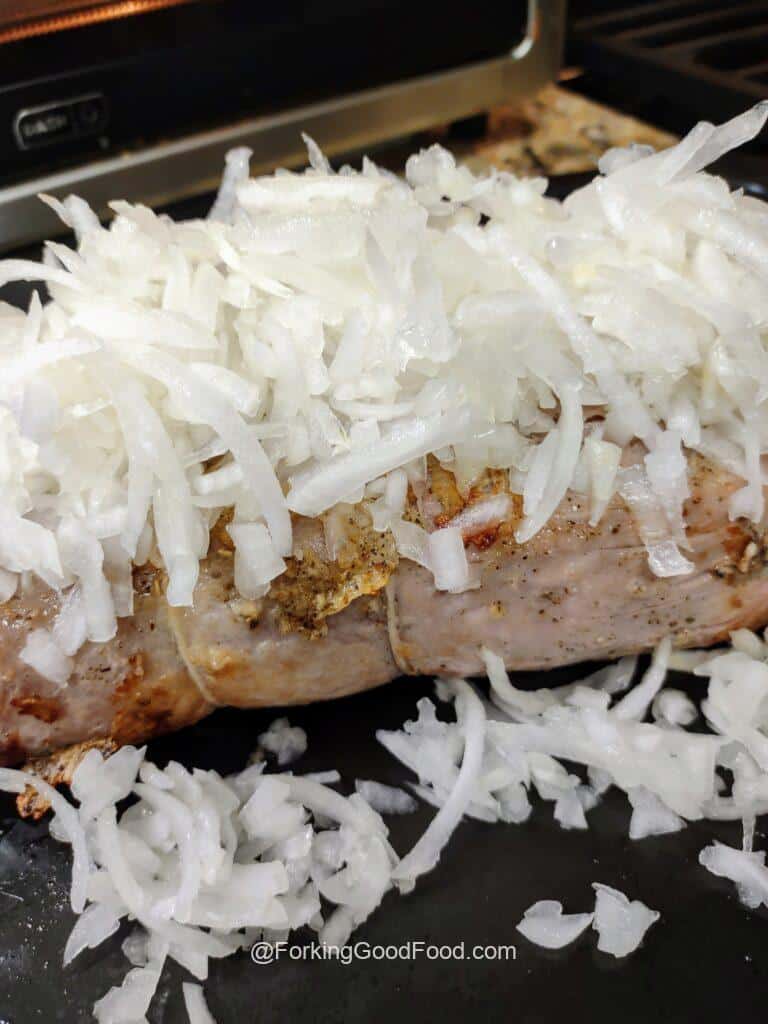 During the last 15 minutes of roasting, place your prunes in a large bowl with enough water to cover them completely.  After reconstituting the prunes will be nice and plump.  They can be rather large so I usually give them a rough chop.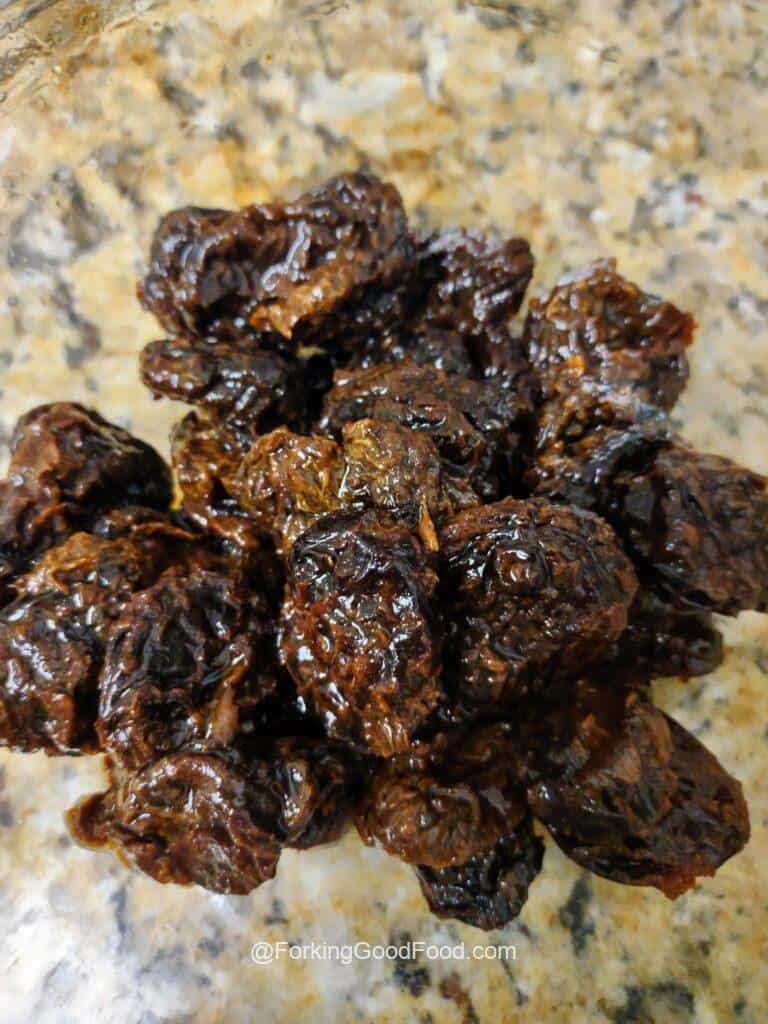 Drain the prunes and add to the roasting pan.  Reduce the heat to 325, cover, and roast for another 15 to 30 minutes.  Remove the roast and let rest for at least 10 minutes.  Make your pan gravy and slice in nice, thick pieces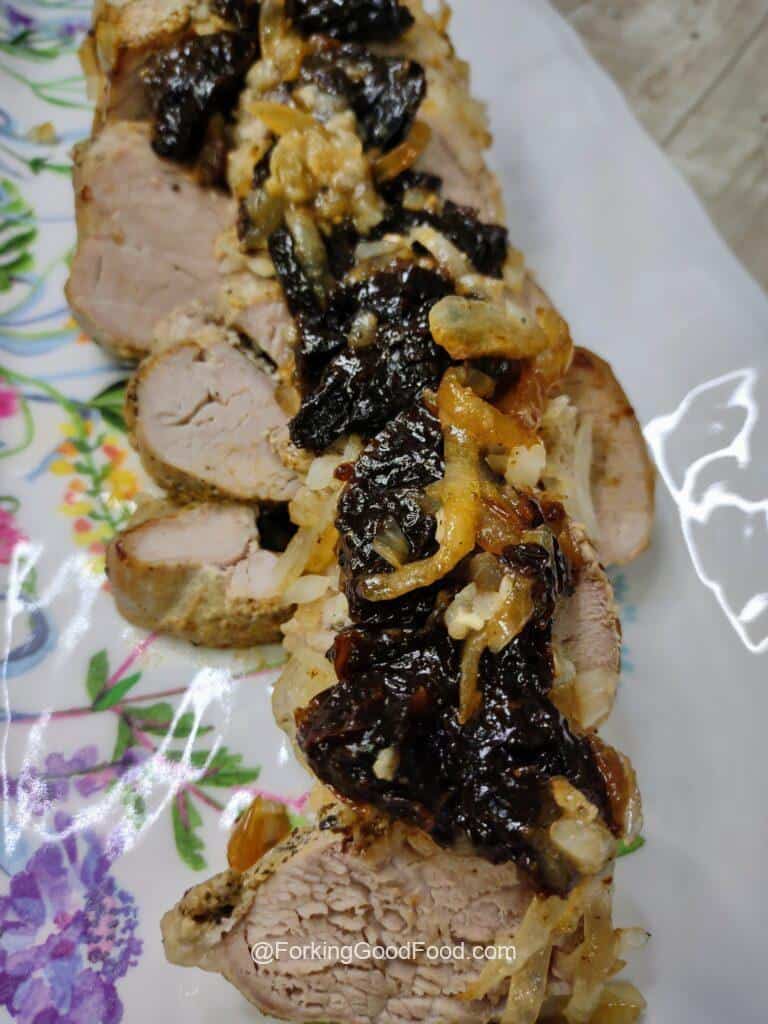 I love serving this with fresh steams broccoli with a nice Cheesy Béchamel Sauce.
Recipe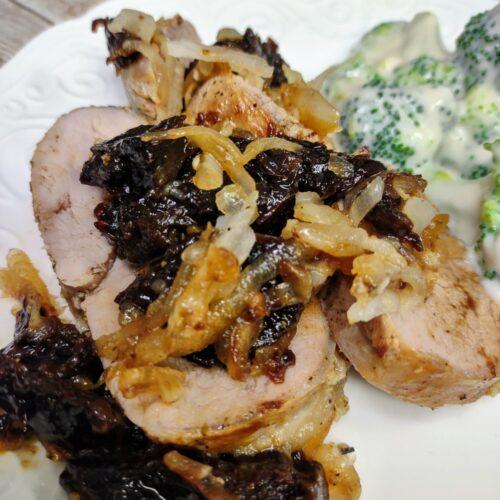 Roasted Pork Tenderloin with Prunes
This tender and juicy pork dish combines the bite of onion with the sweetness of prunes in perfect harmony.
Equipment
Cast Iron Skillet or other heavy frying pan

Roasting dish/pan
Ingredients
4-5

lb

pork tenderloin

tied

4

cloves

garlic

minced

1 ½

teaspoon

coarse salt

¼

teaspoon

ground peppercorns

½

teaspoon

sugar

1

teaspoon

dried sage

2

Tbs

AP flour

3

Tbs

olive oil

1

medium onion

grated

1 ½

cups

water

plus more for prunes

2

cups

pitted prunes

dried plums
Instructions
In a small bowl, combine salt, pepper, sugar, garlic, and sage. Coat the pork evenly with the mixture

Cover tightly with plastic wrap and let sit at room temperature for 1 hour

Preheat oven to 350℉

Sprinkle flour over pork to lightly coat, shake to remove any excess

In a large skillet, heat oil over medium-high heat. Add pork and brown on all sides

Transfer pork to a large roasting pan

Grate onions over pork

Add 1 ½ cups water to roasting pan, and roast, covered, for 1 hour - basting occasionally

In a medium bow, soak prunes in enough cold water to cover for 15 minutes

Drain and add the prunes to the roasting pan

Cover and reduce heat to 325℉ and roast until internal temperature reaches 145℉ (about 15-30 minutes)

Remove pork from pan and rest for 10 minutes

Place roasting pan on stove and heat over medium-high heat. Cook pan juices until reduced and thickened enough to coat the back of a wooden spoon

Slice pork, arrange on serving platter, and serve with sauce
Nutrition
Calories:
443
kcal
Carbohydrates:
32
g
Protein:
48
g
Fat:
14
g
Saturated Fat:
4
g
Polyunsaturated Fat:
2
g
Monounsaturated Fat:
7
g
Trans Fat:
1
g
Cholesterol:
147
mg
Sodium:
583
mg
Potassium:
1243
mg
Fiber:
3
g
Sugar:
18
g
Vitamin A:
346
IU
Vitamin C:
2
mg
Calcium:
44
mg
Iron:
3
mg