Amaretto Cherry Crumble
I love cherries.  I love Amaretto.  I love pie. I'm a very passionate person, what can I say.  Add these three things together and I'm ready for a life-long commitment.  In the South we usually prefer a two-crust pie but sometimes you can't beat a good crumble.  Cherries can be a bit pricey, but when they're on sale I stock up and make all sorts of goodies and freeze some for later.  This was a sale week!
What is Amaretto?
Amaretto is a sweet yet slightly bitter, almond flavored, liqueur that originated in Saronno, Italy. It can be made from apricot kernels, peach stones, or almonds, all of which are natural sources of the benzaldehyde that provides the almond-like flavor.  Don't worry about using a little booze in this pie - all the alcohol will be cooked off leaving only the almond flavor.
What's the difference between sweet cherries and sour cherries?
My kneejerk answer is - the taste!  Sweet cherries, like Bings, are generally larger, and a lighter red than sour cherries like Montmorency. While many say sour (or tart) cherries are better for cooking, and sweet cherries are better to eat raw or in fruit salads, the truth is you can use them almost interchangeably.  If they're sweet - cut down on the sugar just a little and add in a bit of lemon juice to brighten the flavor.  If they're tart or sour, increase your sugar or even add in a little honey.  I've used Bing cherries in this recipe.
How do I pit cherries?
Pitting cherries is what stops a lot of people from using this delicious fruit - it's just too much work!  That doesn't have to be the case.  Gather your cherries, pick up a cherry pitter and you'll be done in a flash.  So let's start there.  Make sure your cherries are plump, firm, shiny, and don't have sad little cherry wrinkles.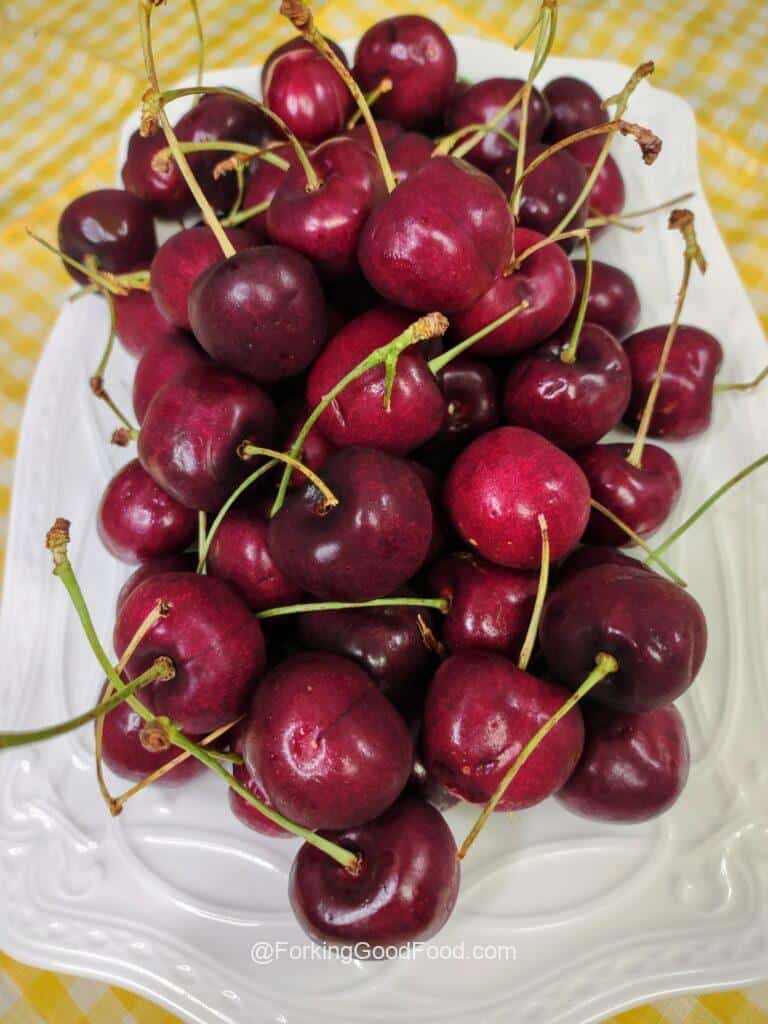 You can pick up a cherry pitter just about anywhere.  They're not expensive and will save loads of time and frustration.  George Geer is credited with inventing the first cherry pitter that removed the stones and left the cherries intact.  Mr. Geer, from the bottom of my heart, thank you.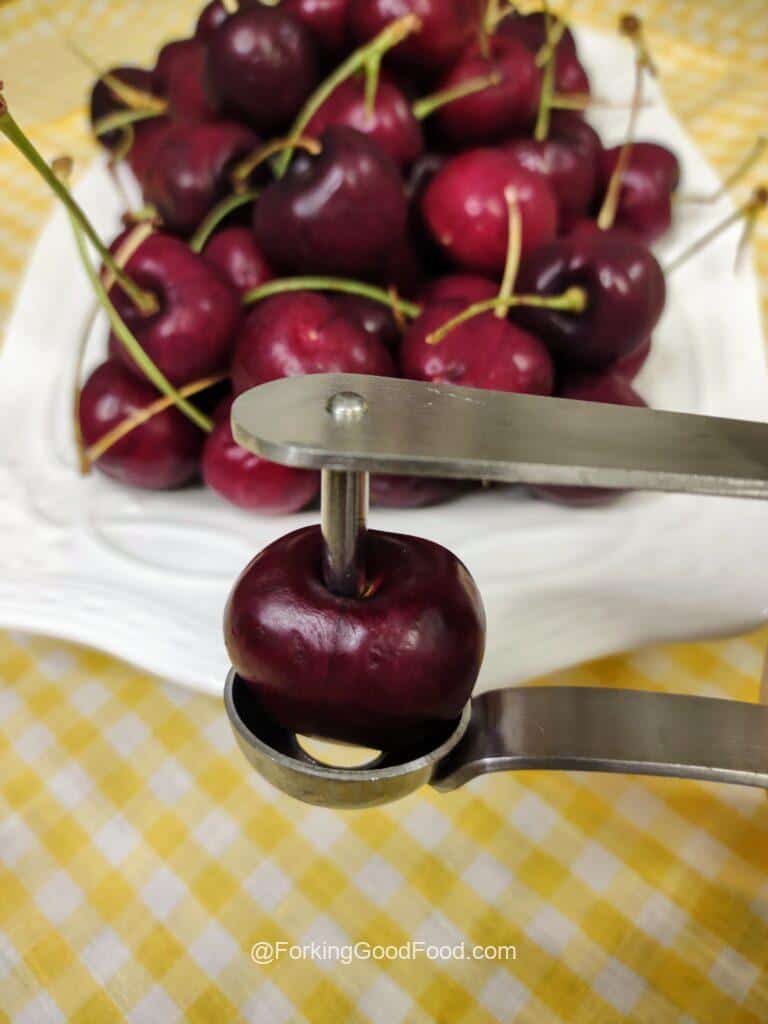 With a little firm pressure and a pleasing "pop" the pit will be removed from the cherry! Am I the only one who sees a little heart?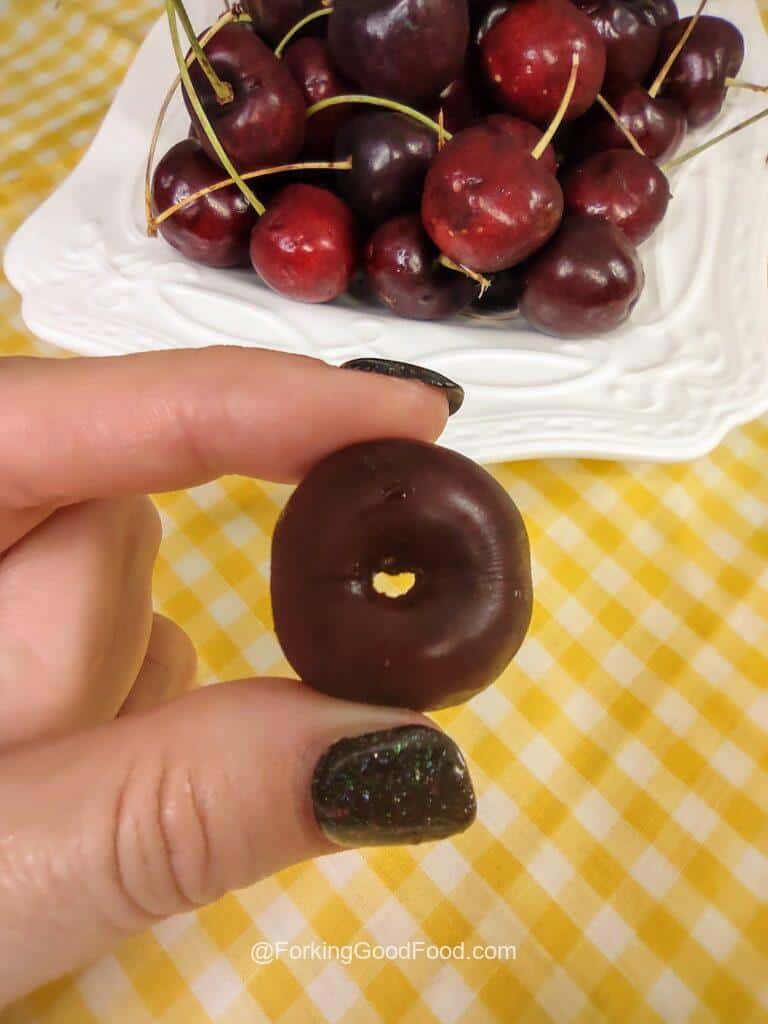 Preheat your oven to 400 degrees and place one rack on the bottom shelf and one in the middle.  Slice your cherries in half, place them in a large bowl and add the sugar, pie thickener, Amaretto, and almond emulsion/extract.  Gently stir until well coated.  Pour into a prepared pie plate.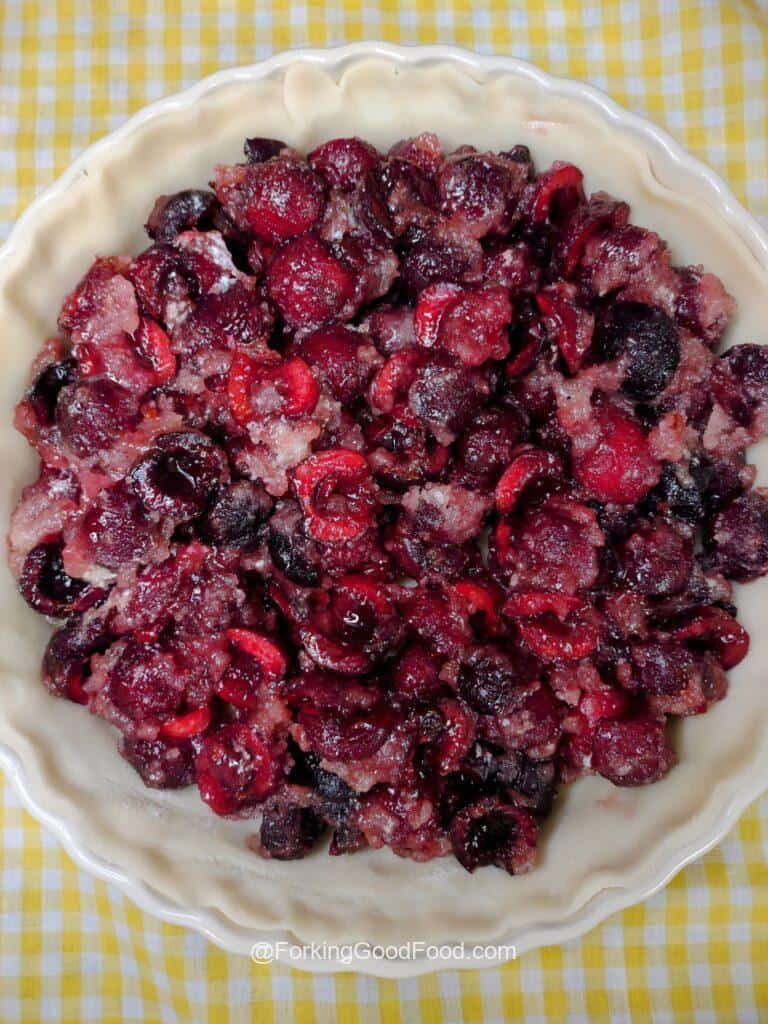 In another large bowl mix your oats, flour, brown sugar and a pinch of salt.  Add in your cold butter and work with your fingers until evenly distributed.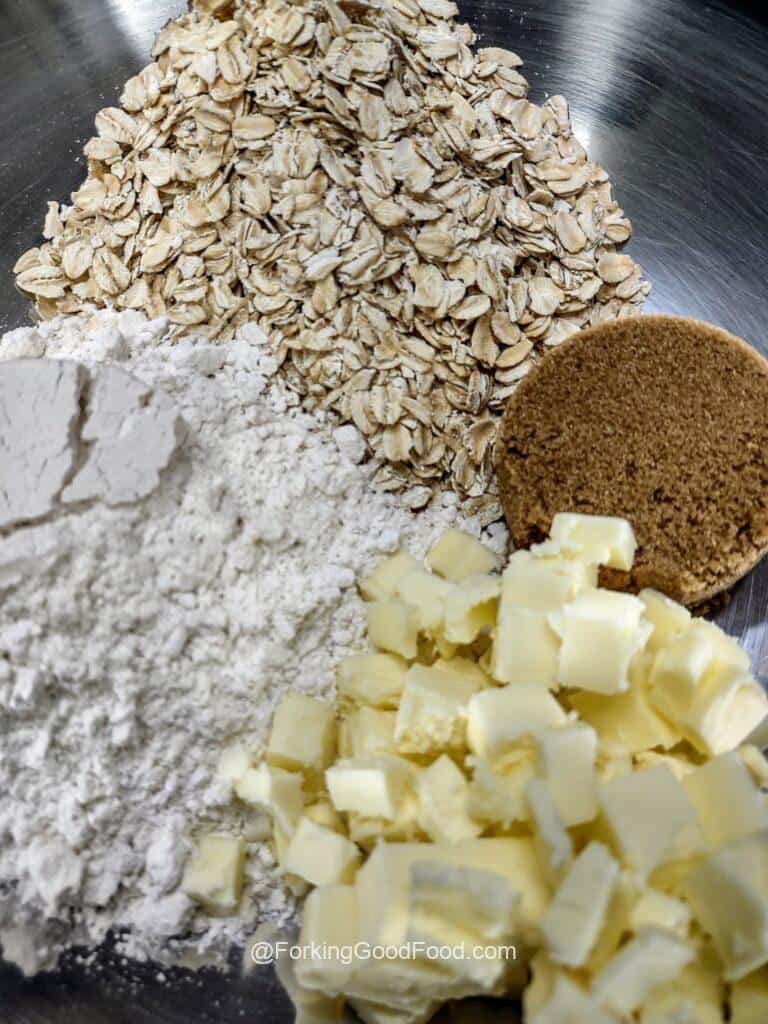 Sprinkle the crumble mixture over the top of the cherries and bake for 20 minutes on the bottom shelf.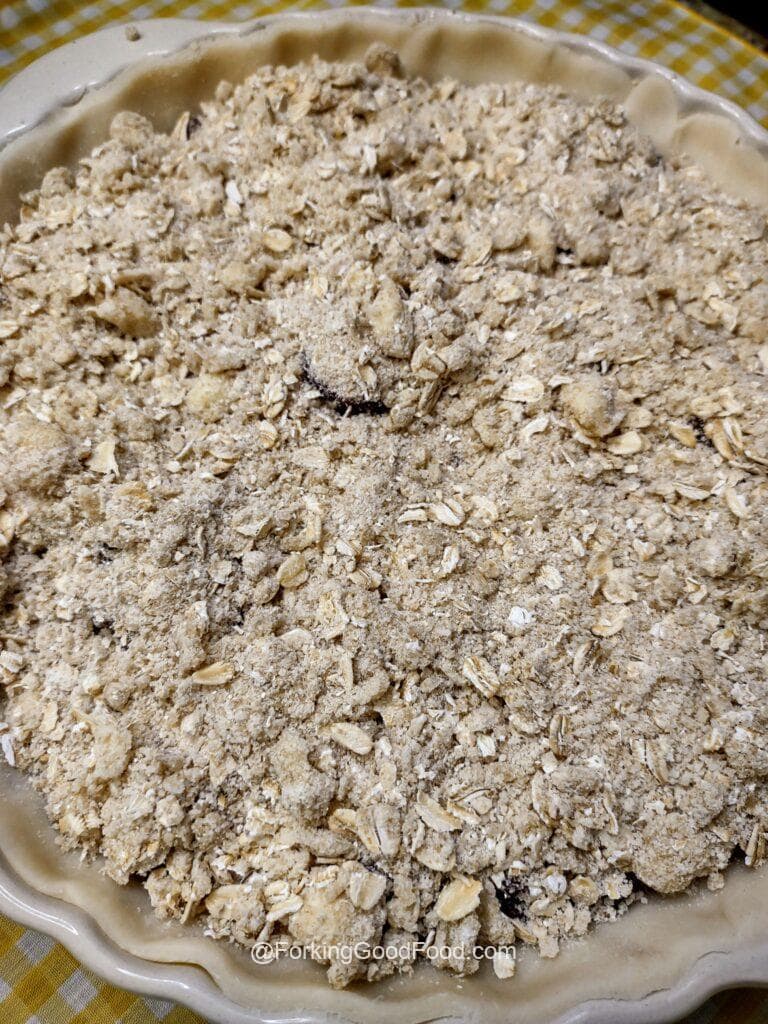 After 20 minutes, reduce heat to 350 and move the pie to the middle rack.  Bake for another 40-45 minutes or until the filling is bubbly and the crumble is golden brown.  If the crust browns too quickly, you can cover lightly with a piece of foil.
Let cool completely, at least 2 hours.  This will give the filing time to set.  Garnish with fresh whipped cream and a few toasted almonds. (Don't ask... I forgot the almonds.  It happens to all of us.)
Recipe

Amaretto Cherry Crumble

The Amaretto and almond adds a mellow smoothness to this sweet cherry crumble. When cherries are in season, grab a few extras for this sweet treat.

Ingredients

For the filling:

4-5

cups

cherries

pitted and halved

⅔

cup

sugar

4

Tbs

instant clear Jel

1

shot Amaretto

For the topping:

¾

cup

old fashioned oats

¾

cup

AP flour

½

cup

dark brown sugar

Pinch

salt

6

Tbs

salt

cold and cubed

Instructions

Preheat oven to 400°

Mix all filling ingredients in a large bowl until all cherries are evenly coated

In a separate bowl, add all dry ingredients and stir to combine

Add cold butter and using your fingers, or pastry cutter, work butter in to crumble mixture

Line the bottom of a 9" pie plate with your favorite pastry recipe

Fill with the cherries and then sprinkle crumble mixture in top

Baker on the bottom rack for 20 minutes

Reduce heat to 350°, move the pie to the middle rack and bake for another 40-45 minutes.

If the pie is browning too quickly, cover loosely with foil

Let cool completely before cutting

Notes

If you don't have pie thickener, corn starch can be used. Pie thickeners like clear instant Jel gives the pie a glossy shine and cooks better under high temperature
Frozen cherries can be used. Thaw completely and place on a paper towel lined plate to soak up any excessive juice

Nutrition

Calories:

271

kcal

Carbohydrates:

61

g

Protein:

4

g

Fat:

2

g

Saturated Fat:

1

g

Polyunsaturated Fat:

1

g

Monounsaturated Fat:

1

g

Sodium:

5389

mg

Potassium:

234

mg

Fiber:

3

g

Sugar:

40

g

Vitamin A:

44

IU

Vitamin C:

5

mg

Calcium:

51

mg

Iron:

1

mg