Green Cabbage Cole Slaw is a healthy and delicious dish that is perfect for any occasion. This slaw is made with shredded green cabbage, carrots, and a simple dressing made mayonnaise, vinegar, and mustard. It can be served as a side dish or appetizer.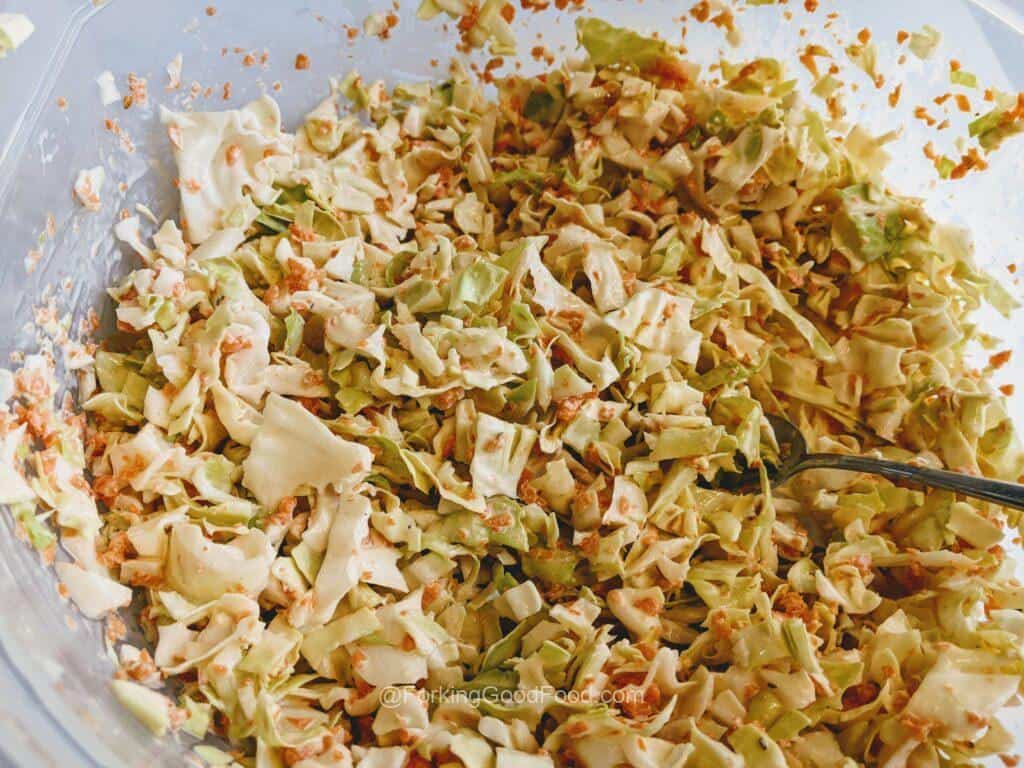 A popular dish in the South, green cabbage cole slaw is a tangy and refreshing side dish that pairs well with grilled meats. It is also low-carb and easy to make!
In a large bowl, combine the cabbage, carrot, mayonnaise, vinegar, sugar, salt and pepper. Mix well to combine. Cover and refrigerate for at least 1 hour before serving. Enjoy!
How long will cole slaw keep in the fridge?
Cole slaw will stay good in the fridge for about four days. If you want to keep it fresh longer, you can freeze it. You need to take it out of the freezer before eating it and make sure that it's not frozen when you eat it or else your food will taste funny.
Can I freeze coleslaw?
Cole slaw with mayonnaise based dressing can be watery and lose its crunch if kept in the fridge for too long. But if you want mayonnaise dressing on your coleslaw, just make sure that you put the coleslaw mix together without any dressing and then add the dressing after thawing out from being frozen.
Can you freeze bagged shredded cabbage?
You can freeze shredded cabbage. If you don't want to blanch it, make sure to wash the cabbage and then shred it before putting it in bags that have no air inside of them.
Pairs nicely with our Kamado Joe Smoked Bacon Wrapped Pork Tenderloin.
Recipe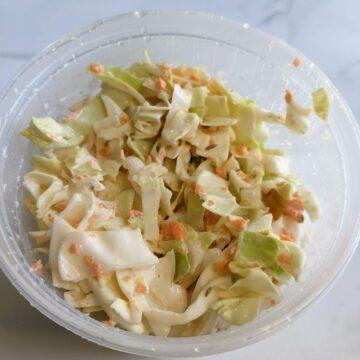 Green Cabbage Cole Slaw
Green Cabbage Cole Slaw is a healthy and delicious dish that is perfect for any occasion.
Ingredients
1

medium head of green cabbage

Salt and pepper

1

teaspoon

caraway seeds or fennel seeds

½

cup

mayonnaise

2

tablespoons

white vinegar

1

tablespoon

lemon

2

teaspons sugar

1

clove

garlic

grated

1

teaspoon

dijon mustard

2

carrots

shredded or grated
Instructions
Cut the cabbage in quarters, then cut out the core. Cut each quarter crosswise in half and finely shred. Place the shredded cabbage in a very large bowl (you will have 6 to 8 cups).

Add the shredded carrot and parsley to the cabbage and toss to mix.

In a separate bowl, stir the mayonnaise, vinegar, mustard, celery seeds, salt, and pepper together. Taste for acidity and seasoning then adjust as desired. Pour two-thirds of the dressing over the cabbage and carrot then mix well. (Clean hands are the quickest tool).

If the coleslaw seems dry, add a little more of the dressing. Eat right away or let it sit in the refrigerator for about an hour. The longer it sits, the better it will be!
Nutrition
Calories:
132
kcal
Carbohydrates:
8
g
Protein:
2
g
Fat:
11
g
Saturated Fat:
2
g
Polyunsaturated Fat:
6
g
Monounsaturated Fat:
2
g
Trans Fat:
1
g
Cholesterol:
6
mg
Sodium:
127
mg
Potassium:
250
mg
Fiber:
3
g
Sugar:
4
g
Vitamin A:
2669
IU
Vitamin C:
44
mg
Calcium:
53
mg
Iron:
1
mg