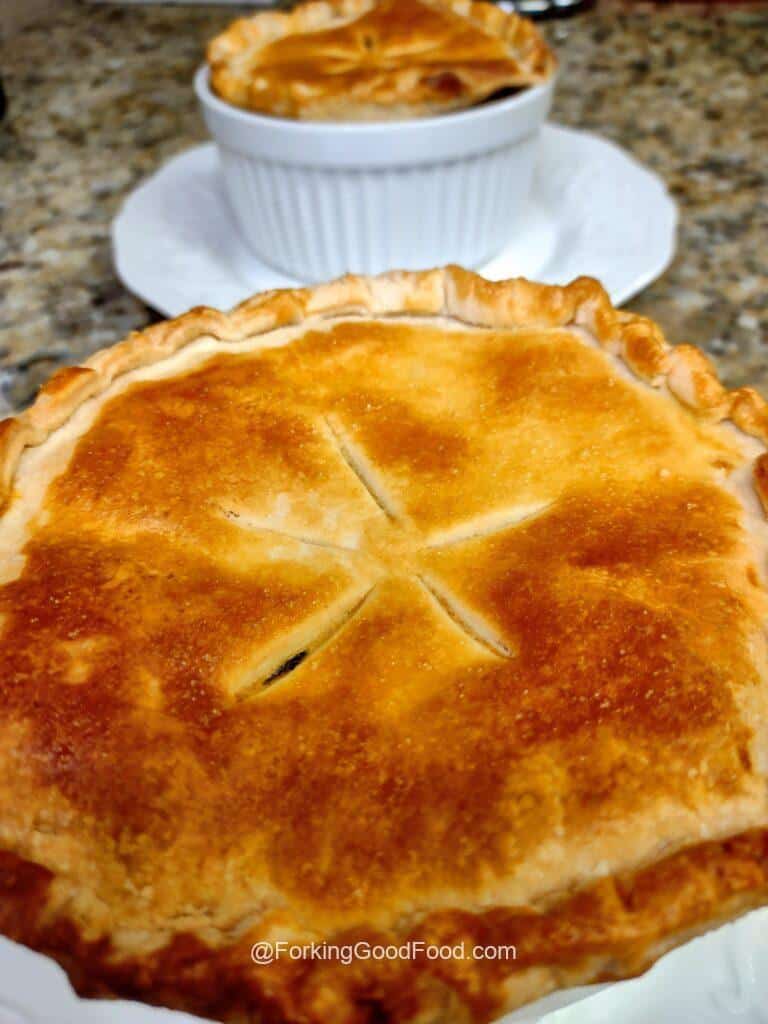 Chicken Pot Pie is easily one of the best comfort foods out there.  This recipe creates individual servings that look elegant and difficult, but are easy and sure to please everyone.  Most of us grew up eating the little frozen ones but this one is for the kid in all of us, just with a little more discerning taste. It's creamy yet hearty with a flaky, buttery crust that finishes it off perfectly.  This recipe can be adapted to use leftovers as well, just reduce the cooking times of the vegetables.
Why is a pot pie called a pot pie?
That's a great question without  a definitive answer.  One would assume it's because they were made in a pot, but in actuality they have been made many ways since Neolithic times.  Sometimes in a pot, but sometimes a skillet or baking dish, sometimes over a campfire or even, during the Roman Empire, with a live bird cooked in that would fly out when the crust was broken.  I'm so happy that we've moved beyond this culinary monstrosity and into something delicious.
What's in pot pie?
A pot pie can have any type of meat or fish and any combination of vegetables - or no meat at all for our vegetarians out there.  The common theme is a flaky buttery crust.  Some pies have a top and bottom crust, some have just the top like this one.  While beef and chicken are the most popular in the United States, this recipe can be made to suit your own particular tastes and available ingredients.
How do I make a chicken pot pie?
First, gather your ingredients: a large chicken breast, carrots, parsnips, onions, and celery and your spices - garlic, thyme and parsley.  You'll also need cream (or milk), a little flour, some soy sauce and most of all a pastry crust.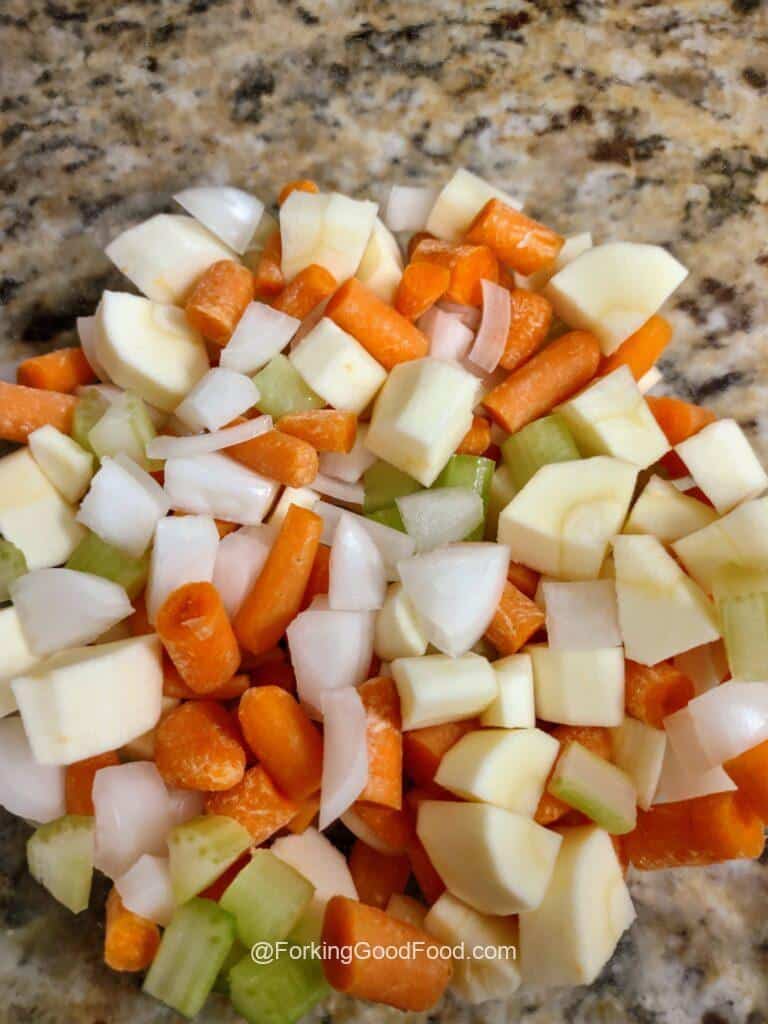 Start by preheating your oven to 450.  Line a baking sheet with parchment paper and then roll out your pastry crust.  Lay your ramekin gently on the crust, and cut a circle in the pastry about ½" bigger than the actual ramekin.  Fold that ½ " excess over on itself and crimp the edges together.  Beat the egg and water together then give it a little brush with the egg wash.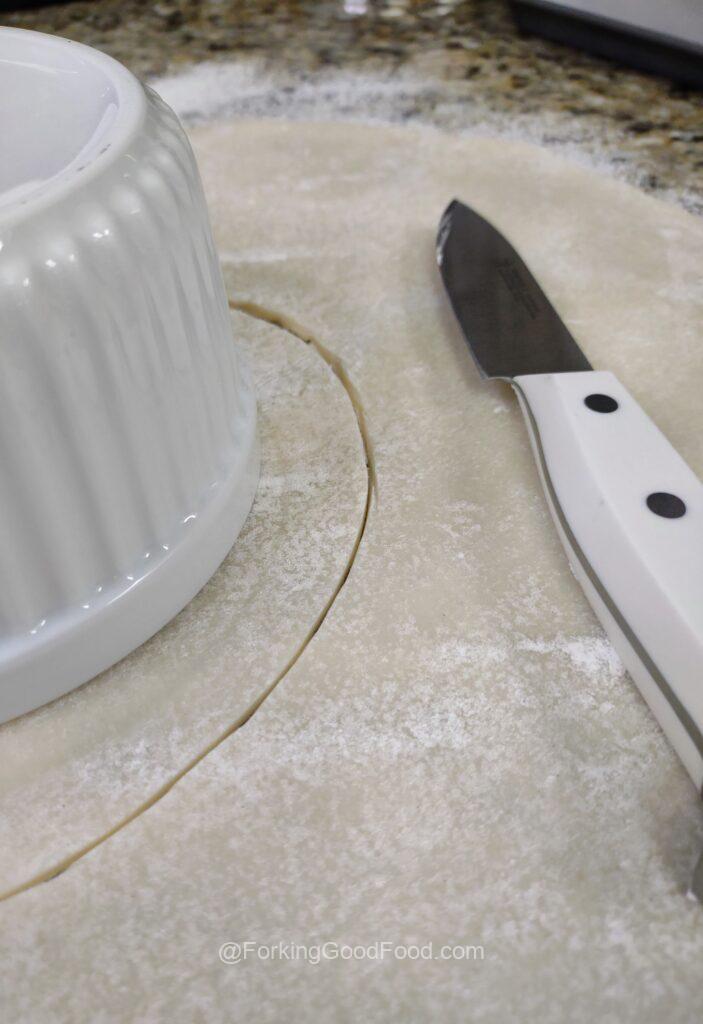 Carefully lift the cut crust and lay it on the baking sheet.  I use a kitchen scraper to help with this, but a large spatula would work just as well.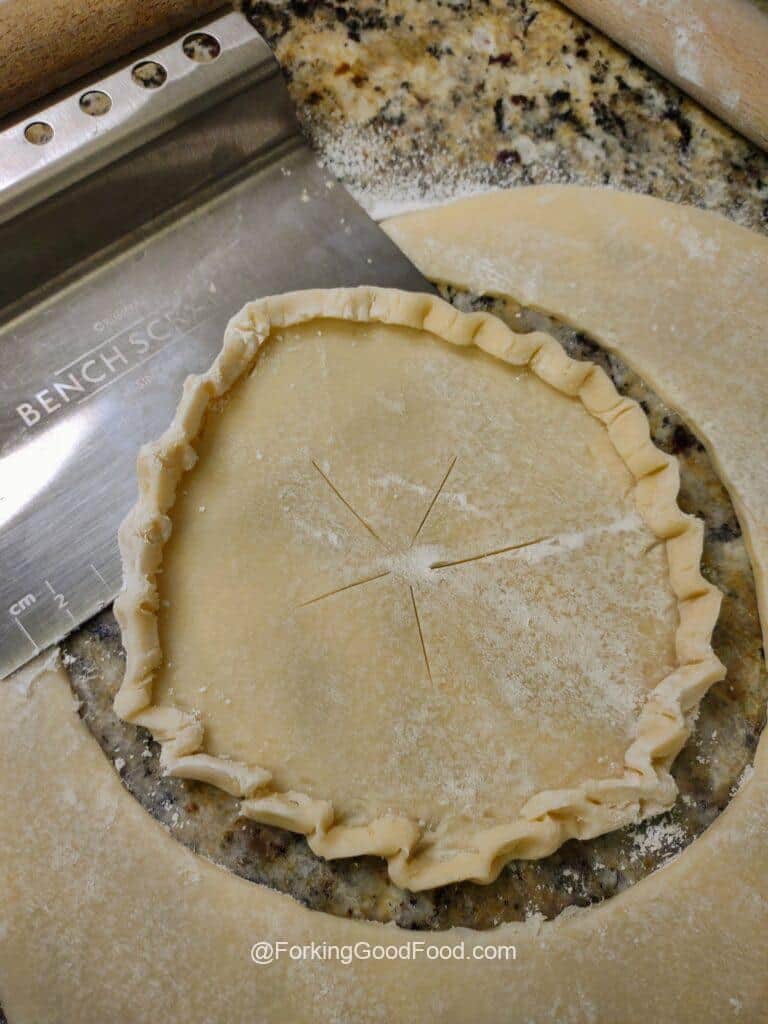 Cut in a few vent holes and then bake until the crust is a light golden brown and doesn't look "raw".  Remove from the oven and set aside while you make the filling.
In a medium sauce pan, melt your butter, add all your vegetables (except the peas), and sauté until they're soft and slightly browned.  Don't worry if there are little brown bits in the bottom of the pan - that will just add to the flavor. Stir in your spices and then the flour.  Cook for about a minute or so.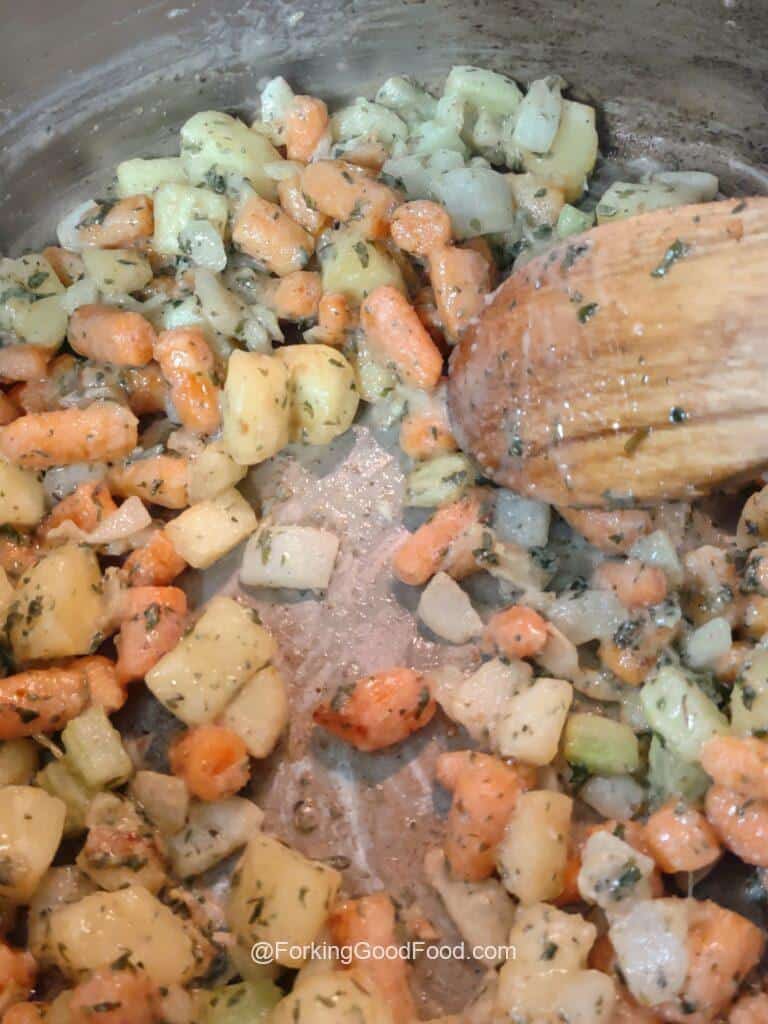 Slowly add the cream, stock, and soy sauce and stir well, scraping up all those brown bits off the bottom of the pan.  Add the chicken and bring to a simmer.  Cover and cook, stirring occasionally, until the chicken reaches 160 degrees.  Remove the chicken and shred with two forks.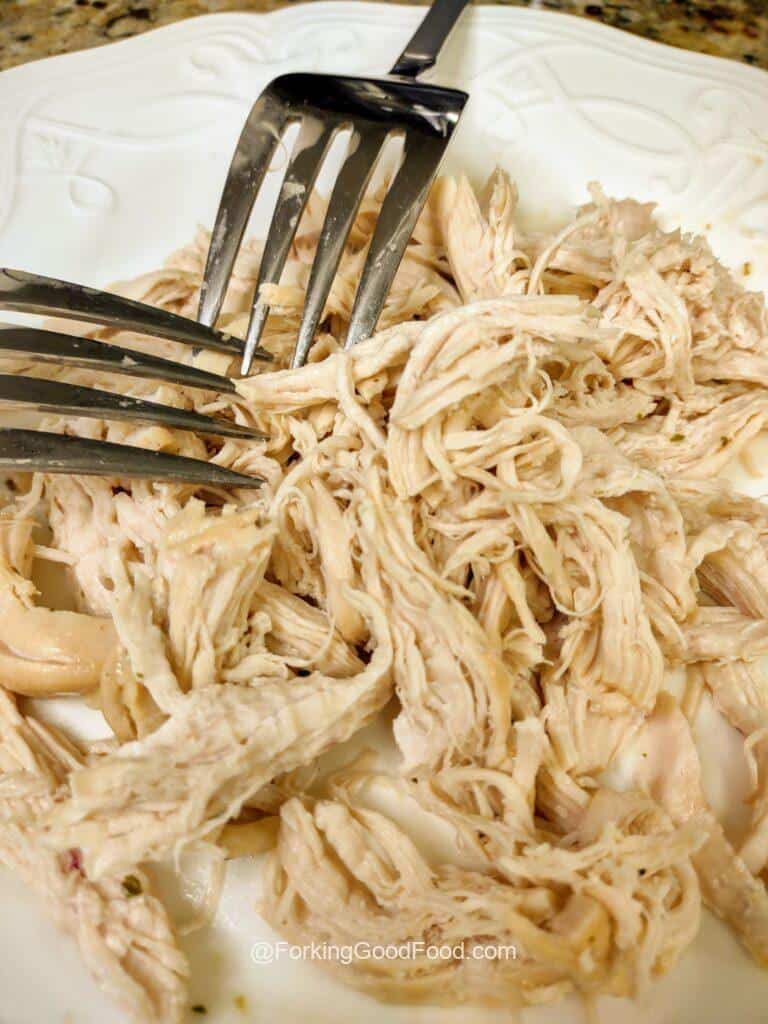 While the chicken is resting, bring the temperature up to medium and cook the sauce for about 5 minutes or reduced to about 2 cups.  Return the chicken to to sauce (including any juices that came out while shredding), add the peas and remove from the heat.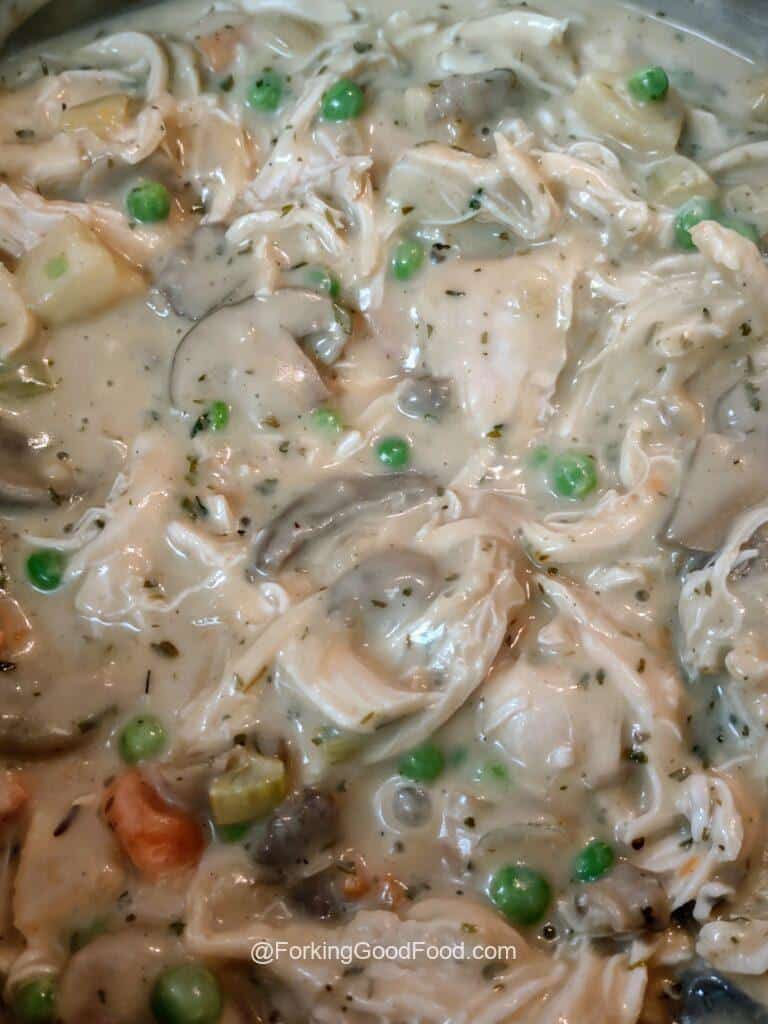 Divide the filling between 2 12-ounce ramekins and top with the parbaked crusts.  Place the pies on a baking sheet and return to the oven.  Bake until the crust is a deep golden brown and the filling is nice and bubbly.  Let the pies rest for about 10 minutes, then enjoy!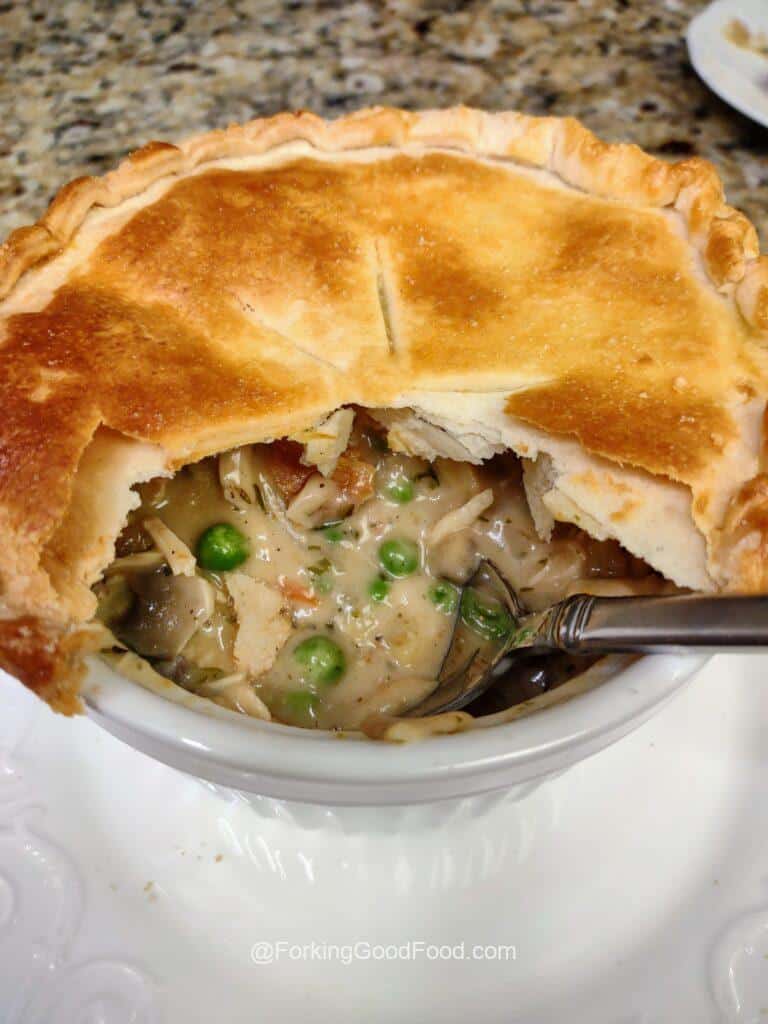 Recipe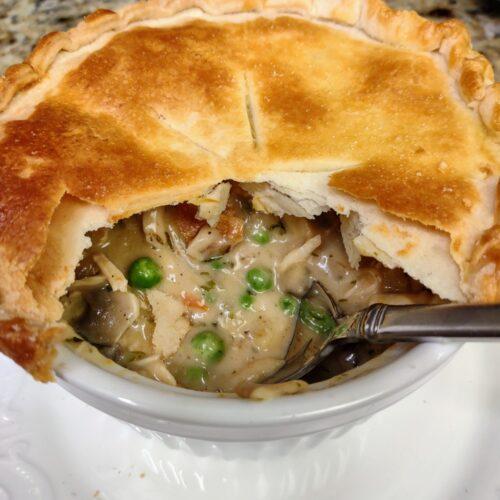 Chicken Pot Pie for Two
This classic creamy, hearty, and flaky comfort food is just the right size for two.
Equipment
2- 12oz Ramekins

Baking Sheet

Medium sauce pan
Ingredients
1

pie crust

refrigerated is fine, just bring to almost room temperature

1

egg + 1 Tbs water

beaten

2

Tbs

butter

1

carrot

peeled and sliced ¼" thick

1

parsnip

large, peeled and sliced ¼" thick

1

onion

small, chopped fine

1

celery rib

chopped ¼" thick

⅓

cup

mushrooms

sliced

¼

cup

frozen peas

½

teaspoon

salt

¼

teaspoon

thyme

dried - or use 1 teaspoon chopped fresh thyme

2

cloves

garlic

minced

2

teaspoon

parsley

dried

3

Tbs

AP flour

1 ¾

cup

chicken stock

⅓

cup

cream

1

teaspoon

soy sauce

1

chicken breast

boneless, skinless, and trimmed

Salt & pepper to taste
Instructions
Preheat oven to 450℉ with rack in the middle

In a small bowl, beat the egg and water together to create an egg wash

On a parchment-lined baking sheet, unroll pie pastry and cut crust to about ½ " larger than a personal-size ramekin (12-ounce size)

Fold over and crimp the ½" extra crust, cut a few vent holes, lightly brush with egg wash, and parbake until light golden brown and no longer raw looking, about 7-10 minutes and then set-aside

In a medium saucepan over medium heat melt the butter. Add vegetables (except peas) and salt and sauté until vegetables are soft and slightly browned, about 9 minutes

Stir in garlic, thyme, and parsley and cook until fragrant then stir in flour and cook for about 1 minute

Slowly mix in cream, broth, and soy sauce,scraping the bottom of the pan to loosen any browned bits

Add chicken to the mixture and bring to a simmer. Cover and cook on low heat for about 10-15 minutes, stirring occasionally The internal temperature of the chicken should be 160℉

Transfer the chicken to a plate and shred with two forks

While the chicken is resting increase heat to medium and simmer for about 5 minutes until sauce is thickened and reduced to about 2 cups

Remove from heat and add cooked and shredded chicken (with any juices) and peas to the pan. Add salt and pepper to taste

Divide between ramekins and place crusts on top. Place on a baking sheet and bake until a bubbling and a deep golden brown, about 12 minutes.

Let pies rest 10 minutes before serving
Notes
If you don't have personal-size ramekins, use the same method in any 1qt baking dish.  The baking times should remain the same.
This dish can easily be doubled or tripled etc. for larger servings.
If using canned mushrooms, wait to add them when you add the peas.
Nutrition
Calories:
955
kcal
Carbohydrates:
89
g
Protein:
44
g
Fat:
47
g
Saturated Fat:
19
g
Polyunsaturated Fat:
5
g
Monounsaturated Fat:
18
g
Trans Fat:
1
g
Cholesterol:
216
mg
Sodium:
1777
mg
Potassium:
1425
mg
Fiber:
9
g
Sugar:
14
g
Vitamin A:
6032
IU
Vitamin C:
30
mg
Calcium:
171
mg
Iron:
5
mg