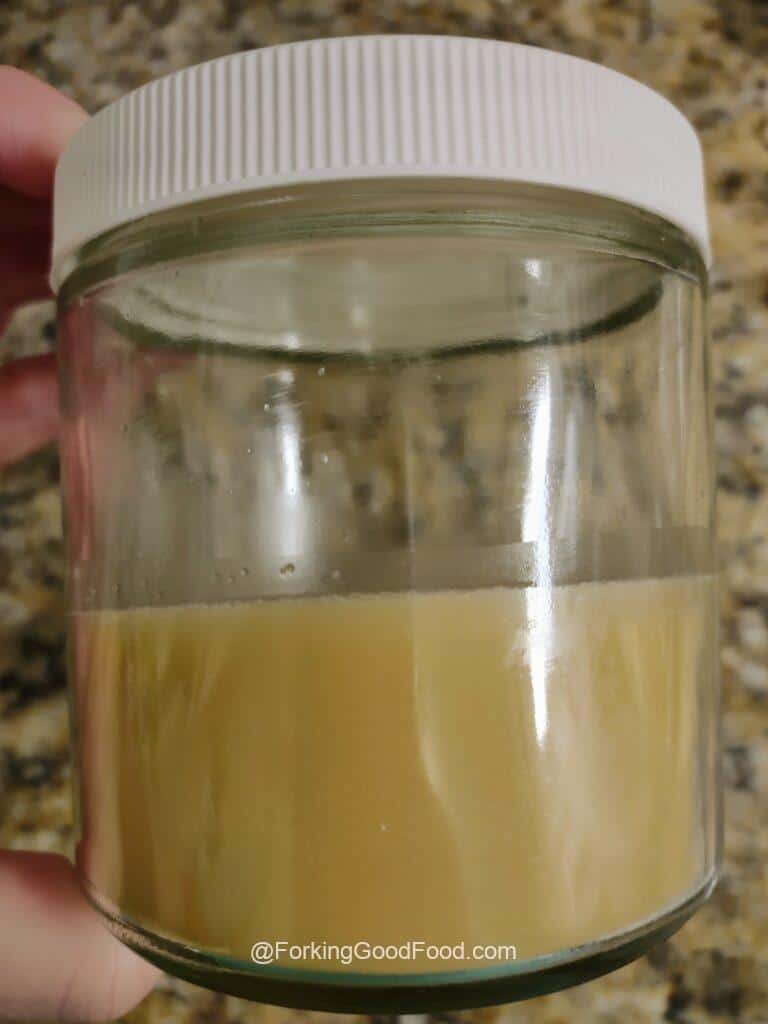 OK - this isn't a very sexy picture, but it's hard to get a great snapshot of butter.  Well, it's not really butter anymore; it's ghee.  Ghee is a staple of Indian dishes.  It has all the nuttiness of browned butter, but with the milkfats and water removed, it's pure oil. It can handle high heat without burning and has a high smoke point.  It's so easy to make, costs very little for the amount you use and can be kept in the fridge for up to a year.
What's the difference between ghee and clarified butter?
Really they're almost the same thing.  Both come from simple butter.  Both are extremely good for sautéing and frying at high temperatures. Both have the milk solids and water removed so they are pure fat. You can use both the same as you would regular cooking oil, but it results in a more intense butter flavor.  The main difference is the cooking time. Clarified butter is cooked quickly whereas ghee is cooked longer resulting in that dark golden brown color and delicious nutty flavor.  You can substitute ghee for butter or cooking oil in almost any recipe.
Can people with lactose intolerance or milk allergies use ghee?
YES!!! Mind you it's not dairy free so if you're vegan this is not a good choice (there is vegan ghee available the stores). Ghee and clarified butter contain virtually no casein or lactose so it is a safer option for people with milk allergies or lactose intolerance without giving up that rich buttery taste.
Can I fry with ghee?
Yes you can. Ghee can be safely substituted for olive, canola, vegetable, and sunflower oils.  It has a very high smoke point so it is good for hot temperatures and adds a richness of flavor.  I would not suggest using it for deep frying, simply for the cost and time it would take to make that much ghee.
How do I make ghee?
This is going to be pretty simple.  You have to be watchful - but it's really as easy as it can be.  Start with two sticks of UNSALTED butter in a heavy saucepan.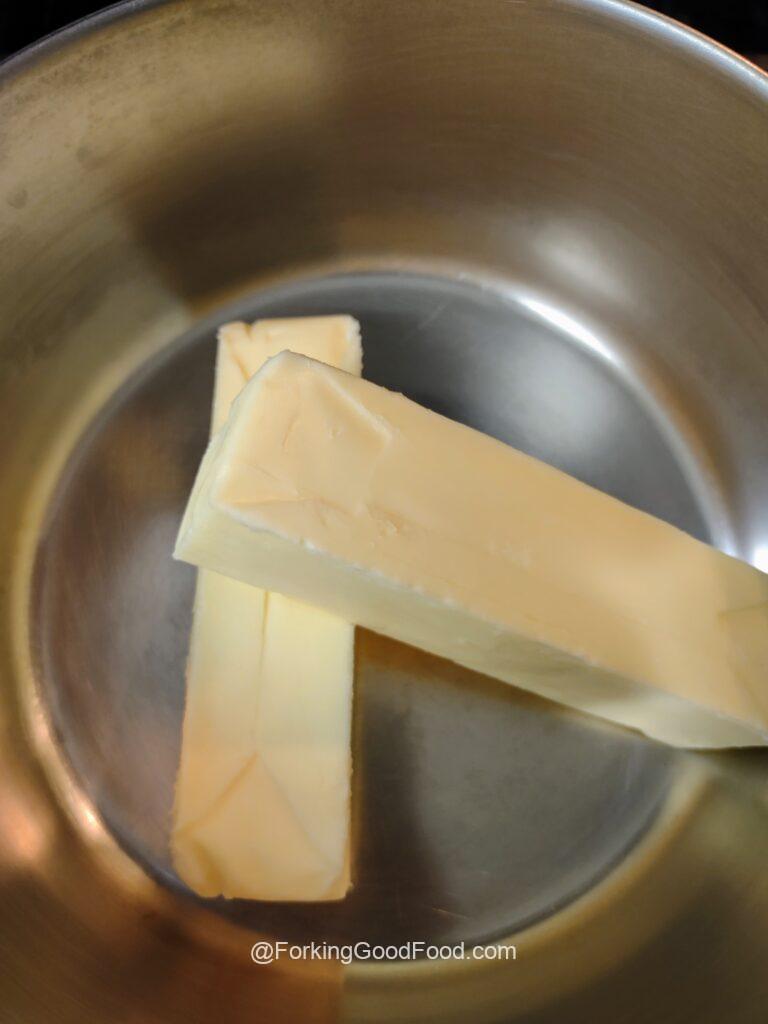 Melt the butter over medium heat.  It's going to turn frothy pretty quick.  When that happens, lower the heat and simmer until almost all of the foam has evaporated.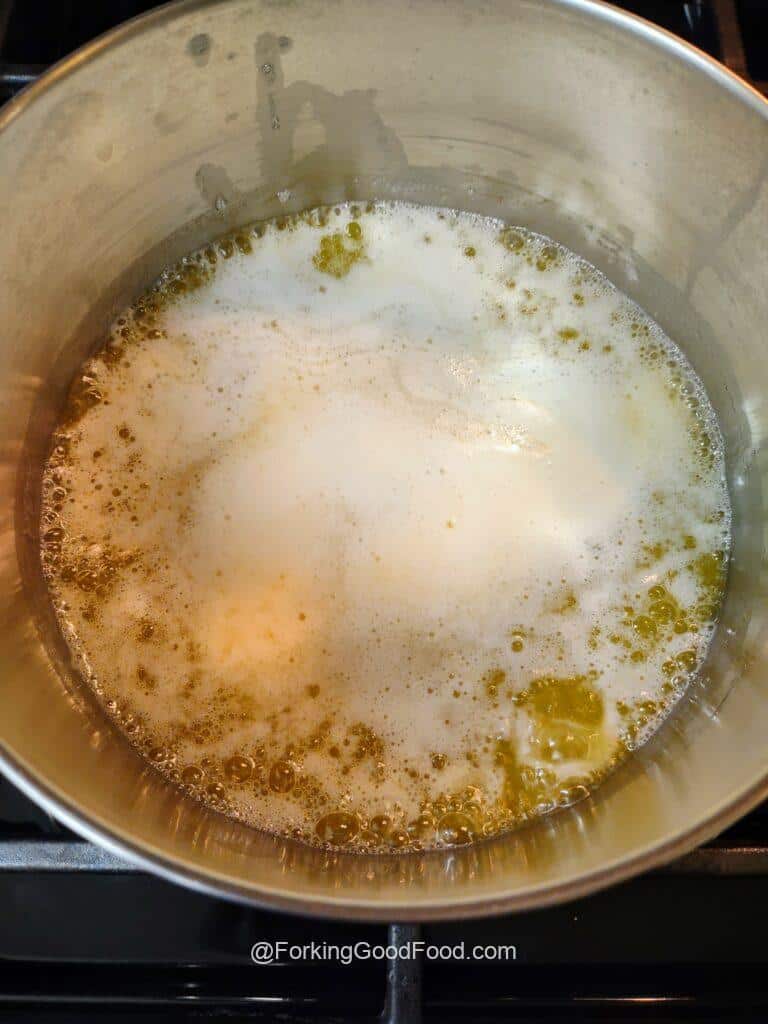 At this point, the butter is going to bubble quite a lot.  Give it a gentle stir every once in a while.
When the milk solids are browned and on the bottom of the pan and the bubbles have greatly reduced, your ghee is ready.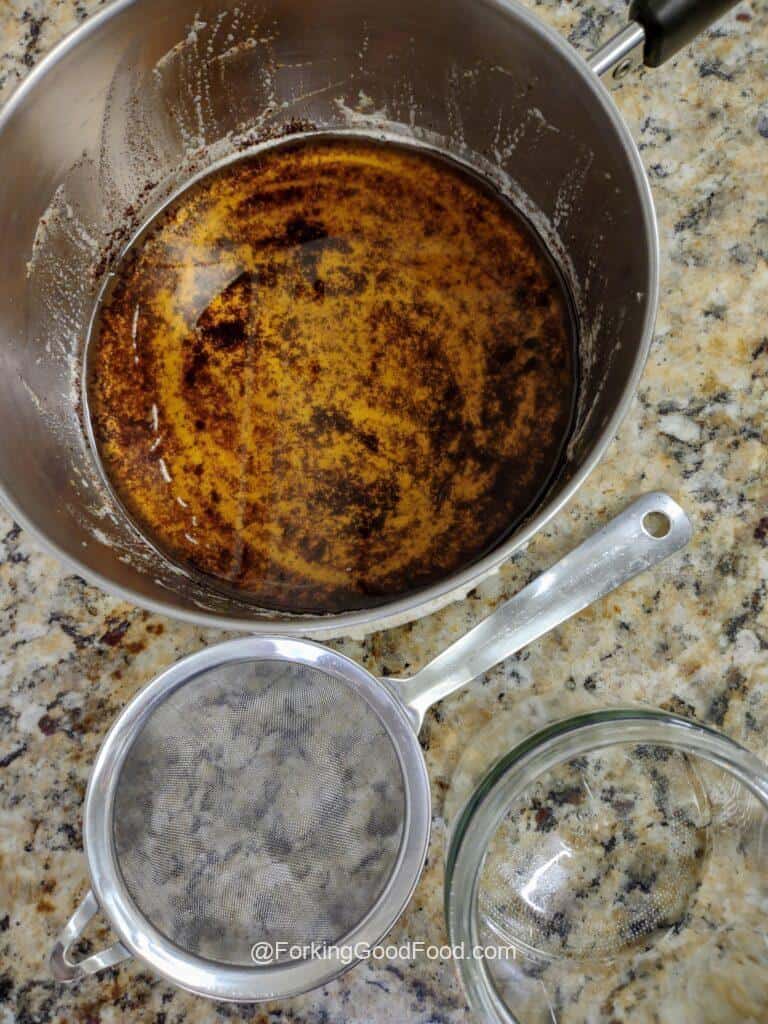 Let cool in the pan and skim off any remaining bubbles or foam.  Then very gently, as not to disturb the milk solids on the bottom, strain the ghee through a fine-mesh sieve into a wide-mouth glass jar. Ghee can be stored at room temperature for 3 months or in the fridge for up to a year.  It will solidify considerably, but that's ok.  You can substitute 1:1 for butter in most recipes.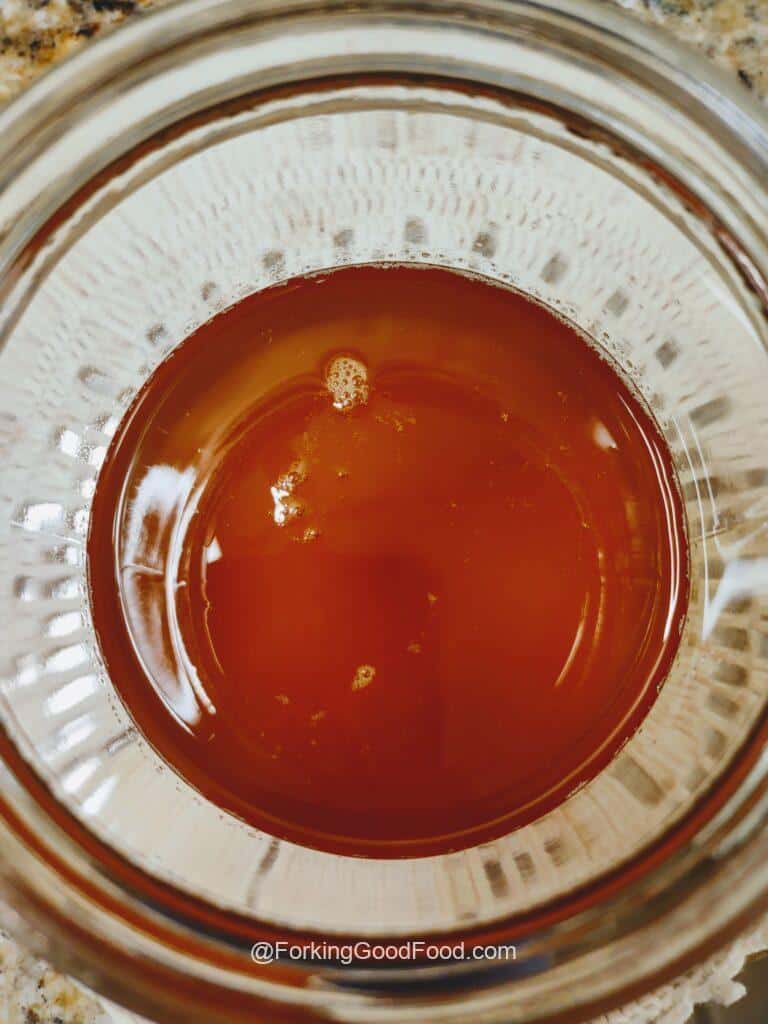 Recipe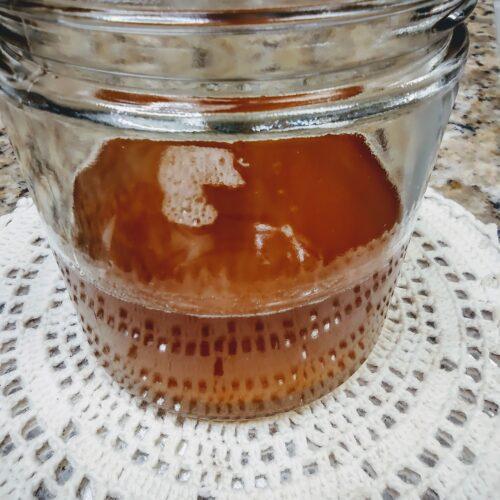 Ghee
Ghee is used in many Indian dishes but has other uses as well. It's very similar to clarified butter and can be used as a High-Temp/High Smoke Point for frying and sautéing.
Instructions
In a medium sized, very heavy saucepan, melt the butter over medium heat

The butter will turn frothy, lower the heat and simmer until most the foam evaporates

The butter will begin to bubble quite a lot, stir occasionally

When the butter changes from yellow to a clear golden brown with the milk solids at the bottom of the pan the Ghee is done

Remove from the heat and let cool slightly

Skim any remaining foam or bubbles from the top

Very gently, as not to disturb any of the milk solids on the bottom of the pan, strain through a fine mesh sieve into a glass jar

Let cool to room temperature before putting lid on
Notes
Can be left at room temperature for up to 3 months and in the refrigerator for up to 1 year.
Ghee can be used to sauté and fry at very high temperatures and has a high smoke point.
Nutrition
Calories:
34
kcal
Carbohydrates:
1
g
Protein:
1
g
Fat:
4
g
Saturated Fat:
2
g
Polyunsaturated Fat:
1
g
Monounsaturated Fat:
1
g
Trans Fat:
1
g
Cholesterol:
10
mg
Sodium:
34
mg
Potassium:
1
mg
Sugar:
1
g
Vitamin A:
118
IU
Calcium:
1
mg
Iron:
1
mg