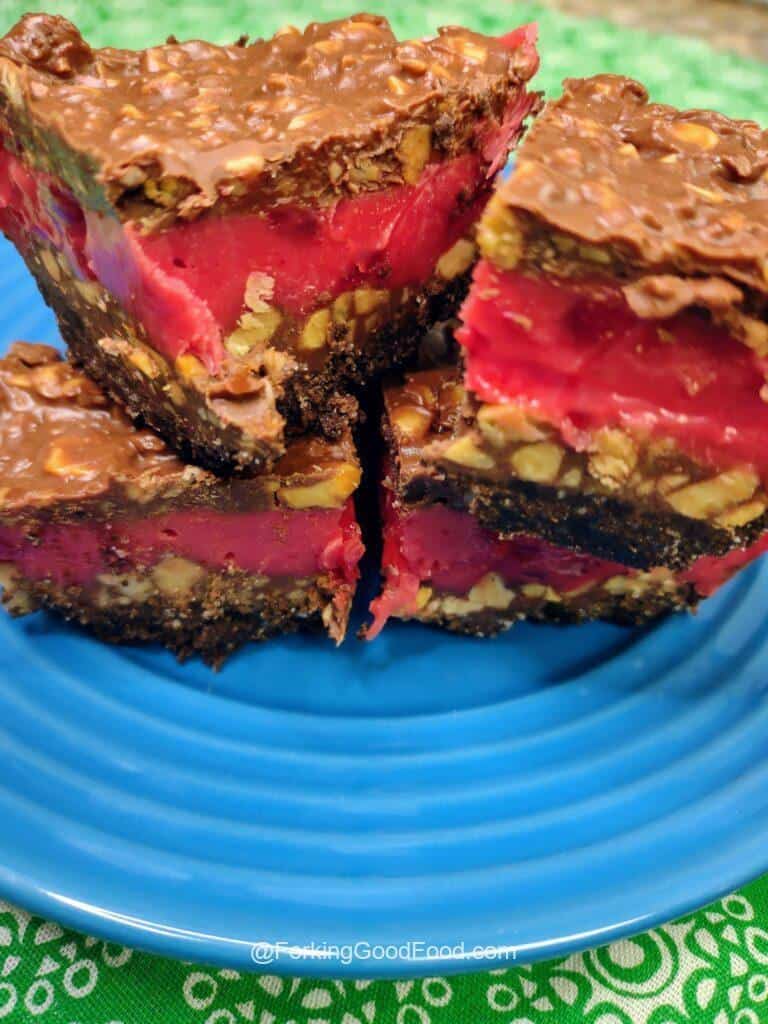 When my friend Jennifer asked me to try a candy she had brought home with her from a trip to Iowa I was skeptical.  I love chocolate and fruit together.  I love chocolate and peanuts together.  I was not at all sure about all three together.  I am so glad I was wrong!  The added crunchy crust makes this a perfect sweet bite... or 2... or 3.
What's the difference between Cherry Bing, Twin Bing, and Cherry Mash?
Not  much really.  They all started with great family-owned American candy makers in the Midwest with these particular candies becoming popular in the 1920's.  They all consist of some combination of chocolate, peanuts, and a cherry nougat filling with varying ratios.  I simply landed on the name Cherry Bing bars because it rolls off the tongue nicely (and ON the tongue for that matter) and the candy that captured my fascination was the Cherry Bing.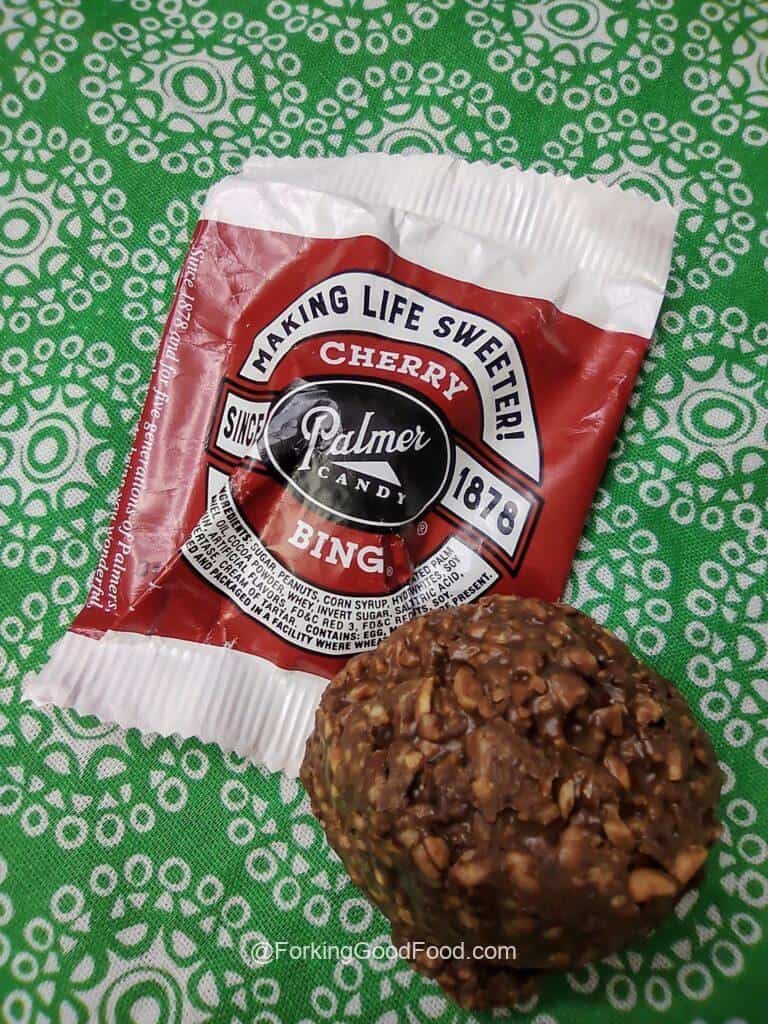 What is the difference between a Spanish peanut and peanut?
A Spanish peanut is smaller and rounder than a regular peanut and has a reddish brown skin.  There are actually four types of peanuts: The Runner, Spanish, Virginia, and Valencia.  Spanish peanuts have a slightly higher oil content and make them perfect for roasting which heightens their nutty flavor.  They are some of the most common peanuts used in confections and peanut butter.  Having said that, I sometimes have a hard time finding them in the store.  If you can't find them, try substituting Virginias.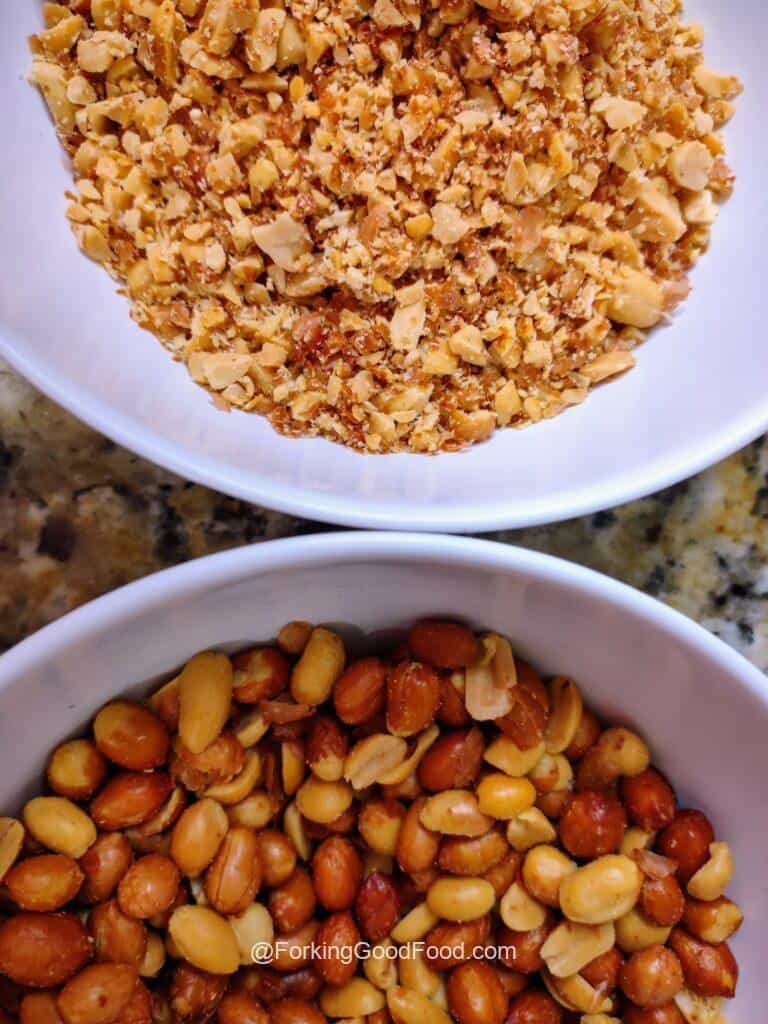 Let's get started!
First, chop your peanuts.  I suggest using a "slap-type" chopper because it's fun to smash things.  Or you can pulse these quickly in a food processor.  You don't want them ground too coarsely but you don't want peanut butter either.  Set the peanuts aside, preheat your oven, and make the crust.  I use a standard graham cracker crust recipe using sugar and melted butter but substitute chocolate graham crackers. Put about a "sleeve" and a half of the graham crackers in a gallon size zip lock bag and crush with a rolling pin until you have a consistency of cornmeal.  See my previous comment about having fun smashing things. Using the back of a measuring cup or glass, press the crust firmly in a 13x9" pan and bake for about 15 minutes.  Allow it to cool while you make the filling.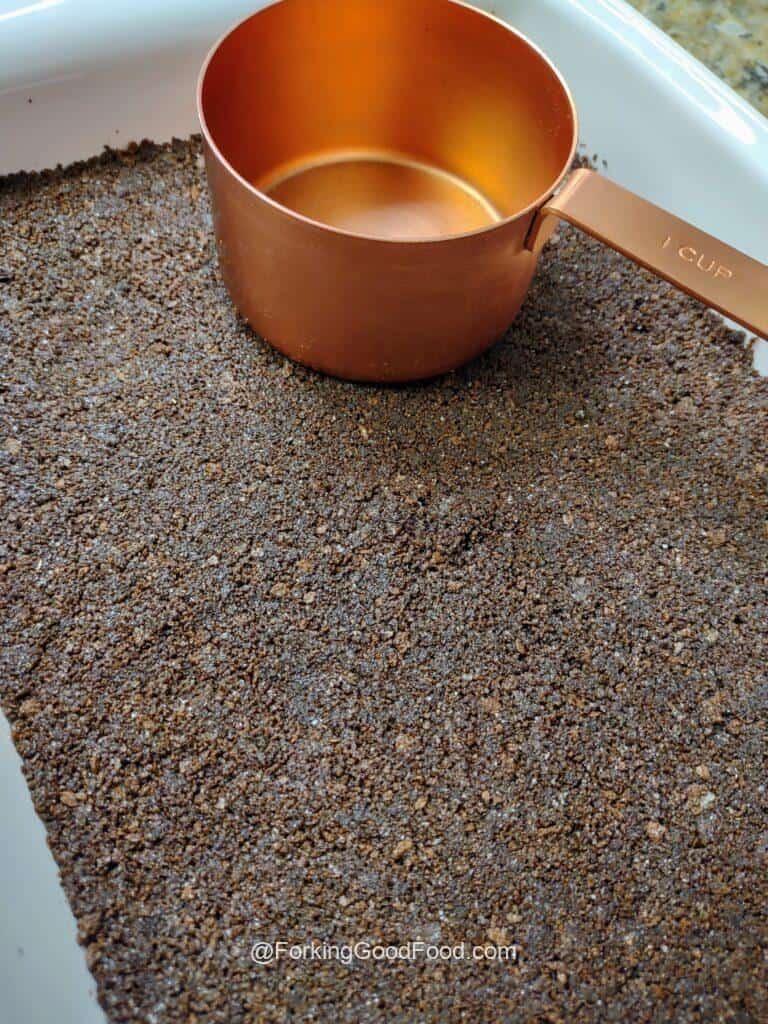 In a large microwave safe bowl, melt your chocolate chips and peanut butter together for about 90 seconds to two minutes, stirring every 30 seconds. I like using a mix of milk and semi-sweet chocolate but that's a personal preference, as long as you use the right measurements.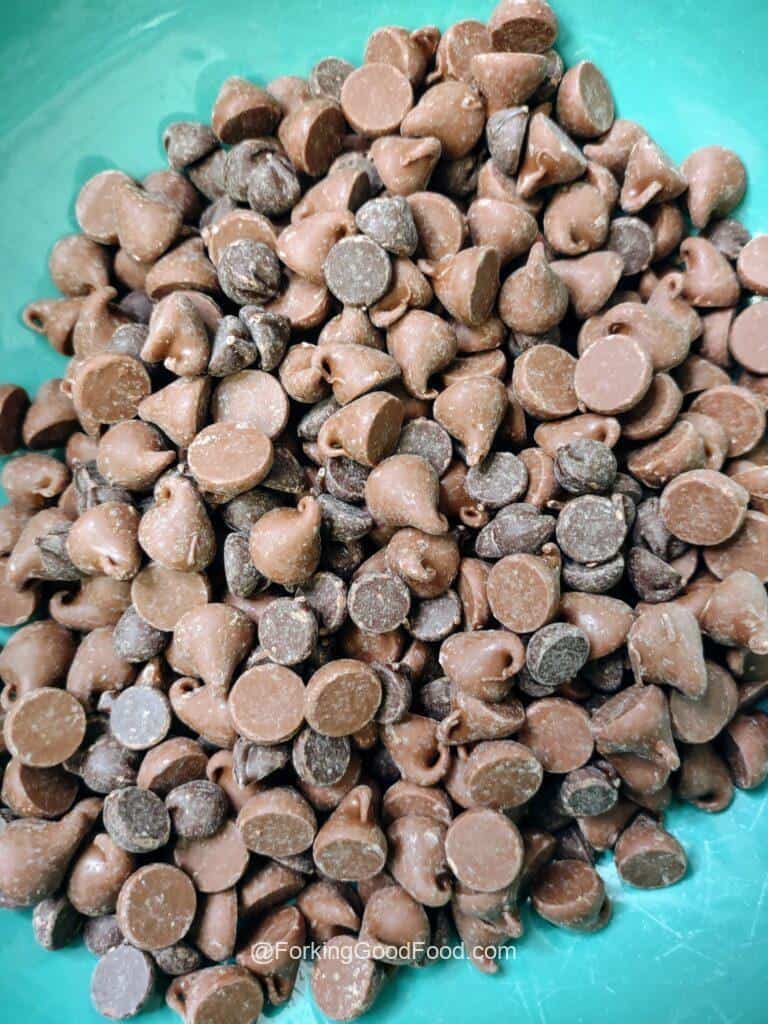 Once it's nice and melted, stir in your chopped peanuts and then spread one half on top of the crust.
Gather all your ingredients for your cherry filling.  In a large heavy sauce pan, bring the condensed milk, butter, and marshmallows to a boil over medium heat and cook for five minutes longer.  I can't stress this enough - STIR CONSTANTLY.  It will burn very quickly and make sure you get all the way to the bottom of the pan and around the edges.  Make sure you have your cherry ingredients close by so you don't have to leave your candy base unattended even for a second.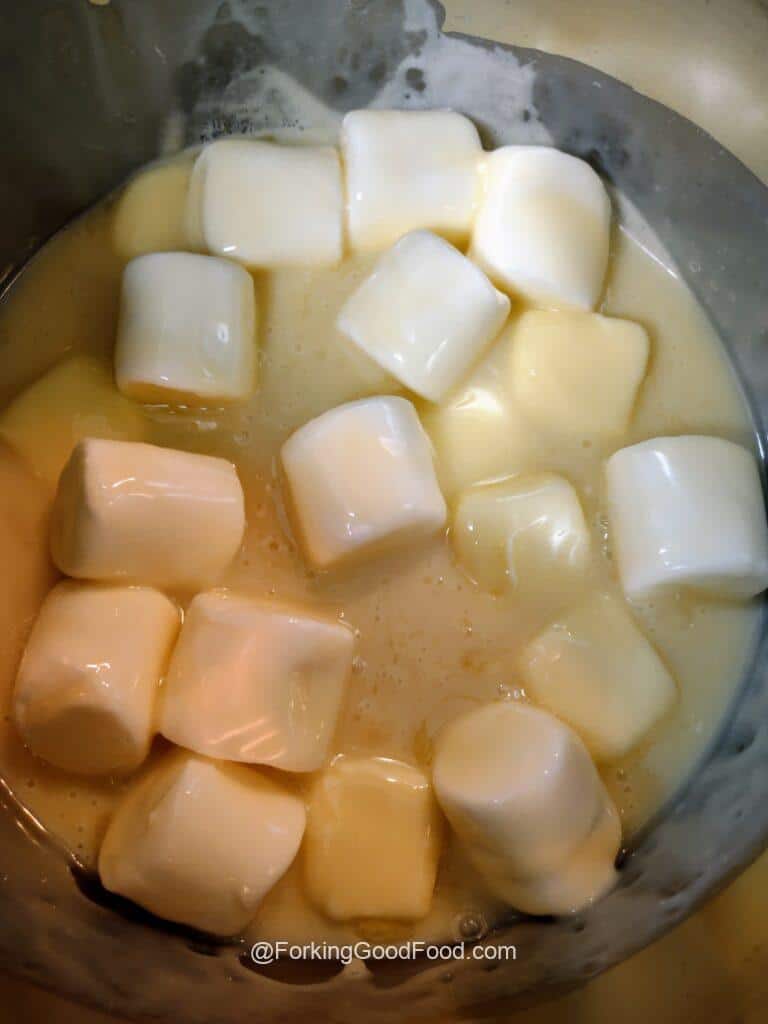 Once the candy base has cooked, lower the heat and stir in the cherry chips until completely melted.  Remove from heat and stir in the chopped cherries and emulsion/extract.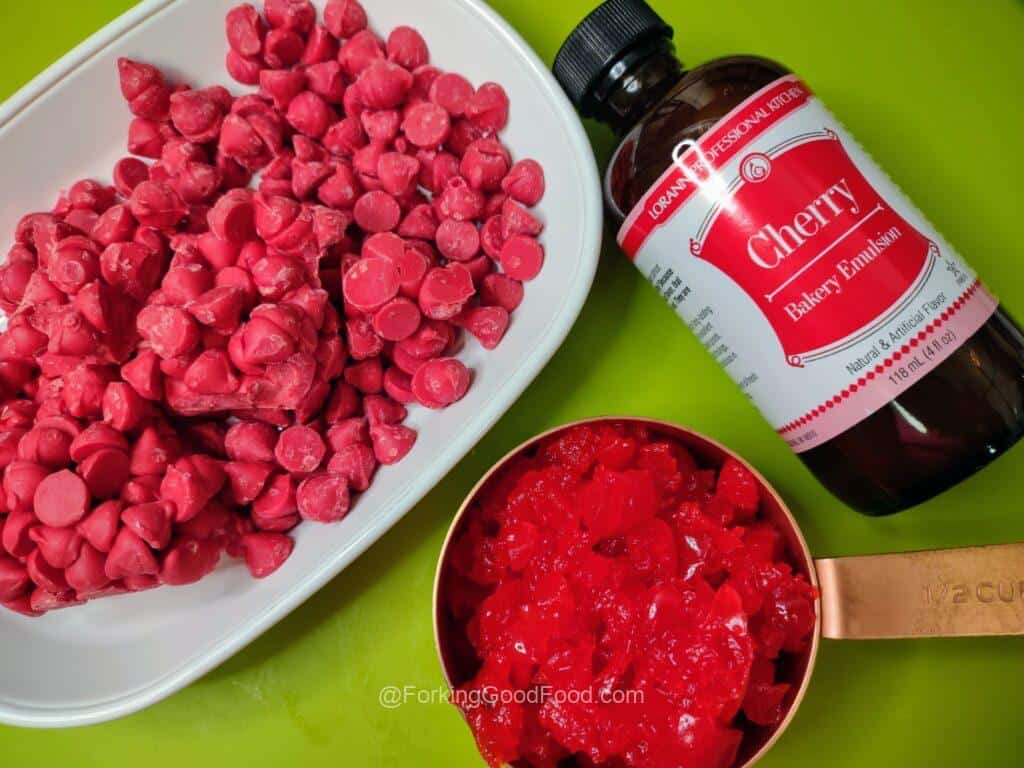 Pour the cherry nougat on top of the chocolate and peanut mixture in the baking dish.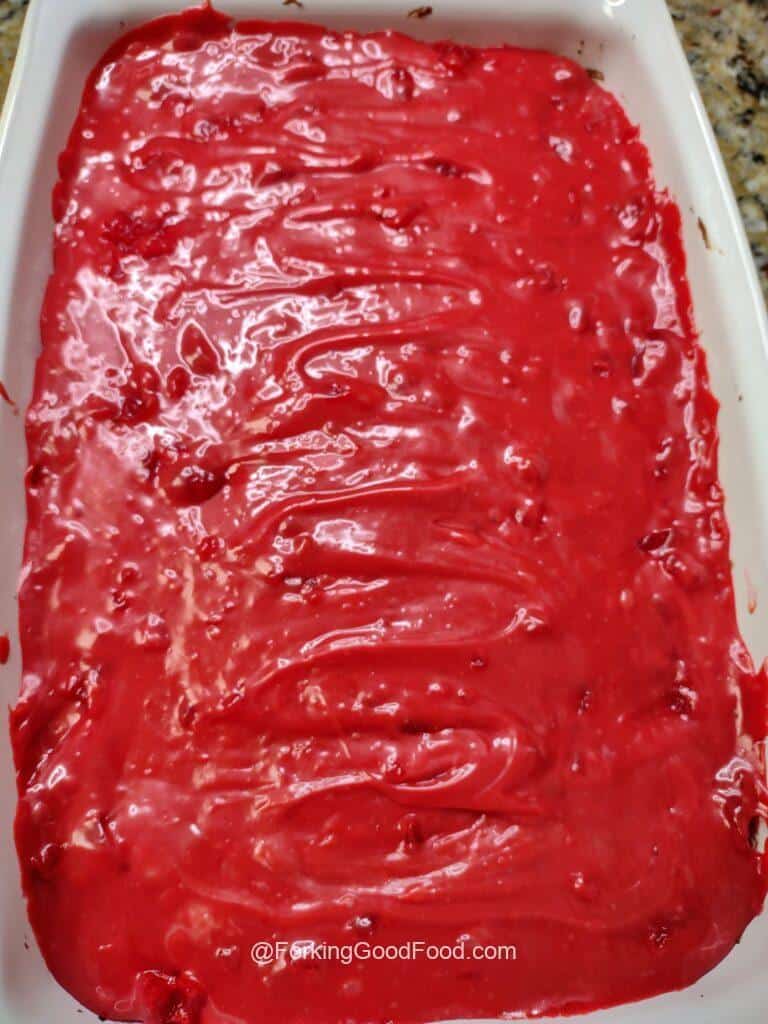 Let chill in the fridge for about 30 minutes, then spread the remaining chocolate mixture on top, reheating if necessary.  Put back ion the fridge to set for a few hours.  Let sit at room temperature for about 15 minutes before slicing.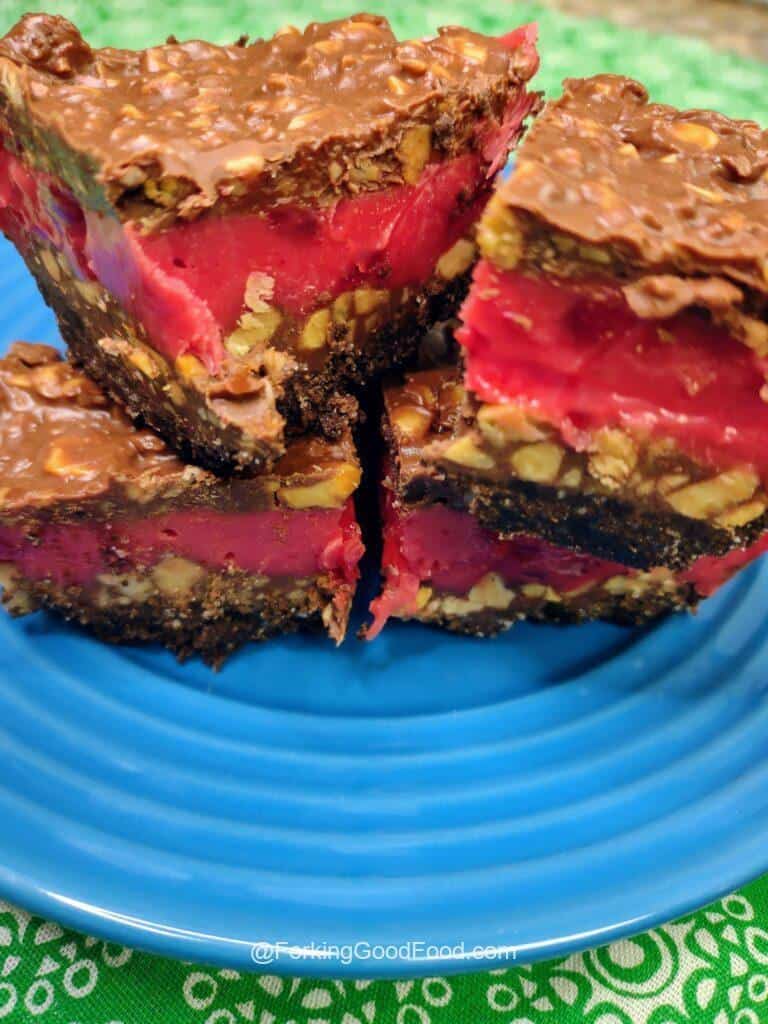 Recipe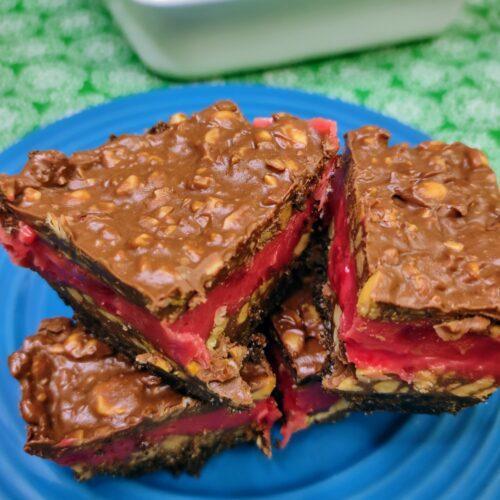 Cherry Bing Bars
These delicious bars are based on a candy found mainly in the Midwest. Also known as Twin Bings or Cherry Mash, these unexpected flavors combine for a sweet treat
Equipment
13x9" baking dish

large, heavy saucepan
Ingredients
For the Crust:
1 ¾

cup

chocolate graham crackers

finely crushed

¼

cup

sugar

½

cup

salted butter

melted
For the Filling:
6

oz

milk chocolate chips

6

oz

semi-sweet chocolate chips

¾

cup

chunky peanut butter

10

oz

Spanish peanuts

finely chopped

1

can sweetened condensed milk

12

large marshmallows

½

cup

salted butter

sliced

1

teaspoon

cherry emulsion

or extract

6

oz

cherry chips

½

cup

maraschino cherries

chopped
Instructions
For the Crust:
Preheat the oven to 350℉

In a large bowl, combine all the ingredients until well incorporated

Using the back of a measuring cup, press firmly into a 13X9" baking dish

Bake for 15 minutes and let cool while you make the filling
For the Filling:
In a large microwave safe bowl, melt together chocolate and peanut butter for about 90 seconds, stirring well at 30 second intervals

Stir in chopped peanuts and spread half of the mixture into the 9x13 inch pan, reserving the rest for later

In a very heavy saucepan over medium-high heat combine condensed milk, marshmallows and butter. Bring to a boil, stirring constantly (it will scorch very quickly), and boil for 5 minutes

Add cherry chips and stir until completely melted

Stir in cherries and emulsion

Pour over the chocolate in the pan and spread evenly

Chill in the refrigerator for about 30 minutes

Reheat the remaining chocolate for about 30 seconds, and stir well

Spread the remaining chocolate over the cherry mixture and chill until firm (several hours or over night)

Remove from the fridge about 15 minutes before serving and cut with a hot knife.
Notes
Do not substitute marshmallow creme for the marshmallows. The added egg whites and lack of cornstarch will give the bars a different texture.
I prefer using emulsion in this recipe rather than extract because it holds up to the high heat better. But you can use the same amount of cherry extract as you would the emulsion if that's all you have.
Nutrition
Calories:
321
kcal
Carbohydrates:
25
g
Protein:
6
g
Fat:
23
g
Saturated Fat:
10
g
Polyunsaturated Fat:
3
g
Monounsaturated Fat:
8
g
Trans Fat:
1
g
Cholesterol:
22
mg
Sodium:
157
mg
Potassium:
215
mg
Fiber:
3
g
Sugar:
16
g
Vitamin A:
235
IU
Vitamin C:
1
mg
Calcium:
43
mg
Iron:
1
mg