This intricate and delicately beautiful tart is surprisingly easy to make. The sweet apples and buttery caramel is guaranteed to make Caramel Apple Rose Tart a showstopper.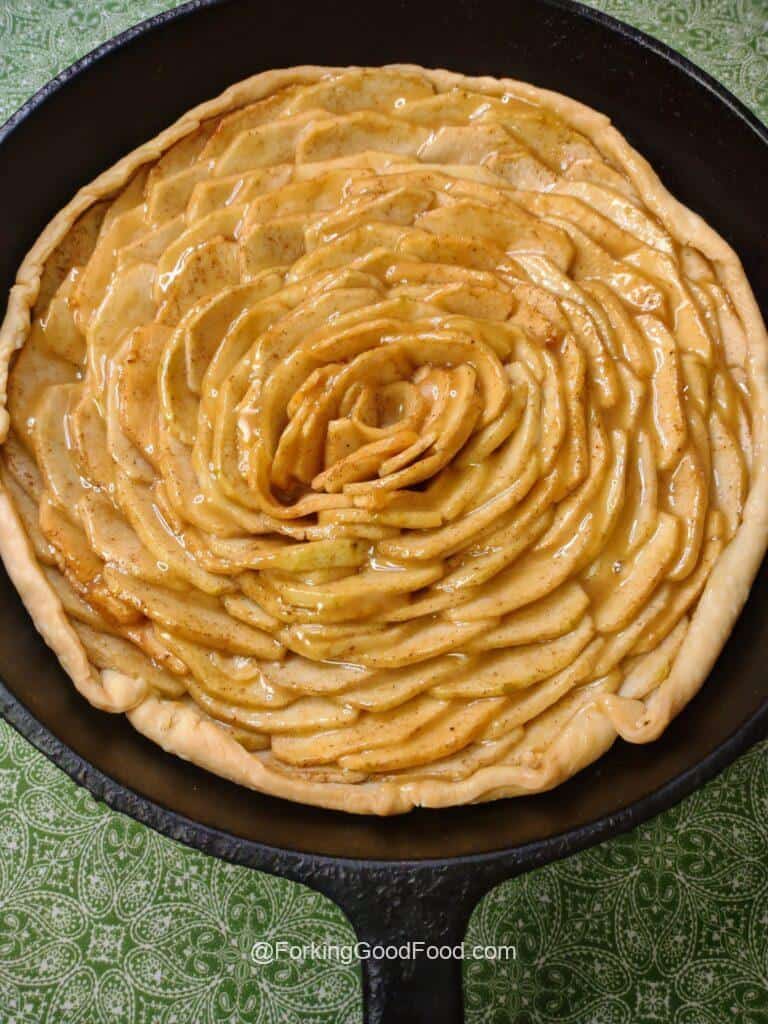 They say you eat with your eyes first.  If that's the case, then this is a feast indeed; the nose and tongue are going to be pretty happy too.  While this may look a little on the difficult side, it's really not – it just takes patience and a really sharp knife.  I am not a pumpkin spice kinda girl – just not.  I am, however, an APPLE SPICE kinda girl.  As my friend Kimmie would say #AppleObsessed.  The slightly sweet, slightly tart apples topped with warm gooey caramel is almost the perfect combination.  Simply add a scoop of pralines and cream ice cream and you have a winner.
What are the best apples for baking?
For this recipe I chose Granny Smith.  The bright green apple's tartness offsets the uber sweetness of the caramel.  Plus they are super firm and that makes for easier, neat, crisp slices.  For that true apple flavor, Honey Crisp are hands down the best.  Honestly, I like Honey Crisp so much that I prefer to eat them as they are – they're nearly perfect on their own and I find them wasted in a pie.  Having said that, they hold up well under baking and are always a good choice, if you can find them.  Gala's and Pink Ladies are also really good for baking and can be considerably cheaper than Honey Crisp.  I tend to stay away from both the Red and Golden Delicious in baking – they tend to break down too much for my taste.  If you want to make a cobbler or a crisp they would be really good, but for pies and tarts I like something a little sturdier.
What's the difference in a pie and a tart?
For the most part fruit pies have two crusts with the top crust often woven into a lattice or other decoration.  Tarts always have a single crust and may appear more rustic and less refined.  While both can be sweet or savory, pies tend to be a little thicker while tarts are usually quite thin.  There are other differences: crust v/s pastry, flaky v/s crumbly, and the types of dishes they are cooked in – a traditional sloped pie plate v/s a tart tin that comes in two pieces so the side ring can be removed for presentation.  This recipe falls somewhere in the middle.  I use a store-bought pie crust just for the sake of saving time.  Arranging the apples takes a while and requires patience, so I don't want to spend extra time on making crust. It's not baked in a pie plate or a tart tin so I'm not exactly sure where this one falls.  But as long as it falls on my plate I'll be happy.
How do you make a rose tart?
Let's find out, shall we?  First gather your ingredients.  For the pie you'll need a crust.  I'll leave it up to you whether you make your own or cheat a little (I won't tell anyone if you don't).  Then you'll need 4 large apples, all the sugars, some apple pie spice, and a little lemon juice.  For the caramel you just need brown sugar, butter, cream, a pinch of salt and some vanilla extract.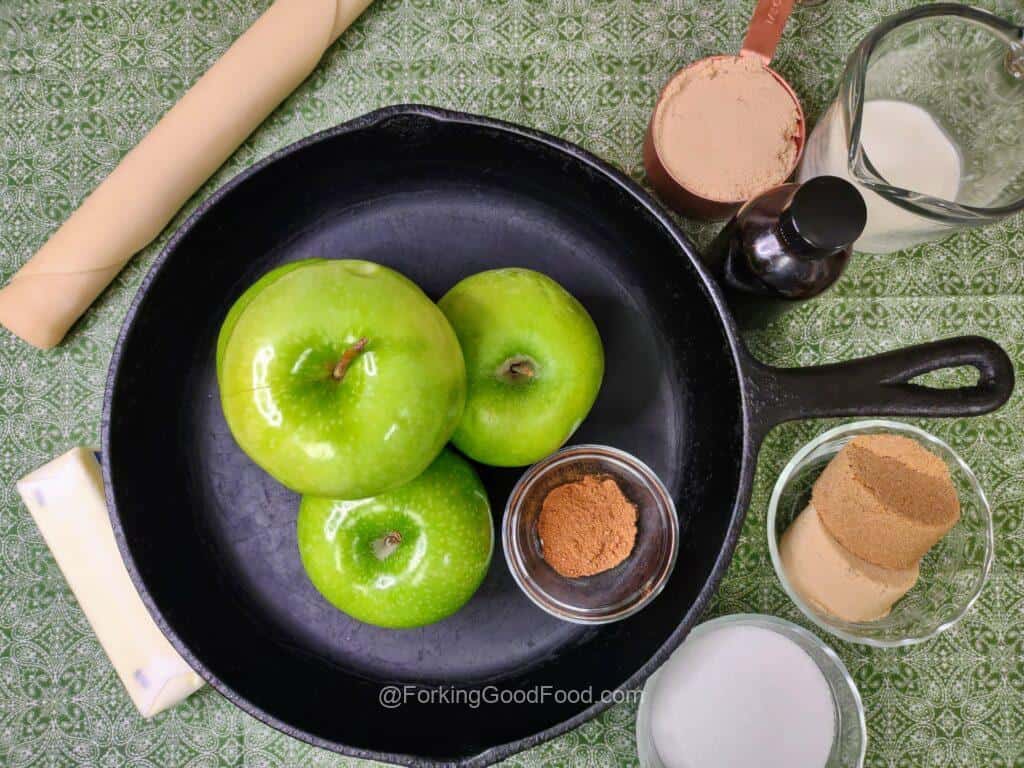 Start by peeling and coring your apples.  Cut them into quarters first and then make thin slices using a really sharp knife.  Don't try and hurry this part.  First, you might lose a fingertip and second, you want the slices as uniform as possible.  Could you use a mandoline to speed things up?  Yes.  But I think the slight variations by cutting by hand adds to the appeal – or is that a peel??  LOL – I crack myself up.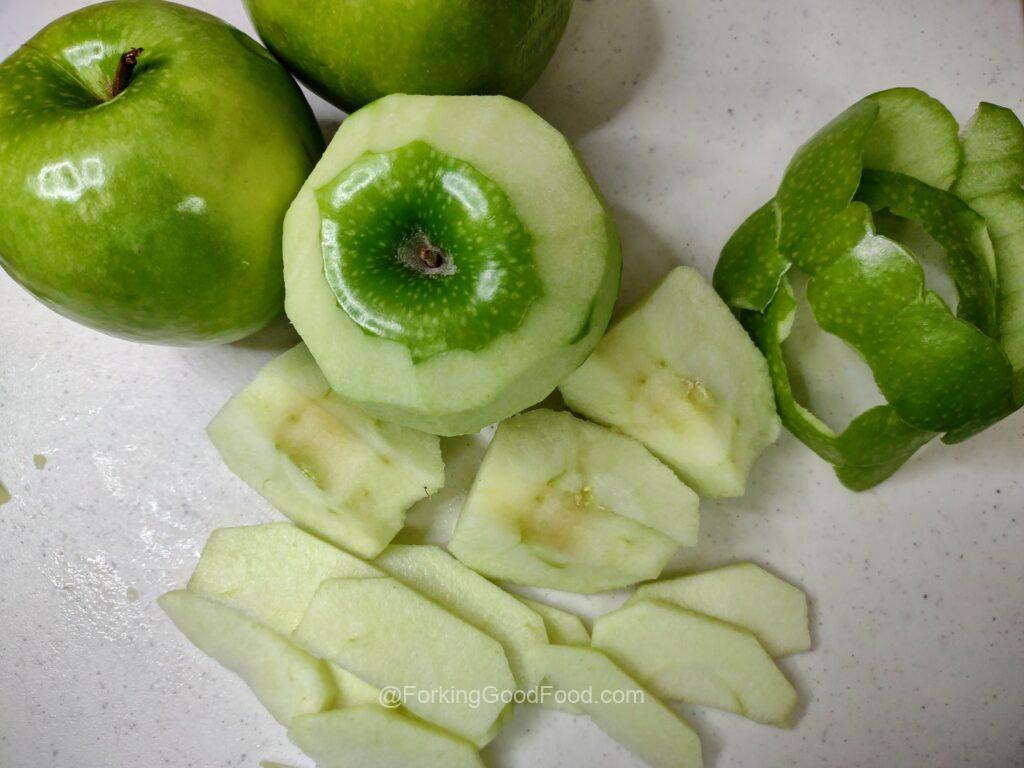 Put all the slices in a large bowl and toss them in some lemon juice to keep them from browning.  Mix all of your dry ingredients in a small bowl just to make sure they're evenly distributed, and then mix into the apples, ensuring every slice is coated.  Take a piece of plastic wrap and cover the apples, pressing all the way down so there is no space (or air) between the apples and the plastic.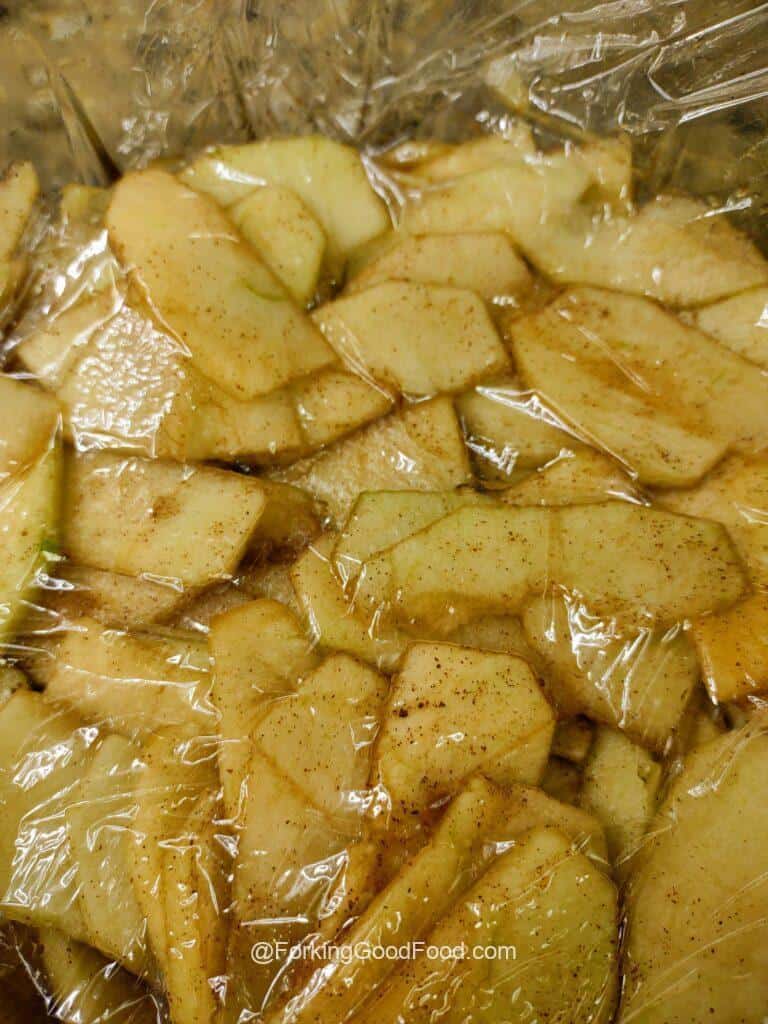 Put the apples in the fridge to chill out for about 30 minutes,  While the apples are chilling, preheat your oven and prepare your pie crust. Line the bottom of your skillet with the pie crust – it's ok if it doesn't go all the way up the sides.  Take a fork and make small pricks all over the crust.  Then put it in the fridge too.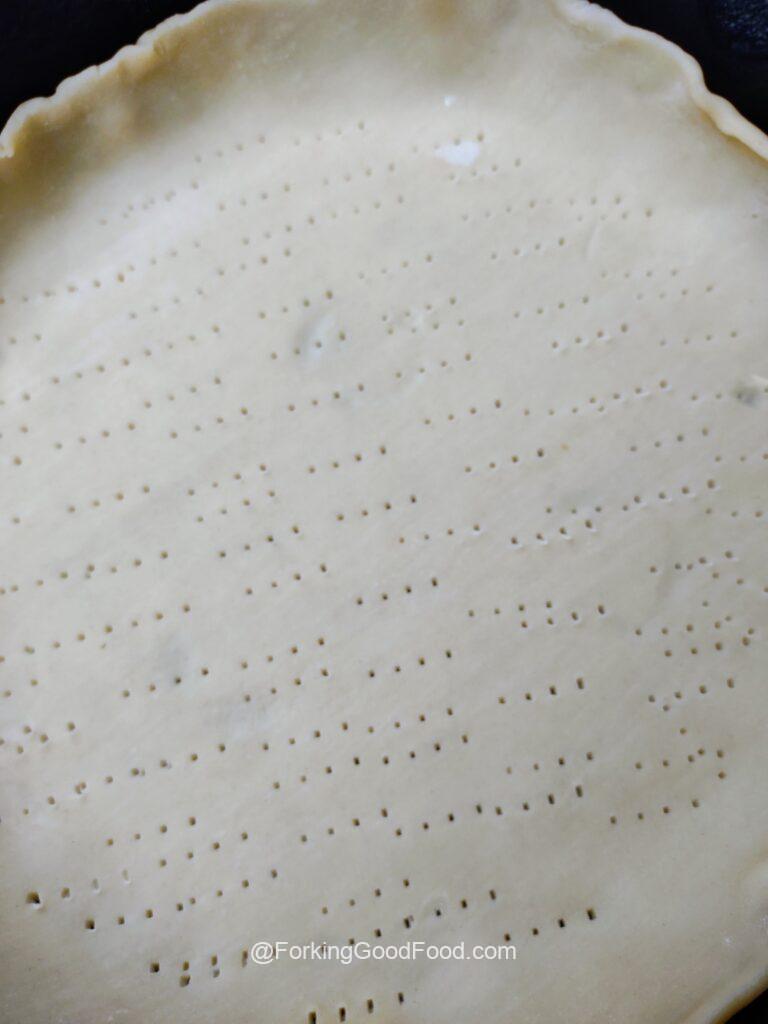 Once the apples and crust have chilled, it's time to start building our rose.  Drain any liquid that may have gathered in the apples.  Starting on the outer rim, line the skillet with the apples, each slice overlapping the previous slice by half.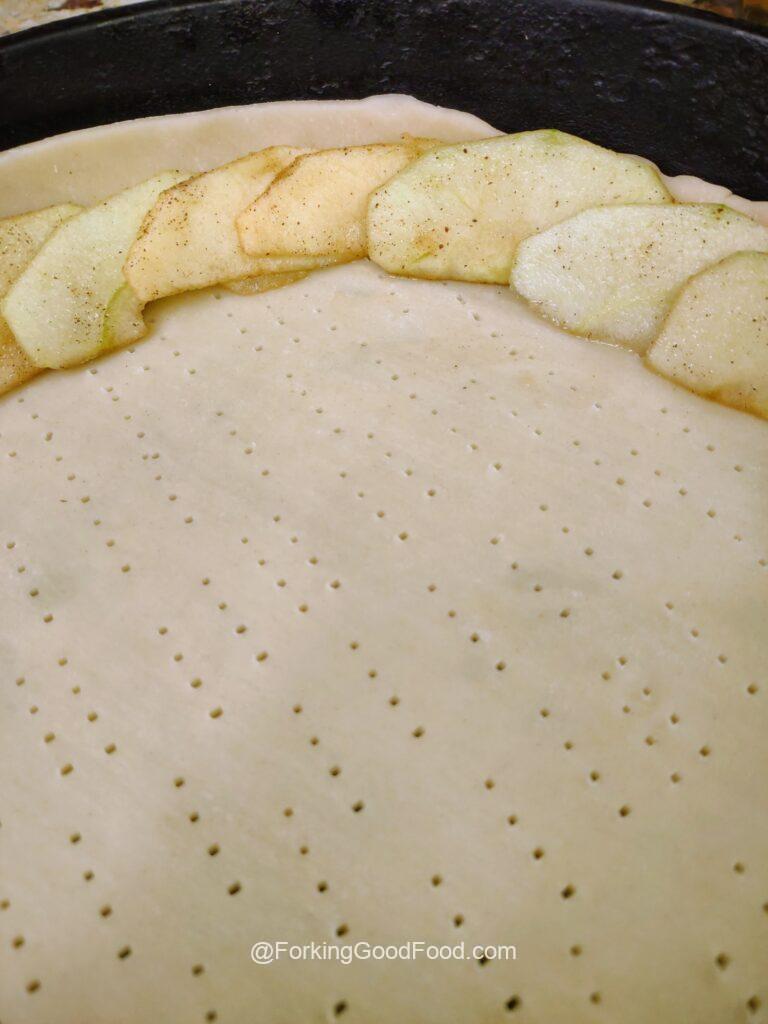 Continue in concentric circles until a rose-like appearance starts to take shape.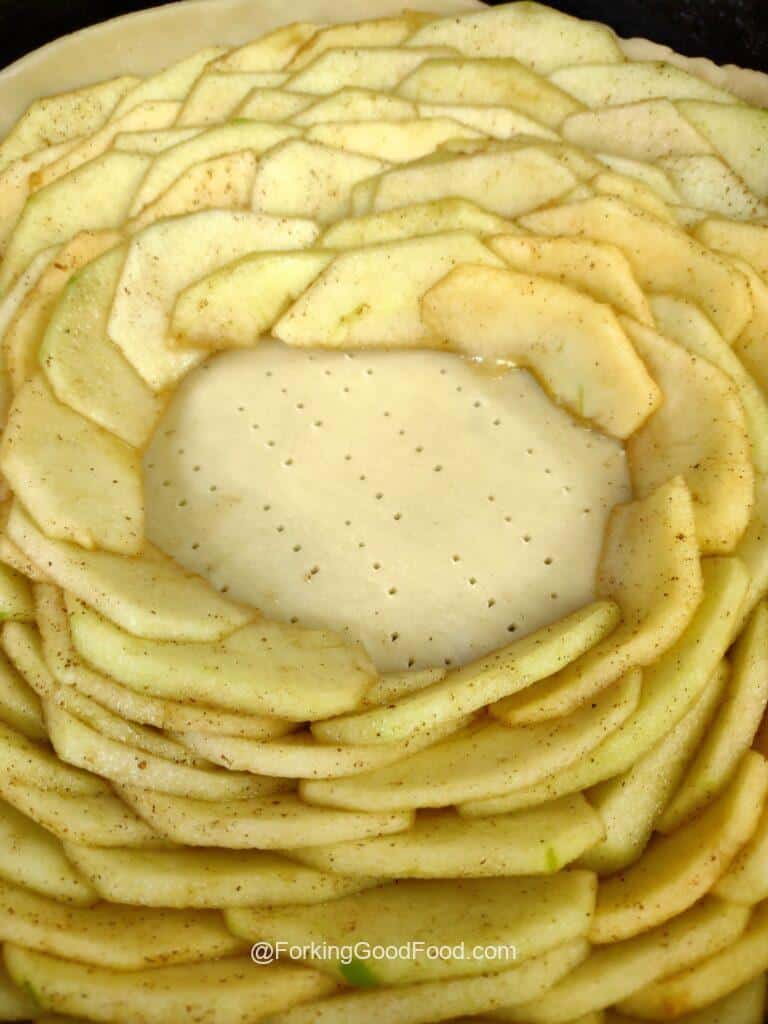 When you get to the center, roll up one thin slice to make the center bud.  If there are any gaps, simply slide in a slice here and there.
Gently fold over any crust to make a rustic edge.  Place the skillet in the hot oven and bake for about 20-25 minutes.  To keep the crust from browning and the apples from drying out, cover the tart with foil and continue baking for another 35-40 minutes.  During the last few minutes of baking, make your caramel.  Place all of the ingredients except the vanilla in a heavy sauce pan.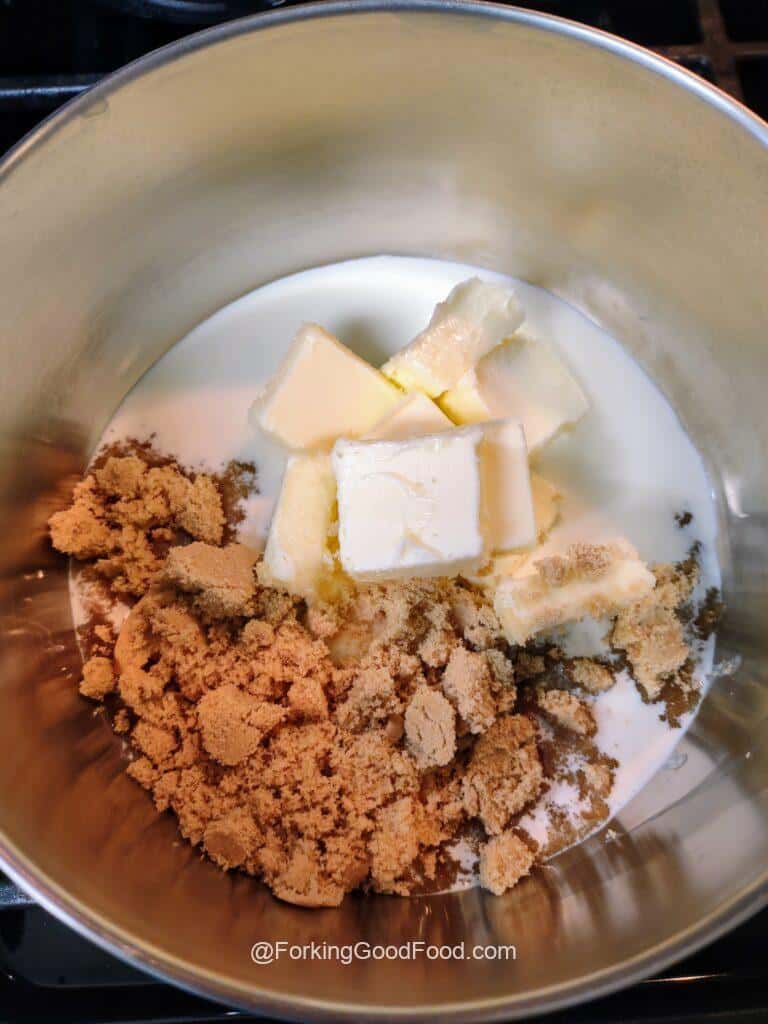 Bring to a low boil and cook for about 3 minutes or until thickened.  The caramel should be slow to fill in the gap when a spoon is pulled along the bottom of the pan.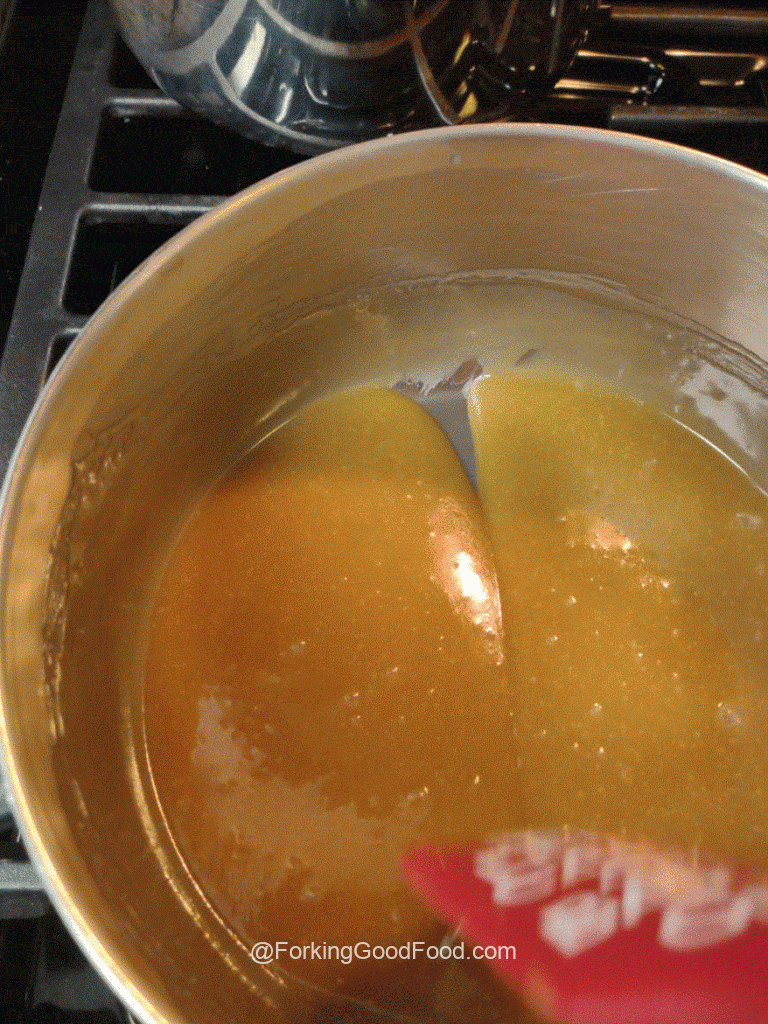 Remove from the heat and stir in the vanilla. Let the caramel cool slightly.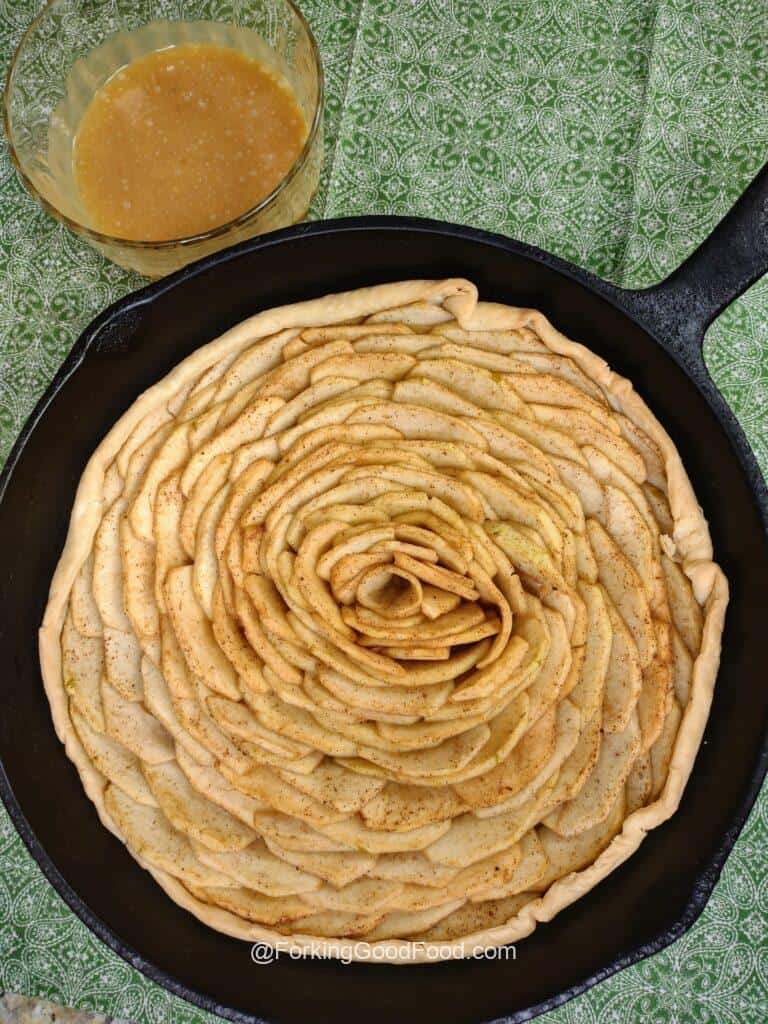 With a basting brush, generously "paint" the caramel along the apple slices so it drips down in-between the slices.  If you don't have a basting brush, slowly pour the caramel in a thin stream over the apples.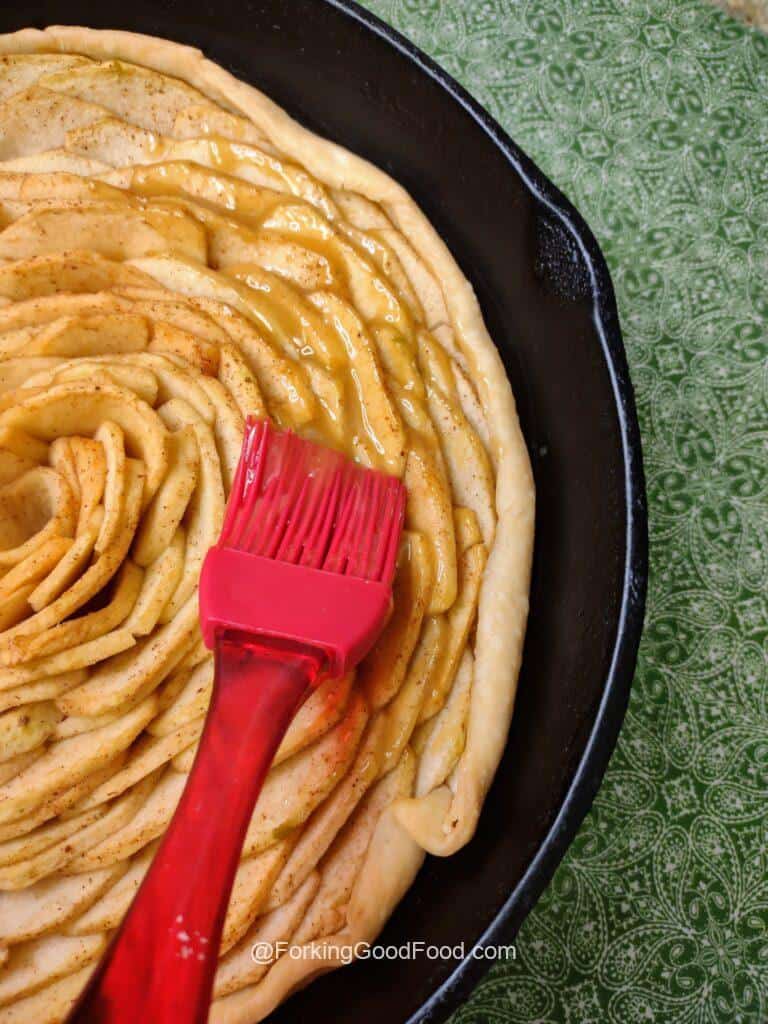 Let cool until just warm before slicing.  Serve with your favorite ice cream for an extra special treat.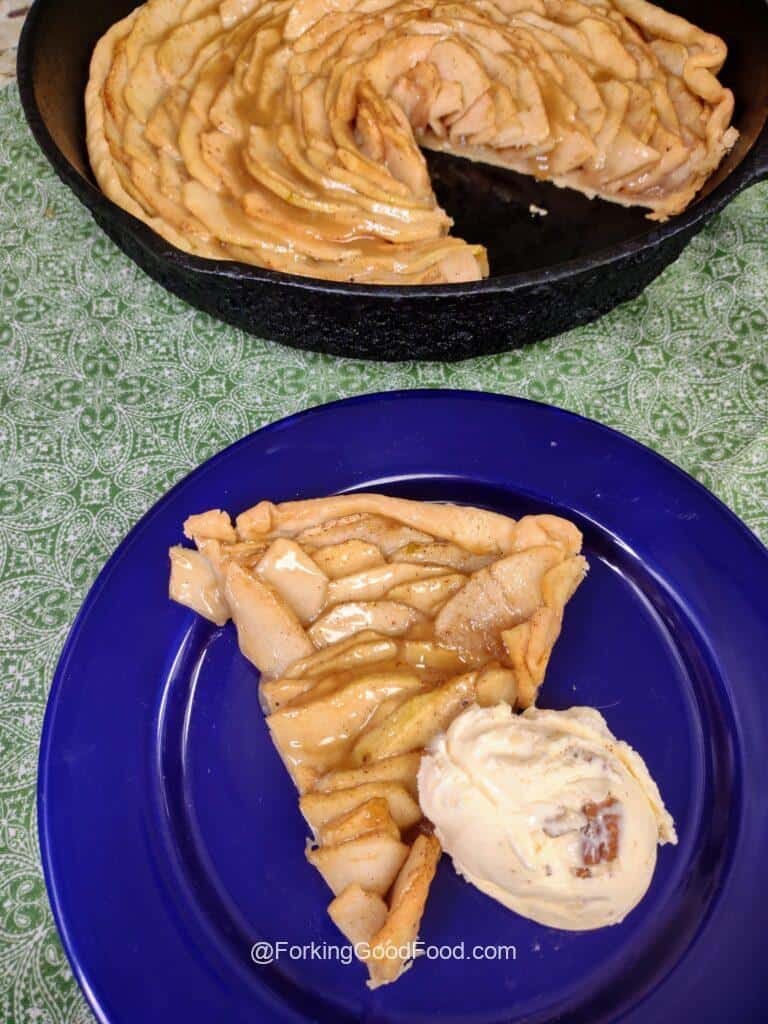 Recipe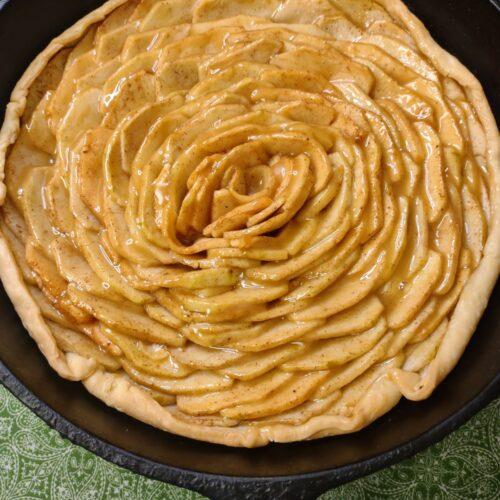 Caramel Apple Rose Tart
This intricate and delicately beautiful tart is surprisingly easy to make. The sweet apples and buttery caramel is guaranteed to make this a showstopper.
Ingredients
For the pie:
1

pie crust

4

apples

½

cup

sugar

¼

cup

light brown sugar

¼

cup

dark brown sugar

½

teaspoon

apple pie spice

or ¼ teaspoon cinnamon and ⅛ teaspoon each nutmeg and allspice

1

Tbs

cornstarch

1

Tbs

lemon juice
For the caramel:
1

cup

light brown sugar

⅓

cup

butter

¼

cup

cream or whole milk

Pinch

salt

1

teaspoon

vanilla
Instructions
Make the pie:
Peel and core the apples then cut them in quarters. Slice the apples into very thin slices

Put the slices in a large bowl and toss with the lemon juice to keep them from browning

Mix all the dry ingredients in a small bowl until very well combined then toss with the apples until each slice is well coated

Place a piece of plastic wrap over the apples, pressing down until there is no space between the apples and the plastic wrap. Set aside for about 30 minutes

Preheat oven to 375℉

Line a 9 or 10" cast iron skillet with your pie crust, pressing lightly into the edges so there are no gaps. Take a fork and gently prick the pie crust all around and then chill for the reminder of the time the apples are resting.

Working from the outside edge, make a single row of apples all along the circumference, overlapping the previous slice by half its length. Continue in concentric circles, overlapping each slice, until you reach the middle. Take one apple slice and roll it up and place in the very center completing your rose

Bake uncovered for 20 minutes, then cover with foil and bake another 20-25 minutes
Make the caramel:
During the last few minutes the tart is baking, in a saucepan over medium heat add the brown sugar, butter, salt, and cream/milk

Stirring constantly, bring to just a boil, lower the heat and ck for about 3 more minutes or until the caramel has thickened. It should slowly fill in the gap when you drag a spoon/mixing spatula across the bottom of the pan

Baste the apples with the warm caramel so it sinks in between all the layers

Cool until just barely warm before cutting
Nutrition
Calories:
388
kcal
Carbohydrates:
78
g
Protein:
2
g
Fat:
9
g
Saturated Fat:
4
g
Polyunsaturated Fat:
1
g
Monounsaturated Fat:
3
g
Cholesterol:
11
mg
Sodium:
113
mg
Potassium:
196
mg
Fiber:
3
g
Sugar:
63
g
Vitamin A:
176
IU
Vitamin C:
5
mg
Calcium:
61
mg
Iron:
1
mg