This granola has just the right amount of sweet and salty. Add in dried fruits, nuts or anything else to tailor it to your liking. Easy to make and perfect for yogurt and more!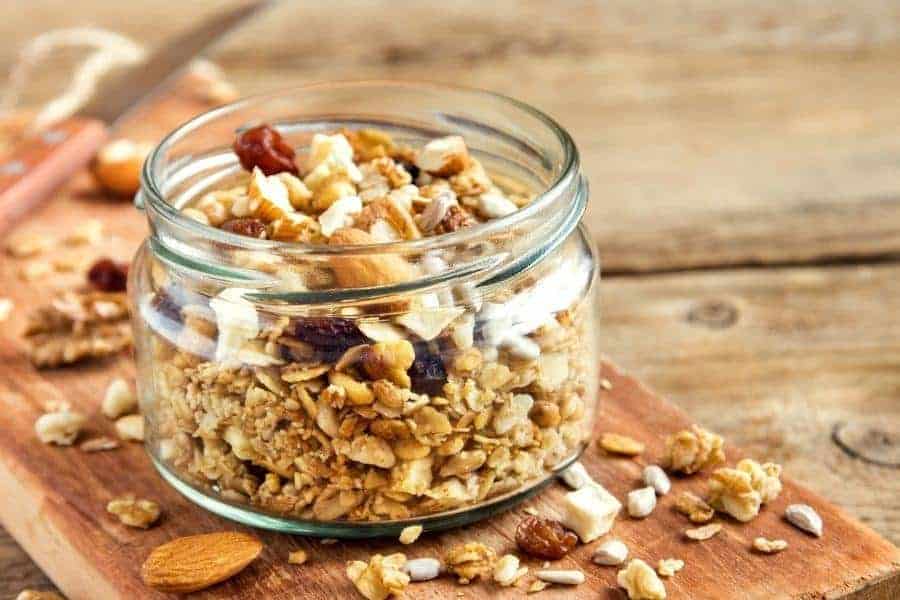 Looking for a good nutty granola recipe? Nutty granola is a yummy type of homemade cereal that can be used for breakfast or as an after-dinner dessert.
My neighbor made good granola. I'm not talking OK, I am talking amazing! She gave me her recipe and I have been tweaking it every since. Since then I have come up with this great nutty granola recipe that just about everyone loves.
As a family, we love crunch granola, I love to put it on my light and fit yogurt just about everyday. The great part about this recipe is you can use what you have on hand. Got pistachios and not almonds – use those. Got dried cranberries and no coconut. That is fine too. As long as you have the liquid ingredients you can use just about any DRIED fruit or nut. I wouldn't attempt to store this with fresh fruit.
How to Make Nutty Granola
Granola is actually pretty easy. Simply mix the ingredients and bake for about 20-30 minutes. You can even do this in an air fryer or a dehydrator. Although we don't suggest making granola bars in an air fryer or dehydrator, an oven really is best for those.
How to Make Nutty Granola in an Air Fryer
For an air fryer – put it on 300 and cook for about 20 minutes stirring every 5-10. Keep watching it as it can burn.
How to Make Nutty Granola in a Dehydrator
For a dehydrator – line the trays with parchment and spread out your granola. If you only have one setting this can take hours to cook. If you have high/med/low – put it on medium and it should take about 2 hours. Remove when crispy!
Recipe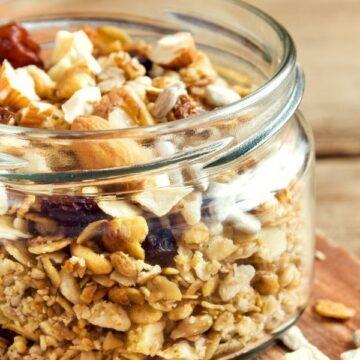 Tropical & Nutty Granola
This granola has just the right amount of sweet and salty. Easy to make and perfect for yogurt or just eating straight!
Ingredients
3

cup

rolled oats

½

cup

nuts

pistachios, almonds, etc

1

cup

coconut chips

unsweetened

⅓

cup

pumpkin seeds

1

tablespoon

sea salt

optional

½

cup

light brown sugar

¼

peach Jam

⅓

cup

maple syrup

or honey

⅓

cup

extra virgin olive oil
Instructions
Preheat oven to 325F. In a large saucepan over medium heat, mix oil, syrup/honey, and peach jam together until well combined.

In a separate bowl, combine oats, coconut, and almonds. Pour liquid mixture into oat mixture and stir well.

Coat a 15x10x1 inch baking sheet with cooking spray. Pour oat mixture onto pan. If you want loose granola don't press down, if you want blocks press down.

Bake granola for approximately 25 minutes, stirring once about half way through.

Remove the granola from oven and allow to cool. If you want loose granola - stir it. If not, leave it alone for 20 minutes to allow it to set. Then break it into pieces.
Nutrition
Calories:
562
kcal
Carbohydrates:
64
g
Protein:
9
g
Fat:
32
g
Saturated Fat:
11
g
Polyunsaturated Fat:
4
g
Monounsaturated Fat:
14
g
Trans Fat:
1
g
Sodium:
1179
mg
Potassium:
389
mg
Fiber:
8
g
Sugar:
30
g
Vitamin A:
2
IU
Vitamin C:
1
mg
Calcium:
70
mg
Iron:
3
mg