Courtbouillon is a traditional Creole, roux-based, poached fish stew served over rice. It's thick and hearty and can be made with several types of fish.

Courtbouillon
Courtbuillon, pronounced COO-bee-yahn if you're wondering, is new to me. I love Sea Bass and was really tired of just baking it when I saw a post from a dear sweet friend of mine.  She loves everything about New Orleans, especially the food, so I took her recipe (that uses Redfish) and adapted it to my love of Sea Bass.  I threw in a few large shrimp and as Emeril would say - BAM! Boy was it good. Sea Bass is meaty and flaky, yet sort of creamy; it really melts in your mouth.  When poached, it's super tender and takes on so much flavor of the broth. So is traditional Southern Courtbouillon Creole or Cajun? Take a look at The Best Shrimp Creole  recipe for a description of the difference.
What does Court bouillon mean?
Court bouillon or courtbouillon is a quickly-cooked broth used for poaching other foods, most commonly fish or seafood. Court bouillon loosely translates as 'briefly boiled liquid' or "short broth" because the cooking time is brief in comparison with other more complex stocks. In traditional French cuisine the court bouillon is simply the poaching liquid and is not served as part of the served dish; but here in the South - we don't let anything that good go to waste.
Courtbouillon vs Gumbo
Courtbouillon is Creole (tomato-based) whereas Gumbo is Cajun.  Both are roux-based (flour cooked in fat) and incorporate the "holy trinity" of onions, celery, and bell peppers.  Courtbouillon is traditionally made from fish or seafood where Gumbo can be any combination of meat, fish, seafood, chicken, and/or sausage.
How to make Courtbouillon
There are a lot of ingredients in Courtbouillon, but it packs a flavor punch!  To make this Courtbouillon you will need flour and oil to make your roux, 2 lbs of Sea bass (or other firm, white fish) and some large shrimp.  You'll need an onion, some celery, a bell pepper, a couple of carrots, a lot of garlic, canned tomatoes, and some spices.  I use  Tony Chachere's Original Creole Seasoning; you really can't beat it.  If you like it a little spicier, add in a bit of extra cayenne.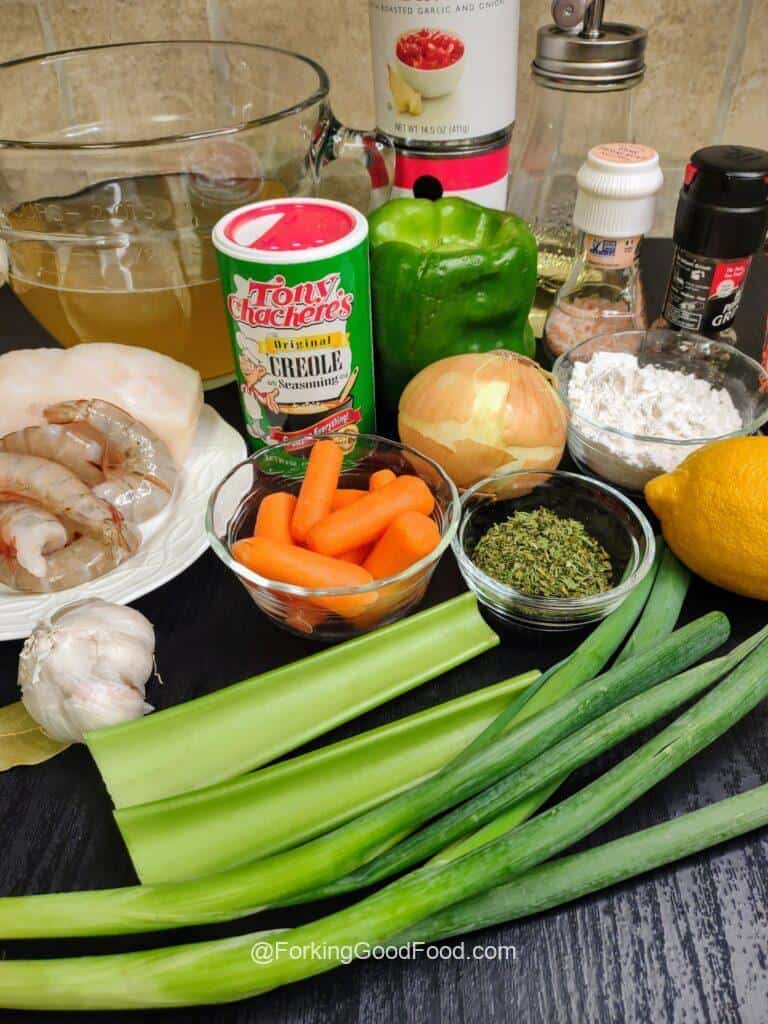 Once you have all your ingredients, make your roux by cooking the flour and the oil in a heavy pan over high heat.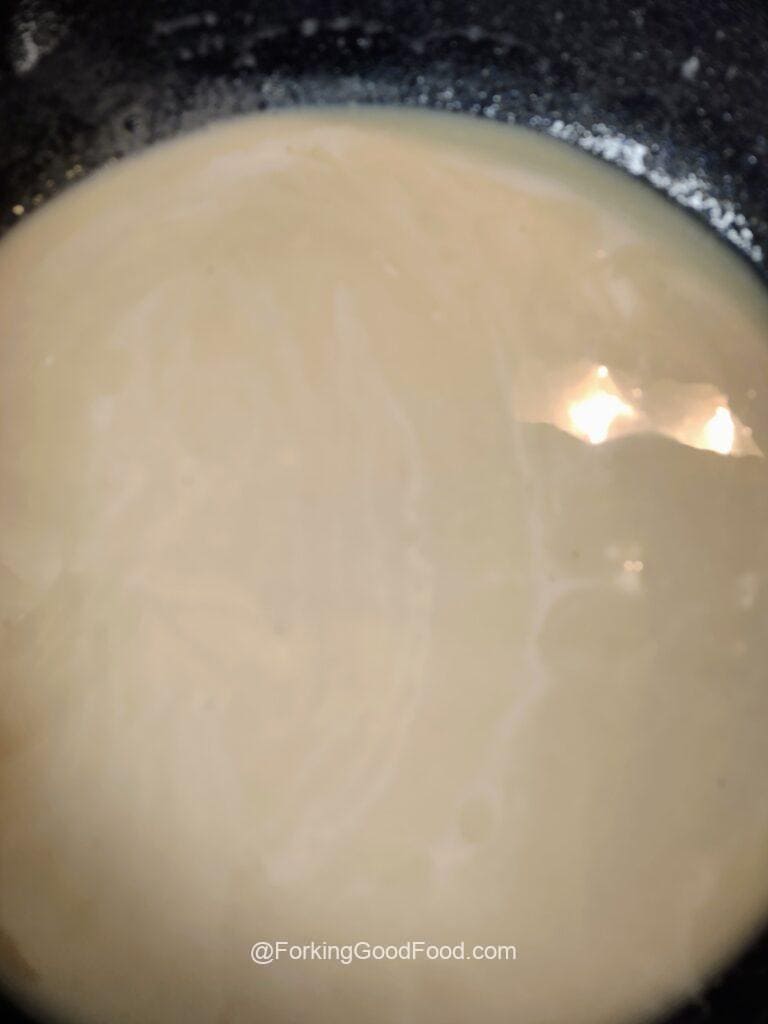 Stir constantly until it turns into a nice light brown/tan color.  You don't want it to get too dark because it will continue to cook in the next step.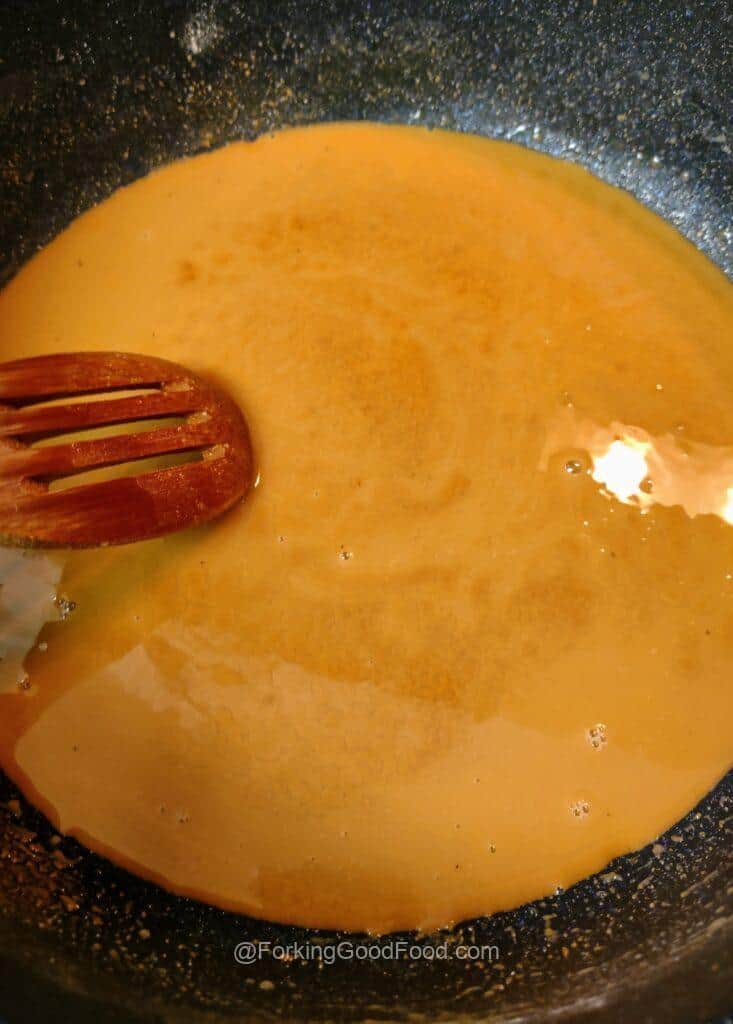 Add in your vegetables and garlic and cook until soft - about 8 minutes.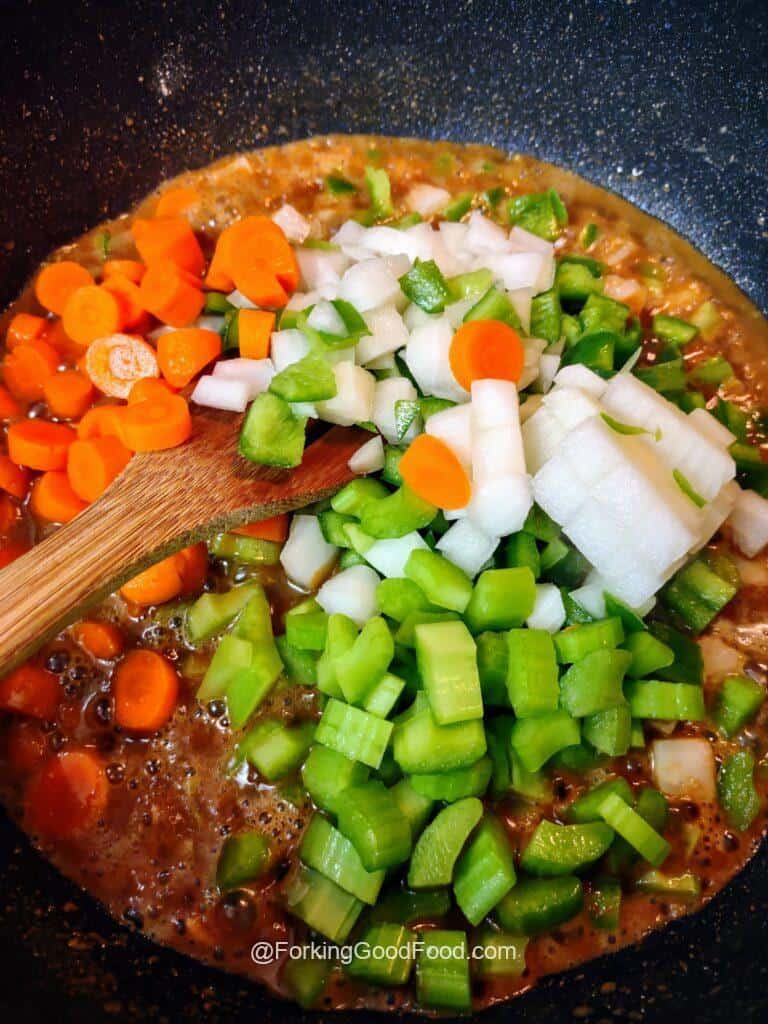 Once soft (but not mushy) add in your tomatoes and cook for just a few minutes.
Next, add in your warm stock.  If the stock is cold, it could separate your roux.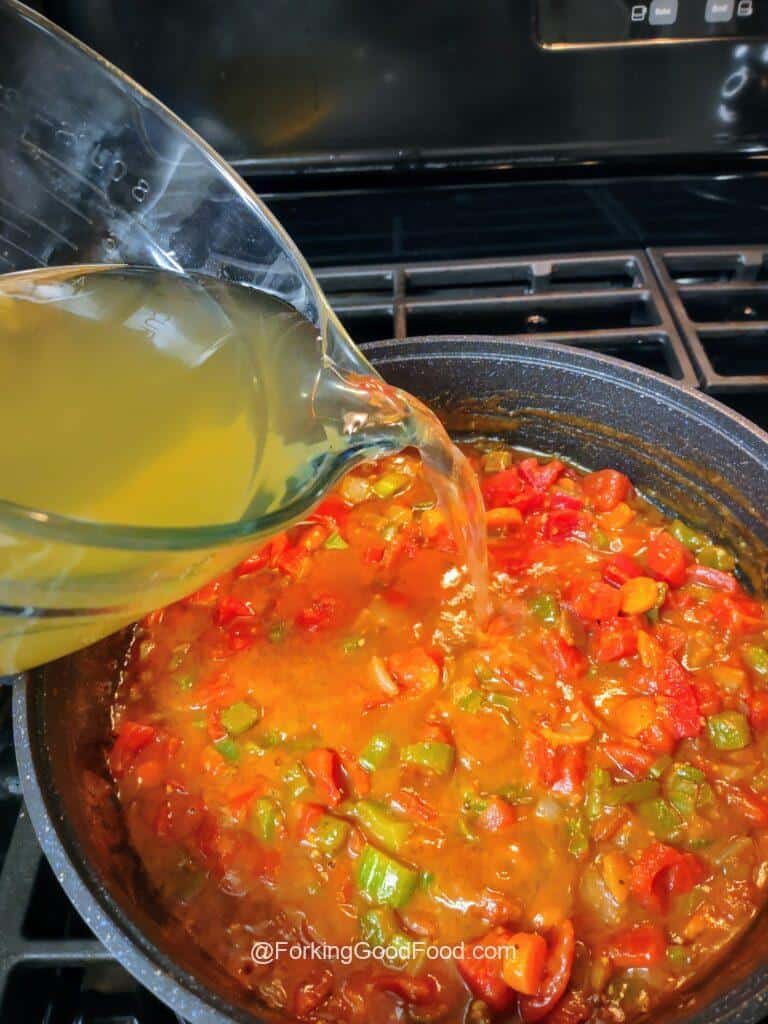 Add in the Worcestershire sauce, Tony Chachere's, and the bay leaf. If you're using dried parsley, add it here; if you're using fresh - wait until the next step. Bring to a boil, then reduce the heat to low and simmer for about 30-45 minutes.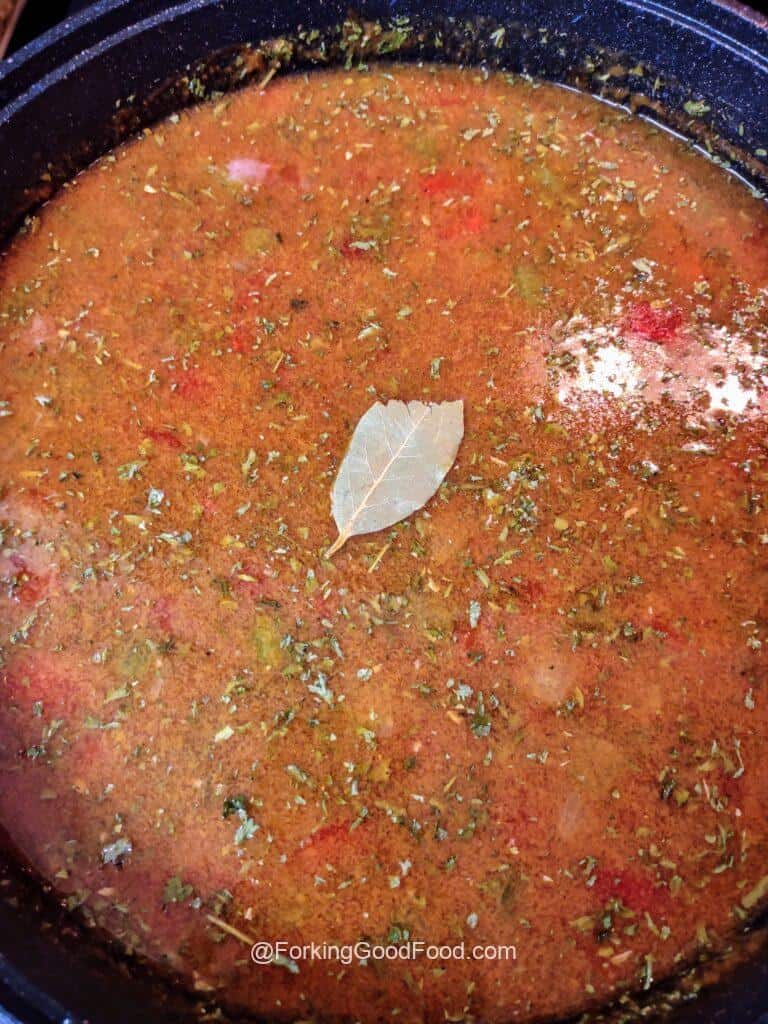 Next, pour in the lemon juice followed by the parsley, stir to combine, then very gently place your fish and shrimp in the pot.  Do not bring the liquid back to a boil, and do not stir after you've added the fish.  Cover your pot and over very low heat, simmer for 10-15 minutes, depending on the thickness of the fish.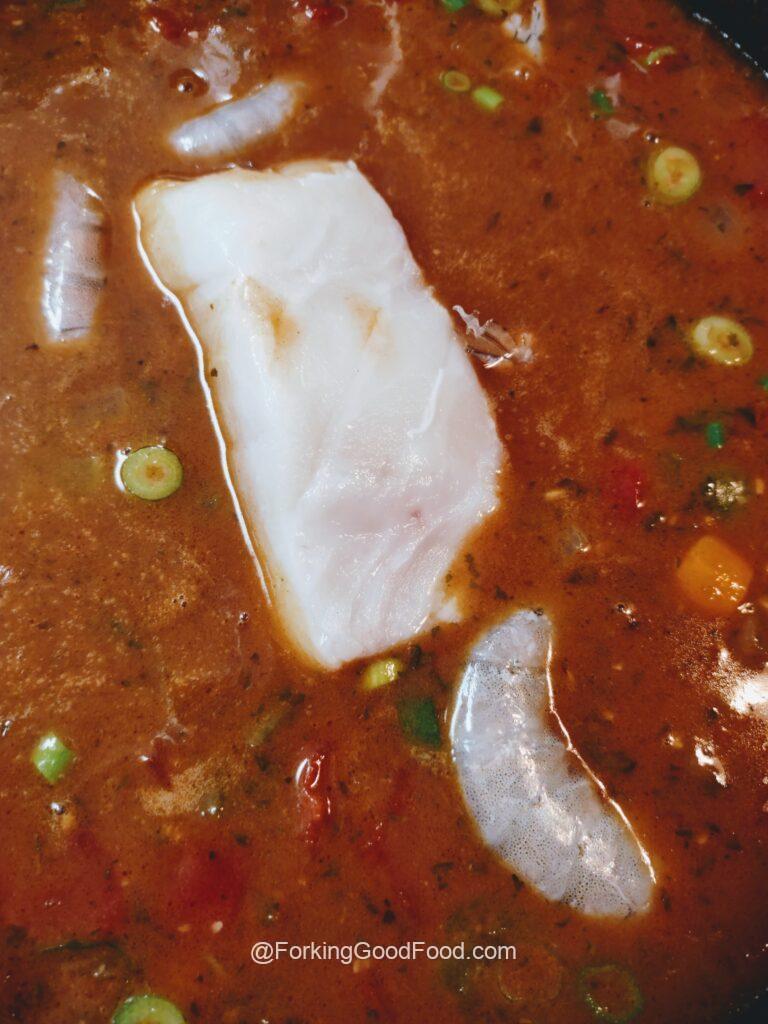 When done, serve over rice.  The fish should be very flaky so be careful when transferring from the pot to the plate.  Garnish with the remaining green onion and a squeeze of lemon juice.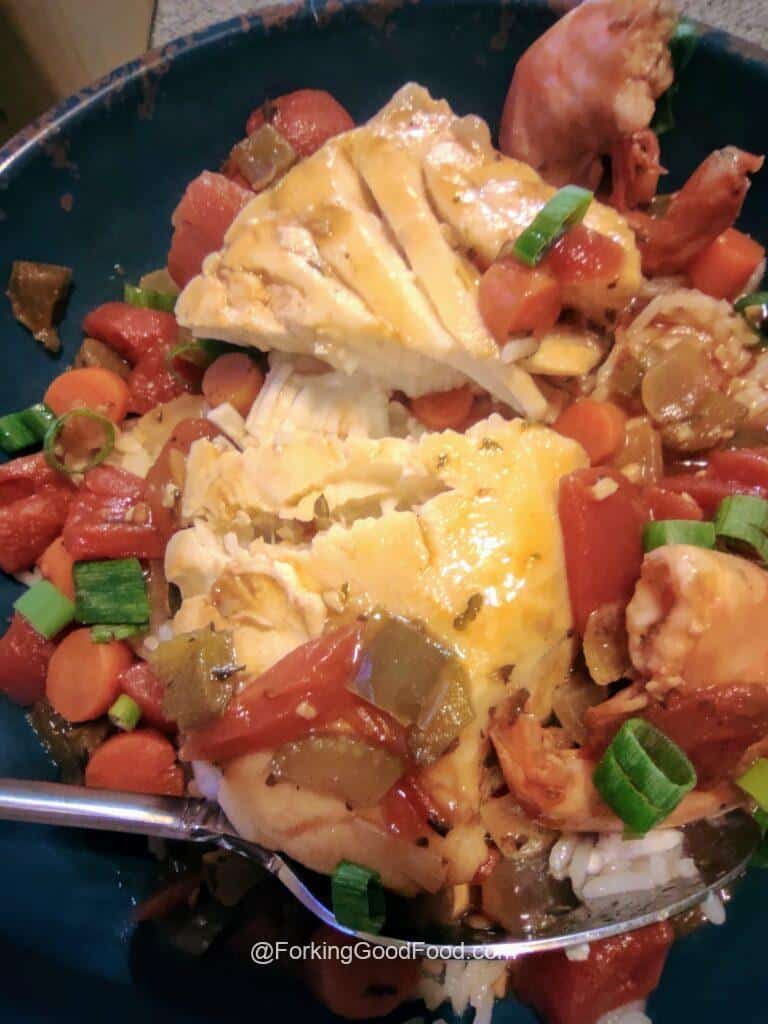 Recipe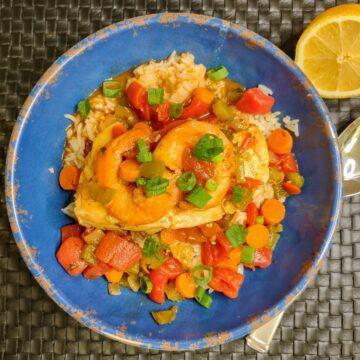 Courtbouillon
Courtbouillon is a traditional Creole, roux-based, poached fish stew served over rice. It's thick and hearty and can be made with several types of fish.
Equipment
Dutch Oven or deep cast iron pot
Ingredients
½

cup

vegetable oil

½

cup

flour

1

large onion

chopped

1

green bell pepper

chopped

2

ribs celery

chopped

1

large carrot

chopped

¼

cup

minced garlic

1

28 oz can diced tomatoes, undrained

1

quart

warm stock

Fish, Chicken, or Vegetable

¼

cup

Worcestershire sauce

1

teaspoon

Tony Chachere's Seasoning

or blend ¼ teaspoon each: salt, black pepper, cayenne pepper, and dried thyme

1

bay leaf

¾

cup

chopped green onions

divided

¼

cup

dried parsley

or ½ cup fresh, chopped

juice of ½ small lemon

save the other half for garnish

2

pounds

Sea Bass or other firm white fish

12

large shrimp

3

cups

cooked white rice
Instructions
In a large pot, Dutch Oven, or deep cast iron skillet make a brown roux by cooking the oil and flour on medium high heat, stirring constantly. About 5 minutes. You don't want the roux too dark because it will continue to cook in the next step.

When the roux is the color you'd like, add the chopped onions, celery, bell pepper, carrots, and garlic. Cook until the vegetables are tender, about 8 minutes. Add the tomatoes plus juice and cook in the vegetable mixture for a few minutes.

Next, add 1 qt of warm stock and Worcestershire sauce. Season with the Tony Chachere's and bay leaf. Bring to a boil, then lower to a simmer. Simmer for about 30 minutes, adding more liquid if needed.

Add in ½ cup of the green onions, the parsley, and lemon juice. Taste the sauce for seasoning and adjust if needed. Gently add the fish and/or shrimp and do not boil or stir. Simmer fish covered for about 10-15 minutes, depending on thickness.

Serve the Courtbouillon over rice and garnish with reserved green onion and a squeeze of lemon.
Nutrition
Calories:
568
kcal
Carbohydrates:
77
g
Protein:
50
g
Fat:
7
g
Saturated Fat:
1
g
Polyunsaturated Fat:
2
g
Monounsaturated Fat:
2
g
Cholesterol:
181
mg
Sodium:
1561
mg
Potassium:
1643
mg
Fiber:
7
g
Sugar:
16
g
Vitamin A:
4281
IU
Vitamin C:
56
mg
Calcium:
197
mg
Iron:
7
mg