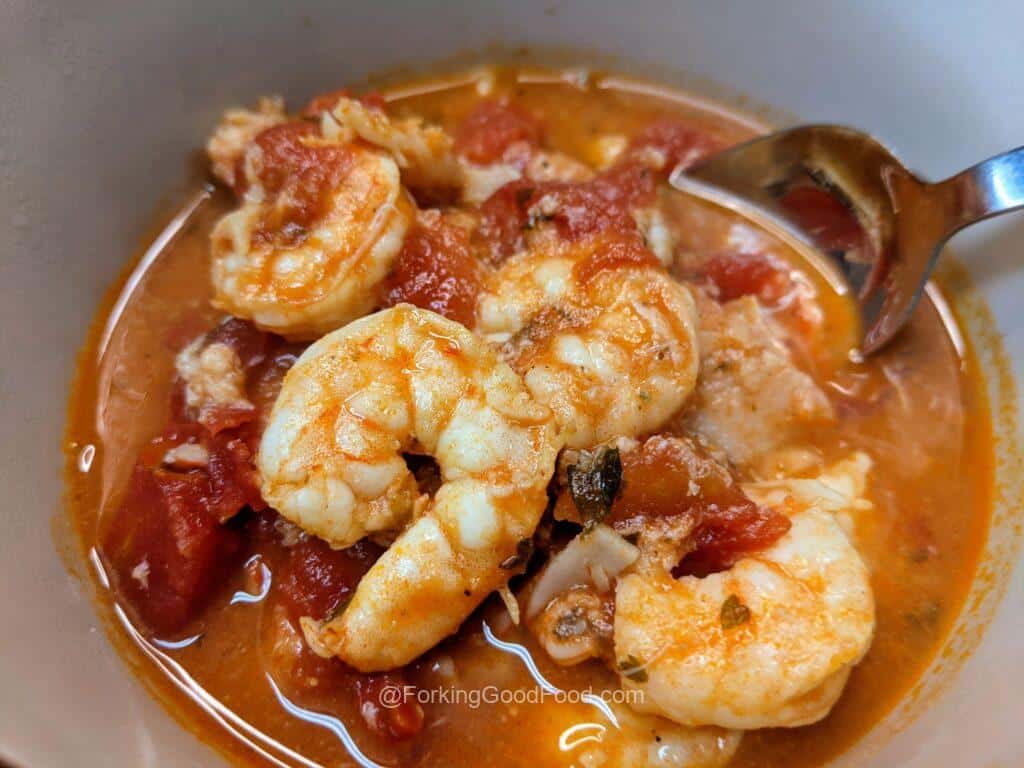 Brudet - Croation Seafood Stew
What is Brudet?
Brudet is a seafood stew that had its origins on Brac island by fishermen back in the 16th century who cooked up their daily catch at sea and later when they came home for lunch. It is popular as an easy meal made with all the leftovers from fish, seafood and vegetables. Brudet is traditionally eaten on fridays , but there are plenty of days left to try it now!
It's also considered a party food because it makes so much food you can feed plenty of people out of one pot!
What exactly IS Brudet?
Brudet is basically any combination of fish, seafood and vegetables cooked in tomato based stew. Brudet is traditionally served with pasta, but can also be eaten on its own as a soup or a dip for crusty bread . Brudet varies from place to place so there are very few 'strict' ingredients such Brac island brudet has onions while Dubrovnik brudet doesn't.
Brudet is often served over pasta even outside of Croatia because it makes enough food to feed an army! Brudet is also a good way to use every piece of fish and seafood you can get your hands on, so it's the perfect dish for all those leftovers that usually go to waste. Brudet became really popular among fishermen, farmers and land owners - people who were accustomed to using every single bit of available food they had. To this day Brudet is considered a "working man's" meal because of its' origin by sailors and farmers/landowners when leftover bits and pieces of fish would be cooked in tomato based stew.
Find more easy seafood recipes: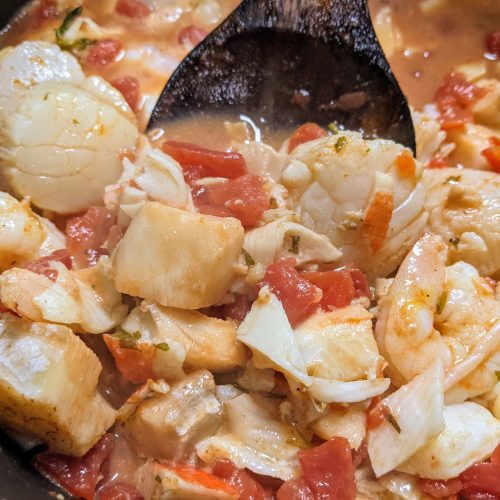 Croatian Seafood Stew AKA Brudet
Croatian Seafood Stew is an easy recipe with tons of flavor.
Ingredients
2

pounds

mixed fish and seafood

White firm fish, baby scallops, clams, shrimps, mussels, calamari

3

tablespoons

olive oil

1

can

28 ounces diced tomatoes

3-4

garlic cloves

minced

1

teaspoon

fresh thyme

½

cup

dry white wine - or seafood broth

1

tablespoon

fresh parsley

more to sprinkle on the end

black pepper

sea salt

Pinch

saffron threads

15-20 treads
Instructions
Clean and wash the fish and seafood. white fish should be cut into a one-inch piece.

Heat olive oil, add garlic, basil, parsley and saffron. Cook for 30 seconds.

When you can smell the garlic, add wine and let cook for 2-3 minutes.

Add diced tomatoes, salt and pepper. Let cook for 10 min.

In the tomato stew add the fish and shrimp. Cook for 3 minutes.

Add the rest of the seafood and cook another few minutes.

Remove from heat. Serve with bread!
Nutrition
Calories:
234
kcal
Carbohydrates:
1
g
Protein:
31
g
Fat:
9
g
Saturated Fat:
1
g
Cholesterol:
381
mg
Sodium:
1177
mg
Potassium:
150
mg
Fiber:
1
g
Sugar:
1
g
Vitamin A:
95
IU
Vitamin C:
9
mg
Calcium:
228
mg
Iron:
4
mg