This Chicken and Rice with Mushrooms recipe is a quick dish that is creamy and hearty. True comfort food made easy.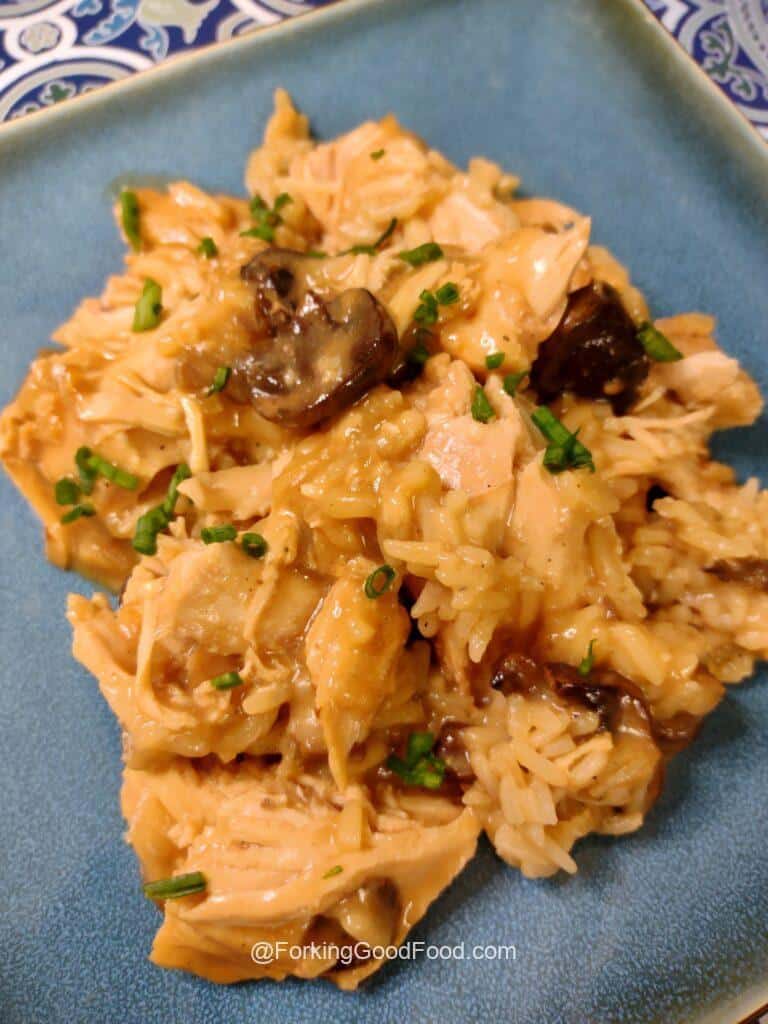 Chicken and Rice with Mushrooms
*Sigh* This is just one of my favorites.  I know I say that a lot - and it's true, but this one really is!  Anyone who lives in the South knows the frustration of craving Chik-fil-A like crazy only to realize that it's Sunday and they're closed.  I was that way with Cracker Barrel's Chicken and Rice.  It was only available on Saturdays and I would forget that little fact all the time.  Now it's off the menu completely; so here's my copy-cat recipe.  I think it's pretty close to the original and making it in the slow cooker is so easy.  I pop it in on my way to work, add in one of those little bags of pre-cooked rice when I walk in the door and dinner's ready by the time I get into PJ's.
Slow cooker tips and tricks
My favorite thing to do is prep the night before and using a slow cooker or Instant Pot makes it a snap!  Prep a little, prep a lot, prep the whole thing.... it's all so easy.  Many nights when I'm making dinner, I go ahead and chop my vegetables, trim or cut my meat, etc. at the same time.  I'm going to be washing dishes anyway so why not make two meals at once.  Depending on the recipe, you can completely make it the night before, put the crock in the fridge over night and then it's completely ready to go the next morning.
I used to be a huge fan of the slow cooker liners; and I still use them occasionally but I find that when stirring, shredding, serving etc. it just gets in the way. Now, I just spray the crock with a little cooking spray and use a nylon scraper for easy cleanup.
Use cheaper cuts of meat - cooking anything slow and low is going to make it tender!  Just don't add too much liquid; boiled meat is a bit gross.  You'd think that adding extra liquid would make the meat juicier - but that's really not the case.  It can be dry and tough so resist adding extra liquid.
NO PEEKING!  For every time you open the slow cooker to peek, stir, take a sniff etc., you need to add 30 minutes to the cooking time.
How to Make Chicken and Rice with Mushrooms
This is going to be sooooooo easy!
First gather your ingredients - there aren't many so it will only take a few minutes.  You'll need soy sauce, dried minced onion (yes - in this recipe it's really better than fresh; go figure), sliced mushrooms, and cream of mushroom soup.  Yes, I buy sliced mushrooms.  I'll let someone else do the grunt work whenever possible.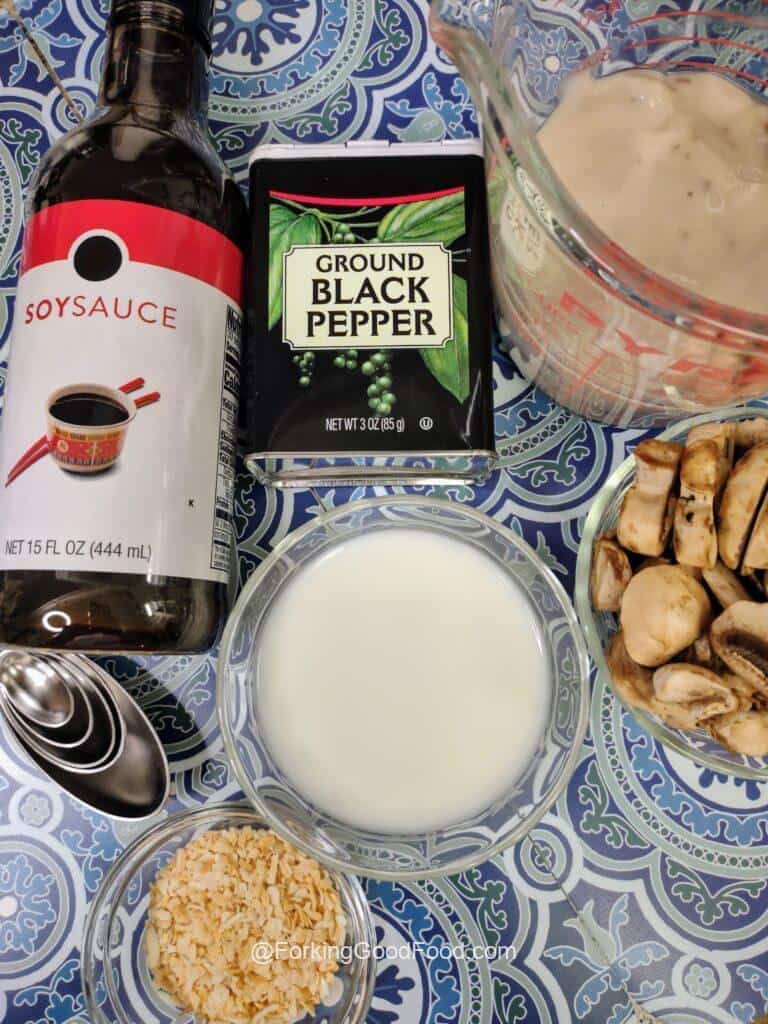 Grab your chicken and place it in the slow cooker that you lightly spritzed with cooking spray.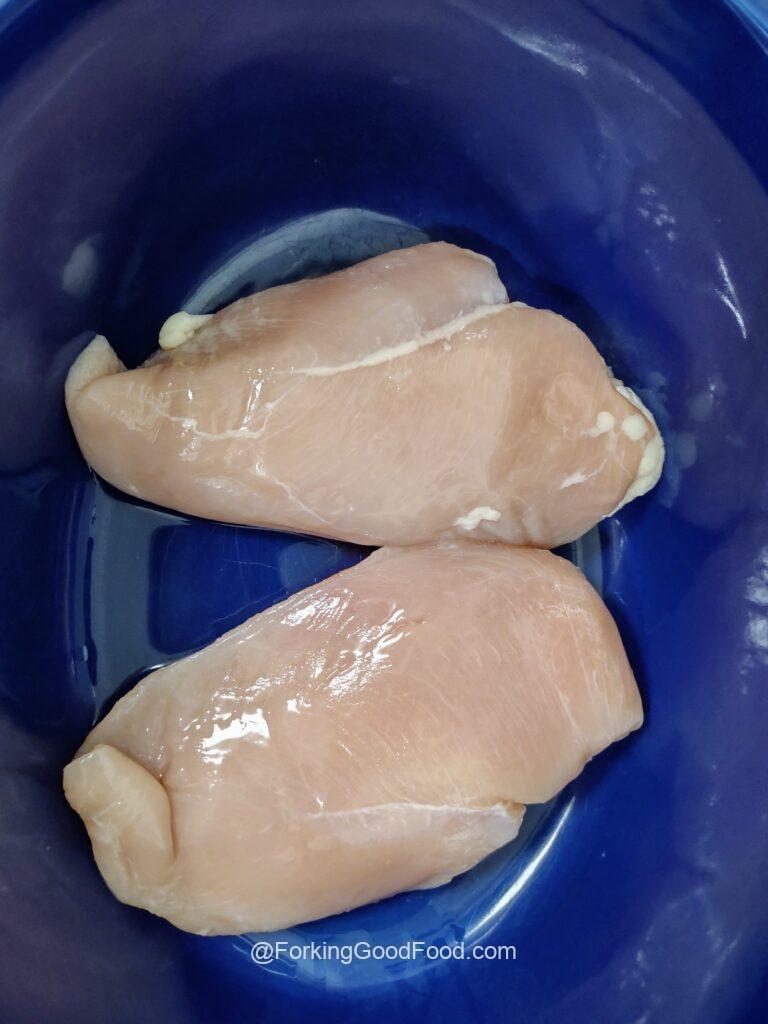 Sprinkle the dry ingredients and mushroom on top.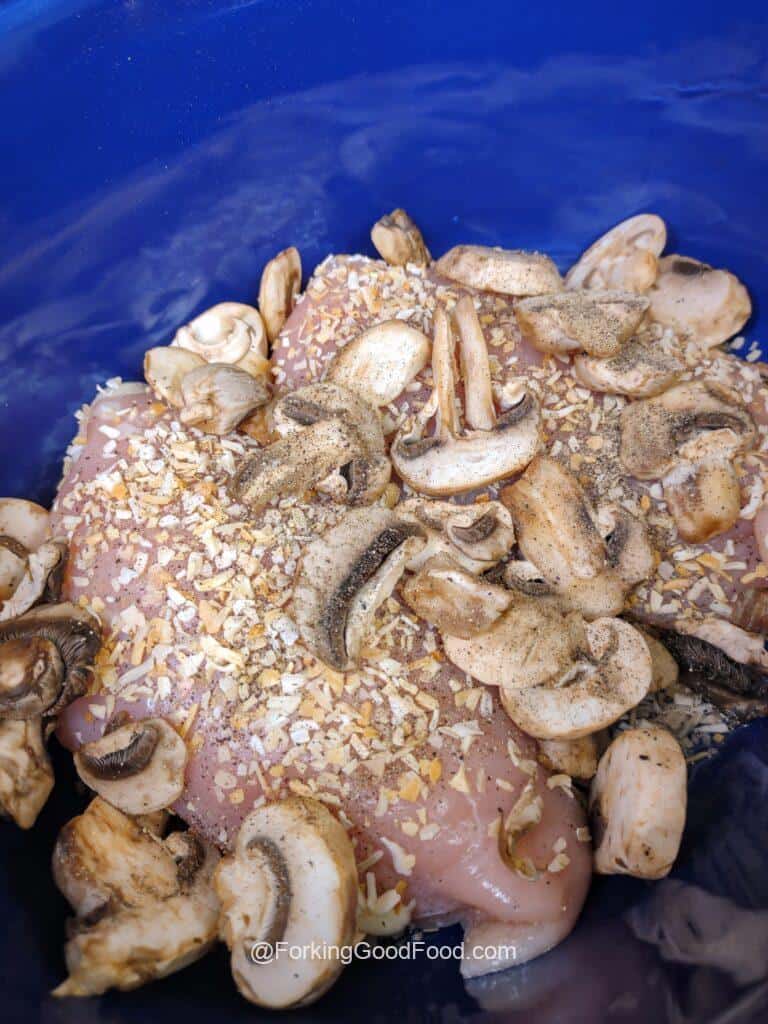 In a small bowl, or large measuring cup, stir all of your wet ingredients together; making sure they're well combined.  Then pour all over the top of the chicken.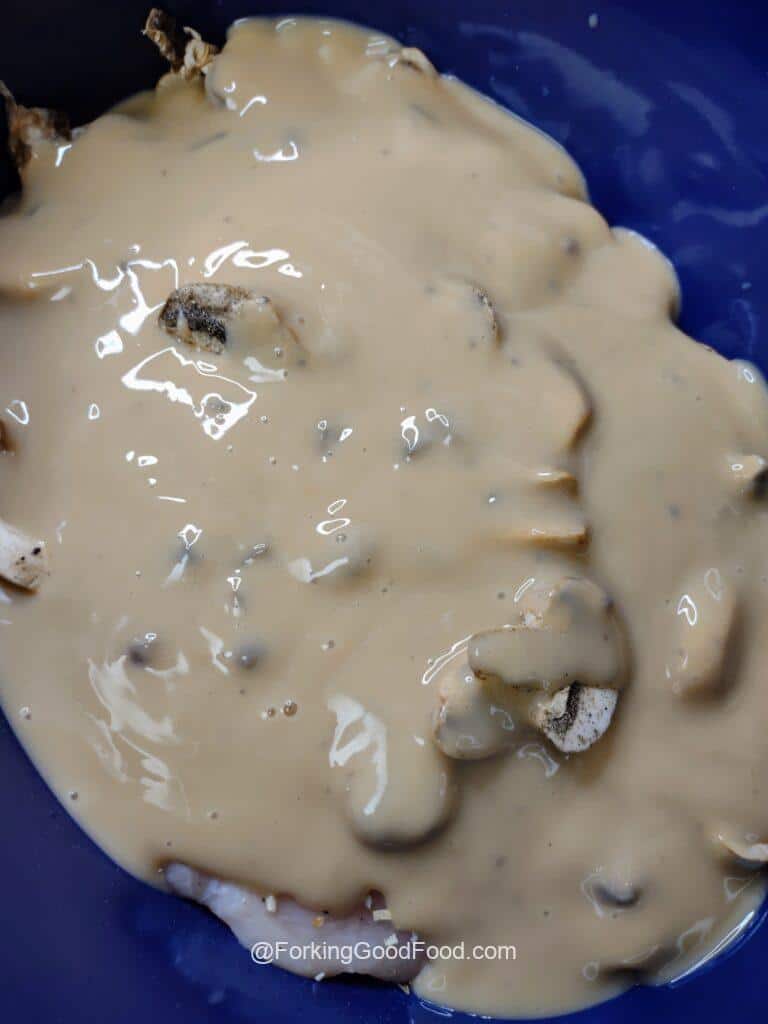 That's it!!!!  Put the lid on and let it cook for about 3 ½ hours.  During that last 30 minutes add your rice in.  I keep those pre-cooked bags on hand just for this recipe.  It's just the right amount, microwave it for just a few seconds to loosen the rice up and add it to the pot.  Give it a stir, close the lid and go get comfy - dinner will be ready when you get back.
Find more easy slow cooker meals:
Recipe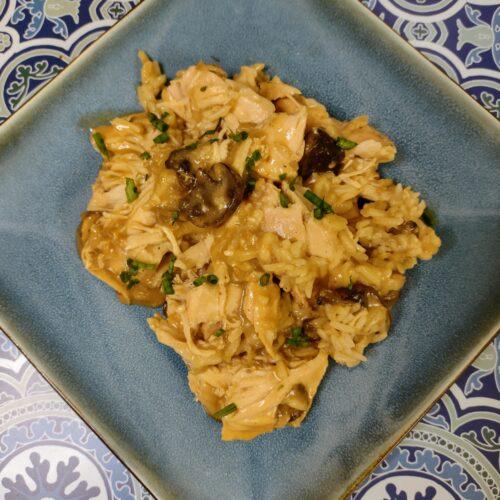 Chicken and Rice with Mushrooms
This is a quick dish to put together and is creamy and hearty. True comfort food made easy.
Ingredients
2

chicken breasts

boneless, skinless , large (or 3 small)

1

can

cream of mushroom soup

½

cup

whole milk

1

Tbs

soy sauce

1 ½

cups

white mushrooms

sliced

1

Tbs

dried minced onion

1

teaspoon

pepper

1 ½

cups

rice

cooked
Instructions
Place chicken in slow cooker

Sprinkle chicken with onion, mushrooms, and pepper

In a small bowl, mix wet ingredients and spread all over the chicken breasts, trying to evenly coat as much as possible

Cook on low for 4 to six hours depending on how big the chicken breasts are – check at 4 hours

During the last 20-30 minutes of cooking roughly shred chicken add in the rice and gently stir to combine
Nutrition
Calories:
463
kcal
Carbohydrates:
64
g
Protein:
35
g
Fat:
6
g
Saturated Fat:
2
g
Polyunsaturated Fat:
1
g
Monounsaturated Fat:
2
g
Trans Fat:
1
g
Cholesterol:
79
mg
Sodium:
942
mg
Potassium:
785
mg
Fiber:
2
g
Sugar:
3
g
Vitamin A:
86
IU
Vitamin C:
3
mg
Calcium:
70
mg
Iron:
2
mg