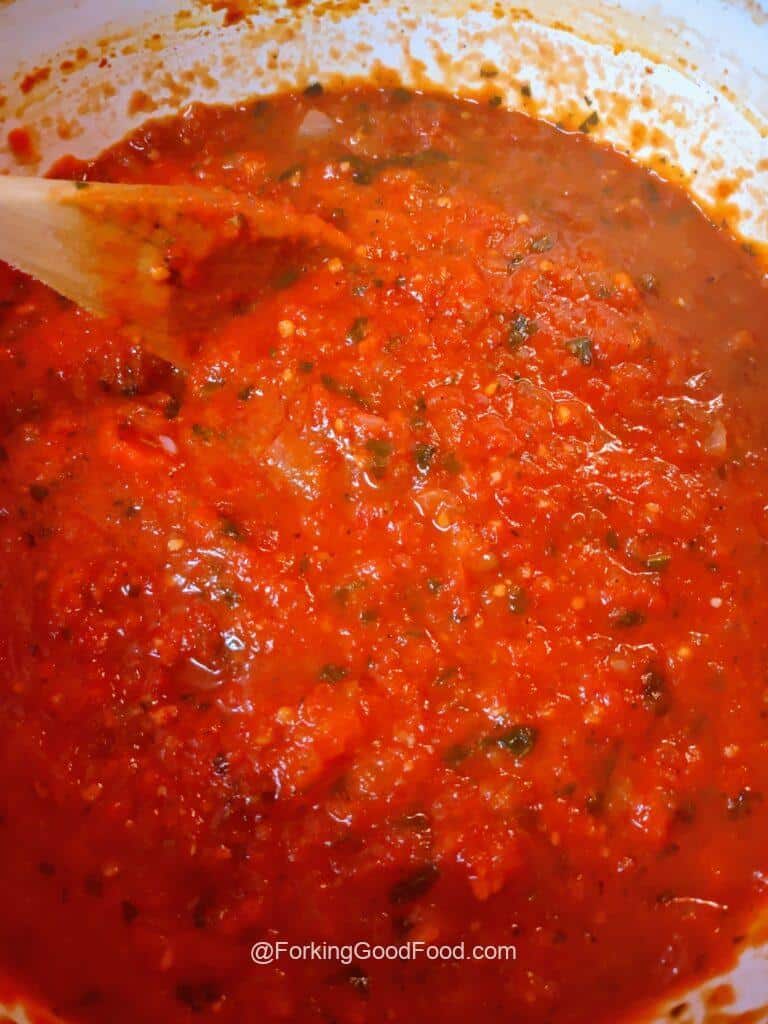 Best Spaghetti Sauce
If I can't decide what to eat - which is often - I can always eat spaghetti.  Homemade sauce is quick and easy and extremely versatile.  I find that I use this recipe for a lot of things.  I use it on spaghetti, with or without some kind of protein, dip for cheese sticks, and sauce for homemade pizza.  Want to change it up a bit - add a little heavy cream right at the end. YUM! One batch makes quite a lot, but I usually make two so I always have some in the freezer.  I literally have not bought jar sauce in years.  This recipe calls for about an hour's cooking time; I find the longer it simmers on VERY low heat, the better it is.
What's the difference between Pomodoro Sauce, Spaghetti Sauce, and Marinara?
Not much really, other than consistency (marinara is a little runnier and chunkier).  There are slight variations in ingredients, especially when it comes to spaghetti sauce but they are essentially the same - they have tomatoes, garlic, basil, olive oil, and salt.  My recipe adds a few more things, including a very special ingredient, that's why I call it a Spaghetti Sauce instead of Pomodoro Sauce.
What flavor does Bourbon add to cooking?
Some people like cooking with wine.  I rarely have wine in my house; but I always have bourbon.  So I started substituting bourbon in a lot of my dishes.  This is one of my favorites.  Bourbon has a sweet smoky flavor that I think pairs nicely in this recipe.  The sweet offsets the acidity of the tomatoes and the smoke just adds a little layer of something special; especially when used in a Bolognese.
Let's see how easy this is and vow never to buy jar sauce again.
First gather your ingredients. Tomatoes, butter, onion, lots of garlic, BOURBON, bay leaf, basil and parsley and your spices.  You will note that I use Merlot Salt.  You can find "enhanced" salts all over the place.  I saw this one and it piqued my interest.  I like it - but you can certainly use regular salt in its place and it won't affect the flavor.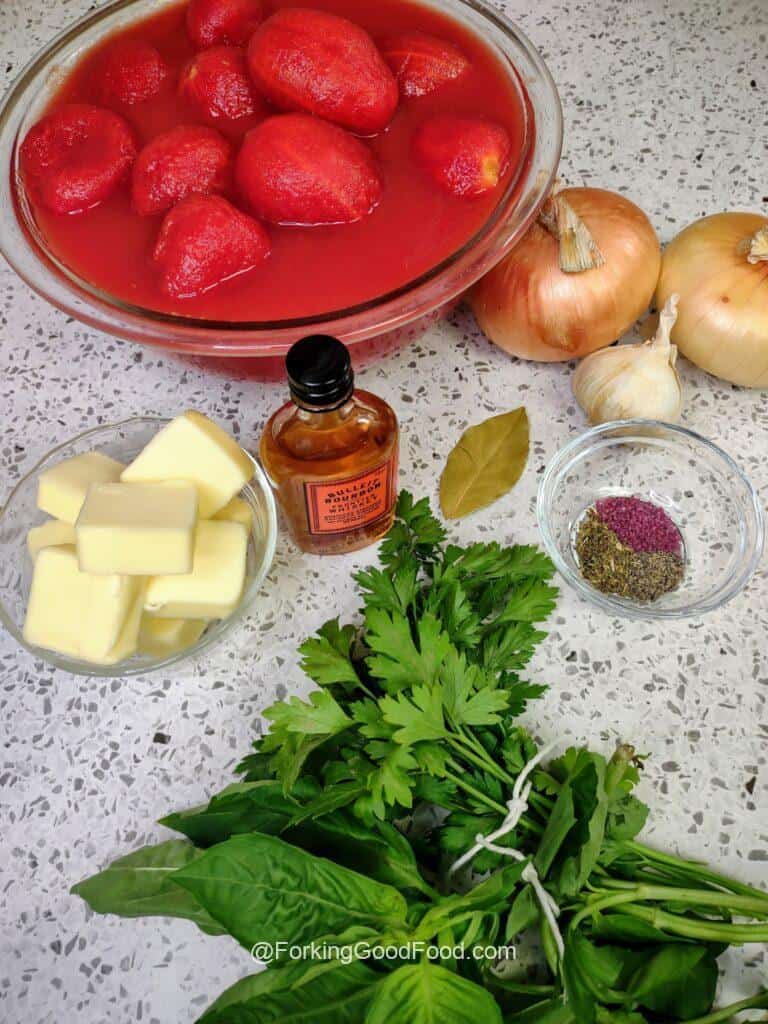 In a large Pot or Dutch oven on medium heat, melt the butter and then sauté the onions until soft, about 5 or 6 minutes  Reduce the heat and add in the garlic and cook for another 30 seconds. Add the tomatoes and bay leaf and simmer for 20 minutes.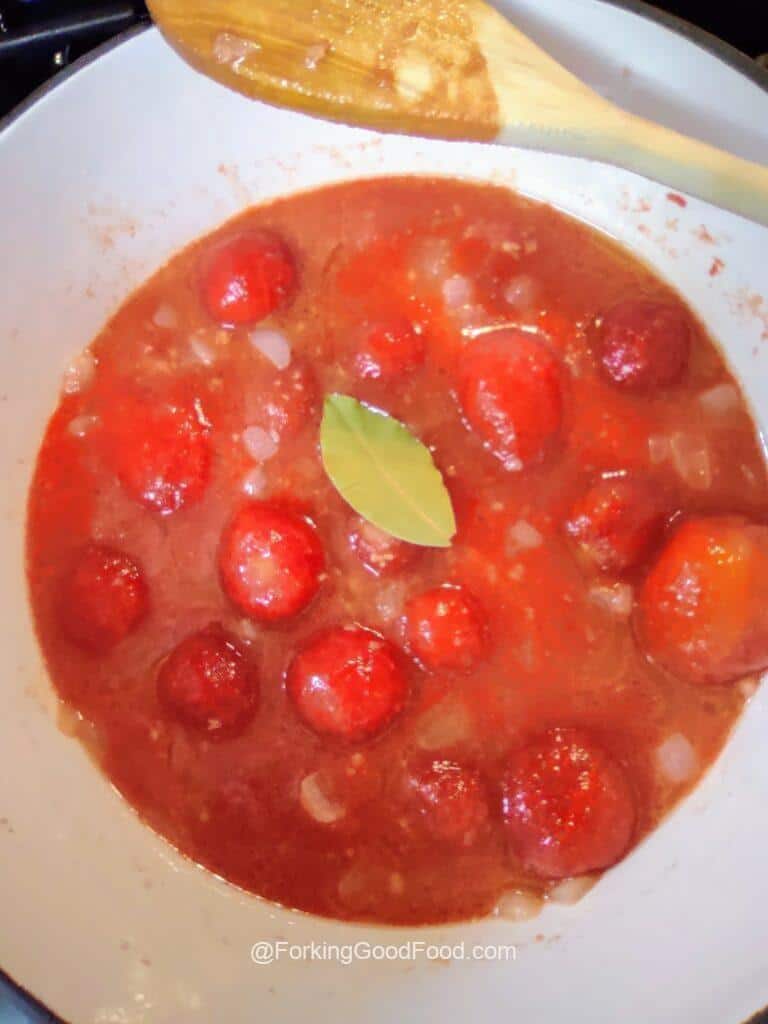 While the tomatoes are simmering, prepare your basil and parsley.  An easy way to remove the stalks is using a multi-purpose  Bench Scraper.  Simply run the stems through the appropriate size hole, pull through and all that will be left are the leaves.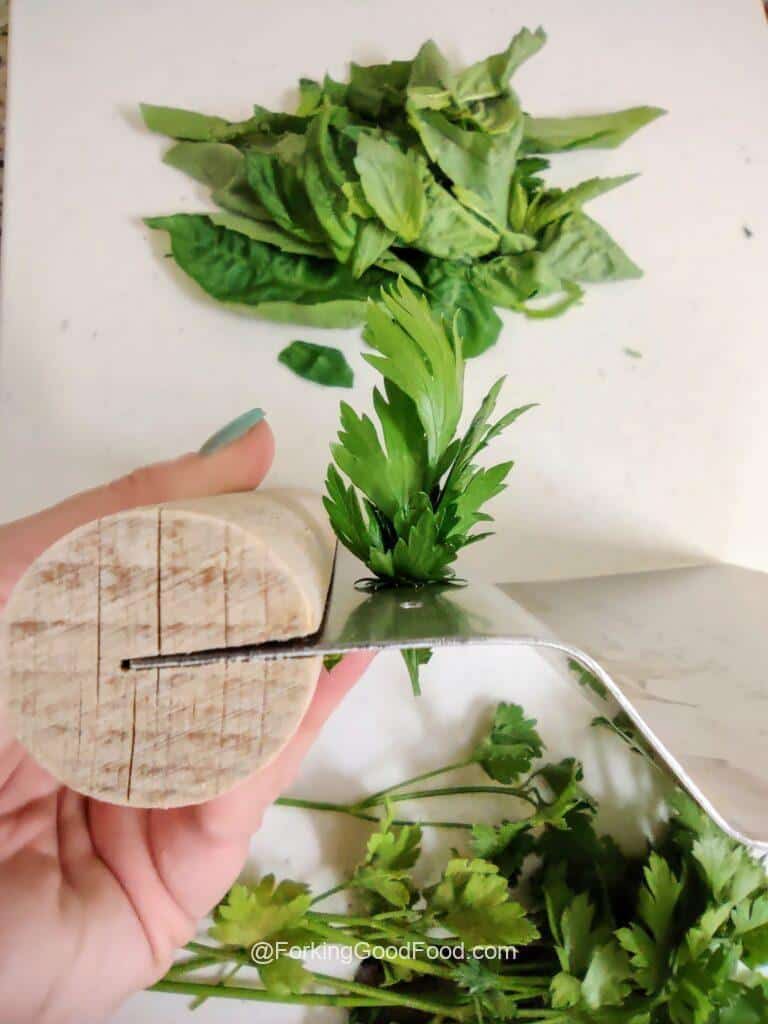 Give the parsley and basil a rough chop, and add that with the remaining ingredients to the pot.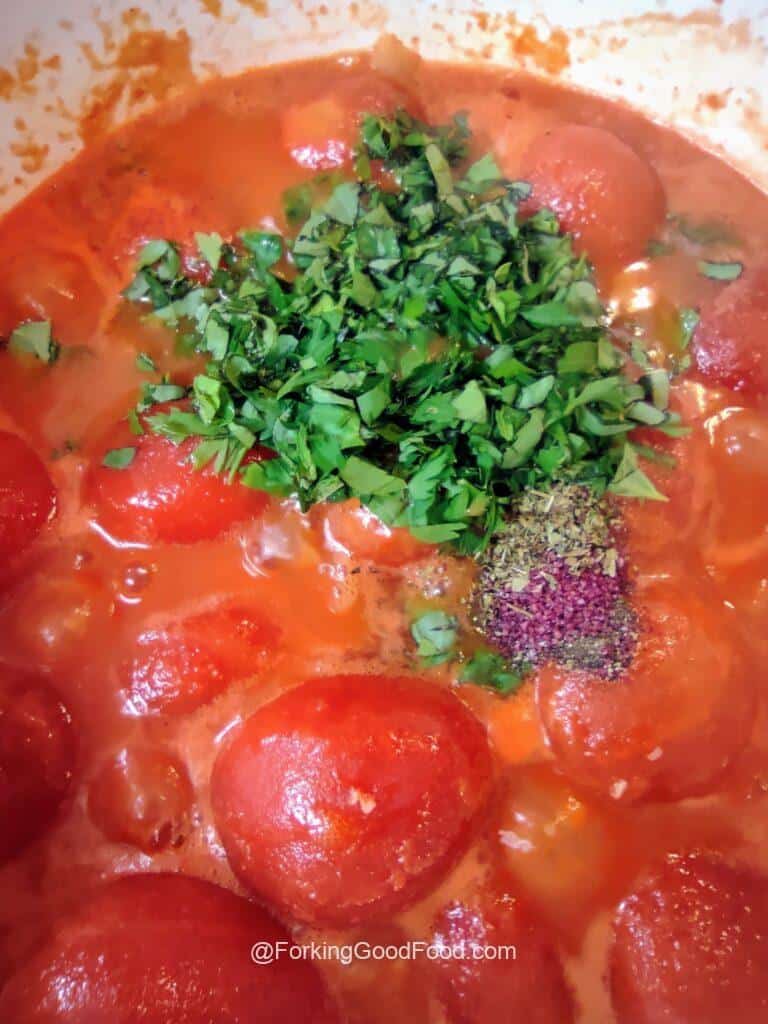 Simmer for 20 more minutes.  Then we get to play hide and seek with the bay leaf.  Don't forget to remove it - you don't want this going through the blender because you will end up with really tough, sharp bits of leaf in your sauce.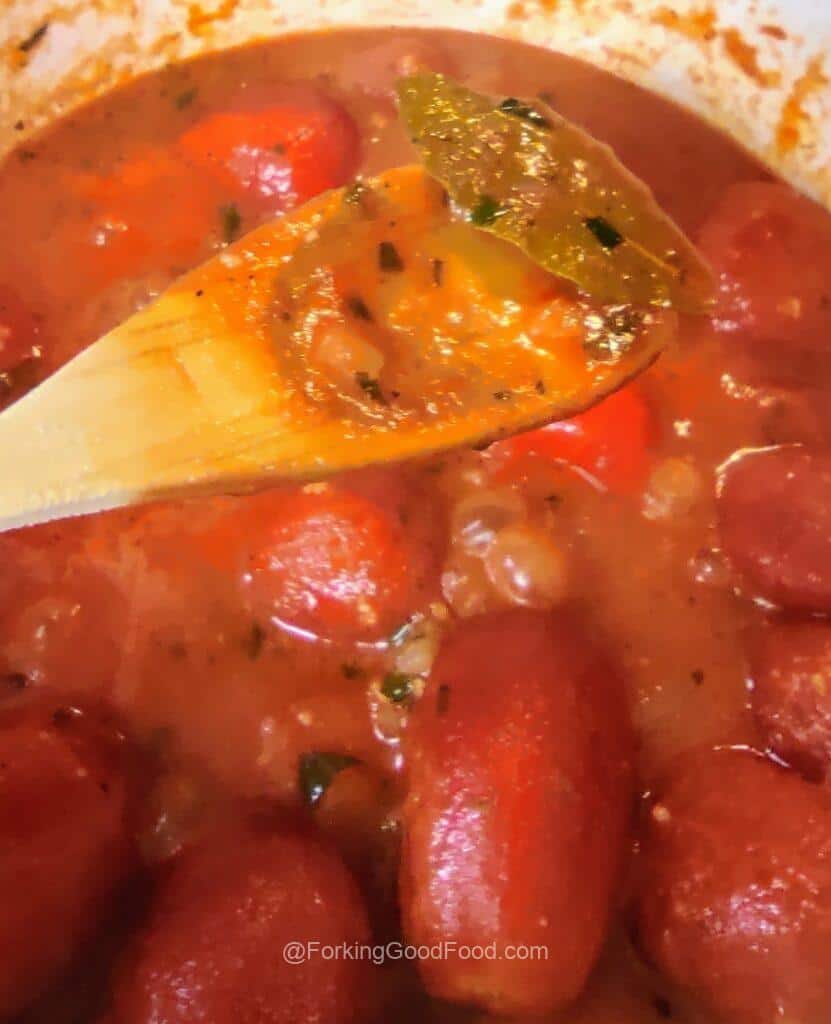 Grab your immersion blender, if you have one, and give it a quick pulse. If you don't have an immersion blender, carefully pour the sauce into a regular blender.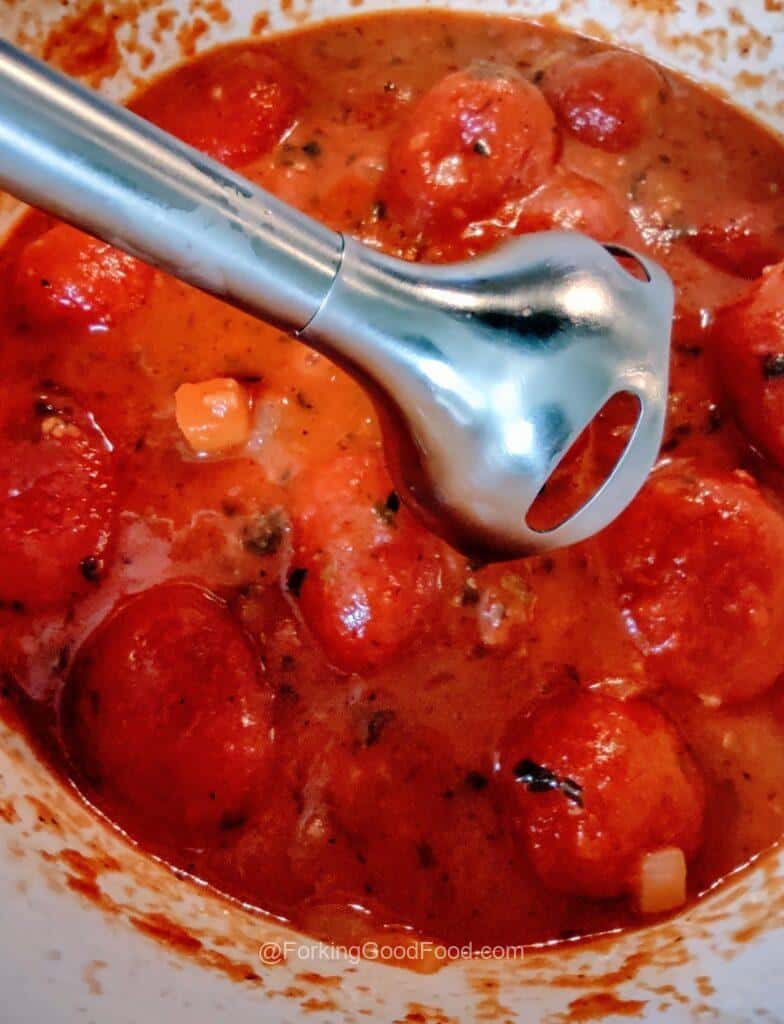 I usually pulse one tomato at a time and that seems to work perfectly. You don't want to completely liquify it, just break down the tomatoes.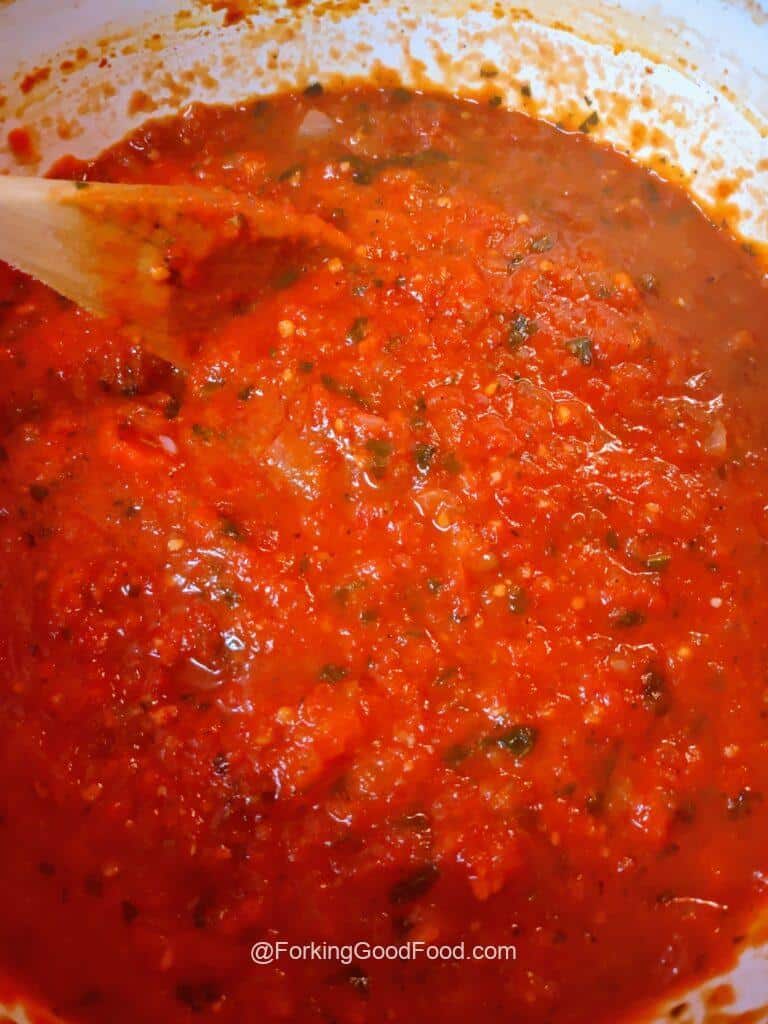 And there you have your sauce.... Mangiare!
Learn how to make cherry bounce!
Recipe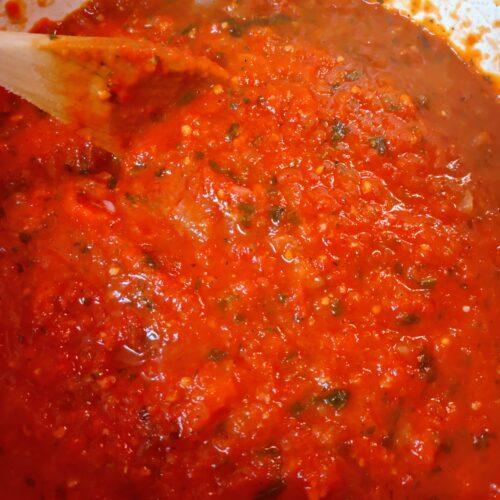 Best Spaghetti Sauce
This is a quick and easy spaghetti sauce. It can be used in a variety of dishes. It can be used alone, or add meat or seafood to it. It freezes well so make a double batch, stick it in your freezer and never buy jar sauce again.
Equipment
Immersion Blender (or regular blender)
Ingredients
8

Tbs

unsalted butter

2

large sweet onions

diced

1

head

garlic

minced

2

28-ounce cans Italian plum tomatoes and juice

1

bay leaf

1

oz

Bourbon

¼

teaspoon

Merlot salt

¼

teaspoon

black pepper

¼

teaspoon

dried oregano

½

bunch fresh flat-leaf parsley

stemmed and chopped

½

bunch fresh basil

stemmed and chopped
Instructions
In a 6-quart saucepan with a lid or Dutch oven over medium heat, melt the butter. Add the onions and sauté until tender, about 6 minutes

Reduce the heat, add the garlic, and cook for an additional 30 seconds

Add the tomatoes and bay leaf and simmer for 20 minutes

Add the remaining ingredients and simmer for an additional 20 minutes

Remove from the heat. Remove the bay leaf. Use an immersion blender until almost smooth. (Or transfer the sauce to a blender and pulse until smoother but still rough.)

Turn heat to as low as it will go, return the sauce to the pot if necessary and simmer for 10 minutes to 2 hours, stirring occasionally
Notes
Sauce freezes very well so make a double batch if desired
This recipe creates quite a lot of sauce as it is. I find I can easily get two meals from this recipe
Nutrition
Calories:
106
kcal
Carbohydrates:
8
g
Protein:
1
g
Fat:
8
g
Saturated Fat:
5
g
Polyunsaturated Fat:
1
g
Monounsaturated Fat:
2
g
Trans Fat:
1
g
Cholesterol:
20
mg
Sodium:
149
mg
Potassium:
207
mg
Fiber:
1
g
Sugar:
5
g
Vitamin A:
317
IU
Vitamin C:
10
mg
Calcium:
39
mg
Iron:
1
mg