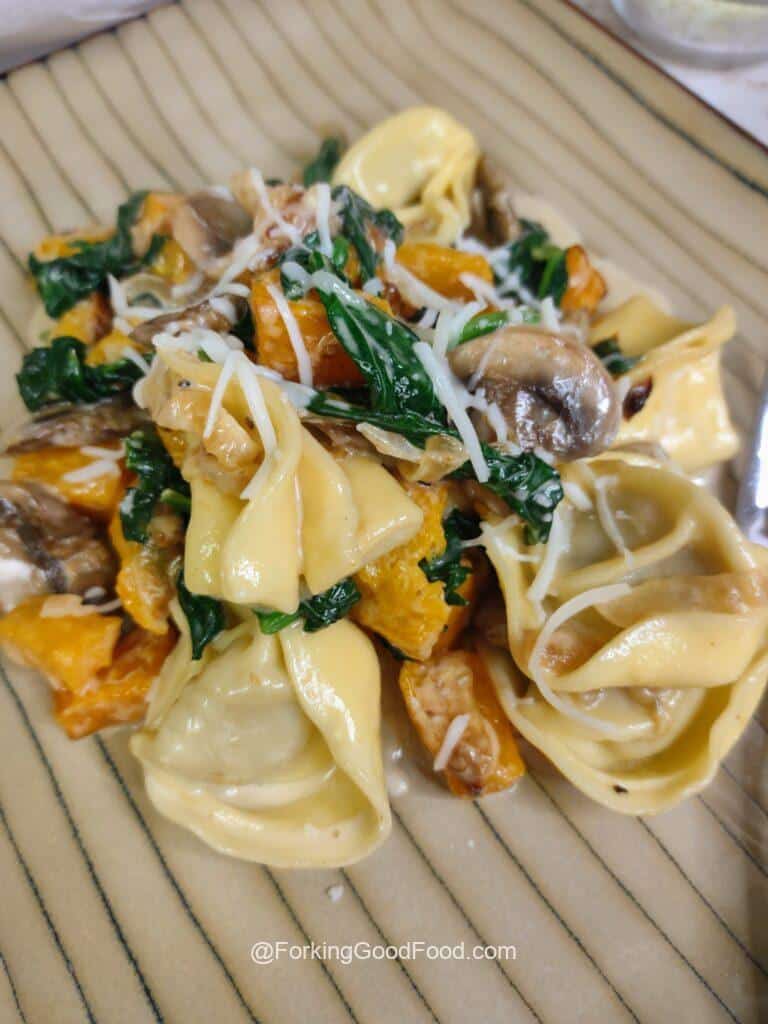 Creamy Tortellini with Vegetables
There are a few things I will find any excuse to eat. Pasta – check. Mushrooms – check. Butternut squash – check.  Throw in what is basically creamed spinach and winner winner chicken tortellini dinner!
If you are one of those people whose every thought turns to pumpkin spice in the fall then this dish is not for you.  Just kidding – you'll love it.  If you love pumpkin, you'll love butternut squash. With the earthy umami of the squash and mushrooms blended with the creamy pasta and then that little bite of sweet onion – this dish checks all the boxes.
What is tortellini?
Tortellini are ring-shaped pasta originally from the Italian region of Emilia. Traditionally they are stuffed with a mix of meat, Parmigiano Reggiano cheese, egg, and nutmeg.  Making them is a true labor of love, but thankfully – you don't really have to love people that much anymore because there are some great "fresh" ones in the store!  Take a walk through the refrigerated section and you'll find a plethora or fresh pastas – including all sorts of tortellini; my favorites are chicken and prosciutto, and three cheese.  I've also made this dish with the mushroom ravioli and the butternut squash ravioli so, really, grab the one that suits your fancy and let's make some good stuff.
What you need to make Creamy Tortellini with Vegetables
This may seem like a lot, but it's really not and once you taste it you won't care.  The great thing is that "convenience" produce is so readily available now – you can buy every single vegetable in this dish pre-washed and cut.  Sure, they might be a little more expensive, but how much is your time worth? So here we go: olive oil, 2 onions, 1 punnet (a small light basket or other container for fruit or vegetables) of mushrooms, 1 punnet of cubed butternut squash, 1 bag baby spinach, 1 container of "fresh tortellini", heavy cream, some grated parmesan, and salt & pepper.  You will also need to multi-task a little.  If you're not good at that – do each step separately and just cook a little longer at the end to make sure everything is hot all the way through.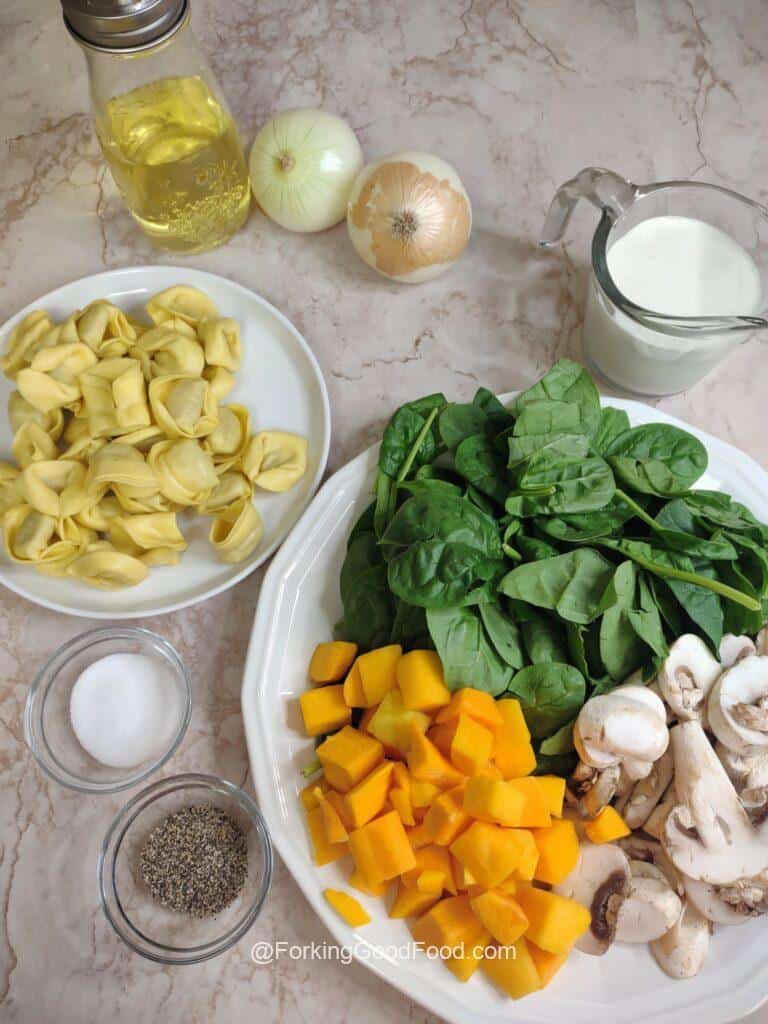 If you said "Hold up there – I don't see any parmesan in that picture." you would be absolutely correct.  At least I only l forgot it in the picture and not the dish!  That would have been tragic.  Enough about my flaws, let's get on with it.  Put your pasta water on to boil and preheat your air fryer to 450. Once you have sliced your onions very thinly, heat a little oil in a large skillet and cook on high for about 10 minutes.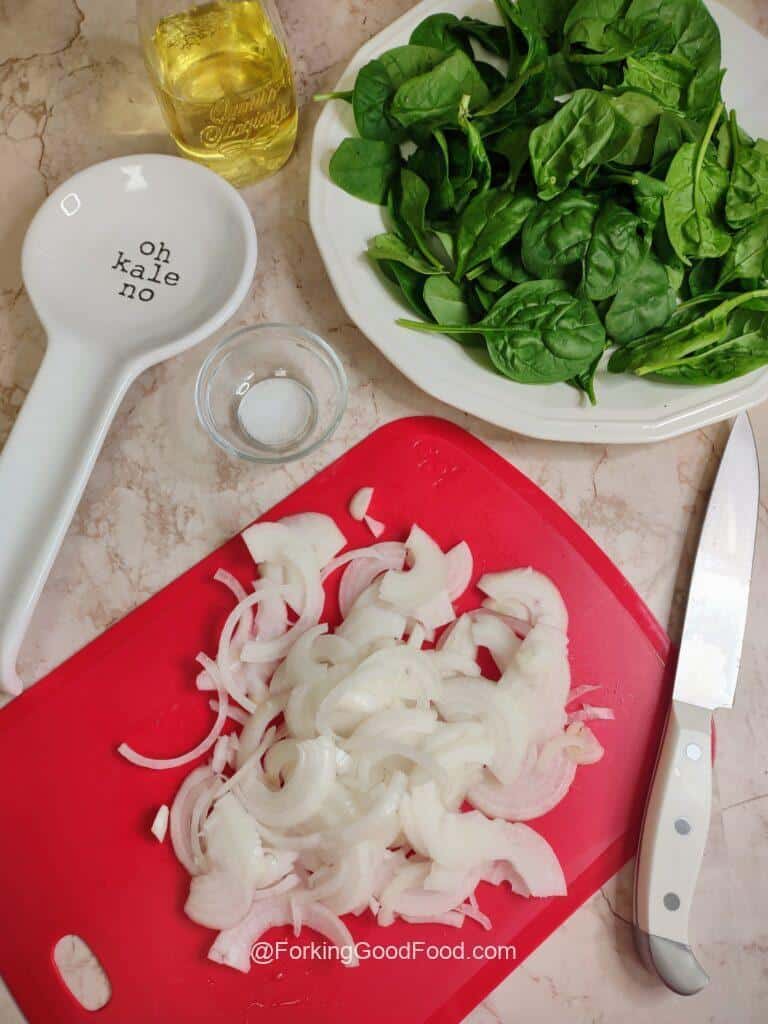 You're going to need a large skillet later, so may as well start out with it and save yourself one pot to wash.  Plus, this gives the onions plenty of room to spread out and cook evenly.  Stir them frequently.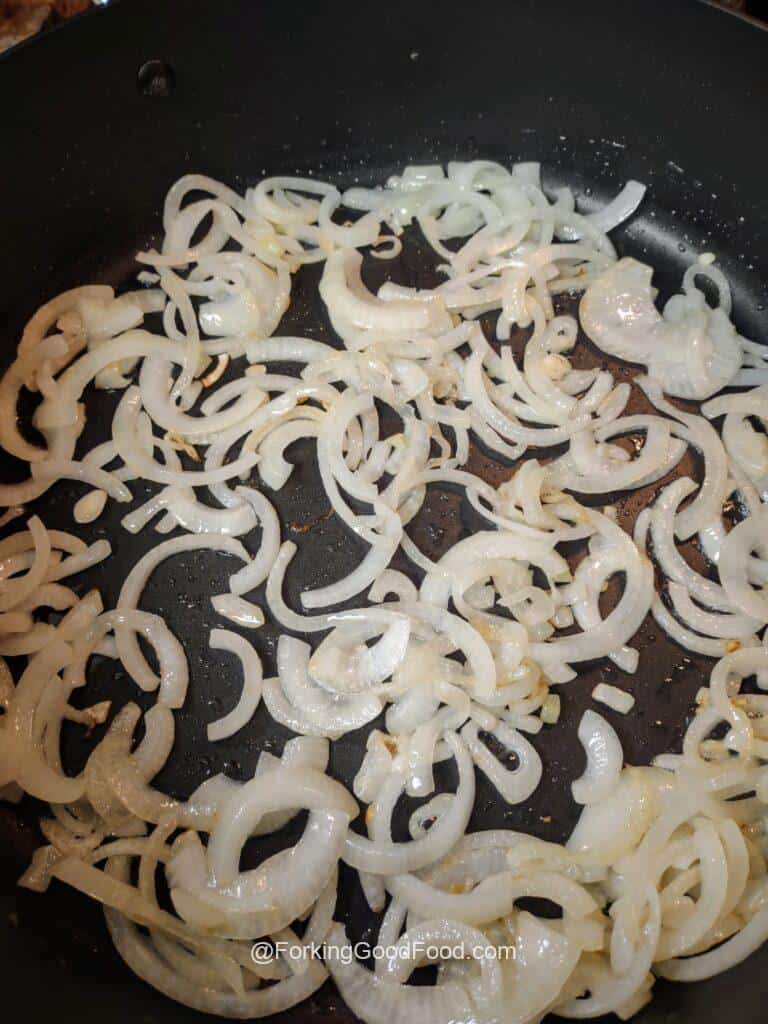 Once you have your onions in the pan, spritz your butternut squash with a little cooking spray, sprinkle with a little salt and pepper and place in the fryer basket. Go stir your onions. Cook the squash for about 6 minutes or so, give them a good shake and continue to cook them until they are just fork tender. Remove them to a plate and set aside.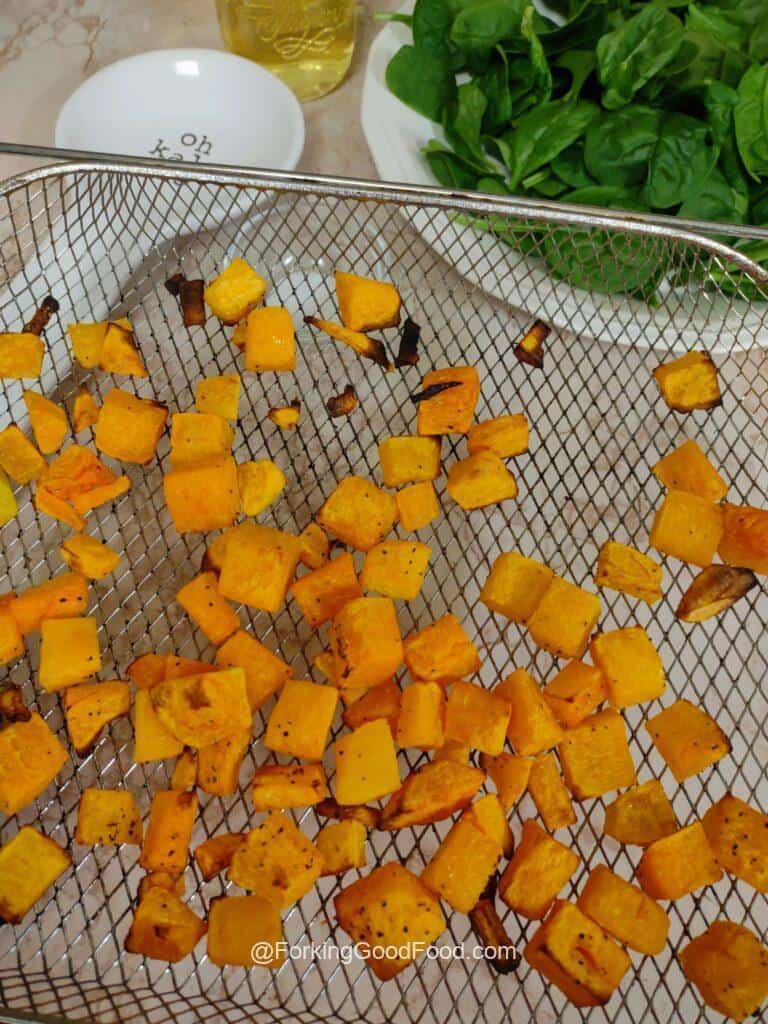 While the squash was roasting, I sure hope you were stirring those onions – and turned them down to low after ten minutes.  At this point sprinkle them with just a little salt, to help draw out any remaining moisture and give them that lovely golden brown color, and cook for about 10-15 more minutes.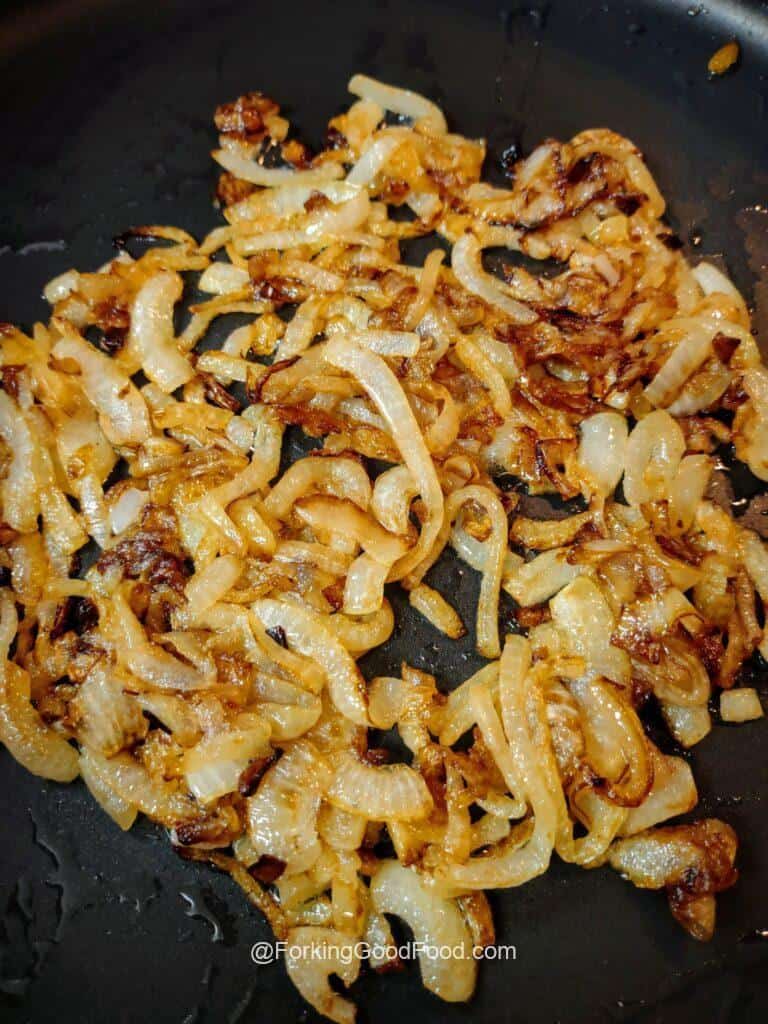 Your pasta water should be at a full boil by this point,  Salt it – well.  How much ever salt you think it needs, add just a little more.  Your tortellini should take about 7-8 minutes to cook so drop them in the water when your onions are just about done.  When the onions are the color you want them, remove them from the pan onto the plate with your butternut squash and set aside.  Add just a little more oil to the pan and sauté your mushrooms for about 5 minutes or until they are nice and soft.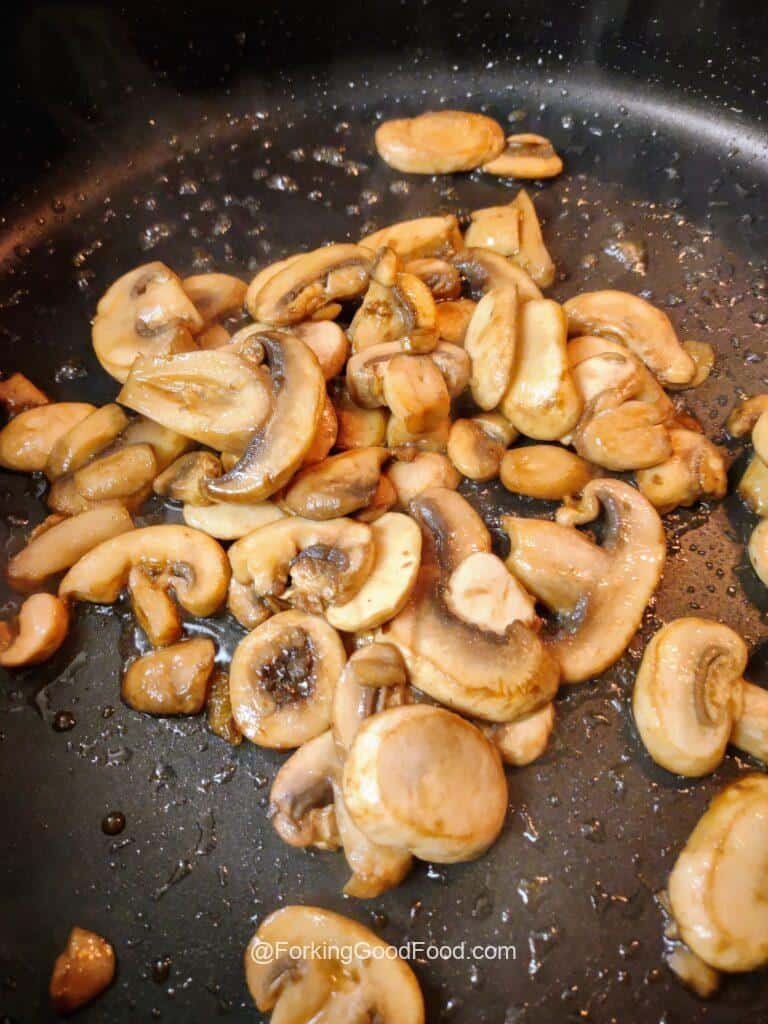 Add in the spinach and stir until the leaves just start to wilt.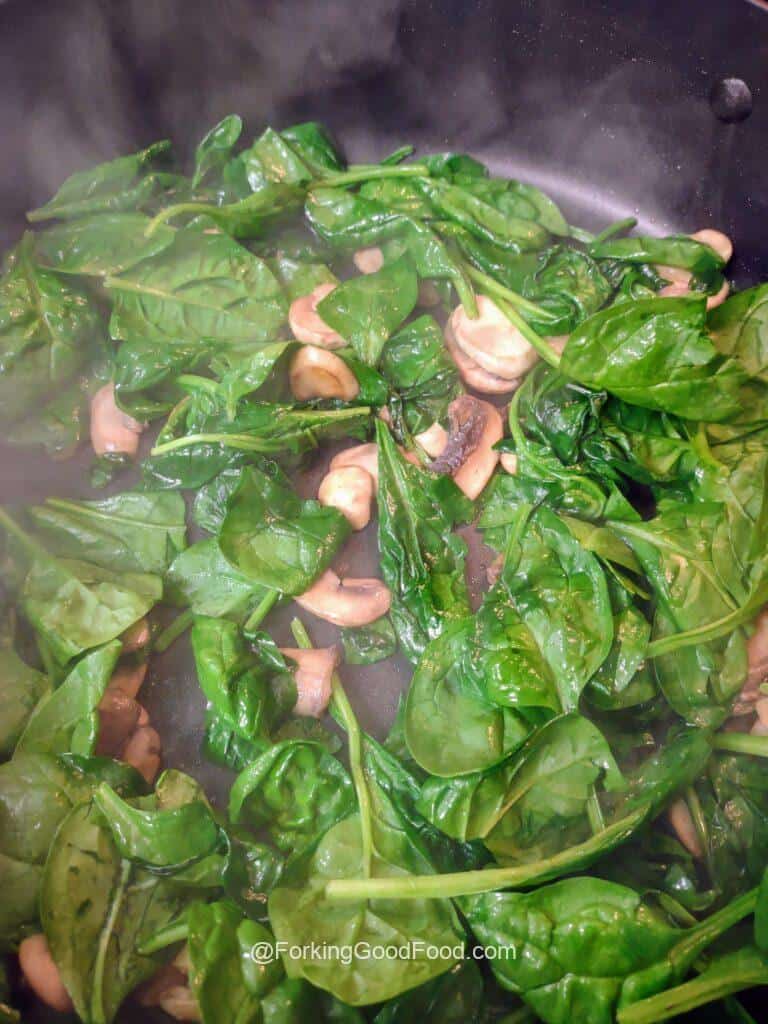 Add the heavy cream, parmesan, onions, and squash to the pan.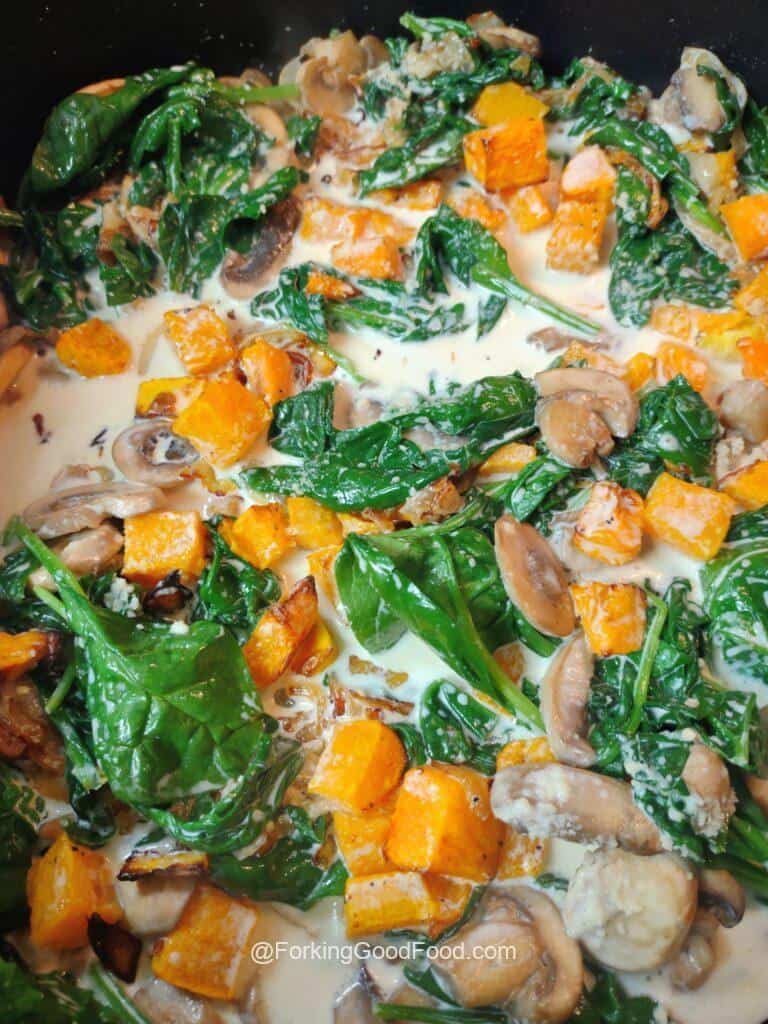 Cook for a few minutes to thicken, then add in the tortellini.  Gently fold the cream sauce over the pasta so they don't pop open!  Serve it with a little shredded Italian blend cheese and enjoy!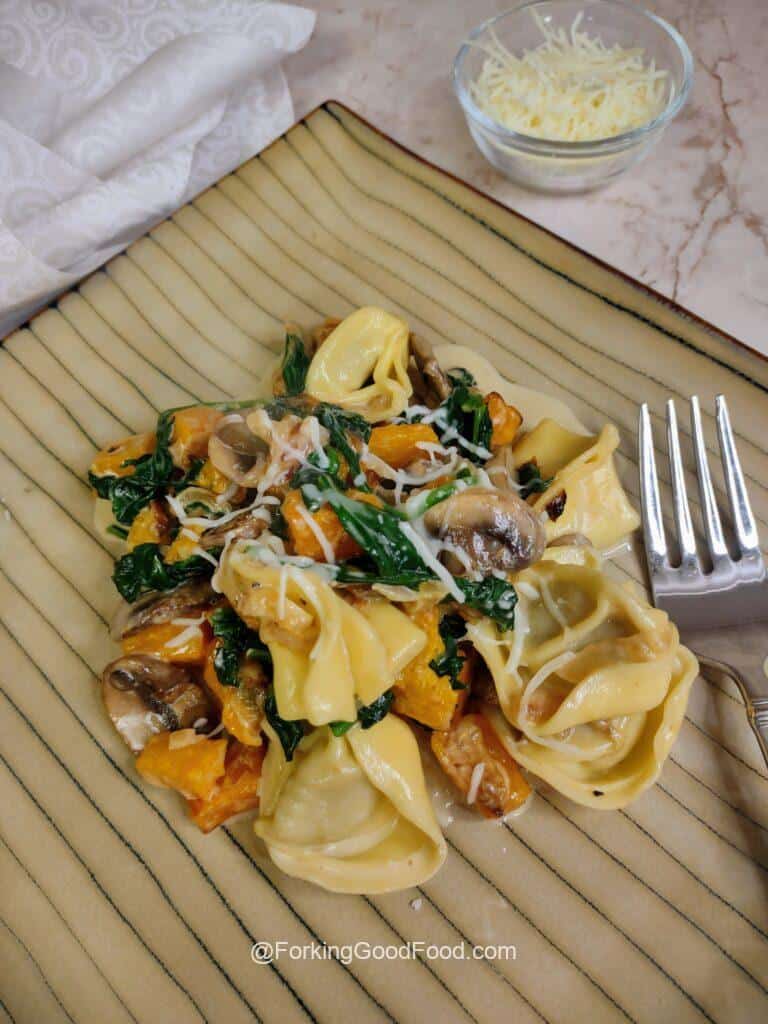 Recipe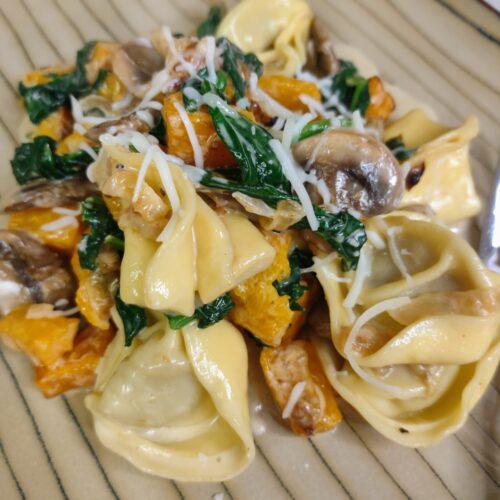 Creamy Tortellini with Vegetables
This creamy, hearty pasta dish is packed with vegetables and flavor. Ready in minutes!
Equipment
Large skillet

Large Pasta Pot
Ingredients
9

oz

tortellini

any kind, found in the refrigerated section

2

sweet onion

medium to large, thinly sliced

3

Tbs

olive oil

divided (2+1)

8

oz

white

sliced mushrooms

10

oz

butternut squash

cubed

8

oz

baby spinach

1 store-bought bag

¼

cup

grated parmesan cheese

¼

cup

shredded mixed Italian cheese for garnish

optional

½

teaspoon

salt divided

¼ + ¼ plus more for pasta water

¼

teaspoon

black pepper
Instructions
Preheat your air fryer to 450℉ and boil salted water for your tortellini

In a large skillet over medium high heat, heat 2 Tbs of the olive oil and add in the sliced onions and cook for about 10 minutes, stirring very frequently

While the onions are cooking, add your cubed butternut squash to the fry tray, lightly spritz with cooking spray and season with salt and pepper. Air Fry for about 8 minutes, stir and cook for another 5 or 6 minutes, or until the squash is fork tender but not too soft

Reduce the heat to medium to medium-low on your onions, add a pinch of salt, and cook for an additional 8-10 minutes, continuing to stir frequently, until they are a nice dark drown then remove to a plate and set aside

The butternut squash should be done too and can be removed to the same plate

In the same skillet you cooked the onions in, add another Tbs of olive oil and the mushrooms on medium heat

Add your tortellini to the boiling water and cook for about 7 minutes

Add a pinch of salt and cook about 5 minutes, stirring occasionally, or until soft

Add the fresh spinach in and mix until it just starts to wilt

Add the onions and butternut squash back in along with the heavy cream and grated parmesan

Bring to a boil and reduce to a simmer, cooking for a few minutes to allow the sauce to thicken

Fold in the cooked and drained tortellini carefully until well combined. Let cook for an additional 1-2 minutes to make sure the tortellini is heated all the way through.

Garnish with grated mixed Italian cheese if desired
Nutrition
Calories:
485
kcal
Carbohydrates:
53
g
Protein:
17
g
Fat:
20
g
Saturated Fat:
5
g
Polyunsaturated Fat:
1
g
Monounsaturated Fat:
8
g
Cholesterol:
31
mg
Sodium:
740
mg
Potassium:
813
mg
Fiber:
7
g
Sugar:
12
g
Vitamin A:
12907
IU
Vitamin C:
39
mg
Calcium:
303
mg
Iron:
4
mg