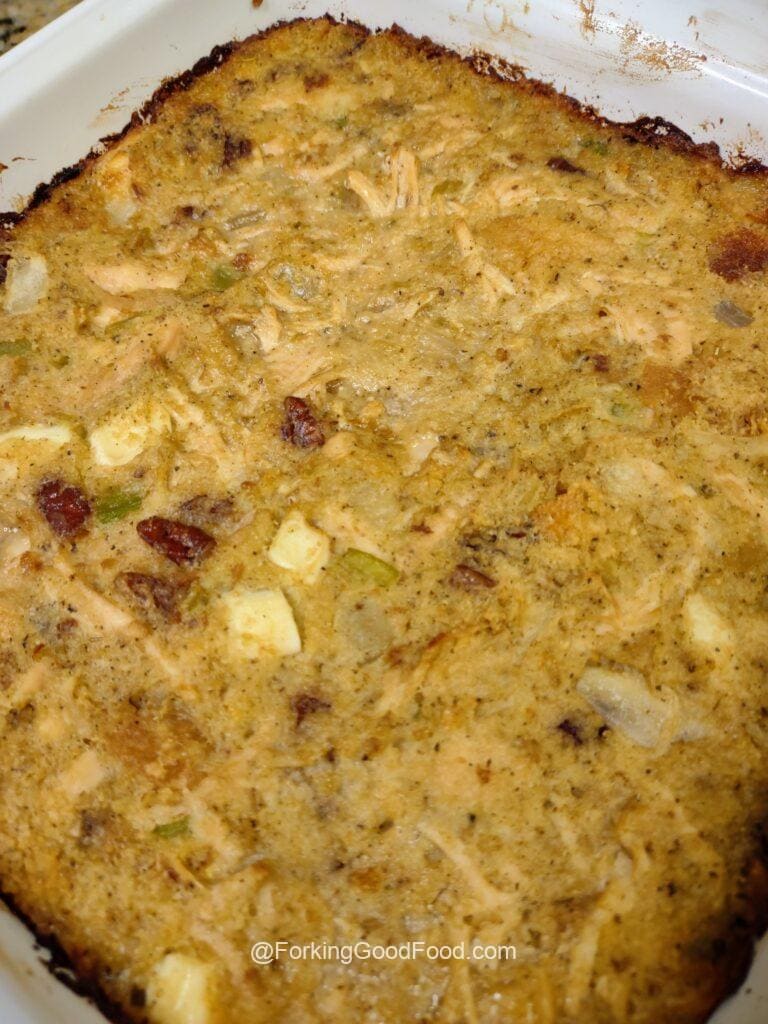 Southern Chicken and Cornbread Dressing
This is a dish you make for people you love. My mom always made this for Thanksgiving and Christmas gatherings, but it wasn't until I started making it that I realized how much love goes into it.  It really should be listed as the main ingredient.  It is so full of chicken that you can eat it as a meal by itself; and I have - don't judge.  It's a two-day process, but don't let that stop you; it's well worth it and makes a BUNCH so you can feed a crowd!
One of the simple things my mom did with great love is "string" the celery.  No one likes the tough celery strings but no one ever does anything about it. Mom always thought that was rude.  So if you want to be considerate of your guests, string your celery.  Simply take a paring knife, gently guide it under the top of the strings and then pull down.  It doesn't take a lot of time to do and you wont have to chew on all those strings!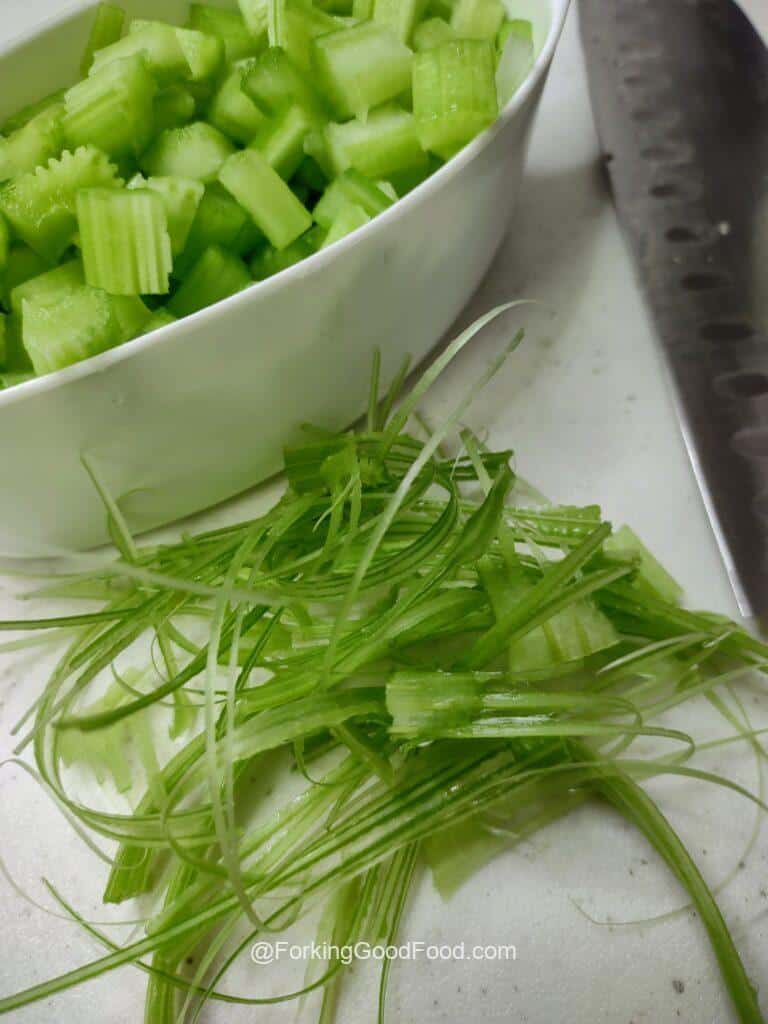 What's the difference between dressing and stuffing?
Logic, common sense, and most dictionaries state that "stuffing" is just that - anything that is stuffed inside something else, traditionally poultry,  and then cooked.  From what I've found it really depends on where you are.  Southerners will always say dressing, even if it's stuffed in the bird.  People from the northeast and mid-west tend to prefer stuffing no matter how or where it's cooked.
Is dressing safer than stuffing?
In my opinion, yes.  It removes the chance of you and/or your guests coming down with a nasty case of food poisoning caused by salmonella.  Stuffing is porous, and during the cooking process, juices from the turkey that may contain bacteria drip down and are absorbed by the stuffing.  If you are not extra vigilant about the internal temperature reaching 165 degrees you could be setting yourself up.  If you're just dead set on stuffing your turkey, then put the stuffing in right before it goes in the oven, cook until the internal temperature is 165, remove from the oven and let the bird rest, with the stuffing in it, for about 20 minutes.  My suggestion would be to wrap your stuffing in foil, then insert in the turkey.  Cook as directed and then, after resting, remove the stuffing from the foil, and place back in the turkey cavity for appearance. In my house, you'll get dressing cooked outside the bird.
How to Make Southern Chicken and Cornbread Dressing
The day before, make your biscuits and cornbread.  It's really better if they're a day old.  They'll hold up better and absorb all the yummy liquid.  Use your favorite recipe for these. I usually save cornbread and biscuits that are leftover from other meals, stick them in the freezer, and then pull them out with I need this for this recipe.  You can also boil your eggs and chop your vegetables too.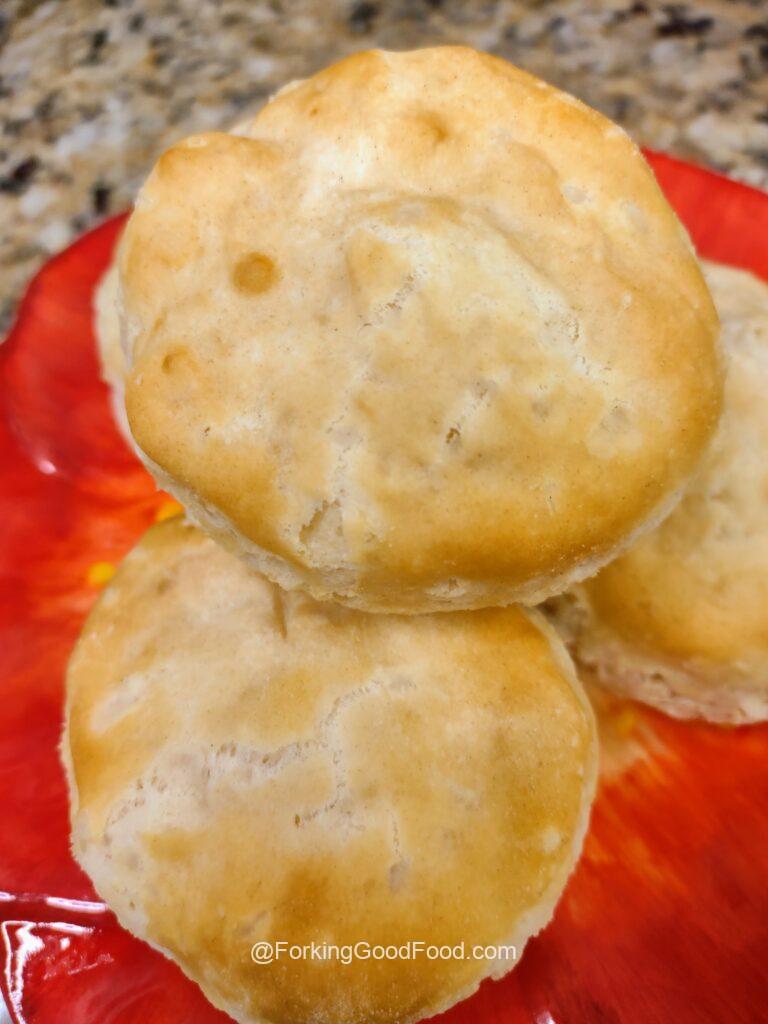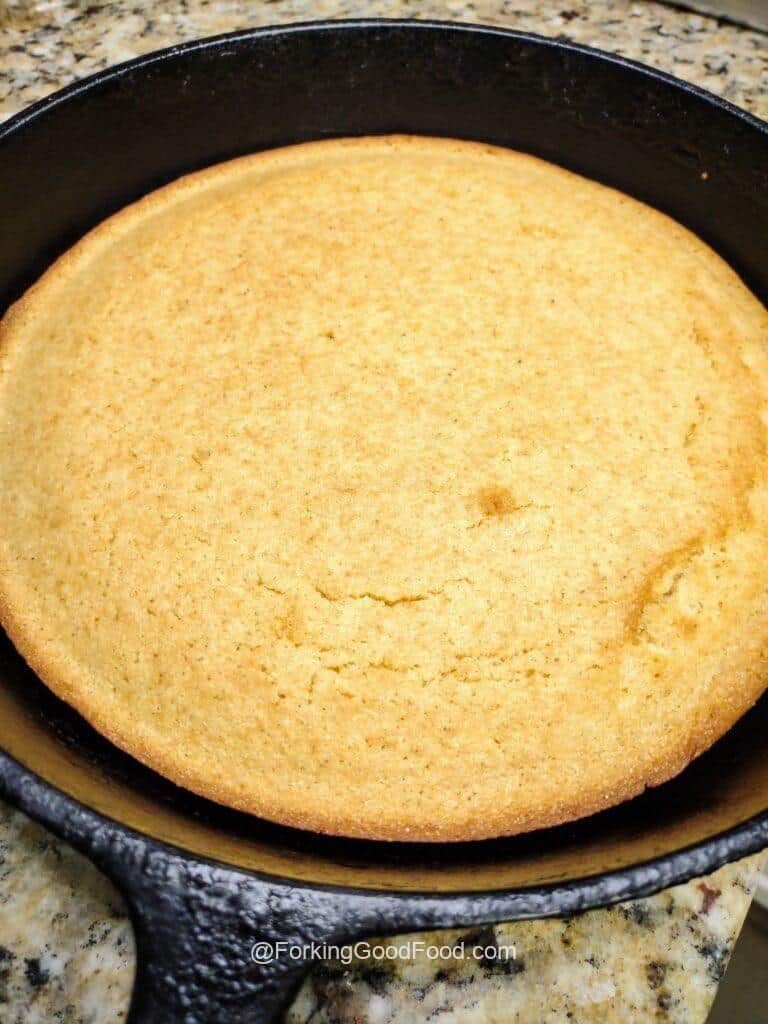 The next day, gather all your ingredients.  You're going to need chicken breasts, onion, celery, cream of chicken and cream of celery soups, chicken broth, butter, eggs, cornbread and biscuit crumbs, a bay leaf, sage, poultry seasoning, salt and pepper and some pecans if you want.  Start off by boiling your chicken and bay leaf in the stock until the chicken is cooked through and tender.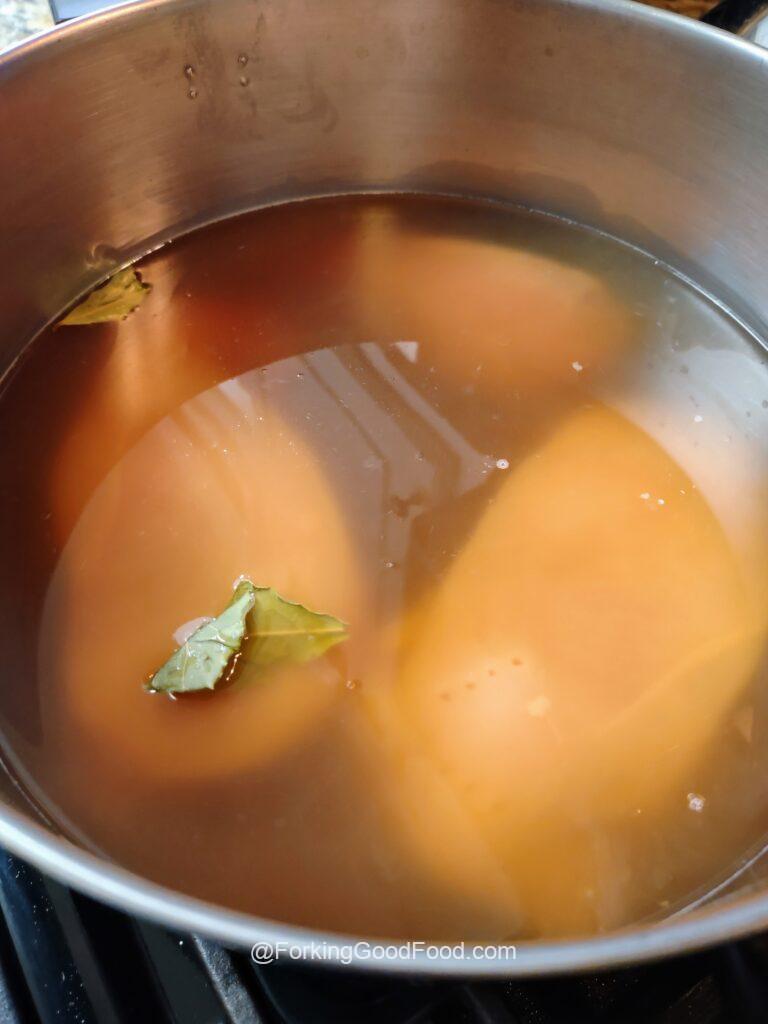 Preheat your oven to 400 degrees and butter your baking dish.  Remove the chicken and bay leaf (discard) and save 1 cup + 4oz of the broth.  Shred your chicken as fine or as chunky as you want it.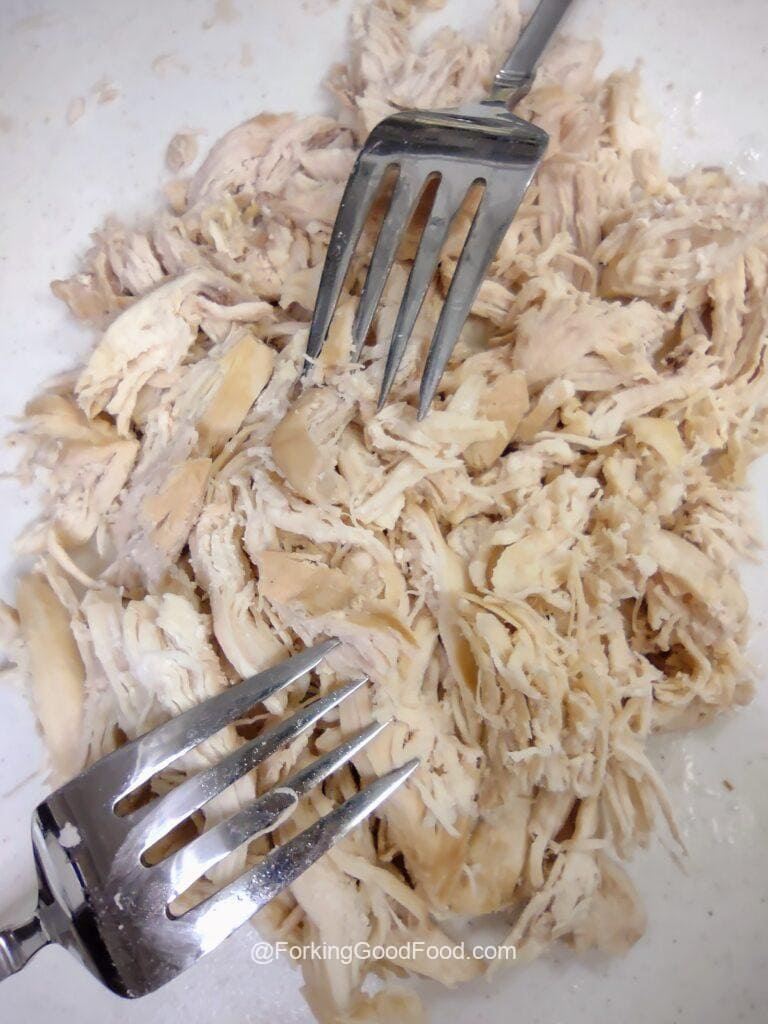 Sauté your celery and onions in the butter until they're soft.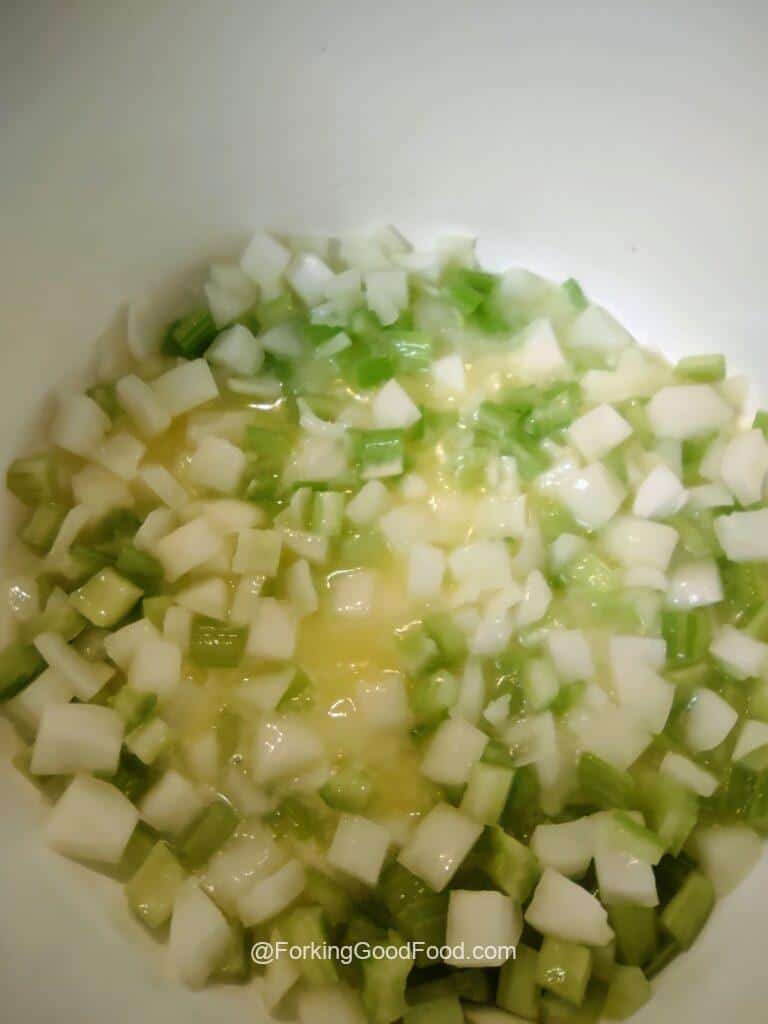 Add in your chicken and all of the other ingredients except for the 4 oz of extra chicken stock.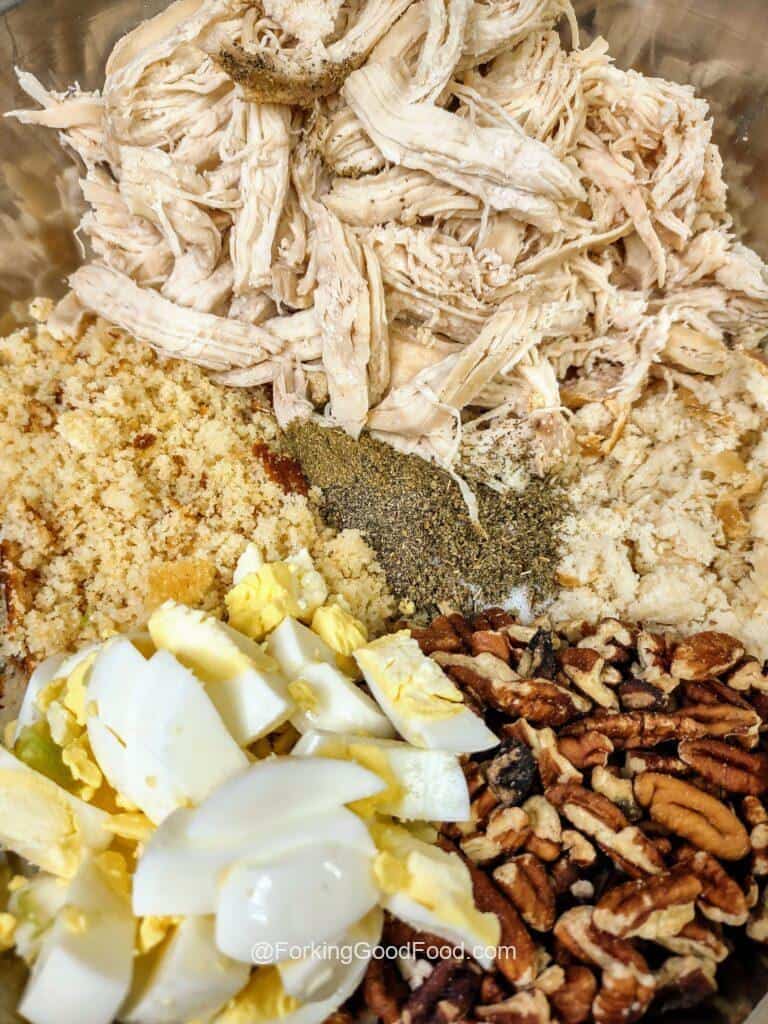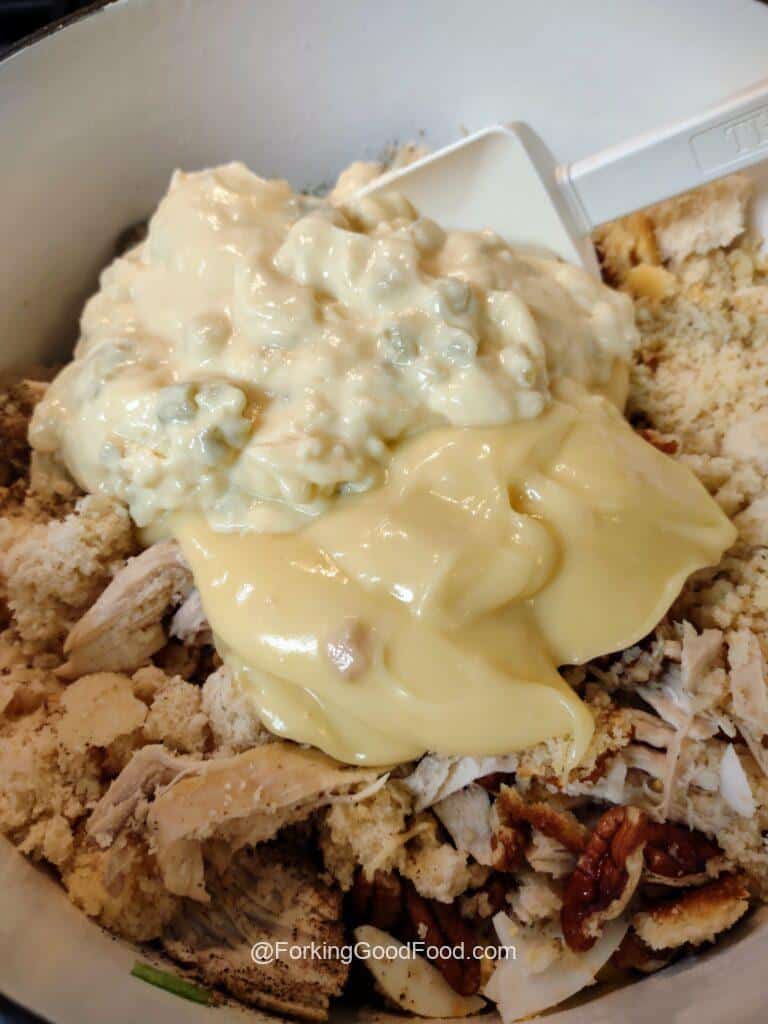 Stir well and spread evenly into the prepared dish then pour the remaining stock over the top.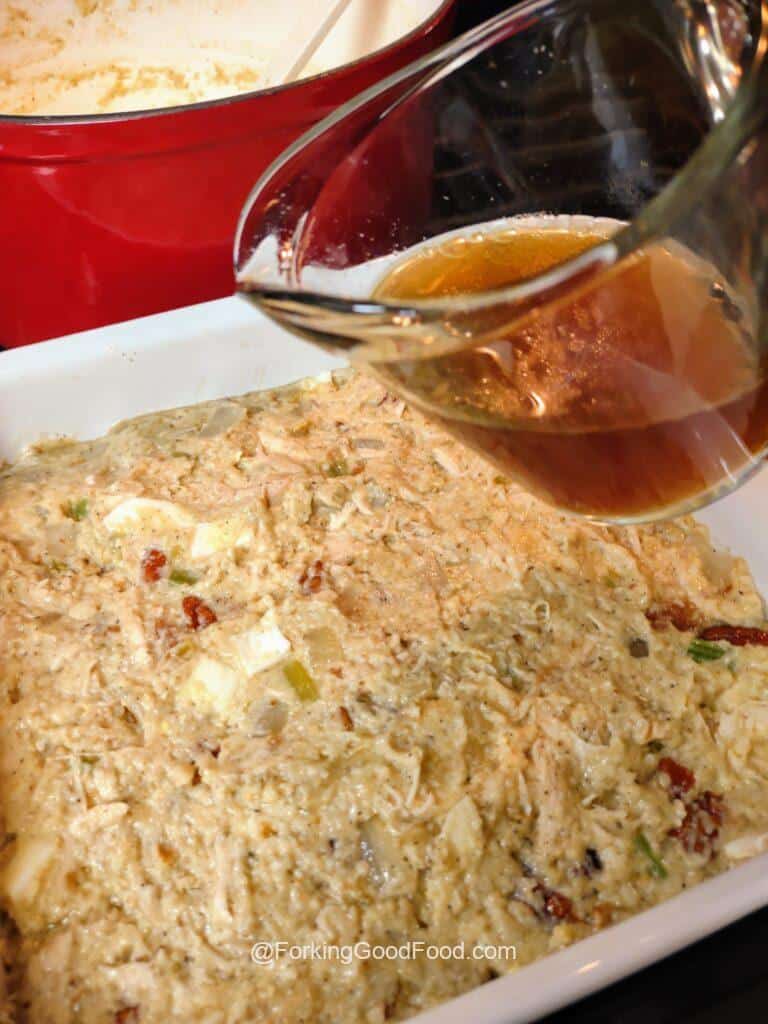 Bake for about an hour.
Recipe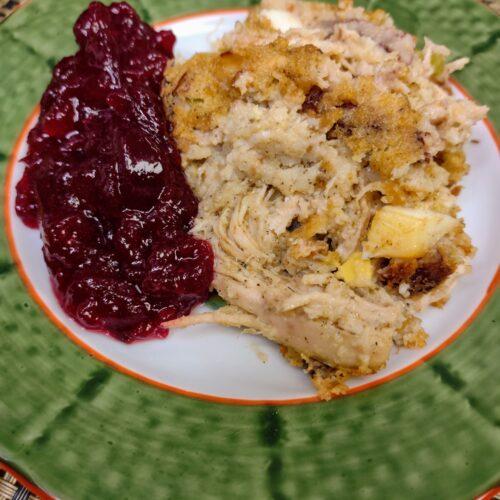 Cornbread Dressing
This hearty classic is a wonderful addition to any holiday table, but is equally as welcome at your average Sunday dinner.
Equipment
13x9" baking pan

Dutch oven or other large stock pot
Ingredients
3

chicken breasts

boneless (2 if extra large)

1

bay leaf

1

cup

onion

chopped

1

cup

celery

stringed and chopped

1

can cream of chicken soup

1

can cream of celery soup

32

oz

chicken broth

½

cup

butter

melted

2

eggs

beaten

2

eggs

hard-boiled and chopped

4

cups

cornbread

day-old, crumbled and firmly packed

2

cups

biscuits

day-old, crumbled and firmly packed

½

teaspoon

dried sage

½

teaspoon

poultry seasoning

½

teaspoon

black pepper

½

teaspoon

salt

1

cup

pecans

chopped (optional)
Instructions
In a large stock pot, add chicken stock, bay leaf, and chicken breasts and boil until chicken is cooked all the way through and tender. Reserve 1 cup + ½ cup of the stock when finished cooking and discard bay leaf

Preheat the oven to 400℉

In a large Dutch oven or pot, melt the butter and sauté the onions and celery until soft, about 6-8 minutes. Remove from heat

Shred the chicken, add to the pot with the celery and onion. Add in the remaining ingredients except for the reserved 4oz of stock

Place into a buttered 13x9" baking dish and spread evenly

Pour the remaining broth over the top and bake in the center of the oven until golden brown, about 60 minutes or until a toothpick in the center comes out dry and clean.
Notes
This is a large recipe. If you want, divide the dressing into two pans. Bake one and freeze the other to save for a later date. Thaw completely before baking. Keep an eye on the baking time, it will probably need to be shortened.
Nutrition
Calories:
463
kcal
Carbohydrates:
54
g
Protein:
17
g
Fat:
20
g
Saturated Fat:
5
g
Polyunsaturated Fat:
4
g
Monounsaturated Fat:
9
g
Trans Fat:
1
g
Cholesterol:
109
mg
Sodium:
868
mg
Potassium:
394
mg
Fiber:
3
g
Sugar:
15
g
Vitamin A:
244
IU
Vitamin C:
5
mg
Calcium:
120
mg
Iron:
3
mg