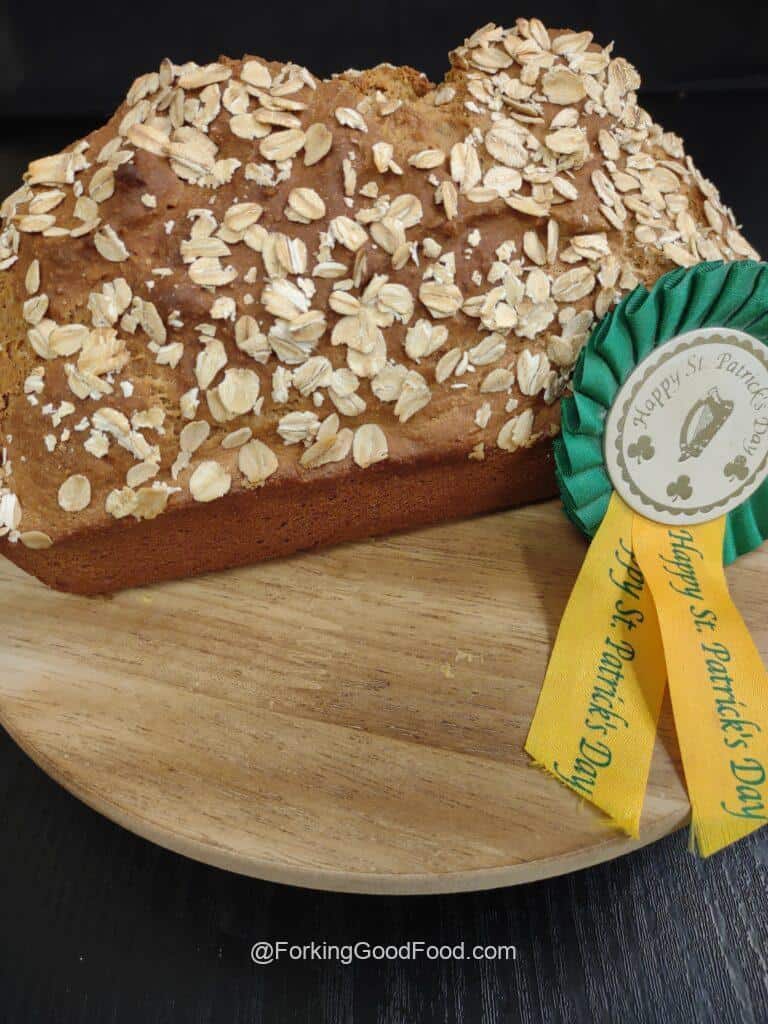 Authentic Irish Brown Bread Recipe
When anyone asks you  "Do you know a really traditional Irish bread recipe?  I've got this St. Patrick's day party to go to and I need a really real recipe.  And..oh yeah, um… I don't bake so it needs to be super easy." this is what you give them.  And before you ask "is this REALLY Irish?" let me give you two reasons why:
I lived in Ireland a long time and not a single Irish person I knew ever complained – quite the opposite in fact, they raved about it and said it reminded them of their nanny
This recipe is sanctioned by the Irish Government as being traditional. If you want to read more about Irish food and get some great traditional recipes, visit BordBia.ie
This recipe is insanely easy; no yeast to activate, no rising time – just mix it all up, pour it in a loaf tin, and bake it. You'll notice I've left in the Irish metric measurings because that's how I learned to make it – but I've added in the US Customary Measures for your convienence.
What's the difference in Irish Soda Bread and Irish Brown Bread?
These two are not the same – not at all. Soda bread is slightly sweet and uses white flour, which gives it a milder flavor. It's a perfect accompaniment to a hot cup of tea. Brown bread is hearty and savory, with a deep nutty flavor that comes from the combination of all-purpose and wholemeal flours. Want an extraordinary snack? Want to really WOW them at that party? Serve slices of brown bread with a little Irish butter, a slice of Kerry Gold aged cheddar, and Ploughman's Pickle. I've never tried making Ploughman's pickle; maybe I'll have to try that soon.
Why is there no yeast in Irish Brown Bread?
Because it doesn't need it! Brown bread and soda bread use baking soda as their leavening agent. Baking soda is 100 percent bicarbonate of soda and it's a prime ingredient in baking powder. It is alkaline in nature and creates carbon dioxide bubbles when it's combined with an acid, giving rise to dough and batters. According to Trafalgar.com "While soda bread is most famously attributed to Ireland, it was actually first created by Native Americans. They were the first to be documented using pearl ash, a natural form of soda formed from the ashes of wood, to leaven their bread without yeast… At the time, widespread famine meant bread had to be made out of the most basic and cheapest ingredients available. The four ingredients were soft wheat flour, salt, baking soda, and sour milk (buttermilk is more commonly used today). Since yeast wasn't readily available, the combination of baking soda and buttermilk acted as the leavening agent, causing the bread to rise. The soft wheat flour was better for quick breads, rather than the hard wheat flour typically found in yeasted bread. Since Ireland's unique climate was only suitable to grow soft wheat, soda bread was the perfect match for the country."
How do I make traditional Irish Brown Bread?
Hold on to your flat caps – this is going to be quick! You only need a few ingredients: AP flour, whole wheat flour, baking soda, salt, an egg, buttermilk, honey, and a sprinkling of oats.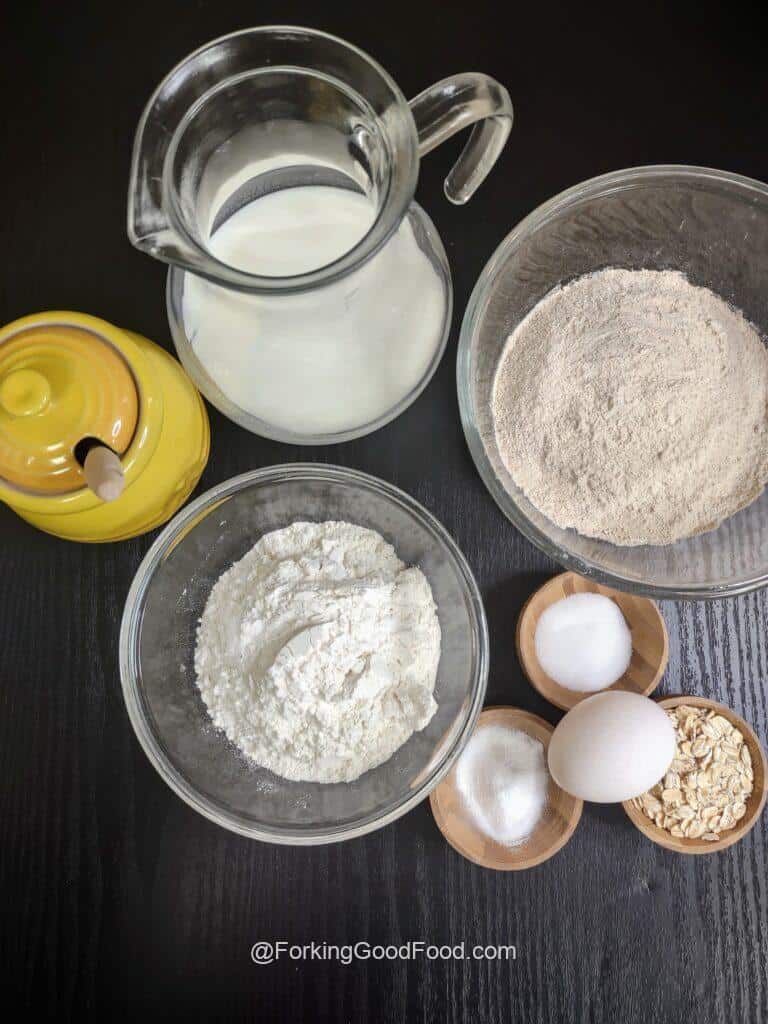 In a large bowl, whisk your dry ingredients together. Make sure you sift your soda, you don't want any lumps and it helps the bread rise more evenly.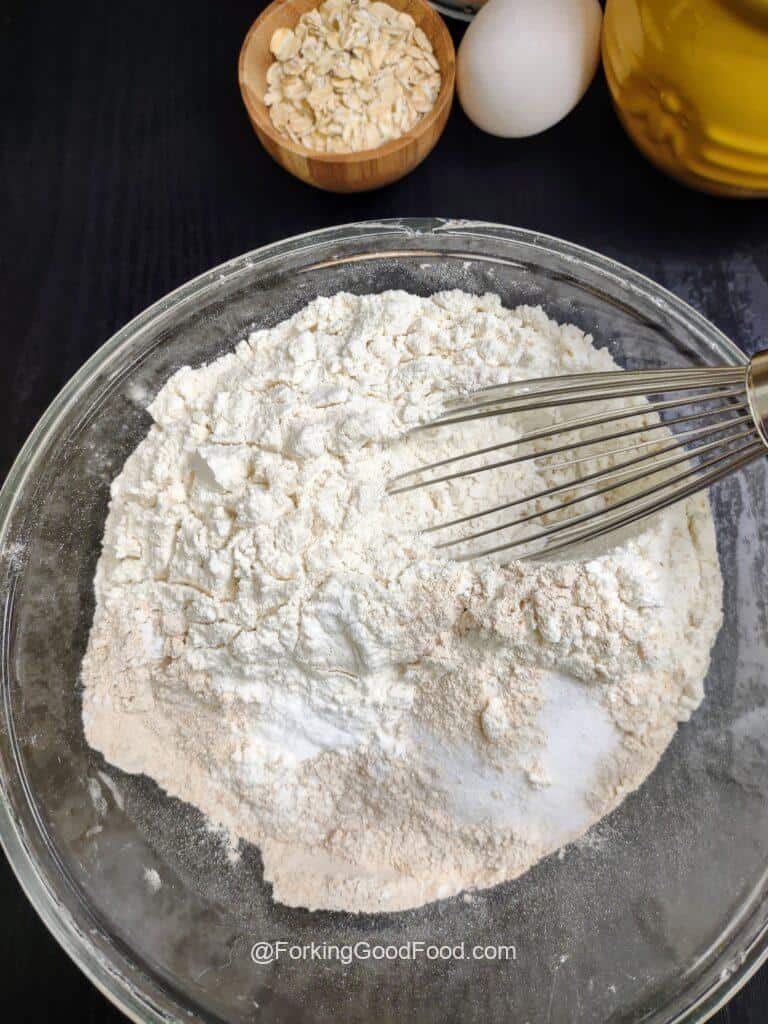 Mix in your wet ingredients. It's going to be very wet and sticky.
Scrape the dough out into your prepared loaf pan and sprinkle with a few oats.
That's it. Pop it in the oven and bake for about 45 minutes. It will be a dark golden brown and will sound hollow when you thump it. Let cool a bit, then slather a thick slice with butter, close your eyes, take a bite, and be whisked away to the Emerald Isle. If you've got a Guinness to wash it down with, even better!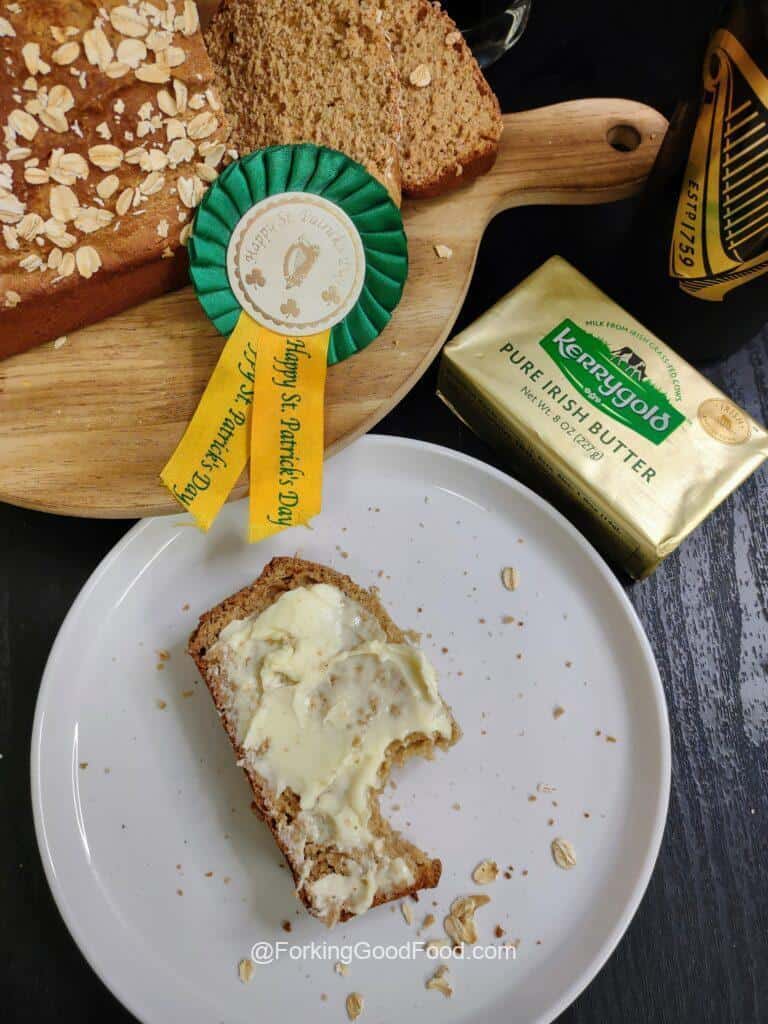 Recipe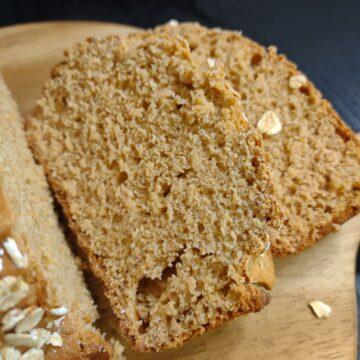 Irish Brown Bread
This is the most legit Traditional Irish Brown Bread out there. Warm from the oven and slathered in butter… you won't even need anything else to go with it.
Equipment
1 Standard loaf pan

1 Stand or Electric Mixer not necessary, just makes it a little quicker
Ingredients
250

g

wholemeal flour

1 ½ cups

200

g

plain white flour

1 ¼ cups

1

teaspoon

baking soda

sifted

1

teaspoon

salt

1

egg

350

ml

buttermilk

about 1 ½ cups

1

Tbs

Honey

2

Tbs

Uncooked Oatmeal

optional
Instructions
Preheat the oven to 200°C (400°F).

Mix the flours, bread soda, and salt together in a bowl.

Combine the egg with the buttermilk and honey, then mix into the flour. Add a little more buttermilk if the mixture is dry – it should be a soft dough.

Pour the dough into a lightly oiled loaf tin. Sprinkle the oats over the top of the loaf if desired.

Bake for 45-50 minutes. To know when it is cooked simply tap the loaf – it will sound hollow when it is fully cooked.

Let cool in the pan for about 5 minutes, then turn out to cool. Wrap in a clean tea towel while cooling. This will keep the crust soft.
Nutrition
Calories:
328
kcal
Carbohydrates:
63
g
Protein:
12
g
Fat:
4
g
Saturated Fat:
2
g
Polyunsaturated Fat:
1
g
Monounsaturated Fat:
1
g
Trans Fat:
1
g
Cholesterol:
34
mg
Sodium:
643
mg
Potassium:
285
mg
Fiber:
6
g
Sugar:
6
g
Vitamin A:
140
IU
Vitamin C:
1
mg
Calcium:
92
mg
Iron:
3
mg