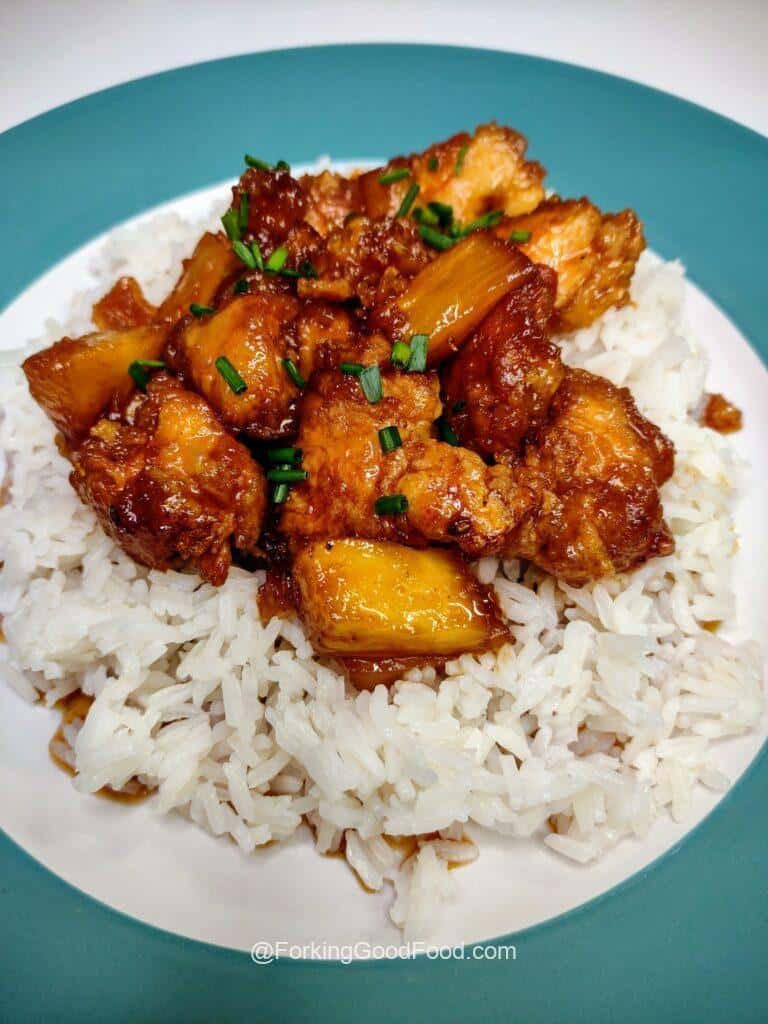 Firecracker chicken is a wide-spread favorite with many fast-food chains getting in on the spicy action.  When I first tried the more traditional recipes I understood how it got it's name... boy was it SPICY!  But it was that good spicy.  Flavorful that leaves your lips tingling, grabbing for something cold to drink, then digging in for more.  Having said that, I can't leave well enough alone.  Over the years I took what's normally a very quick and easy recipe and added lots of things and changed the flavor profile from just plain spicy to something a little more layered.  The sweet pineapple brings an acidity that complements the heat of the buffalo sauce.  My version isn't nearly as spicy as some, but you can always kick it up a notch by increasing the buffalo sauce and adding in some crushed red peppers.
What is Firecracker Chicken?
There are multiple versions of this recipe, but the common theme is buffalo sauce, brown sugar, and apple cider vinegar. Some recipes are just that simple.  Some are a little more complex.  All use the same method of coating the chicken in an insane amount of cornstarch and egg before frying - and boy does this technique work!  While my version has a "few" more ingredients, I think it's well worth the extra 5 minutes to make a dinner with a true WOW factor.
What is Chinese 5 Spice made of?
Luckily you won't have to make it because it's readily available.  If you just want to, you'll need cinnamon, fennel seed, star anise, and cloves. Yes, I know - that's only 4 spices.  The 5th is debatable.  Some say it's ginger, some say it's white pepper and some say it's Sichuan peppercorns.  If you can't find it and don't want to make your own - you can substitute Garam Masala with a pretty close result.
Let's get this firecracker lit!
Hit that pantry hard, you might want to take a basket with you, and grab cornstarch, 5 Spice, honey, soy sauce, ginger dressing, buffalo sauce, brown sugar, apricot preserves, and some apple cider vinegar.  Then from the fridge, grab your chicken, eggs, fresh pineapple, and garlic.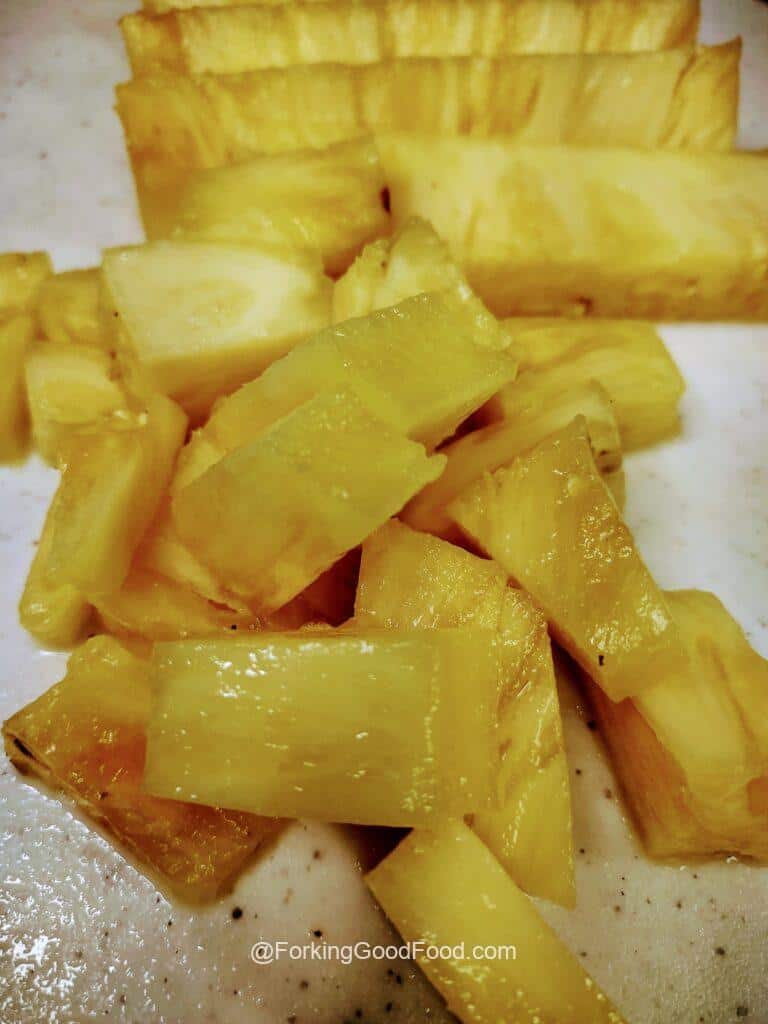 Chop your chicken and pineapple into bite-size pieces.  Cut the pineapple first, or use a different cutting board and knife altogether to avoid cross contamination with the raw chicken.  Always make sure you wash your hands well after handling raw meat of any kind; we don't want anyone getting sick.  One of the greatest tricks of this recipe is the way the chicken is fried.  Put your cornstarch in a ziplock bag, add the chicken and give it a good shake.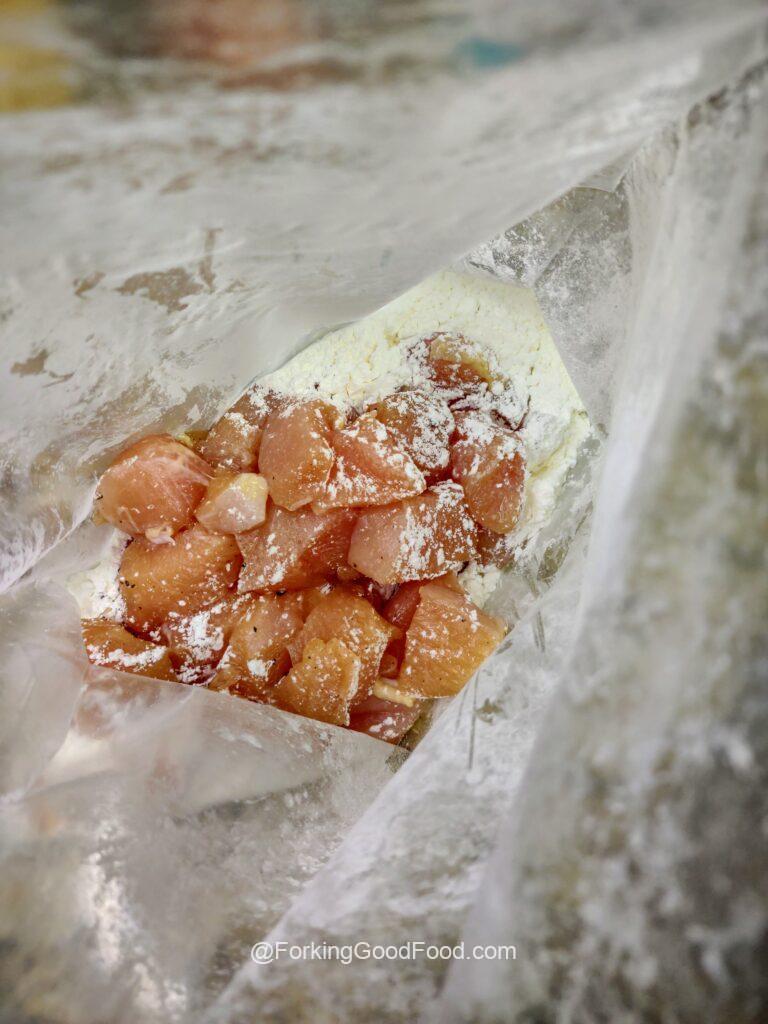 Once it's well coated, gently shake off any excess and toss in the egg to coat.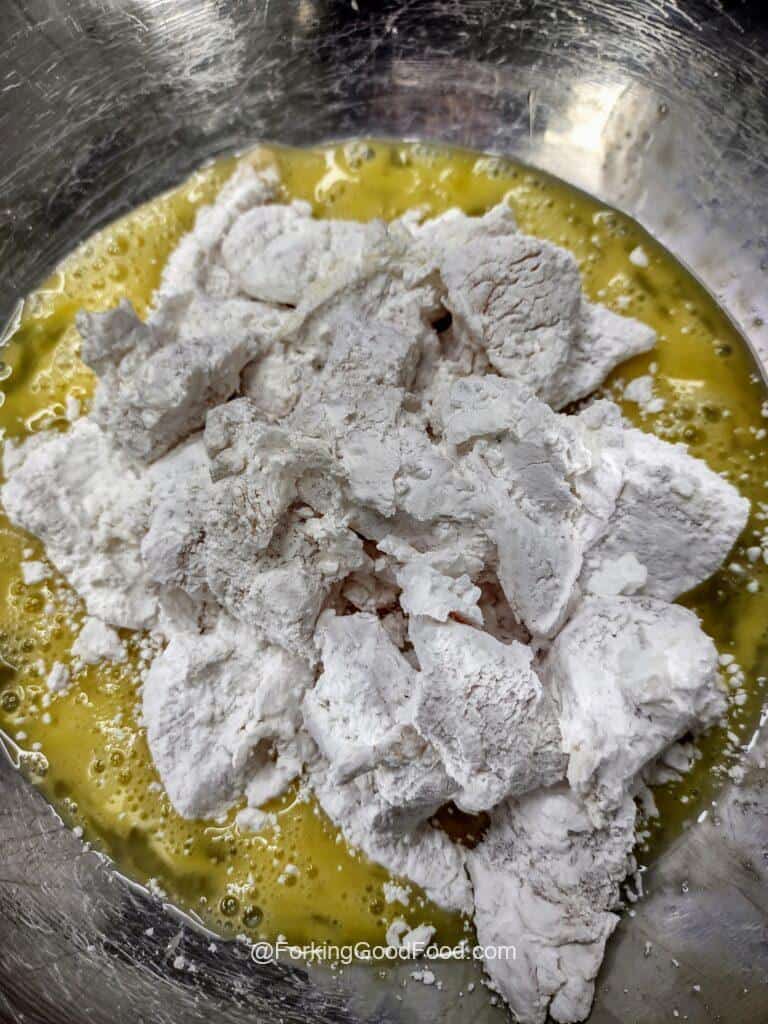 Get your frying pan nice and hot and brown the chicken on all sides.  The chicken pieces are going to stick together in clumps.  That's ok.  Once they're browned, they will break apart pretty easily.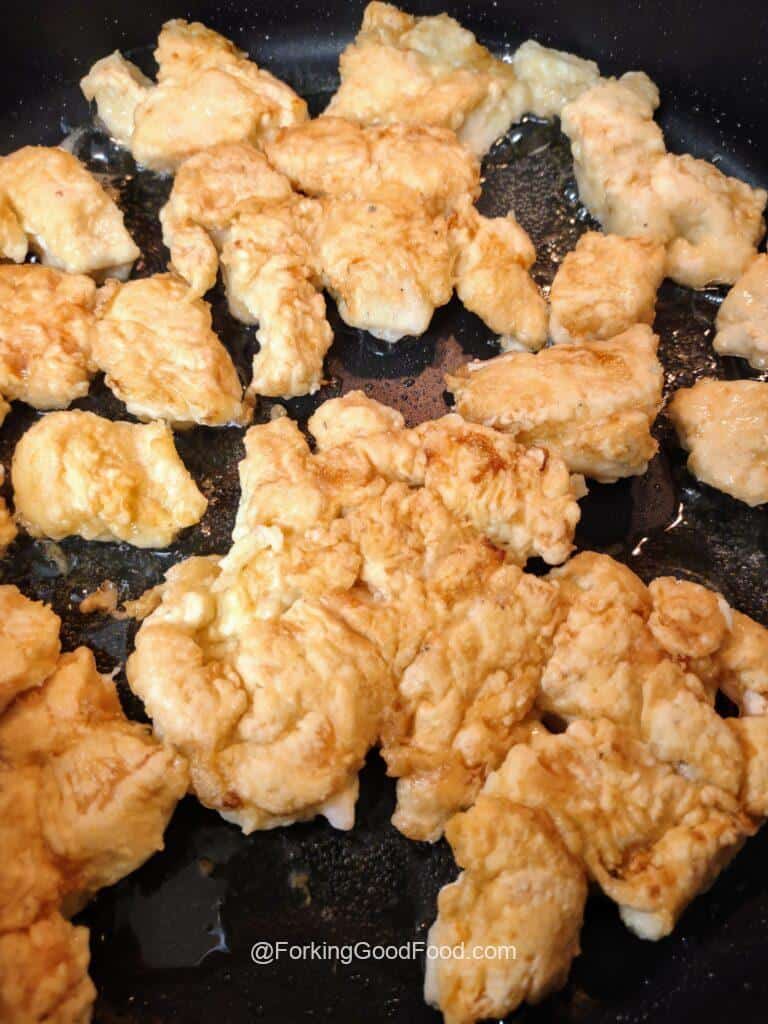 While your chicken is cooking, add all the remaining ingredients,  except the pineapple - and if you did it wouldn't be the end of the world - and whisk together in a medium sized bowl.
Put the chicken and the pineapple in the baking dish and cover with the sauce, gently stirring to make sure all pieces are coated.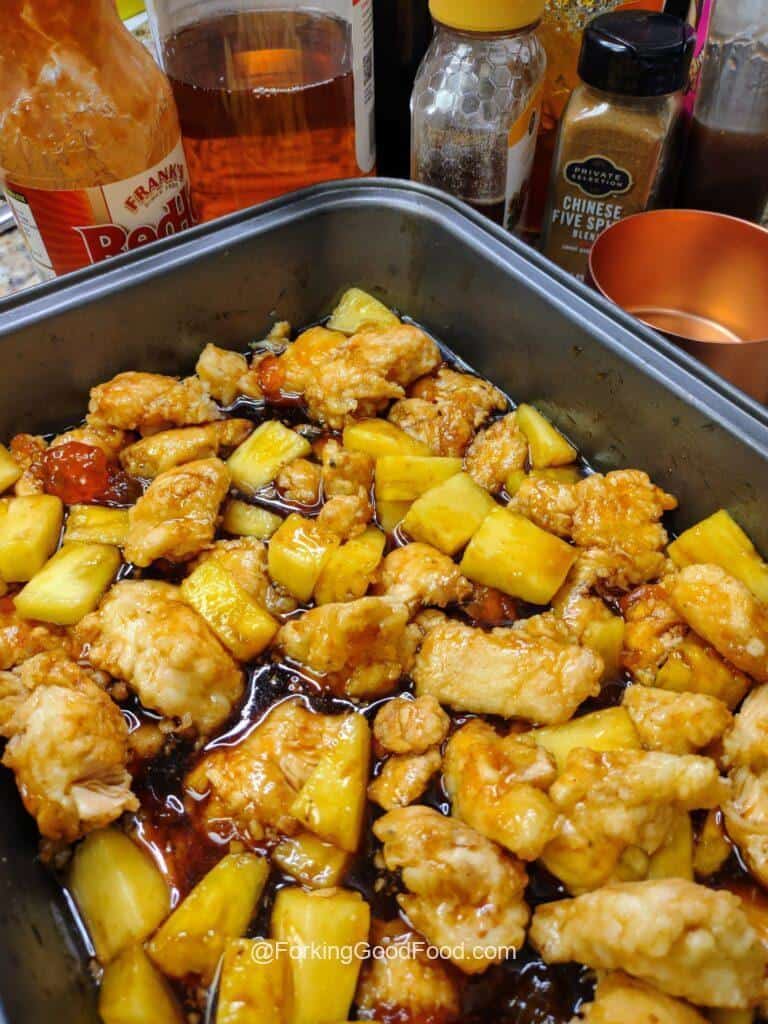 Bake for an hour, stirring every 15 minutes,  Serve over rice, grab something cold to drink, and enjoy!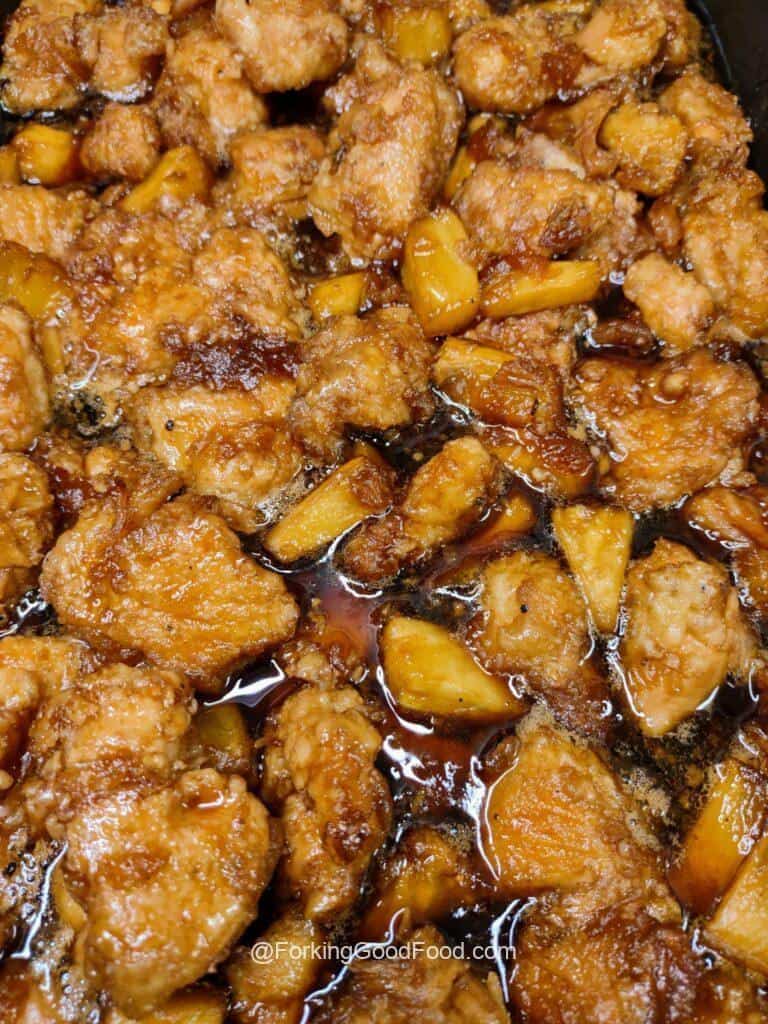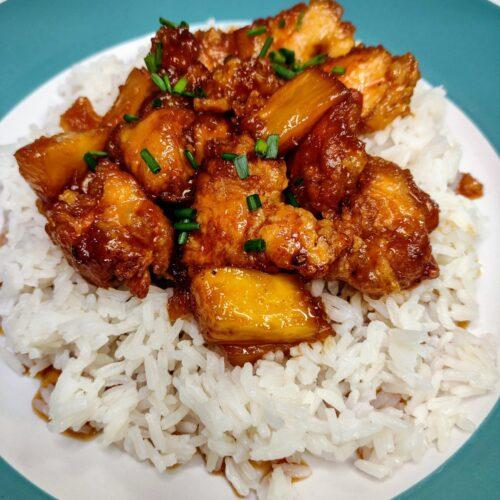 Sweet and Spicy Firecracker Chicken
Firecracker Chicken is a loved American-Asian fusion recipe with as many variations are there are kitchens. This one is sweet and sticky with a little kick. Serve over jasmine or basmati rice for a wonderful dinner
Equipment
Large skillet

Gallon size ziplock bag

13x9" baking dish
Ingredients
¼

cup

canola oil

3-4

boneless

skinless chicken breasts, cut into bite-size pieces

½

fresh pineapple

cut into bite-size pieces

Salt and Pepper to taste

1

cup

cornstarch

2

large eggs

beaten

⅓

cup

soy sauce

⅓

cup

honey

2

Tbs

buffalo sauce

¼

cup

ginger salad dressing

3-4

cloves

garlic

minced

1

cup

light brown sugar

packed

¼

teaspoon

Chinese 5 spice

1 ½

Tbs

apple cider vinegar

½

cup

apricot preserves
Instructions
Preheat oven to 325°

Season chicken with salt and pepper

Heat oil in a large skillet over medium high heat

Place cornstarch in a large Ziplock bag and whisk the eggs in a large bowl. Shake the chicken pieces in the corn starch, shake off excess, and then coat in egg

Cook chicken in a large skillet over medium high heat until browned on both sides and then place it and the pineapple in a greased 13"X9" baking dish

In a medium-sized bowl, combine the remaining ingredients and mix well. Pour over chicken and pineapple making sure it's all well coated

Bake for 1 hour, stirring about every 15 minutes

Serve over rice and garnish with sliced green onion
Notes
If you like it really spicy - add up to ⅓ cup hot sauce and ¼ teaspoon chili flakes
Nutrition
Calories:
1480
kcal
Carbohydrates:
72
g
Protein:
188
g
Fat:
45
g
Saturated Fat:
12
g
Polyunsaturated Fat:
8
g
Monounsaturated Fat:
19
g
Trans Fat:
1
g
Cholesterol:
559
mg
Sodium:
1169
mg
Potassium:
3252
mg
Fiber:
1
g
Sugar:
51
g
Vitamin A:
126
IU
Vitamin C:
29
mg
Calcium:
88
mg
Iron:
6
mg