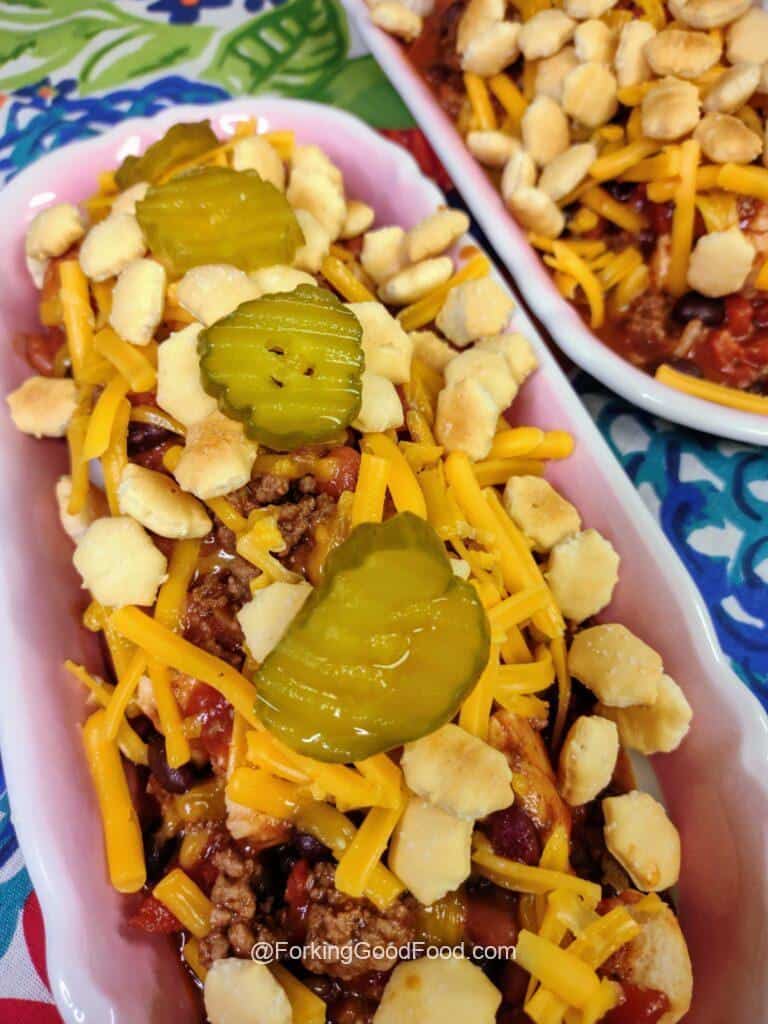 Scrambled Dog with the Best Chili
This is not your grandmother's chili dog.  Well, I take that back; if she's from Columbus, GA then it probably is her chili dog and she loves them as much as her grandchildren. On a completely unrelated note; have you ever heard of the term pareidolia?  Pareidolia is when you see "faces" in objects.  I'm thinking this dill pickle looks pretty pleased to be atop this grand scrambled dog.
Who invented the Scrambled Dog?
The Scrambled Dog's birthplace is debatable, but it was certainly perfected and made famous at the Dinglewood Pharmacy lunch counter by Lieutenant Charles Stevens.  He served up this hometown favorite for over 68 years.  He passed in 2019; God rest his soul.  He was a sweet, dear man who was adored by the community.  He served Scrambled Dogs to President Carter at the White House, Georgia first lady, Mary Beth Busbee served them to Prince Charles, and rumor has it that Lieutenant shipped them to a Sheikh in Saudi Arabia and even catered a wedding in Florence, Italy.  Soldiers stationed at Fort Benning have take the scrambled dog with them across the globe, but they'll always be the best at Dinglewood.
How do I make the best chili?
Well, you need two secret weapons: a well loved chili pot and chocolate. This is my chili pot.  It's been in my family as long as I can remember.  I can't begin to imagine the tanker-loads of chili that have been made in this pot over the years.  It gets hot as H-E-Double hockey sticks, the lid doesn't fit right, and it's been specifically mentioned in my mom's will.  You will notice I also have scrambled dog dishes.  They are not in the will... at least not yet.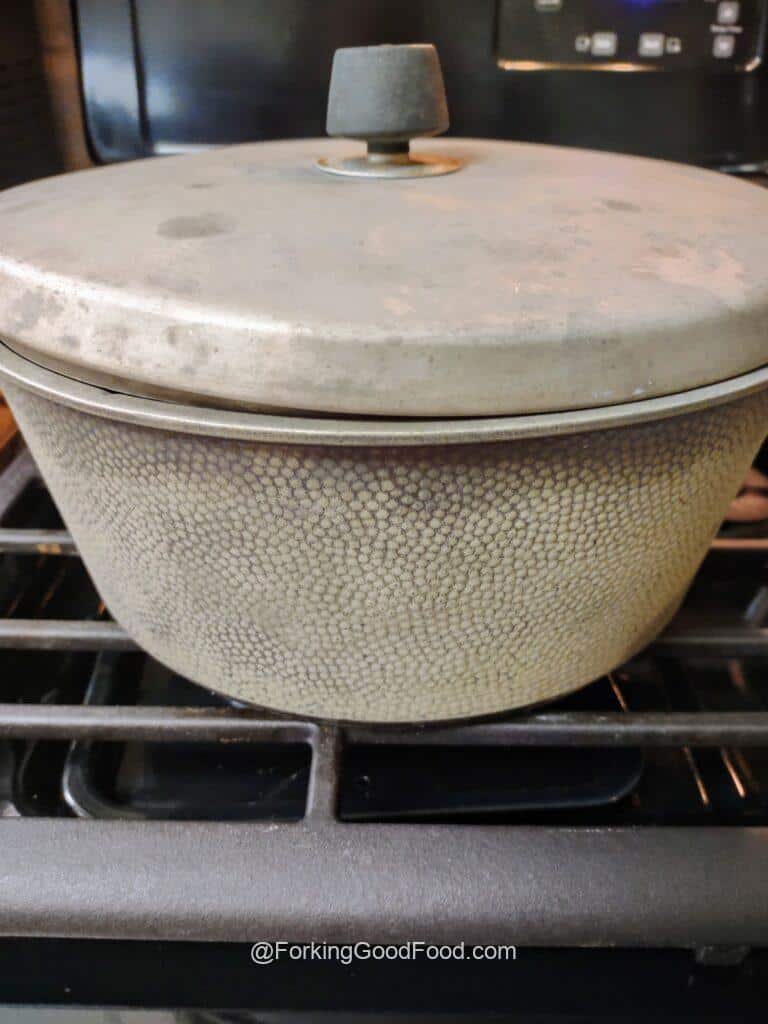 OK, you don't have to have the chili pot, but the chocolate is a must.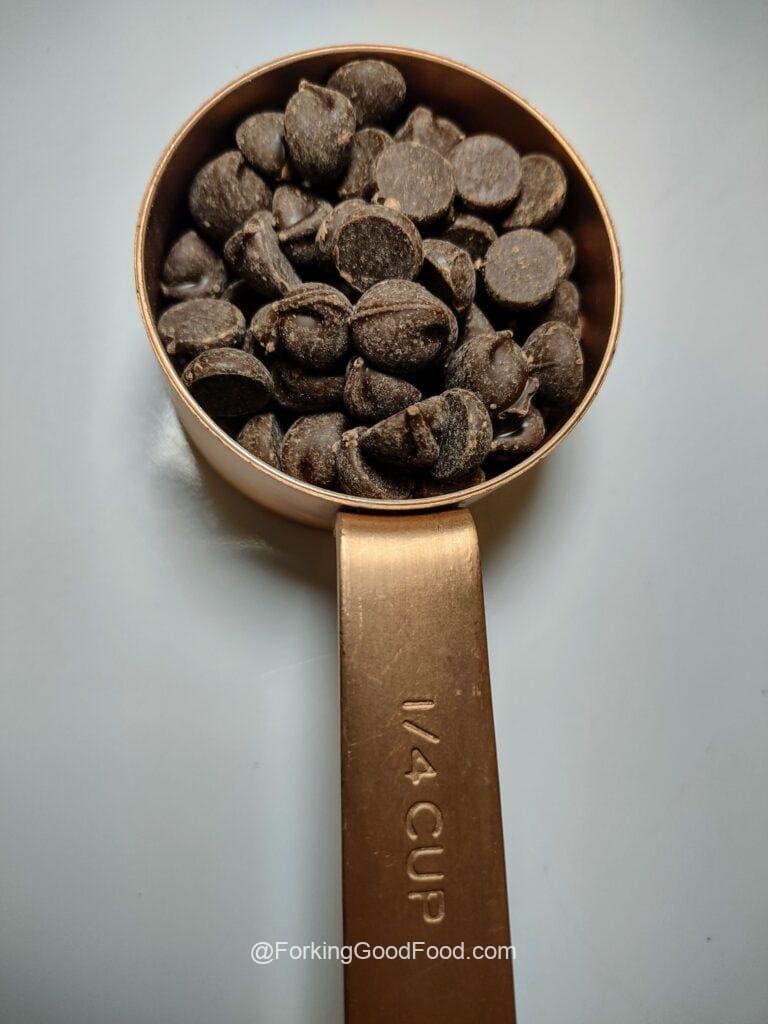 Chocolate brings out the flavors of the chilis and spices and it adds depth, color, and umami.  Back up there.  Umami?  That's the latest culinary buzz word for savory as opposed to sweet, sour, salty, or bitter.  Back to the chocolate.  Don't use too much; you don't want the chocolate to overpower the chili - if you're hesitant about using it, take it easy the first time. Start out with a tablespoon or so; I've found a quarter cup is perfect for this recipe.  If you happen to snack on a few, no harm done.
Alright already...
Chocolate, especially dark chocolate, has been shown to reduce stress so let's CHILI out and make some scrambled dogs!  Sorry, I couldn't help myself.
First, gather up your main ingredients and your secret weapons.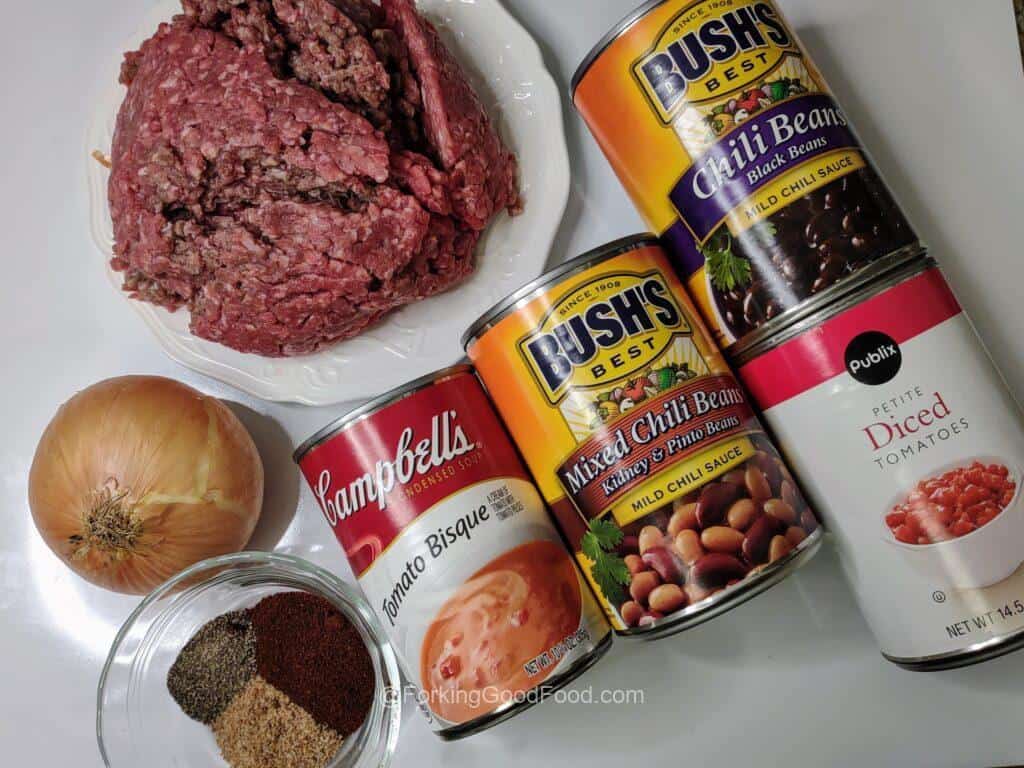 Brown the meat and a third of the onions with the spices and Worcestershire sauce until crumbly and no pink remains.  Add in all the other ingredients, bring to a boil, lower the heat, and simmer for at least ten minutes.  You can cook this for hours if you want, just make sure to stir often.  If it cooks down and you need to add more liquid you can use water, but a little tomato juice is perfect.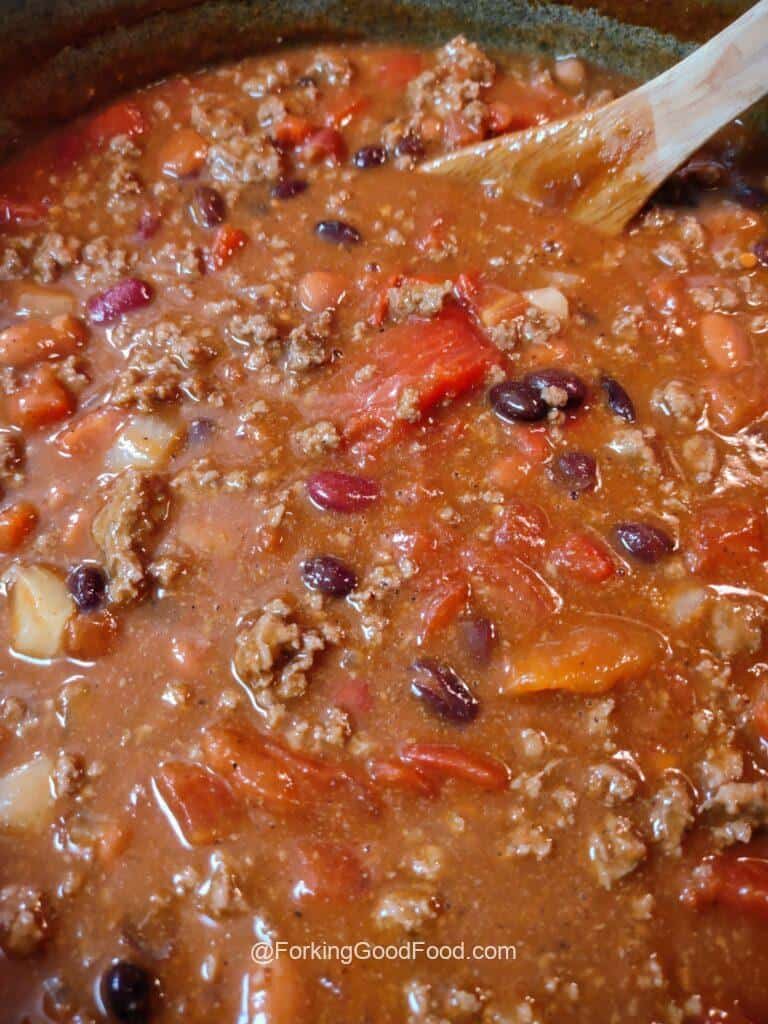 Once your chili is cooked, you can start to build your scrambled dog.  Scrambled Dogs are the "taco bar" of my hometown.  Go plain, or go crazy with toppings.  Make your hotdog how you like it then... wait for it... slice it up.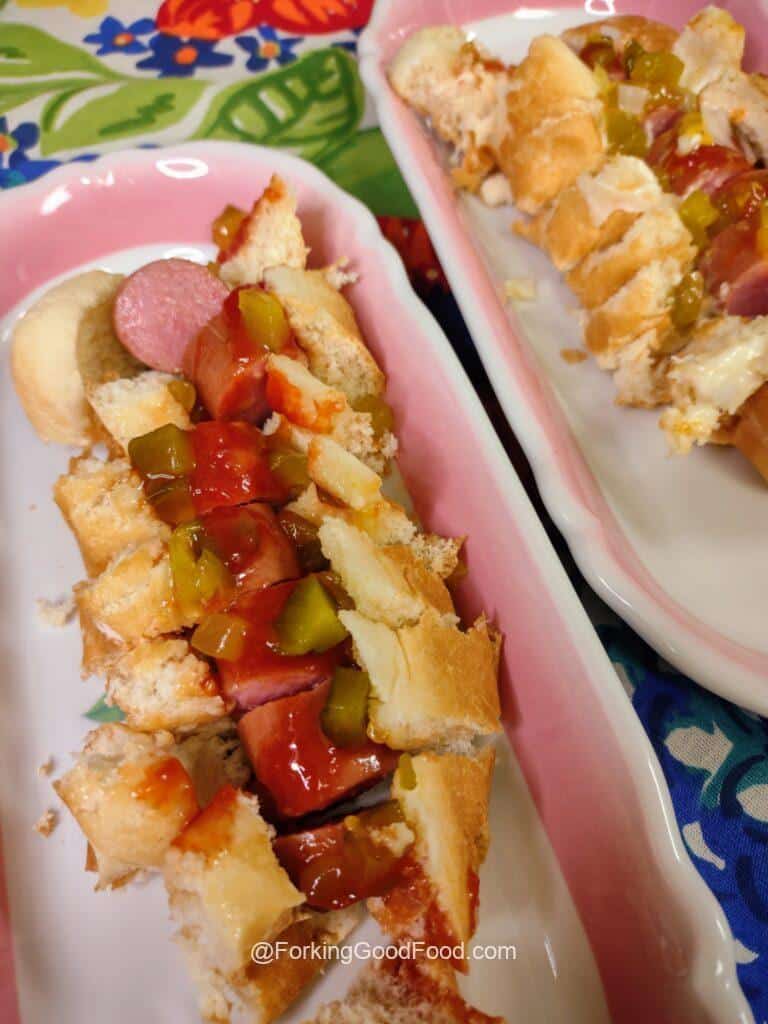 Grab a big ladle (my mom used to use a coffee mug) and smother it in chili.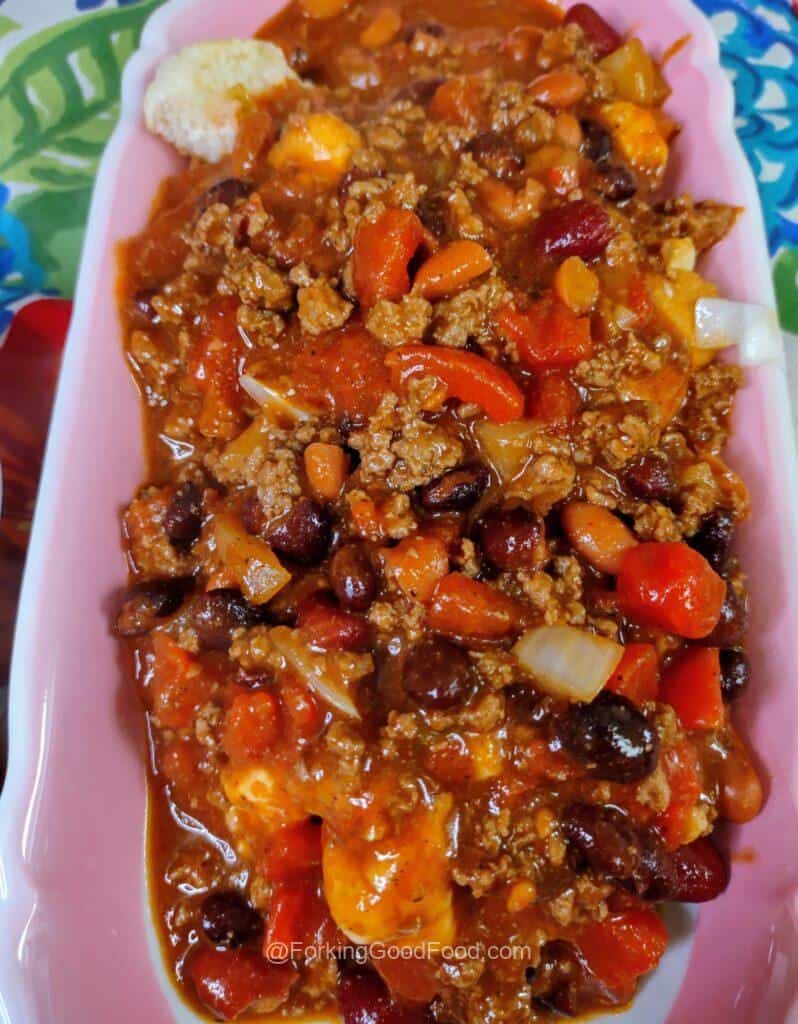 Top it off with a nice sharp cheddar cheese, a handful of oyster crackers, and a few dill slices.  If you want to run with with the big boys (and girls) - have a "Two Weenie Dingle Dog".
Recipe
Scrambled Dogs with the Best Chili
This is the best "chili dog" you'll ever have. Found around the Columbus, GA area, it is a local favorite.
Equipment
A good ol' chili pot

If you're lucky enough to have them - scrambled dog dishes, if not, large plates will do
Ingredients
For the Chili:
1

medium onion

chopped, divided in three (the last ⅓ reserved for scrambled dog garnish)

1 to 1 ½

pound

ground beef

3

Tbs

chili powder

½

teaspoon

seasoned salt

½

teaspoon

black pepper

2

Tbs

Worcestershire sauce

¼

cup

semi-sweet chocolate chips

1

can

can condensed tomato soup

2

cans

(14.5 oz) diced tomatoes/sweet onions

(undrained)

1

can

mixed chili beans

pinto & kidney in mild sauce (undrained)

1

can

chopped green chilis

optional

1

can

black beans

drained
For the Scrambled Dog:
Hot dogs and buns of your choice

Condiments of your choice

Grated Cheddar Cheese

Oyster crackers

Sliced Hamburger Dills
Instructions
Make the Chili:
Preheat chili pot, Dutch oven, or large pot on medium-high for 2-3 minutes. Place beef, chili powder, seasoned salt, pepper, and ⅓ of the onions in the pan. Cook 4-5 minutes, stirring to crumble meat, or until meat is brown and no pink remains.

Stir in remaining ingredients, plus ⅓ of the onions. Bring to a boil, stirring often.

Reduce heat to low; cook at least 10 more minutes, stirring occasionally, to blend flavors.
Build your Scrambled Dog:
On a large plate make your hotdog the way you would normally eat it. Add things like ketchup, mustard, relish, onions, mayonnaise, etc.

Using a sharp knife, slice the prepared hotdog into bite-size pieces

Cover the entire hot dog in chili, until the hot dog can't be seen

Sprinkle with cheese and oyster crackers

Garnish with a few pickle slices
Notes
The longer you cook the chili the better.  In fact, making it the day before and reheating the day you will serve is optimal.
Nutrition
Calories:
569
kcal
Carbohydrates:
45
g
Protein:
32
g
Fat:
31
g
Saturated Fat:
12
g
Polyunsaturated Fat:
2
g
Monounsaturated Fat:
13
g
Trans Fat:
1
g
Cholesterol:
93
mg
Sodium:
1203
mg
Potassium:
1606
mg
Fiber:
13
g
Sugar:
15
g
Vitamin A:
1947
IU
Vitamin C:
29
mg
Calcium:
154
mg
Iron:
9
mg