This is a quick easy sweet onion jam that pairs wonderfully with stuffed chicken, burgers, and a myriad of other dishes.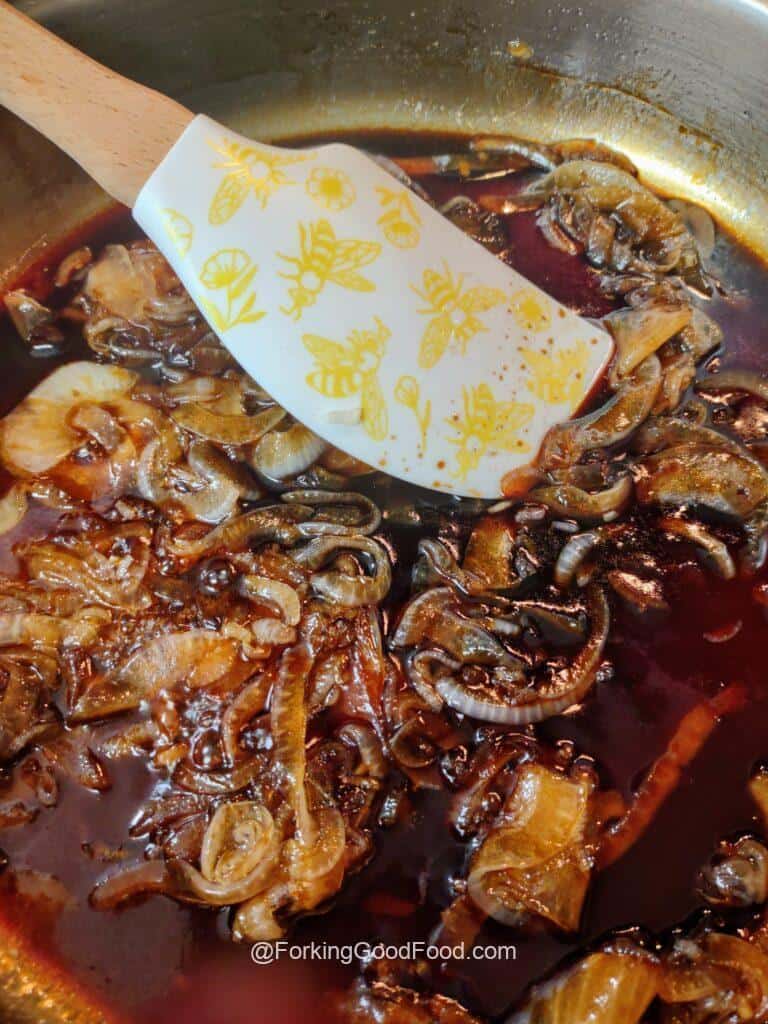 This little recipe is a gem! I suppose that makes it a jammy gem - y'all really shouldn't allow me to write anything. 😀  It blows plain old sautéed onions away when you're using onions as a topping or filling.  The flavor explodes, but doesn't overpower.  With just 4  ingredients you probably already have you can whip this up in a flash.  Make it ahead of time (up to ten days) and then you'll have it when you're ready.  You're going to use this recipe more often that you would think because the possibilities are almost endless.
What is Balsamic Vinegar made of?
One thing and one thing only - grapes. White Trebbiano grapes to be exact.  Wait - WHITE grapes?  Balsamic is usually dark isn't it?  Yup - that is a result of natural browning as the grapes age. A lot of "imposter" balsamic vinegars are made by adding colorings and flavorings to regular vinegar to make them far less expensive.  True Balsamic is made in Modena or Reggio Emilia in Italy and can take well over a decade to make. Oddly enough, Balsamic vinegar really isn't vinegar at all.  Vinegar  comes from the fermentation of the alcohol in wine into acetic acid.  Balsamic grapes are boiled to a concentrate, fermented and acidified, and then aged for 12 to 25 years in wooden barrels that get concentrically smaller as the grapes age and reduce. If you find traditional Balsamic a little too sweet for your tastes, try White Balsamic instead.
How do you make Balsamic Onion Jam ?
It's really simple.  It only takes a few minutes and four ingredients.  And no, you don't have to know how to "can" to make this jam.  You'll need an onion, brown sugar, balsamic vinegar, and a little oil.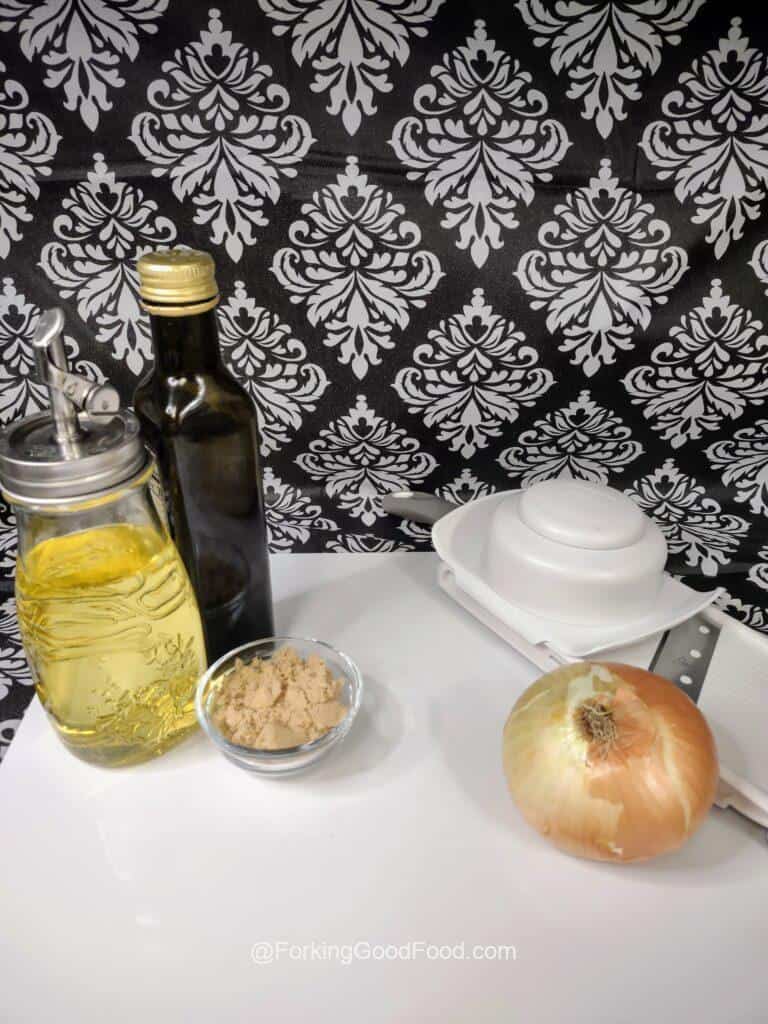 First, cut your onion in half and then slice it as thin as you can.  Using a Mandolin Slicer, I can literally slice and entire onion paper thin in seconds! They range in price from $20 to over a $100.  I've had mine for years, use it all the time and only spent about $30 on it.  The best thing is, you get uniform slices so they cook in the same amount of time.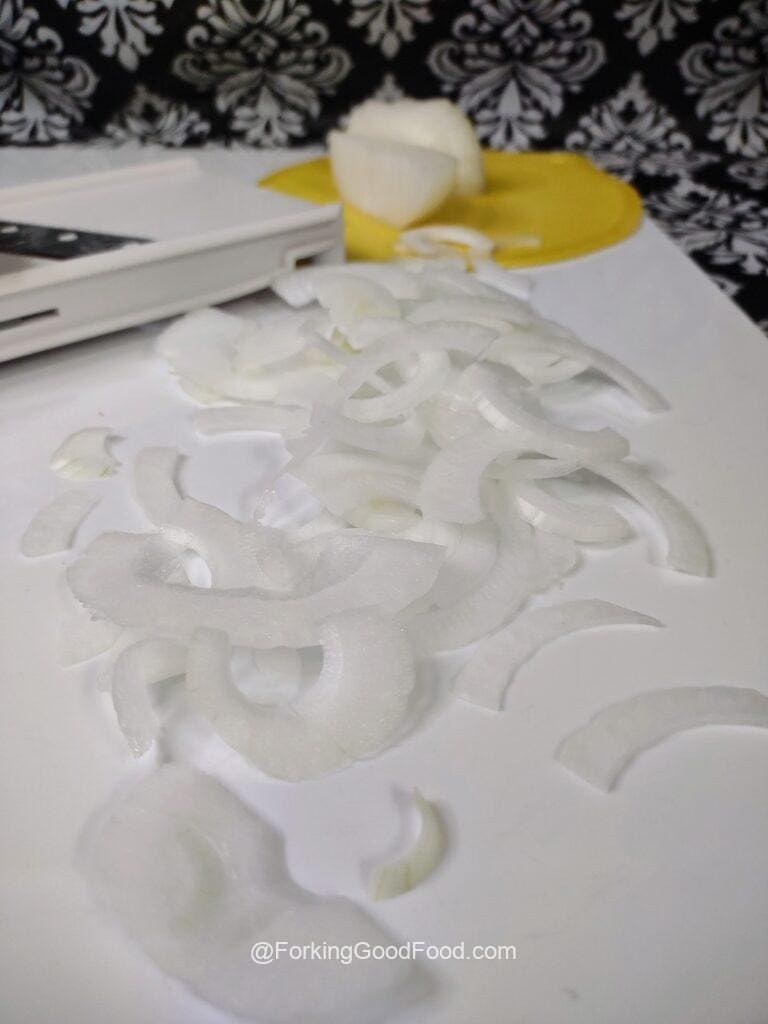 Heat your oil in a heavy skillet and sauté your onions until they just start to caramelize (go a little golden brown).  Give them a little stir now and again to keep them from sticking.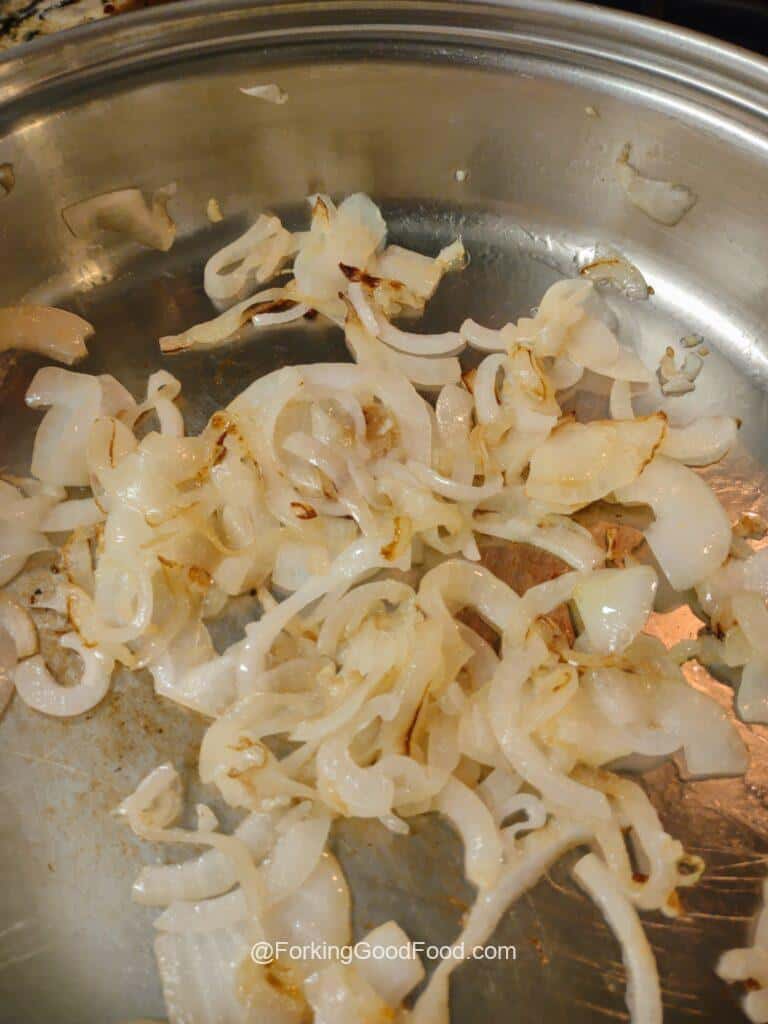 Next, add in your sugar and stir until completely dissolved.  It will take less than a minute. The sugar will burn quickly so keep those onions moving.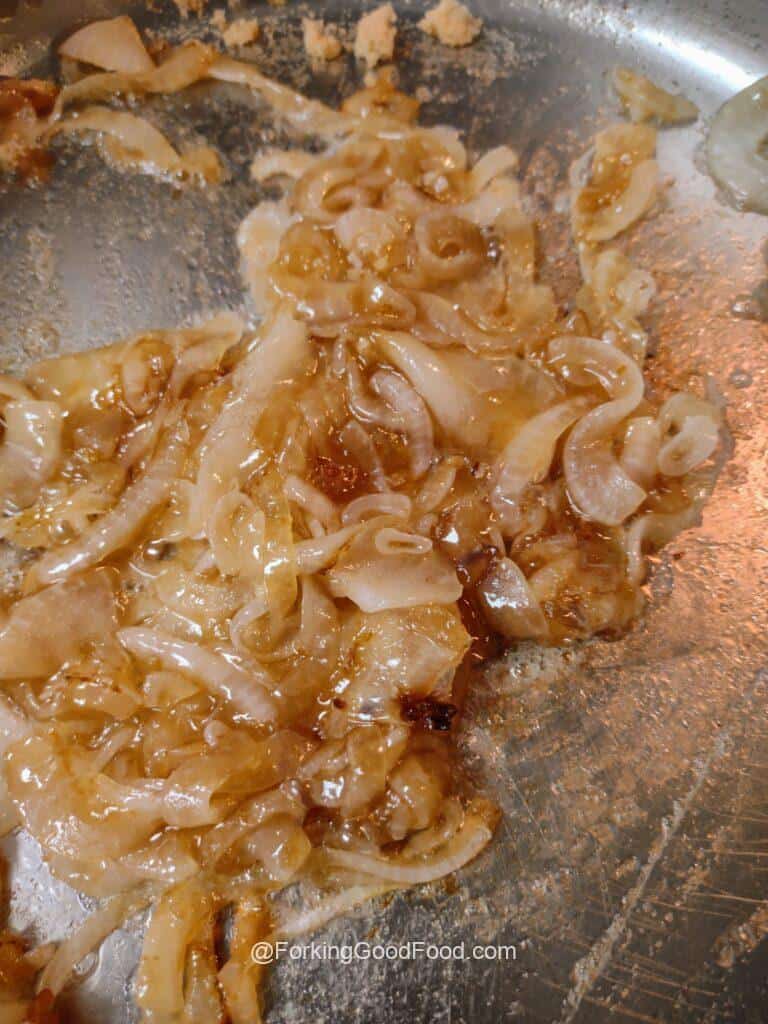 Reduce the heat to low and add in your Balsamic.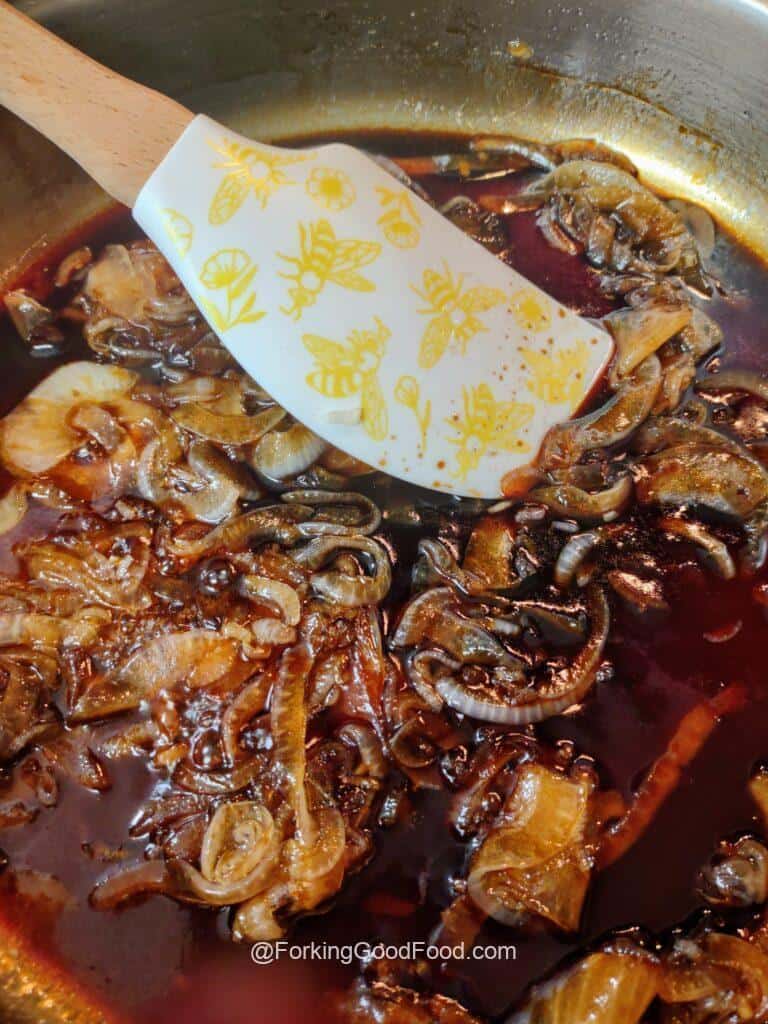 Let simmer and reduce for about 6 or 7 minutes until you have a thick jam consistency.
The jam can be made ahead and stored in an air-tight container for up to 10 days in the fridge.  Want to change it up a little, toss in some finely chopped, pre-cooked, crispy bacon for the last minute of cooking.
Recipe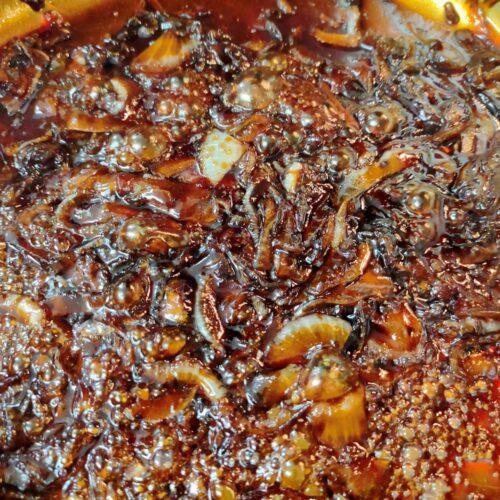 Balsamic Onion Jam
This is a quick easy sweet onion jam that pairs wonderfully with stuffed chicken, burgers, and a myriad of other dishes.
Equipment
Skillet

Mandolin if available
Ingredients
1

Tbs

olive oil

1

onion

thinly sliced (red or sweet onion preferably)

1 ½

Tbs

brown sugar

4

Tbs

balsamic vinegar
Instructions
Heat the oil in a heavy-based frying pan over high heat

Add the onion and cook for 5 minutes or until just starting to caramelize

Add the sugar and stir until dissolved

Add the vinegar, mix well, and simmer over low heat for 6 minutes or until the mixture is thick and jam-like
Notes
Can be stored in the refrigerator in an airtight container for up to 10 days
Nutrition
Calories:
73
kcal
Carbohydrates:
10
g
Protein:
1
g
Fat:
4
g
Saturated Fat:
1
g
Polyunsaturated Fat:
1
g
Monounsaturated Fat:
3
g
Sodium:
6
mg
Potassium:
64
mg
Fiber:
1
g
Sugar:
8
g
Vitamin A:
1
IU
Vitamin C:
2
mg
Calcium:
14
mg
Iron:
1
mg