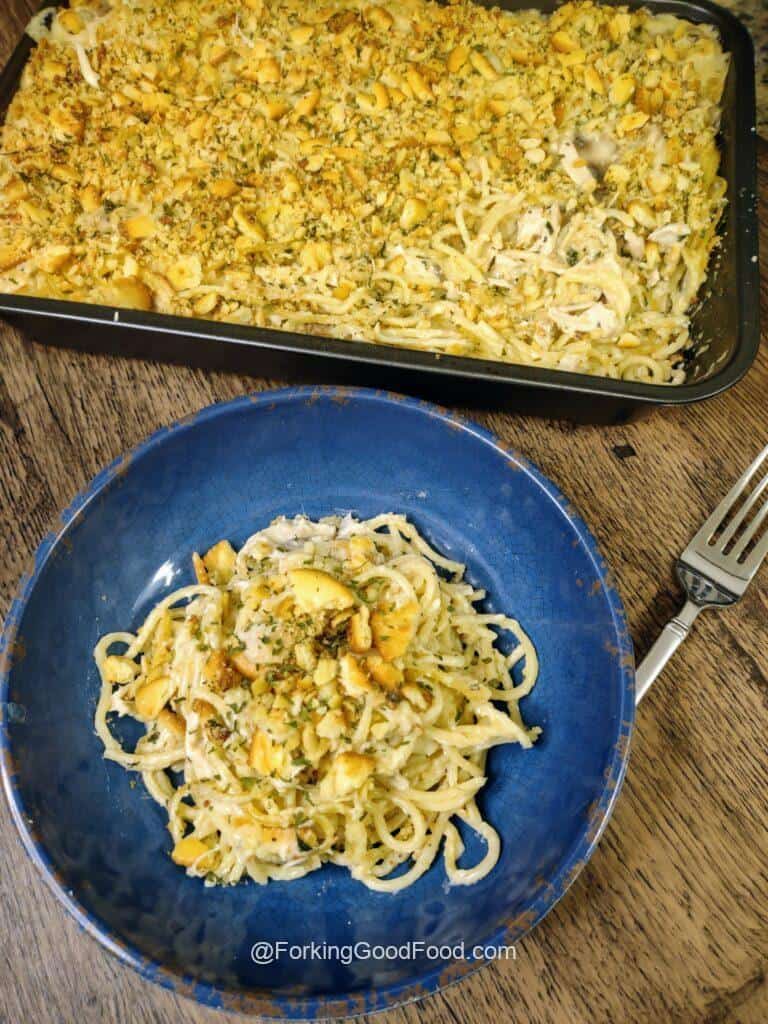 Easy Chicken Tetrazzini
We never had Tetrazzini in my house growing up; but I used to love it when my friend Bridget's mom made it.  Over the years it slipped from my memory.  UNTIL... my son's girlfriend suggested we cook it together one night for dinner. I was THRILLED.  Y'all, it was so good I made it the next weekend just so I could hurry to post it here.  I'm not one to eat leftovers, but I can put my hand on my heart and say there wasn't a strand of pasta left either time.  I'm not saying that I got up in the middle of the night to eat it - but I'm not saying that I didn't either.
It is simple, it's cheesy, it fills you with comfort, creamy dreamy joy, and a very strong desire to take a nap. If you are looking for an Easy Chicken Tetrazzini recipe...this is it!
What is tetrazzini?
With all this pasta and cheese, you'd think it was legit Italian. Wrong.  It's American, but named for the Italian opera star Luisa Tetrazzini.  It's a baked pasta dish that traditionally has mushrooms and chicken and a sauce that's nearly indistinguishable from Alfredo sauce.  You can create all sorts of variations (great way to use leftover turkey after Thanksgiving - just saying) but the classic is the best.
Why do chefs fan out the pasta?
Like this??? If you have a smaller pot, fanning the pasta out helps it from sticking together.  Once you add your pasta to the boiling, salted, water and you feel the the bottoms start to go a little soft, you can twist the pasta gently with a large fork and it will fit nicely in your pot.  If you have a larger pot, then you don't have to do this if you don't want to - but it sure is pretty and fun!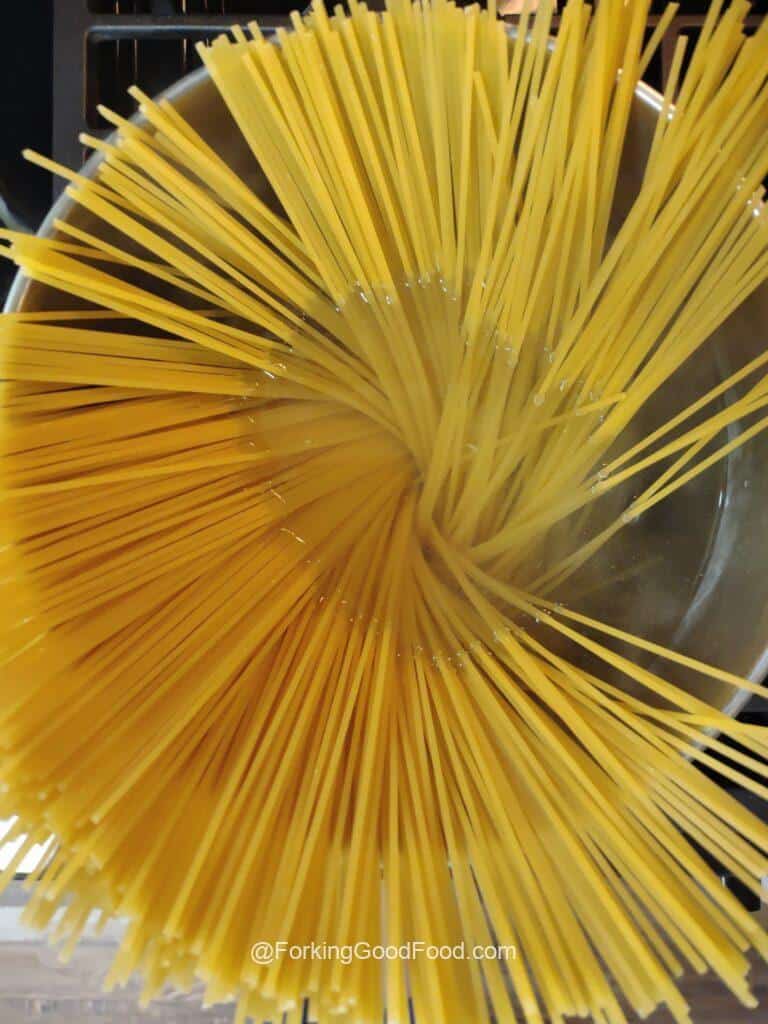 How do you make Easy Chicken Tetrazzini?
Here, let me show you. For best results, it requires a little planning, but it's worth it.  Start with your ingredients:  Chicken, mushrooms, cream of mushroom and cream of chicken soup, sour cream, a lot of cheese, salt and pepper, some Ritz crackers and a little more cheese are you're all set.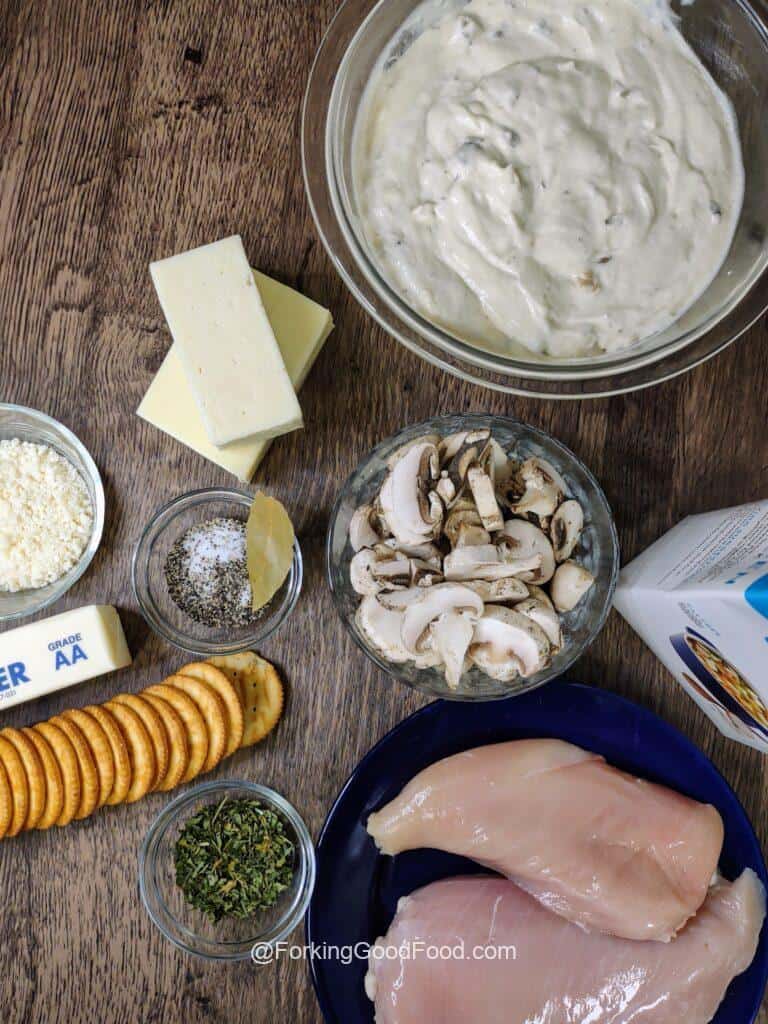 First you need to cook your chicken.  I prefer cooking it in stock in a crock pot for a couple of hours.  If you don't have that kind of time, you can boil it on the stove and it will be fine.  During the last 20 minutes of cooking the chicken, boil your pasta and preheat your oven.  When the chicken is done, shred it into big pieces, little pieces, chop it up in chucks -however you like it.  I like mine finely shredded.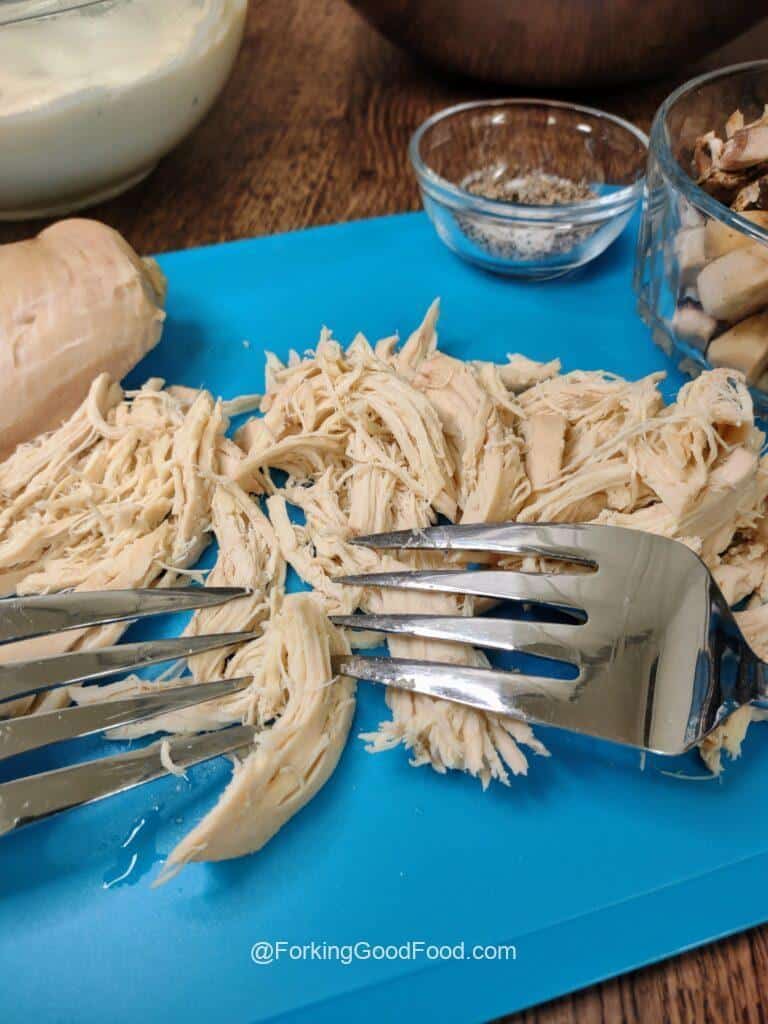 Next shred your cheeses.  I prefer a nice block mozzarella and very sharp white cheddar.  You can use fresh mozzarella but it tends not to shred as well and doesn't get evenly distributed throughout the dish.  What I don't like is pre-shredded cheese.  They add this anti-caking agent to it (that white powdery stuff you see in it) and I think it doesn't melt as well.  Block cheese is easy to shred and cheaper too.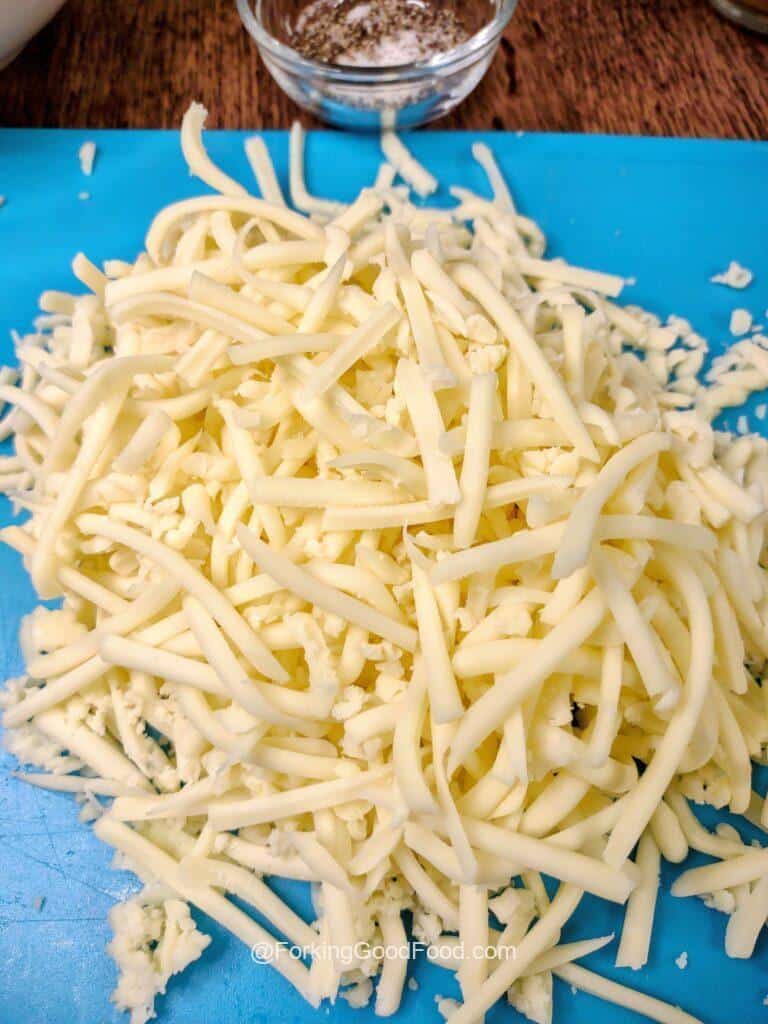 Once the chicken is shredded, put it in a large bowl (probably the largest one you have in the house). Then add in the soups, sour cream, salt & pepper, shredded cheese, mushrooms, and some of the reserved chicken stock, and stir well until everything is combined.  Gently fold in your pasta until evenly coated. Set it aside to make your topping.  Mix together the crushed crackers, parmesan, parsley and melted butter.  it should be a fairly dry, coarse texture.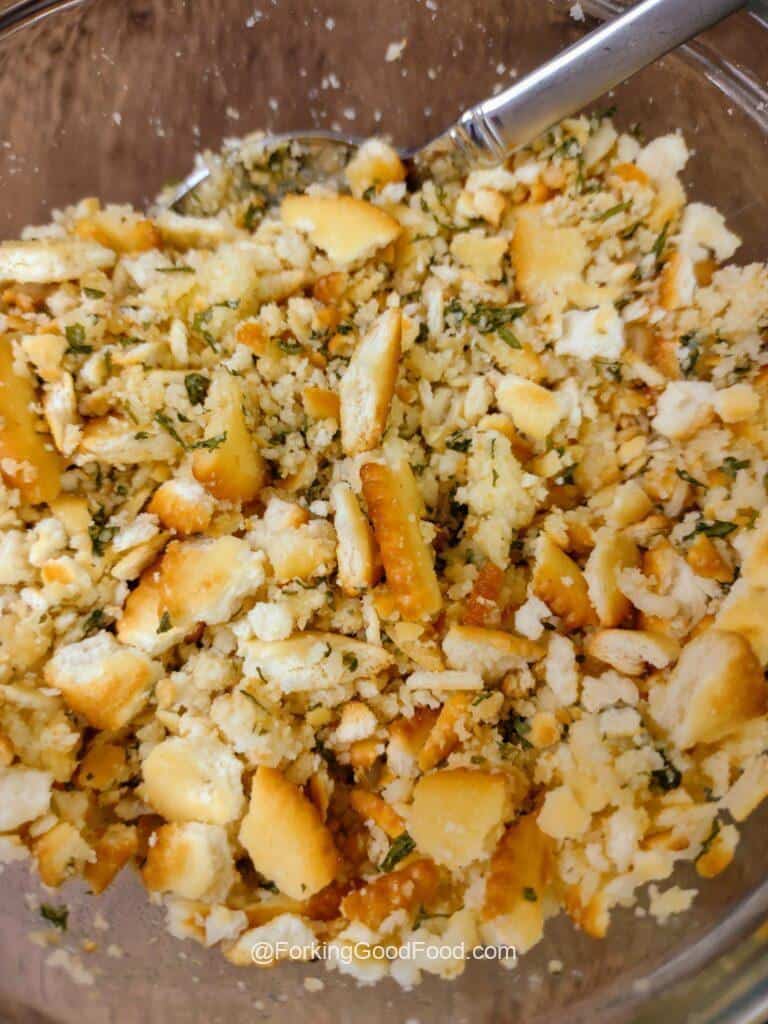 A note about your pasta.  I probably should have mentioned it earlier but here goes.  Don't over cook your pasta.  You actually want it a little under-done; at that still firm not quite al dente stage. - it will finish cooking while it's baked.  Place the pasta mixture in a 13x9 pan or casserole dish, and sprinkle the topping on, covering the pasta completely.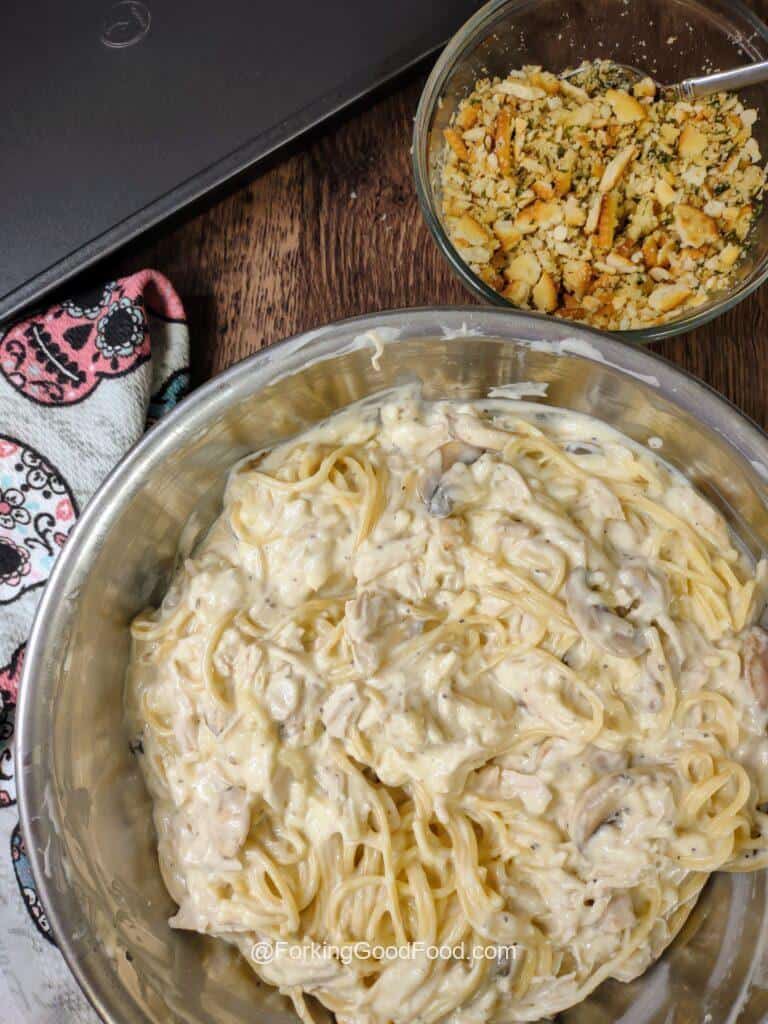 Bake for about 30 minutes or until it's all nice, golden, bubbly and gooey.  It's usually pretty darn hot when it comes out of the oven so I let it sit for a few minutes.  And if anyone comes up with an easy way to serve this up, please leave a comment below.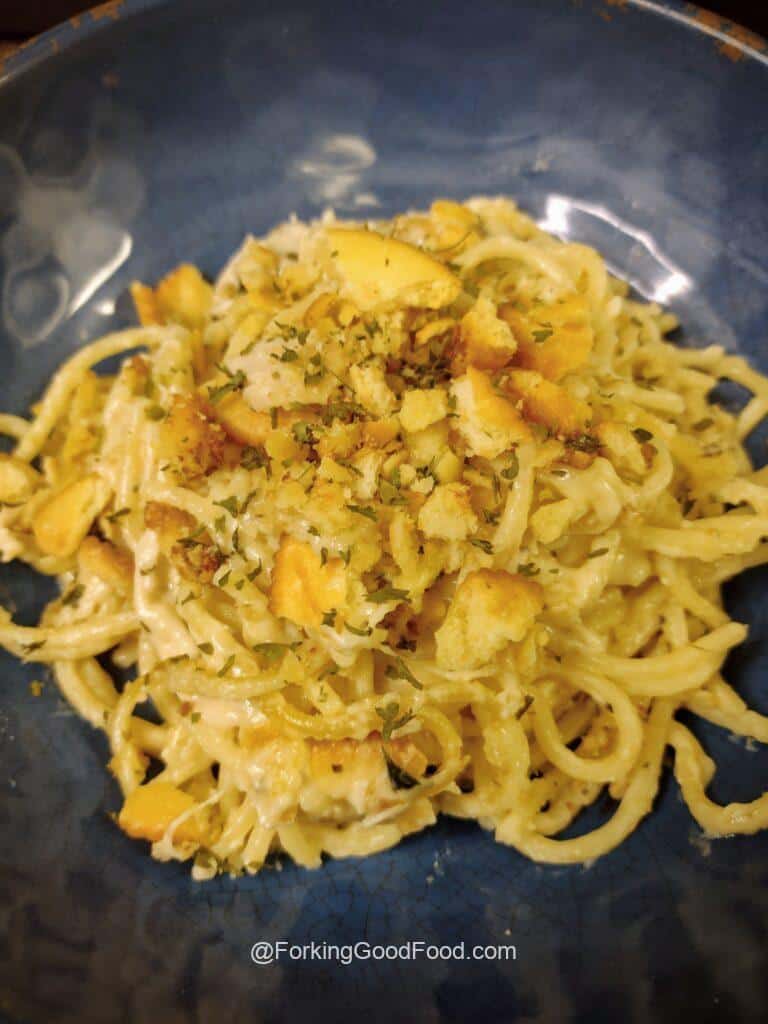 More pasta recipes to try:
Recipe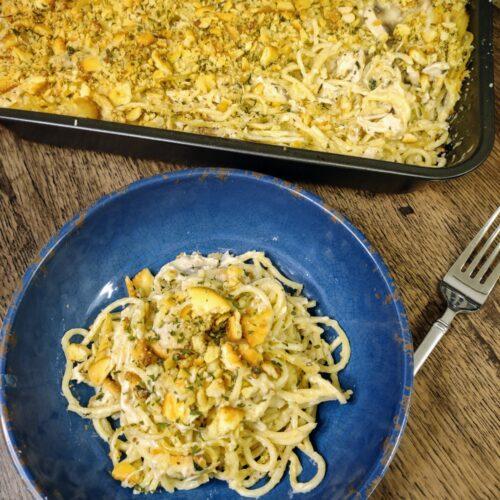 Easy Chicken Tetrazzini
This is Cheesy Tetrazzini heaven that feeds a crowd. Cook your chicken ahead of time in a slow cooker and this goes from start to table in minutes. With tender chicken, cream, cheese, mushrooms, and pasta - what's not to love?
Equipment
Slow Cooker

13x9" baking dish
Ingredients
Ingredients:
1

lb

cooked spaghetti

cooked to just under al dente

1

lb

chicken breasts

cooked and shredded

1

can condensed cream of mushroom soup

no added liquid

1

can condensed cream of chicken soup

no added liquid

2

cups

sour cream

32

oz

chicken broth/stock

with ½ cup reserved

1

cup

mushrooms

fresh, washed and sliced

1

cup

mozzarella

shredded

1

cup

sharp white cheddar

shredded

½

cup

butter melted

1

teaspoon

salt

½

teaspoon

black pepper

1

bay leaf
For the Topping:
1

sleeve round butter crackers

crushed

2-3

Tbs

butter

melted

½

cup

parmesan

grated

¼

cup

dried parsley
Instructions
In a slow cooker, add the chicken, stock, and bay leaf and cook on high for about two hours or until fall apart tender

During the last 20 minutes, cook your spaghetti in well-salted water to almost al dente and preheat your oven to 375℉

Remove the chicken from the cooker, reserving ½ cup of the stock and discarding the bay leaf. Shred the chicken as fine as you like and place in a very large mixing bowl

Add in the mushrooms, condensed soups (do not add extra liquid), sour cream, butter, and shredded cheeses and mix until well combined

Fold in cooked spaghetti and place into a 13X9 baking dish - set aside

In a small bowl, combine the crushed crackers with the melted butter, parmesan, and parsley and mix well - it should not be too wet, if it is, add a few more crushed crackers

Distribute the cracker topping over the pasta mixture evenly

Bake for 30 minutes or until golden brown and bubbly. Let rest about 5-10 minutes before serving.
Nutrition
Calories:
674
kcal
Carbohydrates:
29
g
Protein:
36
g
Fat:
46
g
Saturated Fat:
27
g
Polyunsaturated Fat:
2
g
Monounsaturated Fat:
12
g
Trans Fat:
1
g
Cholesterol:
170
mg
Sodium:
1611
mg
Potassium:
676
mg
Fiber:
2
g
Sugar:
4
g
Vitamin A:
1387
IU
Vitamin C:
14
mg
Calcium:
456
mg
Iron:
2
mg