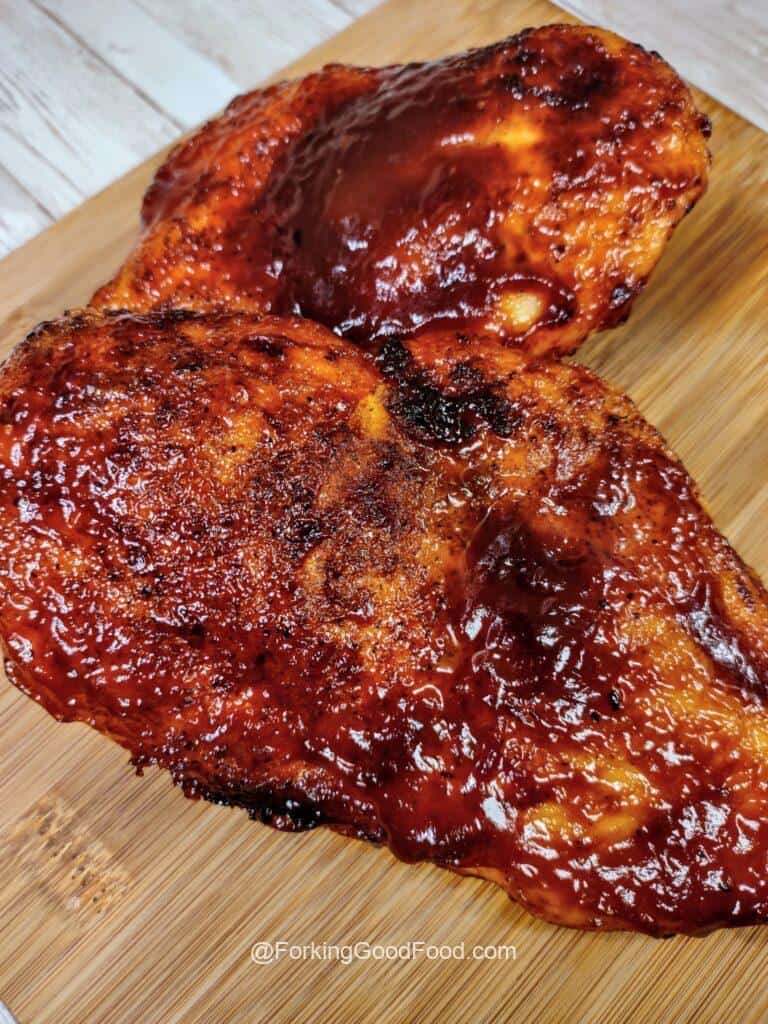 Air Fryer Barbecue Chicken
I never thought I wanted an Air Fryer - until I got one.  I didn't buy it, it was a gift that I didn't even want and now I'm a convert.  I do a lot in my air fryer, I've got a great chicken fried steak I'll have to share one day.  This chicken recipe has to be one of my favorites.  It's quick, easy, flavorful, and you don't have to mess with a grill!  A few choice spices, a nice brown sugar barbecue sauce, and you've got a sticky sweet with a little heat piece of juicy chicken.
Is barbecue a noun or a verb?
My friend: "You want to come over for BBQ this weekend?"
Me: "What y'all havin'?"
My friend: "Burgers and brats."
Me: "Well isn't this awkward."
For my Aussie friends in the back - IT'S A NOUN! Fight me on this one.
What's the difference in an Air Fryer and a Convection Oven?
The smart aleck in me is dying to say "the spelling."  And I wouldn't be far from the truth.  Basically they are the same thing.  They cook, fan assisted, at high temperatures to give that crispy crunch we love from deep frying.  So it's really not frying at all.  Sure, you might spray a little olive oil on what you're "frying" but you're not immersing it in oil as you would with traditional frying.  Both Air Fryers and Convection Ovens rely on the forced movement of hot air to cook their food faster than baking.  They also allow space for the air to move around the food from all sides since it's usually in a basket.  The down side of an Air Fryer - they're smaller and you may have to cook in batches whereas convection ovens are a little larger - but they take up more space as well.  Air Fryer or Convection oven - you'll get crunchy result that's far healthier than deep/pan frying.
How to make Air Fryer Barbecue Chicken:
This recipe is so quick and easy it's sure to become a regular player on the roster.  The recipe as written is for two.  If you want more, you can do the math, or jump to the recipe and click the little 1X, 2X, 3X button on the right of the ingredient list and we'll do it for you!
First, trim your chicken, pat it dry and lightly spritz it with a little cooking spray or olive oil mister. Preheat your fryer to 360 degrees. Gather your spices and we're ready to start. Nothing fancy: smoked paprika, onion powder, garlic powder, and some salt and pepper.  That's it - for now!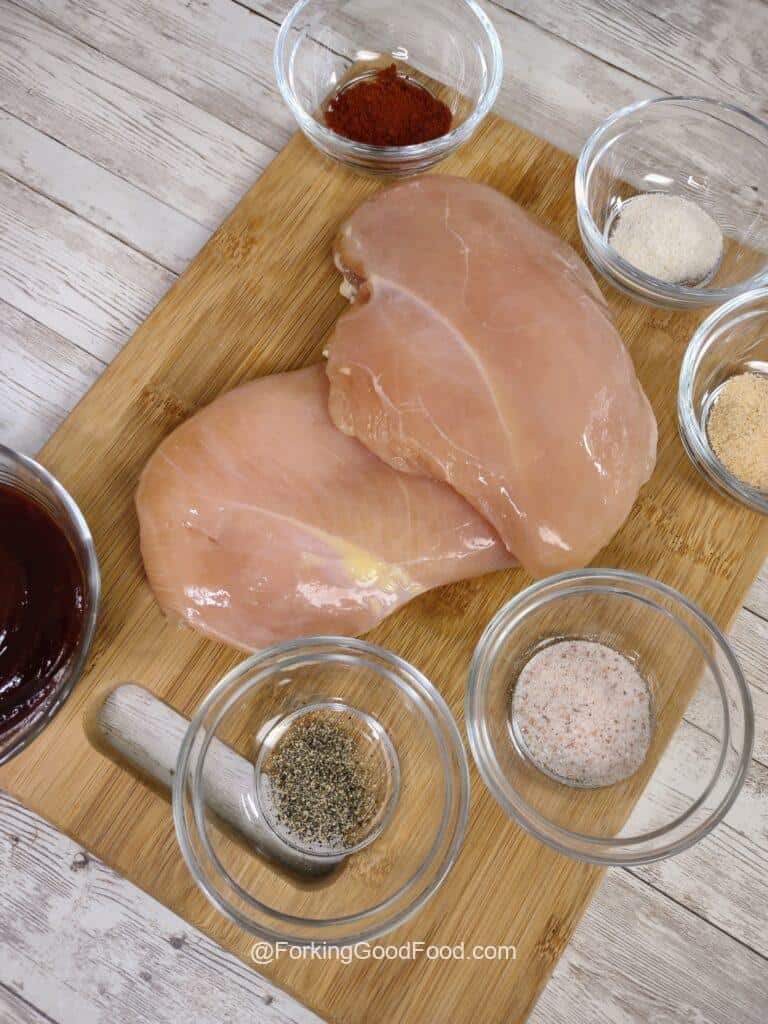 In a small bowl, whisk the spices together until they're completely blended.  Then sprinkle ½ teaspoon of the spice blend on each side of the chicken.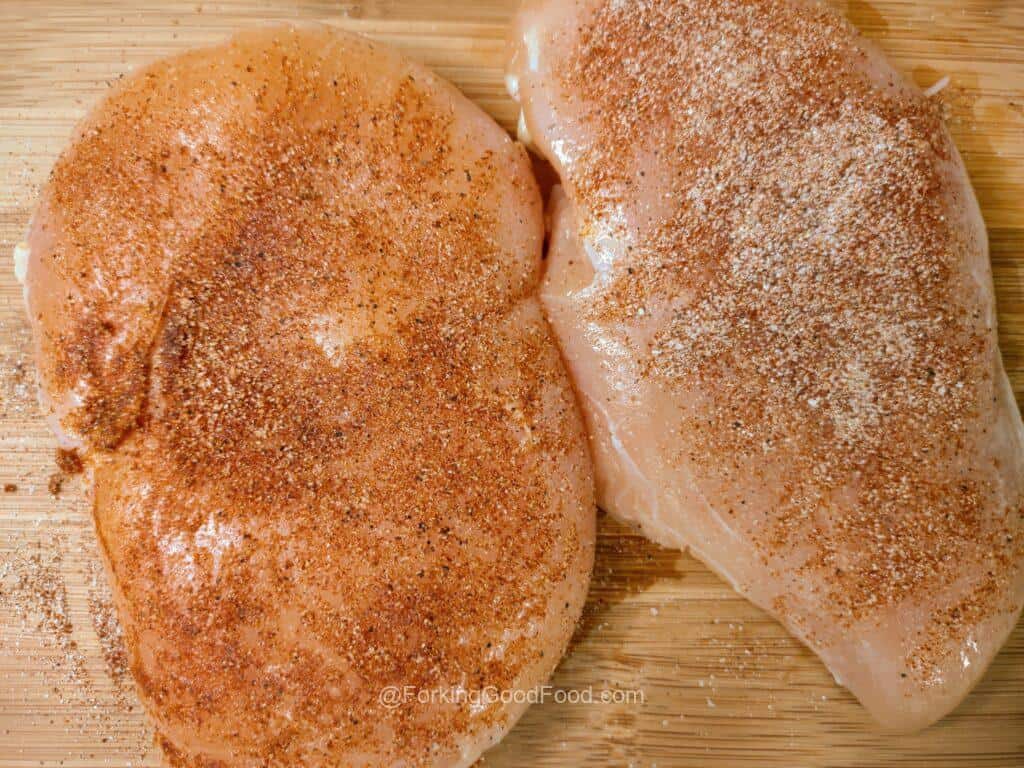 Give it a nice little chicken massage to make it happy and put it "pretty side" down in the fry basket.  This way, when you flip the chicken over to cook the rest of the way, you'll be glazing the plump side for a nice presentation.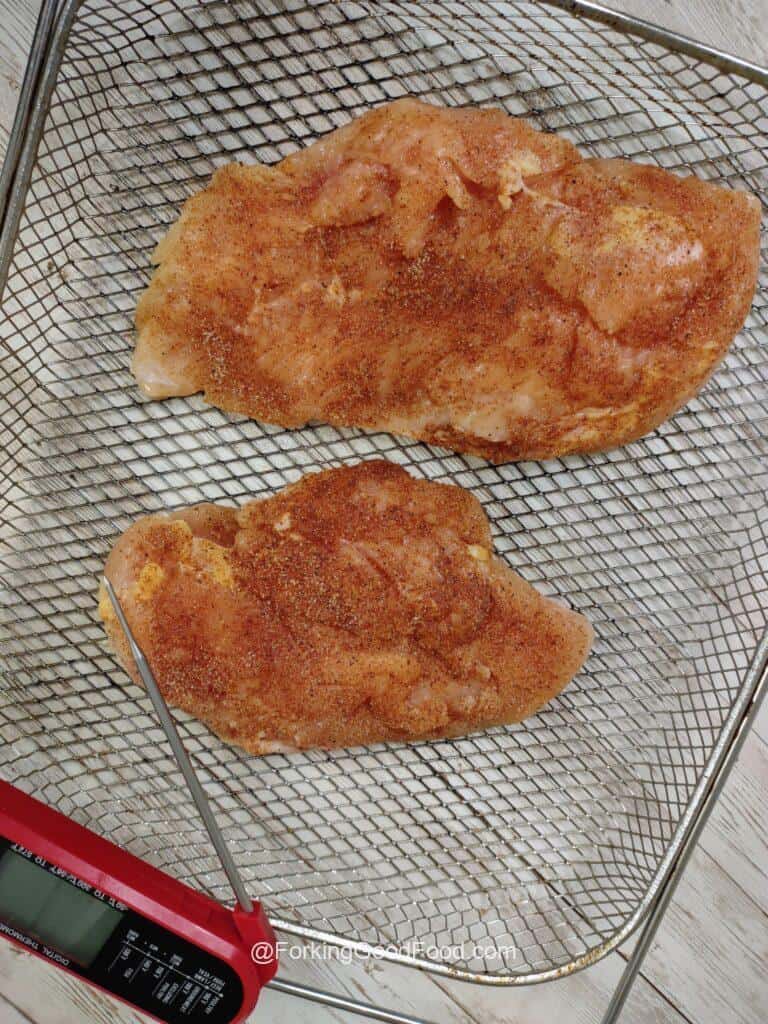 Cook for 10 minutes and then flip and cook another 10 minutes or until the internal temperature reaches 165 degrees.  You may want to check the temp at about 7 or 8 minutes because overcooking the chicken will cause it to dry out.
Once it's cooked to the proper temperature, apply the pre-made barbecue sauce liberally to both pieces of chicken.  Turn up the heat to 450 and cook for another two minutes. The sauce should be bubbly, shiny, and wonderfully sticky.  REST THE CHICKEN FOR 5 MINUTES before cutting or serving. I love serving this with a few spears of fresh grilled pineapple and crispy sweet potato fries.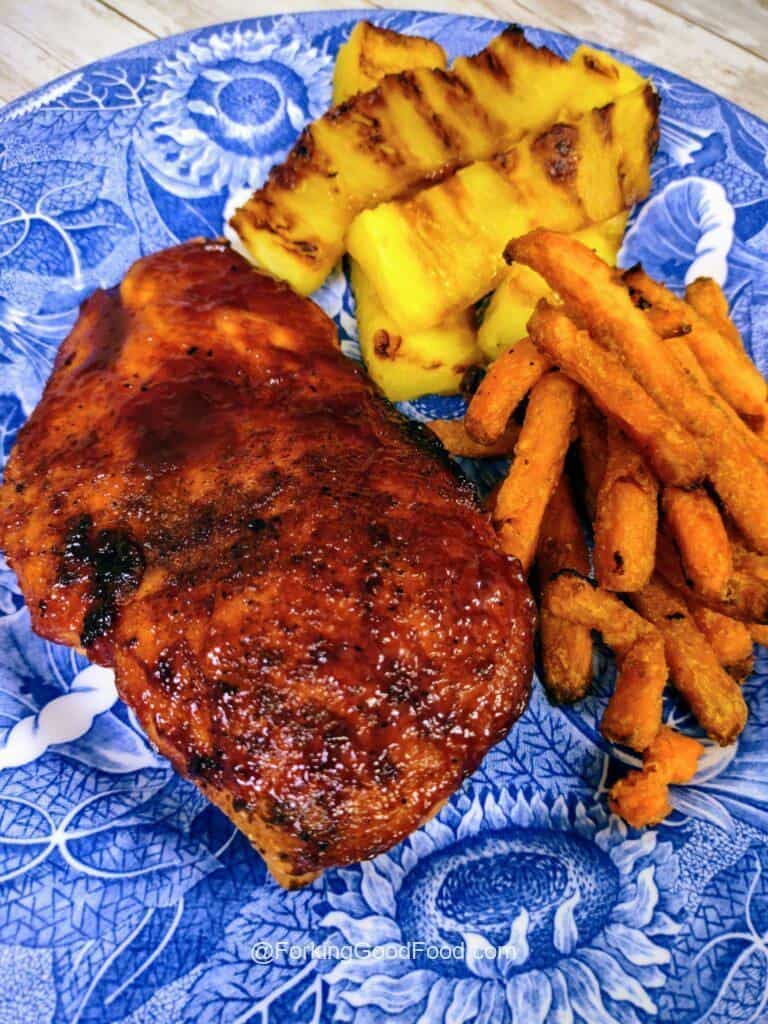 Recipe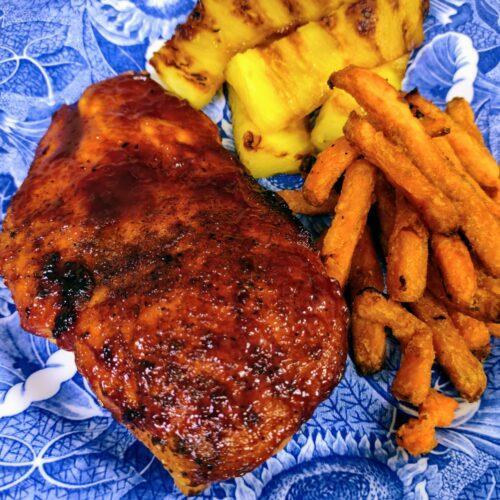 Air Fryer Barbecue Chicken
This is no-fail barbecue chicken recipe that's juicy and delicious and half the work of firing up the grill.
Equipment
Digital Meat Thermometer

Basting Brush, optional
Ingredients
2

large chicken breasts

boneless, skinless

½

teaspoon

smoked paprika

½

teaspoon

garlic powder

½

teaspoon

onion powder

¼

teaspoon

pepper

¼

teaspoon

salt

⅓ to ½

cup

BBQ sauce

honey or brown sugar preferable

Cooking Spray

High Temp/Grilling if available
Instructions
Preheat your air fryer to 360℉ and spray your basket with cooking spray

In a small bowl, mix all of your dry spices together and set aside

Pat the chicken with a paper-towel to dry then lightly spray with cooking spray.

Sprinkle ½ teaspoon of the spice mixture evenly on both sides of the chicken breasts, massaging gently to make sure the spices adhere to the chicken

Place the chicken in the air fryer basket and cook for 10 minutes

Flip after and cook another 10 minutes or until internal temp reaches 165℉ (check after about 8 minutes)

Increase temperature of the air fryer to 450℉

Spread the top of each chicken breast generously with BBQ sauce and return to the air fryer for about 2 minutes or until bubbly and nicely glazed

Let chicken rest for at least 5 minutes before cutting or serving
Notes
If you like your BBQ a little spicy, add a little cayenne to the spice mix. I wouldn't do more than ⅛ tsp. A healthy pinch should do it.
I start with the top side of the chicken facing down in the fry basket, that way when you flip it the "pretty side" will be up - it makes for a nicer presentation.
The BBQ sauce is really a personal preference. I find sauces with brown sugar in them caramelize a little better and give you that nice sticky glaze you want. If you like a mustard base sauce, try adding ⅛ to ¼ teaspoon dry mustard to your spice mix.
Nutrition
Calories:
217
kcal
Carbohydrates:
21
g
Protein:
25
g
Fat:
3
g
Saturated Fat:
1
g
Polyunsaturated Fat:
1
g
Monounsaturated Fat:
1
g
Trans Fat:
1
g
Cholesterol:
72
mg
Sodium:
913
mg
Potassium:
557
mg
Fiber:
1
g
Sugar:
16
g
Vitamin A:
388
IU
Vitamin C:
2
mg
Calcium:
26
mg
Iron:
1
mg