German Chocolate Pie
Warning: Grab a glass of cold milk before attempting to eat this pie!  Don't come back and say I didn't tell you.
Y'all, I ain't gonna lie, this pie is RICH; richer than Jeff Bezos's ex-wife. My cousin Lindsey holds the title for best German Chocolate Cake in our family - I wouldn't even attempt to best her - at cake that is.  THIS on the other hand might tempt her to come visit from New Zealand.  Even with the nuts, the filling is as smooth as French Silk Pie and the topping has just enough salt to..... I don't even know what. Trust me - If you like chocolate, coconut, and pecans - you're going to LOVE this.  OH! And BTW, comment below when you find my mistake. 😉
How many types of chocolate are there?
At best guess 7.  This list is going to have 8, but I don't count white chocolate - I know, I know - technically it's chocolate, but this is my post and I don't like it so nah.
Milk Chocolate - Milk chocolate is softer and melts more easily than darker chocolates because of the added dairy, and it's generally sweeter, less bitter, and is the most popular in the world
Dark Chocolate - Dark chocolate has no added milk solids and must have a minimum of 35% cocoa solids
Semi-Sweet Chocolate - Semisweet chocolate has a cocoa solid content of around 60% and usually has added vanilla and emulsifiers
Bitter-Sweet Chocolate - Bittersweet chocolate contains 70% cacao and has less sugar than semisweet chocolate. Both are interchangeable when baking, although bittersweet has a richer flavor
Sweet German Chocolate - German chocolate is a favorite of bakers because it has sugar already added.  AND, it doesn't come from Germany - it's named for Samuel German who developed in the 1850's
White Chocolate - The Wannabe Imposter Chocolate has no cocoa solids and is made from cocoa butter, sugar, milk solids and sometimes vanilla
Unsweetened Cocoa Powder - Cocoa powder is made from roasted cocoa beans and is 100% cocoa.  It is what's left after all the milks, fats, and solids have been removed
Couverture Chocolate - Couverture chocolate is a very high-quality chocolate that contains a higher percentage of cocoa butter than baking or eating chocolate. This additional cocoa butter, combined with proper tempering, gives the chocolate more sheen, a firmer "snap" when broken, and a creamy mellow flavor that can be eaten on it's own, used as a dip or in candy-making
How do I make German Chocolate Pie?
First - start off with a cute pie plate.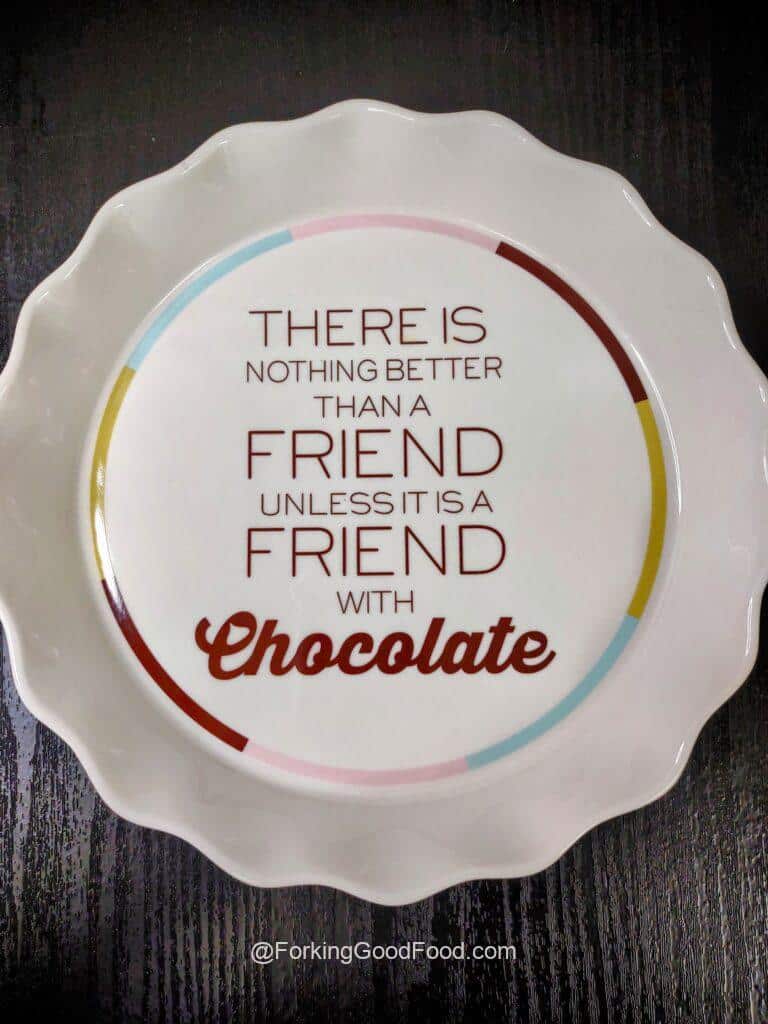 OK - it doesn't have to be cute - but it does have to have a baked crust in it.  I'm not including a crust recipe here; use your favorite recipe or store-bought, but I will tell you what to do with it. Preheat your oven and place your pie dough in the pate.  Make sure it's all the way to the inside edges, fold and crimp the edges as desired but don't dock it (prick the bottom with a fork).  Cover the dough with heavy duty aluminum foil and fill with pie weights, dried beans, or uncooked rice. bake for about 10-15 minutes, then remove the weights and foil and bake until the edges are a nice light golden. Remove from the oven, reduce the heat, and let cool.
While your crust is baking, make your filling.  You will need German sweet and bittersweet chocolate, a little instant coffee, a can of sweetened condensed milk, 4 egg yolks, vanilla, and chopped pecans.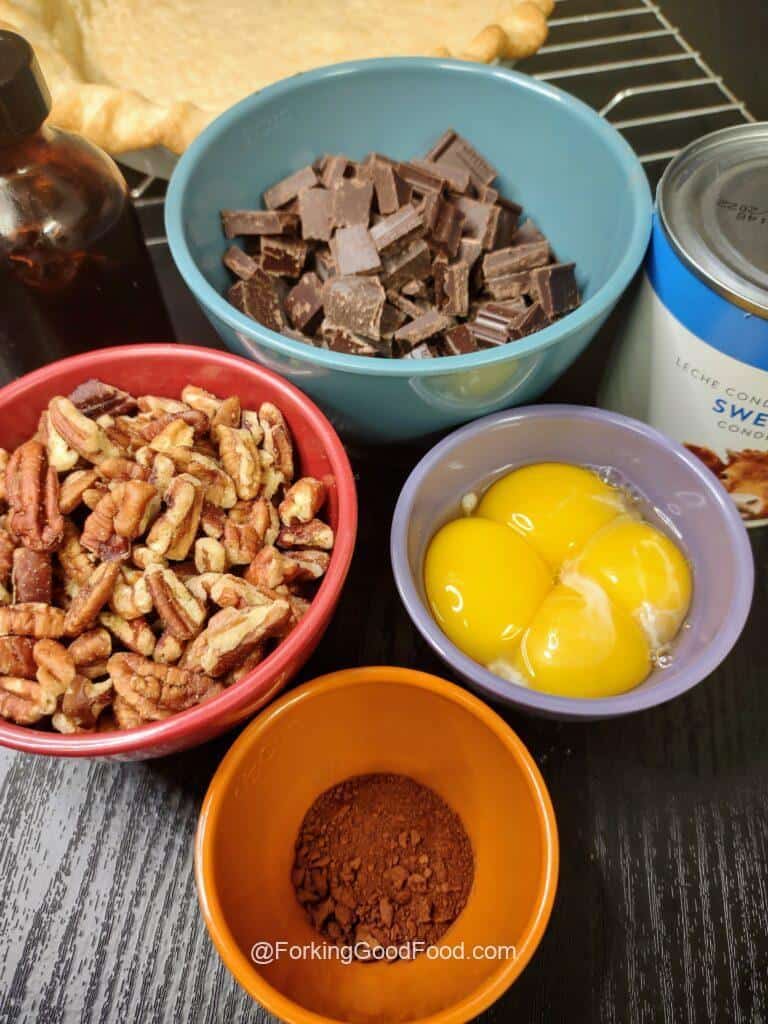 In a large, microwave safe bowl, melt the chocolate, stirring every 30 seconds until smooth and glossy.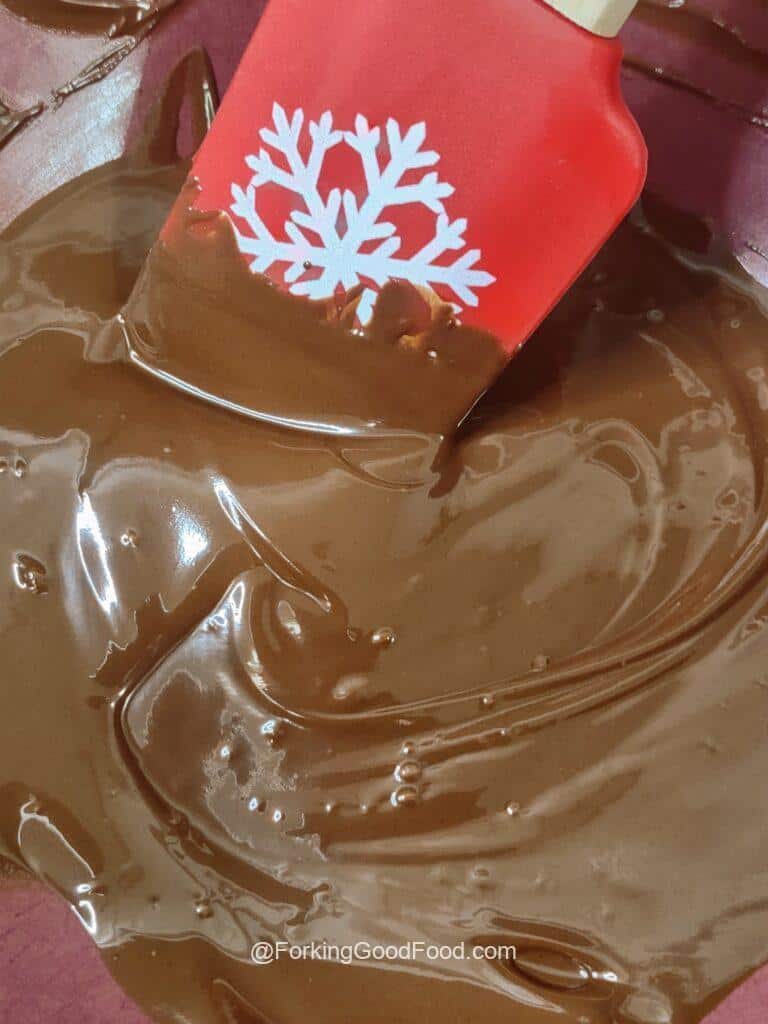 Let it cool slightly, then add in the following, stirring in between each addition: the coffee, then the milk, followed by the vanilla and the egg yolks, and lastly the pecans.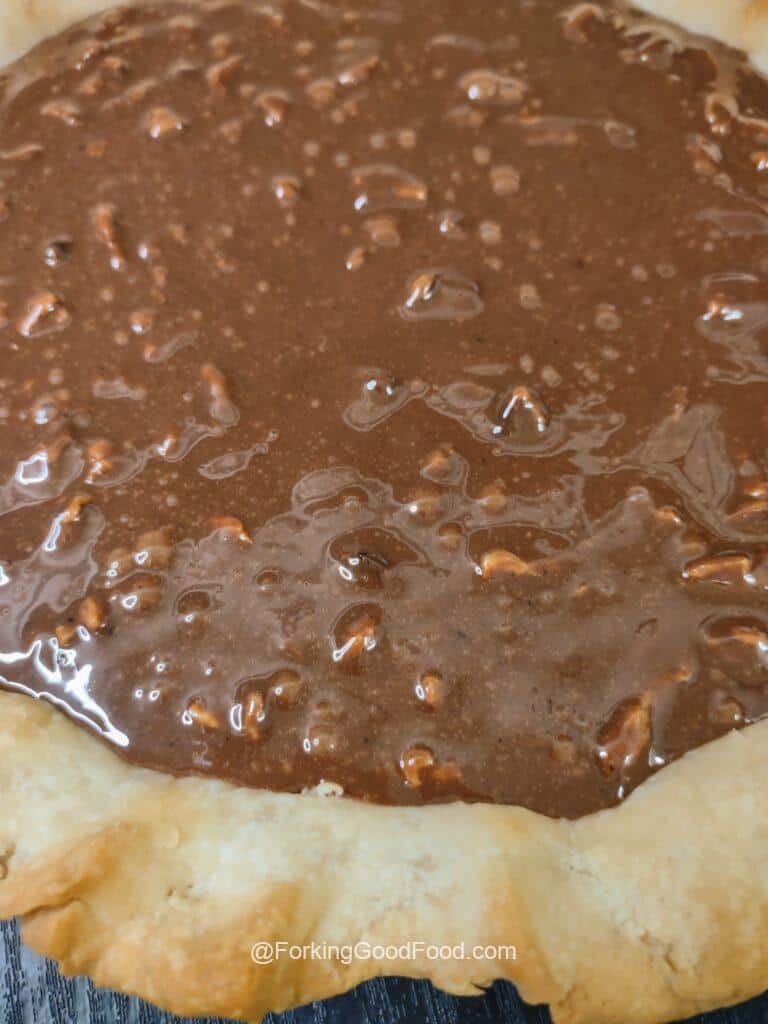 Pour into the pie crust and bake for 15-20 minutes or until the pie is set. Reduce the heat to 350F and toast your pecans for about 5 minutes. Salt them and set them aside to cool.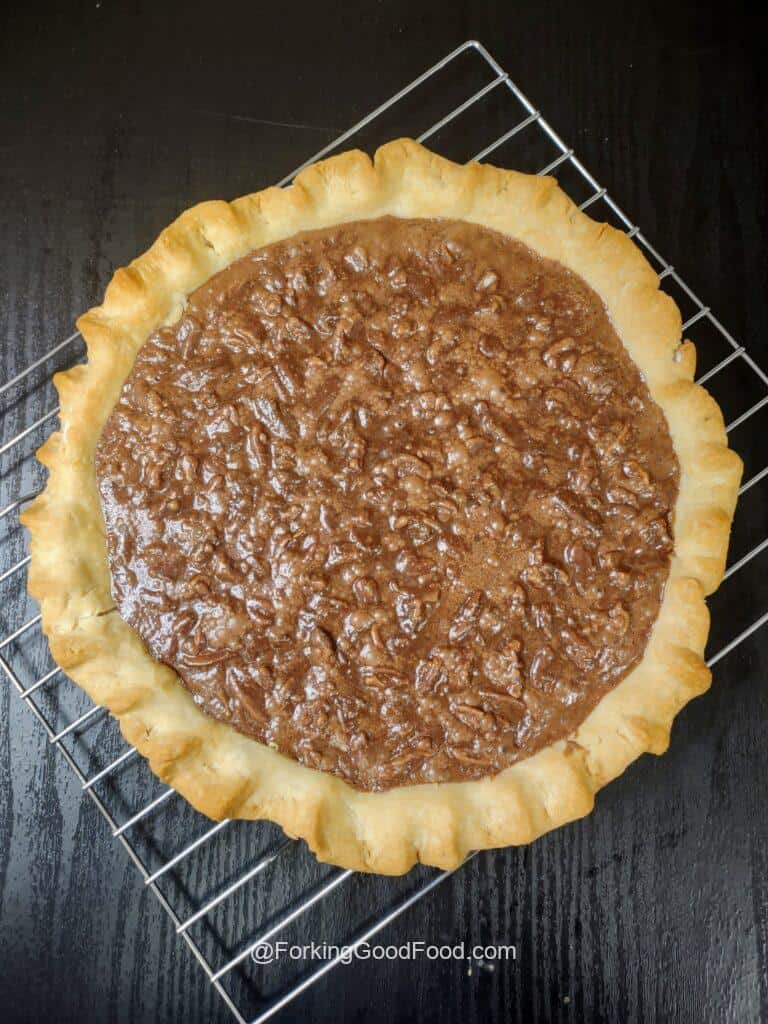 While the pie is baking, make your topping.  You will need  light brown sugar, heavy cream, butter, egg yolks, sweetened coconut, vanilla, and lightly roasted and salted pecans.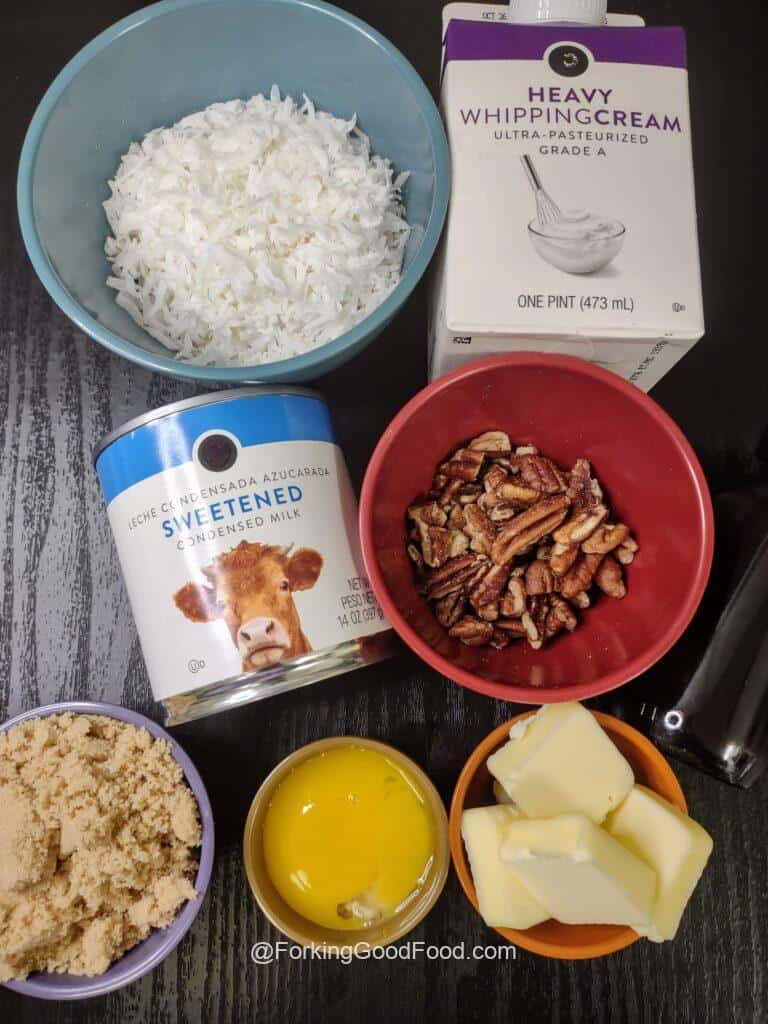 In a small but heavy saucepan, mix the butter, sugar, and cream.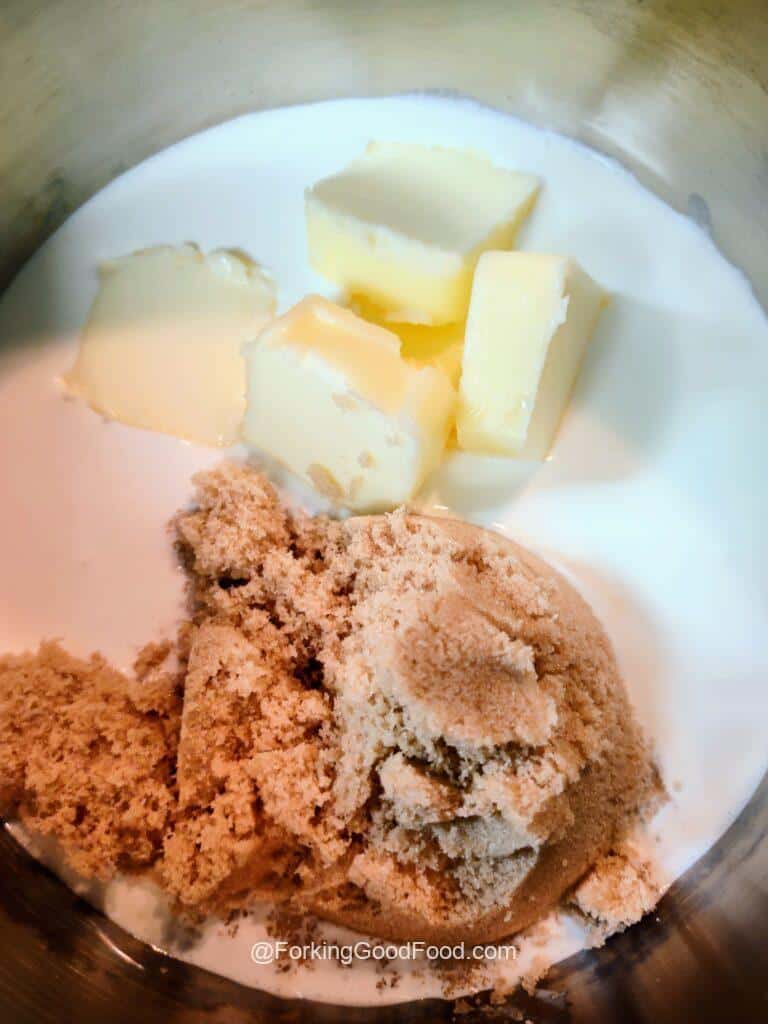 Over medium heat, bring to a boil and stir just long enough to make sure all the sugar is dissolved; then remove from heat.  In a small bowl, gently whisk your egg yolks, then add a very little amount of the hot cream mixture to the eggs and stir. Do this once or twice more until the eggs are tempered and not likely to scramble.  Pour all of the egg mixture back into the saucepan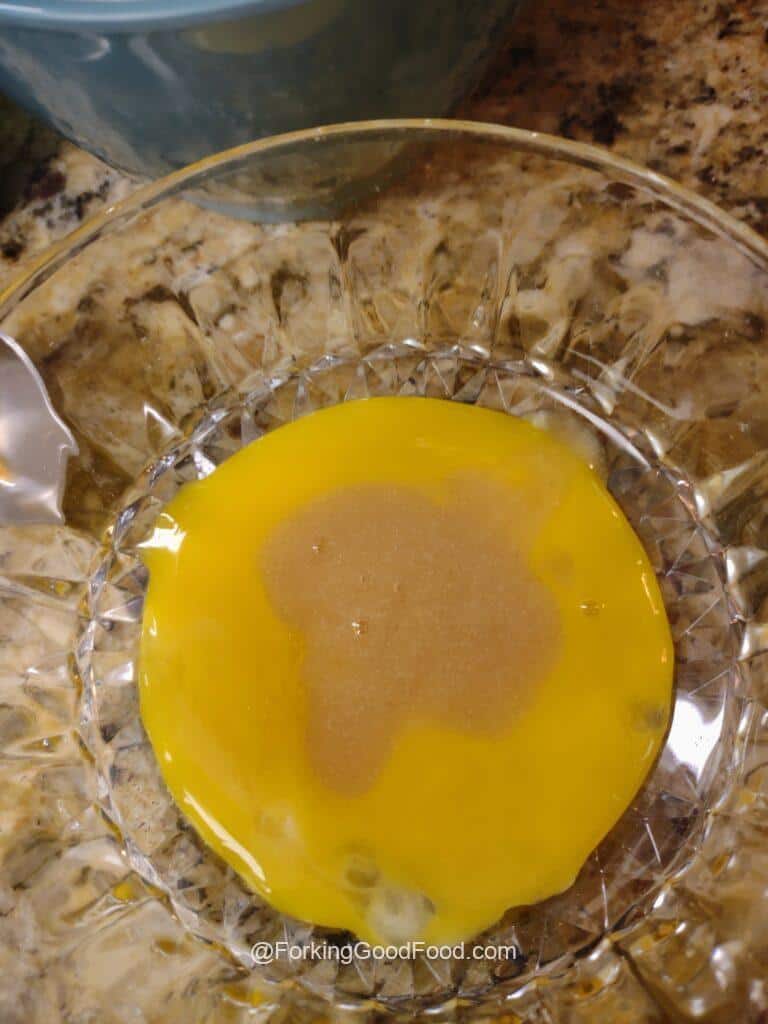 Return the pan to the heat and, stirring constantly, cook for 2-3 minutes or until the mixture thickens and reaches 160F on a candy thermometer. Stir in coconut and vanilla and set aside to cool until the pie is ready.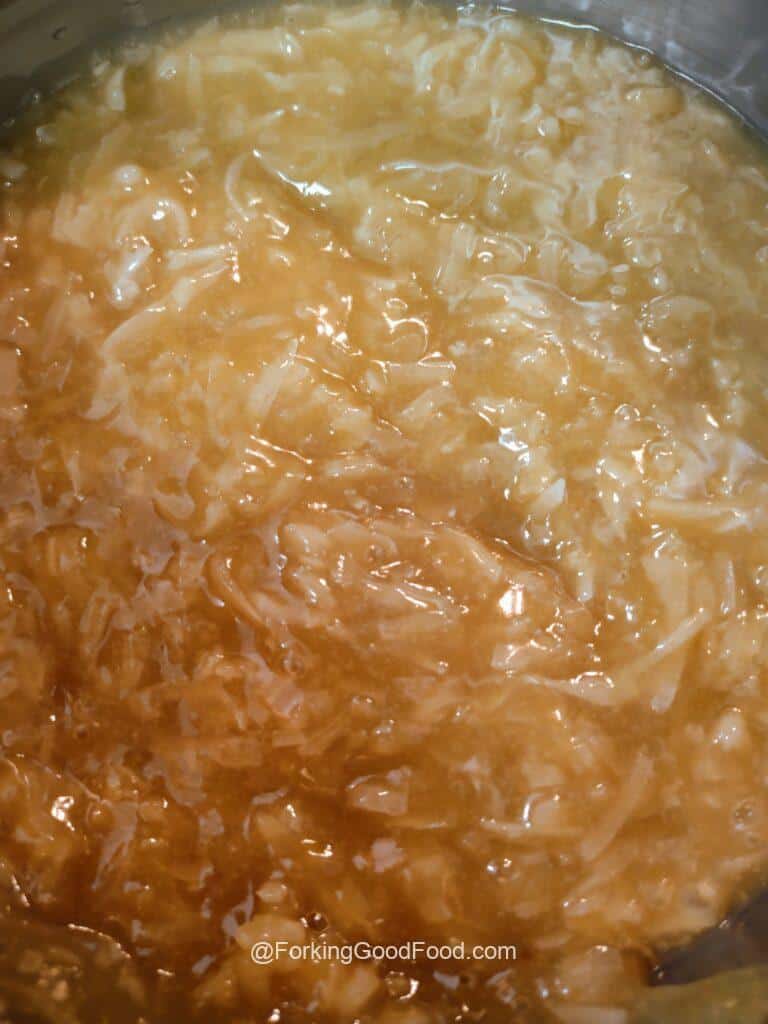 Once the pie has cooled for an hour, pour the coconut mixture on top and sprinkle with the toasted pecans.  Refrigerate until completely cold, about 4 hours.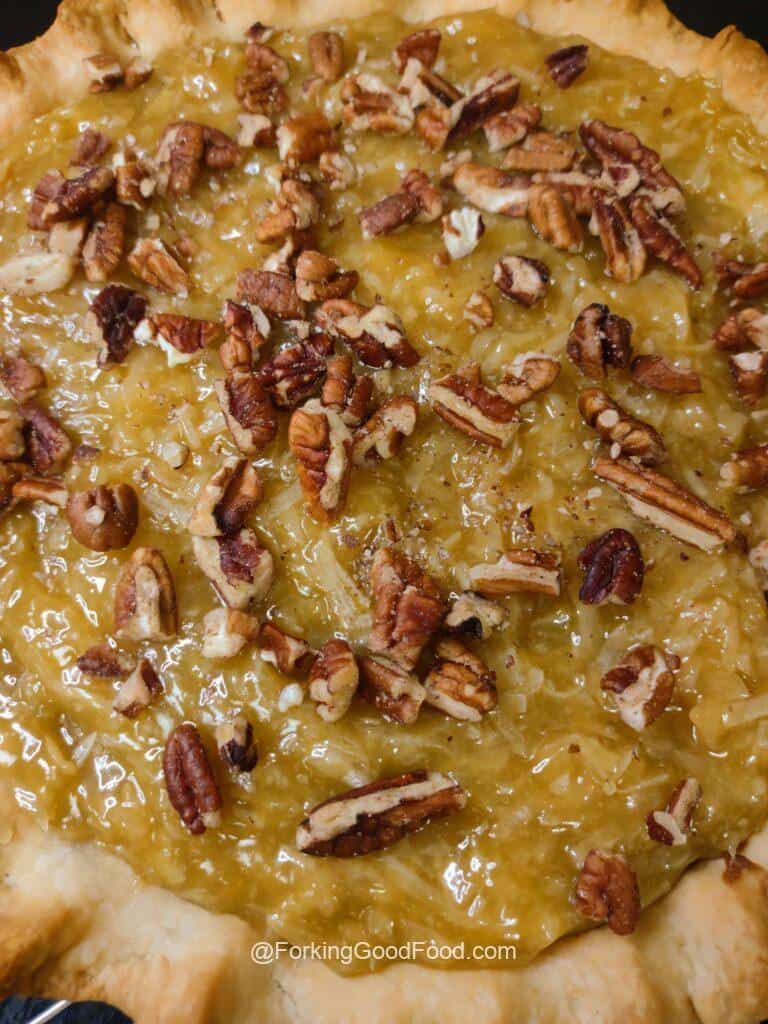 Once cooled, grab a fork, cut a slice, and don't forget the milk.  If you have a groovy skull plate - even better!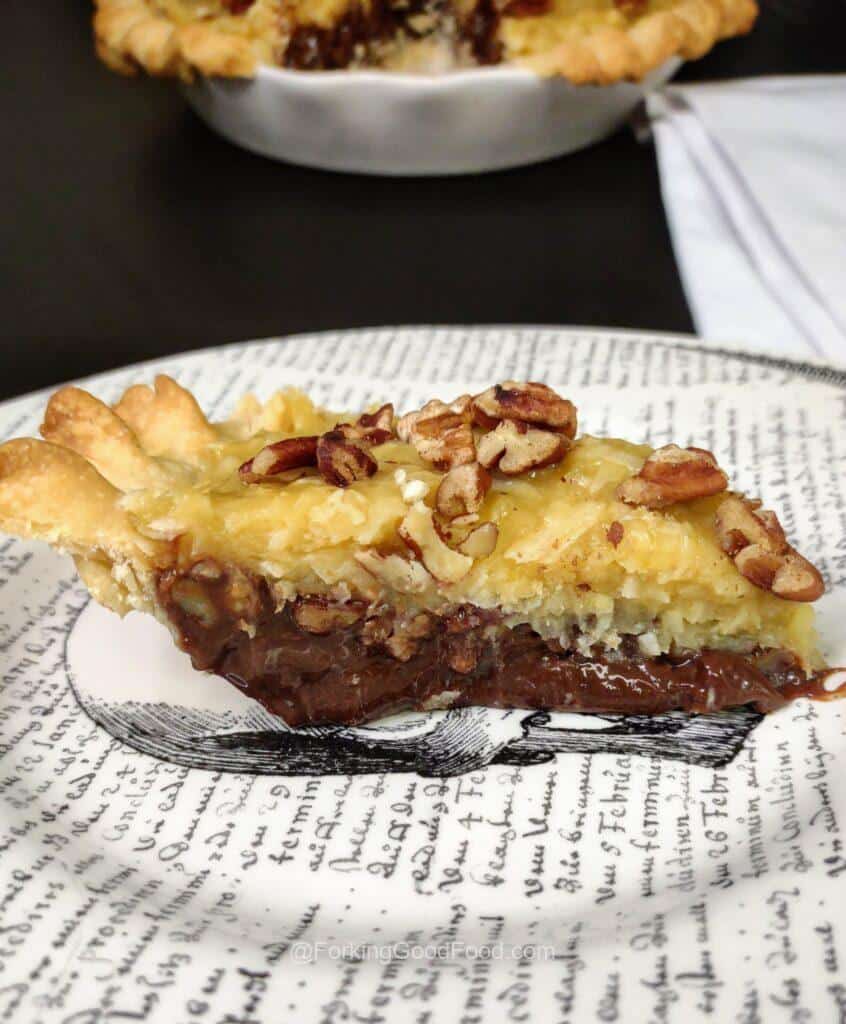 More easy pie recipes:
Recipe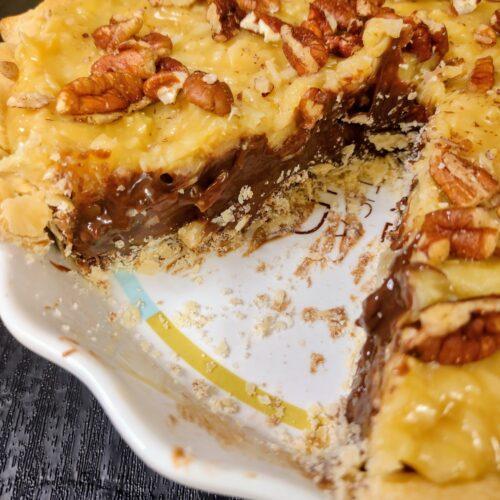 German Chocolate Pie
This is a richer, more decadent, version of the German Chocolate Cake. This is for serious chocolate lovers only. The toasted pecans on top add just enough saltiness to make this pie come to life in your mouth.
Equipment
Pie Plate

Heavy sauce pan

Large microwave safe bowl
Ingredients
Ingredients:
1

pre-baked pie crust

your favorite recipe or store-bought will do
For the Filling:
4

oz

German sweet chocolate

chopped

2

oz

bittersweet chocolate

chopped

14

oz

sweetened condensed milk

one small can

4

egg yolks

1

teaspoon

instant coffee

1

teaspoon

vanilla

1

cup

pecans

chopped
For the Topping:
½

cup

light brown sugar

packed

½

cup

heavy cream

¼

cup

butter

cubed

2

egg yolks

1

cup

coconut flakes

sweetened

1

teaspoon

vanilla

¼

cup

pecans

toasted, lightly salted, and chopped
Instructions
Make your crust:
Use your favorite recipe or store-bought crust. Preheat the oven to 400℉

Line a 9" pie plate with the crust, crimp the edges but do not dock (prick) the crust

Cover the crust with heavy duty foil, or double layered regular, and fill with pie weights, dry beans, or uncooked rice

Bake for 10 minutes (if you're using a clear pie-plate the bottom should be lightly browned), then remove the weights and foil and bake for an additional 10 minutes or until the rim of the crust is lightly golden

Remove the crust, set aside to cool, and reduce the heat to 350℉
Make your filling:
While you make the filling, toast the pecans for the topping for 5 minutes then salt them as soon as they are out of the oven - set aside to cool

In a large microwave safe bowl, melt the chocolates 30 seconds at a time, stirring between each, until smooth and glossy

Cool slightly while you gather your other ingredients

Stirring between each addition, add in the coffee, sweetened condensed milk, vanilla, egg yolks, and finally the un-toasted pecans

Pour into the crust and bake for 15-20 minutes or until set

Cool for at least 1 hour on a wire rack
Make your topping:
During the last 20 minutes the pie is cooling prepare your topping

In a small but heavy saucepan over medium heat, combine the brown sugar, cream, and butter

Bring to a boil, stirring constantly, until the sugar is completely dissolved, then remove from the heat

In a small bowl, temper the egg yolks by adding a small amount of the hot topping mixture and stirring well, add another small amount, stir again, and then return all of the egg mixture to the saucepan. This brings the eggs up to temperature slowly and doesn't cook them

Over medium heat, and whisking constantly, cook the mixture for 2-3 minutes or until it thickens and a candy thermometer reads 160℉; remove from heat and cool 10 minutes

Pour the topping over the baked pie, top with the toasted pecans and refrigerate until completely cold - about 4 hours
Nutrition
Calories:
710
kcal
Carbohydrates:
70
g
Protein:
11
g
Fat:
44
g
Saturated Fat:
20
g
Polyunsaturated Fat:
5
g
Monounsaturated Fat:
14
g
Trans Fat:
1
g
Cholesterol:
185
mg
Sodium:
179
mg
Potassium:
426
mg
Fiber:
4
g
Sugar:
52
g
Vitamin A:
571
IU
Vitamin C:
2
mg
Calcium:
210
mg
Iron:
3
mg