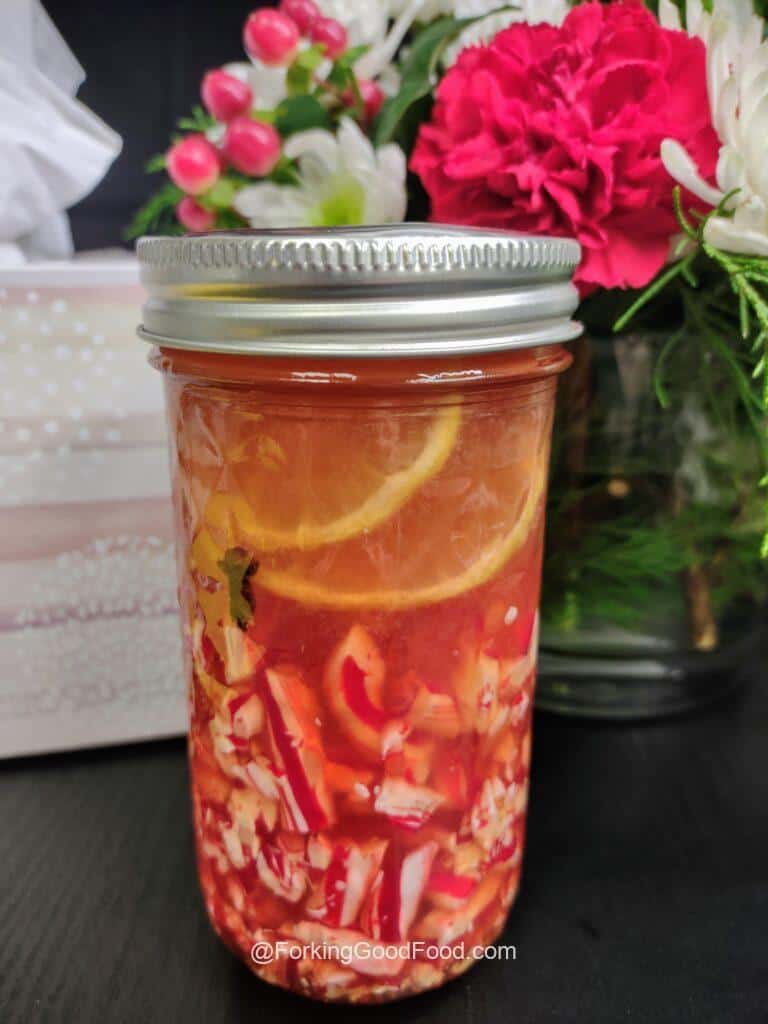 This old-fashioned remedy is good for what ails you.  During the cold & flu (or COVID) season, this quick recipe is easy to make and probably costs a lot less than some over the counter medicines - depending on what kind of whiskey you use. That part really doesn't matter; I use the cheapest I can find because the taste is going to be completely masked. Make sure you find candy canes that use pure peppermint oil and not just peppermint flavoring.  I don't usually mention brands in my posts but sometimes they help.  I use Brach's Candy Canes that you can get for about a dollar (I stock up when they go on sale after the holidays).  You can also use Starlight Mints.
What is peppermint good for?
Not only is peppermint great for coughs and colds - but many stomach issues as well.  Feeling queasy? Anxious?  Suck on a little peppermint. It is a popular traditional remedy for a number of conditions. It is believed to have calming effects. It is used to treat flatulence, menstrual pains, diarrhea, nausea, depression-related anxiety, muscle and nerve pain, the common cold, indigestion, and IBS.  WOW - that's quite a list!  No wonder my Mamaw always had a few in her pocket.
Is lemon and honey good for you?
YES!!!  I always keep both on hand for a number of reasons.  In this recipe though, lemon adds a high dose of vitamin C and cuts the sweetness of the peppermint and honey.  One of the many, many uses of honey is to sooth and coat a scratchy throat due to coughing.  Have a child with a cold? Try using raw honey by itself rather than traditional cough syrups that may be unpalatable.  BUT - never ever give raw honey to a child under 1 — even a tiny taste!  Honey in infants can cause botulism which is a type of food poisoning.
How do I make homemade cough syrup?
This is SO simple.  you'll need some cheap whiskey, some peppermint, honey, a lemon, and a couple or three whole cloves.  That's it... and just a little time.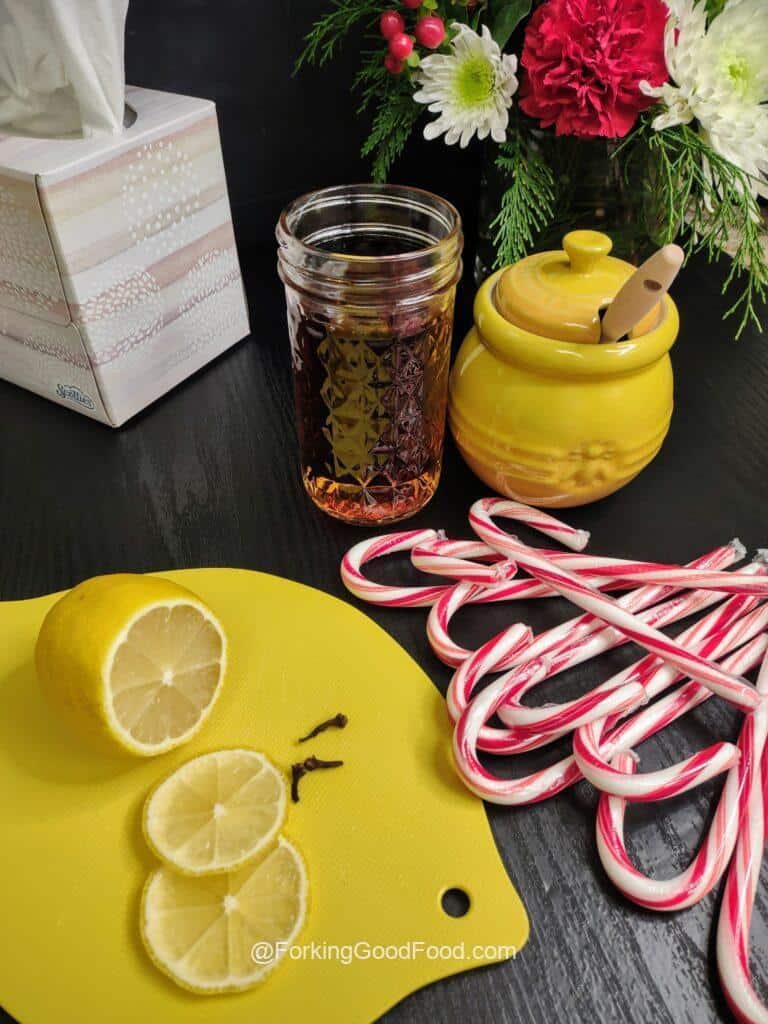 Break or crush your peppermint and place in a pint size mason jar.  *KITCHEN HACK ALERT*  If you use a food chopper throughout the year, this is a great time and way to sharpen the blades!  Just crush your peppermints in the food chopper and you'll reduce the dissolving time and sharpen your blades in one fell swoop.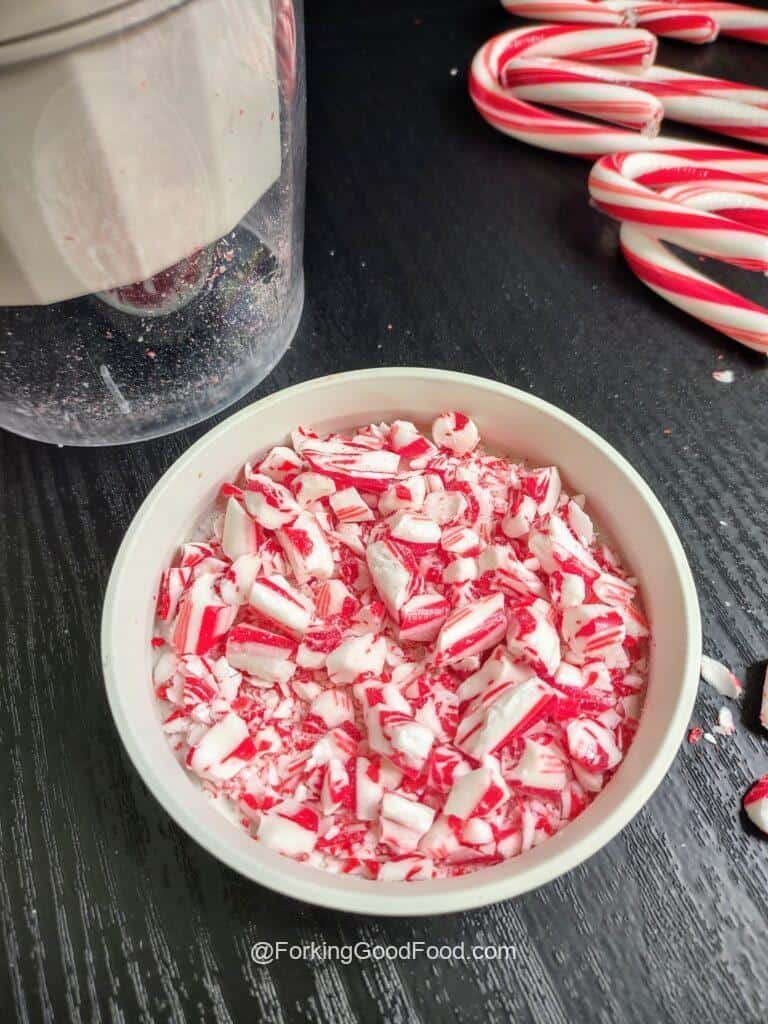 Place your crushed or broken candy canes in the mason jar.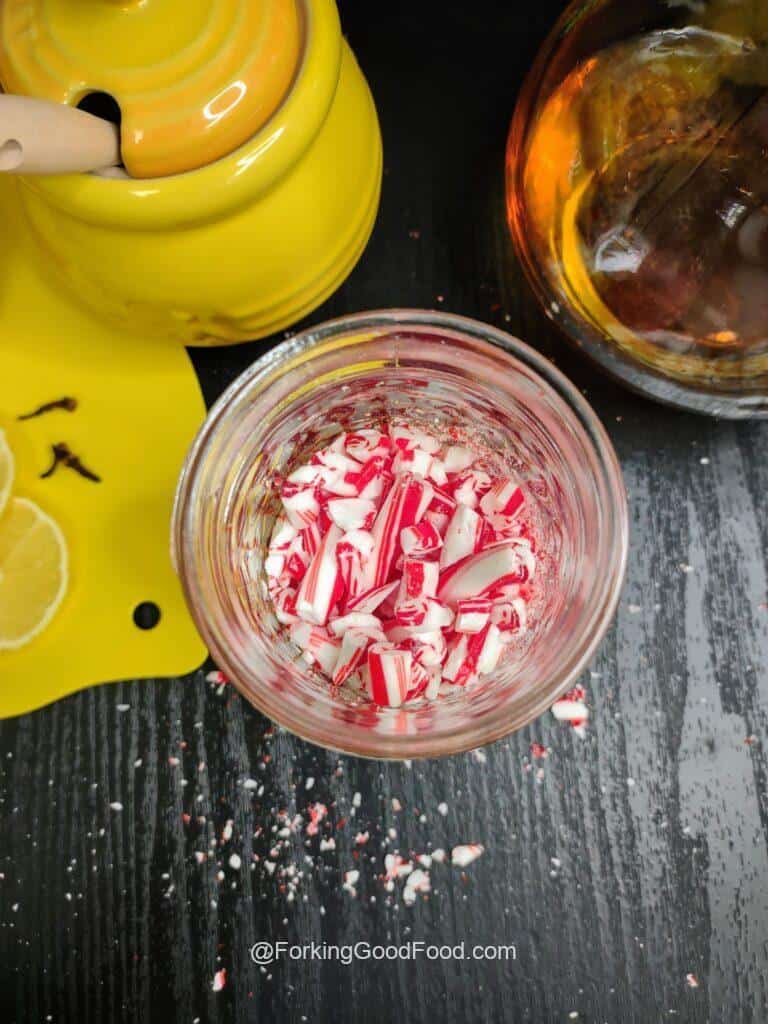 Add in your honey and lemon juice.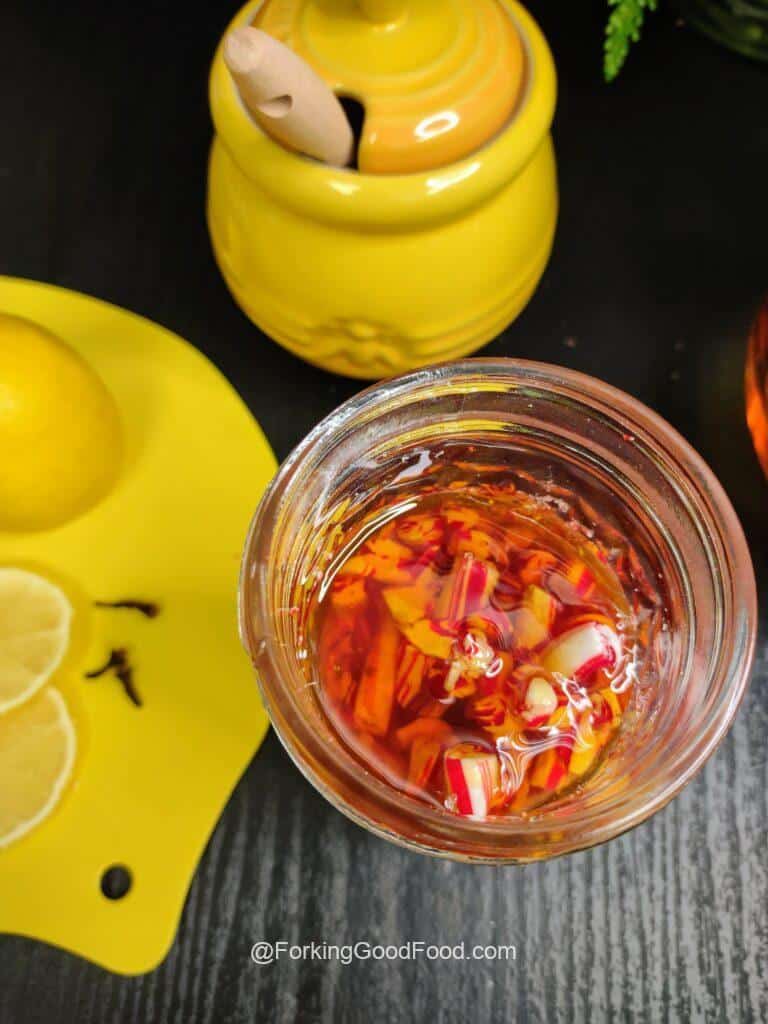 Top off with the whiskey.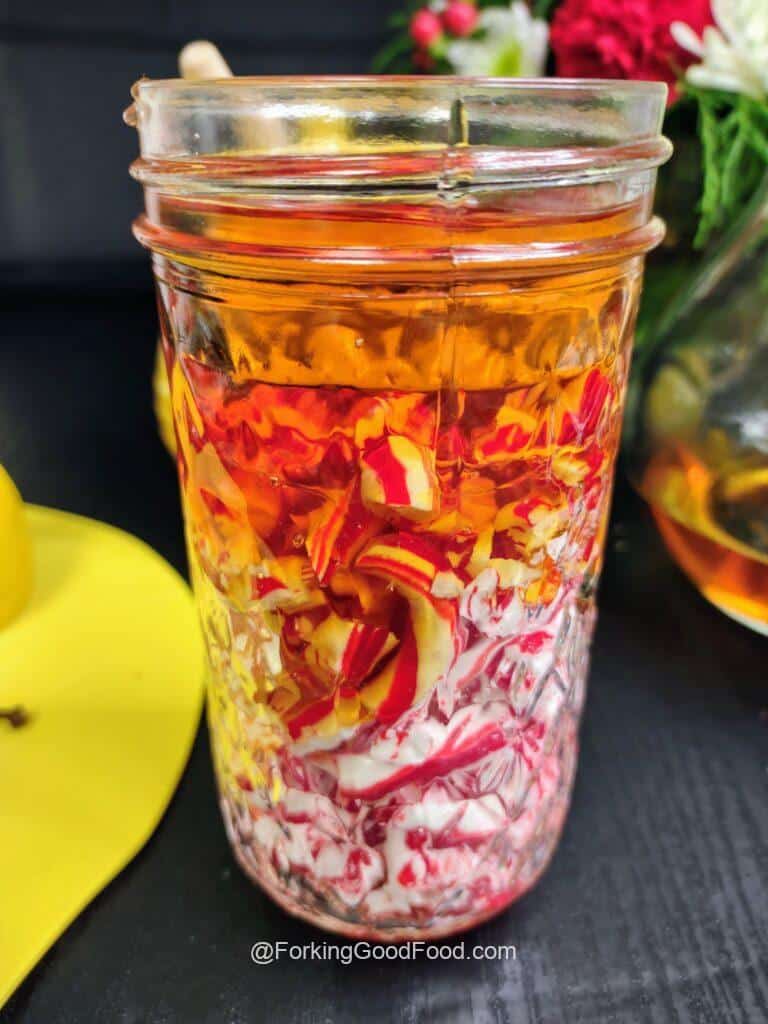 Using a knife, go along the edges and then give a gentle stir to make sure your whiskey goes all the way to the bottom.  Add your cloves and top off with more whiskey if needed.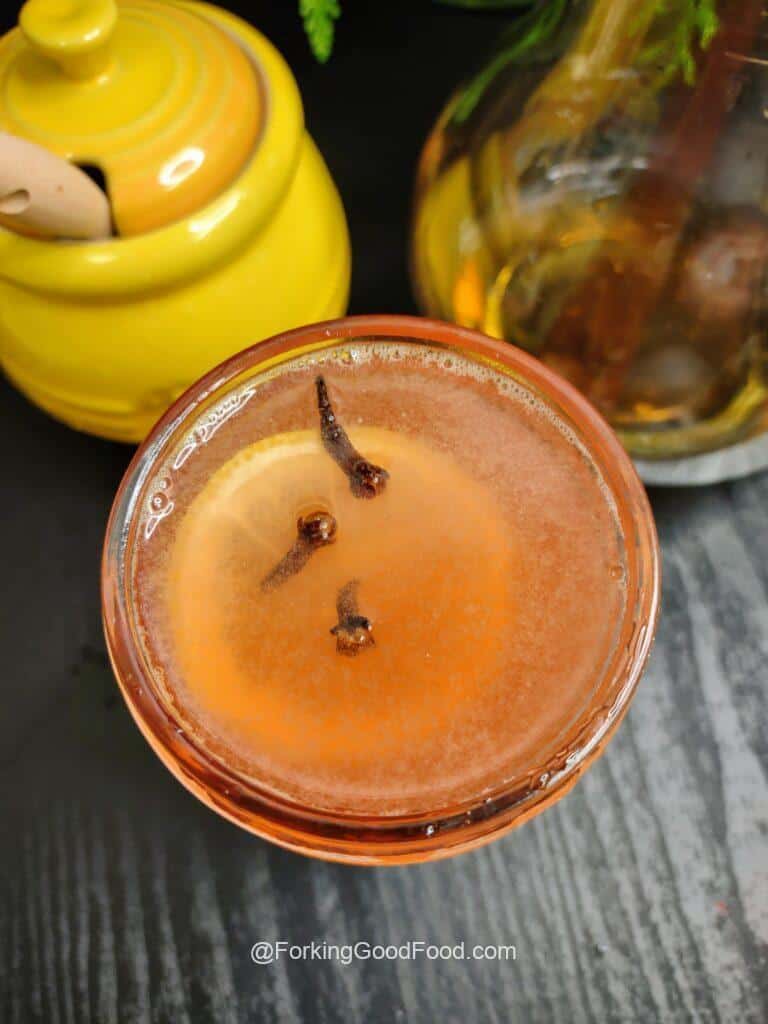 I add in a few lemon slices too to get the oils from the rind as well - and to make it look pretty.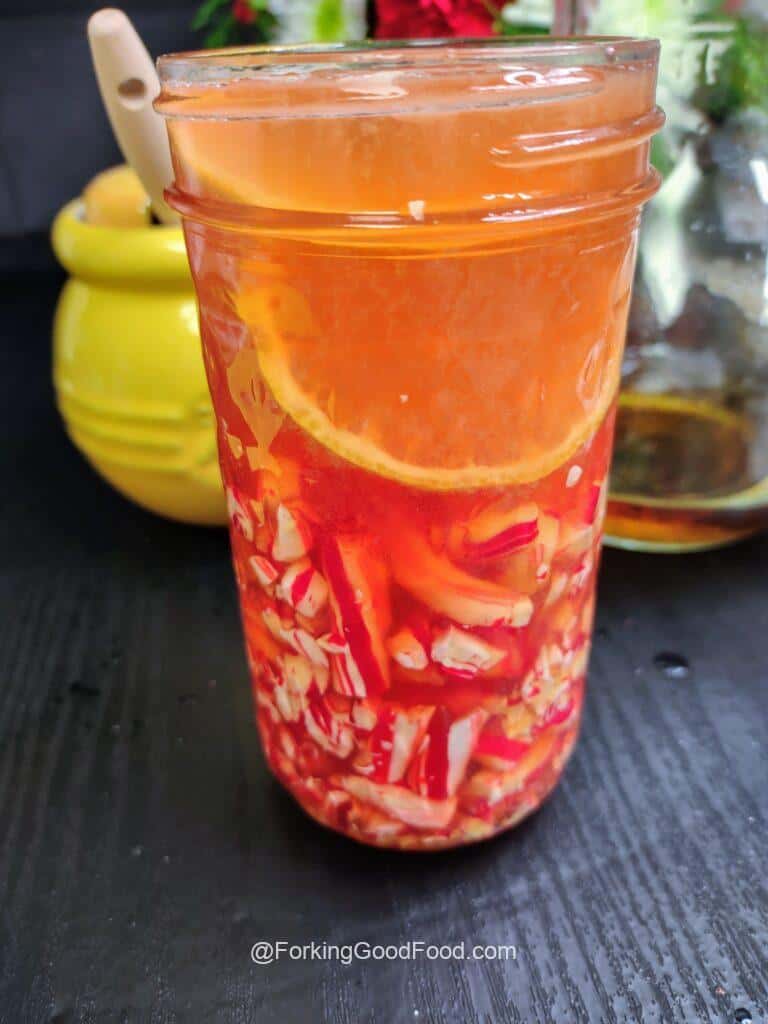 You'll be really surprised at how quickly the peppermints dissolve.  Give it a gentle shake every couple of hours and within 24 hours you'll have your homemade cough syrup.  A tablespoon up to an ounce should do you just fine! Oh - and don't drink the cloves.
And by the way... GOD BLESS YOU - I hope you feel better soon.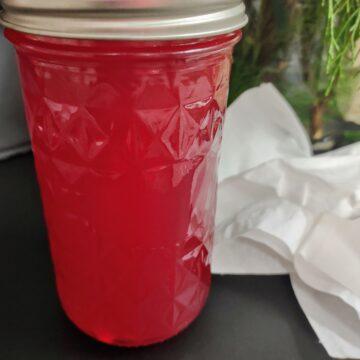 Cough Syrup
This fairly quick cough remedy works! Need I say more?
Ingredients
1

pint

whiskey

1

lemon

3

Tbs

honey

3

cloves

whole

12

candy canes
Instructions
Break up or crush candy canes and place in a pint mason jar

Add honey, juice of the lemon (and a few slices if desired, and cloves to the jar

Fill the jar with whiskey

Using a knife, scrape down the rim of the jar, then slightly stir to make sure whiskey is all the way to the bottom

Let sit until the peppermint is fully dissolved - about 24 hours - shaking occassionally
Notes
I keep mine in the refrigerator; this makes it a little thicker to coat the throat and the chill make it a little more palatable - but that's a personal preference.  if you're keeping it in the fridge, give it a stir or shake every so often to prevent sugar crystals forming,
The time to dissolve depends on how fine you break, chop, or crush your peppermint.  if you want it quicker but don't have a chopper, use a ziplock bag and rolling pin.
Can be kept almost indefinitely.
Nutrition
Calories:
128
kcal
Carbohydrates:
14
g
Protein:
1
g
Fat:
1
g
Saturated Fat:
1
g
Polyunsaturated Fat:
1
g
Monounsaturated Fat:
1
g
Sodium:
1
mg
Potassium:
12
mg
Fiber:
1
g
Sugar:
11
g
Vitamin A:
2
IU
Vitamin C:
4
mg
Calcium:
2
mg
Iron:
1
mg