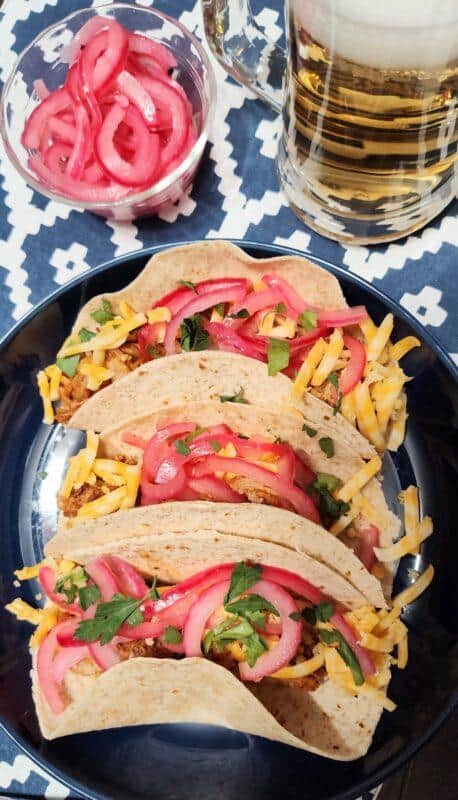 Your Taco Tuesday game just got better. These crispy, tangy, and dare I say, pretty onions are next level. And while I say tacos... I mean anything that you would put a pickle on - will only get better with these. They are insanely easy to make and you'll never go back to boring old tacos. I'm sorry, Tacos - I didn't mean to call you boring and old; forgive me?
Mexican Pickled Onions (cebollas curtidas) are easy to make and most likely you already have everything you need. If not, pick it up at the store when you get your ingredients for the amazing Keto/Low-Carb friendly Easy Instant Pot Beef Birria Tacos !!
What do I need to make Mexican Pickled Onions?
Just a few simple things - a large red onion, the juice from 6 limes (or about ¾ cup), a little apple cider vinegar, and then a bit of salt and pepper. I prefer Persian limes, but any will do. Persians have thin skin and few if any seeds. Just put a little pressure on them and roll them a couple of times on the counter and they'll produce a lot of juice. Also- if you don't have apple cider vinegar - use plain white and add a teaspoon of sugar).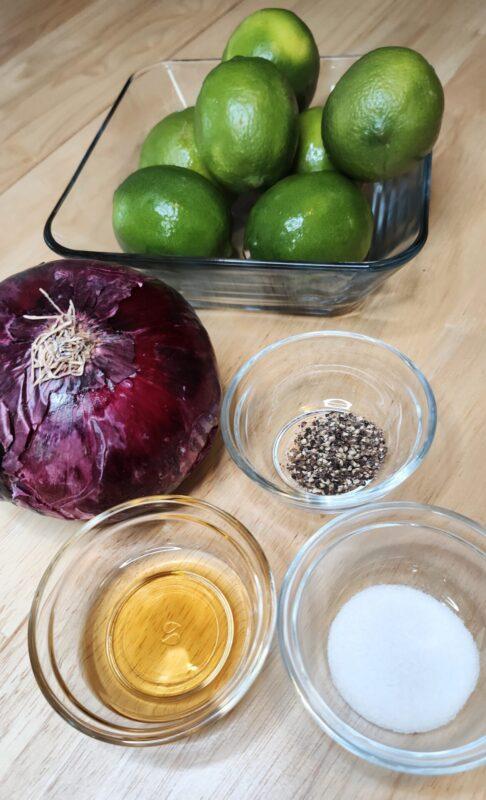 Slice the onion pretty thinly using a sharp knife or mandolin, and shove it in a quart Mason jar. It's important that the container is glass - the high acidity doesn't like plastic and can give it a funny taste. If you simply can't get all the onions in - set them aside for a minute and we'll get back to them.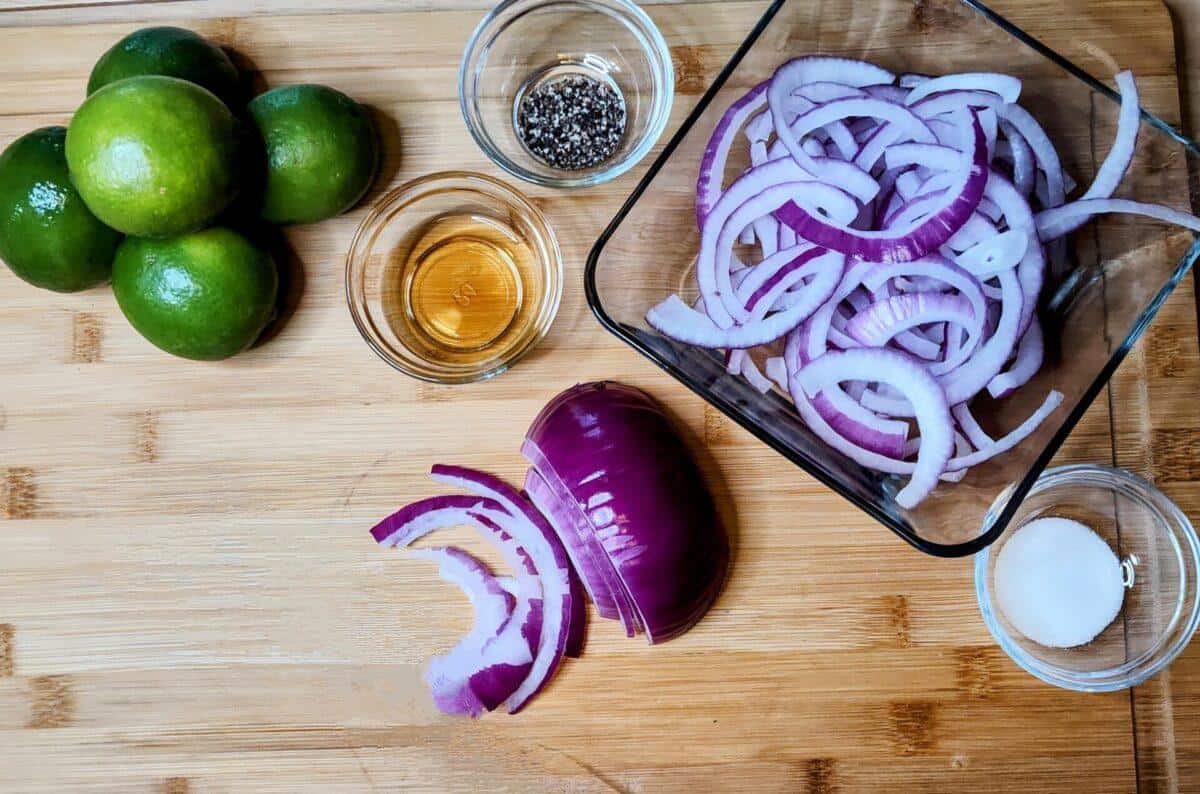 Juice your limes and pour into the jar over the onions. Can you use squeezy-bottle lime juice? Yes. Can you use lemon juice? Yes. But it won't be as good.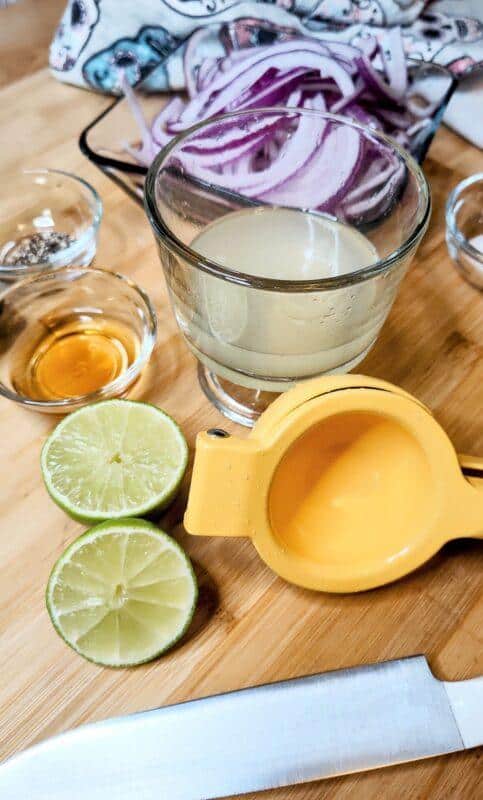 When everything is in the jar, close it up and give it a good shake.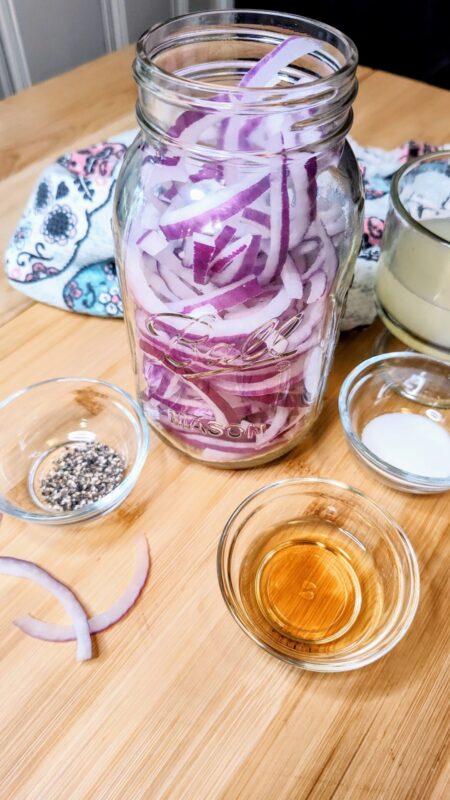 When you shake it, you'll notice almost immediately the onions reduce in size. If you had any onions left, put them in now and shake again.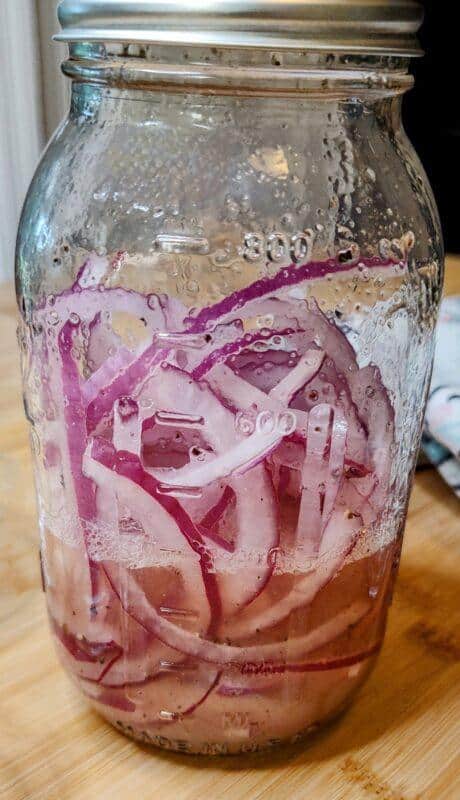 A full jar of onions turns into the above in a few seconds and will look like this after about 10 minutes.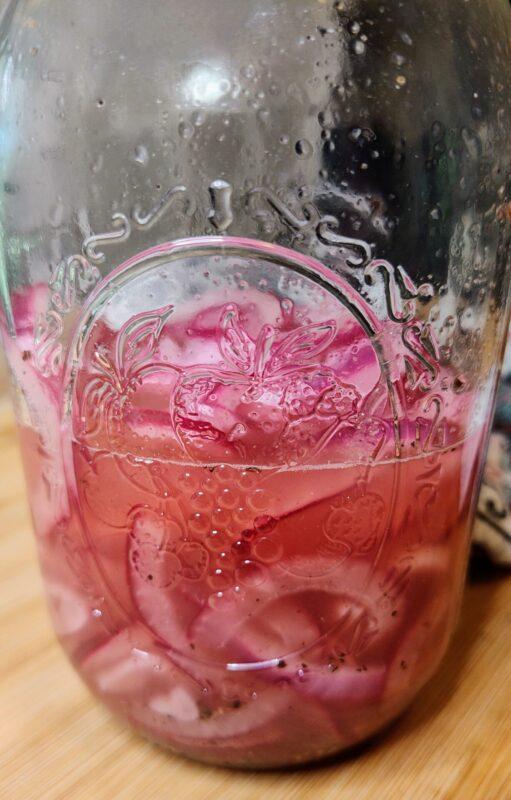 Let cool in the fridge for at least 30 minutes (shaking every 10) and then it's ready to serve. It's really better if made the day before. If by some weird chance, there are any left over, they'll keep in the fridge for about a week. Leave a comment and let me know how long it lasts in your house!
Buen provecho!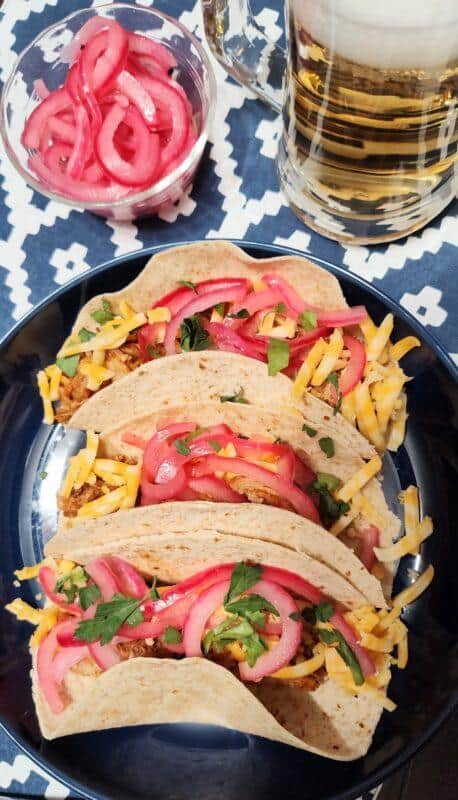 Recipe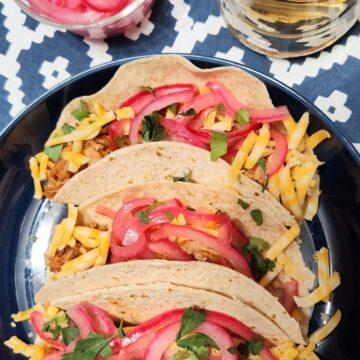 Mexican Pickled Onions
These crispy tangy pickled onions will take your tacos to the next level.
Equipment
1 Quart sized canning jar or other glass container
Ingredients
1

large red onion

thinly sliced

6

Persian limes

juiced (about ¾ cup)

2

tablespoon

apple cider vinegar

2

teaspoon

kosher salt

1

teaspoon

freshly ground black pepper
Instructions
Slice the onion into uniform, thin strips with either a chef's knife or a mandolin

Place the onion slices in a quart mason jar or other glass container and seal well. If there are onion slies left, add them after the next step and shake again.

Add the remaining ingredients and shake well to mix

Refrigerate for at least 30 minutes, shaking every 10 minutes for the first 30
Notes
Best if prepared the night before and used within a week. Keep refrigerated
Nutrition
Serving:
6
g
Calories:
29
kcal
Carbohydrates:
9
g
Protein:
1
g
Fat:
0.2
g
Saturated Fat:
0.03
g
Polyunsaturated Fat:
0.04
g
Monounsaturated Fat:
0.02
g
Sodium:
778
mg
Potassium:
103
mg
Fiber:
2
g
Sugar:
2
g
Vitamin A:
36
IU
Vitamin C:
21
mg
Calcium:
29
mg
Iron:
0.5
mg