Get ready to bring the sizzling flavors of your favorite Tex-Mex restaurant right to your kitchen with this irresistible Chili's Fajitas recipe. Bursting with zesty marinade and perfectly seasoned strips of tender meat, these fajitas are a true delight for your taste buds.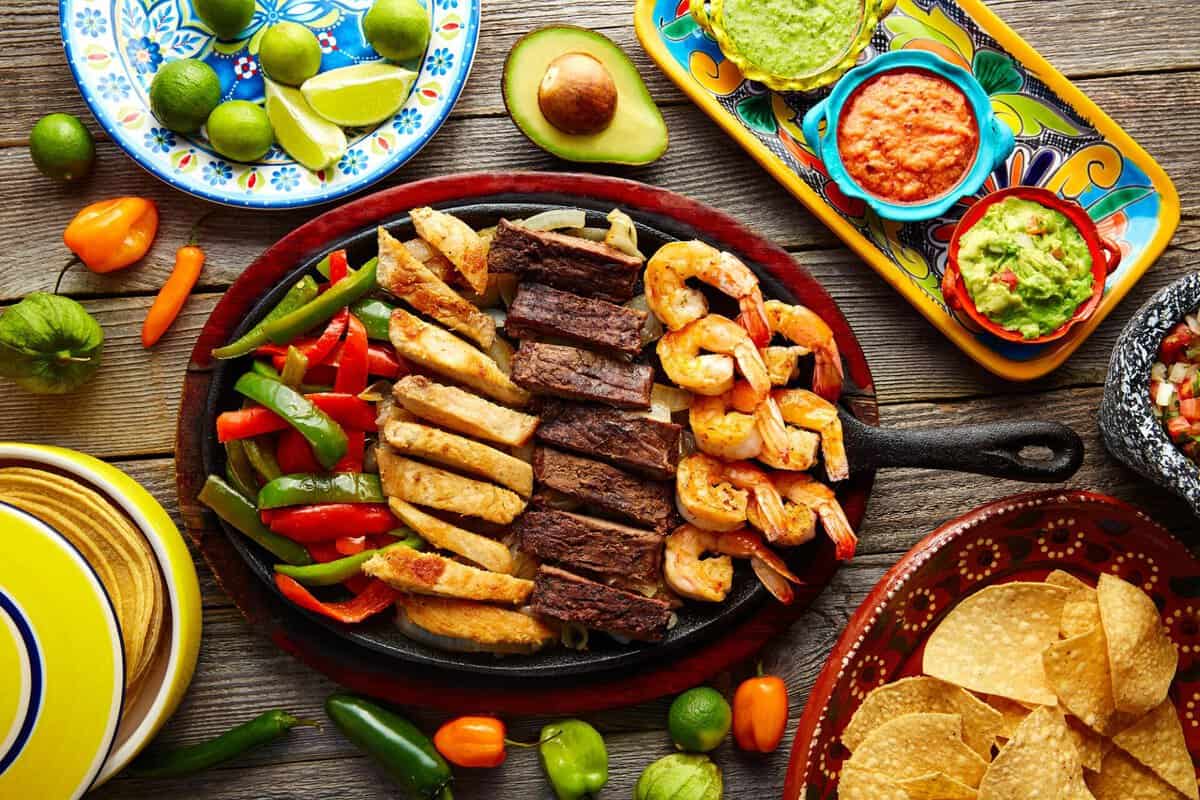 The combination of juicy chicken, shrimp, or steak, vibrant bell peppers, and savory onions makes for a colorful and mouthwatering feast that will have your family and friends eagerly gathering around the table. With a few simple steps, you can create a restaurant-quality dish that's perfect for weeknight dinners or special occasions.
So, roll up your sleeves and get ready to impress with this tantalizing Chili's Fajitas recipe that promises to elevate your Tex-Mex game to a whole new level!
Tips for Making Chili's Fajitas
1. Can I use different meat for the fajitas?
Absolutely! While this recipe calls for chicken or skirt steak, you can use other meats like shrimp, pork, or even tofu for a delicious vegetarian option. Adjust the cooking time accordingly to ensure your chosen meat is cooked through.
2. How spicy is the marinade?
The level of spiciness in the marinade can be adjusted to suit your taste preferences. If you enjoy a mild flavor, you can reduce the amount of crushed red pepper flakes or omit them entirely. For those who love a fiery kick, feel free to add extra red pepper flakes or even some chopped jalapeños.
3. Can I marinate the meat for a shorter time?
While marinating the meat for at least 2 hours is recommended to allow the flavors to develop fully, you can still achieve good results with a shorter marinating time. However, for the best taste, marinate the meat overnight if possible.
4. Can I use pre-cooked fajitas for this recipe?
For the most authentic taste and texture, it's best to use fresh chicken or steak and marinate them as instructed. While pre-cooked fajitas might work in a pinch, they may lack the bold flavors that develop during the marinating process.
5. Can I make the fajitas ahead of time?
While it's best to serve the fajitas fresh and sizzling, you can prepare the marinade and slice the vegetables ahead of time. Store the marinade in the refrigerator and the vegetables in an airtight container until you're ready to cook. Once assembled, fajitas are best enjoyed immediately, but leftovers can be refrigerated and reheated.
6. Are there gluten-free options for this recipe?
Yes, this recipe can be made gluten-free by using gluten-free soy sauce and ensuring your tortillas are gluten-free as well. Additionally, you can serve the fajitas with gluten-free alternatives like corn tortillas or lettuce wraps.
7. Can I customize the toppings?
Absolutely! The toppings for your Chili's fajitas are entirely customizable. Feel free to add your favorite toppings such as avocado, diced tomatoes, shredded lettuce, or a squeeze of lime juice for added freshness.
8. Can I make a large batch for a party or gathering?
Yes, this recipe can easily be scaled up to feed a larger group. Simply adjust the quantities of ingredients accordingly and cook the fajitas in batches if needed.
9. What can I serve with the fajitas?
Chili's fajitas pair well with classic Tex-Mex sides like Spanish rice, refried beans, guacamole, and pico de gallo. You can also serve them with a side salad or tortilla chips for a complete and satisfying meal.
10. Can I freeze the leftover fajitas?
While it's possible to freeze leftover fajitas, it's worth noting that the quality and texture may slightly change upon reheating. If you choose to freeze them, place the cooked fajitas in an airtight container and consume within 1-2 months for the best results.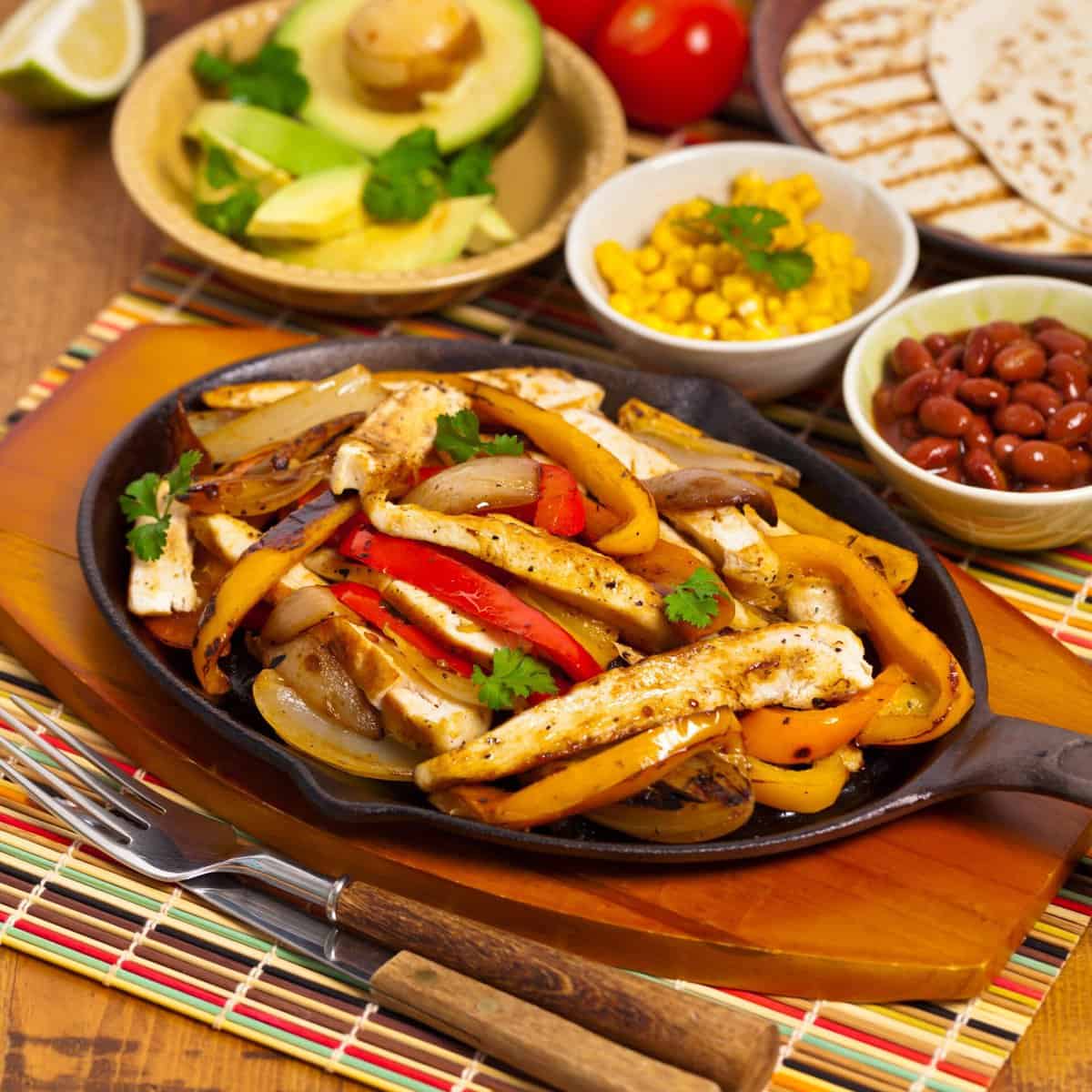 Recipe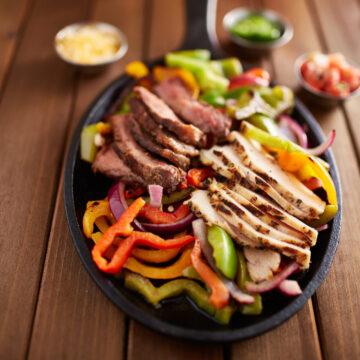 Copycat Chili's Fajita Recipe
Chili's fajitas are known for their bold flavors and sizzling presentation. Recreate this mouthwatering dish at home with this delicious recipe
Ingredients
For the Fajita Marinade:
¼

cup

vegetable oil

2

tablespoons

fresh lime juice

2

cloves

garlic

minced

1

tablespoon

soy sauce

1

tablespoon

Worcestershire sauce

1

teaspoon

ground cumin

1

teaspoon

chili powder

½

teaspoon

smoked paprika

½

teaspoon

crushed red pepper flakes

adjust to your spice preference

Salt and black pepper to taste
For the Fajitas:
1

lb

chicken breasts

or skirt steak, thinly sliced or shrimp

1

red bell pepper

sliced

1

green bell pepper

sliced

1

large onion

sliced

Flour tortillas

8-inch size
Optional toppings:
Sour cream

Guacamole

Salsa

Shredded cheese

Fresh cilantro leaves

Sliced jalapeños

Lime wedges
Instructions
In a mixing bowl, combine all the marinade ingredients - vegetable oil, lime juice, minced garlic, soy sauce, Worcestershire sauce, cumin, chili powder, smoked paprika, crushed red pepper flakes, salt, and black pepper. Whisk until well combined.

Place the sliced chicken or steak in a large resealable plastic bag or a shallow dish. Pour the marinade over the meat, ensuring it is evenly coated. Seal the bag or cover the dish and refrigerate for at least 2 hours, or preferably overnight, to allow the flavors to infuse.

Heat a large skillet or grill pan over medium-high heat. Once hot, add the marinated meat and cook until it is nicely seared and fully cooked through. Remove the meat from the pan and set it aside.

In the same skillet, add a drizzle of oil if needed, and then toss in the sliced bell peppers and onions. Sauté until they become tender and slightly charred, maintaining some crispness.

Warm the flour tortillas in the microwave or over low heat in a separate dry pan.

To serve, place a generous amount of the cooked fajita meat on a warmed tortilla, followed by the sautéed peppers and onions. Add any desired toppings, such as sour cream, guacamole, salsa, shredded cheese, cilantro, and sliced jalapeños.

Fold the tortilla over the filling, creating a fajita wrap, and repeat the process for the remaining fajitas.

Serve the Chili's fajitas hot with lime wedges on the side for an extra burst of flavor.
Notes
NOTE nutrition based on chicken.
Nutrition
Calories:
111
kcal
Carbohydrates:
5
g
Protein:
17
g
Fat:
2
g
Saturated Fat:
0.5
g
Polyunsaturated Fat:
0.4
g
Monounsaturated Fat:
1
g
Trans Fat:
0.01
g
Cholesterol:
48
mg
Sodium:
301
mg
Potassium:
432
mg
Fiber:
1
g
Sugar:
2
g
Vitamin A:
905
IU
Vitamin C:
44
mg
Calcium:
21
mg
Iron:
1
mg
Enjoy your homemade Chili's fajitas with all the sizzling goodness and zesty taste you crave! Customize the toppings and spice level to your liking, and savor every bite of this delightful Tex-Mex treat.