Peaches and Cream Lattice Puff Pastry are delicate pastries that look difficult but with a couple of great kitchen hacks your guests will be so impressed. If you save them any that is!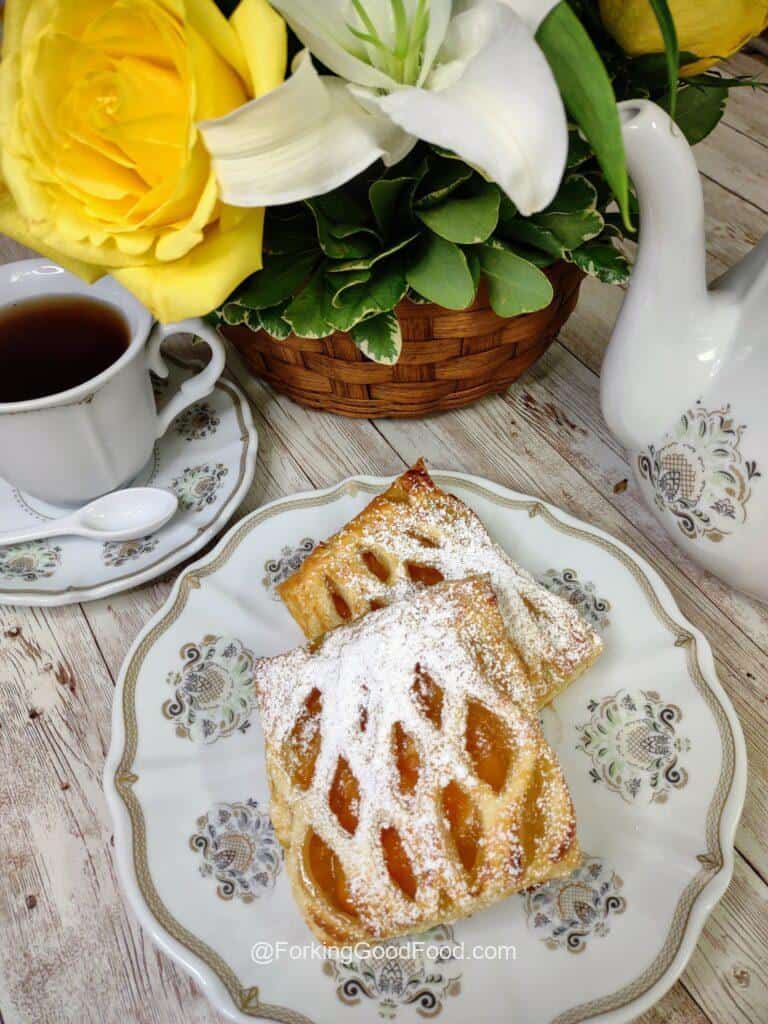 Peaches and Cream Lattice Puff Pastry
I. Love. Fancy. Stuff.  There - I said it.  I do.  I want to dress up in pretty clothes and hats, eat dainty things, sip tea with my pinky out, and pretend I'm on Downtown Abbey.  I have held intimate tea parties for 2 or 3 close friends and I've done massive tea parties for 50+ people.  If I could figure out a way to make a good living hosting nothing but tea parties I'd probably do it.  I always have pretty food and this is a favorite.  They're light and delicate, flaky and buttery, all fancy schmancy and very easy to make!
Is there a way to make easy puff pastry?
Yes, there is.  Buy it.  I've made puff pastry from scratch and it is a huge labor of love and time suck.  I can put my hand over my heart and say I can make puff pastry, but from now on I'm buying it.  You lose zero flakiness or flavor and save so much time!  Likewise, you can take a very sharp paring knife and make teeny tiny cuts in the delicate pastry alternating location on each row or you can use a Lattice Pastry Roller.  Who ever invented it was pure genius.  Simply roll the cutter across the pastry, give the dough a little tug, and VOILA - lattice.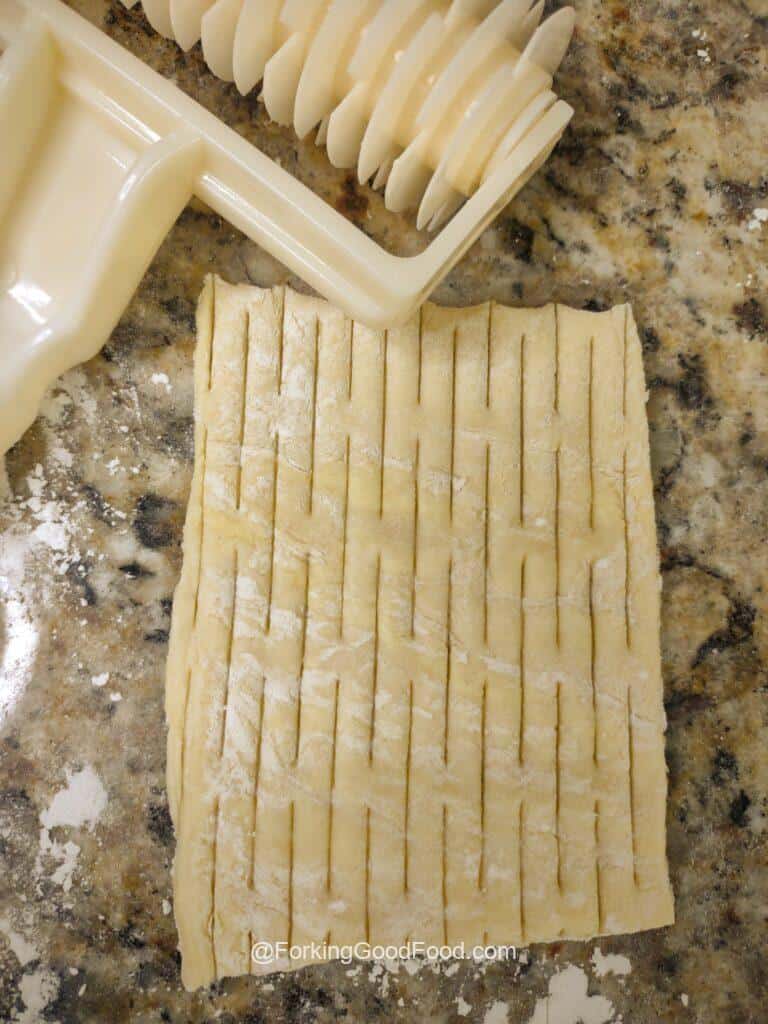 How do you clean up flour?
I used to HATE baking because cleaning up the flour afterward was such a pain.  It was terrible.  I would think I had it all cleaned up and two days later I'd see flour.  Kitchen gadgets are my thing and no kitchen should be without a bench scraper.  This makes cleaning up the flour so quick and easy.  Just scrape it along your work surface, and slide the flour off the counter into a bowl or trash can and besides giving it a spritz with your favorite cleaner and quick wipe down you're done!  If you get flour all over the floor you're going to need a dog or a broom.  Bench scrapers usually have a few other little tricks.  Mine has a ruler on each side which is incredibly helpful in making lattice for pies, equally dividing...stuff... and even has these little holes for removing leaves from stems on fresh herbs.  My bench scraper hardly ever makes it to the drawer I use it so much.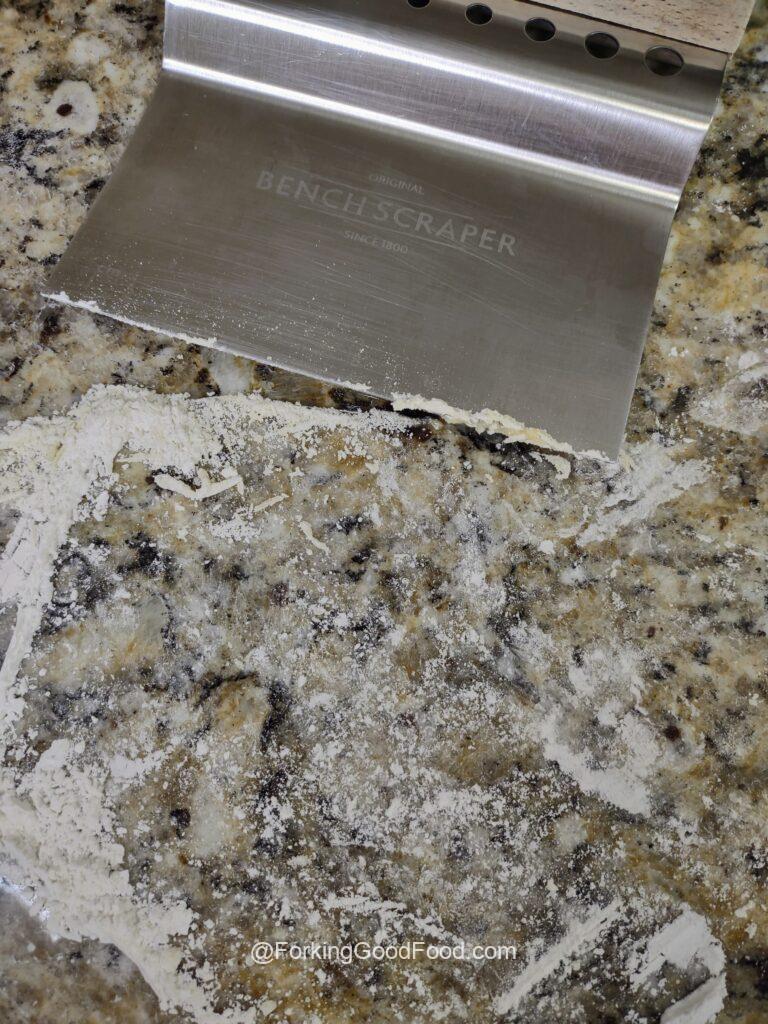 How to Make Peaches and Cream Lattice Puff Pastry
You may get to the first ingredient and say "never mind - not doing that." but please don't be hasty.  Here's the recipe for the Peach Cobbler Jam It's super easy and very tasty but fear not - you can substitute any store bought jam you like.  Take a peak at the notes in the recipe for some tasty suggestions.  So, now that we're over the fear of the first ingredient let's gather up what we need.  You've already committed to making these, you've been to the store and bought everything you need so let me give you a hint - take the puff pastry out of the freezer while you're reading over this.  It takes a little while to thaw properly so give yourself time.  So the first thing we need is our puff pastry sheets - thawed but still cold (follow the directions on the box, read the tips, and you'll be fine).  Too warm and it will loose it's flake and it becomes like a toddler without a nap -  difficult to work with.  You'll also need your jam and fruit, cream cheese, powdered sugar, an egg, a little water, and some good vanilla extract.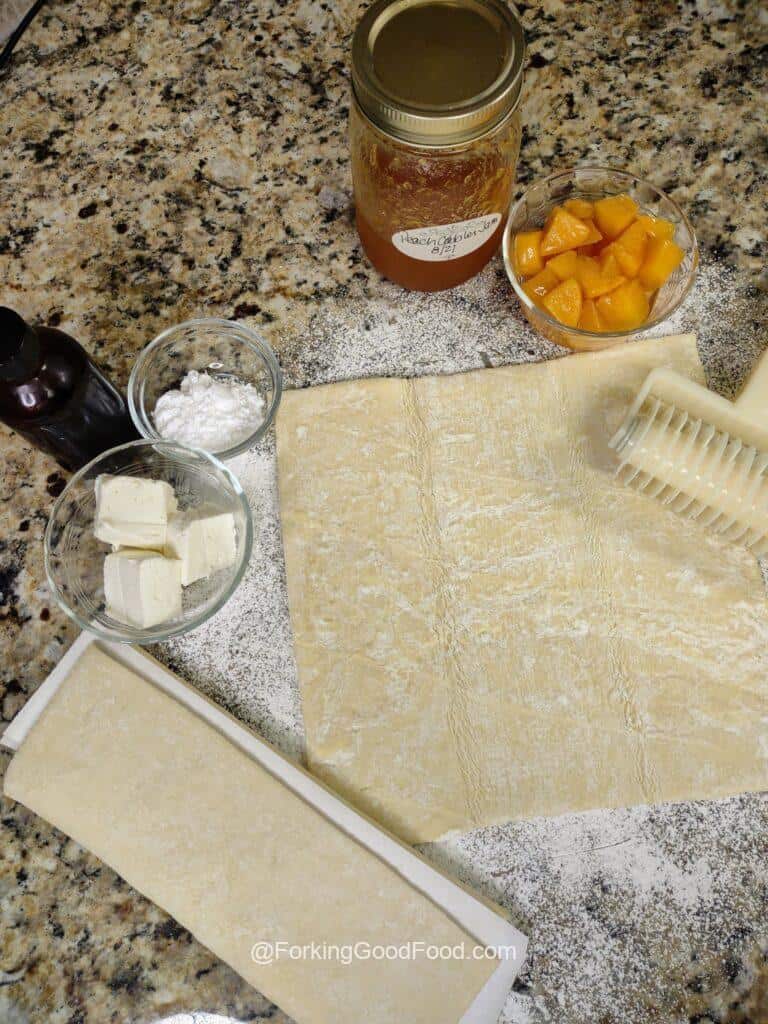 In a small bowl, mix your cream cheese, sugar, and vanilla until smooth and creamy. In a medium bowl, mix together your jam and fruit.  You don't want huge chunks but you don't want it too smooth either.  Then set each aside while you work with your pastry dough.
When you unfold the dough, it's going to have some heavy creases in it.  Place it on a floured surface and give it a gentle going over with a rolling pin just to loosen it up a little and smooth out those wrinkles.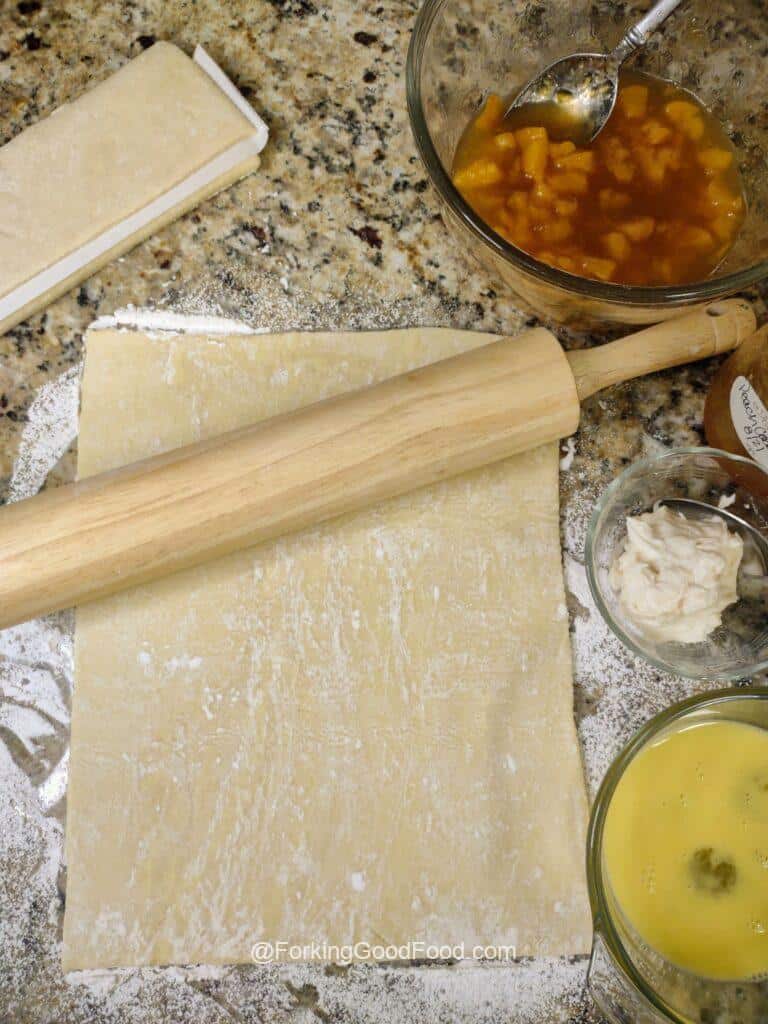 Using a pizza cutter, cut the sheet into six equal pieces.  Put the other sheet in the fridge to keep it cool while you're working with this one.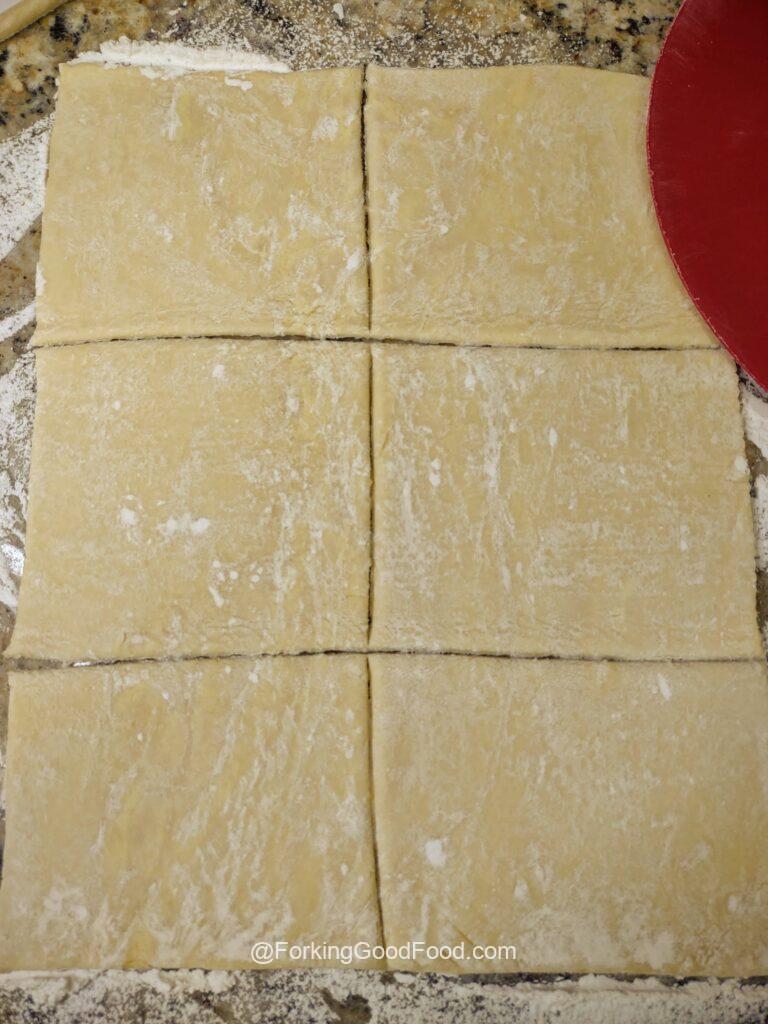 Divide your jam and cream cheese in half and then into thirds so you have the same amount of filling for each pastry.  On three of the pieces of pastry, place ⅙ of the cream cheese in the center, spreading to within ½ inch of the edge of the pastry.  Next, add the peaches on top, spreading to cover the cream cheese.  I'll admit - this picture looks a little deceiving because I forgot to spread the filling out before I snapped it so do as I say and not as I do.  Brush the edges with a little egg wash.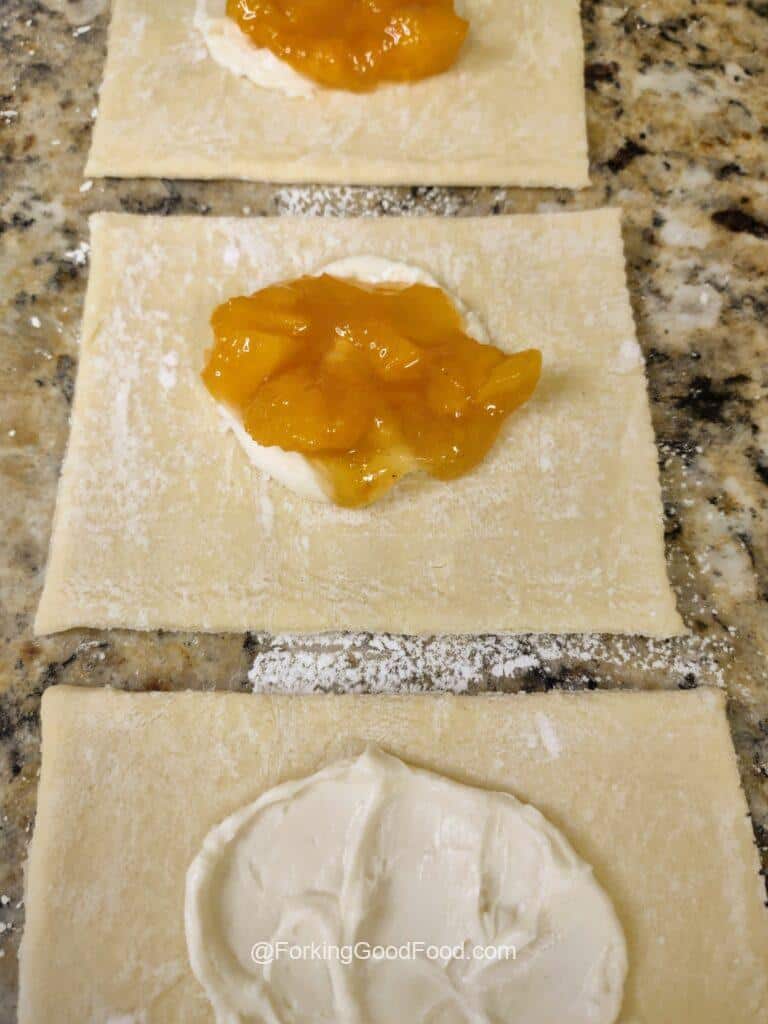 Run your lattice roller over the remaining three sheets, give it a gentle tug to open up the cuts and place on top of the jam topped pastry.  Press down gently around the edges to seal the pastry shut - the egg wash will act as a glue.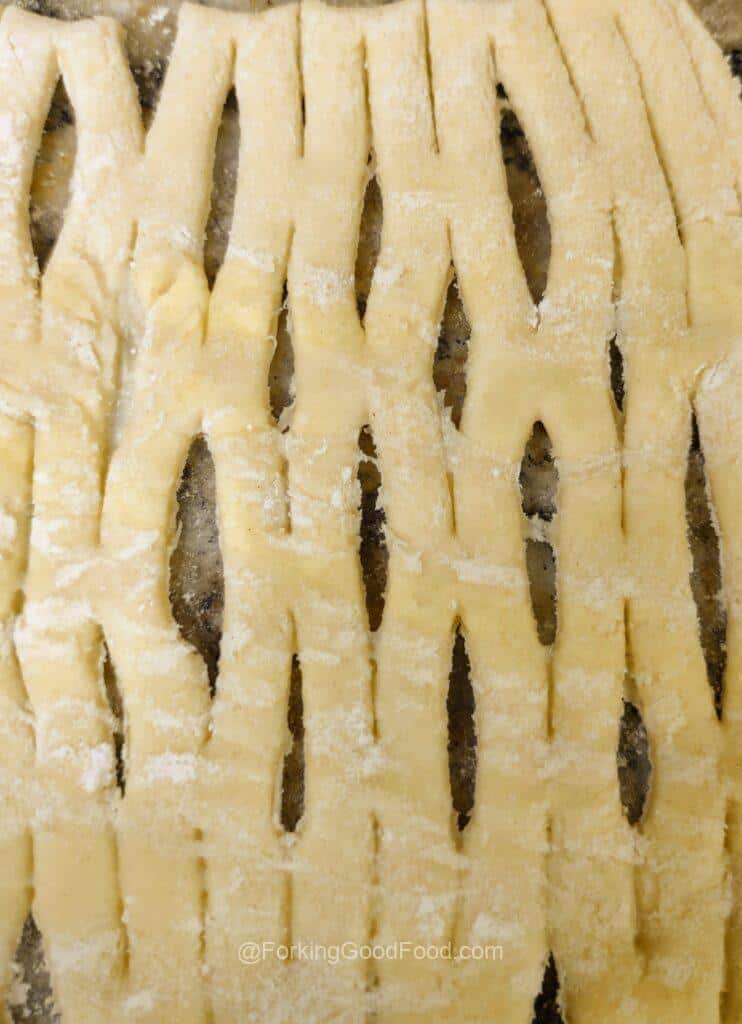 For a prettier presentation, I take the pizza cutter again and just trim off any excess or stray bits of pastry. Repeat with the remaining puff pastry sheet.  With the help from a spatula, carefully transfer the pastries to a parchment paper lines baking sheet.  Bake at 400 for 20 minutes or until golden brown.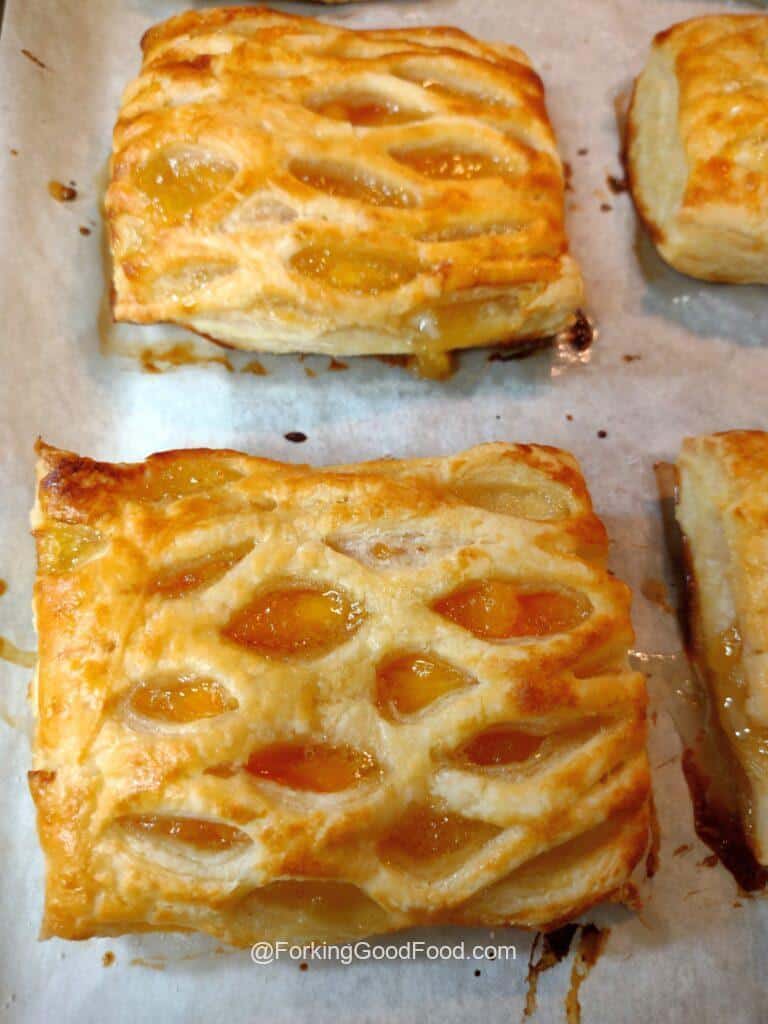 Dust a little powdered sugar on top, put it on a fancy plate, stick out your pinky, and serve it up with a coy little grin.
More fun treats to make:
Recipe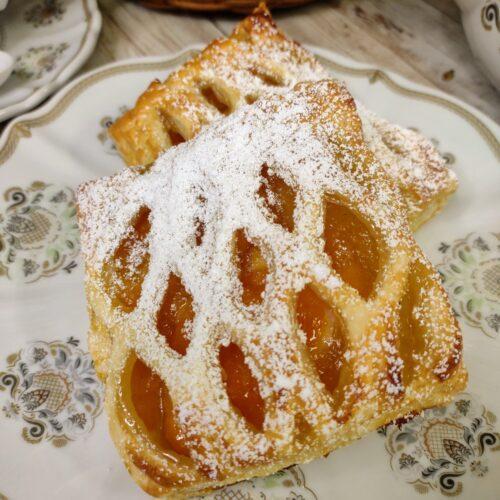 Peaches and Cream Lattice Puff Pastry
These delicate pastries look difficult but with a couple of great kitchen hacks your guests will be so impressed. If you save them any that is.
Equipment
Lattice Pastry Roller

Rolling Pin

Pizza cutter or other sharp knife
Ingredients
¾

cup

Peach Cobbler Jam

½

cup

diced peaches

canned, drained

1

box

frozen puff pastry sheets

3

oz

cream cheese

softened

1

Tbs

powdered sugar

1

teaspoon

vanilla extract

1

egg + 1 Tbs water

whisked together

Extra powdered sugar for dusting
Instructions
Preheat the oven to 400℉ and line a baking sheet with parchment paper

Thaw the puff pastry according to box directions. It's important that the pastry still be cold, but not frozen

In a medium sized bowl, add the jam and diced peaches and mash with a fork or potato masher

In a small bowl, mix the cream cheese, powdered sugar, and vanilla with a spoon until creamy

On a floured surface, unwrap then slightly roll out one sheet of pastry dough (keep the other sheet in the refrigerator while you work with this one) just to flatten out the folds from being in the box

With a pizza cutter or sharp knife, cut the dough into 6 equal pieces

Divide the peach mixture and the cream cheese mixture in half, and then in thirds to ensure each pastry has the equal amount of filling

Place the cream cheese in the middle of 3 of the pastry pieces and spread evenly within about ⅓ inch of the edge of the pastry

Top with the peach filling, spreading just over the cream cheese, leaving the same gap

Carefully brush the exposed pastry with a little egg wash, not too much as you don't want to make the dough soggy

With the remaining three pieces of pastry, firmly roll a Lattice Pastry Roller over each then gently pull apart to make the top of the pastry

Place each top over the bottom pastry, lightly pressing the edges together to seal. For better presentation, roll your pizza cutter just along the edge of the sealed pastry to trim off any stray pieces of dough.

Using a spatula for support, gently transfer the pastries to the baking sheet

Repeat with the remaining puff pastry sheet

Bake for about 20 minutes or until golden brown

Dust with powdered sugar if desired
Notes
If you don't have homemade jam, any store bought jam will do. You may need to warm it in the microwave for just a few seconds to make it easier to mix and spread.
This recipe can be used with any flavor: strawberry, blueberry, cherry, apricot etc.
For extra flavor add a bit of balsamic vinegar to your strawberry filling, lemon zest to your blueberry filling or replace the vanilla extract with Amaretto or almond extract with your cherry filling.
These are best served warm on the day, they do not keep well overnight as the pastry tends to collapse on itself and loses its crunchy flakiness.
The jam and cream cheese filling can be made ahead of time. This may look like a lot of steps, but they come together pretty quickly.
Nutrition
Calories:
639
kcal
Carbohydrates:
69
g
Protein:
8
g
Fat:
37
g
Saturated Fat:
11
g
Polyunsaturated Fat:
4
g
Monounsaturated Fat:
19
g
Trans Fat:
1
g
Cholesterol:
43
mg
Sodium:
273
mg
Potassium:
138
mg
Fiber:
2
g
Sugar:
24
g
Vitamin A:
273
IU
Vitamin C:
5
mg
Calcium:
36
mg
Iron:
3
mg