I make Smoked Turkey Soup pretty much every time I smoke a turkey. It's perfect for using the leftover turkey carcass. Cook it down and then add all your ingredients for a fantastic soup!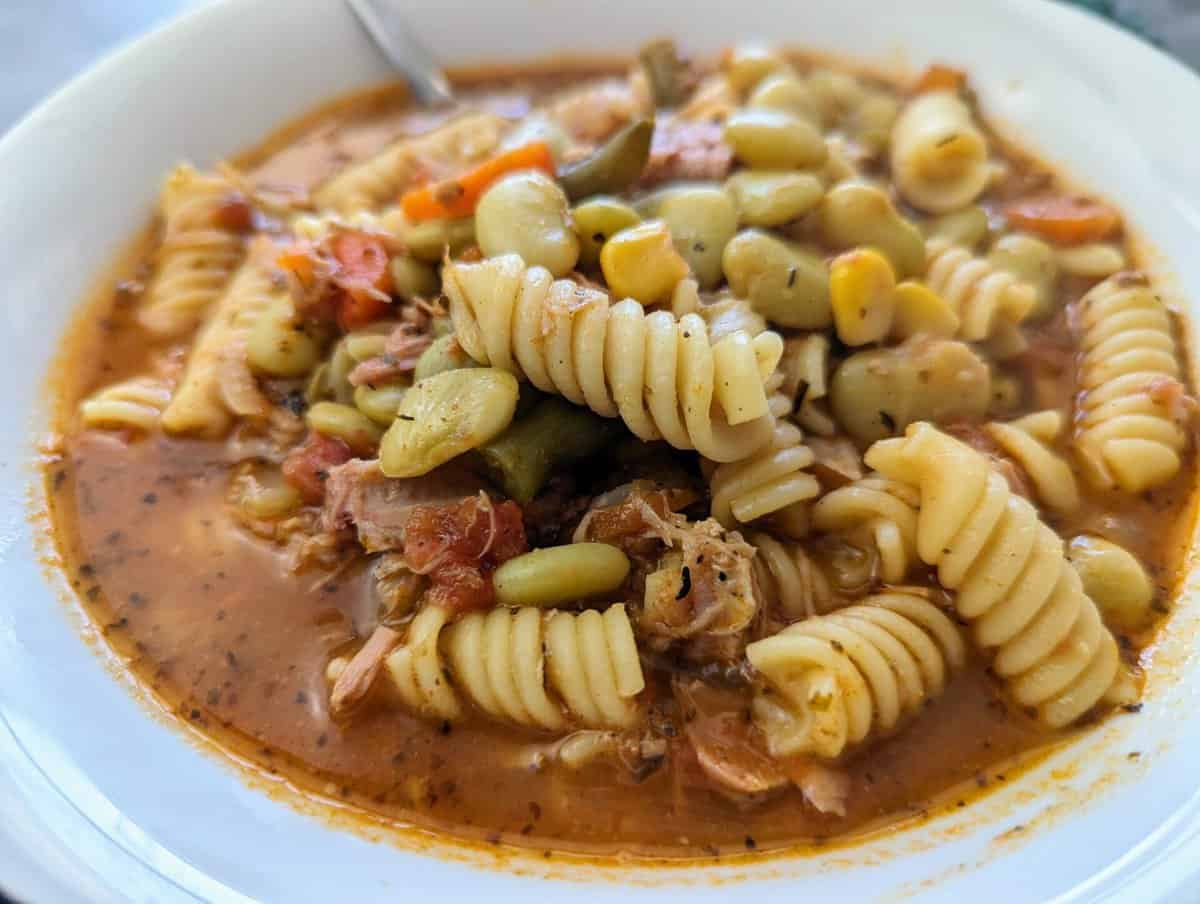 Imagine the rich aroma of smoky flavors mingling with hearty vegetables and aromatic herbs, creating a symphony of taste that soothes the soul.
Here are some common questions you might have about making smoked turkey soup in the Instant Pot, along with some mouthwatering answers.
Can I Use Leftover Smoked Turkey for the Soup?
Absolutely! In fact, using leftover smoked turkey is a fantastic way to infuse that smoky essence into your soup. The rich flavors from the smoked turkey will blend beautifully with the other ingredients, creating a harmonious symphony of taste.
What Ingredients Do I Need for Smoked Turkey Soup in the Instant Pot?
Glad you asked! For a basic smoked turkey soup, you'll need smoked turkey (shredded or chopped), onions, carrots, celery, garlic, broth (chicken or turkey), herbs, and your choice of seasonings. Of course, feel free to get creative and add your favorite veggies for extra depth.
How Do I Make Smoked Turkey Soup in the Instant Pot?
The Instant Pot makes this process a breeze. Start by sautéing onions, carrots, and celery until they're fragrant and tender. Add minced garlic and seasonings for an aromatic punch. Toss in your leftover smoked turkey and broth, then seal the Instant Pot and set it to cook on the "Soup" setting. Once it's done, perform a quick release, and voilà – your smoked turkey soup is ready to be savored!
Can I Adjust the Flavors to My Liking?
Absolutely, my fellow flavor enthusiast! The beauty of homemade soup lies in its versatility. Feel free to adjust the seasonings, herbs, and spices according to your taste preferences. Want a little more heat? Add a dash of red pepper flakes. Craving a hint of smokiness? A touch of smoked paprika might just do the trick.
Can I Freeze Smoked Turkey Soup?
You bet! Smoked turkey soup freezes remarkably well. Prepare a big batch and portion it into airtight containers. When you're ready for a comforting meal, simply thaw and reheat. It's like a warm hug from your past self!
What Should I Serve with Smoked Turkey Soup?
Ah, the age-old question of the perfect soup pairing. Crusty bread, warm rolls, or even a side salad can accompany your smoked turkey soup beautifully. The choice is yours – it's all about enhancing your dining experience.
Any Tips to Amp Up the Flavor?
Certainly! To intensify the smoky flavor, consider adding a small amount of liquid smoke to the soup. Be cautious, though, as liquid smoke is potent. Start with a drop and adjust to your taste.
Can I Make This Soup Creamy?
Absolutely! If you're a fan of creamy soups, you can transform your smoked turkey soup into a creamy delight. After cooking, use an immersion blender to purée a portion of the soup. Then, stir in some heavy cream or coconut milk for a velvety finish.
How Long Does It Take to Cook Smoked Turkey Soup in the Instant Pot?
The beauty of the Instant Pot is its speed. From start to finish, you can have a hearty bowl of smoked turkey soup ready in about 30-40 minutes, depending on the size of your turkey pieces and the specific Instant Pot model you're using.
Can I Customize the Soup with Different Veggies?
Absolutely! Flex your culinary creativity by adding your favorite vegetables to the mix. Peas, corn, potatoes, or even spinach can add delightful layers of texture and flavor to your smoked turkey soup.
Enjoy crafting your masterpiece of smoked turkey soup in the Instant Pot – a symphony of flavors and warmth that'll have you returning for seconds and thirds. Happy cooking, my fellow food adventurer!
Recipe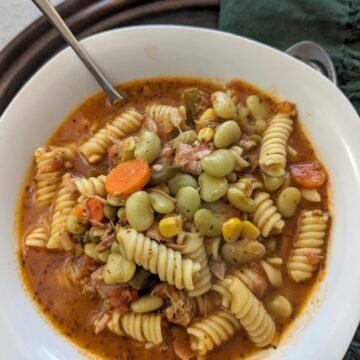 Smoked Turkey Soup Instant Pot
Indulge in the comforting embrace of a warm bowl of goodness with every spoonful – it's time to dive into the world of smoked turkey soup.
Ingredients
1

tablespoon

olive oil

1

yellow onion

diced - medium

3

stalks

celery

sliced

3

carrots

sliced into coins or half moons

3

cups

smoked turkey

cubed white and/or dark meat

1

cup

rotini

or similar pasta **optional**leave out for KETO

2

garlic cloves

minced

12

ounces

frozen lima beans

10

ounces

frozen corn

10

ounces

frozen cut green beans

1

14.5-ounce can diced tomatoes

1

15-ounce can tomato sauce

2

bay leaves

salt and pepper

2-3

tablespoon

Italian seasoning or cajun seasoning
Instructions
NOTE - this will only work for a smaller turkey. Larger ones will need a bigger pan and Instant Pot won't work

Put the leftover turkey in your Instant Pot. Add water to cover it. Cook for 2 hours, pushing the bird down into the water to keep it submerged. Once it is soft. Remove the turkey and put it in a bowl and remove as much meat as possible.

Pour the stock into another bowl.

Heat the olive oil over medium heat in your Instant Pot. Add the onions, celery, and carrots. Cook, stirring frequently, until somewhat softened, about 10 minutes. Add the garlic and cook until fragrant, about a minute.

Add the lima beans, corn, diced tomatoes, tomato sauce, turkey, bay leaves, and a little salt and pepper and stir. Add enough of the broth to cover the soup about an inch.

Bring the soup to a boil, then reduce the heat and simmer for 40-50 minutes, or until the carrots are tender when pierced with a fork. You can quick cook by selecting SOUP on your instant pot and. Run for 10 minutes and slow release.

Remove and discard the bay leaves. Taste and add more salt and pepper if desired. If there isn't enough flavor add Italian seasoning or cajun seasoning. Either work great they just give it a different flavor!