Can't decide between Pecan or Pumpkin pie for Thanksgiving? Skip them both and make this creamy dreamy sweet potato pie instead.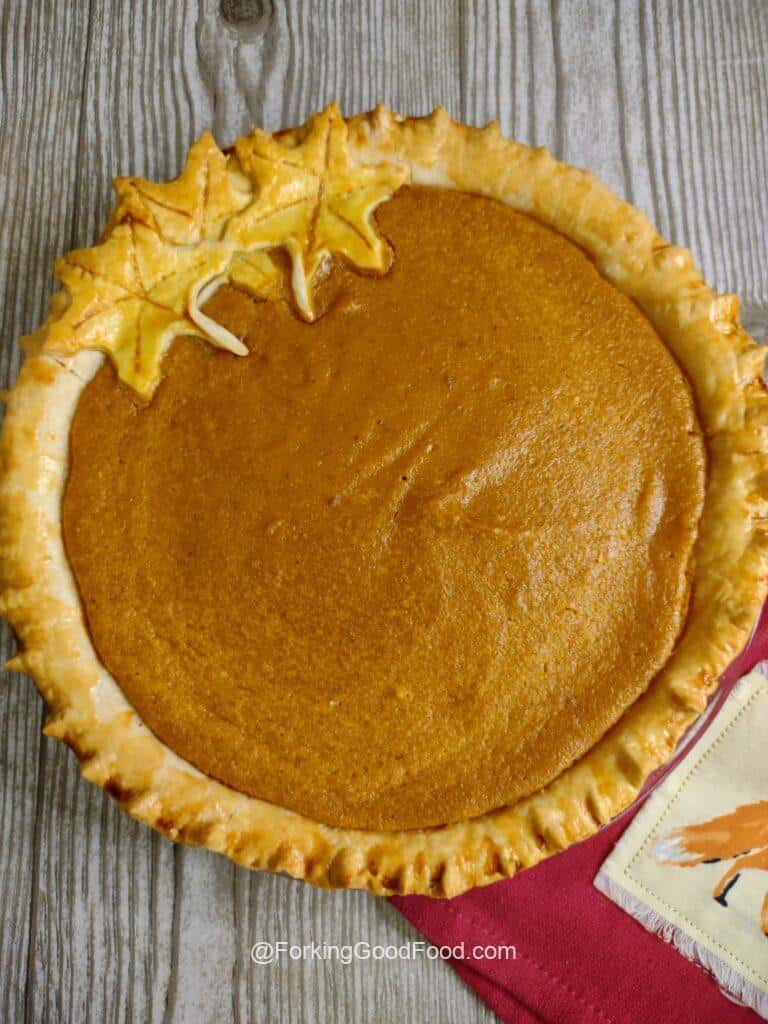 Sweet Potato Pie Recipe
OMG – it's fall y'all!!  Time to talk pie. For Valentine's Day I think about chocolates.  Easter is all about the carrot and coconut cakes.  Christmas conjures warm gingerbread but Thanksgiving is all about the pies!!  I love pie.
The pie possibilities are practically perpetual.  OK, using perpetual for endless just to be alliterative is a stretch but… this is about pie and not parts of speech.  If you watch a lot of Lifetime Holiday movies you'd think Pumpkin was the only Thanksgiving pie out there.  Pecan makes its presence known too; but here in the South – Sweet Potato reigns supreme.  It's simple and inexpensive and in the pie world, quick to make.  Because it's best served after it's completely cooled, it's a perfect Thanksgiving Eve early prep dish.  Heck; they freeze well so make them way ahead of time, then just pull them out of the freezer and let come to room temperature on the day.
Are Sweet Potatoes Superfoods?
I don't know who gets to decide what's a superfood and what isn't but I do know that sweet potatoes are really good for you. They're loaded with beta carotene, which is a powerful antioxidant and a rich source of vitamin A.  Eating a sweet potato every day can fulfil your body's need for potassium, which helps the body manage sodium levels that can help prevent the thickening of blood in the arteries.  In addition to being loaded with minerals, low in fat and high in fiber – they taste GREAT!  I've made this recipe with half the sugar and it's just fine.  My mom swears she can tell the difference but not me.  If you want to try the lower sugar version, add in half the sugar and taste it before you add the egg.  If it's too your liking then stick with that; you can always add the extra sugar in.
Who invented sweet potato pie?
The story goes that George Washing Carver, who invented hundreds of uses for sweet potatoes including synthetic rubber, came up with a recipe for sweet potato pie.  I'm not doubting this is true but there are records of sweet potato pie in the South dating back to colonial times.  Going further back, the use of sweet potatoes in Southern and African-American cuisine traces back to West African influences and were recorded during the "Middle Passage" of enslaved peoples from West Africa to the West Indies.  For more information on the Middle passage and why it's important read this PBS article on the Middle Passage.
How do I make Sweet Potato Pie?
This is the part I've been waiting for – to show you just how easy a homemade sweet potato pie really is.  To make it even easier, let's use a store bought refrigerated pie pastry.  Grab your ingredients and let's do this thing.  After your pie crust you're going to need a really big, cooked and mashed, sweet potato.  *sidebar* I get mine from a BBQ restaurant that serves sweet potatoes the size of small rugby balls.  Because they cook them next to the ribs and stuff they get this wonderful slightly smoky taste to them.  I think it really adds something to the pie so if you can find a similar place try it out. Back to the ingredients; you'll also need butter, sugar, eggs, vanilla, evaporated milk, nutmeg (or pumpkin pie spice), and a little flour.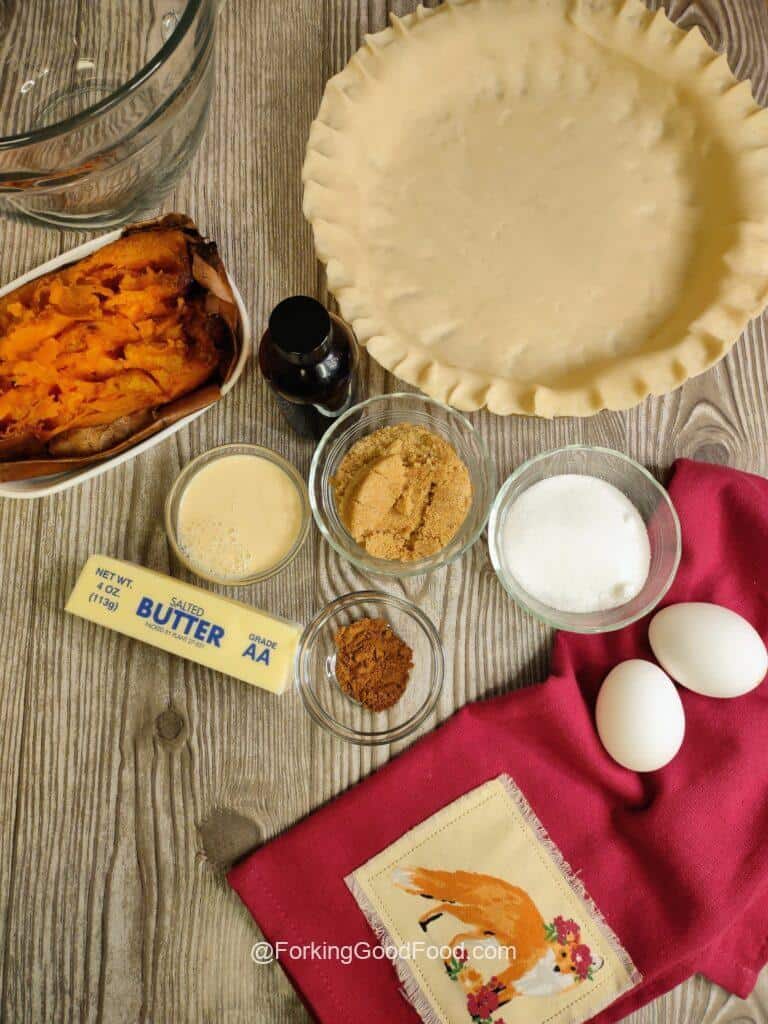 Mix the melted butter into the mashed sweet potatoes.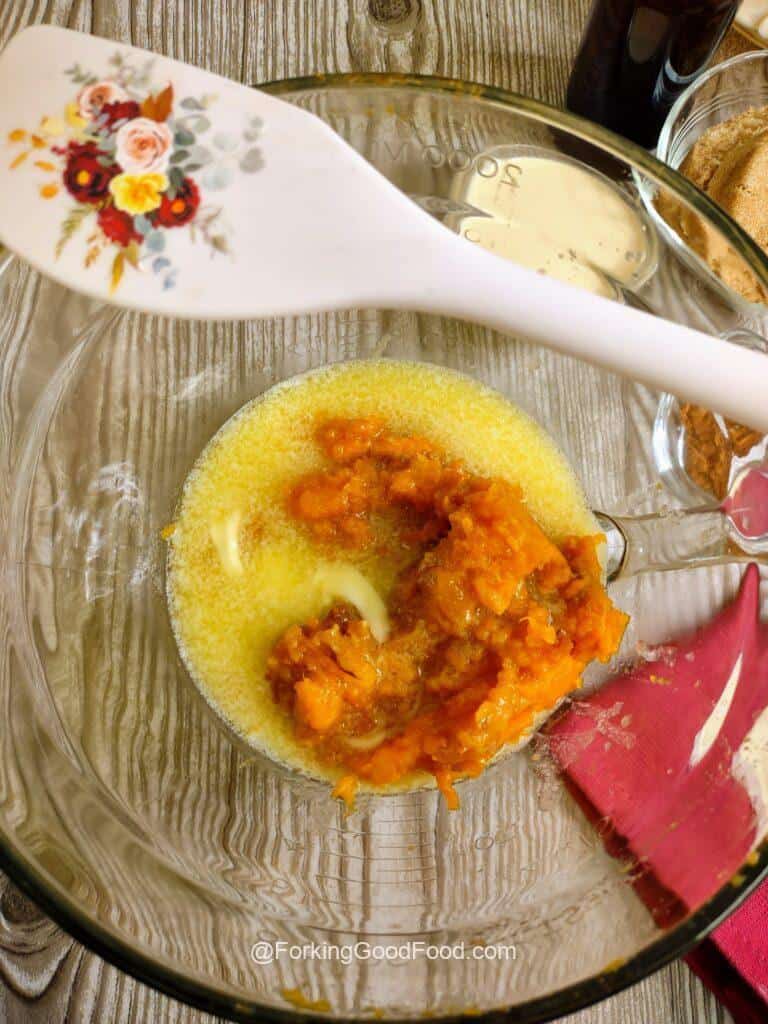 Next add in your sugar. Start out with half, take a little taste, and add more as you like it.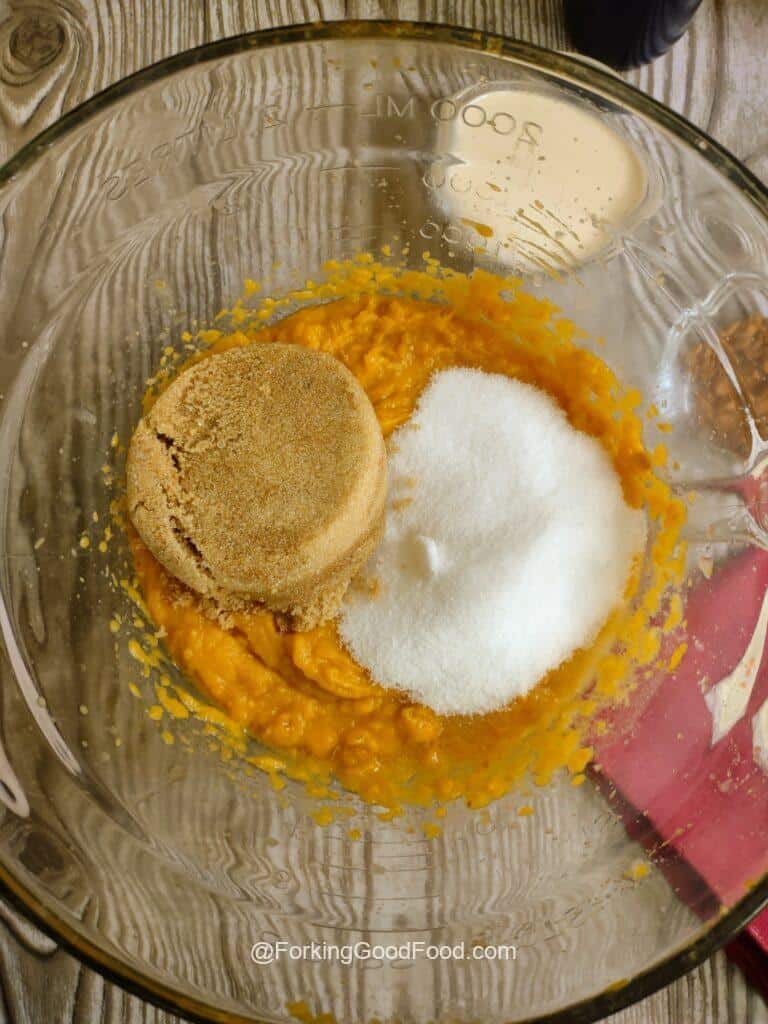 Once that is thoroughly combined, beat in the eggs, one at a time, on medium speed until creamy.
Stir in the rest of your ingredients and your pie filling is done!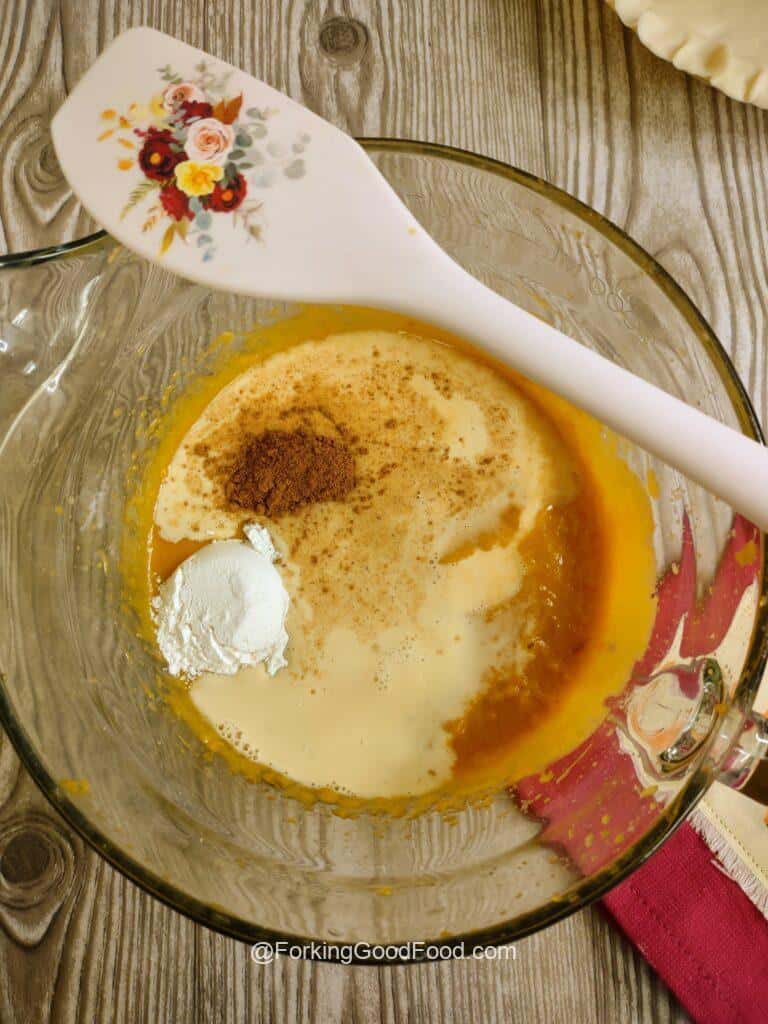 Pour into your prepared pie plate.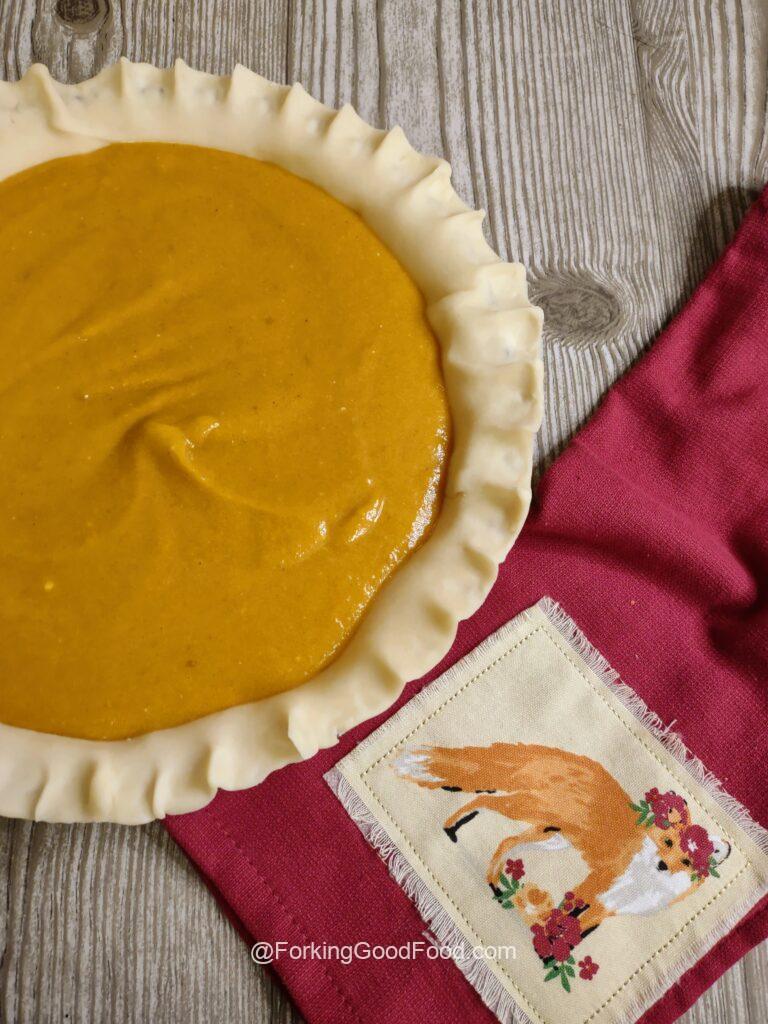 You can stop here if you want and go ahead and put it in the oven to bake.  If you want to be a little fancy, use a cookie cutter to make decorative accents with any left over pie dough.  Not going to lie – I didn't have anything Thanksgiving related so I used a snow flake cookie cutter and pinched the ends and used a toothpick to draw the veins in my MacGyvered leaves.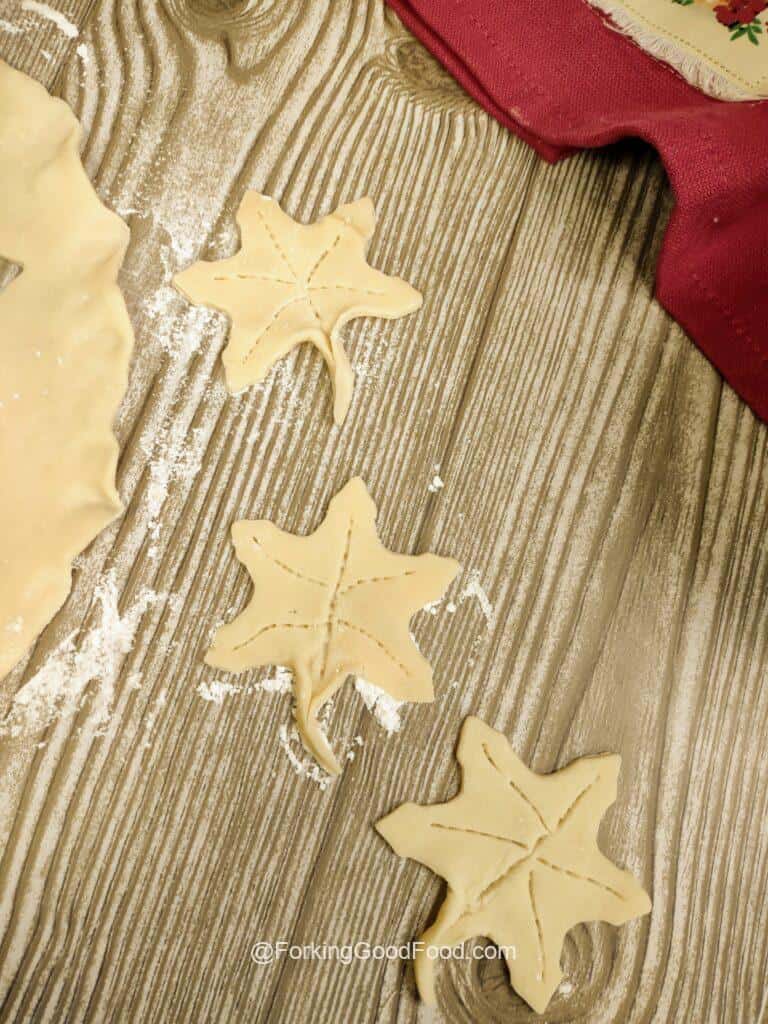 Now you can't un-see the snowflakes can you? While you try, brush any crust with a little egg whisked with about a tablespoon of water to give it that glossy, I-didn't-buy-this-dough-at-the-store finish.
Bake at 350 for an hour, or until there is no "wobble" and the pie springs back to the touch. Let cool completely before cutting.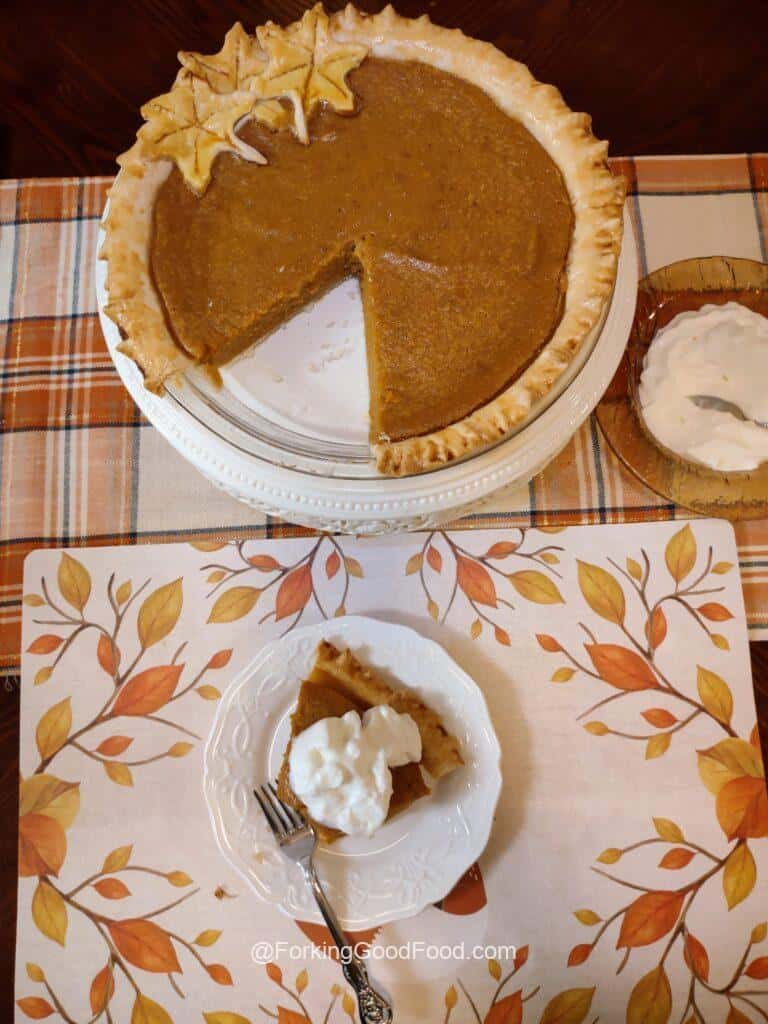 Other pie recipes to try:
Recipe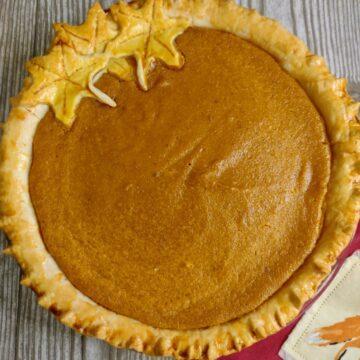 Sweet Potato Pie
Can't decide between Pecan or Pumpkin pie for Thanksgiving? Skip them both and make this creamy dreamy sweet potato pie instead.
Equipment
9" deep-dish pie plate or tin
Ingredients
1

extra large sweet potato

cooked and mashed

1

stick butter

melted

½

cup

sugar

½

cup

brown sugar

2

eggs

¼

cup

evaporated milk

1

Tbs

AP flour

½

teaspoon

pumpkin pie spice or nutmeg

½

teaspoon

vanilla extract

Pastry for a 9" deep-dish pie
Instructions
Preheat oven to 350 ℉

Stir butter into the sweet potatoes

Add sugar and mix until smooth

Add eggs one at a time, beating well between each

Add remaining ingredients and mix thoroughly

Pour evenly into pie shell and bake for 1 hour

Cool completely before serving
Nutrition
Calories:
291
kcal
Carbohydrates:
47
g
Protein:
4
g
Fat:
10
g
Saturated Fat:
3
g
Polyunsaturated Fat:
1
g
Monounsaturated Fat:
5
g
Trans Fat:
1
g
Cholesterol:
43
mg
Sodium:
157
mg
Potassium:
183
mg
Fiber:
1
g
Sugar:
28
g
Vitamin A:
4086
IU
Vitamin C:
1
mg
Calcium:
55
mg
Iron:
1
mg