Potluck dinners are more than just a meal; they're a social event that brings people together to share their favorite dishes, explore new flavors, and create lasting memories.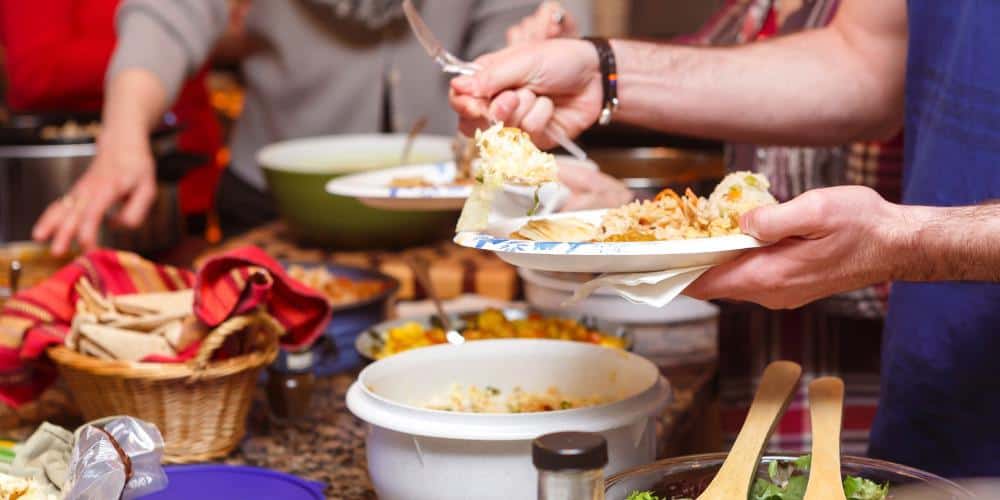 Whether you're hosting a potluck for a family gathering, a community event, or a casual get-together with friends, these gatherings offer a wonderful opportunity for everyone to contribute and showcase their culinary skills. Today, we'll dive into the essence of potluck dinners, offering valuable tips and tricks to ensure a successful and enjoyable experience for all.
The Beauty of Potluck Dinners Potluck dinners embody the spirit of community, collaboration, and diversity. They provide a platform for individuals to express their culinary creativity, share cherished family recipes, and introduce others to their cultural heritage through food.
The communal aspect of potlucks fosters a sense of togetherness and encourages meaningful conversations as guests explore the vast array of dishes. It's a chance to bond over a shared love for food, discover new flavors, and appreciate the unique talents of each participant.
Tips for Hosting a Memorable Potluck Dinner
Plan Ahead: As the host, establish a date, time, and location for the potluck well in advance. Communicate the theme or any specific requests to your guests to ensure a variety of dishes and avoid duplicates.
Coordinate the Menu: Create a shared spreadsheet or online sign-up system where guests can indicate the dish they plan to bring. Encourage diversity by suggesting different categories such as appetizers, main courses, side dishes, and desserts.
Dietary Considerations: Take note of any dietary restrictions or allergies among your guests and share this information with the group. This way, everyone can make informed choices when preparing their dishes.
Communication is Key: Keep an open line of communication with your guests leading up to the potluck. Share reminders, provide directions to your home or the venue, and offer any assistance or suggestions they may need.
Set the Stage: Arrange a designated area for the potluck where guests can display their dishes. Ensure there are enough serving utensils, plates, napkins, and drinks available. Consider labeling each dish with the name of the contributor and a brief description.
Embrace Creativity: Encourage guests to think outside the box and bring unique or themed dishes. This can add an element of excitement and inspire culinary exploration.
Balance the Meal: Aim for a well-rounded meal by suggesting a variety of flavors, textures, and cuisines. If needed, you can gently guide guests to avoid an overabundance of similar dishes.
Be Prepared: Have some backup dishes or simple staples on hand in case any guests are unable to bring their planned contribution. This ensures that there is always enough food for everyone.
Share Recipes: Encourage guests to bring recipe cards or share their recipes electronically after the potluck. This allows everyone to recreate their favorite dishes and continue the culinary journey at home.
Show Appreciation: Remember to express gratitude to each guest for their contribution. A simple thank-you note or a personalized message goes a long way in making them feel valued and appreciated.
Potluck dinners offer an enriching experience that goes beyond the enjoyment of delicious food. They create opportunities for connection, foster a sense of community, and celebrate the diversity of culinary traditions. So, gather your friends, family, and fellow food enthusiasts, and embark on a potluck adventure where everyone's culinary prowess shines, and the joy of shared meals brings people closer together.
Potluck theme ideas organized by month
Need some inspiration? Here are some ideas organized by month!
January:
Comfort Food Classics: Bring your favorite cozy dishes to warm up the winter.
New Year, New Flavors: Experiment with unique and exotic ingredients for a fresh start.
Healthy Beginnings: Share nutritious recipes and guilt-free treats to kickstart the year.
February:
Valentine's Day Delights: Bring dishes inspired by love and romance, such as heart-shaped desserts or aphrodisiac-inspired meals.
International Cuisine: Explore different cultures by bringing dishes from around the world.
Winter Warm-Up: Share hearty soups, stews, and casseroles to keep everyone cozy.
March:
St. Patrick's Day Feast: Celebrate the Irish culture with traditional dishes like corned beef and cabbage, Irish soda bread, or green-themed treats.
Spring Fling: Bring light and fresh dishes to welcome the arrival of spring.
Fiesta Fiesta: Embrace the flavors of Mexico with tacos, enchiladas, guacamole, and margaritas.
April:
Spring Picnic: Bring sandwiches, salads, and refreshing drinks for an outdoor gathering.
April Showers: Share comforting rainy day recipes like mac and cheese, soup, or pot pies.
Brunch Bonanza: Bring your favorite breakfast or brunch items to enjoy together.
May:
Cinco de Mayo Fiesta: Celebrate with Mexican-inspired dishes, like nachos, quesadillas, and churros.
BBQ Bash: Fire up the grill and bring your best BBQ recipes for a flavorful feast.
Garden Fresh: Share dishes made with fresh fruits and vegetables from your garden or local farmers' market.
June:
Summer BBQ: Bring your favorite summer grilling recipes, sides, and refreshing beverages.
Tropical Paradise: Create a tropical-themed potluck with dishes inspired by the flavors of the islands.
Ice Cream Social: Bring different flavors of homemade ice cream and toppings for a sweet treat.
July:
Red, White, and Blue: Bring patriotic-themed dishes to celebrate Independence Day.
Backyard Cookout: Share classic BBQ favorites like burgers, hot dogs, and grilled veggies.
Summer Potluck Favorites: Bring your go-to summer recipes, from refreshing salads to chilled desserts.
August:
International Street Food: Explore the world's street food scene by bringing dishes inspired by different countries.
Farm-to-Table: Share recipes made with fresh, seasonal produce from local farms.
Hawaiian Luau: Bring dishes inspired by Hawaiian cuisine, such as poke bowls, kalua pig, or tropical fruit desserts.
September:
Labor Day Picnic: Pack your baskets with sandwiches, salads, and homemade lemonade for a picnic in the park.
Tailgate Party: Bring game day snacks and finger foods for a pre-game gathering.
Apple Harvest: Share apple-themed recipes, like apple pies, cider, or caramel apple treats.
October:
Oktoberfest Feast: Bring German-inspired dishes, such as bratwurst, pretzels, sauerkraut, and beer.
Pumpkin Palooza: Share dishes featuring pumpkin as the star ingredient, from soups to desserts.
Fall Comfort Foods: Bring warm and comforting dishes to embrace the autumn season.
November:
Thanksgiving Potluck: Share traditional Thanksgiving dishes, including turkey, stuffing, cranberry sauce, and pumpkin pie.
Friendsgiving Feast: Have a pre-Thanksgiving celebration with friends and bring your favorite holiday-inspired dishes.
Harvest Bounty: Share recipes made with seasonal ingredients like squash, root vegetables, and hearty grains.
December:
Holiday Cookie Exchange: Bring batches of homemade cookies to swap and share.
Festive Finger Foods: Share bite-sized appetizers and holiday-themed snacks.
Cozy Winter Warmers: Bring comforting dishes like soups, casseroles, and hot beverages to keep everyone warm.
Feel free to adjust and mix these ideas based on your preferences and local traditions. Enjoy the potluck gatherings and the variety of delicious dishes throughout the year!