Introducing the ultimate fusion of breakfast and lunch, the BLT Bagel! This mouthwatering creation takes the classic BLT sandwich and elevates it to a whole new level of deliciousness.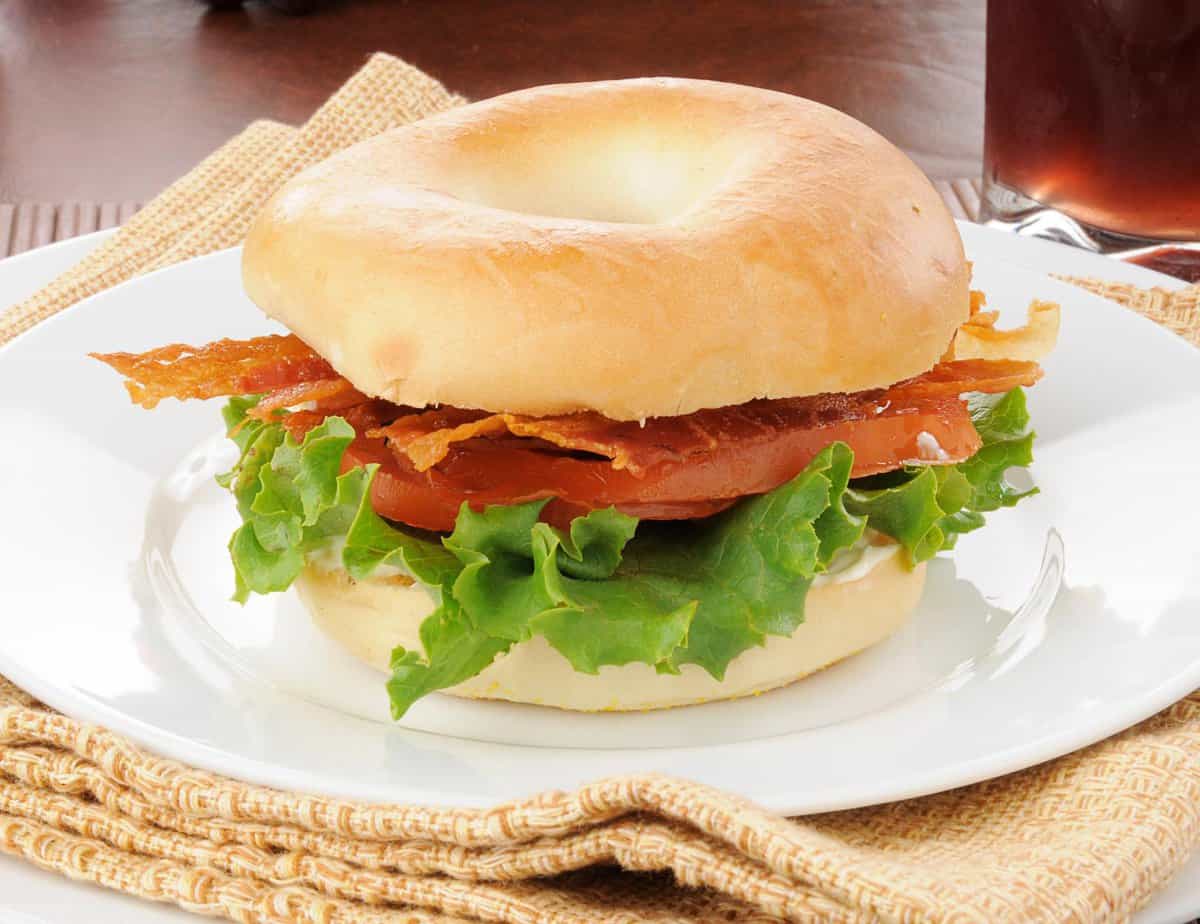 Picture a perfectly toasted bagel, generously slathered with creamy mayo, stacked high with crispy bacon, juicy tomato slices, and crisp lettuce leaves. Each bite offers a symphony of flavors and textures that will leave you craving more.
Whether you're a fan of savory breakfasts or simply looking for a scrumptious meal on the go, these BLT Bagels are here to satisfy your taste buds and ignite your culinary imagination. So, get ready to indulge in a symphony of flavors with these irresistible BLT Bagels!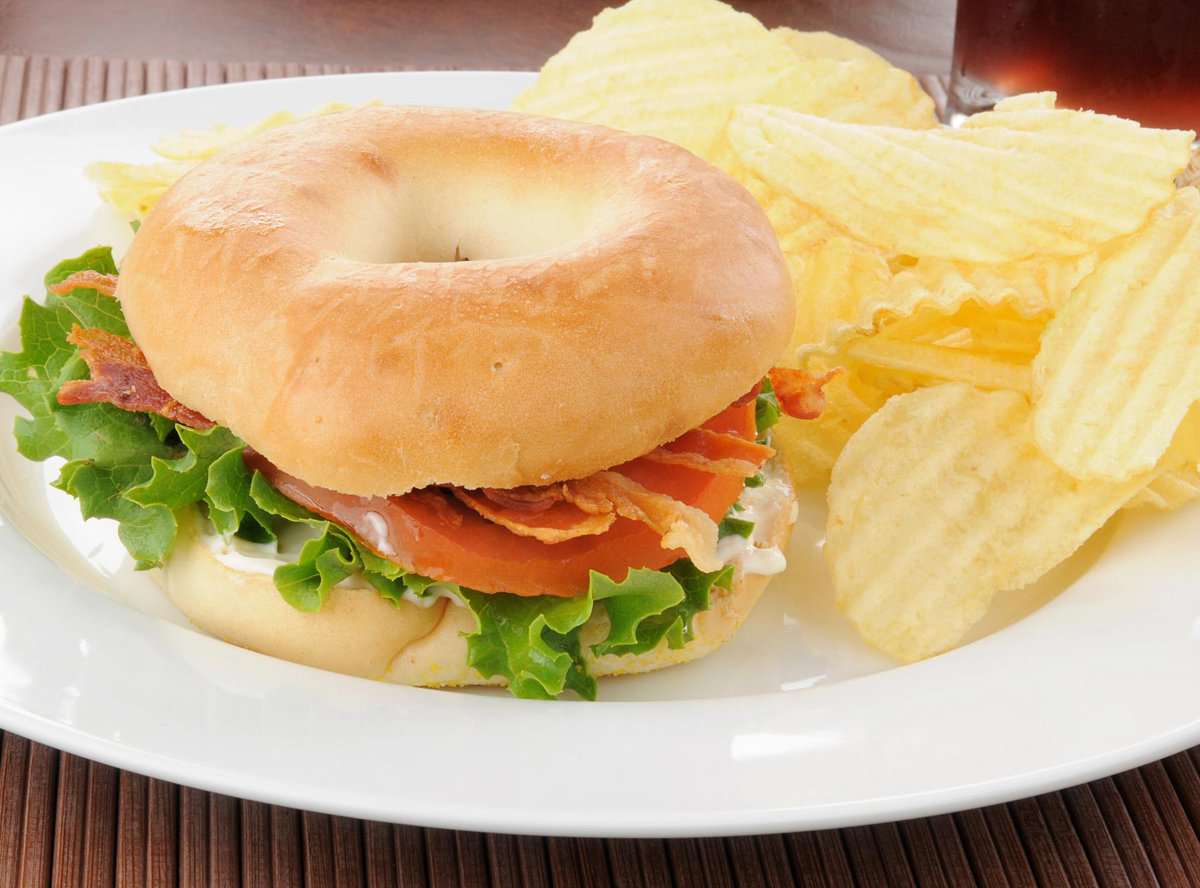 What to Serve with BLT Bagels:
When serving BLT Bagels, there are several delightful accompaniments that can enhance the overall meal experience. Consider these tasty options:
Sweet Potato Fries: Crispy and slightly sweet, these fries make a fantastic side dish. Their flavor complements the savory elements of the BLT Bagel perfectly.
Fresh Green Salad: A light and refreshing salad with mixed greens, cherry tomatoes, cucumber slices, and a tangy vinaigrette can provide a refreshing contrast to the rich flavors of the bagel.
Coleslaw: Creamy coleslaw adds a cool and crunchy element to the meal. Its creamy texture and tangy dressing provide a great balance to the savory bagel.
Pickles: A side of pickles, whether dill or bread-and-butter, adds a delightful tang and crunch. The pickles' briny flavor can cut through the richness of the bagel, creating a well-rounded bite.
Fresh Fruit: A platter of sliced fresh fruit, such as watermelon, grapes, or berries, brings a refreshing and vibrant touch to the meal. It's a great option for those seeking a lighter side.
Tomato Soup: If you're in the mood for a comforting and warming pairing, a bowl of tomato soup can be an excellent choice. Dip your BLT Bagel into the soup for a delectable combination of flavors.
Chips or Crisps: A side of your favorite chips or crisps provides a satisfying crunch and pairs well with the handheld nature of the BLT Bagel. Opt for classic potato chips, tortilla chips, or even veggie chips for a flavorful accompaniment.
Remember, the choice of side dishes ultimately depends on your personal preferences. Whether you prefer something light and refreshing or crave a comforting complement, these options will add an extra dimension of enjoyment to your BLT Bagel experience.
Tips & Tricks for Perfect BLT Bagels
Can I use a different type of bread instead of bagels?
Absolutely! While bagels provide a chewy and substantial base for the BLT, you can use other bread options such as sliced bread, ciabatta, or even a croissant if you prefer.
Can I use turkey bacon or vegetarian bacon as a substitute?
Yes, you can substitute regular bacon with turkey bacon or vegetarian bacon if you prefer. Just make sure to cook them according to the package instructions for the best results.
What other toppings can I add to my BLT bagel?
The classic BLT combination of bacon, lettuce, and tomato is delicious on its own, but you can add other toppings if desired. Some popular options include avocado slices, red onion, pickles, or a spread of cream cheese for added creaminess.
Can I make these sandwiches ahead of time?
It's best to assemble and serve the BLT bagels immediately to maintain the freshness and texture of the ingredients. However, you can prep the individual components in advance, such as cooking the bacon and slicing the tomatoes, then assemble them just before serving.
Can I make a vegetarian or vegan version of the BLT bagel?
Yes, you can make a vegetarian version by using vegetarian bacon or omitting the bacon entirely. For a vegan version, you can use vegan bacon alternatives and ensure the bagels and mayonnaise are also vegan-friendly.
What side dishes can I serve with BLT bagels?
BLT bagels are quite filling on their own, but if you'd like some side dishes, you can consider serving them with a side of sweet potato fries, a fresh green salad, or a cup of tomato soup.
More fun sandwich recipes:
How to Make BLT Bagels
Below is the recipe to make these tasty treats. Feel free to customize your BLT Bagels by adding additional ingredients such as avocado slices, red onion, or pickles. Adjust the seasoning and condiments according to your taste preferences.
These delicious BLT Bagels are perfect for a quick and satisfying breakfast, brunch, or lunch option.
Recipe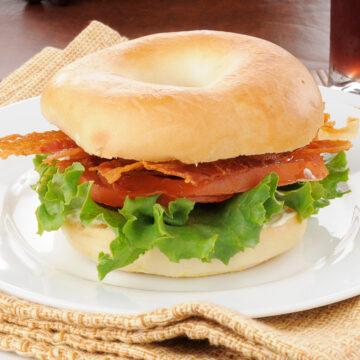 BLT Bagels AKA Bacon, Lettuce, Tomato Bagels
Introducing the ultimate fusion of breakfast and lunch, the BLT Bagel! This mouthwatering creation takes the classic BLT sandwich and elevates it to a whole new level of deliciousness.
Ingredients
4

bagels

plain, sesame, or everything

8

slices

of bacon

2

ripe tomatoes

sliced

4-8

large lettuce leaves

romaine, green leaf, or iceberg

Mayonnaise

Salt and pepper to taste
Instructions
Preheat your oven to 350°F (175°C) and line a baking sheet with parchment paper.

Place the bacon slices on the prepared baking sheet and bake in the preheated oven for about 15-20 minutes or until crispy. Remove from the oven and drain on paper towels to remove excess grease.

Slice the bagels in half horizontally and toast them to your preferred level of crispness.

Spread a generous amount of mayonnaise on both halves of each bagel.

Layer the bottom half of each bagel with lettuce leaves, followed by tomato slices.

Season the tomatoes with salt and pepper to taste.

Place 2 slices of crispy bacon on top of the tomatoes.

Finish assembling the sandwiches by placing the top half of each bagel on top.

Press the sandwiches gently to secure all the ingredients together.

Serve the BLT bagels immediately and enjoy!
Nutrition
Calories:
1573
kcal
Carbohydrates:
298
g
Protein:
66
g
Fat:
18
g
Saturated Fat:
5
g
Polyunsaturated Fat:
6
g
Monounsaturated Fat:
4
g
Cholesterol:
8
mg
Sodium:
2483
mg
Potassium:
4047
mg
Fiber:
38
g
Sugar:
49
g
Vitamin A:
12872
IU
Vitamin C:
94
mg
Calcium:
488
mg
Iron:
15
mg