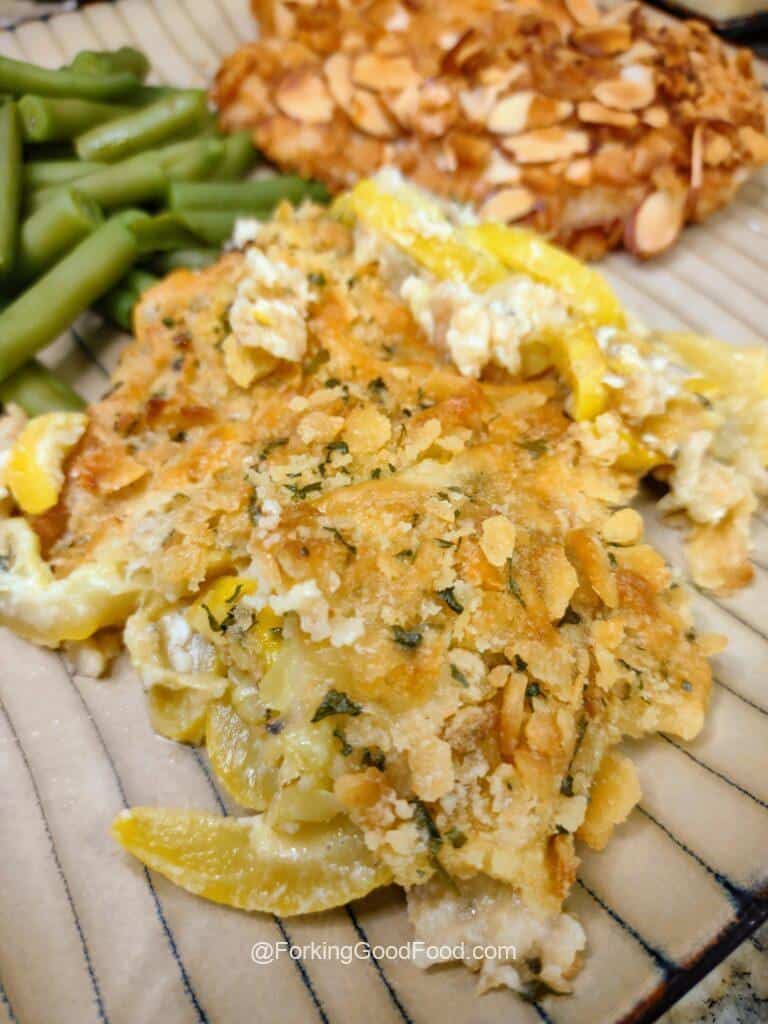 Summer Squash and Vidalia Onion Casserole
In the summer, squash is a plenty and the Vidalia's are sweet.  Add some sharp cheddar and salty butter crackers and you have the perfect summer comfort food.  Being from Georgia, we pride ourselves on being home to the "Vidalia".  It's not just a sweet onion – it's THE sweet onion and it's only grown in Georgia.
Aren't Vidalia Onions and sweet onions the same?
Not quite. All Vidalia onions are sweet onions but not all sweet onions can call themselves Vidalia's.  They are grown in the south eastern part of Georgia, in a relatively small area when you think about agriculture.  Vidalia's ae unusually flat for an onion and in 1989 a Federal Marketing Order protected it's brand name and quality of standards.  If you want to be sure about your Vidalia – in the store it should have a PLU code of 4195.  In the South, when they're in season, we buy in bulk!  The best way to store a Vidalia is to wrap each one individually in newspaper and keep them in a cool dark place.  You'll enjoy these for weeks.
Why is it called summer squash?
Most summer squashes are harvested early in the season while they're still immature and the rind is tender and edible.  The smaller the squash, the sweeter it will be so if you're going to eat them raw – smaller is better.  Summer squash is incredible versatile and can be used in both sweet and savory dishes.
How do I make Squash Casserole?
It's really easy.  Find some bright yellow summer squash, grab a nice size Vidalia onion, some cheese and butter, round butter crackers, a couple of eggs. and some milk and you're all set to go.
Preheat your oven to 400 degrees.  Slice your squash and onion in uniform, thin slices.  I use a mandolin for both the squash and onion and it's done in the blink of an eye.  Put them in a large skillet with a little water, cover and cook until soft, about 5 minutes.  Drain and remove from the heat.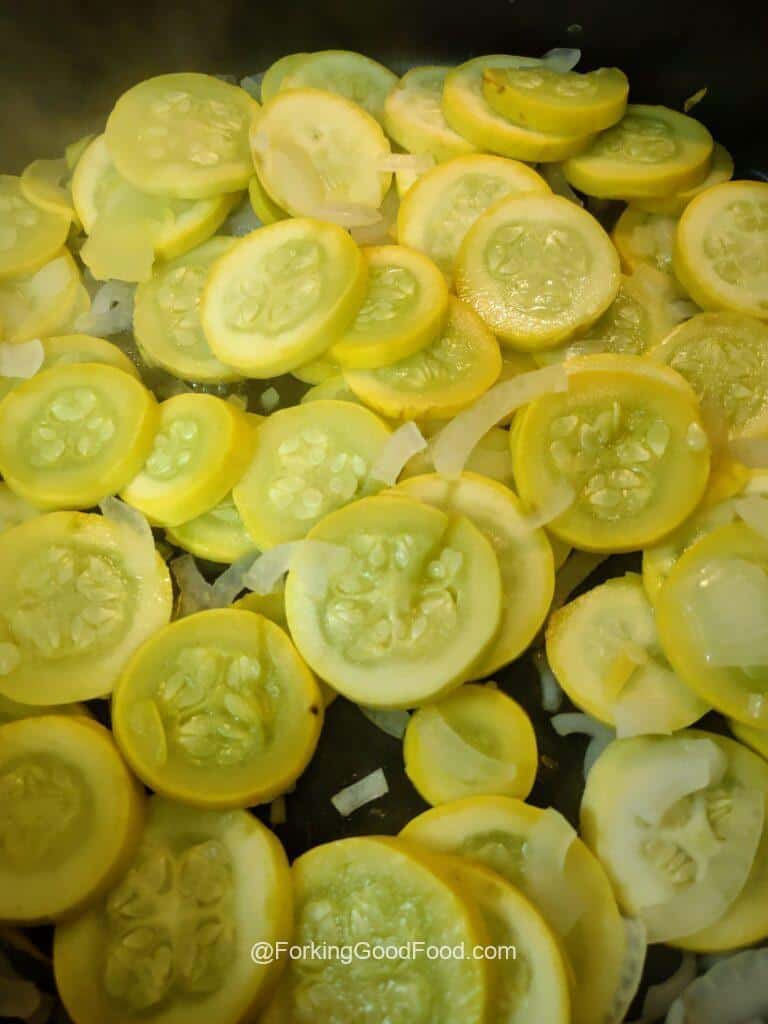 While your squash is cooking, crush your crackers (I do it right in the sleeve – pretty fun actually) and mix them with the cheese and parsley in a medium bowl.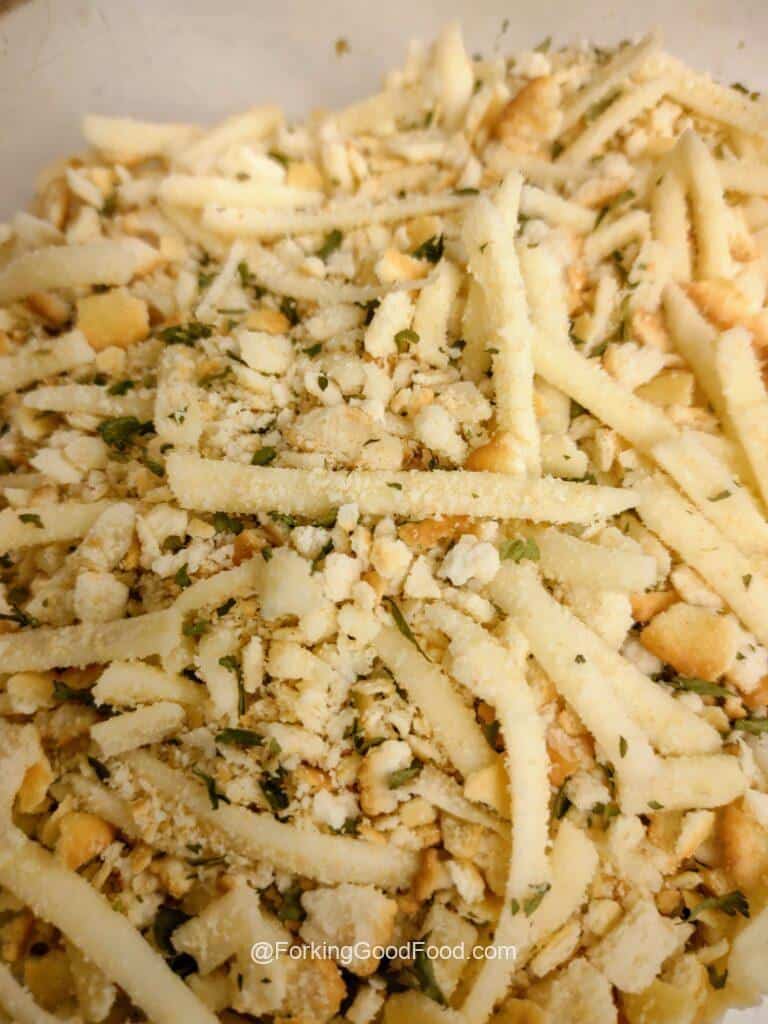 Add half of the cracker mixture to the squash and mix well.  In a small bowel whisk your eggs and milk together.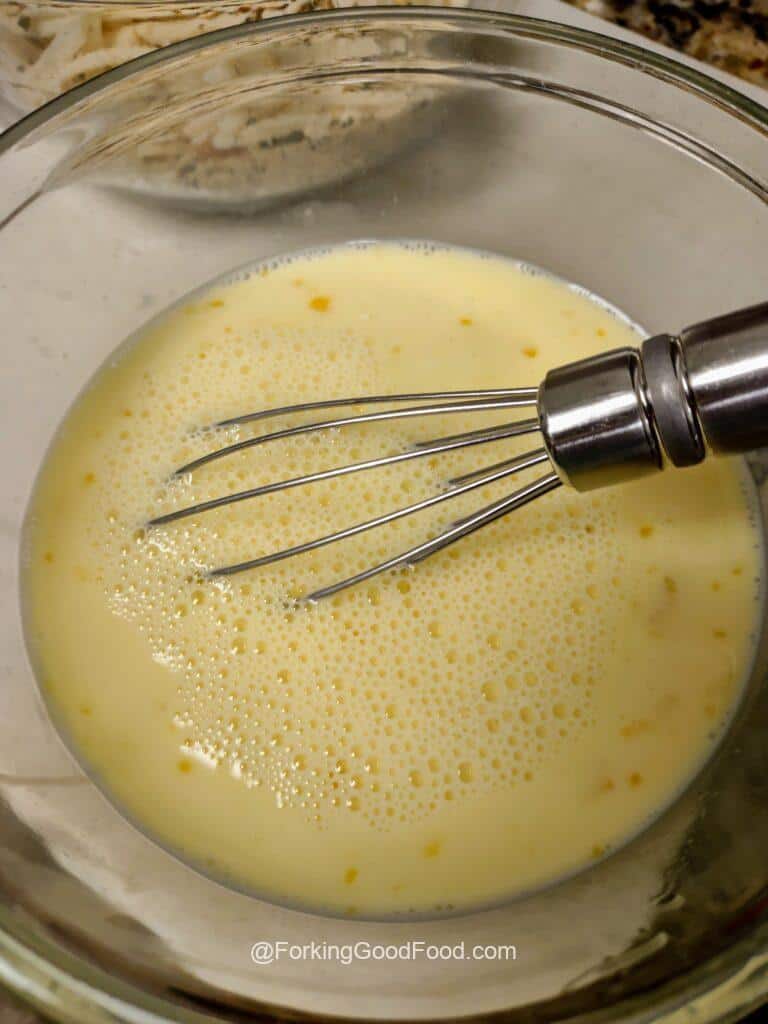 Add to the squash mixture, stir in the melted butter, and salt and pepper and then transfer to a 2 qt or 13×9″ baking dish.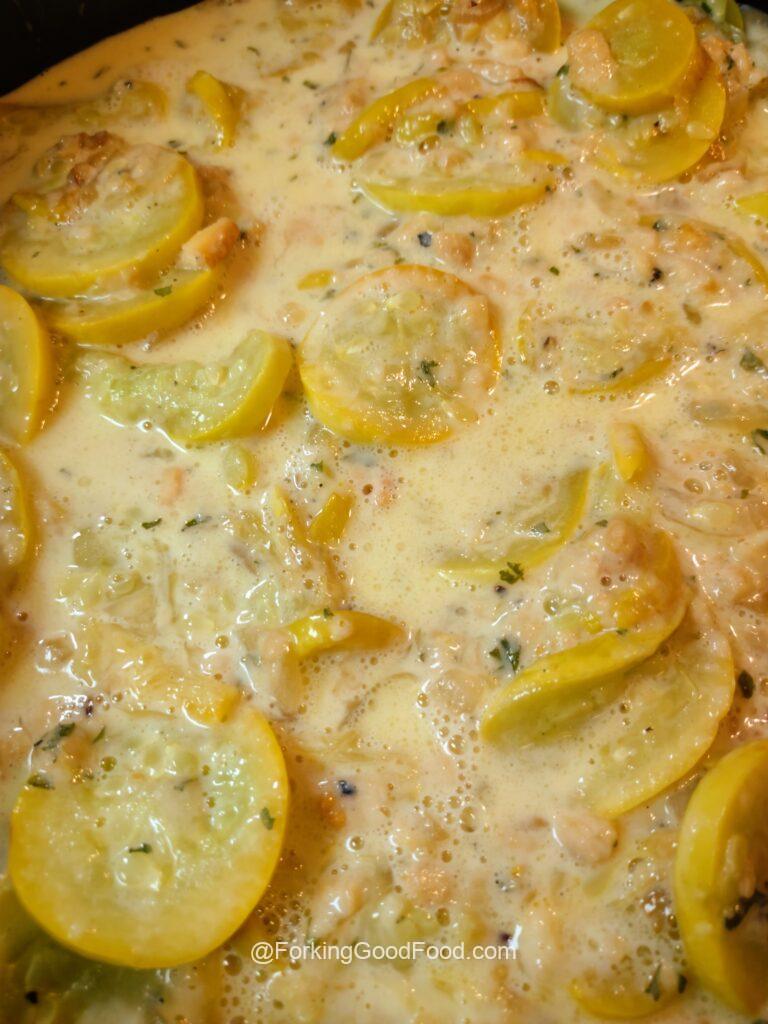 Sprinkle the remaining cracker mixture evenly over the top and dot with 2 Tbs cold butter.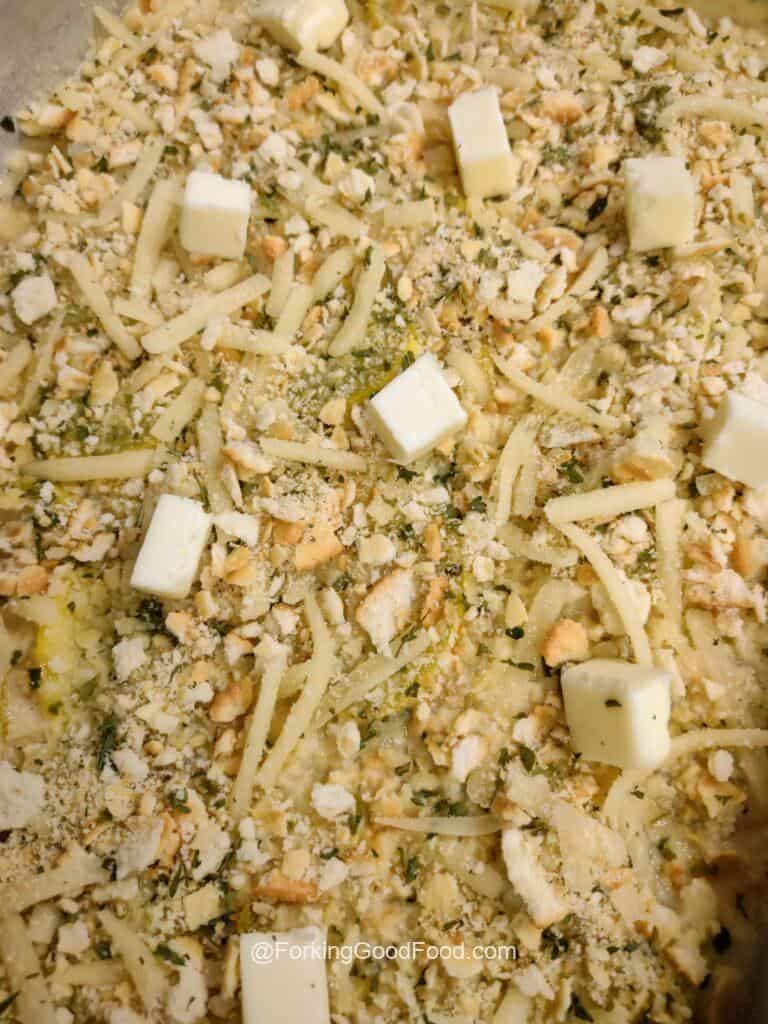 Bake for 25-30 minutes or until a rich golden brown.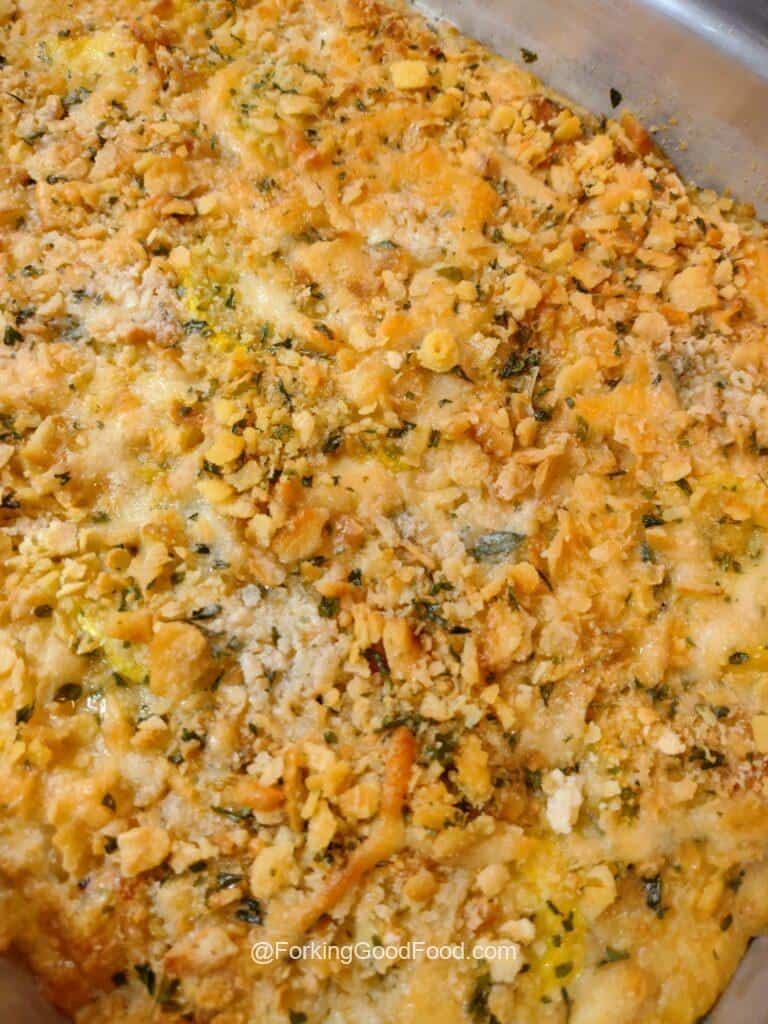 Recipe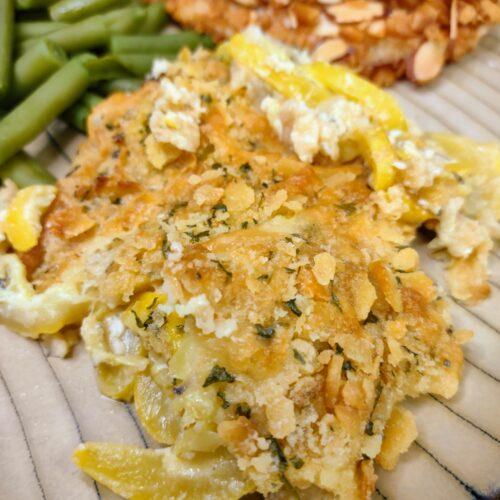 Summer Squash and Vidalia Onion Casserole
This summer staple is bright and beautiful to look at and even better to taste.
Equipment
Mandolin if available

Skillet

Baking dish
Ingredients
4

cups

yellow Squash

thinly sliced

½

cup

Vidalia onion

chopped

35

Ritz crackers

crushed

1

cup

cheddar cheese

shredded

¼

cup

dried parsley

2

eggs

beaten

¾

cup

whole milk

¼

butter

melted

2

Tbs

butter

cold and cubed

Salt & Pepper to taste
Instructions
Preheat oven to 400℉

Place squash and onion in a large skillet over medium heat. Pour in a small amount of water. Cover, and cook until squash is tender, about 5 minutes. Drain well, and place in a large bowl.

In a medium bowl, mix together cracker crumbs and cheese; add half into the cooked squash and onions, mixing well.

In a small bowl, mix together eggs and milk, then add to squash mixture.

Stir in ¼ cup melted butter, and season with salt and pepper.

Spread into a 9x13 inch baking dish.

Sprinkle with remaining cracker mixture, and dot with 2 tablespoons butter.

Bake in preheated oven for 25 minutes, or until lightly browned
Nutrition
Calories:
168
kcal
Carbohydrates:
13
g
Protein:
8
g
Fat:
10
g
Saturated Fat:
5
g
Polyunsaturated Fat:
2
g
Monounsaturated Fat:
3
g
Trans Fat:
1
g
Cholesterol:
58
mg
Sodium:
238
mg
Potassium:
261
mg
Fiber:
1
g
Sugar:
4
g
Vitamin A:
372
IU
Vitamin C:
11
mg
Calcium:
178
mg
Iron:
1
mg