This 4 ingredient crockpot chicken is one of my favorite slow cooker recipes. It is the perfect solution for a busy night when you want a delicious and simple meal with minimal effort. Ideal for new moms too!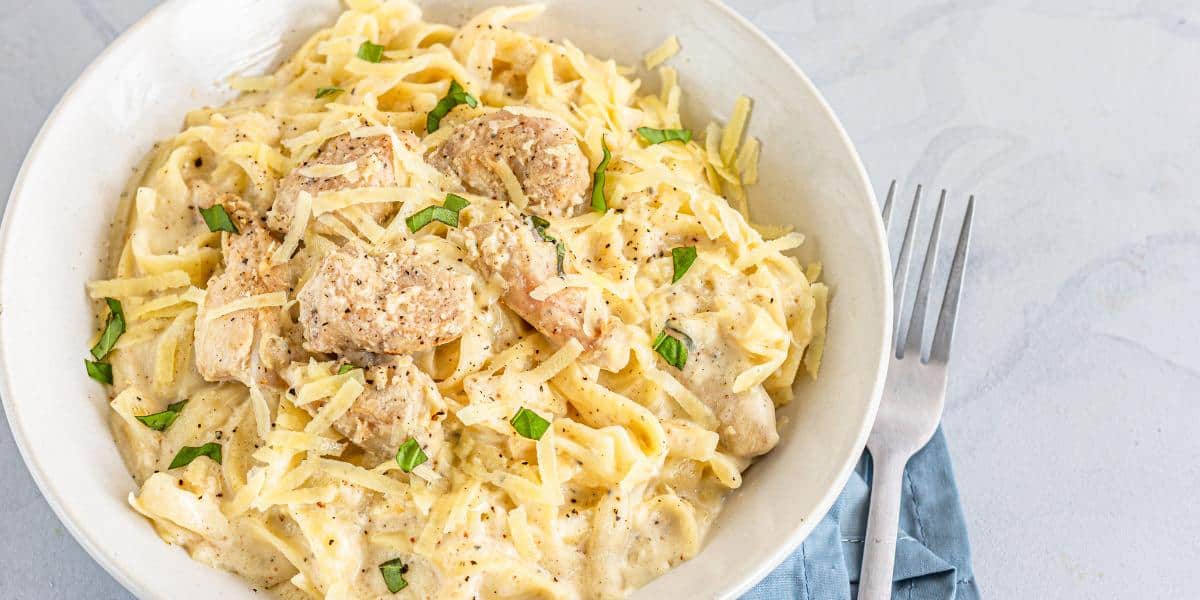 This delicious meal will quickly be added to your rotation of crockpot meals. It only have 4 simple ingredients and requires very little effort…just a little planning. Set it before you leave for the day and it will be ready when you get home. It needs 5 hours to cook but can easily cook for 8. You will just have softer chicken!
You don't HAVE to use a slow cooking Crockpot, you can easily use your Instant Pot, or Crockpot Express instead, just use the slow cooker function!
If you want to add extra flavor to your crockpot chicken, try adding some cajun or taco seasoning for an added kick. You can also mix in chopped onions or garlic for more depth of flavor. Experiment with different combinations until you find the perfect one that suits your taste!
What are the ingredients?
Chicken: You can use with chicken thighs or boneless chicken breasts. You can also use canned chicken in a pinch. The flavors will vary depending on what you use. You will need 1-2 pounds depending on how many you are cooking for.
Cream of chicken soup: One can of Campbell's Cream of Chicken Soup.
Cream cheese: 1 block of cream cheese. Heat before adding to make it smooth.
Dressing Mix: You can use Italian or Ranch. One packet will work
This is one of the best recipes for using leftovers! You can add just about anything and it will still tastes awesome. Here are some ideas…
Pepper jack cheese
favorite vegetables
lemon juice
salsa verde
sour cream
favorite taco toppings
barbeque sauce
green onions
black beans
your favorite toppings!
How do you make 4 ingredient crockpot chicken?
That is the genius of this recipe, it is a dump and go easy dinner recipe that your family will probably love.
With just four ingredients, you can have a flavorful home-cooked dish in no time. To get started, all you need to do is place your chicken breasts in the crockpot, and add the other ingredients and cook on low for 8 hours or high for 3-4 hours. That is it!
The end result will be juicy flavorful chicken that is great overcooked noodle or rice. You can also customize the flavors by adding different herbs and spices to the mix!
You can serve on rice or with pasta!
How do you store 4 ingredient crockpot chicken?
Once cooked, the chicken can be stored in an airtight container in the fridge for up to 3 days. To reheat, simply warm it on low heat or in a microwave-safe dish until heated through.
Is it better to cook chicken on high or low in crockpot?
Slow and low is the way to go. It makes the chicken much more tender. Cooking on high will leave it dry and tough.
With 4 ingredient crockpot chicken there's no excuse not to enjoy a hassle free delicious meal on busy weeknights. And the best part is that you don't need a lot of ingredients or time to make it happen – so why not give it a try? You won't regret it!
Recipe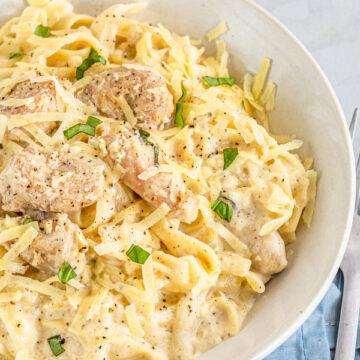 4 Ingredient Crockpot Chicken
4 ingredient crockpot chicken is the perfect solution for busy weeknights when you want a delicious and simple meal with minimal effort.
Ingredients
4

chicken

skinless chicken breasts or 1 pound of thighs – or one large can of chicken

1 10.5

ounce

can cream of chicken soup

8

ounces

cream cheese

1

packet dry Italian or ranch seasoning – your choice!
Instructions
Mix the soup with a little water to make it thin. Pour ⅓ of the can on the bottom of the crockpot.

Place chicken in the crockpot in a single layer.

Sprinkle the Italian seasoning over the chicken.

Dice the cream cheese into cubs and put it on the chicken.

Top with the rest of the soup.

Cook on low for 5-6 hours (preferable) or high for 3-4 hours.

If you want to add veggies add fresh one hour before done time – frozen should be added about 30 minutes before it's done.

Break apart the chicken with a large spoon. Chunks look better for serving.

Salt and pepper to taste.

Serve over cooked noodles or rice.
Nutrition
Calories:
2113
kcal
Carbohydrates:
6
g
Protein:
331
g
Fat:
76
g
Saturated Fat:
27
g
Polyunsaturated Fat:
7
g
Monounsaturated Fat:
28
g
Cholesterol:
964
mg
Sodium:
1217
mg
Potassium:
5549
mg
Sugar:
2
g
Vitamin A:
607
IU
Vitamin C:
0.1
mg
Calcium:
117
mg
Iron:
9
mg